Review Sony RX0 II: small and indestructible, but not an action camera
In 2017 Sony came out very unusual, interesting, fancy and expensive camera RX0. It has generated interest thanks to the incredible functional saturation at modest amounts, but on the technical side, she repeated current at the time the CD of the famous series of Sony RX100. RX0 outwardly looked like a typical action camera: she was protected from the water, and her body without consequences, there could be people. But Sony initially carefully emphasized that this device can be anything, but
not an action camera. The joke is that it is in this capacity RX0 behaved, to put it mildly, not the best way. And now, after almost two years comes the same camera the new generation — Sony RX0 II, which is very similar to a small, purely cosmetic upgrade.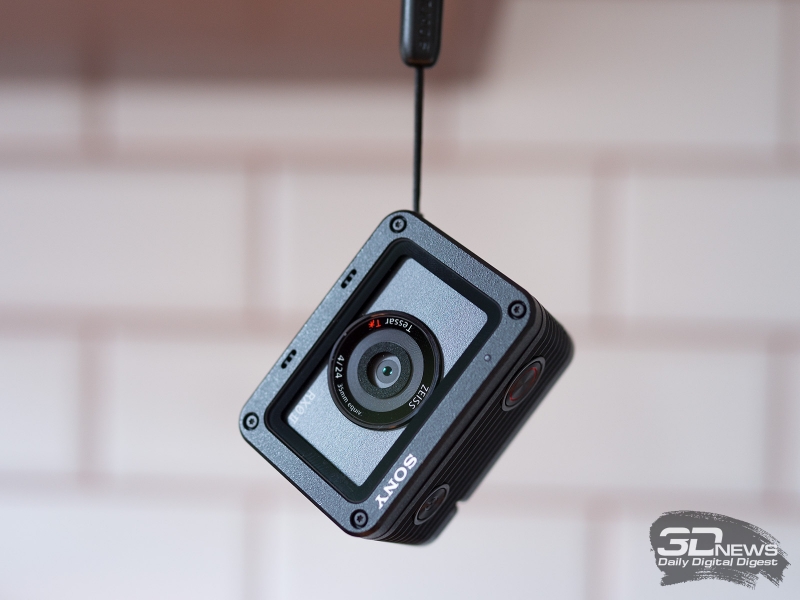 Among the main innovations is the new screen folding design and the ability to record 4K video the camera, without external recorder. And among the possible options use new camera now is recording videos for vlogging and slow motion. Call RX0 II action camera manufacturer again in a hurry, but again not enough to discourage Internet users from comparisons with the GoPro and DJI. Before this comparison was obviously not in favor of Sony, but over the past two years a lot can change.
Specifications
Sony RX0 II
Sony RX0
GoPro Hero7 Black
DJI Osmo Action
Image sensor
1″ (13,2 x 8.8 mm) BSI-CMOS
1″ (13,2 x 8.8 mm) BSI-CMOS
1/2,3″ (6,17 x 4,55 mm) CMOS
1/2,3″ (6,17 x 4,55 mm) CMOS
Effective sensor resolution
15 MP
15 MP
10 MP
12 MP
Built-in image stabilizer
digital
no
digital
digital
Lens
EGF 24mm, ƒ/4
EGF 24mm, ƒ/4
EGF 17mm, ƒ/2,8
EGF 16 mm ƒ/2,8
Photo format
RAW, JPG
RAW, JPG
JPG
RAW, JPG
Video format
MPEG-4, AVCHD, XAVC S
MPEG-4, AVCHD, XAVC S
MPEG-4, H. 264
MPEG-4, H. 264
Photo resolution
4800 × 3200
4800 × 3200
3648 × 2736
4000 x 3000
Video resolution
up to 3840 × 2160 @ 30 fps
up to 1920 × 1080 @ 60 fps
up to 3840 × 2160 @ 60 fps
up to 3840 × 2160 @ 60 fps
Sensitivity
ISO 100-12800
ISO 125-12800
no data
ISO 100-3200
Memory card
microSD / microSDHC / microSDXC + Memory Stick Micro
microSD / microSDHC / microSDXC + Memory Stick Micro
microSD / microSDHC / microSDXC
microSD / microSDHC / microSDXC
Display
Inclined, a diagonal of 1.5 inches, resolution 230 400 pixels
Fixed, a diagonal of 1.5 inches, resolution 230 400 pixels
Fixed, 2-inch diagonal and a resolution of 320 000 pixels
Core: fixed, diagonal 2.25 inches, resolution 230 400 pixels
additional: fixed diagonal of 1.4 inches, a resolution of 144 000 pixels
Viewfinder
—
—
—
—
Interfaces
microUSB 2.0, microHDMI, mini-Jack
microUSB 2.0, microHDMI, mini-Jack
microUSB 3.0, microHDMI
microUSB 3.0, microHDMI
Wireless modules
Bluetooth 4.1 LE, Wi-Fi 802.11 b/g/n
Bluetooth 4.1 LE, Wi-Fi 802.11 b/g/n
Bluetooth 4.1 LE, Wi-Fi 802.11 b/g/n
4.2 Bluetooth LE, Wi-Fi 802.11 b/g/n/ac
Food
Battery NP-BJ1, 700 mAh
Battery NP-BJ1, 700 mAh
Battery 1220 mAh
Battery, 1300 mAh
Materials
Aluminum alloy
Aluminum alloy
Plastic
Plastic
Protection
IPX8
IPX8
IPX8
IPX8
Dimensions
59 × 41 × 35 mm
59 × 41 × 30mm
65 × 45 × 35 mm
65 × 42 × 35 mm
Weight
132 g
110 g
117 g
124 g
Current price
From 49 990 rubles
From 25 990 rubles
Of 21 490 rubles
24 140 rubles
Believe that RX0 II in fact does not involve competition with the aforementioned GoPro and DJI, it is very simple. Just look at the true line of action cameras from Sony, namely, on the model of FDR-X3000 and HDR-AS300. This new range RX0 is completely irrelevant, and it is unlikely the company at least in some form would allow internal competition. So we really camera for everyday shooting: a very small, very durable and very strange, but and therefore causing concern.
Design and ergonomics
RX0 II looks very stylish. Swear to God, if someone from manufacturers of action cameras as much bother with design as Sony in this case, we would live in a much more beautiful world. I exaggerate, of course, but from an aesthetic point of view, the camera is very good – it is pleasant to hold in hands, it looks interesting in the position, plus she is very pleasant to touch.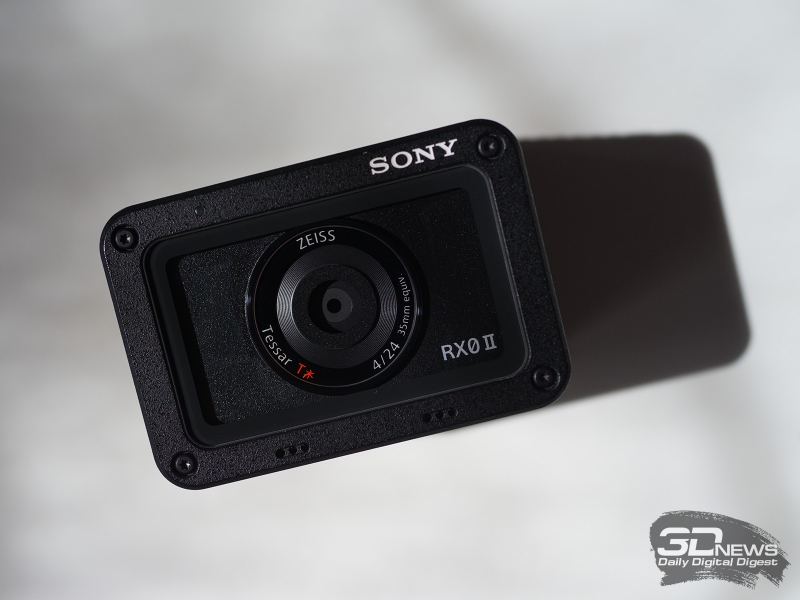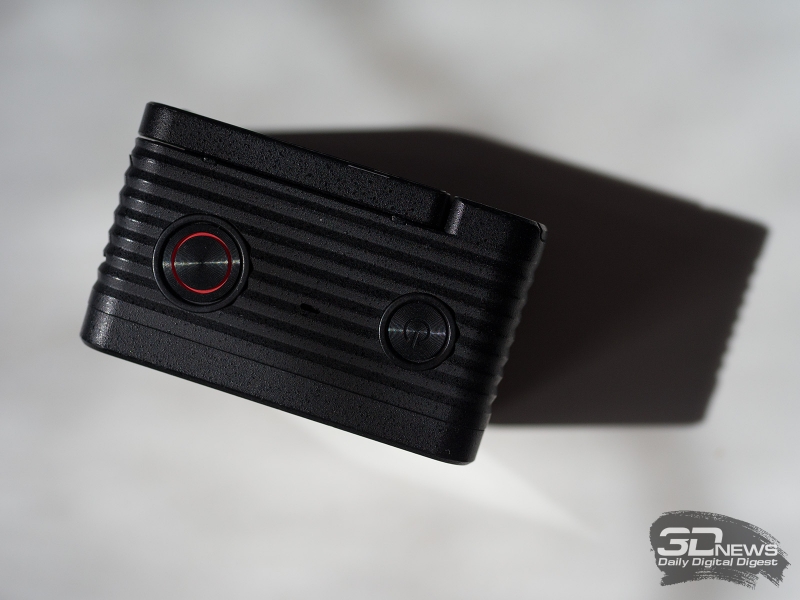 The main innovation of the folding screen – resulted in a marked increase in the thickness of the shell. And if the design has not changed, but being 5 millimeters thicker, Sony RX0 II in your hands a little differently. The screen itself is still the same compact, as well as all mechanical buttons around it, but now you can press them at different angles. This may sound silly, but working with this confusing interface has become a little easier.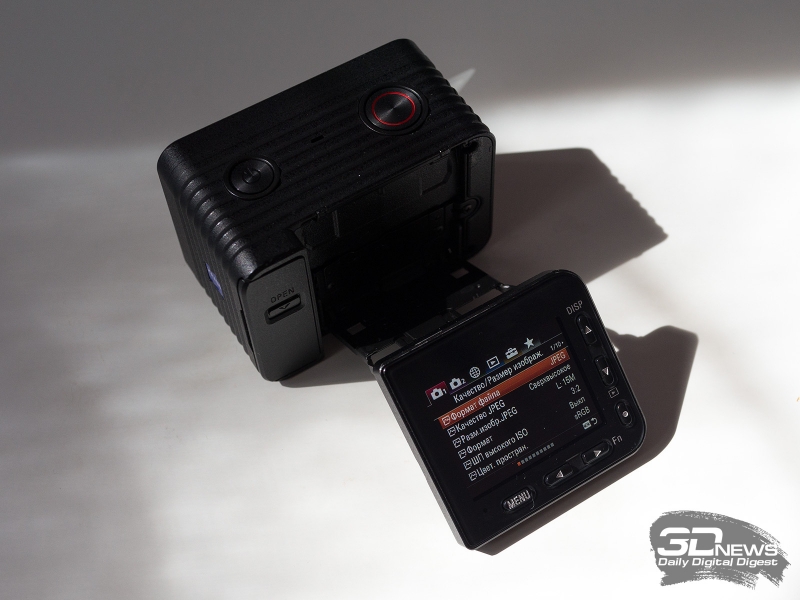 The camera body is made from a single piece of aluminium and the necessary cutouts for the buttons and the "technical compartments". One of these compartments is located on the right side under a thick aluminum cap with a rubber gasket and a battery. And the second located at the back left of the screen and hides all the communication connectors (microUSB, microHDMI, mini-Jack) and a slot for a memory card. And here, perhaps, it is worth to clarify that the camera is very demanding on the speed of memory cards and does not hesitate to cut some features. For example, shooting 4K video, and recording high frame rate.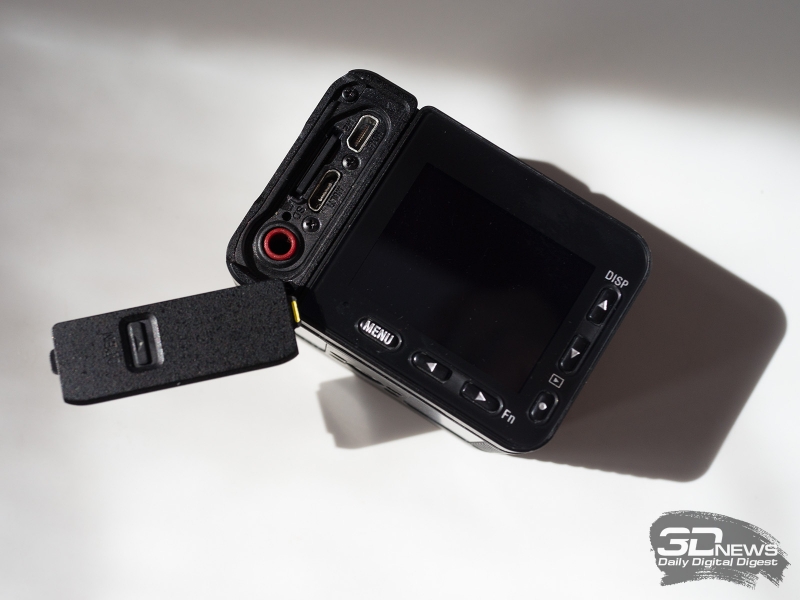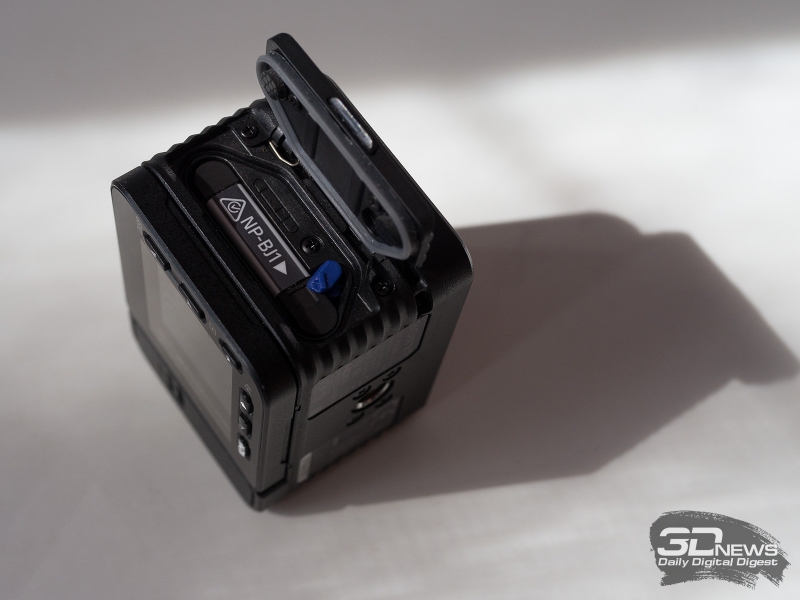 Below is a standard thread for mounting on a tripod. And at the top end we have two big round buttons for on/off and shooting. The right button is a two position is the first level of depression activates the autofocus, the second makes the frame in photo mode and starts recording in video mode.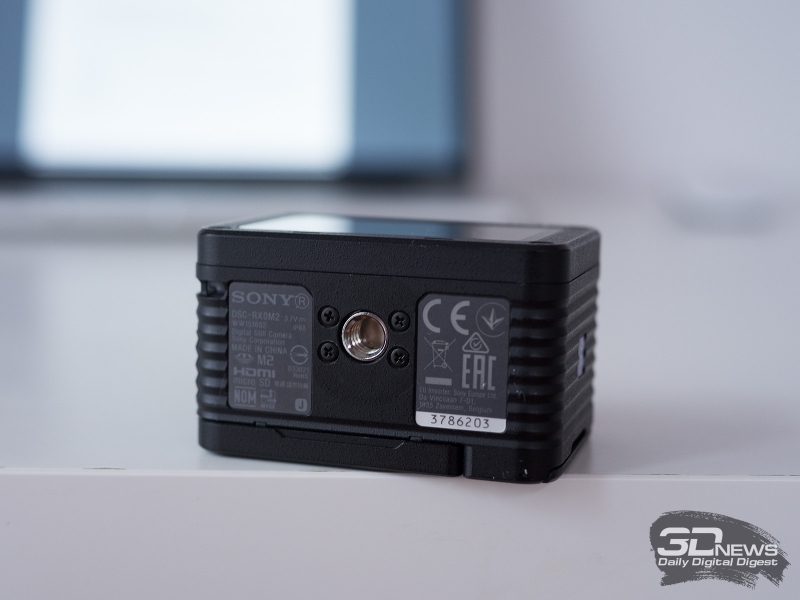 It should be noted separately patterned texture to the surface of the body on the perimeter. First, it allows to increase the resistance to compression, do not abuse the thickness of the material. And second, so the camera easier to hold, especially when working under water without gloves. And judging by how designers camera suited to your tasks, underwater photography is clearly one of the main advantages. Case II Sony RX0 has degree of protection IPX8, it is completely protected from dust and water, can withstand immersion under water to a depth of 10 meters and that's without any additional accessories. For the best protection is a special case, which allows you to work at depths up to 100 meters, but it will have to be purchased separately.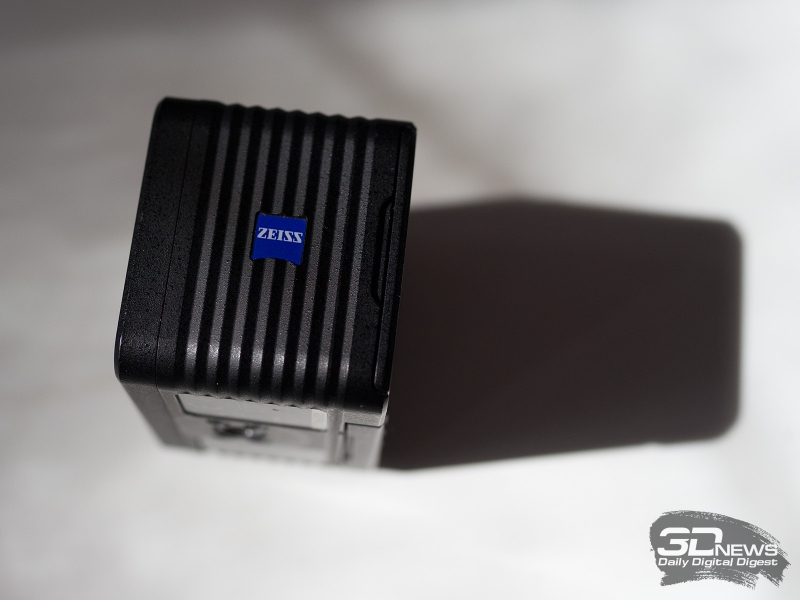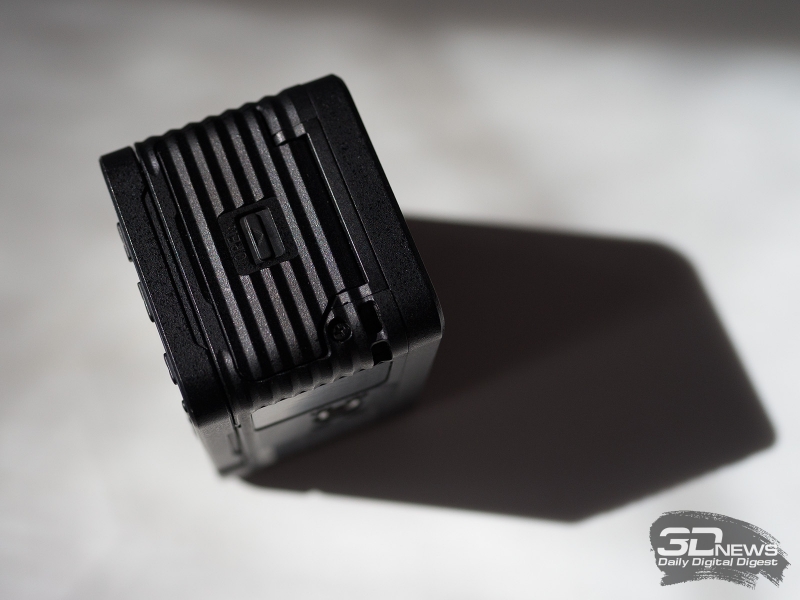 Moreover, the camera body is resistant to falls from a height of two meters – several times I dropped the camera on a different surface from the height of its growth without any consequences. The casing may be slightly scratched if you drop the camera on concrete or paving slabs, but a fall on a wooden floor or even lawn with greater height does not threaten.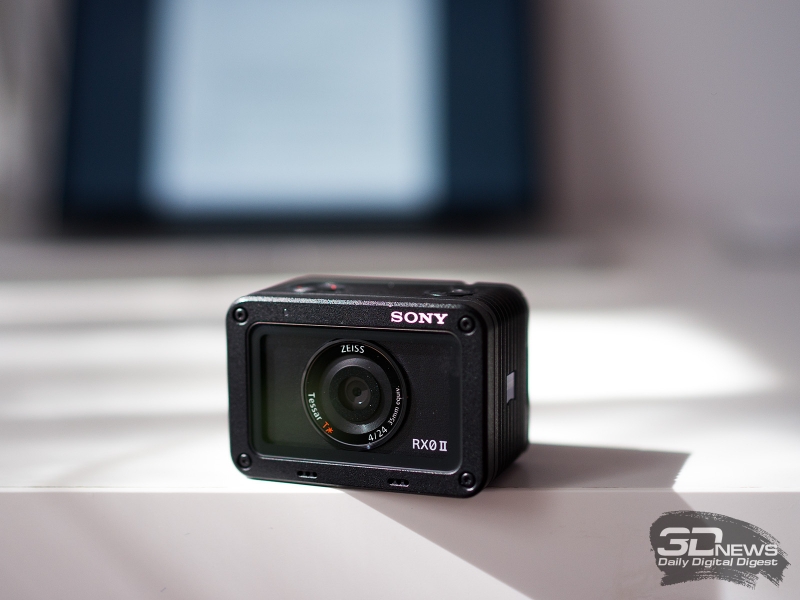 Before meeting with Sony RX0 II I have not had to deal with protected cameras with flip screens. All underwater or pravdopodobnye devices have always had fixed displays, because in this case it is much easier to achieve water resistance. So this item gives some concerns. Alas, I have not had the opportunity to test the 10-meter depth, but in the process of preparation of the review camera been in the paddling pool in the bathroom and even in the washing machine (no spin) and it did not happen anything. So for the protection and external performance it deserves. Although she has an obvious and perhaps insurmountable problems on the part of ergonomics is for the screen, buttons around it and the interface.
Display and interface
As you know, Sony RX0 II in General a very controversial device, but if you disassemble all the bones, the most controversial element will definitely be the screen. First, it is very small – it is difficult to estimate the correct exposure, not to mention the accuracy of the focusing. And though neither one nor the other she has no problems, but the fact that for professional use is very important.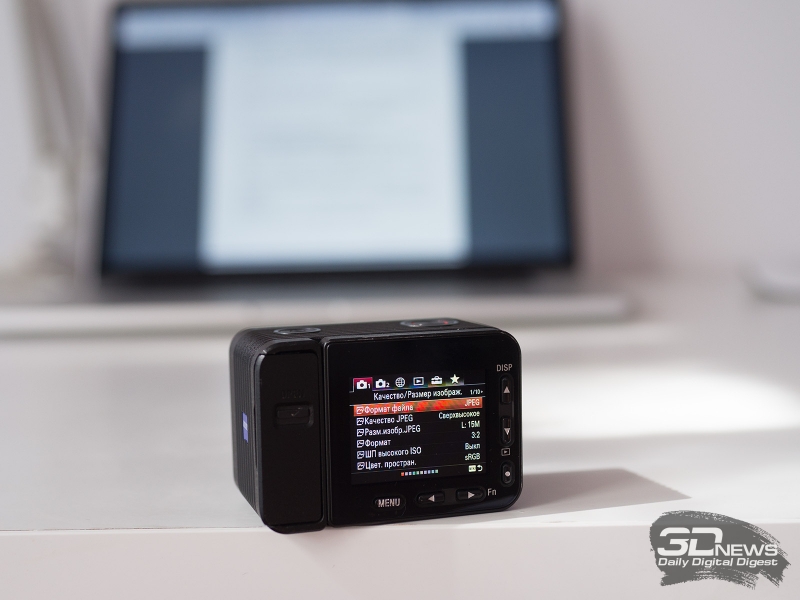 And secondly, on a screen with a diagonal of one and a half inches appears almost the same menu as in the line compacts RX100 and full-frame Alpha A7 buttercake. In itself the menu is normal, it has become a familiar and intuitive professional Sony camera in recent years on the wave of popularity, so the menu in the same style – quite logical. The only problem is that on a small screen is placed not so much information, horizontal scrolling is virtually endless, and the disk selectors for faster navigation is not provided. Switch individual settings between takes, it turns into real hell, and if you still have to do it on the go – down the drain.
Settings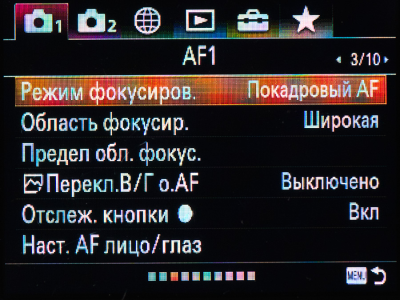 DSC06792.jpg
See all images (10)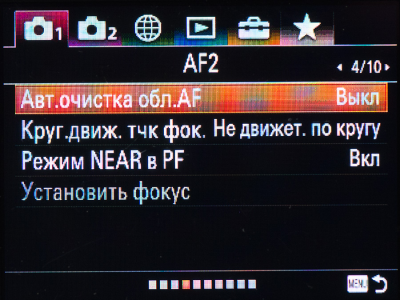 DSC06793.jpg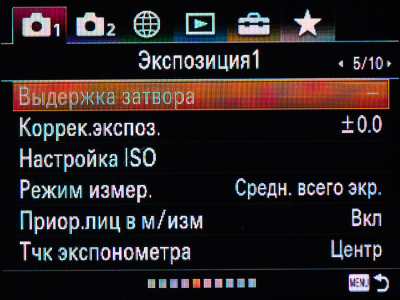 DSC06794.jpg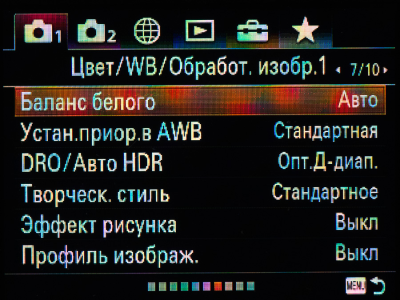 DSC06795.jpg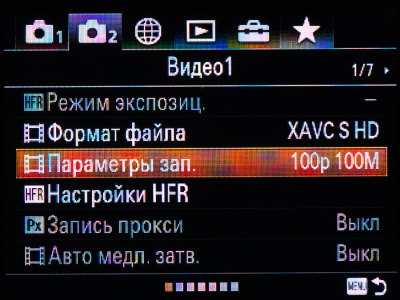 DSC06796.jpg

DSC06797.jpg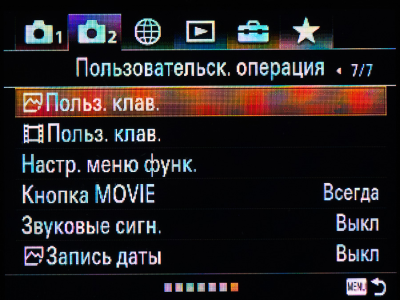 DSC06798.jpg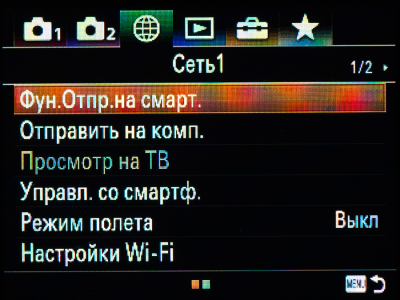 DSC06799.jpg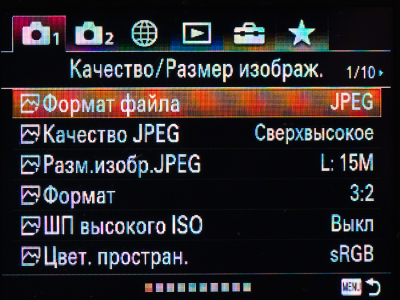 DSC06790.jpg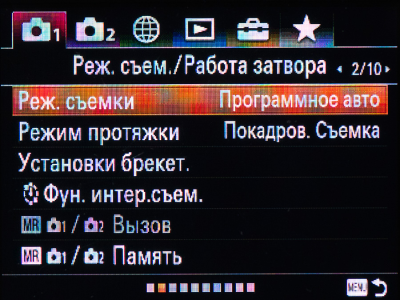 DSC06791.jpg
See all
images (10)
Even if the screen occupies the entire rear surface of the case, he would still be the small, plus in this case, you would have to do a touch and significantly revise the structure menu. But the touch screen while underwater is completely useless (or at least it requires a special case), so the camera would have lost one of their advantages. Well, then, the camera turned out very rich, all this was impossible to fit on a few screens to the simplified touch interface. In General, the designers, it is responsible for this part of the camera can only sympathize – the problem seems insoluble.
Screenshot gallery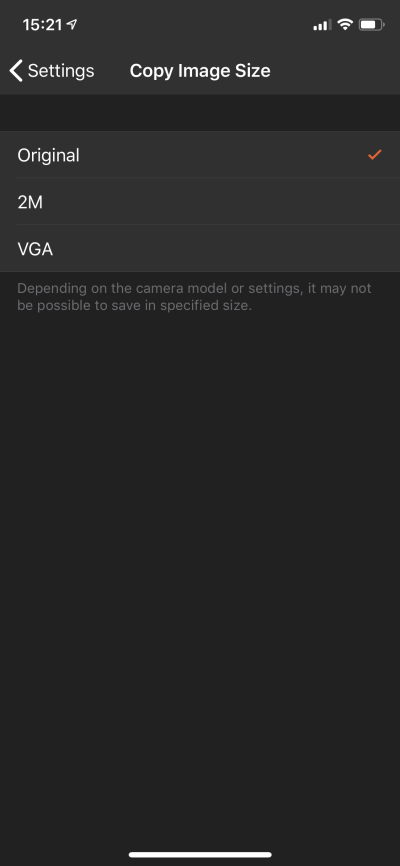 APP1.png
See all images (6)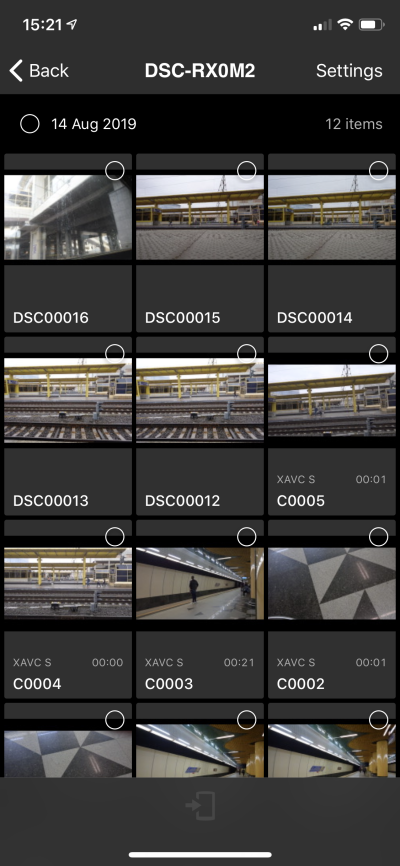 APP2.png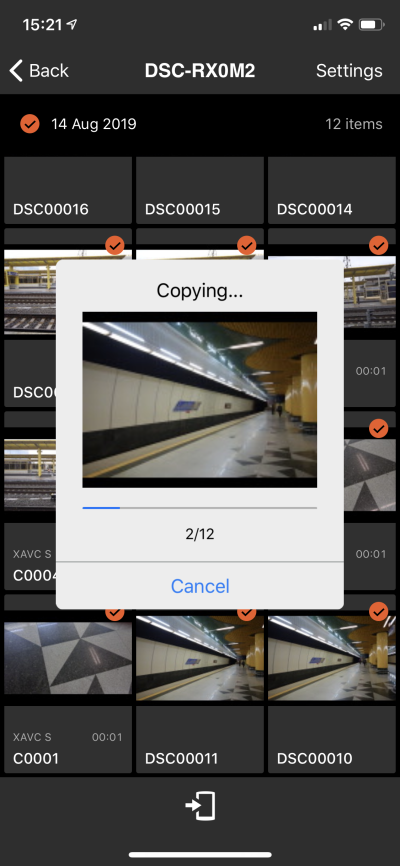 APP3.png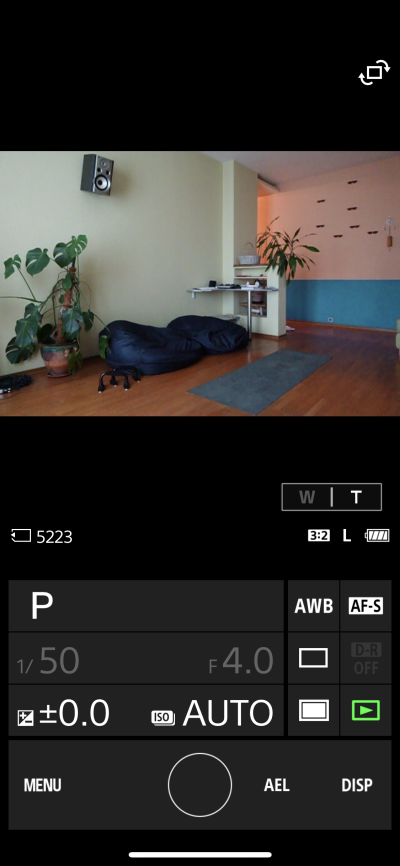 APP5.png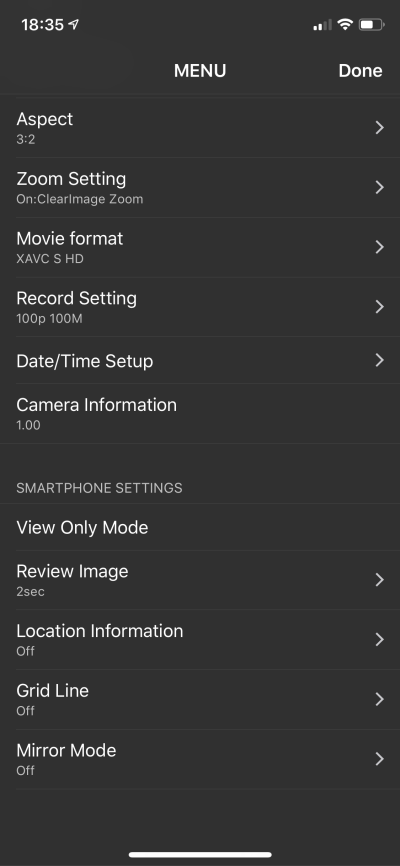 APP6.png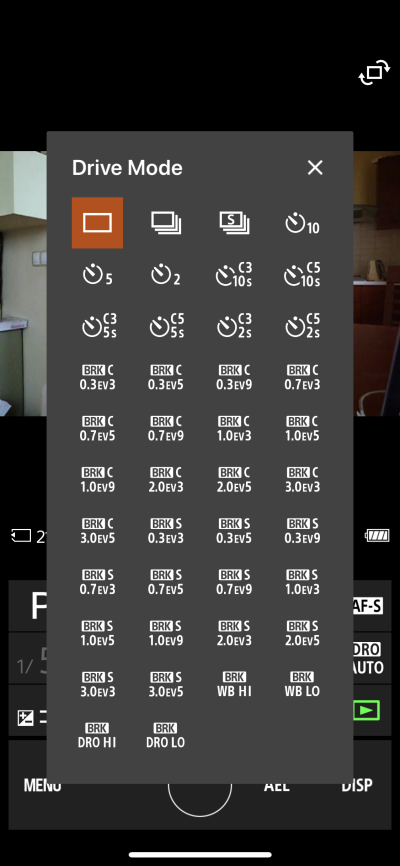 APP7.png
See all
image (6)
The problem with the assessment of exposure and the accuracy of the focusing is solved by connecting to the smartphone via wifi and control via Mobile app Imaging Edge (even if the name does not bother you, it is the ideological heir of PlayMemories Mobile). But again, this is easier to do in a stationary mode, when the camera is on a horizontal surface or on a tripod – on-the-go this option is unlikely to ride. Unless you have a personal assistant.
Anyway, thanks for the ability to tilt the screen 180 degrees up and 90 degrees down, but that doesn't make working with the interface easier, and the process of change settings faster.
Sourse: 3dnews.ru