Review of smartphone with a flexible display Huawei Mate Xs: fur outside
Now there are two approaches to creating smartphone with flexible screen: the first allows you to turn a smartphone into a tablet, and the second smartphone normal size to fold into a compact "case". Huawei Mate X/Xs is the product of the first type and "dual-use". We have already dealt with the Samsung Galaxy Fold, a prominent representative of this movement, the Huawei Mate Xs very close to him in philosophy, but differs in execution. If Korean foldable tablet had two screens, external and
internal, the Chinese version only has one — and it "fur out".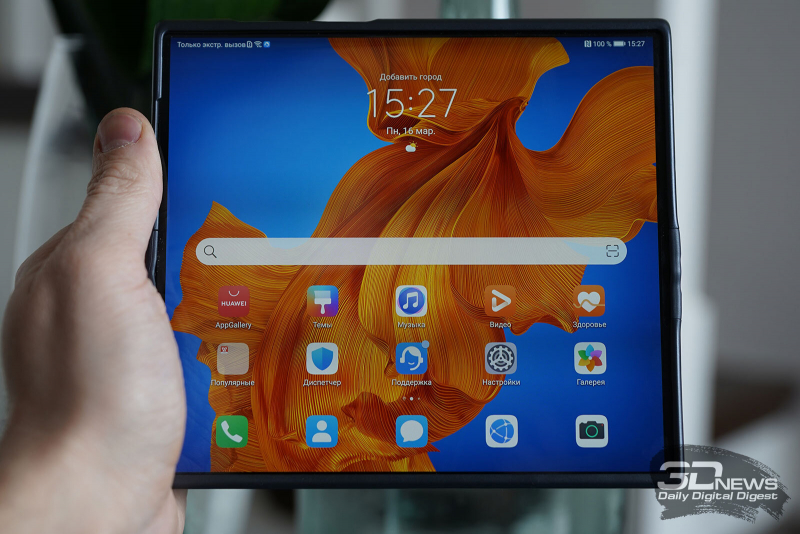 In expanded form we get a full 8-inch tablet with a screen almost square shape (aspect ratio about 8:7), minimized — a smartphone with a screen size 6.6 inch, with a typical ratio of 19.5:9. The rear panel is also covered with a screen, it just does not turn on. In terms of toppings Huawei Mate Xs is the closest relative of the Huawei Mate 30 Pro, with a slightly simplified cameras, but the same hardware platform Kirin 990. On top of that — it is now the most expensive smartphone in the world (except, of course, different luxury savagery in the style Saviar): 199 999 rubles. Pre-order will start on March 27. The sales will start on March 31.
Specifications
Huawei Mate Xs
Huawei Mate 30 Pro
Samsung Galaxy Fold
Apple iPhone 11 Pro Max
NEX Vivo, Dual Display
Display
8 inch, OLED,
2480 × 2200 points, 414 ppi, capacitive multitouch
6.53 inch, OLED,
2400 × 1176 pixels, 409 ppi, capacitive multitouch
7.3 inch, AMOLED Dynamic, 1536 × 2152, 362 ppi, capacitive multi-touch, foldable
6.5 inch, Super AMOLED, 2688 × 1242 (19,5:9), 458 ppi, capacitive multi-touch technology TrueTone
6.39 inches, Super AMOLED,
2340 × 1080 pixels, 403 ppi, capacitive multitouch
The second display
When folding the available display diagonal of 6.6 inches and a resolution of 2480 × 1148 points
No
4.6 inch Super AMOLED,
1680 × 720 pixels, 401 ppi, capacitive multitouch
No
5.49 inch, Super AMOLED,
1920 × 1080 pixels, 401 ppi, capacitive multitouch
Safety glass
No
Corning Gorilla Glass 6
No information
No information
No information
Processor
HiSilicon Kirin 990: eight cores (2 × ARM Cortex-A76, frequency of 2.86 GHz + 2 × ARM Cortex-A76, frequency of 2.09 GHz + 4 × ARM Cortex-A55, frequency 1.86 GHz); architecture HiAI
HiSilicon Kirin 990: eight cores (2 × ARM Cortex-A76, frequency of 2.86 GHz + 2 × ARM Cortex-A76, frequency of 2.09 GHz + 4 × ARM Cortex-A55, frequency 1.86 GHz); architecture HiAI
Qualcomm Snapdragon 855: single core Kryo 485 Gold, frequency of 2.85 GHz + three cores Kryo 485 Gold, frequency of 2.42 GHz + four cores Kryo 485 Silver, 1.8 GHz
A13 Apple Bionic: six cores (2 × Lightning frequency 2.65 GHz + 4 × Thunder, frequency 1.8 GHz)
Qualcomm Snapdragon 845: four cores Kryo 385 Gold 2.8 GHz + four cores Kryo 385 Silver, 1.7 GHz
Graphics controller
ARM Mali-G76 MP16
ARM Mali-G76 MP16
Adreno 640
Apple GPU (4 cores)
Adreno 630, 710 MHz
RAM
8 GB
8 GB
12 GB
4 GB
10 GB
Flash memory
512 GB
256 GB
512 GB
64/256/512 GB
128 GB
Memory card support
Yes (only Huawei nanoSD)
Yes (only Huawei nanoSD)
No
No
No
Connectors
USB Type-C
USB Type-C
USB Type-C
Lightning
USB Type-C, mini-Jack 3.5 mm
SIM card
Two nano-SIM
Two nano-SIM
One nano SIM and one eSIM
One nano SIM and one eSIM
Two nano-SIM
Cell 2G connection
GSM 850/900/1800/1900 MHz
GSM 850/900/1800/1900 MHz
GSM 850/900/1800/1900 MHz
GSM 850/900/1800/1900 MHz CDMA 800/1900
GSM 850/900/1800/1900 MHz CDMA 800/1900
3G cellular communications
HSDPA 800 / 850 / 900 / 1700 / 1900 / 2100 MHz
HSDPA 800 / 850 / 900 / 1700 / 1900 / 2100 MHz
HSDPA 850 / 900 / 1700 / 1900 / 2100 MHz
HSDPA 800 / 850 / 900 / 1700 / 1800 / 1900 / 2100 MHz
HSDPA 850 / 900 / 1900 / 2100 MHz
Cellular 4G
LTE Cat. 21 (1400/200 Mbit/s), ranges 1, 2, 3, 4, 5, 6, 7, 8, 9, 12, 17, 18, 19, 20, 26, 28, 32, 34, 38, 39, 40, 41
LTE Cat. 21 (1400/200 Mbit/s), ranges 1, 2, 3, 4, 5, 6, 7, 8, 9, 12, 17, 18, 19, 20, 26, 28, 32, 34, 38, 39, 40, 41
LTE Cat. 18 (1200/150 Mbit/s), ranges 1, 2, 3, 4, 5, 7, 8, 12, 13, 18, 19, 20, 25, 26, 28, 38, 39, 40, 41, 46, 66, 71
LTE-A (up to 1600/150 Mbit/s), ranges 1, 2, 3, 4, 5, 7, 8, 11, 12, 13, 17, 18, 19, 20, 21, 25, 26, 29, 30, 34, 38, 39, 40, 41, 42, 46, 48, 66, 71
LTE Cat.16 (up to 1024 Mbit/s): the bands 1, 2, 3, 5, 7, 8, 19, 28, 38, 39, 40, 41
Wi-Fi
802.11 a/b/g/n/ac
802.11 a/b/g/n/ac
802.11 a/b/g/n/ac/ax
802.11 a/b/g/n/ac/ax
802.11 a/b/g/n/ac
Bluetooth
5.0
5.0
5.0
5.0
5.0
NFC
There
There
There
Yes (Apple Pay)
No
Navigation
GPS (dual band), A-GPS, GLONASS, BeiDou, Galileo, QZSS
GPS (dual band), A-GPS, GLONASS, BeiDou, Galileo, QZSS
GPS, A-GPS, GLONASS, BeiDou, Galileo
GPS, A-GPS, GLONASS, Galileo, QZSS
GPS, A-GPS, GLONASS, BeiDou
Sensors
Light, proximity, accelerometer/gyroscope, magnetometer (digital compass), infrared sensor
Light, proximity, accelerometer/gyroscope, magnetometer (digital compass), infrared sensor, Face ID
Light, proximity, accelerometer/gyroscope, magnetometer (digital compass), barometer, ANT+
Light, proximity, accelerometer/gyroscope, magnetometer (digital compass), barometer
Light, proximity, accelerometer/gyroscope, magnetometer (digital compass)
Fingerprint scanner
There, on the edge of the body
There, on the screen
There, on the edge of the body
No
There, on the screen
The main camera
The fourth module, 40 + 16 + 8 MP + TOF, ƒ/1,7 + ƒ/2,2 + ƒ/2,4, phase detection autofocus, dual-led flash
The fourth module, 40 + 40 + 8 MP + TOF, ƒ/1,6 + ƒ/1,8 + ƒ/2,4, hybrid auto focus, optical stabilization, dual-led flash
Triple module: 12 MP with variable aperture ƒ/1,5-2,4 + 12 MP, ƒ/2.4 GHz + 16 MP, ƒ/2.2, and phase detection autofocus, optical stabilization basically and telemodul, led flash
Triple module 12 + 12 + 12 MP, ƒ/1,8 + ƒ/2.0 + ƒ/2.4 GHz, led flash, phase detection autofocus and optical stabilization patisia mostly and telemodul
Triple module, 12 + 2 MP + 3D camera, ƒ/1,8 + ƒ/1,8 + ƒ/1.3 MP, phase detection autofocus, optical stabilization, led flash
Front camera
No
32 MP, ƒ/2.0, fixed focus, no flash
Double main: 10 Megapixel, ƒ/2,2 + 8 MP, ƒ/1,9, fixed focus, no flash; single cover photo: 10 MP, ƒ/2.2, and fixed focus, no flash
12 MP, ƒ/2.2, and without autofocus, no flash
No
Food
Removable battery: 17,1 W·h (4500 mAh, 3.8 V)
Removable battery: 17,1 W·h (4500 mAh, 3.8 V)
Removable battery: of 16.64 W·h (4380 mAh, 3.8 V)
Removable battery: 15,04 W·h (3969 mAh, 3.8 V)
Removable battery: the 13.3 WH (3500 mAh, 3.8 V)
Size
Of 161.3 × 146,2 × 5.4 mm in the unfolded form, of 161.3 × 78,5 × 11 mm folded
158,1 × 73,1 × 8.8 mm
160,9 × 117,9 × 6.9 mm in the unfolded form 160,9 × 62,9 × 15.5 mm folded
158 × 77,8 × 8.1 mm
Of 157.2 × 75,3 × 8.1 mm
Weight
300 grams
198 grams
263 grams
226 grams
199 grams
Protection case
No
IP68
No
IP68
No
Operating system
Android 10, shell EMUI 10
Android 10, shell EMUI 10
Android 9.0 Pie, own shell
iOS 13
Android 9.0 Pie shell FunTouch OS
Current price
199 999 rubles
59 990 rubles
159 990 rubles
From 99 990 rubles
Sold out
Design and ergonomics
About the main, which determines where the Huawei Mate Xs in the history of the trick I told above. But they also flaunted last year Mate X, and if we compare with it, the settings screen has not changed. Changed design: the case is made using a zirconium alloy, and the display received not a single-layer and double-layer polyamide film, in order to better protect it from damage.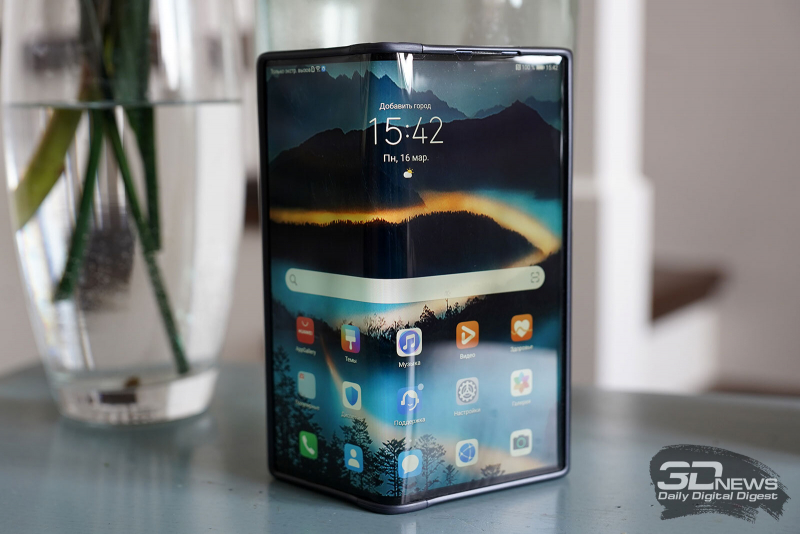 In fact, the smartphone still looks and feels fragile. The hinge is noticeably cracks during folding or unfolding, the outer screen is glued factory film which is easily scratched with any external influences and when weeding it emits a very strong smell. A feeling that to correct this film is not supposed to, but it is actually very easy and with the screen happens nothing. At least, not occurred in the few days that he lived I have no film. In regard to the durability of the hinge, to draw any conclusions on the results of the weekly testing is impossible. This week no problems arose.
| | | |
| --- | --- | --- |
| |   | |
Theoretically, the scheme "screen out" will lead to rapid damage of the screen, especially given the fact that the screen is plastic, not covered with tempered glass. Huawei Mate Xs – definitely a neat gadget for the users. Moreover, in my case, he was provided with cover attached tightly. Well, not tightly, but take it from me, unlike film, did not work: the portion of the silicon frames were planted on the glue in the box and the smartphone lying in the case. Precaution when issuing expensive and fragile gadget meticulous journalists? Or trying to hide some sort of congenital defect?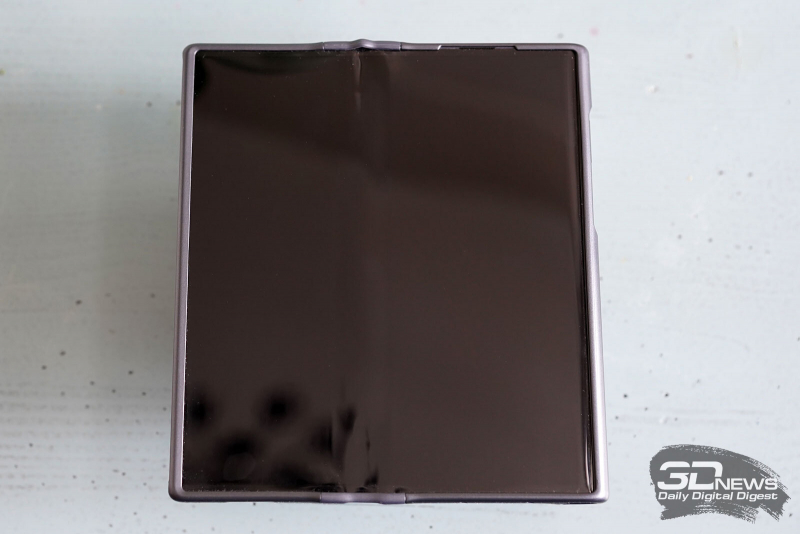 Whatever it was, with no cover to use Huawei Mate Xs I would in any case not resolved — the case is quite elegant, but still protects the coating on the curved screen from unnecessary contact with other surfaces. The perception of the gadget and its size it has little effect smartphone in any case heavy and large. Folded Mate Xs noticeable ottapalam pocket — I would not call the device in this regard is very convenient.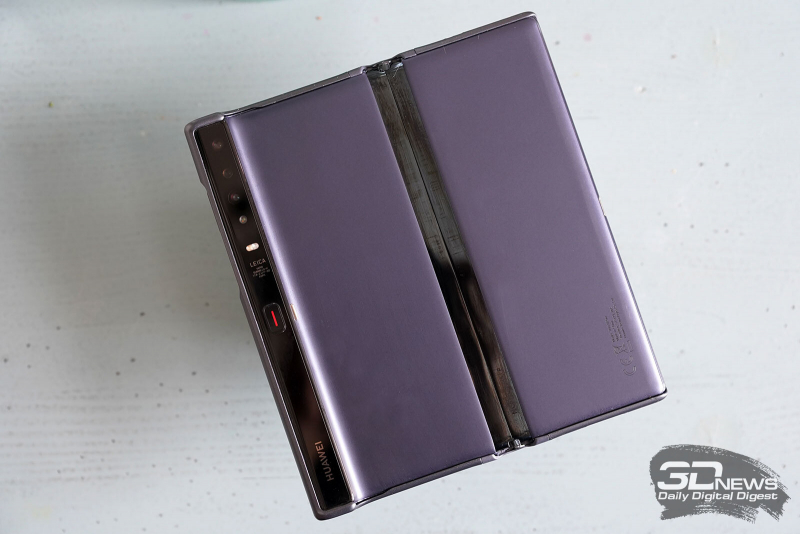 Rear panel (in the unfolded form, it is also internal when folded) made of black matte metal alloy he is a really good collects fingerprints like the glossy screen, but to scrub it more difficult. The hinge sticks out slightly on the top and bottom might give an inexperienced user the idea that here is embedded stylus pen, or even two. In General, the design Mate Xs default charm, and this uniqueness he redeems all possible claims. At least conceptually or unfinished product, like a flexible smartphone Royole, he doesn't. It's not perfect, but well performed device.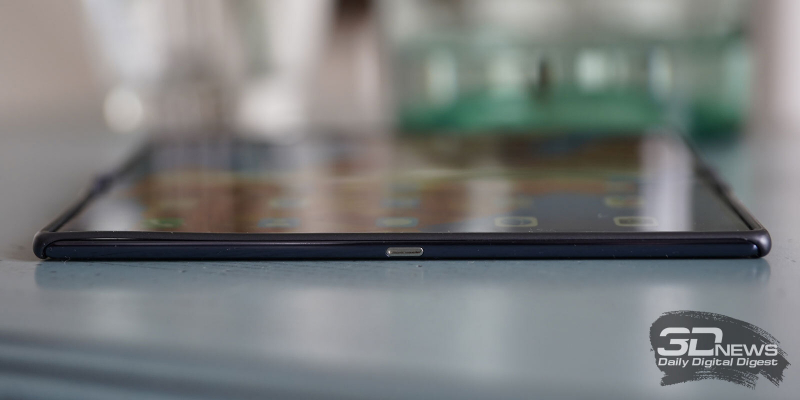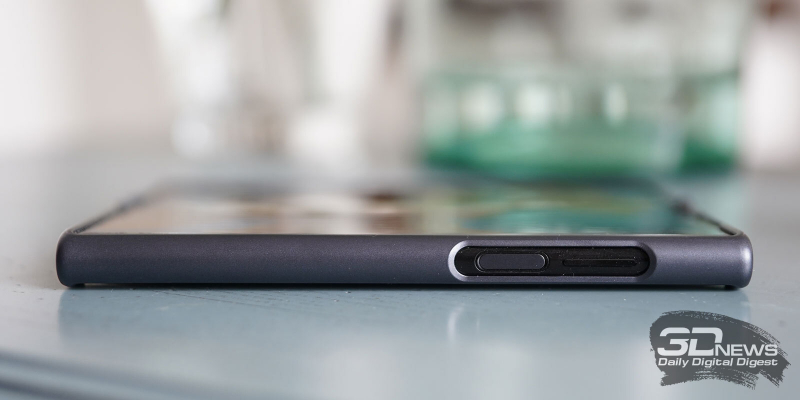 Color variation the one and only- black in fact, the "starry sky" on the name.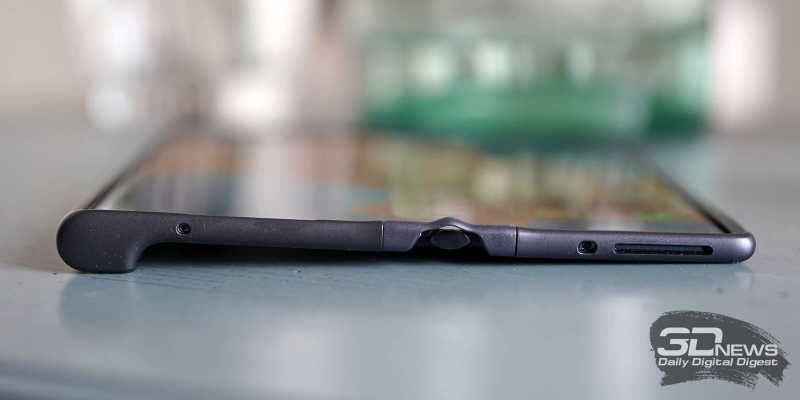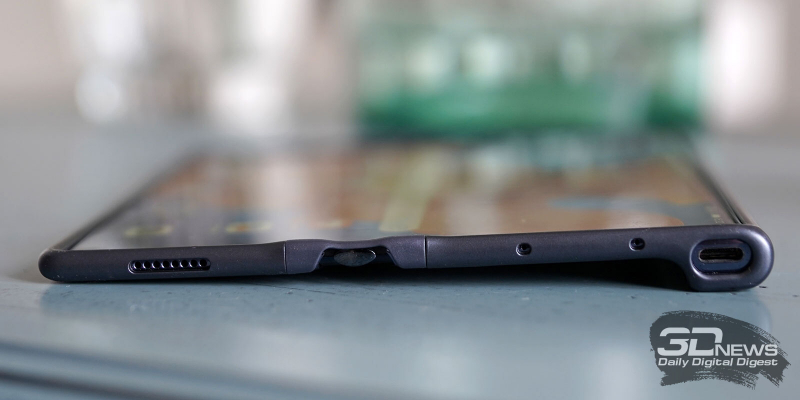 Important question — that of "wrinkle"? Place the fold of the screen visible, but no more than that of the Samsung Galaxy Fold, and to the fact that at a certain angle in the center of the deployed Mate Xs visible crease, quickly. Moreover, it can not be seen, if you look at the screen and if the screen bright picture. In General, I would not say that this is any serious problem bendable smartphones. Another detail: when folding in the tablet as the gadget is not just "aligned", center is still a small hump, it is necessary to tighten the hinge a little movement — another little fact to the Treasury of impressions of the imperfections of the design.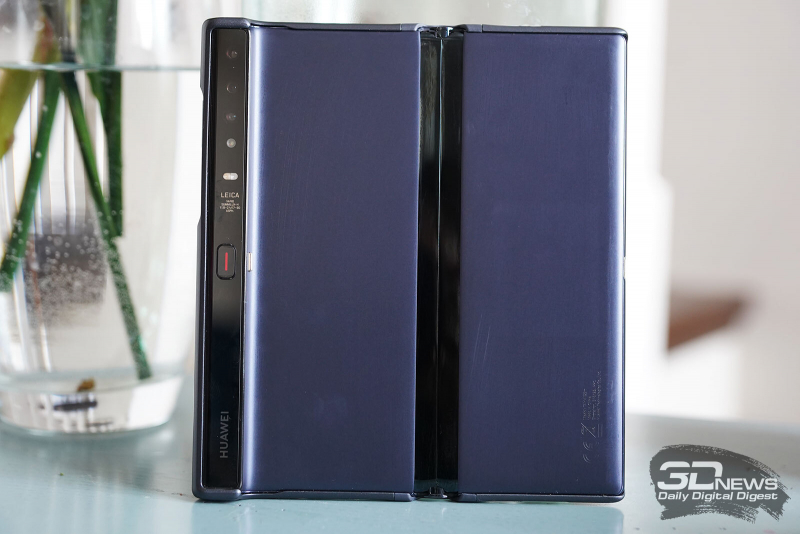 Main advantage Huawei Mate Xs in front of the only, but many times mentioned by the competitor — no on full screen any inclusions. As such, there is no front facing camera and earpiece built into the screen surface, as in Mate and P30 Pro 30 Pro. Accordingly, to watch the video (and indeed to use the device in most apps) there is a much more comfortable — a huge cutout does not interfere.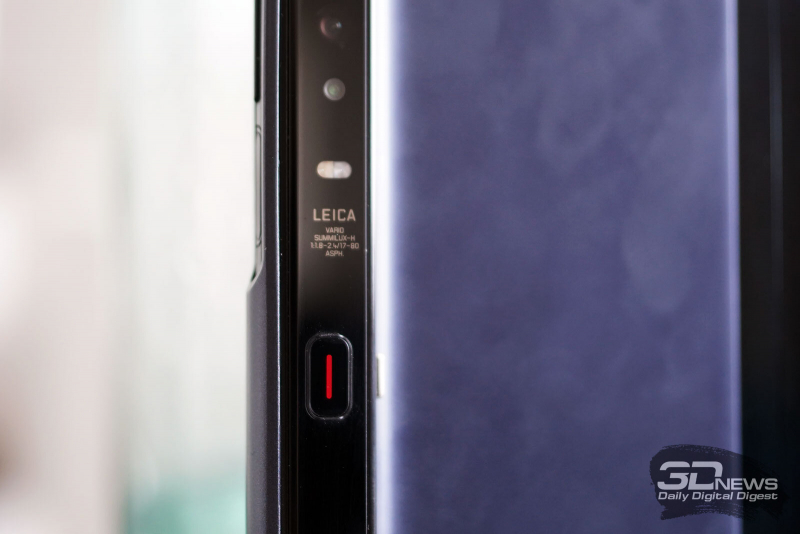 Functional elements differ from what we're used to on Android smartphones, and it is quite natural. The right side has the volume keys and the power button of the device combined with a fingerprint scanner. On the bottom edge — monophonic external speaker and the USB Type-C, in the corner. Unusual item — not immediately visible button near the block with cameras, even though marked in red. It is used to unlock the folding mechanism of the screen.
Sensor used for fingerprint scanning, there is capacitive — it works well, without failures. At least a week, the percentage analytical as has been low and has not changed. And of course, it is much faster than existing display scanners that optical ultrasonic. Other ways of identifying the user (assuming the password or pattern) is not here, which is logical in the formal absence of the front camera.
Works Huawei Mate Xs running an open version of Android 10 with the shell EMUI 10 – without Google, what had gradually become accustomed. In the review of the Huawei MediaPad M6, I wrote that the lack of Google Play and companion apps great bother in a smartphone, but much weaker effect on the impression of work with the tablet. Huawei Mate Xs occupies an intermediate position — as a device for content consumption it is absolutely full, of possibilities pre-installed software, coupled with Huawei's Mobile Services and quickly growing App store Gallery for typically the tablet functionality is quite enough. But full-fledged smartphone experience suffering — it is necessary to refer to the various "crutches" like Mirror or APK APK Pure to install the usual applications, and to preserve the full Android experience I would have to execute dance with a tambourine and put Google Mobile Services detours.
However, I can say that as of March 2020 US sanctions (as reflected on loose GMS) are perceived not as acute as in the autumn of 2019 — the epidemic of the coronavirus if the reason against which such inconveniences seem to be nonsense or a real jerk Huawei Mobile Services, hard to say. Concerning the particular experience with the Huawei Mate Xs, then there is nothing fundamentally new — most of the applications normally massturbate under the unusual, almost square screen format, but part is displayed with black bars on the top and bottom problems with running some apps like the Galaxy Fold, not here. There is a limited mode of mnogokanalnosti that is invoked by pulling from the right edge of the screen and leave the finger on the stretched icon. The settings menu looks a little funny, but only if you haven't seen tablets on EMUI 10. The same can be said about some cute additions like changing the scale of the keyboard. Sheath modern, fast, works with an unusual device form factor correctly.
Screenshot gallery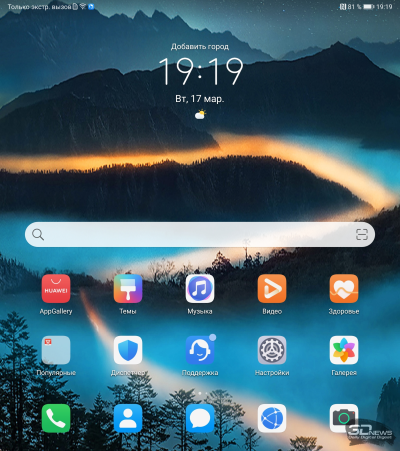 Screenshot_20200317_191923_com.huawei.android.launcher.jpg
View all images (16)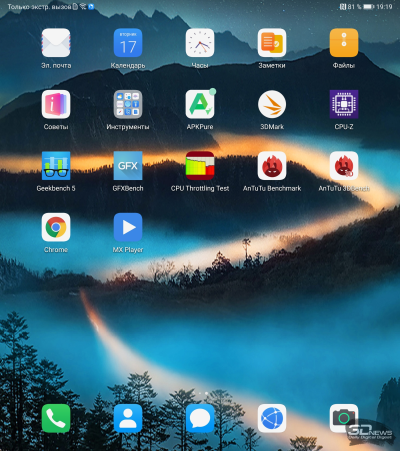 Screenshot_20200317_191925_com.huawei.android.launcher.jpg

Screenshot_20200317_191929_com.huawei.android.launcher.jpg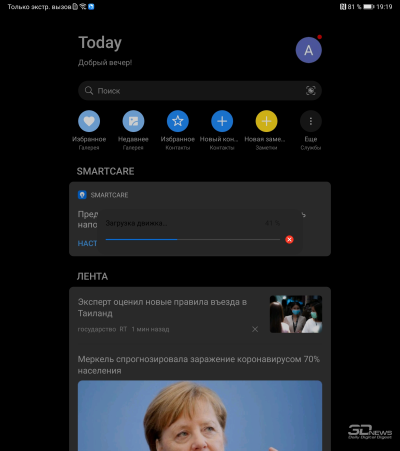 Screenshot_20200317_191933_com.huawei.intelligent.jpg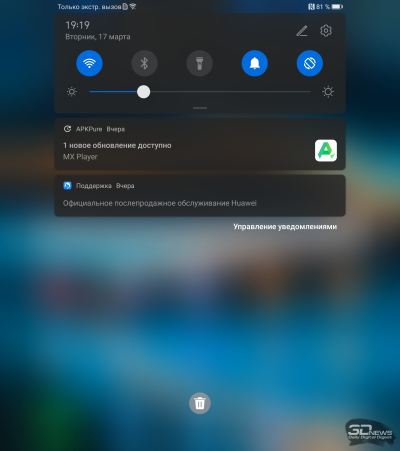 Screenshot_20200317_191954_com.huawei.android.launcher.jpg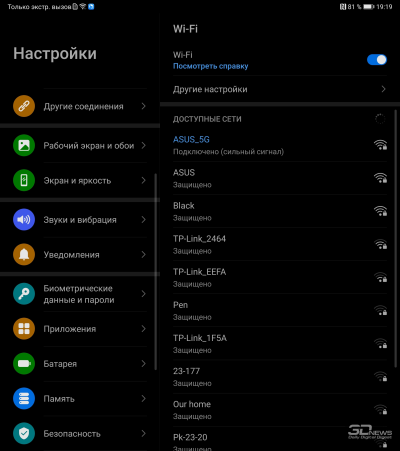 Screenshot_20200317_191959_com.android.settings.jpg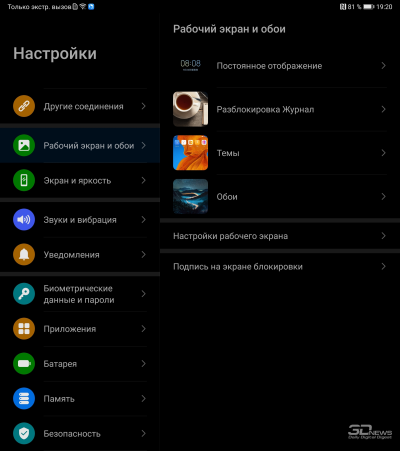 Screenshot_20200317_192003_com.android.settings.jpg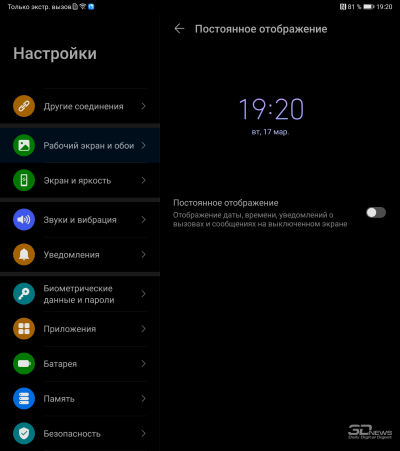 Screenshot_20200317_192006_com.huawei.aod.jpg

Screenshot_20200317_192049_com.android.settings.jpg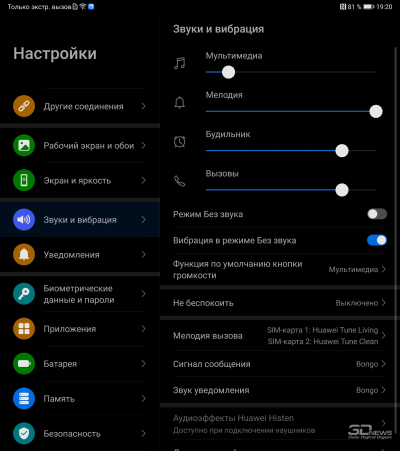 Screenshot_20200317_192052_com.android.settings.jpg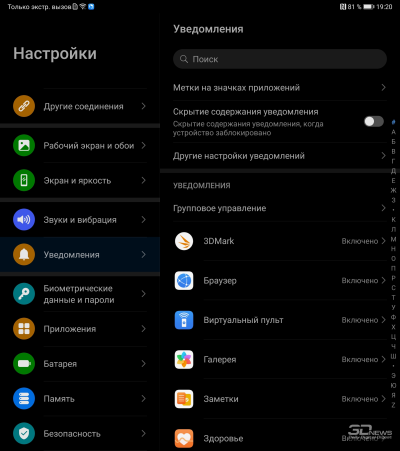 Screenshot_20200317_192054_com.huawei.systemmanager.jpg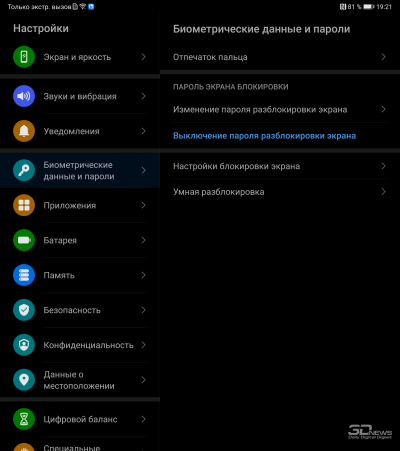 Screenshot_20200317_192113_com.android.settings.jpg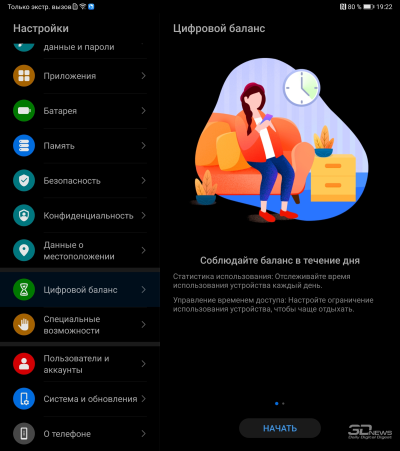 Screenshot_20200317_192231_com.huawei.parentcontrol.jpg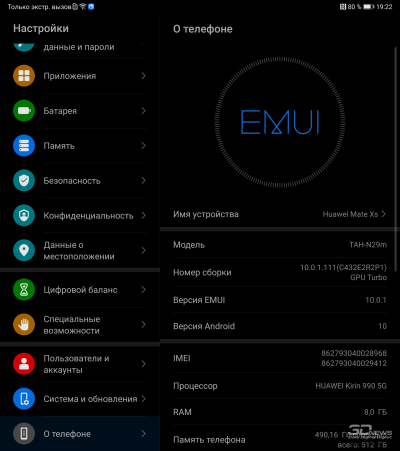 Screenshot_20200317_192238_com.android.settings.jpg

Screenshot_20200317_192301_com.huawei.android.launcher.jpg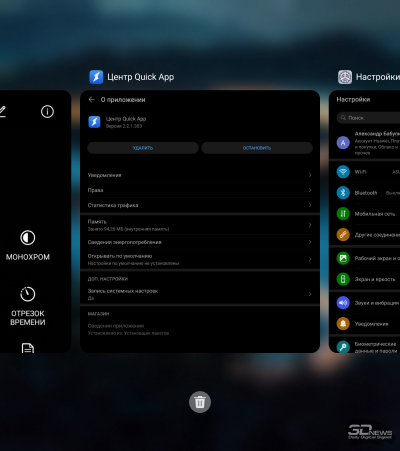 Screenshot_20200317_192803_com.huawei.android.launcher.jpg
See all
images (16)
How to use a phone Huawei Mate Xs can be in the folded and in the unfolded condition, no problems with it — but, of course, looks are aesthetic and logical conversation on the compact and elongated device, not an eight-inch tablet, leaning against your ear.
Display and sound
Huawei Mate Xs in one screen, just bending, so a number of screen tests in this review will not go overboard. Here installed OLED-matrix with a diagonal of 8 inches and a resolution of 2480 × 2200 pixels. The pixel density in the unfolded state — 414 ppi. More than enough — when compared to actual tablets, Mate Xs put on the blades of any of them. The picture looks detailed, smooth fonts. When folded you available screen diagonal: 6.6 inches with a resolution of 2480 × 1148 points typical for modern smartphones format 19,5:9. The second part of the screen in the folded condition almost never used — it is activated on demand when shooting video (so that the subject can see itself, and to control the process) and in shooting mode selfie — after all, he is in the same plane with a common cell block.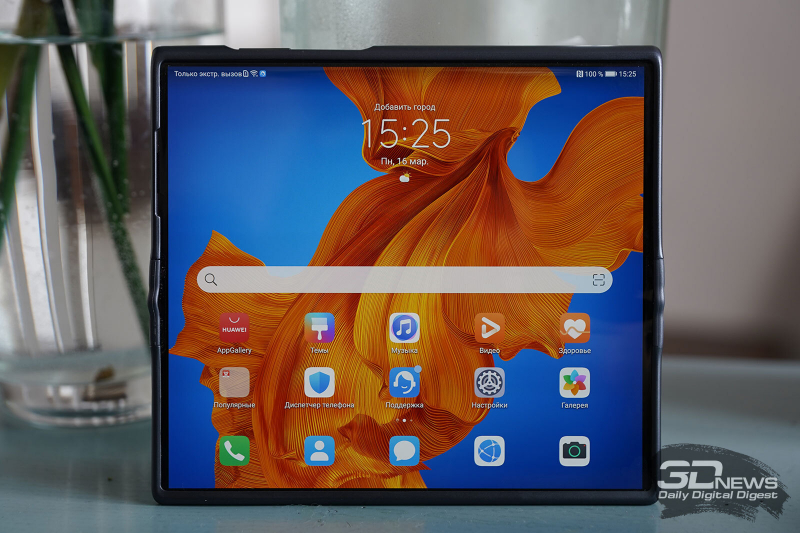 The matrix has a quality, some special sensations from this screen, despite the plastic coating instead of glass, no. About the "crease" and the lack of cutout I mentioned above, before testing were also questions about the oleophobic coating — and with it, I have to say, all is well: prints a smartphone, of course, collects, rubbed but they have no problems. In terms of the characteristics of the display and General experience of interaction with the smartphone Huawei Mate Xs noticeable lead in the match with the Samsung Galaxy Fold – and not only in the same notorious the neckline. Mate just Xs much more capable as a classic mobile — when folded it is no less functional than in the unfolded. The screen, in fact, one — and he's good.
There is a custom mode Always-On Display (what is especially proud of Huawei in respect of the shell EMUI 10) — you can choose not only what to display on the locked (outer) display, but how it should look.
A set of display settings for typical devices with EMUI and OLED display, with the exception of auto color tone depending on the lighting Mate in Xs, it is not. Apparently couldn't think of where to place the corresponding sensor. Otherwise, everything is familiar: the choice is between normal and vivid color reproduction, with the ability to bend the color temperature yourself. The default display is "bright colors". I measured the performance of display Mate Xs with both settings.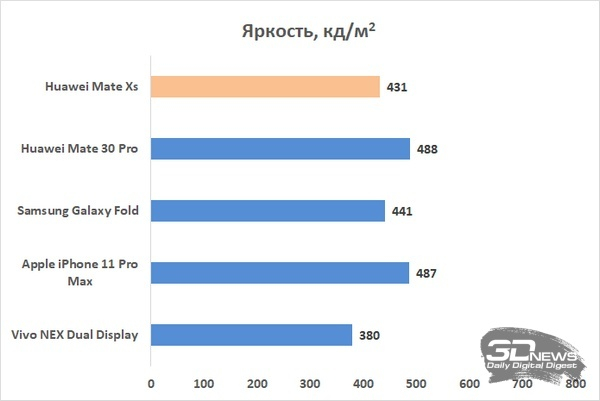 Received the maximum level of brightness without increasing when auto-tuning is 431 CD/m2. If necessary, he will grow up in the sun you are not going to have any problems, use the device in all conditions.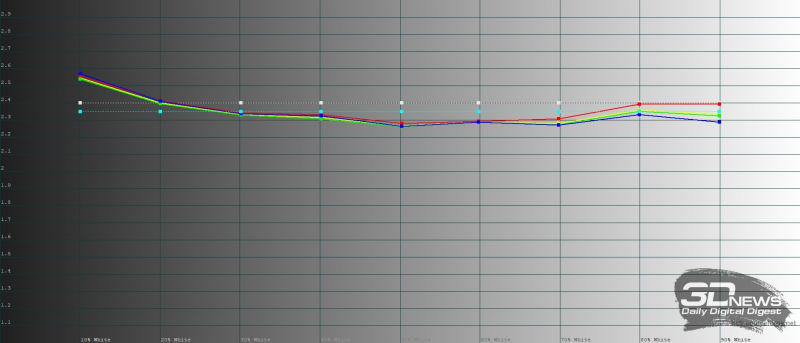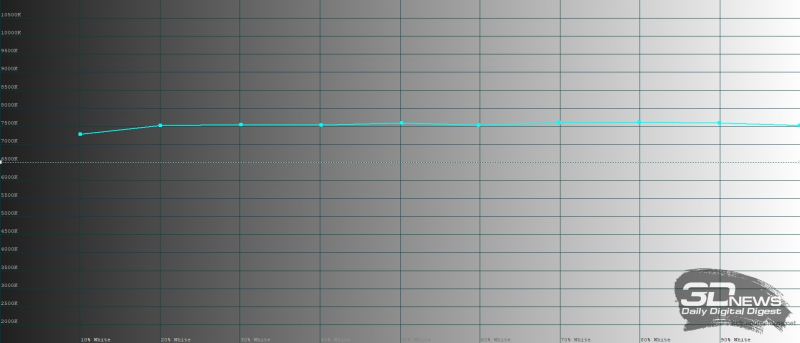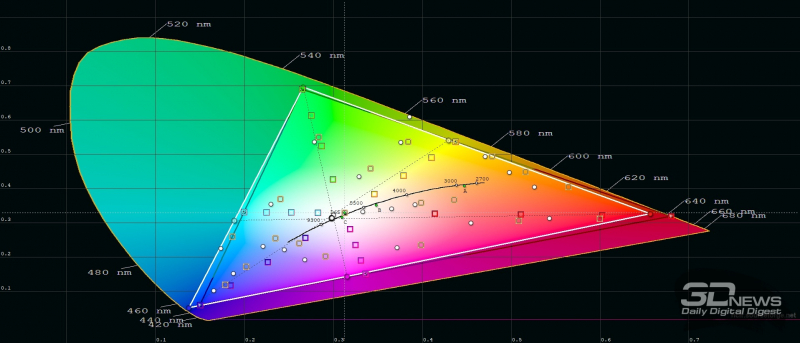 In the "bright" mode, the triangle of the color scope is very close to the standard DCI-P3. The average gamma value is 2.35 with a rather stable behavior of curves that is slightly beyond the norm. Color temperature is also slightly increased — keeps a flat line at 7,500 K. the Average deviation of DeltaE for the extended Color Checker palette (grayscale + wide array of color shades) of 3.98 is (norm — 3,00). The picture is bright, juicy, but cold and slightly deviating from the standard flowers — nevertheless such approach has the right to life, extended coverage in this case has not led to the outrageous distortion of the image.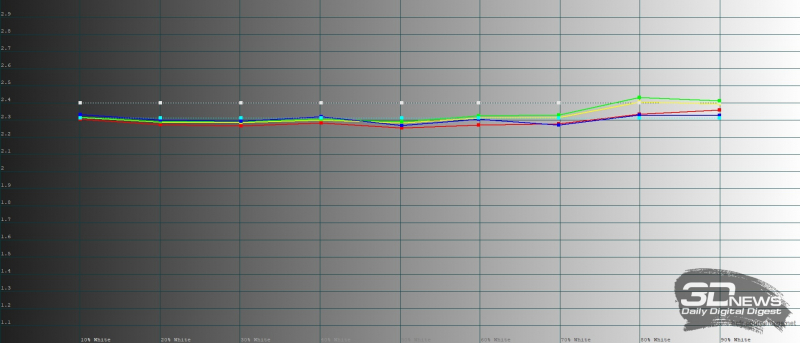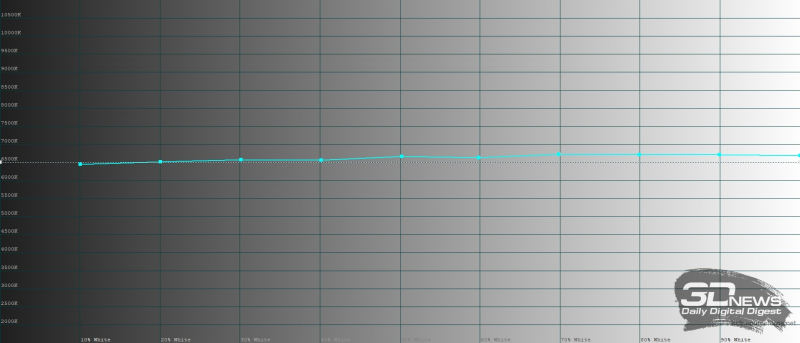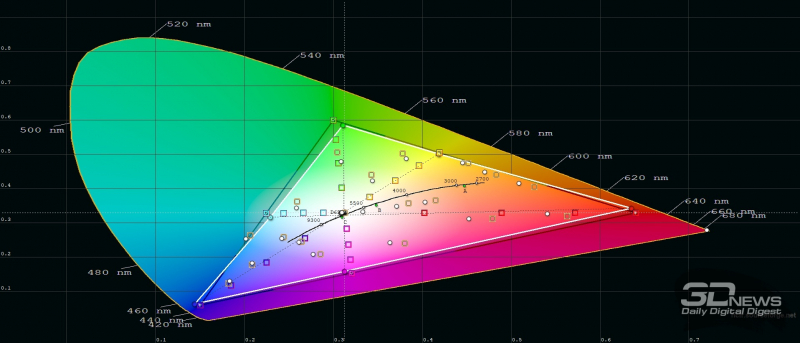 When activated, normal mode color gamut sharply narrowed approximately to the sRGB standard, is still prevalent wider than DCI-P3. In this case, the triangle coverage is slightly skewed. Gamma is very close to the ideal of 2.31, curves behave reference. Temperature is also a standard — 6 To 500 without any jumps. It is logical that the average deviation of DeltaE Color Checker on a scale reduced to 2.53 that the boundaries of the norm. The display is set almost perfectly, claims to Huawei can not be here.
Have screen Mate Xs and the lack of — visible PWM, even at a high brightness level. Like we got used to the fact that it is typical for the screen on organic light emitting diodes scenario, but here once is already too much and reduce the brightness to make the effect visible, is not needed, and the frequency is too low — about 70-80 Hz.
What is Huawei Mate Xs below the average tablet, including the same neighbor across the product line in the face of the MediaPad M6, is the sound quality. There's no mini Jack — this is the explanation, still unfolded thickness of the gadget is only 5.4 mm — brainer, he could not climb. So it remains to rely on the adapter, which is not complete, either for wireless headphones. The whole range of necessary Bluetooth profiles for high quality transmission on location: aptX, aptX HD LDAC. That's all right. But the external speaker is the only one located on the bottom edge and boast high volume and especially the quality of sound he can't.
Hardware and performance
Huawei Mate Xs, of course, got the latest hardware platform Huawei HiSilicon Kirin 990, and in this case with an integrated (and not disabled) 5G modem. In Russia it is useless today, but it is.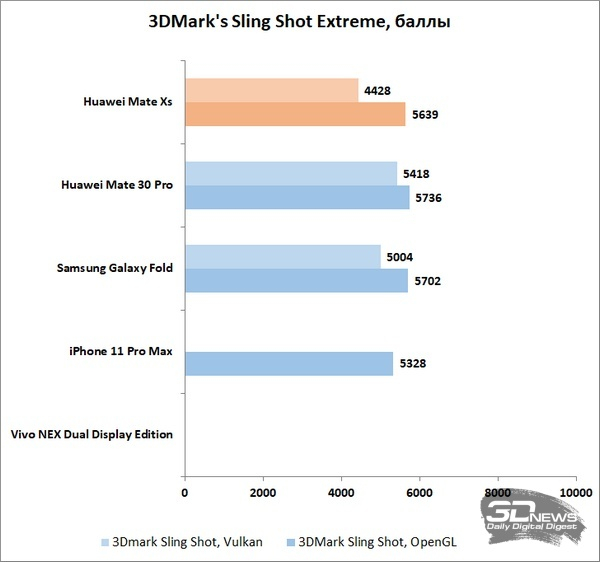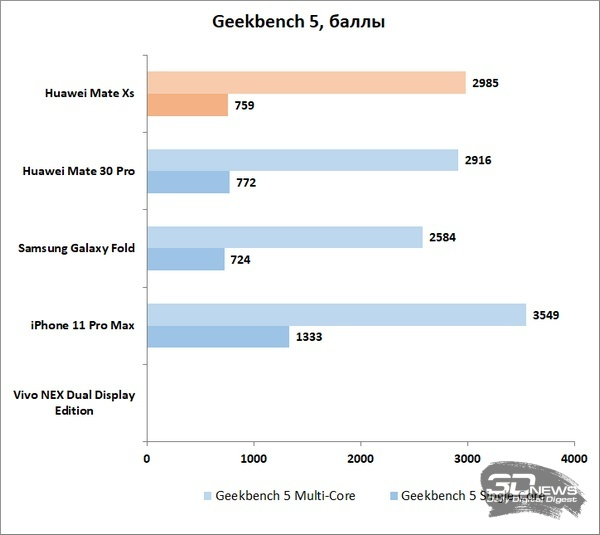 In addition to the modem, the key components of the platform are two processor cores ARM Cortex-A76 with a clock frequency of 2.86 GHz plus two ARM Cortex-A76 with a clock speed of 2.09 GHz and four low-core ARM Cortex-A55 with a clock frequency of 1.86 GHz. Graphics — 16-core ARM Mali-G76. There are, of course, a special module for operations related to machine learning (NPU), and a very high level. Workflow — 7 nm using EUV-lithography. More information about this hardware platform can be read in this article.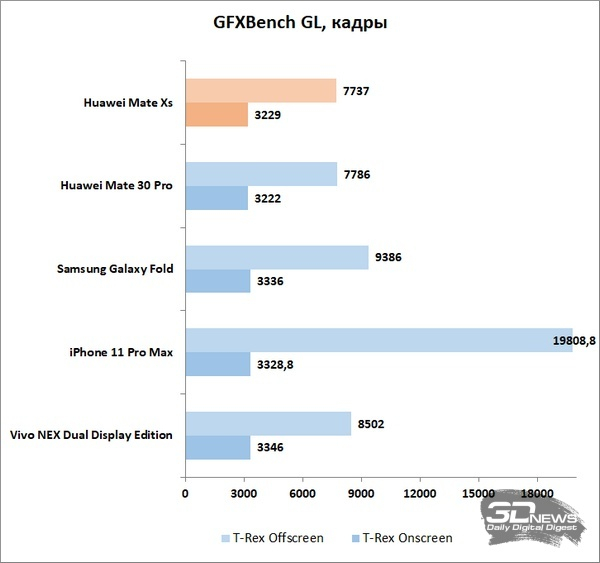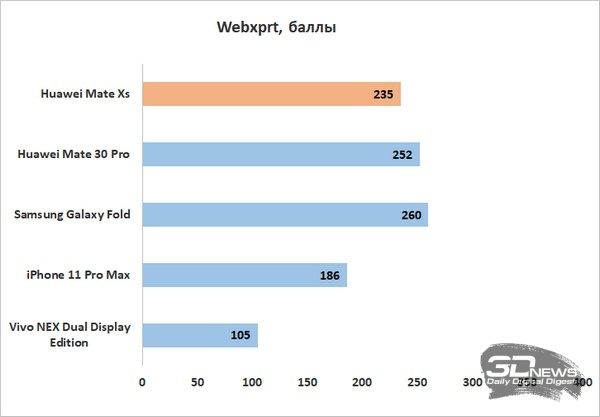 In terms of performance Huawei Mate Xs is quite adequate to the present moment. In direct comparison platform loses to current flagship solutions Qualcomm and Apple and coming to solutions Samsung. The measurements show the imperfection of the Kirin 990, especially in 3D graphics, but in fact allows the device to run at maximum graphics settings all the modern apps and games to notice the problem, if only to pay attention to fps in the most demanding online games. In General the performance is a normal flagship smartphone of the specimen 2020.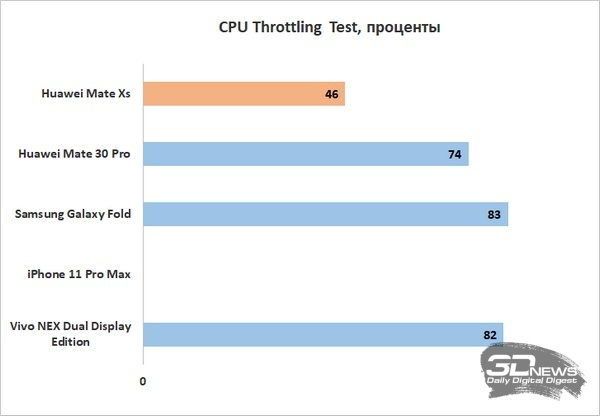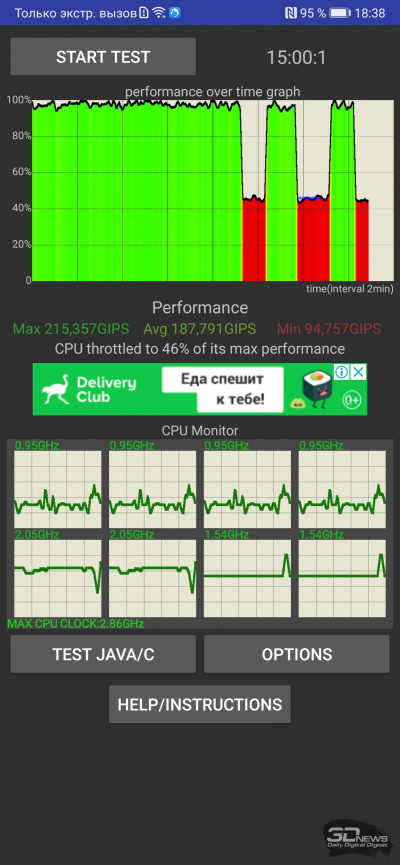 Alas, a thin (in unfolded state) the smartphone is expected to have problems with the heat sink, as clearly signaled Throttling the CPU benchmark Test. Under load, the platform lowers the frequency of processor cores to 46 % of the maximum; the average level of performance in this case is 188 GIPS. About the same as at 30 Mate Pro, but you have to keep in mind the unpleasant dynamics of the smartphone is working in full force, drops the performance in half. This affects frame rates in demanding games. The tactile smartphone not too hot.
Huawei Mate Xs got 512 GB of flash memory standard UFS 2.1 with the possibility of extension due to the proprietary card standard nanoSD (capacity up to 256 GB, respectively), which is installed instead of one of the two available SIM cards. RAM — 8 GB LPDDR4X.
Communications and wireless communications
Huawei Mate Xs operator works with two cards of the standard nano-SIM, and only one of them can work with 5G networks. To interact with the 4G fit both slots. Built-in modem works with LTE 21 category: speed download data in theory can reach up to 1.4 GB/s, transmit – 200 Mbps. Despite the fact that Mate Xs is designed primarily for the domestic market, a list of supported ranges is quite international and comprehensive.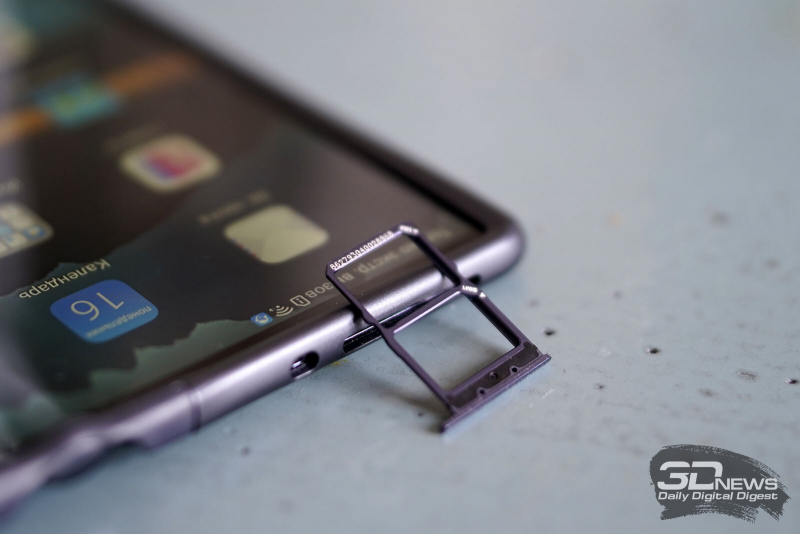 Wireless modules the same as in the Huawei Mate 30 Pro: dual-band Wi-Fi (802.11 a/b/g/n/ac; Wi-Fi 6 smartphone missed), Bluetooth 5.0, NFC and infrared port to control household appliances. The navigation module is equipped with dual GPS, and also works with GLONASS, BeiDou, Galileo, QZSS.
Camera
In Huawei Mate Xs there is no separate emphasis on the camera, but it's not a "tablet" version, completed with cameras as a residual. Just in this aspect Mate Xs is inferior to the "ordinary" flagships Huawei and P30 Pro with its impressive periscope module and the Pro Mate 30 with its selected module for videos.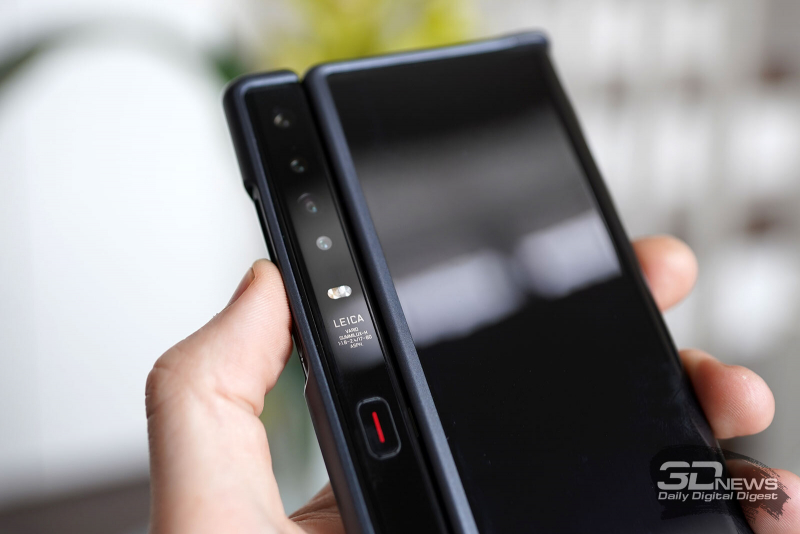 But Mate Xs still installed fourth unit, consisting of a 40-megapixel main module (lens with equivalent focal length of 27 mm, aperture f/1,8, hybrid AF), a 16-megapixel wide angle (17 mm, f/2,2, auto-focus), 8-megapixel teleformula (52 mm, aperture f/2.4, hybrid auto focus, optical stabilization) and the TOF module to correct the blur of the background in the corresponding modes.
Already in the time of acquaintance with the characteristics of the cameras Mate Xs it is possible to notice that the main chamber was devoid of the stabilizer and the aperture ratio is not as high as on 30 Pro Mate, for example; telephoto-module, and in fact provides twice the optical zoom, while the camera application, the default option is three-fold zooming. The double zoom you can select manually. While the main camera is equipped with a proprietary sensor RYYB, allowing you to work out the scenes with inadequate lighting. By default, images are captured in resolution of 10 megapixels — a 40 megapixel mode should be used separately, if desired. We can say that the Huawei Mate Xs is definitely inferior to the capabilities of the camera and quality photography — and quite strongly — the other flagships of the company (worth three times less), but keeps quite on the level of other flagship smartphones, surpassing, for example, the Samsung Galaxy Fold. Autofocus when shooting at a wide angle, high-quality color reproduction in different lighting conditions, good (but not extraordinary) ability to zoom, adequate and disable the AI helper — Mate Xs is quite good in the role of the camera.
Night scene remains the trump card and this smartphone of Huawei. Even without activating the night mode can make quite good shots, including in low light, night mode with combining multiple shots taken within 4-8 seconds, allows to count on sharp and vivid images in almost any environment. It all works, by the way, and when shooting at wide angle module, and a threefold or a fivefold zoom. The absence of the stabilizer on the main camera imposes some restrictions, but not as critical as one would think. Claim to night mode traditional for Huawei smartphone too is trying with contour sharpness and saturation of images, they may look not too natural.
| | | |
| --- | --- | --- |
| |   | |
Portrait mode works well: the smartphone efficiently share plans as when shooting large format and height/half-length portraits and is also able to "draw" a variety of side — circles, hearts and so on. There are sophisticated lighting effects like the simulation of Roman blinds or stained glass in the background (with relevant reflections on the face). These same effects can also be applied when shooting a selfie.
Front-facing camera, again, in Huawei Mate Xs is not — therefore the quality of the selfie is absolutely consistent with what we can get when shooting conventional portraits. Discount that will be mostly used, the main camera with a wide angle — that is, the spatial distortion is still inevitable. But not critical. Blur the background with different effects, advanced beutification (Huawei claims that neural networks take part in his work) — all on the spot. Selfie Mate for Xs is obtained that is necessary, and in any light.
The interface of camera application is typical for smartphones based on EMUI 10, how to change it and to adapt it to work with a hybrid gadget developers do not have. App normal, with a good set of options and built-in "lakowski" filters, the ability to shoot RAW… and with a crooked, awkward scale zoom — I always overshoot of slices preset focal length, turning to the scale on which it is necessary to pull the slider. Especially annoying the absolute inability to quickly switch focal length when shooting video — there is generally only available to the slider, and it's rarely a bad decision.
Gallery images

IMG_20200311_182212.jpg
See all images (23)

IMG_20200311_183418.jpg

IMG_20200311_183427.jpg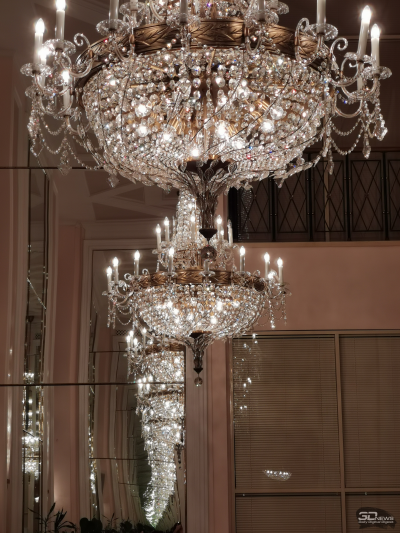 IMG_20200311_202927.jpg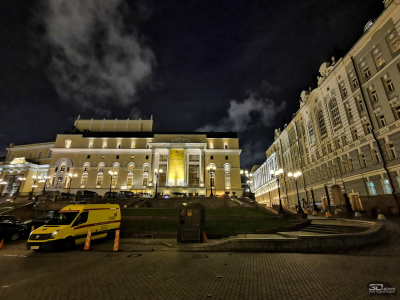 IMG_20200311_205705.jpg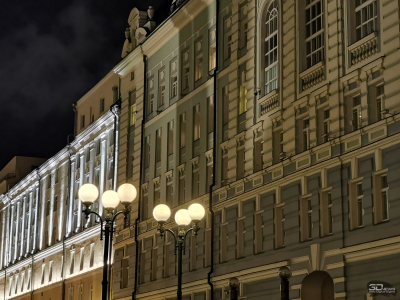 IMG_20200311_205740.jpg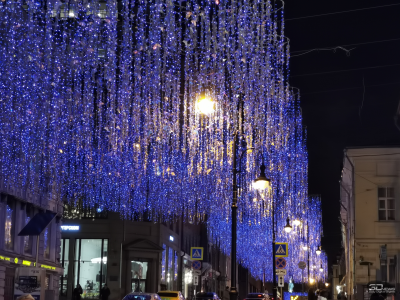 IMG_20200311_210313.jpg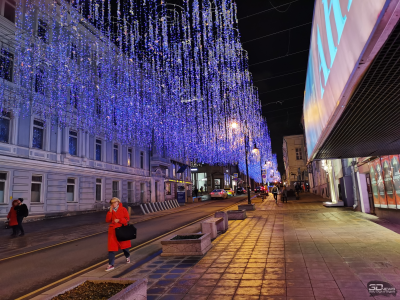 IMG_20200311_210318.jpg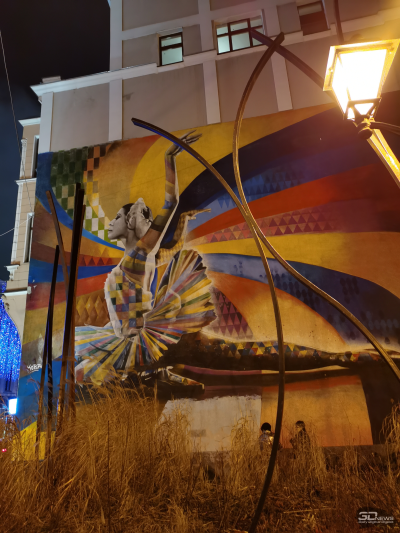 IMG_20200311_211413.jpg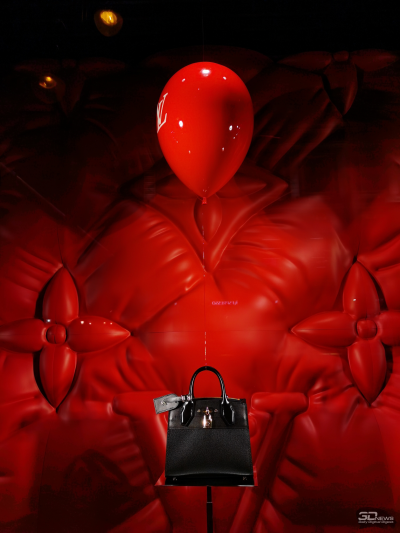 IMG_20200311_212048.jpg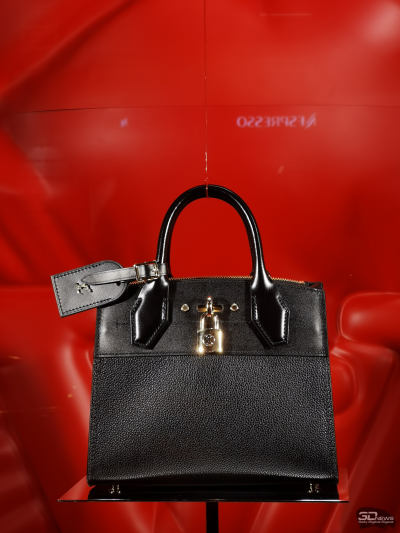 IMG_20200311_212052.jpg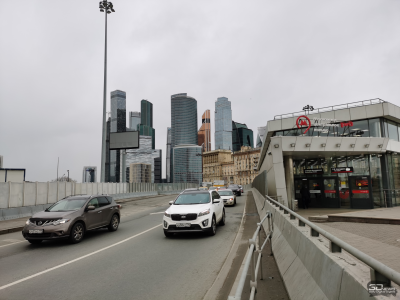 IMG_20200313_141445.jpg

IMG_20200313_141449.jpg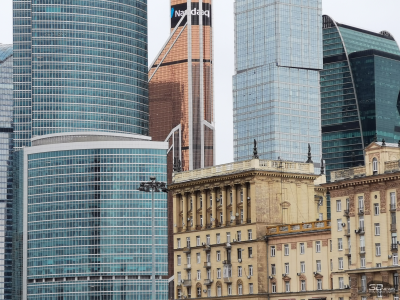 IMG_20200313_141458.jpg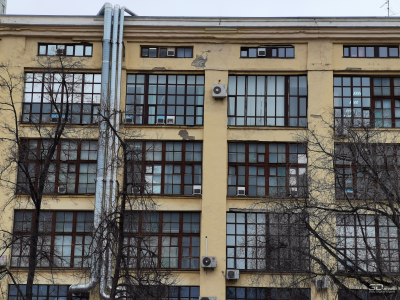 IMG_20200313_142008.jpg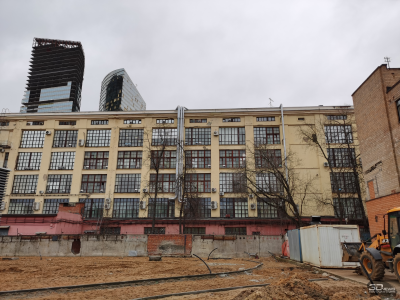 IMG_20200313_142016.jpg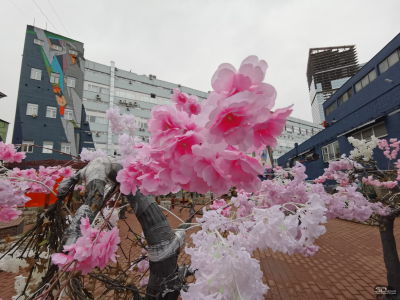 IMG_20200313_142431.jpg

IMG_20200313_142440_1.jpg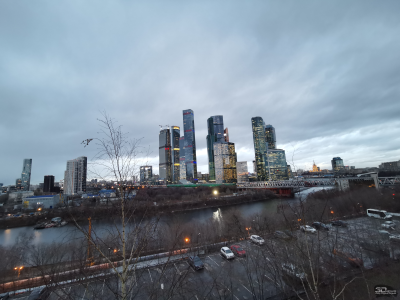 IMG_20200313_183328.jpg

IMG_20200313_183344.jpg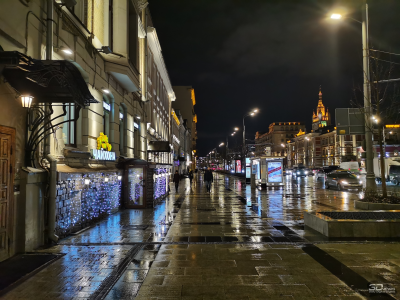 IMG_20200313_195910.jpg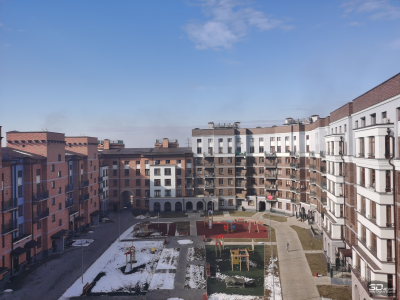 IMG_20200317_142506.jpg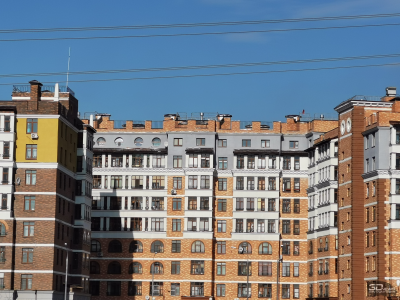 IMG_20200317_143412.jpg
See all
image (23)
Video recording is possible with a maximum resolution of 4K at a frequency of up to 30 frames per second while running stabilization. At 60 frames per second your smartphone is not able to shoot even in Full HD, which is a bit surprising for a modern gadget. The recording quality is adequate but not outstanding — the picture twitches noticeably when you move the camera. Feats in slow motion Mate Xs also does not — the maximum frequency at HD-resolution is 960 frames per second.
Work offline
Huawei Mate Xs "documents" bears the same battery with the same capacity as Mate 30 Pro — 17,1 W·h (4500 mAh, 3.8 V). But a little more complicated — in fact, in the case of flexible mobile hidden two batteries with a capacity of 2250 mA·h. This is done to ensure that the body remains quite thin. The user experience this decision does not affect, of course. The total capacity of the two batteries is enough for you to smartphone folded (and occasionally turning into a decomposed format) calmly held the full day charge. How much is enough battery Mate Xs, if you use it exclusively in the unfolded form of a chain, and I don't like to conduct such testing, I have not enough patience. Still, the tablet most of the day simply not needed, use non-stop to them we only when watching movies or playing games.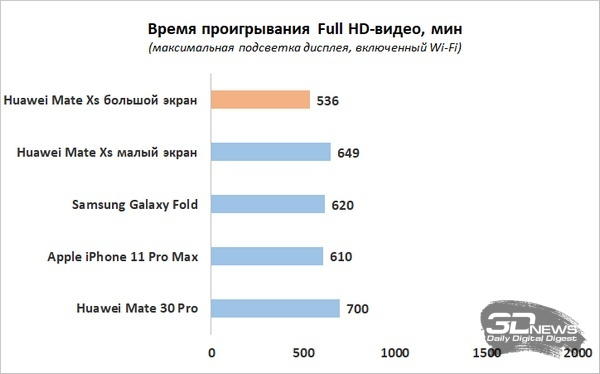 To estimate the number of lives Huawei Mate Xs in "cinerail", we have a special test playing Full HD-video on maximum brightness with the included Wi-Fi, and notices. I held him and Mate with the expansion of Xs, and folded. In the first case, the device lasted for about 9 hours, the second ten and a half. Both results are not outstanding, but OK. The problems with autonomy from Mate Xs no.
For charging current USB Type-C (USB 3.1) runs proprietary system Huawei quick charging Super Charge 40 watts, which allows to charge the battery in just over an hour. Wireless charging and the more the possibility to give the charge is reversible way Mate Xs does not support.
Conclusion
Huawei Mate Xs – gadget is definitely experimental, though sold at very the official channels. But the price of two thousand euros (you can calculate yourself how much it rubles at the current devastating rate), combined with the lack of Google services severely limits the number of potential buyers — Huawei hardly are ready now to release a flexible smartphone in large quantities.
But it's not just a gadget; it's a statement of intent, the Chinese Corporation is not going to give Samsung at the very leading edge of mobile technology and will cling, offering not just "another" flexible smartphone and your vision of this technology. Not dual-screen gadget, and the gadget with the screen facing out. More fragile, more reminiscent of a prototype and more expensive than the Galaxy Fold, but it is more convenient to handle it as a smartphone, due to the full size of screen 6.6 inch, and as a tablet due to the larger diagonal and the absence of intruding in the image on the screen cutout. The most powerful for Huawei hardware platform, adequate to the high status of the camera (which nevertheless still inferior to the chambers and Mate P30 Pro 30 Pro). Everything seriously.
Pre-order the new device will start on 27 March 2020. The sales will start on March 31. The price of Huawei Mate Xs in Russia will amount to 199 999 rubles.
Advantages:
unique (well almost unique) form factor with a flexible display;
powerful hardware platform;
perfectly tuned OLED screen (OLED displays);
quality camera;
well adapted to work with both formats display software.
Disadvantages:
no Google Mobile Services;
too obvious, problem with PWM;
potentially fragile structure combined with the slippery (when folded) body;
problems with the throttle;
no dust – and moisture protection;
no mini-Jack;
price.
Source: 3dnews.ru