Overview of Apple iPhone SE (2020): the kid who came back
Released in 2016 iPhone SE was a real gift not only for those who are accustomed to use the smartphone with one hand and does not want to wean, but for lovers of classic design smartphones Apple – current at the time the filling was placed in an elegant (compared to the iPhone 6) case iPhone 4/5 times. In a similar way Apple did with the second generation iPhone SE – only "rollback" turned out to be a little less obvious and at the same time more profound: the new SE more like the iPhone 8
with its key "Home" and without "monobrow" while maintaining a minimal individuality.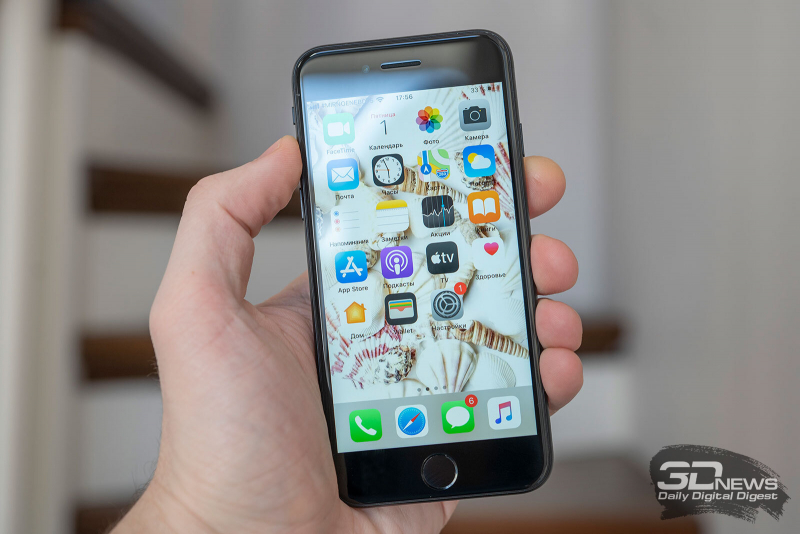 Apple at the start of sales put for your iPhone SE the second version, the price of 39 990 rubles — Frank pittance by the standards of the company, the actual flagships which cost a hundred thousand. It is logical that at this price, Apple has made some compromises in the stuffing, but they have not touched the hardware platform: uses the same system A13 Bionic, and the iPhone 11/11 Pro, so worry that the baby "will turn into a pumpkin" faster than current older models, not worth it. Simplify touched the back of the camera (here we use a single module without night mode), front camera (honored but outdated module 7 megapixels), system user identification (the return of the fingerprint scanner in the button "Home" instead of Face ID), matrix screen (IPS instead of OLED) and memory (3 GB). Apple, in fact, released not even a replacement iPhone Xr, which was less of a compromise regarding iPhone Xs, and a direct alternative to Google Pixel 3a. Let's see how meaningful and competitive get a new Apple iPhone SE.
Specifications
Apple iPhone SE (2020)
Apple iPhone 11
Sony Xperia 5
Google Pixel 3a
Huawei P40
Display
4.7 inch, IPS,
1334 × 750 pixels, 326 ppi, capacitive multitouch
6.1 inches, IPS,
1792 × 828 pixels, 326 ppi, capacitive multitouch
6.1 inch OLED
2520 × 1080 pixels (21:9), 449 ppi, capacitive multitouch
5.6 inches, OLED, 2220 × 1080 pixels, 441 ppi, capacitive multitouch
6.1 inch OLED
2340 × 1080 pixels, 422 ppi, capacitive multitouch
Safety glass
No information
No information
Corning Gorilla Glass 6
Asahi Dragontrail Glass
No information
Processor
A13 Apple Bionic: six cores (2 × Lightning frequency 2.65 GHz + 4 × Thunder, frequency 1.8 GHz)
A13 Apple Bionic: six cores (2 × Lightning frequency 2.65 GHz + 4 × Thunder, frequency 1.8 GHz)
Qualcomm Snapdragon 855: eight cores (1 × Kryo 485 Gold, the frequency of 2.84 GHz + 3 × Kryo 485 Gold, frequency of 2.42 GHz + 4 × Kryo 485 Silver, the frequency of 1.78 GHz
Qualcomm Snapdragon 670: two cores Kryo 360 Gold 2.0 GHz + six cores Kryo 360 Silver, 1.7 GHz
HiSilicon Kirin 990 5G: eight cores (2 × ARM Cortex-A76, frequency of 2.86 GHz + 2 × ARM Cortex-A76, the frequency of 2.36 GHz + 4 × ARM Cortex-A55, frequency of 1.95 GHz); architecture HiAI; 5G modem
Graphics controller
Apple GPU (4 cores)
Apple GPU (4 cores)
Adreno 640
Adreno 615, 700 MHz
ARM Mali-G76 MP16
RAM
3 GB
4 GB
6 GB
4 GB
6/8 GB
Flash memory
64/128/256 GB
64/128/256 GB
128 GB
64 GB
128/256 GB
Memory card support
No
No
Yes (microSD up to 1TB)
No
Yes (only Huawei nanoSD)
Connectors
Lightning
Lightning
USB Type-C
USB Type-C, 3.5 mm
USB Type-C
SIM card
One nano SIM and one eSIM
One nano SIM and one eSIM
Two nano-SIM
One nano-SIM
Two nano-SIM
Cell 2G connection
GSM 850/900/1800/1900 MHz
CDMA 800/1900 MHz
GSM 850/900/1800/1900 MHz
CDMA 800/1900 MHz
GSM 850/900/1800/1900 MHz
GSM 850/900/1800/1900 MHz
GSM 850/900/1800/1900 MHz
3G cellular communications
HSDPA 850 / 900 / 1700 / 1900 / 2100 MHz
CDMA 2000 MHz
HSDPA 850 / 900 / 1700 / 1900 / 2100 MHz
CDMA 2000 MHz
HSDPA 800 / 850 / 900 / 1700 / 1900 / 2100 MHz
HSDPA 850 / 900 / 1700 / 1900 / 2100 MHz
CDMA 2000 MHz
HSDPA 800 / 850 / 900 / 1700 / 1900 / 2100 MHz
Cellular 4G
LTE-A Cat.16 (up to 1024/150 Mbit/s), ranges 1, 2, 3, 4, 5, 7, 8, 11, 12, 13, 17, 18, 19, 20, 21, 25, 26, 28, 29, 30, 32, 66
LTE-A Cat.16 (up to 1024/150 Mbit/s), ranges 1, 2, 3, 4, 5, 7, 8, 11, 12, 13, 17, 18, 19, 20, 21, 25, 26, 28, 29, 30, 32, 34, 38, 39, 40, 41, 42, 46, 48, 66
LTE Cat. 19 (to 1600/150 Mbit/s), ranges 1, 2, 3, 4, 5, 7, 8, 12, 17, 18, 19, 20, 26, 34, 38, 39, 40, 41
LTE Cat. 11 (600 MB/s): 1, 2, 3, 4, 5, 7, 8, 12, 13, 17, 20, 25, 26, 28, 32, 38, 40, 41, 66
LTE: bands 1, 2, 3, 4, 5, 6, 7, 8, 9, 12, 17, 18, 19, 20, 26, 28, 32, 34, 38, 39, 40, 41
Wi-Fi
802.11 a/b/g/n/ac/ax
802.11 a/b/g/n/ac/ax
802.11 a/b/g/n/ac
802.11 a/b/g/n/ac
802.11 a/b/g/n/ac/ax
Bluetooth
5.0
5.0
5.0
5.0
5.1
NFC
Yes (Apple Pay)
Yes (Apple Pay)
There
There
There
Navigation
GPS, A-GPS, GLONASS
GPS, A-GPS, GLONASS, Galileo, QZSS
GPS (dual band), A-GPS, GLONASS, BeiDou, Galileo
GPS, A-GPS, GLONASS, Galileo
GPS (dual band), A-GPS, GLONASS, BeiDou, Galileo, QZSS, NavIC
Sensors
Light, proximity, accelerometer/gyroscope, magnetometer (digital compass), barometer
Light, proximity, accelerometer/gyroscope, magnetometer (digital compass), barometer, Face ID
Light, proximity, accelerometer/gyroscope, barometer, magnetometer (digital compass), the sensor of the color spectrum
Light, proximity, accelerometer/gyroscope, magnetometer (digital compass), barometer
Light, proximity, accelerometer/gyroscope, magnetometer (digital compass), Face ID
Fingerprint scanner
There is, in the button "Home"
No
There, on the right side
There
There, on the screen
The main camera
12 MP, ƒ/1.8 or the Quad-led flash, phase detection autofocus, optical stabilization
Double module, 12 + 12 MP, ƒ/1,8 + ƒ/2.4 GHz, dual-led flash, phase detection autofocus and optical stabilization patisia – in the main module
Triple module 12 + 12 + 12 MP, ƒ/1,6 + ƒ/2.4 GHz + ƒ/2,4, phase detection autofocus, led flash, optical stabilization patisia mostly and telemodul
12.2 MP, ƒ/1,8, phase detection autofocus, dual-led flash, optical stabilization
Triple module 50 + 8 + 16 MP, ƒ/1,9 + ƒ/2.4 GHz + ƒ/2,2, phase detection autofocus, optical stabilizer, double led flash
Front camera
7 MP, ƒ/2.2, and without autofocus, no flash
12 MP, ƒ/2.2, and without autofocus, no flash
8 MP, ƒ/2.0, fixed focus, no flash
8 MP, ƒ/2.0, fixed focus
Double module: 32 MP, ƒ/2,2 + TOF-camera, fixed focus, no flash
Food
Removable battery: of 6.96 W·h (1821 mAh, 3.8 V)
Removable battery: 11,91 W·h (3110 mAh, 3.8 V)
Removable battery: 11,92 W·h (3140 mAh, 3.8 V)
Removable battery 11.4 WH (3000 mAh, 3.8 V)
Removable battery: 14,44 W·h (3800 mAh, 3.8 V)
Size
138,4 × 67,3 × 7.3 mm
150,9 × 75,7 × 8.3 mm
158 × 68 × 8.2 mm
151,3 × 70,1 × 8.2 mm
Of 148.9 × 71,1 × 8.5 mm
Weight
148 grams
194 grams
164 grams
147 grams
175 grams
Protection case
IP67
IP68
IP65/IP68
No
IP53
Operating system
iOS 13
iOS 13
Android 9.0 Pie
Android 9.0 Pie
Android 10, shell EMUI 10
Current price
39 990 rubles for the version with 64 GB, 44 990 rubles for the version with 128 GB 53 990 rubles for the version with 256 GB
56 525 rubles for the version with 64 GB, 62 525 rubles for the version with 128 GB, 71 890 rubles for the version with 256 GB
47 800 rubles
37 990 rubles
44 990 rubles
Design, ergonomics and software
In terms of appearance the iPhone SE (2020), as I said above, the designers drew inspiration from iPhones 6-8-generation: the healthy small frame around the screen round button underneath, rounded and delicate. To distinguish the new from the SE "eight" can, paying attention to the location of the "Apple" on the rear panel — here it is in the center. Not a lot, right? But costs reduced to redraw the production of shells for novelties do not: leave the Assembly line iPhone 8, just change the engraving. Apple has always been famous for the utmost restraint in matters of design changes and at the same time striving to maintain high margins on its products — and not change itself in the new SE.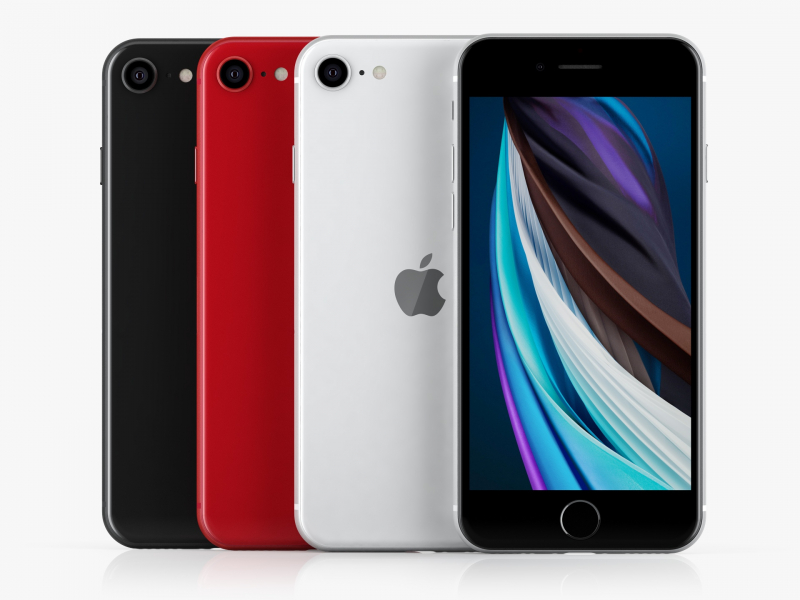 It looks like a smartphone in 2020, somewhat archaic — I wouldn't call myself a fan of "cuts" and "holes", but to decide on the release of the gadget with such a healthy frame around the screen (even more than the direct competitor, Google Pixel 3a), you need to be… Apple. Fans of this company will understand and forgive you. However, to forgive is actually easy — thanks to the use of the screen a diagonal of 4.7 inches even with such a framework, the smartphone was tiny and extremely easy. I forgot the last time I experienced this feeling — when the phone did not notice in your pocket. Before going out on the street several times prohlopyvayut pockets — the feeling that you forgot your phone at home, it is very difficult to escape. Recently I wrote about the compact (barely resist the quotation marks) Huawei P40, but then, of course, an entirely different level. Current smartphone with smaller dimensions is to be found today — but it will be extreme like Palm PVG100. So if you are looking for a real compact, you do it here, even Sony stopped producing so a miniature tube; Xperia 5 deserves a mention, but it is noticeably larger.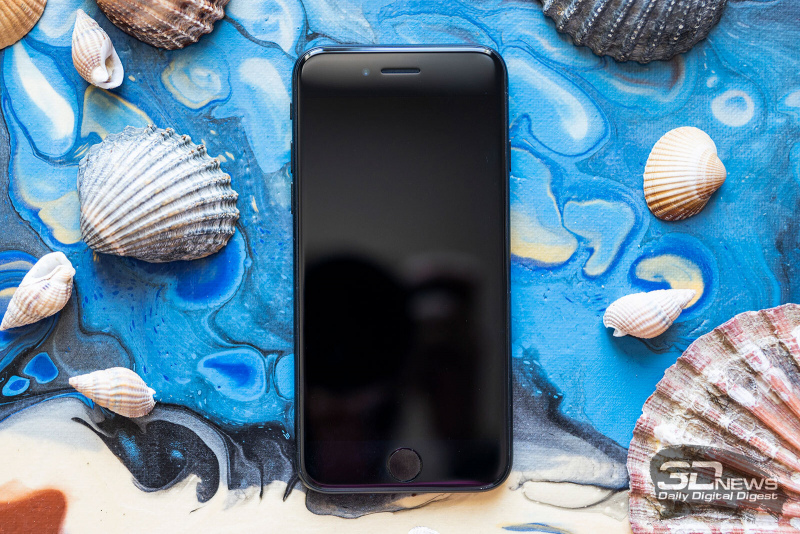 Apple iPhone SE (2020) is presented in three colors: black, white, and red are all pretty boring, but popular. Sidewalls made of aluminum, and the back of the smartphone is covered with a glossy glass — brand, but it is not very slick: the machine holds good in the hand due to its dimensions and with different surfaces do not slip, because the back is flat and not curved at the edges. However, it is better to put the gadget in the case away from sin. To buy it, however, have separate Apple never puts it in the kit.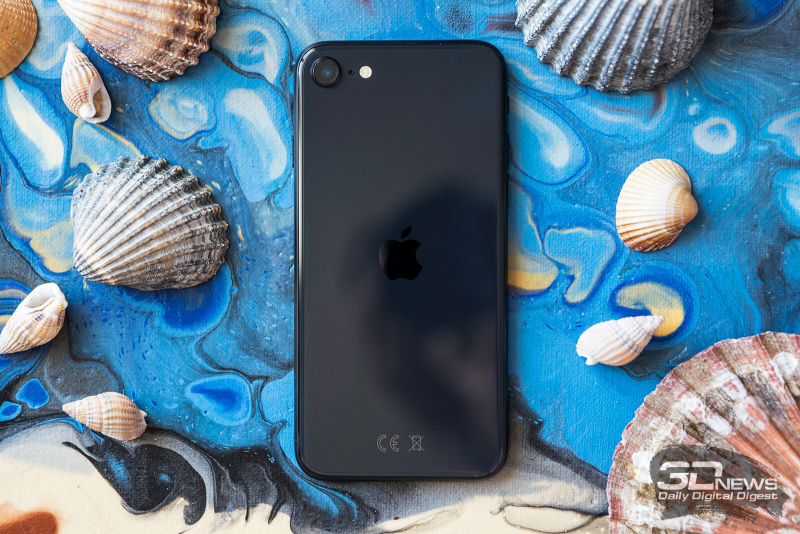 Feelings when using the iPhone SE (2020) are mixed: on the one hand, from such a small diagonal has long been weaned, on the other it is a smartphone, which is easy to "steer" with one hand! Well, actually, he returns in times of gadgets human size. Good times, I must say, though not as "smartphonenation".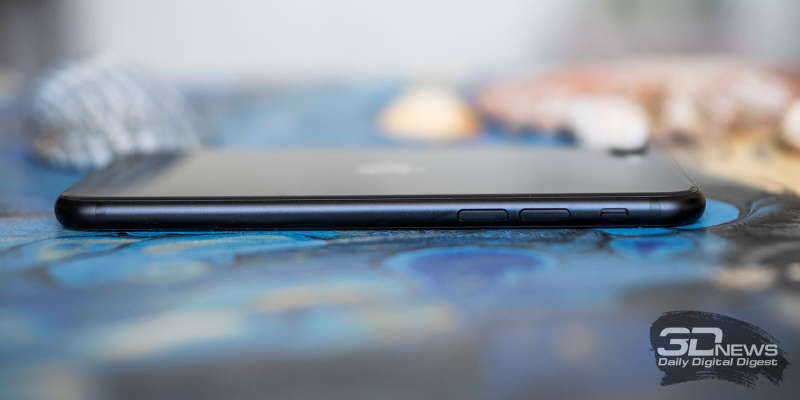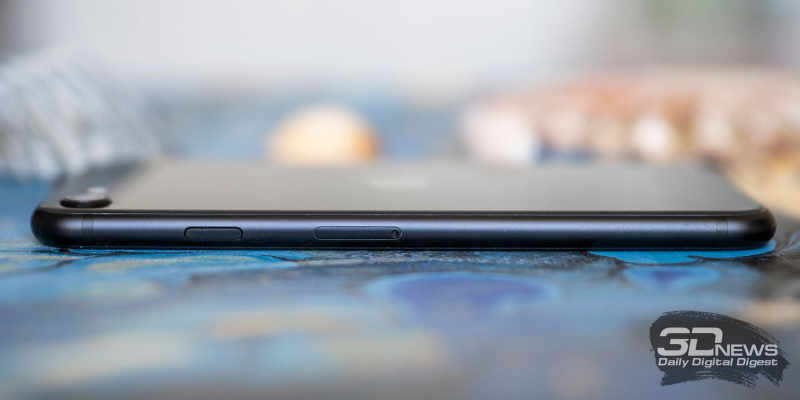 Functional elements are in their place, there is almost nothing changed from the iPhone to the iPhone: switch on the right side, volume keys and a lever to switch sound profiles on the left. Touch Home key sings its Swan song, below the screen. On the screen plenty of room — holds everything you need for Face ID sensors, but at least one sample application inserts! But no, only a tiny objectivec setimagepixel of frontally sensor and the earpiece.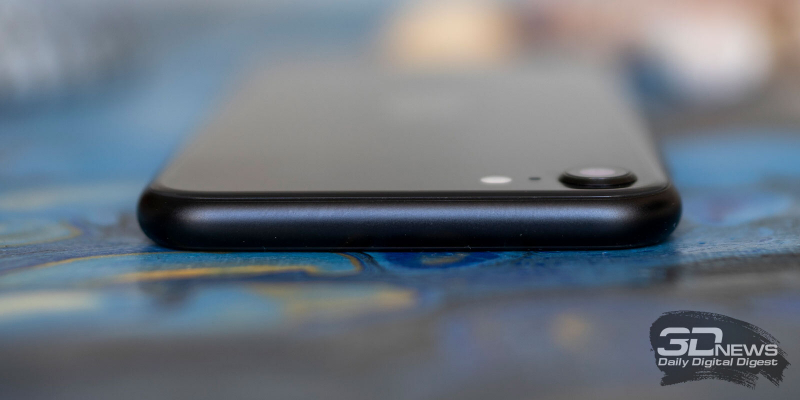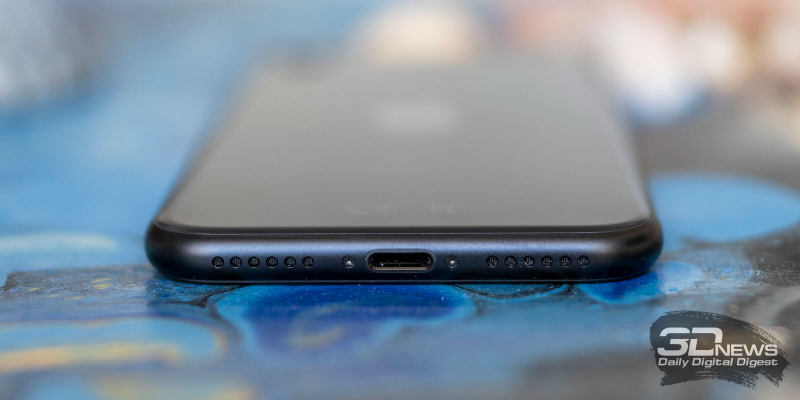 Mini-Jack no — he had disappeared on the "seven" and hardly ever return. Dust and water protection rating of housing — IP67: can swim, but without much zeal. USB connector Type-C, we still, alas, never came. But the hope that Apple will meet the aspirations of the masses, we are not leaving — someday there will come times of universal unification. Someday, but not now.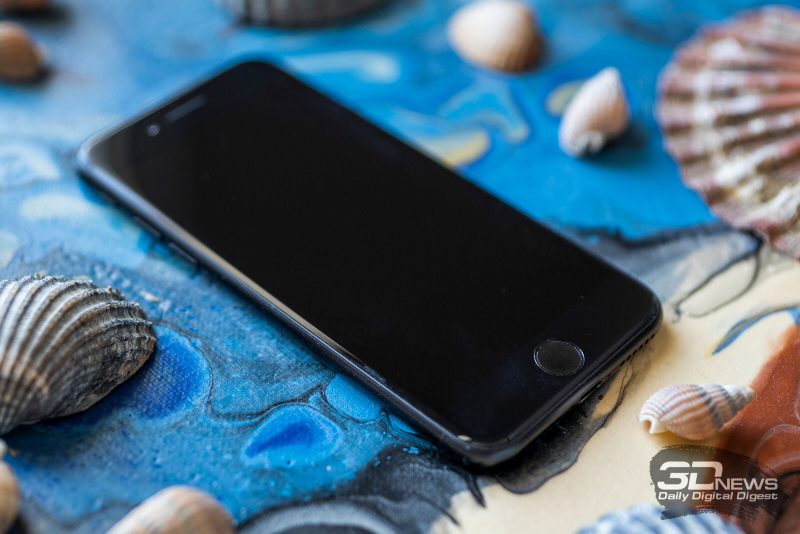 Fingerprint scanner built into the "Home" button. Good old capacitive sensor human size, but not in the right place — after all, it is more convenient when it is located closer to the center of the smartphone's built-in "sandwich" the display, as in modern flagships, or on the back under the index finger. You have to intercept the gadget in hand, there is the risk of dropping at this moment. By itself, the sensor is good, works instantly, the error percentage is minimal. The facial recognition system missing — Face ID set here the manufacturer did not (probably for status reasons, or just useless) and redundant systems based on conventional frontally Apple rightly abstained — level protection of user data is insufficient.
Screenshot gallery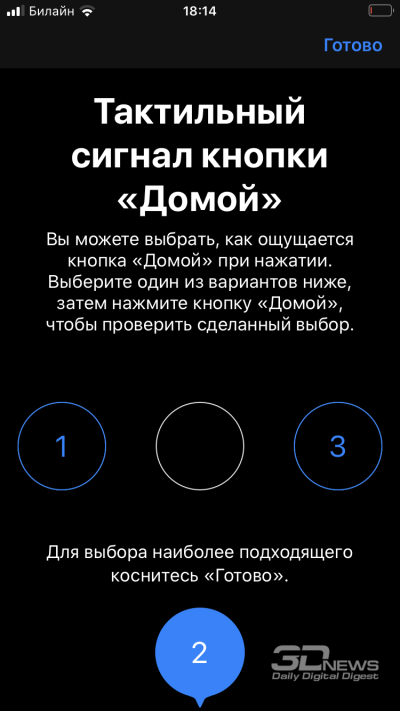 IMG_0214.PNG
View all images (16)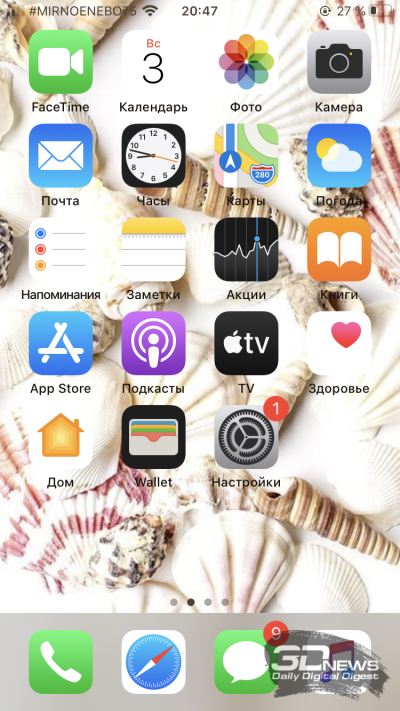 IMG_0422.PNG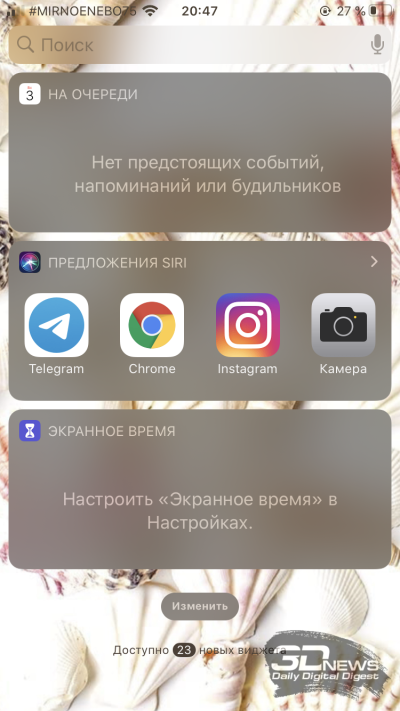 IMG_0423.PNG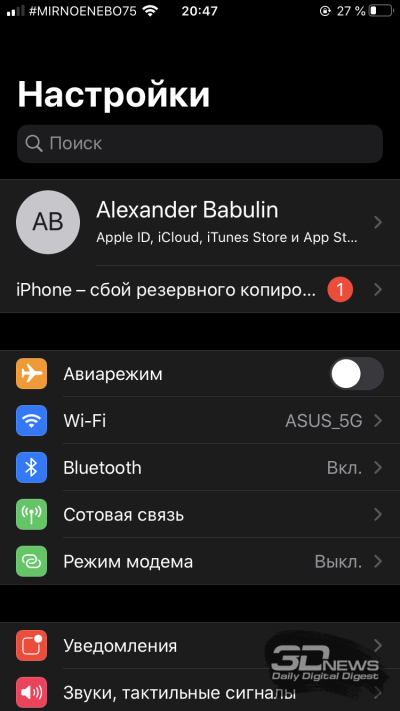 IMG_0424.PNG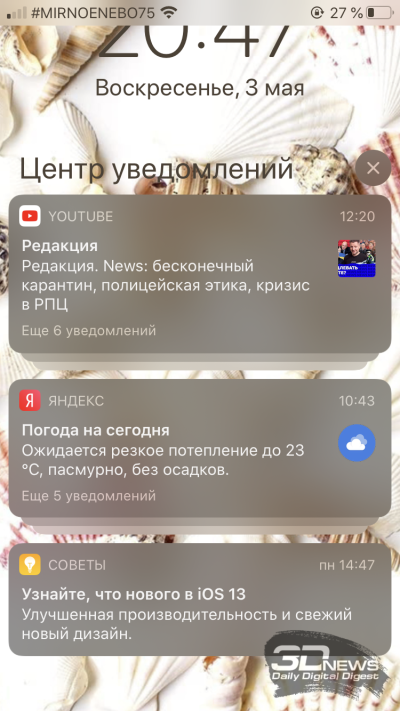 IMG_0425.PNG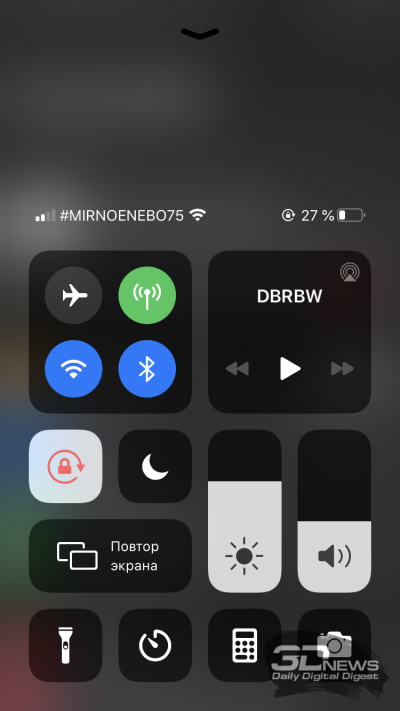 IMG_0426.PNG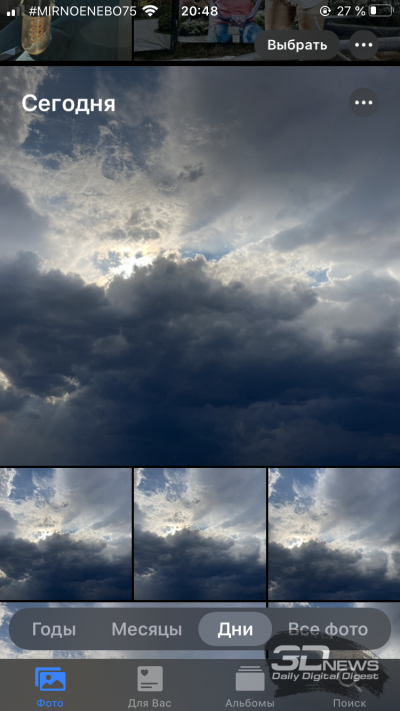 IMG_0427.PNG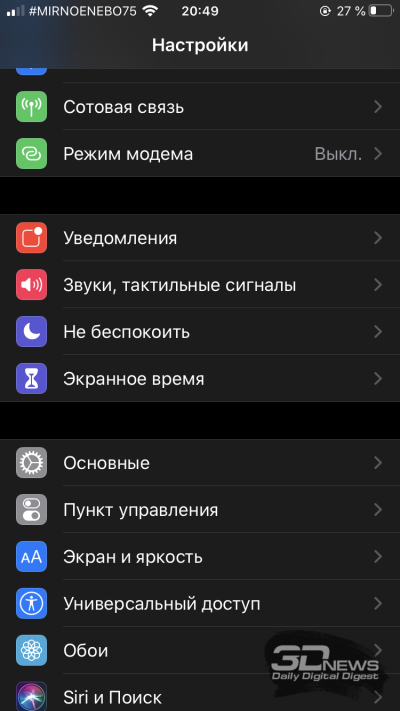 IMG_0428.PNG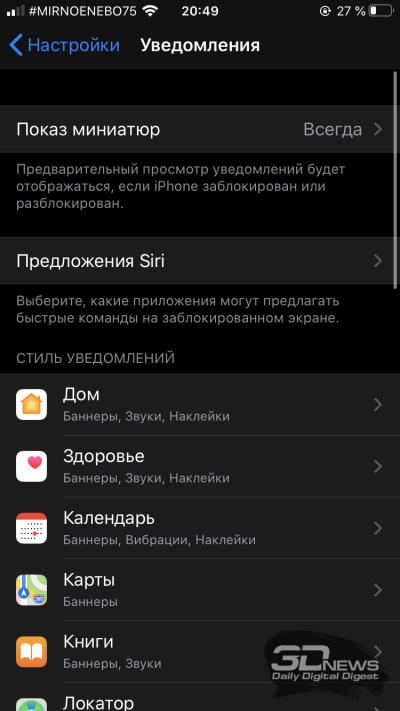 IMG_0429.PNG

IMG_0430.PNG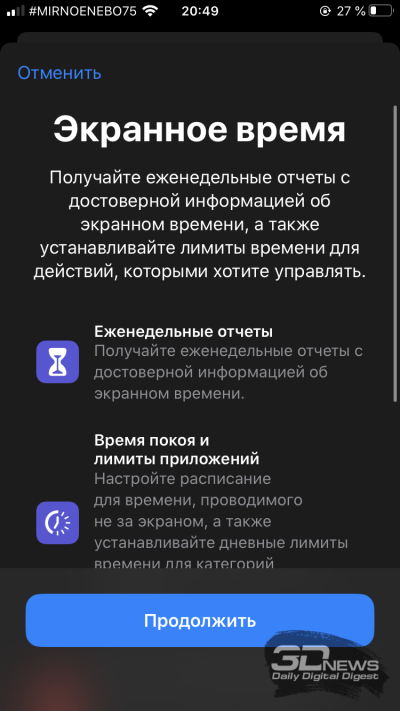 IMG_0431.PNG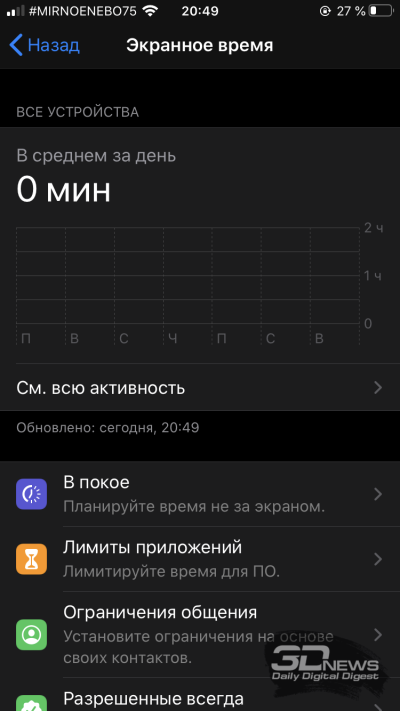 IMG_0432.PNG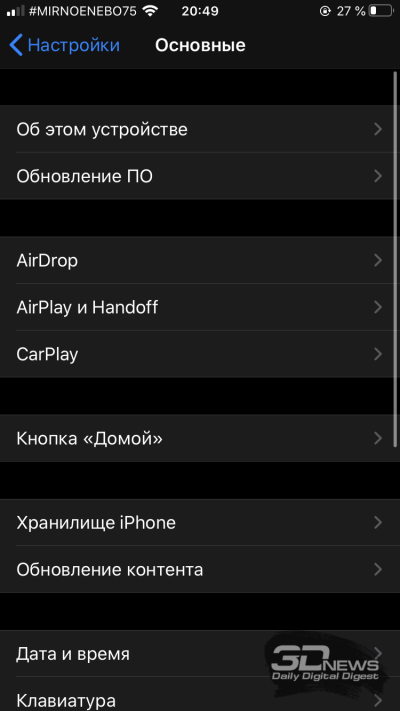 IMG_0433.PNG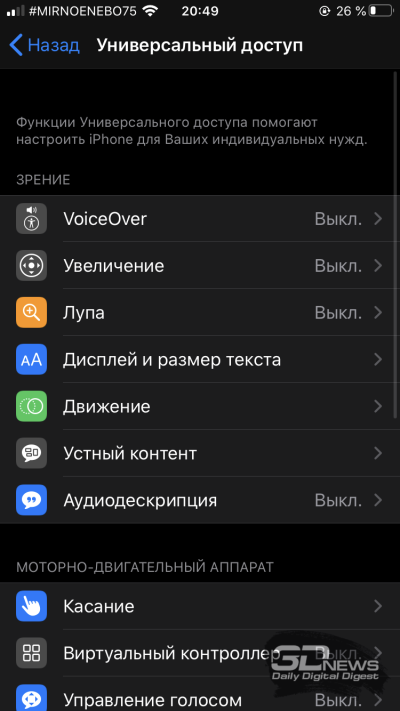 IMG_0438.PNG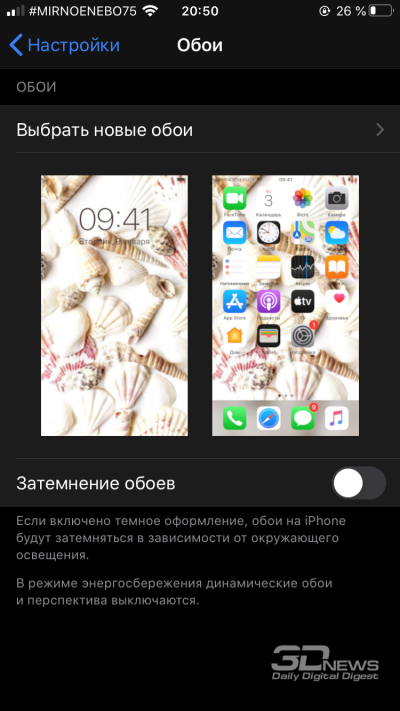 IMG_0439.PNG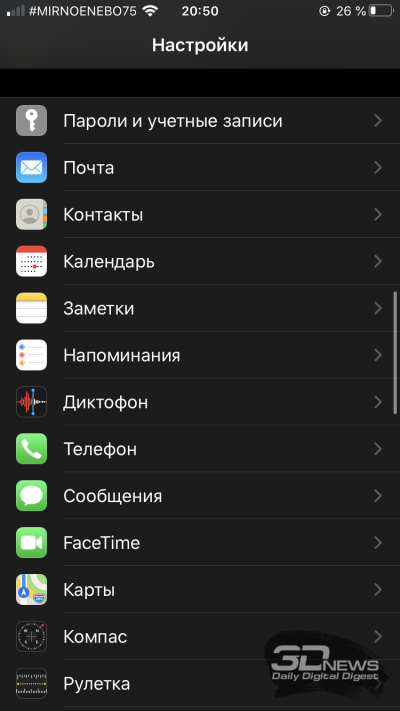 IMG_0443.PNG
See all
images (16)
New iPhone SE (2020) running the operating system iOS 13, about which we wrote extensively in the review of the iPhone 11 Pro Max. The iOS version 13.4 is not very different from that of which we spoke in the autumn the material here to mention a Deep Fusion system, improving images, but the new SE's did not get: the necessary CPU there is (the same platform Apple A13 Bionic), but there is no necessary of camera.
Display and sound
Apple did not split hairs and put it on the iPhone SE (2020) display with iPhone 8 (and if you dig deeper, it may be, and with the iPhone 6) – or at least very close to it in characteristics. This LCD screen with IPS matrix a diagonal of 4.7 inches with a resolution of 750 × 1334 points. The pixel density is 326 ppi – Retina standard fit. In this case, to demand more, to be honest, and do not want. Displayed on a small display 4K image there is no need, and the fonts and applications when the density of points on a screen this size look good and smooth.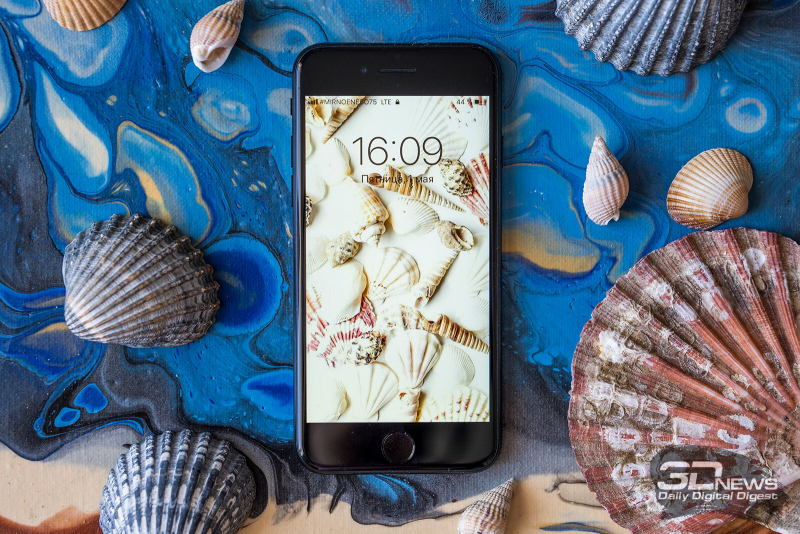 There is a polarizing layer, an oleophobic coating, and other such joys of the gadgets of this century, but about matching the screen to the standard HDR and color profile support for DCI-P3 (there is only nominal support HDR10 and Dolby Vision videos) of the question is a display of about 2014. The viewing angles are wide and it is traditionally configured for Apple perfect — more on this below.
| | | |
| --- | --- | --- |
| |   | |
But the word "approximately" I used the paragraph above for a reason. The brightness and contrast, this bar is great superior to the one that we tested on the iPhone 8. Indicator brightness and altogether wonderful — 595 CD/m2, it is at the level of the current flagship with IPS-matrix, iPhone 11. The level of contrast for mobile LCD screen is good — 1544:1. Progress compared to the iPhone 8 visible to the naked eye. But the fact of usage of LCD screen of smartphone price of 40 thousand rubles today looks like, or frond, or over-saving is to find direct competitors for comparison proved to be impossible, the LCD screens on smartphones above the price of 25 thousand rubles today in the afternoon with fire not find.
The display settings for a typical iPhone – manually adjust the color reproduction is impossible, you can only enable/disable the mode of automatic adjustment of colors for exterior lighting True Tone, choose a light or dark theme shell, activate night mode and "playing with fonts". I measured the color reproduction of the display as enabled True Tone, and without it — however, in the first case, the measurement results can be considered more or less conventional.


In default mode, the iPhone SE (2020) confidently meets the standards of the Rec settings. 709. Color gamut coincides with the sRGB space. Average gamma close to perfect to 2.26, stable curves. Line of the color temperature is absolutely even, but the colors are slightly colder than the benchmark closer to 7 000 K at the standard 6 500 K. the Average deviation of DeltaE scale Color Checker including a wide range of colors and shades of gray, is of 2.31, which is part of the border rules.



When you activate True Tone picture is significantly changing the visual becomes noticeably warmer. I used to write "what more pleasant to the eye", but it's not quite right — the picture is really more honest, but much nicer just a cold picture. The measurements I conducted in dim ambient light the evening of a cloudy day — in this case, the color temperature dropped below 6, 500 K, gamma curves was a little fever, although the average values remained at the same level (2,28). The average deviation of Delta E on the scale Color Checker is already outside the bounds of the rules — of 3.33. The screen, though technologically flawed by today's standards, is configured perfectly.
Apple iPhone SE (2020), as usual, stripped mini-Jack adapter, and even with Lightning-to-3.5 mm manufacturer stopped putting in the kit. The quality of sound wirelessly to the iPhone, as well as to all others, not reproach — although plug in the headphones, if this is not the AirPods can be quite difficult. For my Sony WH-1000XM3 had to put a special application. Speakers — stereo, along with located on the bottom works spoken in front of the plane. They sound nice to talk with iPhone SE (2020) are also quite comfortable.
Hardware and performance
Apple iPhone SE (2020) is chock full of compromises, but not in terms of the hardware platform — and this is the best news for owners of the last "mini-iPhone". For a relatively reasonable price you can now buy a smartphone on a reasonable size with extremely topical filling, which will not SAG in performance (and life time of the batteries, as is the case with Apple) for another four years. For this all largely was conceived: iPhone SE (2020) no longer aiming at a new audience, and followers of the last SE had time since the release of to grow old and eventually lose relevance.
Platform Apple A13 Bionic consists of six processor cores (2 × Lightning + 4 × Thunder), clock speed which is not specified, the graphics subsystem of Apple's GPU with four cores and systems Neural Engine of the third generation (used for operations with neural networks). The platform is manufactured by TSMC on a 7-nanometer process technology.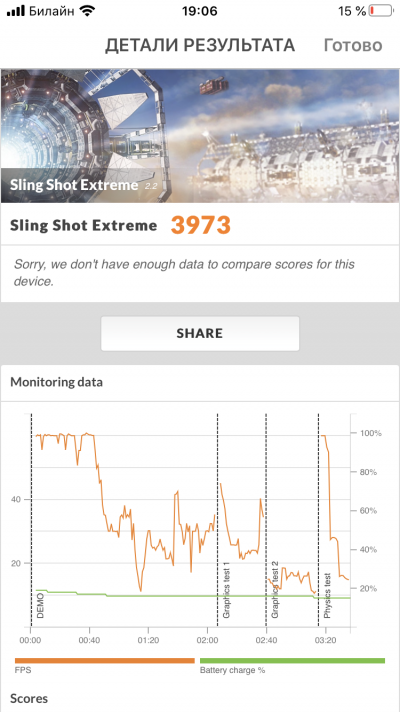 With the perfect optimization of the OS and programs for the Apple A13 Bionic shows remarkable results in all synthetic tests, outpacing its last year's flagship platform Qualcomm Snapdragon 855 and competing on par with current Snapdragon 865. But there are some concerns about the throttle — iPhone SE (2020) great heats under severe loads. Eye noticeable drawdown framerates in demanding games, I did not notice, and benchmarks on iOS to check this ratio is not found — so the fears will remain fears, confirm their documents I can't.
The overall impression of speed and compatibility iPhone SE (2020) with any, even the most demanding applications from the AppStore is very good. Here the new SE is not different from iPhone 11 Pro. A small amount of RAM (only 3 GB) don't have to confuse because of the low resolution display, but in the future could be a problem. However, I don't think this future will come sooner than in 3-4 years.
Apple iPhone SE (2020) can be bought with 64, 128 or 256 GB of internal memory — no way to expand this volume, of course not. Despite the price appeal of the version with 64 GB for it storage clogged in a matter of months, will have to pay for iCloud.
Communications and wireless communications
The communication capabilities of the iPhone SE (2020) fully complies with Apple standards: support dual SIM mode with the condition that one of the two SIM cards will be electronic, LTE the 16-th category (the speed of data acquisition, the theory achieves a Gigabit per second) with a normal list of ranges and the lack of a 5G-modem — Apple as always is not in a hurry.
Other wireless modules: Wi-Fi 802.11 a/b/g/n/ac/ax (with support for Wi-Fi 6) Bluetooth 5.0 and NFC, which is used for contactless payment through Apple Pay. The navigation system works with GPS (A-GPS) and GLONASS.
Camera
Perhaps the most serious compromise in the iPhone SE (2020) is the camera. Again, you can look on Google for Pixel 3a, it is possible to refer to the last iPhone SE compared to which there is obvious progress — but it is a tactic to push off from the Laggards and ignore the world around Apple products seems pretty counterproductive. Just to note: in the SE set single-camera sample 2017 and it is unlikely that this decision can be admit really progressive.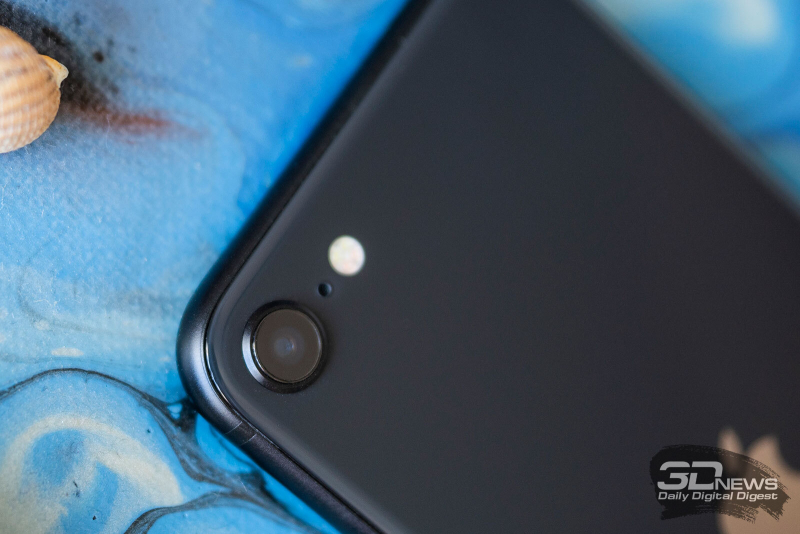 Projecting slightly above the housing lens has an aperture of ƒ/1.8 and a focal length equivalent to 28 mm and deeper hides a 12-megapixel sensor with optical image stabilization and phase detection autofocus. Next to the traditional flash for iPhone with four led True Tone. All improvements regarding iPhone 8 relate exclusively to software.
Thus, again, support Deep Fusion is not, despite the built-in AI-accelerator. Everything is simple: the iPhone camera is SE (2020) is able to stitch HDR (HDR Smart, of course), and somehow control her actions can not but you can disable, which will have to go into General settings. Classic: the iPhone decides everything for you, maximum permissible — to correct exposure. Even focus manually to, for example, to take into the zone of sharpness of the droplets on the glass, not that glass cannot. Shooting in RAW is also not supported.
But there is a portrait mode, despite the lack of a dedicated camera. His options are limited because of the wide angle optics — big plans especially do not take pictures, too large spatial distortion. But in terms of background blur, and in terms of the effects (both light and variable after-the-fact virtual aperture) iPhone SE (2020) is not enough in what concedes to multi-camera counterparts.
In General, the quality of shooting iPhone new SE manifests itself exactly as expected of him: nice color, decent dynamic range and overall high image quality when the scenes shot with good lighting, on the one hand, and on the other weak possibilities when shooting in the dark. I would not say that SE does "not remove" evening stories — still here and the optical stabilizer is, and the "brains" somehow help to cope with the noise, but the competition, without exception possess other systems multi-frame bonding, the situation is much better. For users of past iPhone SE the progress will be obvious, but for owners of the iPhone 8, for example, — not really. About the lack of zoom and widen the angle of view and do not want to talk.
Gallery images

IMG_0085.JPG
View all pictures (28)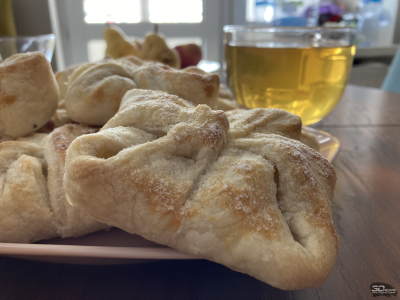 IMG_0094.JPG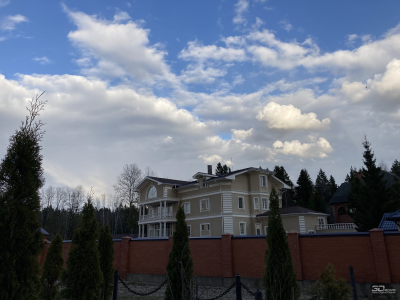 IMG_0107.JPG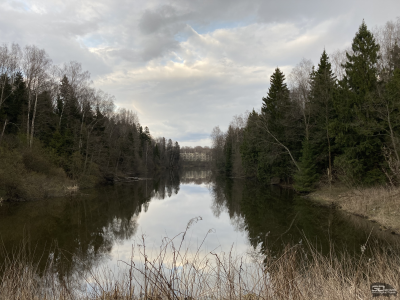 IMG_0118.JPG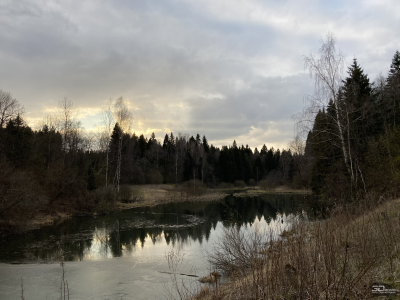 IMG_0120.JPG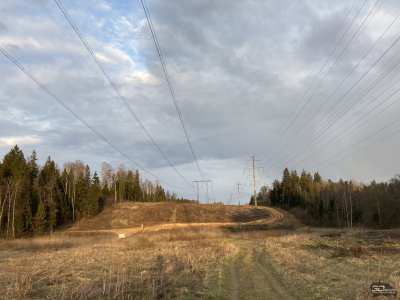 IMG_0125.JPG

IMG_0129.JPG

IMG_0134.JPG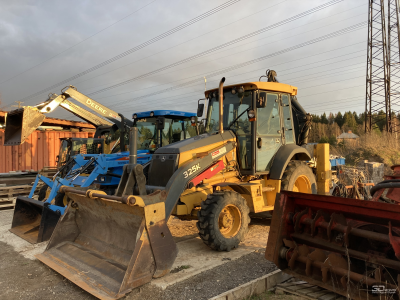 IMG_0141.JPG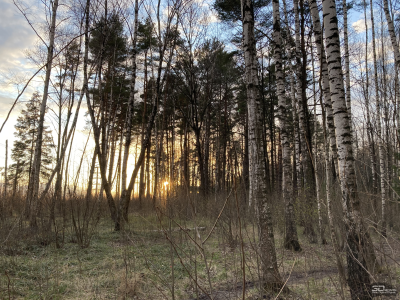 IMG_0154.JPG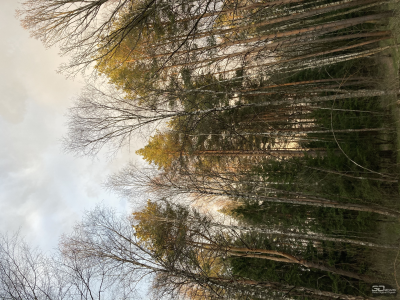 IMG_0161.JPG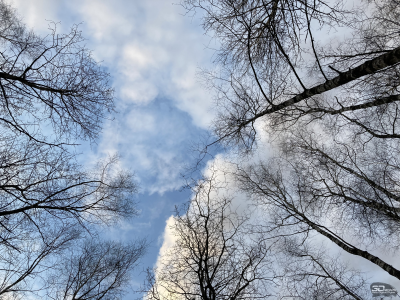 IMG_0165.JPG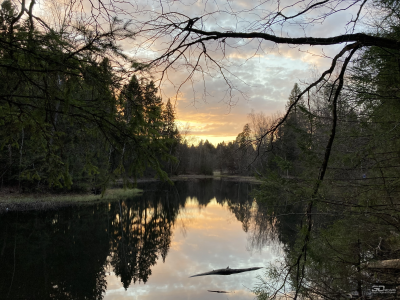 IMG_0177.JPG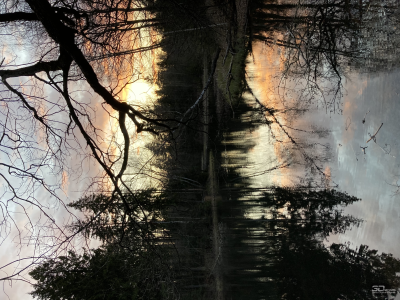 IMG_0193.JPG

IMG_0203.JPG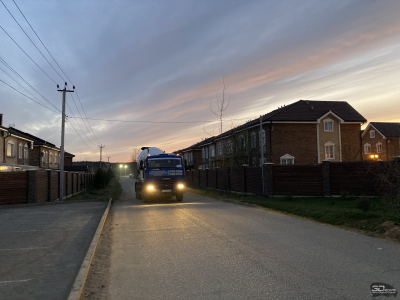 IMG_0235.JPG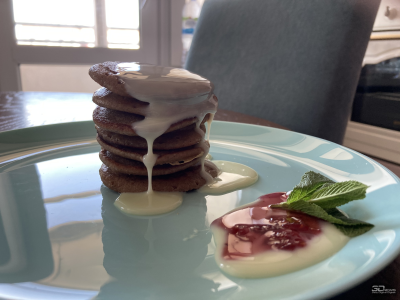 IMG_0248.JPG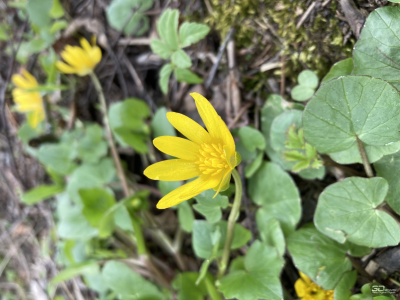 IMG_0267.JPG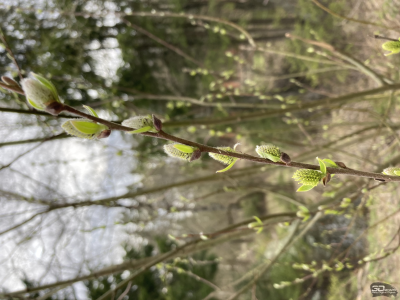 IMG_0268.JPG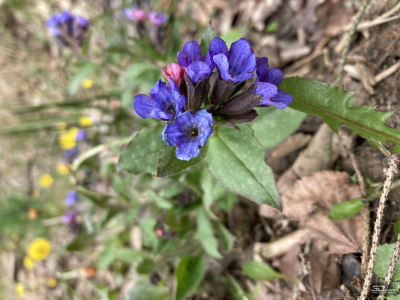 IMG_0270.JPG

IMG_0274.JPG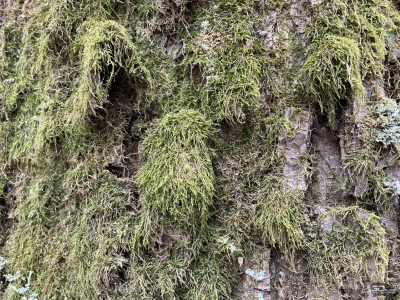 IMG_0300.JPG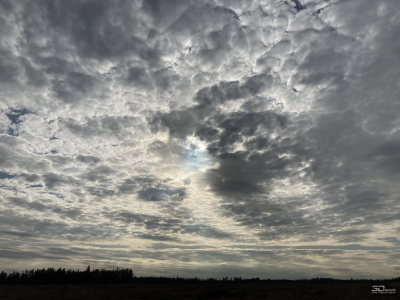 IMG_0318.JPG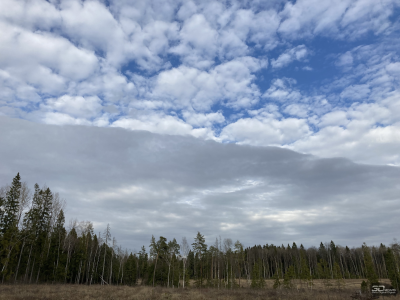 IMG_0328.JPG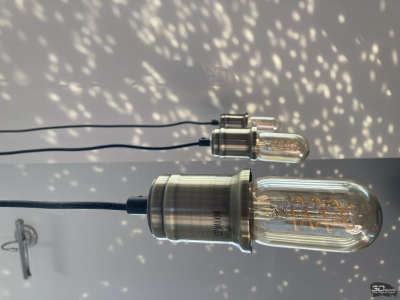 IMG_0356.JPG

IMG_0375.JPG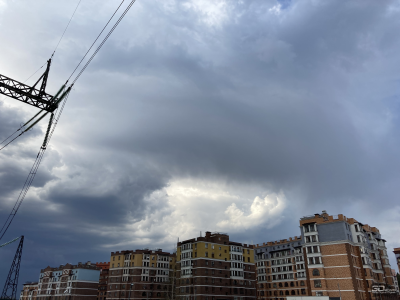 IMG_0378.JPG

IMG_0395.JPG
See all
image (28)
Video all good: the Apple iPhone SE (2020) write 4K video at up to 60 frames per second, stabilization will work with any resolution and any frequency, HDR – at a frequency of up to 30 frames per second. The picture is smooth, clear, with a very smooth transition at the border of the frame without rolling shutter. In video iPhone can still give odds to almost all competitors on Android. But again, no optical zoom, and slow motion — max 240 fps at Full HD resolution. However, it is for the video to claim the new SE is not a good modern level.
Frontalka also came from iPhone 8: 7 MP, ƒ/2.2, and without autofocus, no flash. But again, there is a portrait mode with brand effects, and image quality since a few grown — processing algorithms don't stand still.
Autonomous operation and charging
In my opinion, the main weak point of the iPhone SE (2020) – still no camera (hardly the target audience for this smartphone really dream about the best picture quality in the world), and autonomy. Suspicions creep already when looking at the figure in the new SE installed battery with a capacity of 6.96 W·h (1821 mAh, 3.8 V). Similar numbers even for iPhones we haven't seen in a while. But here a small screen and brand effectiveness of software processes, don't you think? Yeah, that's probably true, but this is not enough — the current challenges and powerful hardware platform also requires a lot of energy, only one small screen it is not compensate. Besides, we are talking about the LCD, not OLED, so that the dark theme won't help much. As a result smartphone "lives" in ordinary usage scenarios (not at maximum screen brightness, enabled True Tone) from 9 to 13 hours, and under extreme load shall be for 5-6 hours. The most telling moment was when activated, the benchmark Antutu – to cope with this problem, the smartphone took exactly 10 % of its charge. To say that this weak autonomy means considerably embellish the reality.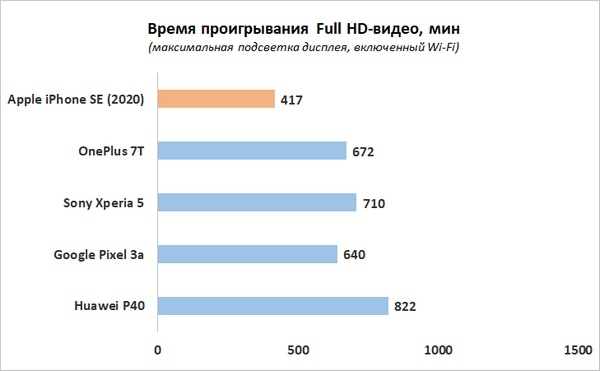 In our traditional test playing Full HD videos, while the notifications and connecting to a Wi-Fi network, the iPhone SE (2020) showed the expected mediocre results — in the region of seven hours.
The Apple in his presentation told about the charger with a power of 18 W, which will charge the new SE 50% in half an hour. It is easy to believe the battery of this capacity and can fully charge in half an hour when you need power. Intervened familiar copertina but — set they are, of course, the charger is not put, limiting 5-watt. With its help, the smartphone (with a battery capacity of 2000 mA-hours, remember), recharges in about two hours. It is not serious. Wireless charging, by the way, is supported, but a special adapter for it, of course, also have to buy separately.
Conclusion
iPhone SE (2020) at the old but not the good tradition of Apple, which applies to all "budget" smartphone, the company is literally stuffed with compromise and seasoned savings (including on their own Assembly lines and warehouses). It is, in fact, the iPhone 8 with the current hardware platform, plenty of RAM, improved wireless modules and fresh modem. Of course, we all knew that this will happen, but nonetheless dreamed about more — more neatly arranged in a housing of similar size the screen, upgraded cameras, and so on.
And yet the new iPhone SE doomed to popularity — and no, I'm not going to seek an explanation for the well-known song of the male May "the Main problem of music in Russia." Just even the fact that Apple made with the new SE is enough. It is compact and really handy phone that is very fast and so will work a few more years. And it costs 40 thousand rubles (with a minimum amount of memory of course) — enough to be very attractive for owners of rapidly aging iPhones like 6s or 7 and past SE. A logical argument that the iPhone SE (2020) in the performance loses everything (all) of the price of competitors on the Android camera level, the quality of the screen (the resolution and in the matrix), the memory (and possibility of its expansion), the autonomy and speed of charging was not working for already firmly hooked on the Apple ecosystem users. And even for a more broad-minded user, just looking for a really compact gadget.
In the latter case, alternatives to the iPhone SE (2020) almost there: conditionally compact competitors offer, such as Sony Xperia or Huawei 5 P40, it is still much larger. Remains, in fact, only Google Pixel 3a – is also a compromise machine that doesn't allow such a gap in performance. But perhaps the situation will change with the release of the Google Pixel 4a – his wait is very long.
Advantages:
this is the most affordable and modern iPhone;
the highest performance;
good sound;
moisture;
small size, easy to use.
Disadvantages:
no mini-Jack or adapter mini-Jack included;
low autonomy weak battery charger included;
obsolete design;
camera from 2017;
small screen with huge borders.
Source: 3dnews.ru