Honor 9: first impressions
And this tactic works – if on their own flagship smartphone series P do not become hits (and Mate for several years and just don't get us before the official sales channels), the Honor invariably have a fairly rapid success. Last year's shining Honor 8 has become one of the main candidates when choosing your "30 thousand" and Honor 9 has all the chances to go down the same path.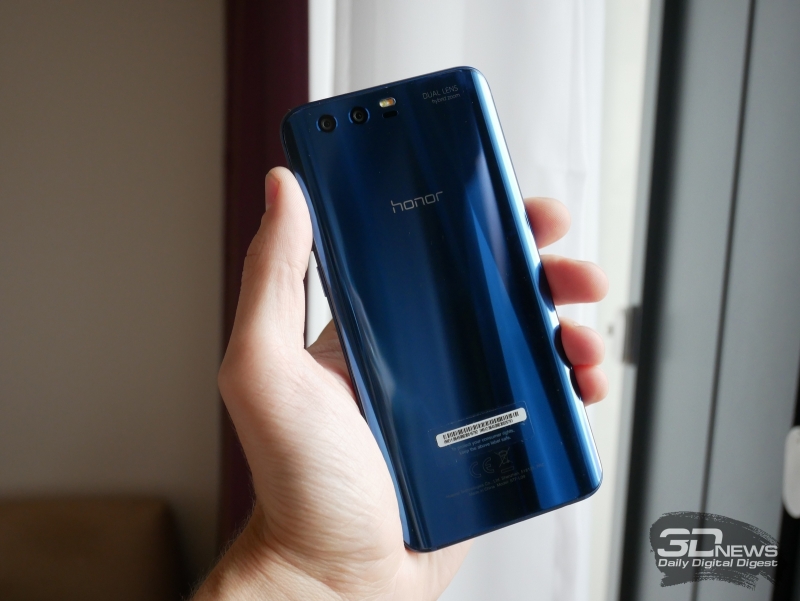 Honor 9
Huawei P10
Honor 8
Processor
HiSilicon Kirin 960: eight cores (4 ×

ARM Cortex A73, 2.4 GHz + 4 × ARM Cortex A53, frequency 1.8 GHz), graphics core ARM Mali-G71
HiSilicon Kirin 960: eight cores (4 × ARM Cortex A73, 2.4 GHz + 4 × ARM Cortex A53, frequency 1.8 GHz), graphics core ARM Mali-G71
HiSilicon Kirin 950: eight cores (4 × ARM Cortex A72, the 2.3 GHz + 4 × ARM Cortex A53, frequency 1.8 GHz), graphics core ARM Mali-T880 MP4
Display
LCD, 5.15 inch, 1920 × 1080
LCD, 5.15 inch, 1920 × 1080
LCD, 5.2 inch, 1920 × 1080
RAM
4 GB (there is a version with 6 GB)
4 GB
4 GB
Flash memory
64/128 GB + slot for microSD
32/64 GB + microSD slot
32/64 GB + microSD slot
Cellular
GSM, UMTS, LTE (Cat.12)
GSM, UMTS, LTE (Cat.12)
GSM, UMTS, LTE (Cat.6)
Wireless modules
802.11 a/b/g/n/ac, NFC, infrared port
802.11 a/b/g/n/ac, NFC, infrared port
802.11 a/b/g/n/ac, NFC
Camera
Dual module 12 MP + 20 MP, ƒ/2.2, and optical stabilizer, double zoom
Leica dual module 12 MP + 20 MP, ƒ/2.2, and optical stabilizer, double zoom
Dual module 12 MP, ƒ/2,2
Front camera
8 MP, fixed focus, no flash, ƒ/1,9
Leica 8 MP, fixed focus, no flash, ƒ/1,9
8 MP, fixed focus, no flash, ƒ/1,9
Battery
3200 mAh
3200 mAh
3000 mAh
Dimensions
147,3 × 70,9 × of 7.45 mm
145,3 × 69, 3 × of 6.98 mm
At 145.5 × 71 × 7.5 mm
Weight
155 g
145 g
153 g
Operating system
Android 7.0 shell EMUI 5.1
Android 7.0 shell EMUI 5.1
Android 6.0 shell EMUI 4.1
Price
26 990 rubles
35 990 rubles
21 990 rubles
The concept is absolutely identical to the one we saw in "eight": filling the P10 is placed in a glittering glass case is both incredibly beautiful and incredibly well soiled; corner of the back panel flaunts dual camera (12 + 20 mega pixels), but there is no signboard Leica; on the front panel also appeared the Home key with fingerprint scanner. Trying to sell for a second time on the same smartphone, but in a different package counted.
However, the main thing – a combination of packing and price. Honor 9 at the start will be offered in 26 990 rubles. P10 today in the base (32 GB flash + 4 GB of the RAM) is 35 990 rubles.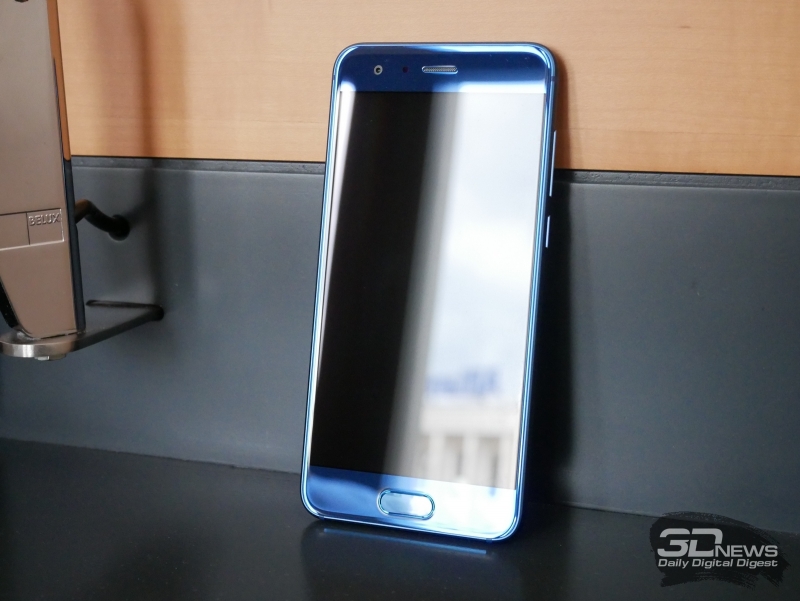 We should also talk about the "package". P10 is definitely more practical and strict with his classic combination of a glass front panel and metal housing. Honor, by contrast, tries to be very catchy – so impressive in the past year, the gloss is preserved. Now, however, the Honor has a new competitor in the fight for the title of king of reflections: the same glossy strategy adopted by the Taiwanese HTC with its series U. But the competition is still in another competition: who has the smartphone stained faster. Here, too, rather equality – alas, Honor 9, in my opinion, a slap almost easier than 8 Honor. During a photo shoot camera I had to wipe almost every picture. So either go without parting with a rag, or cause to fade it's lights cover.
 
Another point which might push the use of cover corps new chief Honor was no less slippery, dropping it, especially with slightly wet hands, – a breeze. Also, it is guaranteed to be a "go" with armrests, be careful. At the same time I new smartphone seemed more successful from the point of view of grip – thanks to the curved back of the cover (which simultaneously Honor 9 similar to the Xiaomi Mi5/Mi6).
Colors: blue, gray and black. Gold this time left in China. In any case, it looks especially impressive, as usual, the blue version.
Honor – youth brand, this was the scene during the presentation it was said a dozen times already. But more than that, the new smartphone is very pleasant to children that have not cooled down to such simple pleasures, like blowing sunbeams, for example: from the stage the President of the company George Zhao managed to dazzle the audience with the back cover of the gadget.
The technical characteristics are already known, and from two sources. First, Honor 9 has already been presented in China two weeks ago (June 12) – as usual, Huawei keeps in mind that China and the rest of the world are not two different planets, and news from China are coming to lovam. Second, Honor 9 almost duplicates the performance characteristics of Huawei P10: Kirin 960 (four cores at 2.4 GHz + four cores at 1.8 GHz), 5,15-inch LCD (alas) display with Full HD resolution, 4 GB of RAM + 64 GB of non-volatile in the standard version (but it will be the version with six gigabytes of RAM and 128 GB flash) – though it's unclear if it will get officially to Russia). Of course, the USB Type-C with fast charging on the spot and mini-Jack. Operating system – Android 7.0 Nougat with shell EMUI 5.1. The navigation keys are below the screen, the display space is not wasted. And infrared port NFC with a smartphone to pay in stores and to drive your home appliances.
The feature of Honor compared to Huawei, not only in positioning but also in software. Smartphone under this brand aims to please the user, offering an abundance of local software: for example, in the Russian version of the default search, "Yandex" (along with Google) and the application of the savings Bank; and is a pre-production version, even announced collaboration with 2GIS, for example, and you can expect the navigation application is in the base firmware. Not sure, however, that it is so advantages, but there's something to highlight sub-brand in the background of "big" Huawei, in addition to marketing applications.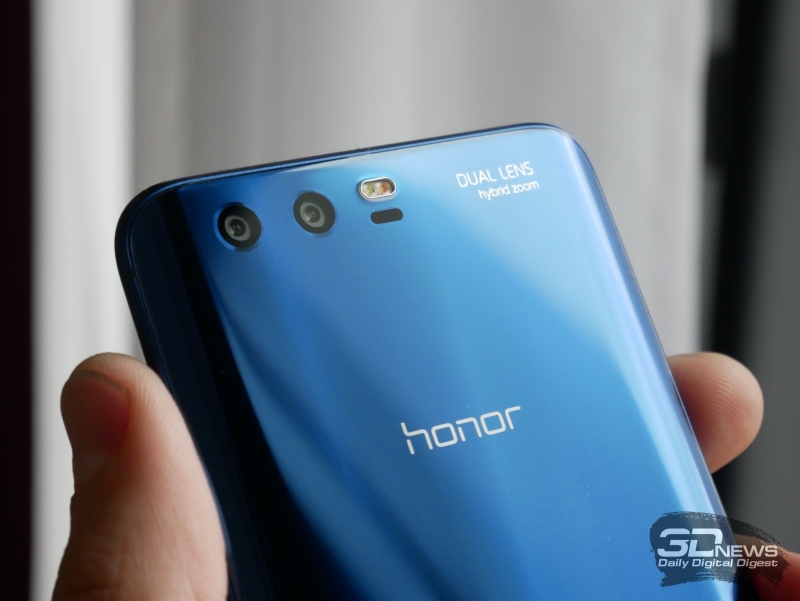 However, there are other differences in terms of software, despite extensive testing, we can talk about them more specifically, but in the short time that was able to hold with Honor 9, I was able to see quite different pictures.
The camera module is no different, use 20-megapixel monochrome sensor and 12-megapixel RGB dual lens aperture ƒ/2,2, but in the photos you can see the improved contour sharpness and more vivid colour reproduction.
Also in the camera app added new portrait mode – it smartphone detects a face in the frame and tries to apply the corona improvement (to smooth and lighten the skin, adjust the shape of the face and so on); however, all customizable. "Lakowski" filters (simulation film) here, of course not.
As in P10 or even Mate 9, there is provided a two-fold "hybrid" zoom: cameras have the same focal length, and zooming is carried out by additional information from the 20 megapixel monochrome sensor. Of course, in this mode, you can shoot at maximum resolution, but the quality of the zoom is quite decent, though devoid of the natural optical characteristics less wide-angle optics (on the same iPhone).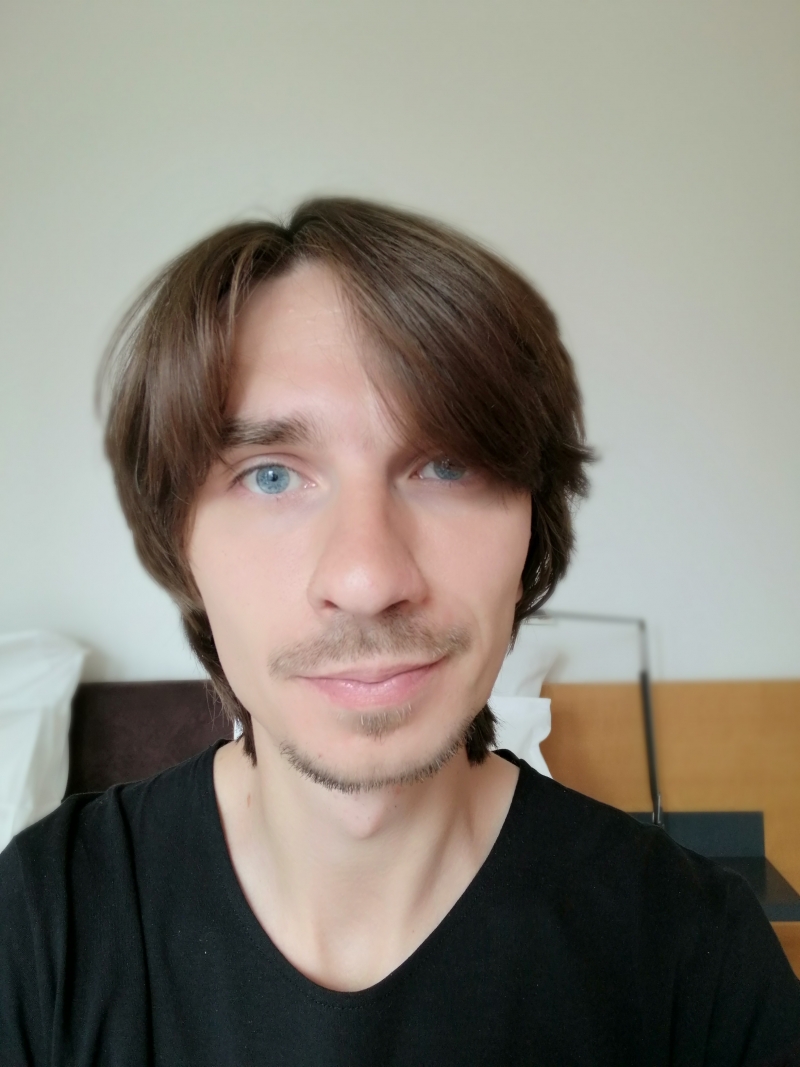 Front camera – the most usual, without autofocus and flash and a sensor resolution of 8 megapixels.
Also pumped the music of soft machine. It's the software, some tricked-out amplifier/DAC in Honor of the 9 showed up. How the new settings, is created by producer Rainer Mallard, will have an impact on the sound check in the detailed test, but to expect any miracles, of course, not worth it.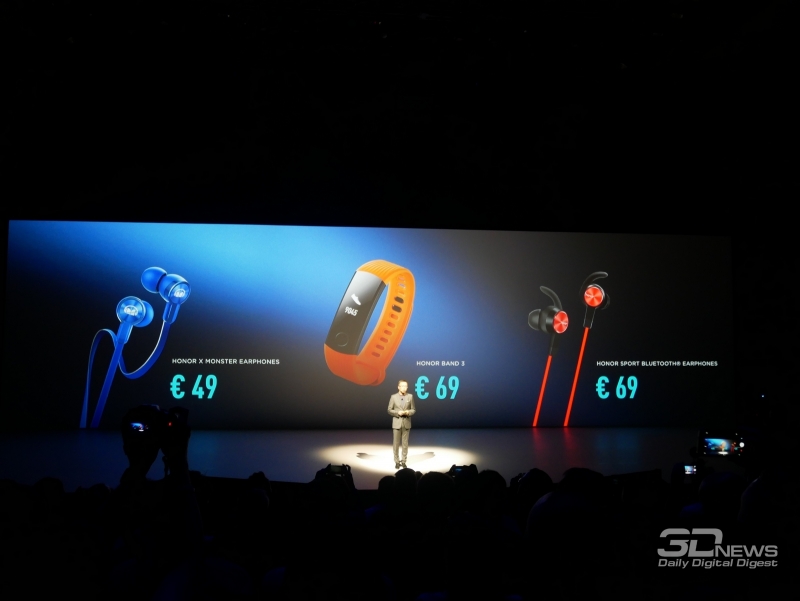 With Honor 9 has been shown and a few accessories, where without them.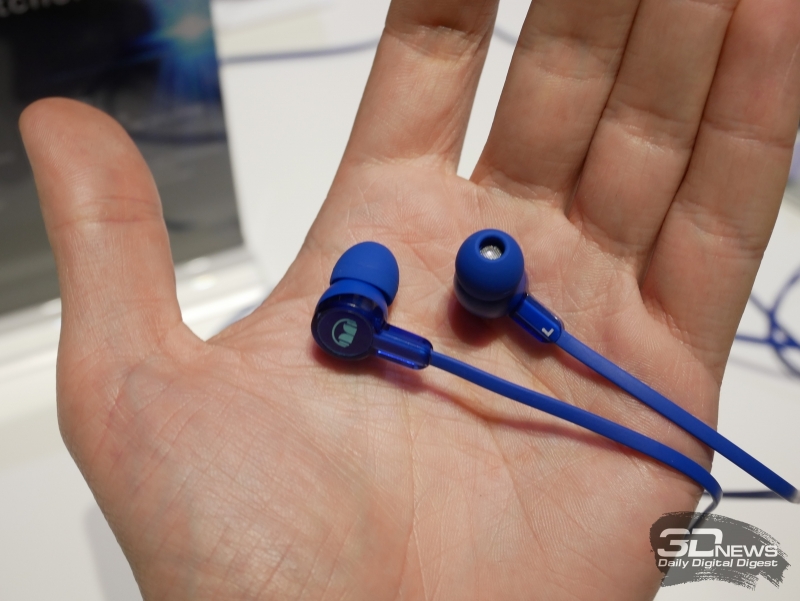 First, it is the fruit of a collaboration with a well known company Monster – wired in-ear headphones with a not too tricky title Honor x Monster. It is quite normal for 49 euros.
Second, Honor Sport wireless headset Bluetooth price is 69 Euro to try it in case the event did not happen.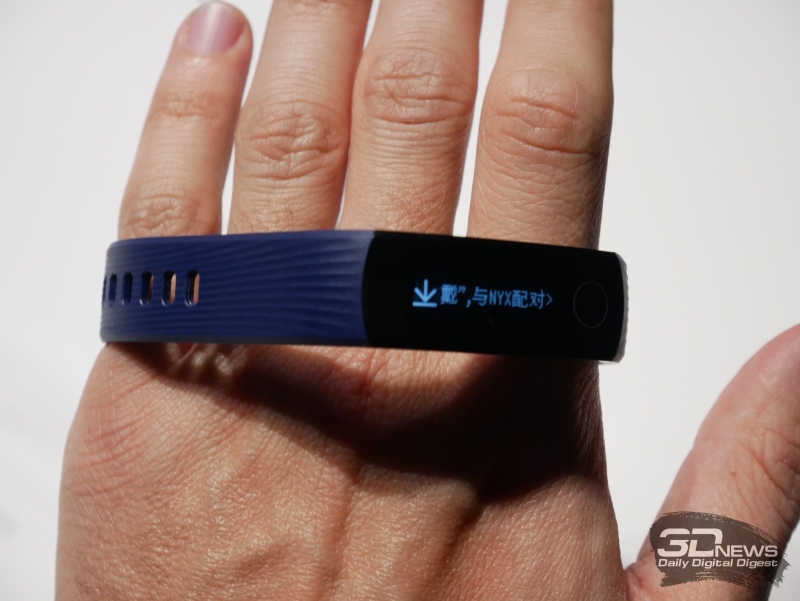 Thirdly, another bracelet Honor Band – already the third generation. On assurances of developers, is able to accurately measure pulse and can withstand immersion to a depth of 50 meters. Costs 69 euros.
Pre-order Honor 9 in Russia is already open (and in China it is sold already since June 16), the first customers will receive their smartphones on 6 July.
Source: 3dnews.ru