First look at Samsung Galaxy S20 Samsung Galaxy S20+ and Samsung Galaxy S20 Ultra
The Korean Corporation has flashed three Galaxy S last year, but then along with regular and "big" S10 hatch "youngest", S10e. This year's mini flagship is not the expected: in his role, most likely presented in January S10 Lite. Now we are dealing with the flagship, and large flagship uber-flagship: Samsung Galaxy S20 Samsung Galaxy S20+ S20 and the Samsung Galaxy Ultra.
As is usually the case, leaks were so many, and it is already possible to make more or less complete picture of one of the most important smartphone of the year — or rather, of the Trinity one of the biggest smartphones of the year. But let's for a moment close our eyes and imagine that leaks (as well as photos, leaked directly from preview smartphone a week ago) was not — and talk about the characteristics and design of devices.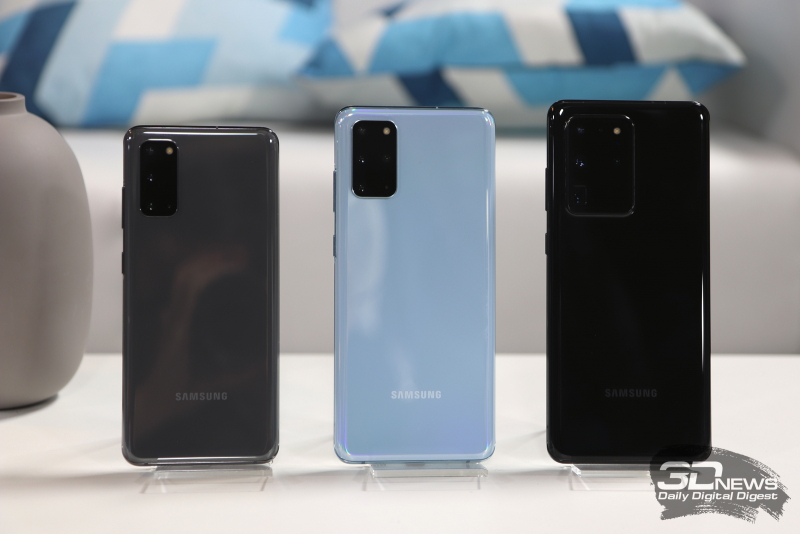 | | | | |
| --- | --- | --- | --- |
| | Samsung Galaxy S20 | Samsung Galaxy S20+ | Samsung Galaxy S20 Ultra |
| Processor | Samsung Exynos 990: two custom cores clock speed of 2.73 GHz, dual core ARM Cortex-A76 2.6 GHz, four cores ARM Cortex-A55 2.0 GHz | Samsung Exynos 990: two custom cores clock speed of 2.73 GHz, dual core ARM Cortex-A76 2.6 GHz, four cores ARM Cortex-A55 2.0 GHz | Samsung Exynos 990: two custom cores clock speed of 2.73 GHz, dual core ARM Cortex-A76 2.6 GHz, four cores ARM Cortex-A55 2.0 GHz |
| Display | Dynamic AMOLED, 6.2 inch, Quad HD+ | Dynamic AMOLED, 6.7 inch, Quad HD+ | Dynamic AMOLED, 6.9 inch Quad HD+ |
| RAM | 8/12 GB | 8/12 GB | 12/16 GB |
| Flash memory | 128 GB | 128/512 GB | 128/512 GB |
| SIM card | Two nano-SIM card slot microSD | Two nano-SIM card slot microSD | Two nano-SIM card slot microSD |
| The back camera | Triple module: 12 + 12 + 64 MP, ƒ/1,8 + ƒ/2,2 + ƒ/2.0, two times optical zoom, optical stabilizer, an extra wide viewing angle | Fourth module: 12 + 12 + 64 MP + sensor depth, ƒ/1,8 + ƒ/2,2 + ƒ/2.0, two times optical zoom, optical stabilizer, an extra wide viewing angle | Fourth module: 108 + 12 + 48 MP + sensor depth, ƒ/1,8 + ƒ/2,2 + ƒ/3,5, four-times optical zoom, optical stabilizer, an extra wide viewing angle |
| Front camera | 10 MP, ƒ/2,2 | 10 MP, ƒ/2,2 | 40 MP, ƒ/2,2 |
| The fingerprint scanner | In screen, ultrasonic | In screen, ultrasonic | In screen, ultrasonic |
| Connectors | USB Type-C | USB Type-C | USB Type-C |
| Battery | 4000 mAh | 4500 mAh | 5000 mA·h |
| Dimensions | 151,7 × 69,1 × 7.9 mm | 161,9 × 73,7 × 7.8 mm | 166,9 × 76 × 8.8 mm |
| Weight | 163 g | 186 g | 220 g |
| Dustproof and moisture proof | IP68 | IP68 | IP68 |
| Operating system | Android 10 with a proprietary shell | Android 10 with a proprietary shell | Android 10 with a proprietary shell |
Major changes in the design, especially if you take Galaxy and Galaxy S20 S20+, compared with last year's machines to produce the Koreans did not. Slightly curved and almost devoid of part of the display metal bezel, bevelled on the edges of the glass back. Only the front camera has moved from corner to center and block the rear camera was focused in black rectangles, which are starting to get used to — given that Apple has not indisputable acceptance of the indulgence.
This block S20, each of different sizes — from Junior poizyaschnee, the older more cumbersome — due to the different set and number of cameras. But everyone (especially the Galaxy S20 Ultra) he pretty much comes over the body, and to come up with any original solution of the issue, numerous lenses, inscribed in a black rectangle, the designers could not. Accustomed to the almost inevitable "monopoly" — and get used to it. Here, by the way, monopoly no — instead frontalka inscribed in the hole on the screen, and frontalka exclusively single; dual hole-ovals recognized as a failed experiment and sent to the Museum of engineering incidents.
This time Samsung did not experiment with the colours: mother of pearl and the play also left in the past, it is now "too-2019-mu". In 2020, according to the Korean designers, all wearing the usual gloss. Galaxy S20 is represented in pink, blue, gray and black colors in Russia are everything, except pink. Galaxy S20+ is available in blue, red, gray and black — in Russia of them will arrive blue. Galaxy S20 Ultra exists only in gray and black. Grey looks good and you can tell a purebred, but it's kind of boring.
Dimensions of the smartphone are given above in the table of characteristics. Here I will outline personal impressions: Galaxy S20, with its display diagonal of 6.2 inch think today is really a compact gadget — the effect, among other things, its ease; 163 gram — now it's just not serious. S20+ think it is normal, but the 220-gram, and fat S20 Ultra – really ultra, what to say. 6.9 inches and about 9 millimeters thickness supplemented with stronger protruding block cameras. It is terrible to imagine what awaits us in the autumn Note20. Seven inches will vypolnim finally?
Displays all three — according to the latest Korean technology and fashion: Dynamic AMOLED, 120 Hz, HDR10+. As a "real" 120 Hz and whether S20 to compete with OnePlus for the actual update rate of the display — find out in the detailed testing. The screen surface is mounted an ultrasonic fingerprint scanner — the company representatives claim that the sensor is the same as on S10, but the software system is modified, all will be processed faster. Look, while Samsung lagged behind competitors in this matter. The facial recognition system is available, but only with the help of the front camera without a depth sensor.
 
Hardware platform all Samsung Galaxy S20, besides the U.S., is Exynos 990. The chip uses tracklisting architecture: a block with two custom cores with a frequency of 2.73 GHz unit with two cores Cortex-A76 2.6 GHz and a block with four cores Cortex-A55 2.0 GHz. For graphics processing meets Mali controller-G77 MP11. A part of the processor includes dual-core module NPU, whose role is to accelerate the execution of operations related to artificial intelligence. The process — 7 nm.
Needless to say the improvement of performance, an intelligent assistant for instant start applications with "artificial intelligence", well, that in games, users will have a very responsive touch surface of the display is 240 Hz. All S20 is presented in versions with 5G modem, and Ultra – only in this version. But sold in Russia Ultra modem will be blocked — even if you go to a country with a working network of the fifth generation, to take advantage of its charms, you can not.
Samsung Galaxy S20 is presented in versions with 8 and 12 GB of RAM (Yes, LPDDR5!) drive and 128 GB. They will be available in Russia. Samsung Galaxy S20+ were 8 and 12 GB of RAM, but there is also a version with 512 GB drive- it, however, Russia will not. Samsung Galaxy S20 Ultra set a record for the amount of memory among mobile devices — there is a version with 16 (!) GB. Alas, in Russia it is (yet) also don't get how a storage of 512 GB. Will only option on 12/128 GB. Much sadness because of the small amount of internal memory you don't need all the modules support microSD card capacity up to 1 TB. But you have to sacrifice the second SIM card.
Capacity built-in rechargeable batteries — 4000, 4500 and 5000 mAh (at S20, S20+ S20 and Ultra, respectively). About any special accomplishments in the case of autonomy, the manufacturer does not report, but promises a very fast wired and wireless charging — no progress on the S10, but to be honest, and then enough.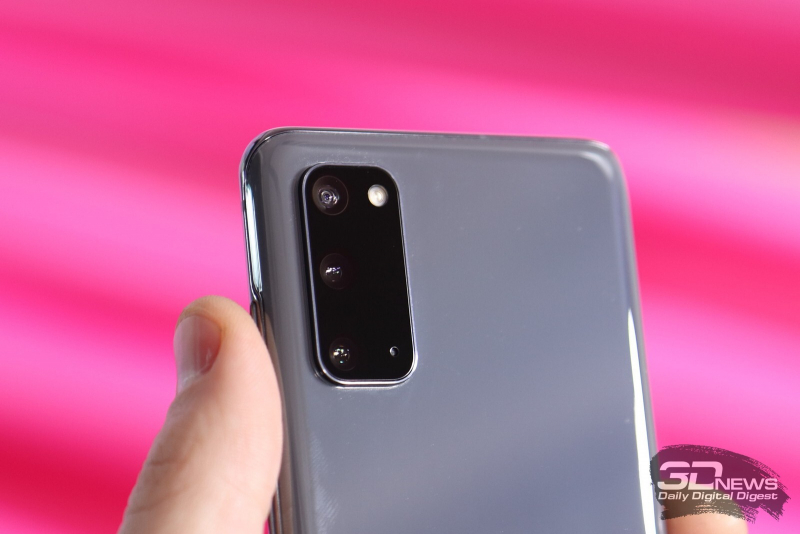 Finally, we reached "sweet" — what Samsung, and not only Samsung, devotes approximately 90 % of the time of presentation to the camera. All three Galaxy S20 got a different set — they are marked in the table of characteristics. Camera Samsung Galaxy S20 and S20+ in comparison with the previous generation are distinguished by the fact that telephotometer got a sensor with a resolution of 64 megapixels and the main camera has lost lens with variable aperture, and the base is very unimpressive f/1,8. There is a feeling that the S20/S20+ with a triple hybrid Zuma (and 30-fold software) remove a total of about at last year's level, even a little lost in night mode. But any serious conclusions after an hour to a nodding acquaintance with the phones to be premature.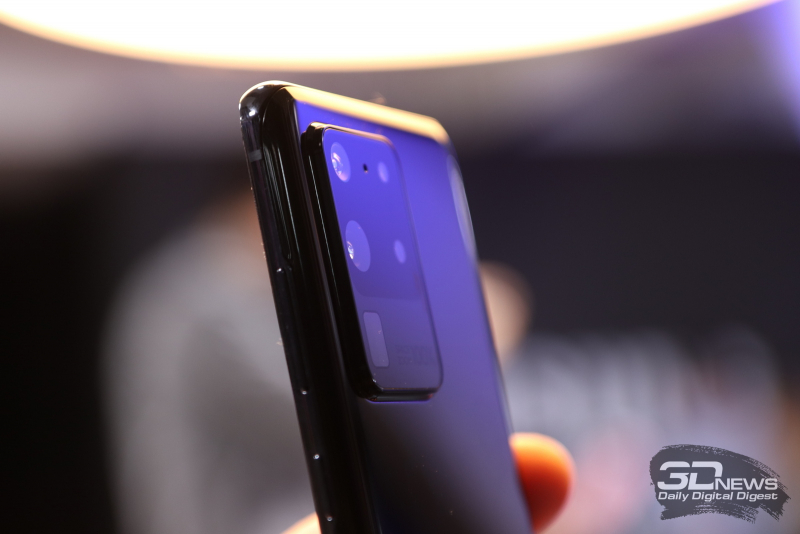 Samsung Galaxy S20 Ultra, of course, is another matter. Shared with two other S20 there is only a wide-angle camera — 12 megapixels (the size of an individual pixel is 1.4 microns), lens aperture of f/2,2. The main camera has a 108-megapixel sensor of its own authorship — like we seem to have seen in the Xiaomi Mi Note 10 but the Koreans have disposed of their wealth differently: sub (each with a size of 0.8 µm) are combined not four, as usual, and at nine, giving the image a resolution of 12 megapixels (if you want, of course, you can include the shooting mode with a maximum resolution). The lens is the same aperture of f/1,8. Is phase detection autofocus (system Dual Pixel), and optical stabilizer.
Most curious in this telephotometer he's periscope, with a 48-megapixel sensor, a lens aperture of ƒ/3.5 and stabilizer. By default, it allows to count on a quadruple optical zoom and ten hybrid (using the full sensor resolution and subsequent crop). The main marketing tool obviously will be able to remove a 100-fold digital zoom, which has already received its own name — Space Zoom. On first impressions, with twice approaching the picture quality is about the same as Huawei P30 Pro c it pyatidesyatiletnie. Attach sample images sorry, we can't — Samsung was forbidden to use images taken at the presentation, citing "pre-production software."
From experience I want to mention three other points. First: smooth zooming even when selecting from a fixed set in the camera app — that is jump from position 1.0 x to position 100, and the camera required about three seconds to "shift lenses"; maybe not very practical, but impressive. The second also aims to create the effect of a professional camera — when shooting triggered a vibration motor that simulates the descent of a mechanical shutter. Third — when activated the maximum zoom smartphone strongly heated.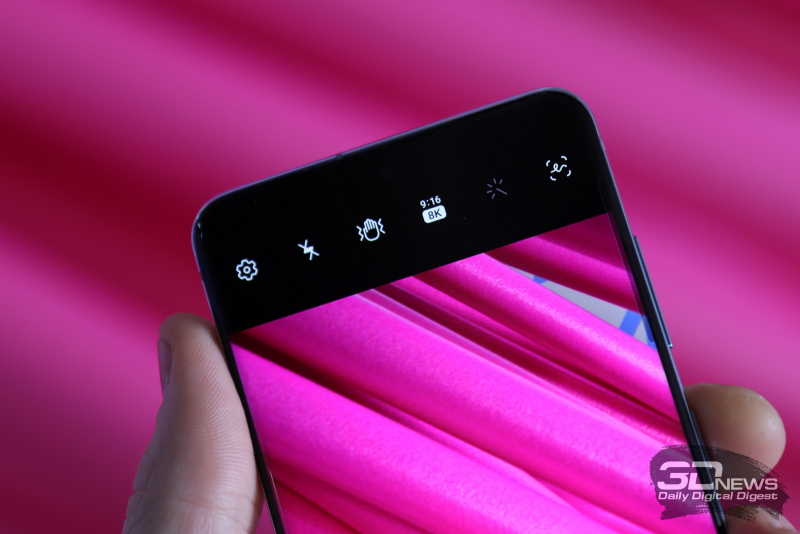 Another feature in which Samsung was ahead of everyone along with digital zoom, Galaxy S20, the first in the world learned to shoot 8K video. In itself, this does not have any special meaning (where these videos to watch that?), but allows great to improve stabilization for video and take sharp shots-screenshots of a resolution of 33 megapixels right when watching movies. I don't think this opportunity will often use it, but at the presentation again looks impressive. Wow effect is important.
It should also be said about the Single Take in which you some time shooting a video, and decides which pieces of footage to mount in videos and in photographs, and applying to different parts of the different filters. To influence his decision is impossible — only to trust.
It is worth saying that with pre-ordered Galaxy S20 (any version) as a gift will come presented simultaneously with the smartphone Galaxy headphones Buds+: they are minimally changed in appearance, but began to work longer on a single charge (11 hours), received two-channel speakers and three microphones each. Whether Samsung have fixed the problems with the stability of the Bluetooth connection with your smartphone and sync between the headset — I can not say.
In Russia sales of its flagship series will begin March 13. The base version of the Galaxy S20 is estimated to 69 990 rubles, Galaxy S20+ is available for 79 990 rubles, and for Galaxy S20 Ultra will have to pay not less than 99 990 rubles. The cost of a wireless headset Galaxy Buds+ will be 10 990 rubles.
Source: 3dnews.ru