First look at HTC U11. Everything you need to know about the Taiwan leader in day of the announcement
Despite all the speculation about the imminent demise of HTC, the company feels quite cheerfully. First, the partnership with Google in smart phones Pixel and Pixel XL is paying off, and secondly, the market well received the HTC Vive. So the company afloat and continues to develop its main direction – the production of smartphones. Last year came the HTC 10 – a little controversial, but overall a very good flagship. Then there was HTC Ultra U and U Play on which the company first tried a
fundamentally new design and launched its own smart assistant with artificial intelligence, machine learning, and other attributes in the spirit of the time. And now all this was embodied in the new flagship – HTC U11.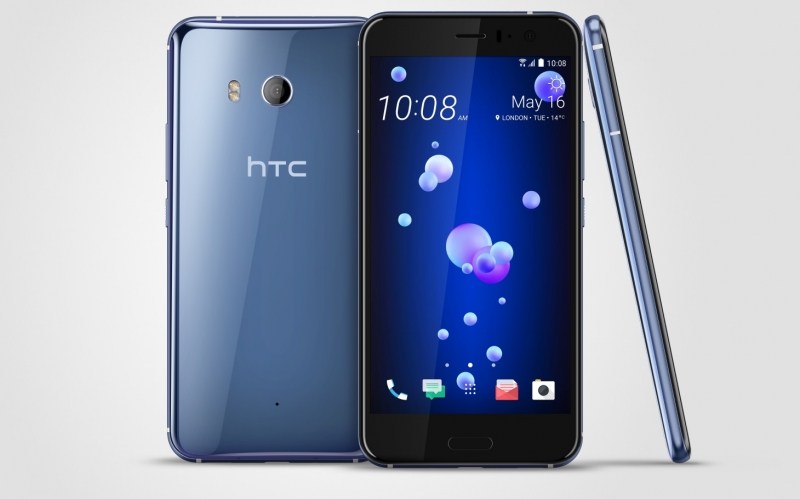 The number in the name tells about its current generation flagship, and the letter U is formally transfers it to the company to former U Play, and U is Ultra.
What?
| | HTC U11 | HTC 10 |
| --- | --- | --- |
| Processor | Qualcomm Snapdragon 835, eight cores: 4 × 2.45 GHz + 4 × 1.9 GHz | Qualcomm Snapdragon 820, Quad core: 2 × 2.2 GHz + 2 × 1.6 GHz |
| Display | LCD, IPS, 5.5 inch, 1440 × 2560 | LCD, IPS, 5.2 inch, 1440 × 2560 |
| Memory | 4 GB (6 GB in China and Taiwan) | 4 GB |
| Flash memory | 64/128 GB + slot for microSD | 32/64 GB + microSD slot |
| SIM card | 2 x nano-SIM, the second slot is connected with the connector for memory card | 1 × nano-SIM |
| Wireless modules | Wi-Fi (802.11 a/b/g/n/ac), NFC, Bluetooth 4.2 | Wi-Fi (802.11 a/b/g/n/ac), NFC, Bluetooth 4.2 |
| LTE | Cat.16 | Cat.9 |
| Camera | 12 megapixels, ƒ/1.7 m, phase detection autofocus, optical stabilization + led flash | 12 megapixels, ƒ/1,8, contrast and laser autofocus, optical stabilization + led flash |
| Front camera | 16 megapixels, ƒ/2.0 | 5 megapixels, ƒ/2.0 |
| Protection | IP67 | IP53 |
| The fingerprint scanner | Is, from the front | Is, from the front |
| Connectors | USB Type-C (3.1) | 3.5 mm audio Jack, USB Type-C |
| Battery | 3000 mAh | 3000 mAh |
| Operating system | 7.0 Nougat Android with HTC Sense | Android 6.0 Marshmallow with HTC's Sense + the update to Android 7.0 Nougat |
| Release date | May – June 2017 | June 2016 |
What's the point?
HTC has been the leading innovator on the market at the time of the domination of Windows Mobile. Daring experiments with form factor, unusual controls, optimized for use without a stylus – all this is somehow forgotten. From recent examples we can recall is that the thin plastic strips on the metal housing for better performance built-in antennas. Even Apple HTC pays royalties for the right to use such solutions. Regardless of HTC's last great innovation in smartphones has become a Force Touch feature (or 3D Touch), which unsuccessfully tried to promote Huawei and which "went" to the market in the case of the iPhone.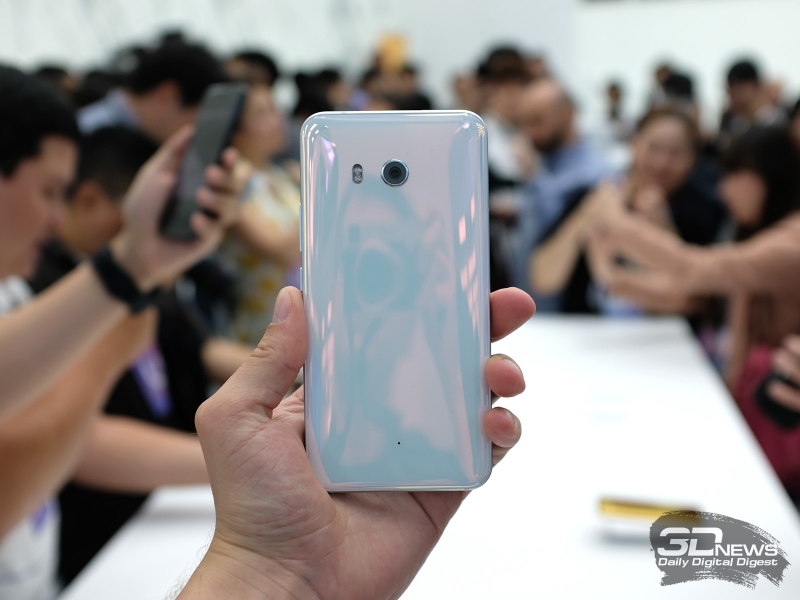 In the U11 HTC offers another innovation – Squeeze (Edge Sense). The essence is very simple – the side faces of the smartphone contain sensors that determine easy and strong grip. Plus possible options with a short press and a long hold. This allows you to provide quick access to several function immediately without the need for physical buttons and their combinations. First impressions are very pleasing – it's incredibly convenient. And I'm sure on the larger devices it will be even easier, because the same iPhone 7 Plus (one of the bulky smartphones with 5.5-inch screen at the moment) I have to constantly keep track of the sidewall, and full control is only possible with two hands. HTC also offers a very convenient alternative.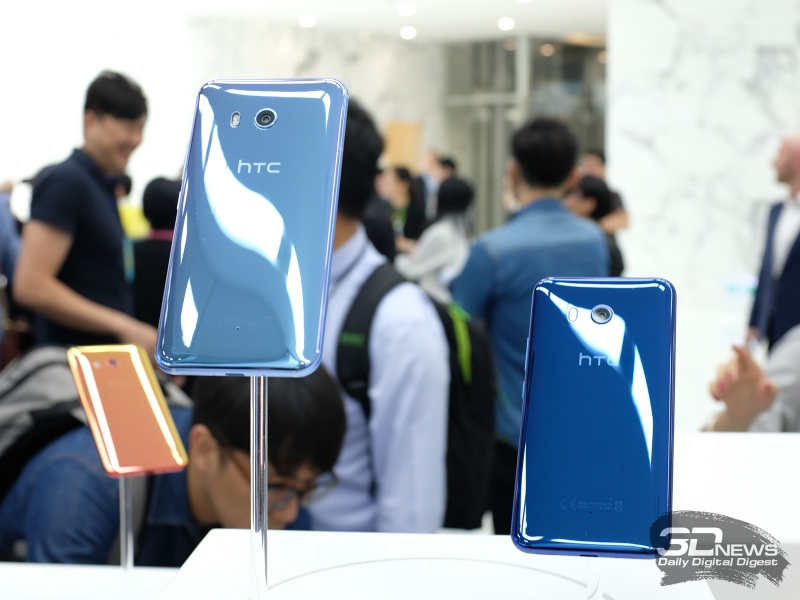 With Sense Edge by default, you can run the built-in camera, voice assistant, taking a picture, switch between main camera and front. And, you can combine push and voice command. In the latter case, there are several services to choose from: Google, Alexa or Beidou. The latter will be available only in the Chinese market. In system preferences, you can choose any of the installed applications for quick launch. Well, as a new management body will be to work in applications depends on their developers from HTC everything is ready. But the whole process can be quite long, even LG and Samsung c G6 S8/S8+ and their unusual aspect ratio still can not boast of perfect compatibility with most applications.
Outside?
Don't know how to react to it's fans, but gradually HTC refuses favorite all-metal housing with a clear well-defined shape for a more rounded shape and glass surfaces. The metal construction remains, but on the rear panel of the metal part is under the Gorilla glass 5. As well as LG G6, but without the same protection.
| | | |
| --- | --- | --- |
| |   | |
On the other hand, this design allowed us to more safely approach the choice of colors. Banal shade fading, and me, truth be told, it pleases. Each of the five colors HTC U11 looks great. Even ordinary black and white light play with new colors, not to mention blue, dark blue and pink. I would even say that this is the first pink smartphone on the market, which is not ashamed to hold in hands. And indeed all the names of the colors are very relative. White is officially called Ice White, and depending on lighting can be as creamy and bluish and even pure mother of pearl. Black can give a green or orange. In General, pure delight – this is even cooler than what we saw at Honor 8 and Samsung Galaxy S8.
| | | |
| --- | --- | --- |
| |   | |
Other side of the coin – usability. Here HTC comes on your favorite rake their Korean competitors, the smartphone looks exactly as intended, only on display. And in his hands he quickly covered with fingerprints and it loses much of its appeal. Here, of course, there is the oleophobic coating, but it only slightly slows down the process of pollution, the overall situation does not save. The release, as always, two. Or wipe the smartphone every couple of days or use case. But, in my opinion, to put such a beauty in "armor" – a violent crime.
The enclosure remains quite compact for a 5.5-inch smartphone, but smoothly rounded hips only accentuate the feeling of compactness. Protruding elements on the body is almost gone, except for the side buttons (power and volume) and the main camera lens, which rises about half a millimeter.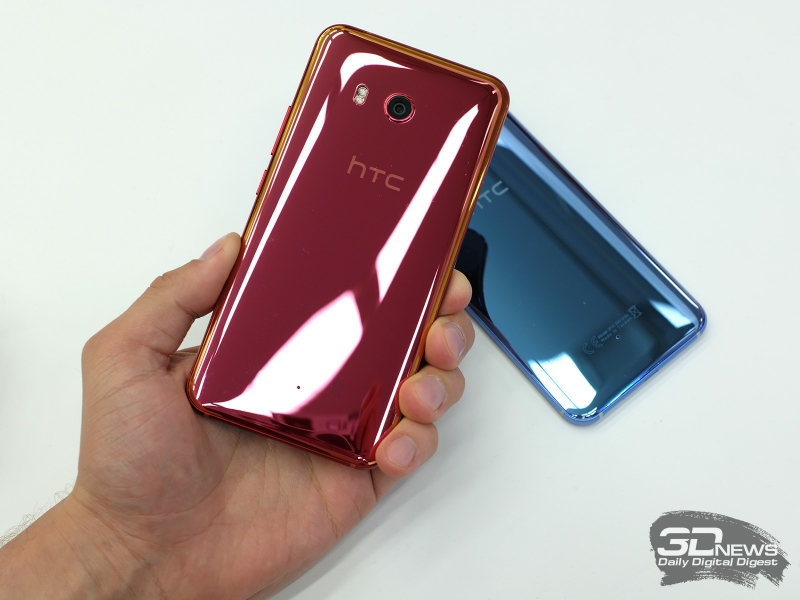 Another important point – U11 HTC protected from dust and moisture according to IP67 standard, and official videos of the presentation showed many water treatments with a clear message "only Edge Sense will allow you to shoot under water". But I would not take seriously such statements. Firstly, IP67 does not imply an underwater survey in the conventional sense – so, perhaps in the pool to indulge. And secondly, to remove under water can be in the presence of a hardware button. In smartphones Sony Xperia, for example.
What's inside?
And here almost no surprises. HTC can't afford creating its own hardware platform (like Samsung) and can't use any exotic high-end product. So U11 uses OCTA core Qualcomm Snapdragon 835 c a graphics accelerator Adreno 540. The amount of RAM and permanent memory will vary depending on the particular market – in Russia and Europe will arrive, the model with 4 GB RAM and 64 GB of internal flash memory.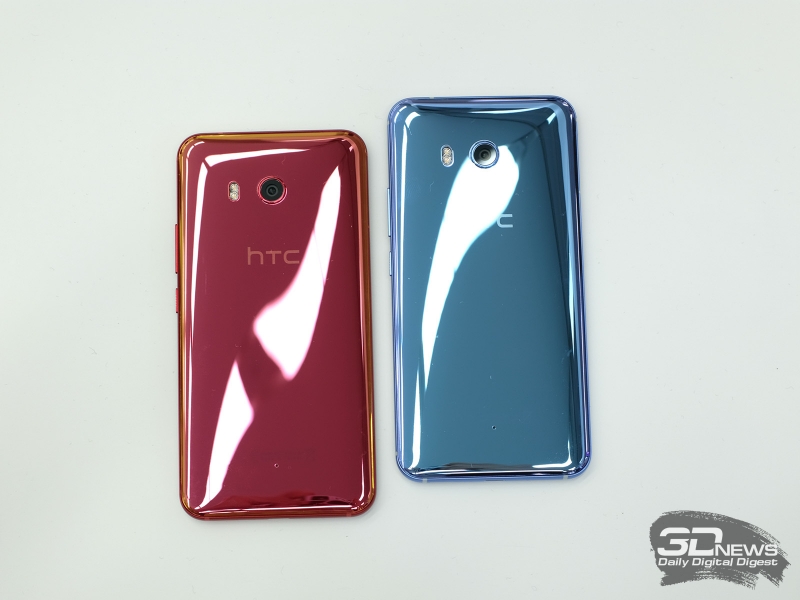 The case, of course, sealed and the battery is 3000 mAh non-removable. Expectations for battery life, I admit, I have very little, especially after HTC U Ultra. But I want to believe that the software optimization will allow HTC U11 to work at least from morning to evening.
Built-in camera on the back only one here from HTC the same approach as the Samsung. The resolution is 12 megapixels, as most best camera, and the aperture to f/1,7. Autofocus is performed in the phase mode, there are patisia optical stabilization, working together with digital, on-site video recording in 4K resolution and other functions in the spirit of the time.
HTC_U11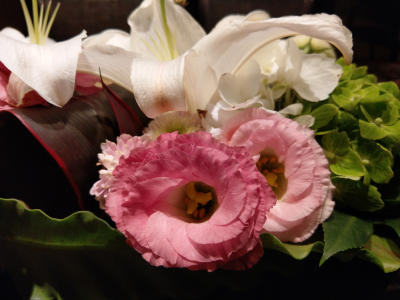 IMAG0001.jpg
See all images (10)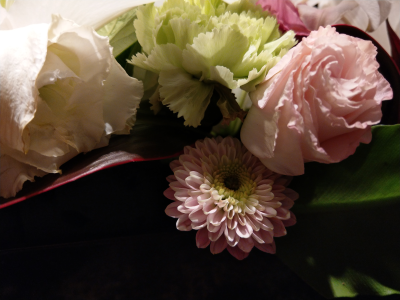 IMAG0002.jpg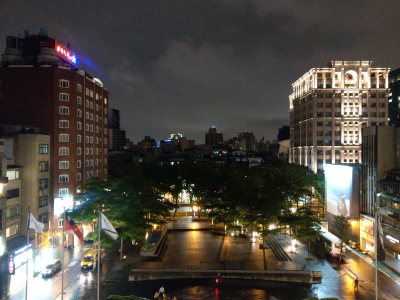 IMAG0003.jpg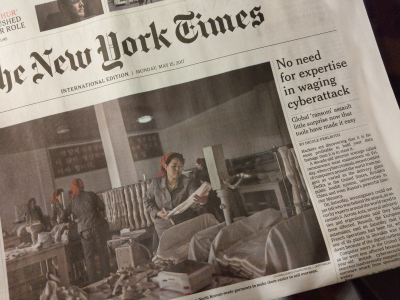 IMAG0005.jpg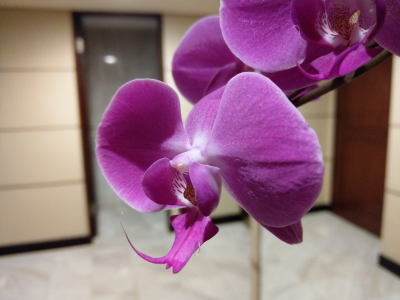 IMAG0007.jpg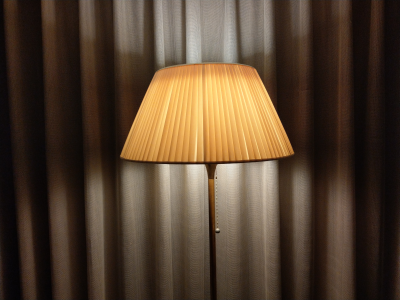 IMAG0010.jpg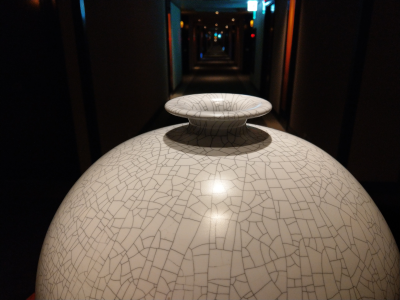 IMAG0013.jpg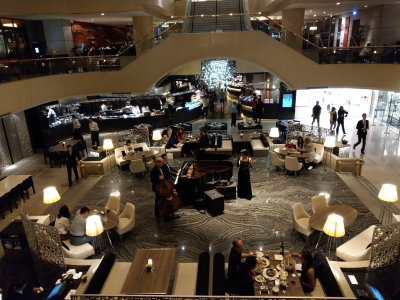 IMAG0017.jpg

IMAG0021.jpg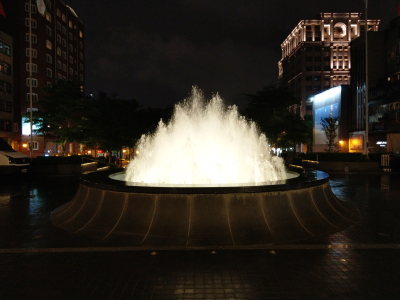 IMAG0022.jpg
See all
images (10)
First impressions are extremely good. The above are some test shots that I was able to do after the official presentation, and later I will test it more thoroughly in comparison with the Samsung Galaxy S8+ and an iPhone 7 Plus.
What else?
The smartphone has a few more features. One of them is already familiar to HTC U Ultra – the body is no 3.5 mm headphone Jack. However, we are not talking about a blind copy of the controversial decisions the Apple. HTC actually believes that in this way is the easiest way to improve the sound on your smartphone. In the box with the U11 will be good branded headphones.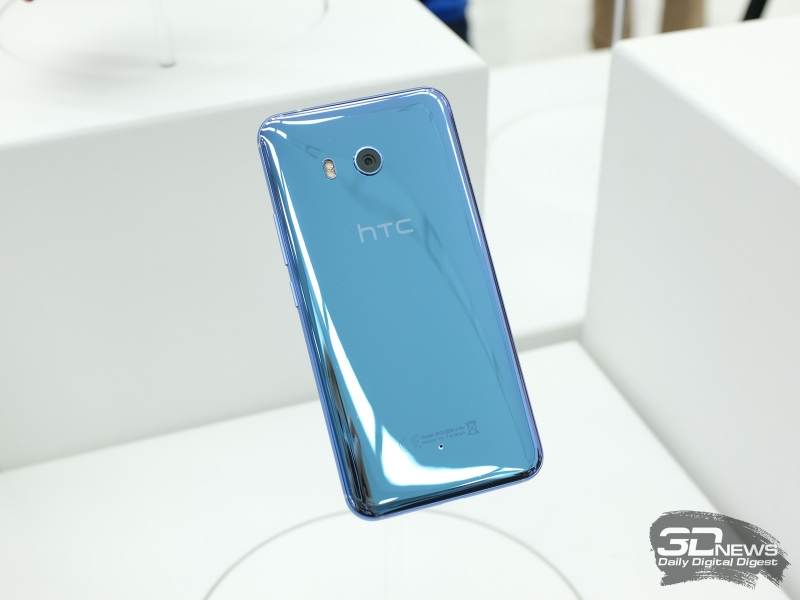 However, it is not only that these headphones contain a pair of integrated microphones which are used to record the reflected sound in the ear and appropriate to adjust the equalizer and active noise cancellation. The technology is called HTC USonic, the difference between normal and enhanced mode noticeable.
The smartphone contains four built-in microphones which help to cut off excess noise during a call without any loss in voice. Plus it gives very high quality recording on the recorder and allows you to change the direction when using zoom while shooting videos. This decision met some of the cameras, but the smartphone in my memory this is the first time.
What is the result?
HTC U11 produces an extremely pleasant experience. Since the HTC Legend I really liked one-piece aluminum housing, and latest flagships like back and external surface, so at first I was very skeptical: they say, who needs another glass smartphone. But life U11 was insanely beautiful – I'm not sure that pictures and video can fully convey all of these the play of reflections and…
In Taiwan, the smartphone will be on sale starting may 18, and in other countries, including Russia, will arrive in early June. In the US, HTC U11 will cost $649, and for Europe announced €649 £649. Russian price has not yet been specified, but the General practice is that Russia belongs to the European region and receives the corresponding price. In my opinion, queries, HTC quite adequate – competing devices cost about the same or even more expensive. Importantly, the company did not save any on the components or on the manufacture. I had a chance to look at the operation of the plant, which operated Assembly line U11, the day before the official announcement. Quality control the most thorough, sophisticated tests is even module voice calls, although it would seem, it became purely a secondary function of the smartphone. In General, I really hope that this time HTC will succeed. And I will continue to get acquainted with the device closer to the end of the week and will definitely share more detailed impressions in a full review.
Source: 3dnews.ru