First impressions of the Huawei smartphones and Y8p Y6p
Turned out three new items: Y5p ultrabudgetary and simply cheap Y6p and Y8p. In this article we will talk about the new "six" "eight", received a triple rear camera, frontally in cuts-"droplets", the screen diagonal of 6.3 inches, but have not received a Google-instead — mobile services, Huawei. This, perhaps, the total of these two models ends — details below.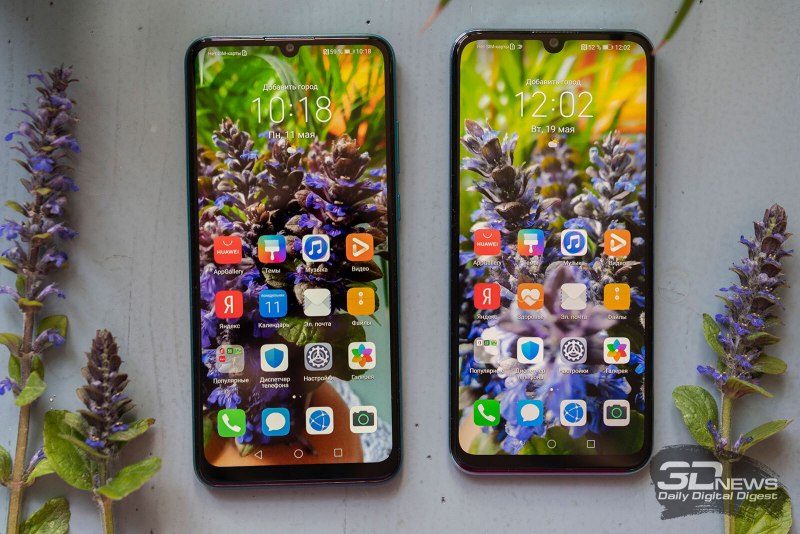 Huawei Y8p
Huawei Y6p
Processor
HiSilicon Kirin 710F: eight cores (4 × ARM Cortex-A73

processor 2.2 GHz + 4 × ARM Cortex-A53, the frequency is 1.7 GHz), graphics core ARM Mali-G51 MP4
Mediatek MT6762R Helio P22: eight cores (4 × ARM Cortex-A53, frequency 2.0 GHz + 4 × ARM Cortex-A53, frequency 1.5 GHz), graphics core PowerVR GE8320
Display
OLED, 6.3 inch, 2400 × 1080
LCD, 6.3 inch, 1600 × 720
RAM
4/6 GB
3 GB
Flash memory
128 GB
64 GB
SIM card
Two nano-SIM card, hybrid card slot NM memory (up to 256GB)
Two nano-SIM, the allocated slot for memory cards microSD (up to 512GB)
Wireless communications
2G, 3G, LTE, Wi-Fi (802.11 a/b/g/n/ac), Bluetooth 5.0, navigation (GPS, A-GPS, GLONASS, BDS)
2G, 3G, LTE, Wi-Fi (802.11 b/g/n), Bluetooth 5.0, navigation (GPS, A-GPS, GLONASS, BDS)
The main camera
Triple module 48 + 8 + 2 MP, ƒ/1,9 + f/1,8 + f/2.4, phase detection autofocus with the main module, wide viewing angle, and the third camera — depth sensor
Triple module 13 + 5 + 2 MP, ƒ/1,8 + f/2,2 + f/2.4, phase detection autofocus with the main module, wide viewing angle, and the third camera — depth sensor
Front camera
16 MP, ƒ/2.0
8 MP, ƒ/2.0
The fingerprint scanner
On the screen
On the rear panel
Connectors
USB Type-C, 3.5 mm
microUSB, 3.5 mm
Battery
4000 mAh
5000 mA·h
Dimensions
157,4 x 73,2 x 7,75 mm
159,1 × 74,1 × 9 mm
Weight
163 g
185 g
Operating system
Android 10 with a proprietary shell EMUI 10.1 (without Google Mobile Services)
Android 10 with a proprietary shell EMUI 10.1 (without Google Mobile Services)
Price
N/A
N/A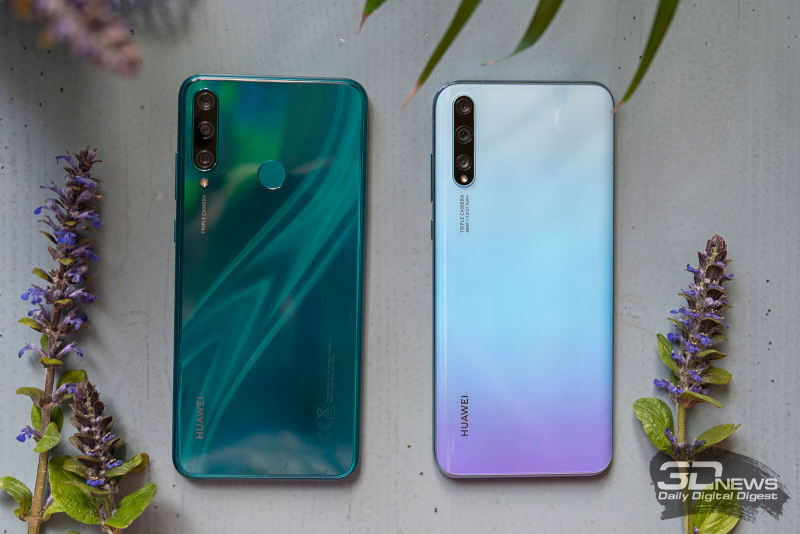 In spite of the almost same name, same display size and overall commitment to mobile services Huawei, the differences between the Huawei and Huawei Y8p Y6p and characteristics, and even in the concept more than the total. Let's talk about each of the smartphones individually.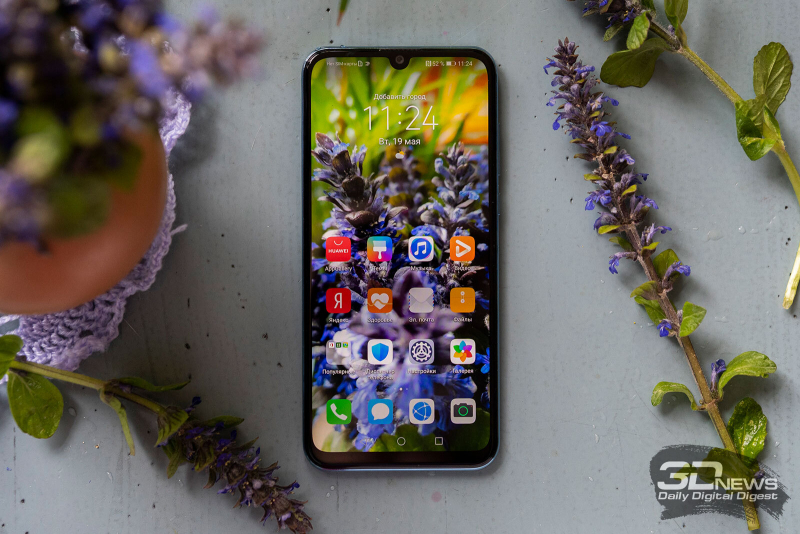 Huawei Y8p is unusual by today's standards, relatively small, slim and elegant smartphone. Despite the rather large screen diagonal (6.3 in), he kept a decency in the dimensions: first, due to the minimum framework around the display (the percentage of occupied space of the front surface not specified, but the number is clearly more than 80%), secondly, due to the thin faces, thirdly, we say thanks to the slightly curved edges of the back. Whatever it was, to hold Huawei Y8s nice and in your pocket gadget with a weight of 163 grams is almost not felt.
Despite the slightly outdated performance front panel with cutout-the"drop" Huawei Y8p looks good thanks to the design of glass front and back polished metal with plastic on the perimeter. Three-compartment block is also entered with care and taste. Color versions Huawei Y8p there are three: light blue, midnight black and sold exclusively in the brand the online shop, emerald green.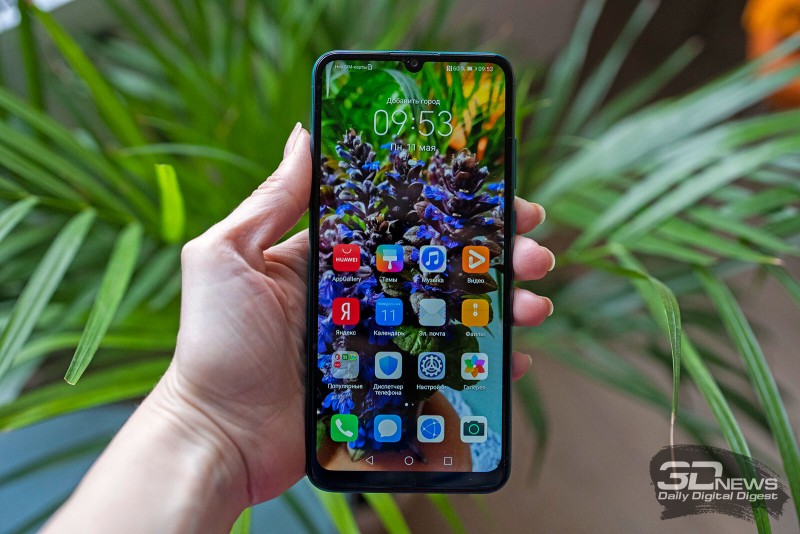 Another unusual for a smartphone in this price range detail — AMOLED display. The only company that consistently puts in their cheap smartphones screens organic light emitting diode, is Samsung. Now the Koreans joined Huawei – Y8p in this respect, the pioneer model. And here is not just OLED and high resolution (2400 × 1080), so even in theory, to worry about crumbling to the Pentile sub-images is not necessary. In practice, moreover, there is no problem: the image is sharp, clear and full color. However, the visible PWM at low brightness to the lowest elevations, but the same problem occurs and the expensive OLED.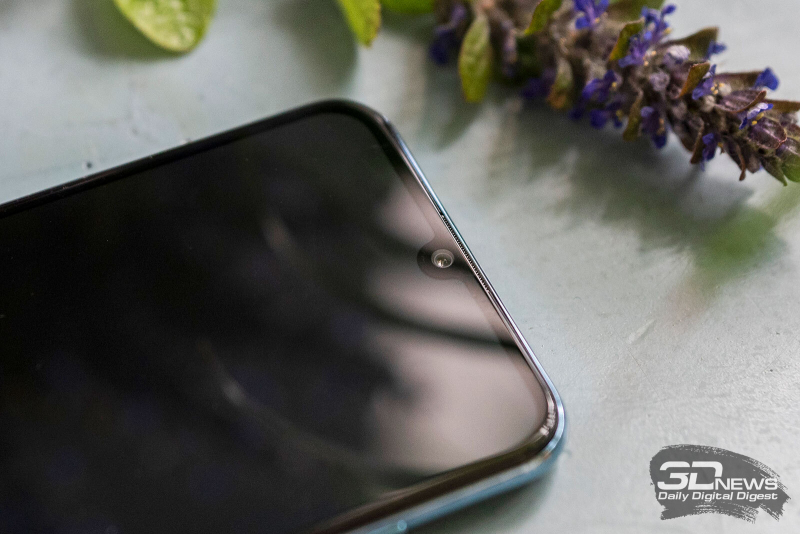 And the third distinctive feature of Huawei Y8p – print scanner built into the screen surface. If the plan OLED and compactness is still possible to find some equivalent, then there Y8p we got the chip, which can boast only of smartphones, facing more expensive at least twice. I would not say that it is unconditionally happy — the optical sensor does not respond to the touch of wet fingers and works noticeably slower than traditional capacitive on the rear panel Y6p, but it at least allows you to leave the back more accurate, without superfluous inserts.
 

 
The rest of Huawei Y8p fully corresponds to our ideas about what should be the smartphone for 17 thousand rubles. It uses last year's hardware platform HiSilicon Kirin 710F — four productive core ARM Cortex-A73 2.2 GHz and four ARM Cortex-A53 with frequency of 1.7 GHz. Graphics coprocessor ARM Mali-G51 MP4. The technological process of 14 nm. Nothing outstanding, but the efforts of this platform combined with 4 GB of RAM enough in a smartphone run most modern games, safely operated all of the basic applications and the operating system worked smoothly — the screens are slightly slow down when turning, when compared with the flagships, but it is quite normal for a gadget of this price category. Option for built-in flash memory, one is 128 GB, expandable with cards NM native format (even up to 256 GB). I note that Huawei Y8p received and the actual USB Type-C and mini-Jack.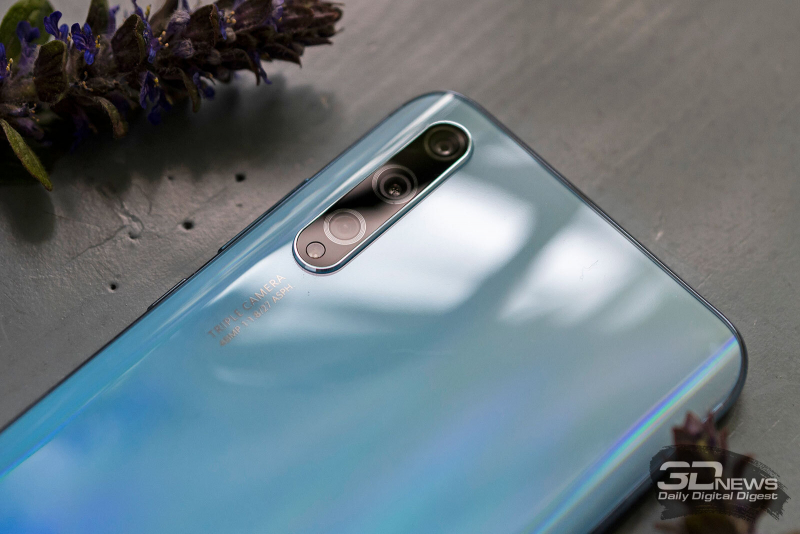 Triple rear camera consists of a 48-megapixel main module Quad Bayer with a lens aperture of ƒ/1.9 and phase detect autofocus and wide angle module with a resolution of 8 megapixels and aperture of ƒ/1,8 without autofocus. The third camera — depth sensor resolution of 2 MP, which serves to blur the background when shooting portraits. As befits a smartphone Huawei, he is able to modify images using "artificial intelligence" and offers a night mode with multiframe exposure. Default shooting in the main module is in resolution of 12 MP, but you can activate and full (48 MP) resolution. Video Huawei Y8p able to shoot with a resolution of 1080p at up to 60 frames per second. Frontalka placed in the cut"drop" in the center of the status bar has a resolution of 16 MP, with the aperture of ƒ/2.0 — it is also available blur the background. In General, in terms of photo and video opportunities Huawei Y8p is not a superior machine, but it is quite adequate to the market.
Huawei Y8p equipped with a battery capacity of 4000 mA·h and due to a combination of OLED display available in EMUI 10 dark theme can quite confidently hold its charge up to one and a half days. The smartphone will become available for pre-order on may 26 at a price of 16 999 rubles. Sales start on 5 June. When you pre-order as a gift is a bracelet Huawei Band 4 Pro.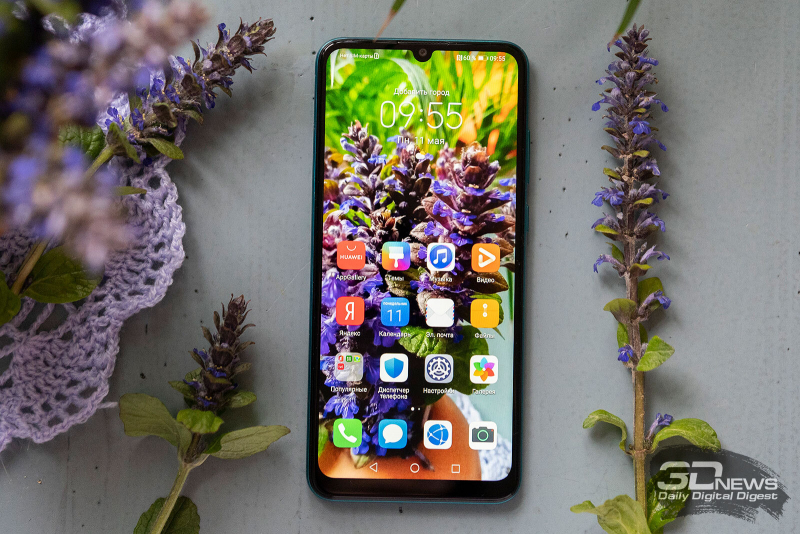 Huawei Y6p – a smartphone easier. From the "face" to distinguish Y8p and Y6p almost impossible, unless you include a contrasting picture: the same cut screens are the same diagonal, except that Y8p frame is a little thinner and OLED screen instead of LCD.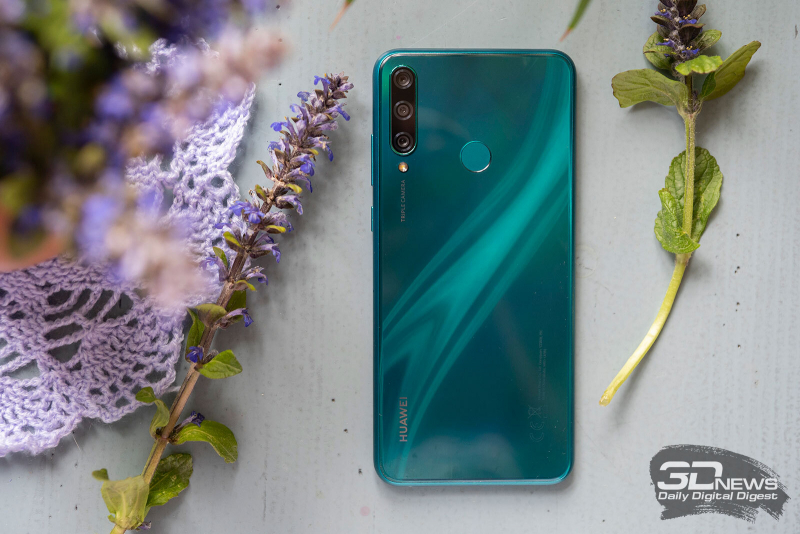 But otherwise Huawei Y6p markedly different: here a thicker body (thanks to the capacious battery, 5000 mA·h), and back without folded edges, and a larger three-chambered unit with a separate flash, and a fingerprint scanner on the back.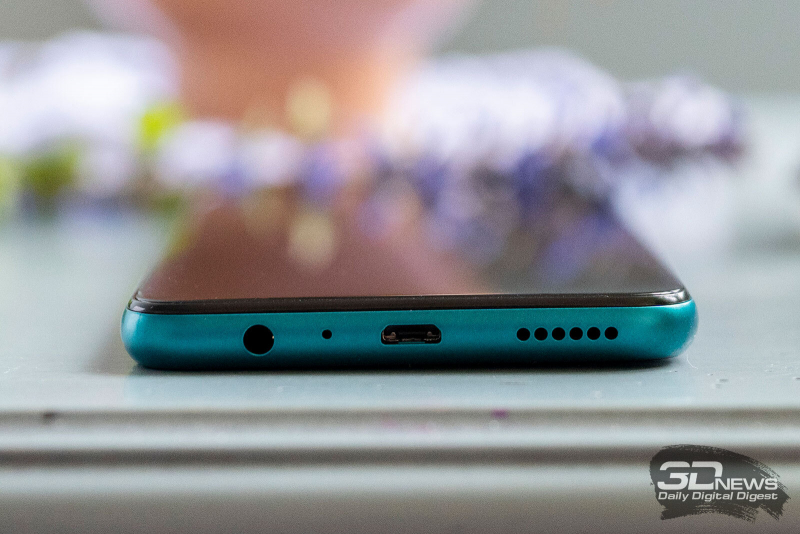 Color variations at Huawei Y6p two: emerald green and midnight black. Feature smartphone the plastic on the edges and on the back panel (but to distinguish it from the glass is difficult, of course), and although small, it would seem that the difference in size from Y8p noticeable larger gadget to hold in your hand its not as comfortable.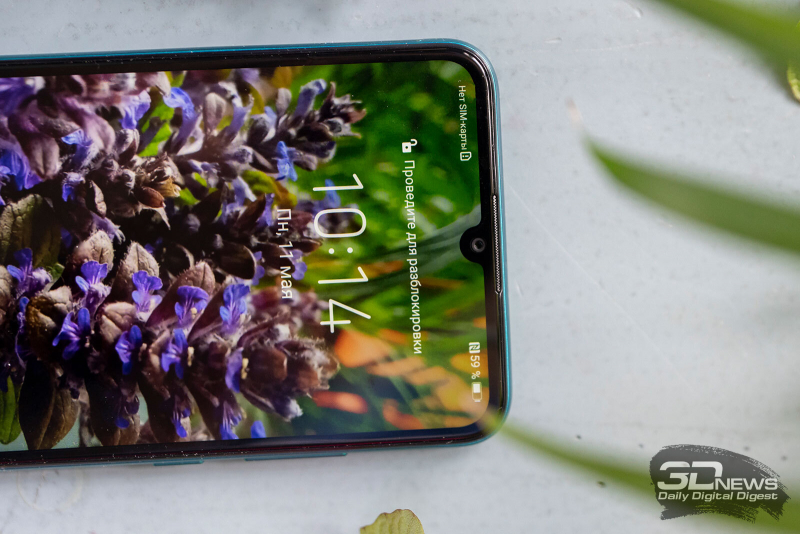 LCD display Huawei Y6p with the same diagonal got HD resolution, the fonts you may notice a slight pixelation. Hardware platform — Mediatek MT6762R Helio P22, four cores Cortex-A53 with a frequency of 2.0 GHz and four Cortex-A53 1.5 GHz and graphics PowerVR GE8320. Process technology is 12 nm. The device comes with 3 GB of RAM and 64 GB of non-volatile memory is expandable with the help of classic cards MicroSD, for which a separate slot to sacrifice one of the SIM cards is not necessary. Another joy prudent user is the battery for five thousand milliampere-hours despite the LCD display, charge the smartphone it will be necessary, likely one every couple of days. Plus available reverse charging with cable.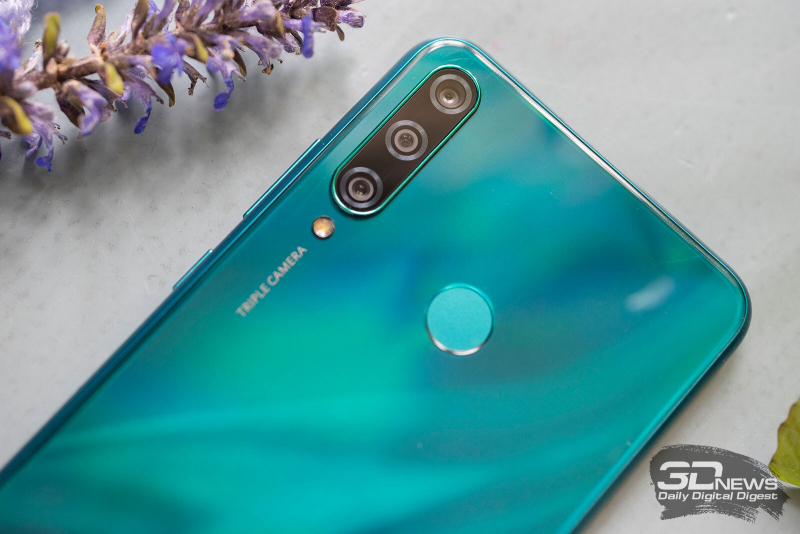 The camera is also simpler: in the triple block includes a 13-megapixel main module, a 5-megapixel wide-angle and a depth sensor. Sale Huawei Y6p will start on 5 June at a price of 10 999 rubles.
The smartphones run on Android 10 with the latest version of the shell EMUI 10.1. Pro features smartphone Huawei in 2020, we already wrote a lot. I bring to your attention an article about Huawei Mobile Services and parsing "how to live without Google," the sample of winter of 2019. Since then a lot has changed in the AppGallery, more popular software, added services contactless payment "Wallet" (both of the new smartphone has the NFC modules, they can be used to pay in stores), reduced restrictions on the installation is unavailable in the AppGallery applications through third-party services, but still — have to put up with the unavailability of certain apps and games, tied to GMS. In this purely technologically Y8p and Huawei, and Huawei Y6p look as competitive as possible.
Source: 3dnews.ru