Browse Palm PVG100: a small smartphone to big things
Old brands that once enjoyed great popularity but has ceased to exist, got a second life thanks to Chinese cash infusions. Nokia, Blackberry, Alcatel, Palm – all of this is familiar to people around the age of 30 years and older. On the one hand it's great – we again have the opportunity to use devices under the brand name familiar to long time. But on the other hand, we should not forget that it is literally only the name. Palm have generally had a difficult fate – the company did better
in the PDA world, but as the transformation of such devices in the phone she lost it and could not resist the onslaught of the more aggressive players. The company had some of their own operating systems: Palm OS first, then WebOS, which is now working smart LG TVs. But the current Palm owned by TCL Corporation, is entering into an endless series of Android smartphones.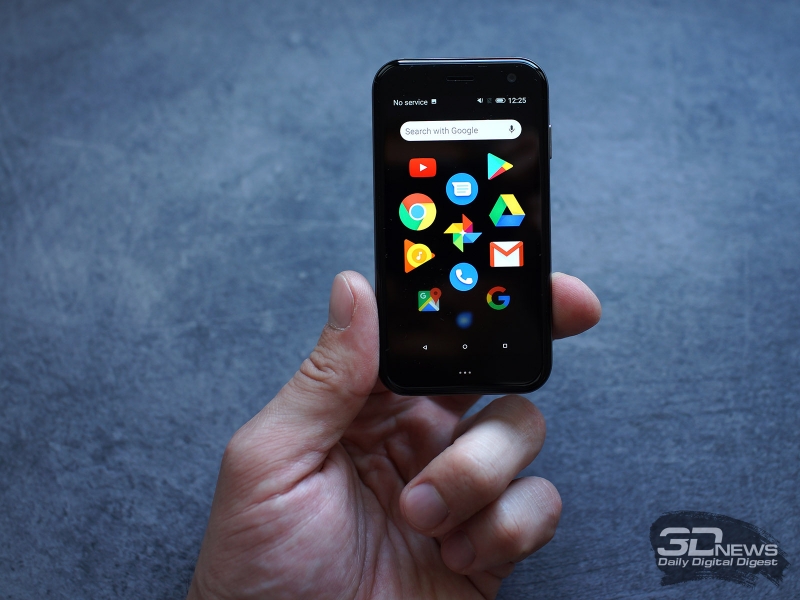 PVG100 Palm, also called Palm just Phone is the first smartphone brand revived that have long been sold in the U.S. and this year goes to the Russian market. I wonder what Verion – the operator who sells the device in the United States positions it as an addition to the main smartphone and even offers some software to sync SMS messages between devices. The basic idea is that a device of this kind should help us to review usage habits, reduce the intake of information and reduce the time we spend looking at the screen. I admit at once that this topic is very interesting to me personally, as the victim to the over-consumption of information, but in relation to Palm PVG100 from having serious doubts. Well, at least you need to give this new product a chance, especially because they look just is to his possession.
Specifications
Palm PVG100
Realme 3 Pro
Realme 3
8X Honor
Nokia 7.1
Display
3.3 inches, IPS, 720 × 1280 (16:9), 445 ppi; capacitive multi-touch
6.3 inch IPS, 1080 × 2340 (19,5:9), 409 ppi; capacitive multi-touch
6.22 inches, IPS, 720 × 1520, 270 ppi; capacitive multi-touch
6.5 inch, IPS, 2340 × 1080 pixels, 396 ppi capacitive, multi-touch
5.84 inch, IPS, 2280 × 1080 pixels, 432 ppi capacitive, multi-touch
Safety glass
Corning Gorilla Glass 3
Corning Gorilla Glass 5
Corning Gorilla Glass 3
no data
Corning Gorilla Glass 3
Processor
Qualcomm Snapdragon 435: eight cores (4 × Cortex-A53 frequency of 1.4 GHz and 4 × Cortex-A53, frequency 1.1 GHz)
Qualcomm Snapdragon 710: eight cores (2 × Kryo 360 Gold 2.2 GHz and 6 × Kryo 360 Silver, 1.7 GHz)
Mediatek MT6771 Helio P60: eight cores (4 x Cortex-A73, frequency is 2.0 GHz and 4 x Cortex-A53, frequency 2.0 GHz)
HiSilicon Kirin 710: eight cores (4 x Cortex-A73 processor 2.2 GHz + 4 x Cortex A53, frequency of 1.7 GHz)
Qualcomm Snapdragon 636: eight cores (8 × Kryo 260 processor 2.2 GHz)
Graphics controller
Adreno 505
Adreno 616
Mali-G72 MP3
Mali-G51 MP4
Adreno 509
RAM
3 GB
4/6 GB
3/4 GB
4/6 GB
3/4 GB
Flash memory
32 GB
64/128 GB
32/64 GB
64/128 GB
32/64 GB
Memory card support
no
microSD
microSD
microSD
microSD
Connectors
USB Type-C
microUSB 2.0, minijack 3.5 mm
microUSB 2.0, minijack 3.5 mm
USB Type-C minijack 3.5 mm
USB Type-C
SIM card
One nano-SIM
Two nano-SIM
Two nano-SIM
Two nano-SIM
Two nano-SIM
Cell 2G connection
GSM 850 / 900 / 1800 / 1900 MHz
GSM 850 / 900 / 1800 / 1900 MHz
GSM 850 / 900 / 1800 / 1900 MHz
GSM 850 / 900 / 1800 / 1900 MHz
GSM 850 / 900 / 1800 / 1900 MHz
3G cellular communications
HSDPA 800 / 850 / 900 / 1700 / 1900 / 2100 MHz
HSDPA 800 / 850 / 900 / 1700 / 1900 / 2100 MHz
HSDPA 800 / 850 / 900 / 1700 / 1900 / 2100 MHz
HSDPA 800 / 850 / 900 / 1700 / 1900 / 2100 MHz
HSDPA 800 / 850 / 900 / 1700 / 1900 / 2100 MHz
Cellular 4G
LTE Cat. 4 (150/50 Mbit/s), ranges 2, 4, 5, 12, 13, 17, 66
LTE Cat. 6 (300/75 Mbit/s), ranges 1, 3, 5, 8, 38, 40, 41
LTE Cat. 12 (600/50 Mbps), ranges 1, 3, 5, 8, 38, 40, 41
LTE Cat. 4 (150/50 Mbit/s), ranges 1, 3, 7, 8, 34, 38, 39, 40, 41
LTE Cat. 6 (300/75 Mbit/s), ranges 1, 3, 5, 8, 38, 40, 41
Wi-Fi
802.11 a/b/g/n 2.4/5 GHz
802.11 a/b/g/n/ac 2.4/5 GHz
802.11 a/b/g/n 2.4/5 GHz
802.11 a/b/g/n 2.4/5 GHz
802.11 a/b/g/n/ac
Bluetooth
4.2
5.0
4.2
4.2
5.0
NFC
No
No
No
There
There
Navigation
GPS, A-GPS, GLONASS
GPS, A-GPS, GLONASS
GPS, A-GPS, GLONASS
GPS, A-GPS, GLONASS
GPS, A-GPS, GLONASS
Sensors
Light, proximity, accelerometer/gyroscope, magnetometer (digital compass)
Light, proximity, accelerometer/gyroscope, magnetometer (digital compass)
Light, proximity, accelerometer/gyroscope, magnetometer (digital compass)
Light, proximity, accelerometer/gyroscope, magnetometer (digital compass)
Light, proximity, accelerometer/gyroscope, magnetometer (digital compass), barometer
Fingerprint scanner
No
Is back
Is back
Is back
Is back
The main camera
Single module: 12 MP, ƒ/2.0, contrast autofocus, led flash
Double module: 25 MP, ƒ/1,7 + 5 MP, ƒ/2.4 GHz, phase detection autofocus, led flash
Double module: 48 MP, ƒ/1,8 + 5 MP, ƒ/2.2, and phase detection autofocus, dual-led flash
Double module: 20 MP, ƒ/1,8 + 2 MP, ƒ/2.2, and phase detection autofocus, led flash
Double module: 12 MP, ƒ/1,8 + 5 MP, ƒ/2.4 GHz, phase detection autofocus, dual-led flash
Front camera
8 MP, ƒ/2.0, no autofocus, no flash
25 MP, ƒ/2.0, no autofocus, no flash
13 MP, ƒ/2.0, no autofocus, no flash
16 MP, ƒ/2.0, autofocus, no flash
8 MP, ƒ/2.0, no auto focus, with flash
Food
Removable battery: of 3.04 W⋅h 800 mA⋅h, 3.8 V)
Removable battery: of 15.39 W⋅h 4045 mA⋅h, 3.8 V)
Removable battery: 16 W⋅h 4230 mA⋅h, 3.8 V)
Removable battery: 14,25 WH (3750 mAh, 3.8 V)
Removable battery: 11,63 W·h (3060 mAh, 3.8 V)
Size
96,6 × 50,6 × 7.4 mm
156,8 × 74,2 × 8.3 mm
Of 156.1 × 75,6 × 8.3 mm
Of 160.4 × 76,6 × 7.8 mm
149,7 × 71,2 × 7,99 mm
Weight
62,5 g
172 g
175 g
175 g
160 g
Protection case
IP68
No
No
No
No
Operating system
Android 8.1 Oreo
Android 9.0 Pie shell ColorOS 6
Android 9.0 Pie shell ColorOS 6
Android 8.1 Oreo, shell EMUI
Android 8.1.0 Oreo
Current price
29 990 rubles
15 990 / 17 990 rubles
10 990 / 12 990 rubles
12 290 rubles
16 from 880 rubles
Design, ergonomics, software
New Palm shows how much has changed our ideas about the comfort of the diagonal. You remember that the first iPhone, as well as the next two, came out with a screen diagonal of 3.5 inches? The screen was fully touch and after push-button phones seemed to be truly huge. And today I hold in my hand a device with a screen of 3.3 inches (just two-tenths of an inch lower than the first iPhones) and it seems that with such a diagonal of a life loses all meaning. Although according to the creators of this device, everything should be exactly the opposite – life should acquire a new meaning due to the fact that the smartphone will have less to distract from it. At least this idea one way or another is present in almost all publications about this smartphone in the network. In my opinion, this idea is frankly exaggerated, if not far-fetched.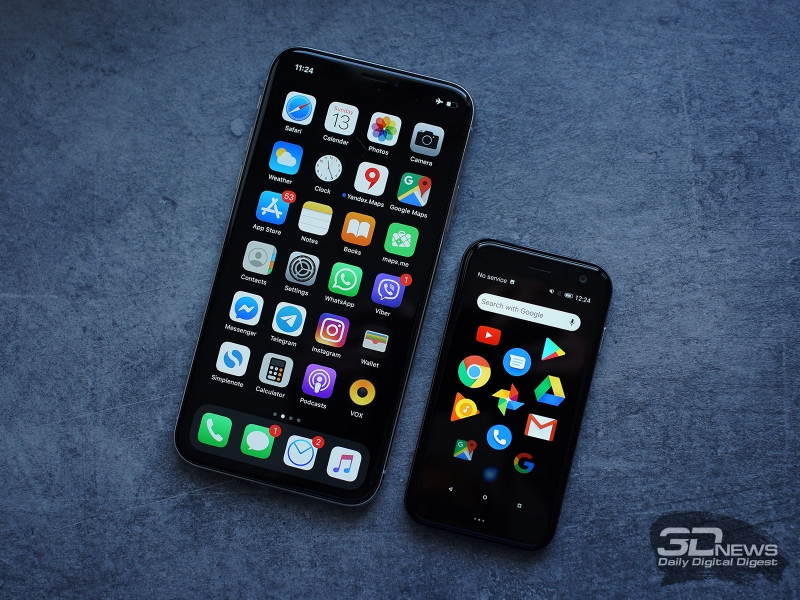 However, we must pay tribute – superficially Palm PVG100 looks very cool, it attracts attention, and people are somehow, by default, located to it very kindly. From nobody believes that such a cute gadget can be inconvenient, expensive or even pointless. I think this perception has something in common with how people try to justify some childish folly phrase "well, he's small". In fact, all the features of the Palm PVG100 and arise from the fact that it is small. But let us first of good.
The first thing to note is the good materials and high quality execution. Frame is aluminum, the screen and the back panel is protected by Gorilla glass 3. Palm PVG100 visually strongly reminiscent of the iPhone X, but of no cloning of the question – such a compact device it is very difficult to call it a clone of anything. Yes, the photos are similar, but life is altogether different.
But what sort of kid I did not expect is protection from dust and moisture. It turned out that the body Palm PVG100 protected by standard IP68, this means that it can be submerged under water to a depth of one meter and he quietly continued to work there for half an hour.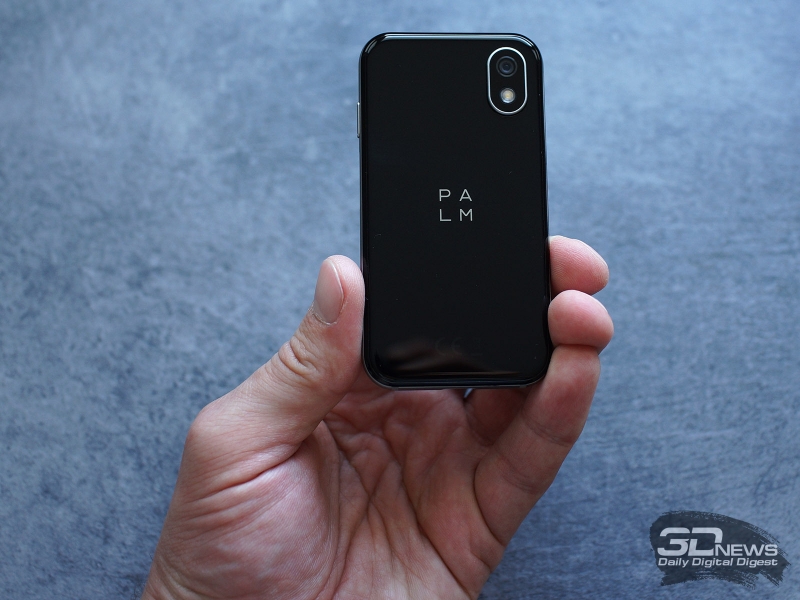 His body is only one mechanical button is a power button on the right side, is provided with additional functions. Its a long press brings up a context menu from which, for example, you can take a screenshot. Well or shut down/restart the phone. Keys for volume control on the body was not found – to adjust the volume only runner under the top curtain. That is, during a call, you have to stop to crank up the volume so the solution, in my opinion.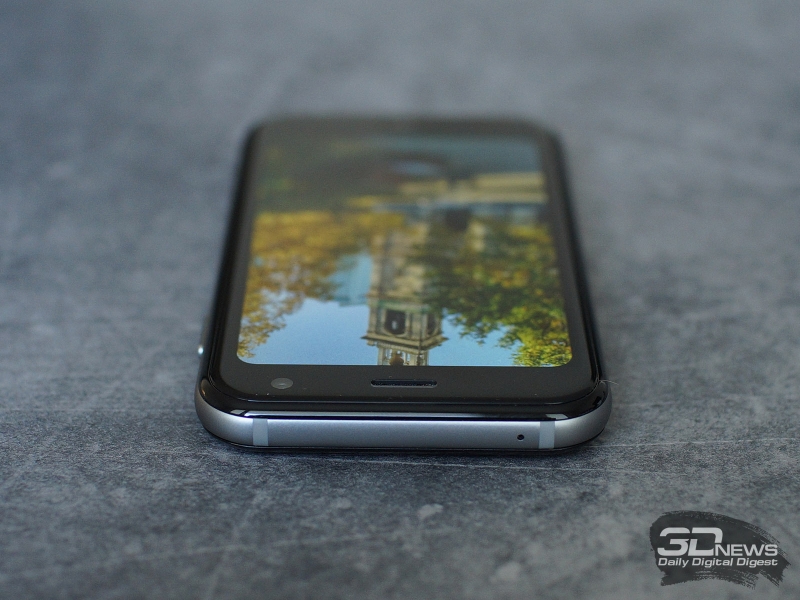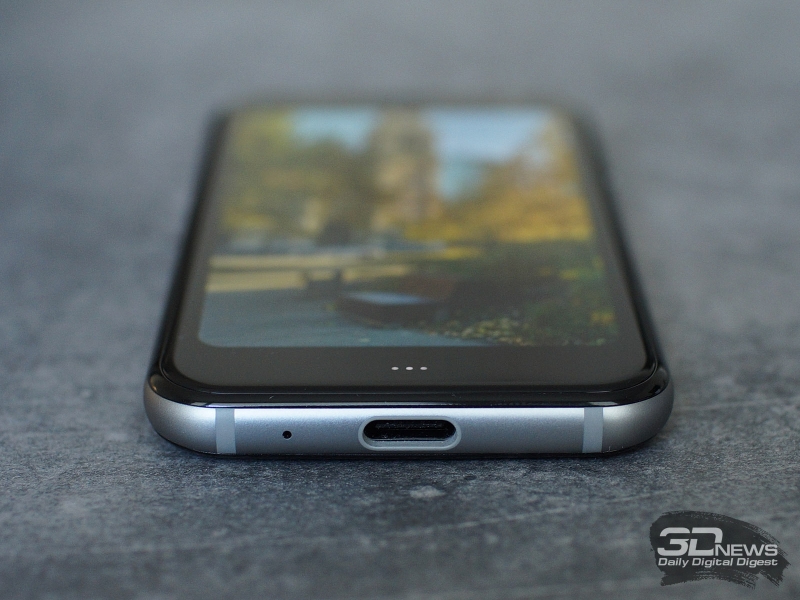 The minijack on the body also not found, only one physical connector is a USB Type-C on the bottom. So if you want wired headphones, you can connect to it. Well, since we are already talking about the layout, I'll emphasize that on the left side there is not only the volume keys, but there is nothing at all. On the top there is a barely noticeable hole auxiliary microphone (it monitors the level of external noise and provides a built-in threshold in talk mode). And a slot for SIM-card format nano is on the right, below the only button on the hardware.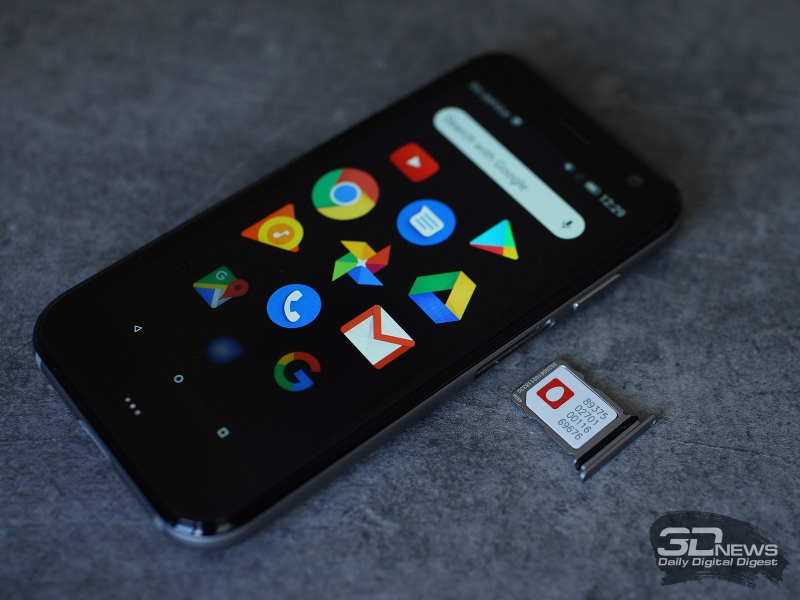 Tray is tiny, holds only one operator's card. For the second literally has no place, as for a memory card. That is, I knowingly mentioned that many of the features (read – faults) is due to the small size of the smartphone.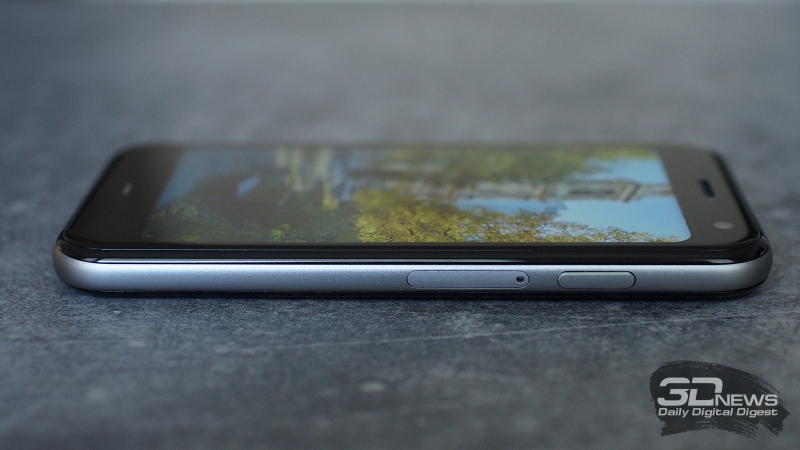 The following shortage is a fingerprint scanner. Theoretically it could be embedded in the screen, but Palm PVG100 it at all. Instead, for quick unlocking you can use face detection in combination with a traditional pin code. However, it only works in the daytime, in the dark and even at dusk you have to enter a password. The only advantage, perhaps, is the fact that the position of the smartphone is not critical – the face is detected even if it is held horizontally. So here, on this occasion, you need to say Hello to the Apple and the Face ID feature.
In the role of the operating system uses Android 8 (Oreo) with a simple and minimalistic launcher. The standard interface of the operating system would hardly be convenient to work at such a small screen, so the solution seems logical. The list of icons something like the Apple Watch, except that scrolling is possible not in all directions – the default application is not much, there is nothing superfluous.
The logical question – are there any restrictions on the use of third-party applications or games? No, nothing in the testing process unnoticed. Browsers work as expected, open applications, even games you can play. The only thing that causes discomfort is the typing. The keyboard is too small to get at the individual letters difficult. And if in text messages or instant messengers, you can count on AutoCorrect to enter the password to the Wi-Fi network the first time will be difficult.
Display and sound
The screen immediately makes a very pleasant impression. It's IPS-matrix, it the maximum viewing angles, no hint of color distortion when viewed at different angles. The seemingly small resolution – HD (1280 × 720 pixels), but at a diagonal of 3.3 inches, it gives a very high pixel density of 445 ppi – much like the iPhone X.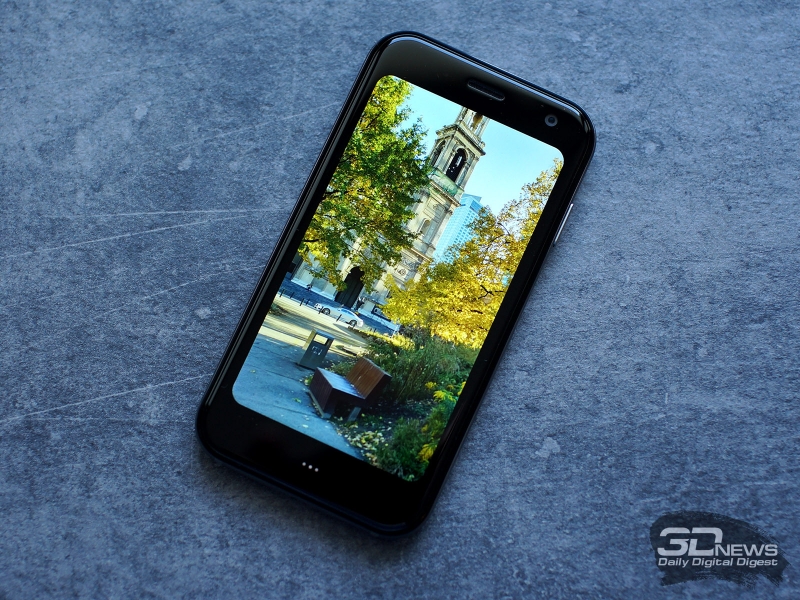 Due to the small size begins to seem that the demands on him must be brought down, because nobody will be on this screen to process photos or even watch films/series. But no, no exceptions to the testing methodology we will not.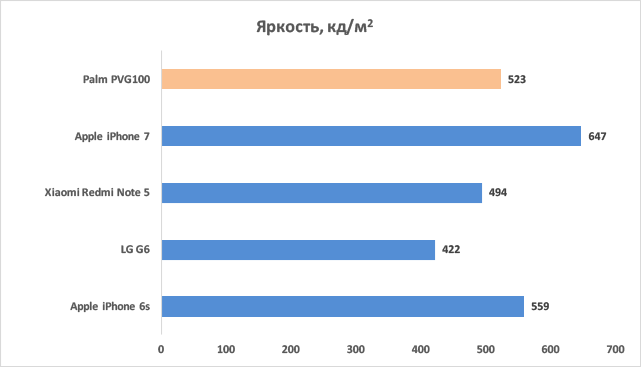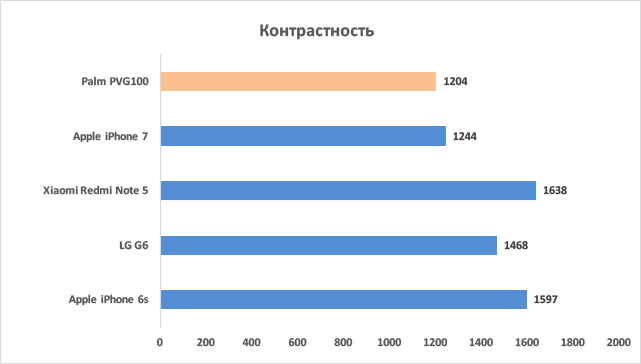 Indicators of brightness and contrast are quite typical for IPS-matrix: 523 CD/m2, 1204:1, respectively. The brightness average, I even think she specifically is limited, so as not to harm the battery – in theory this will be the most delicate place for any such a miniature device.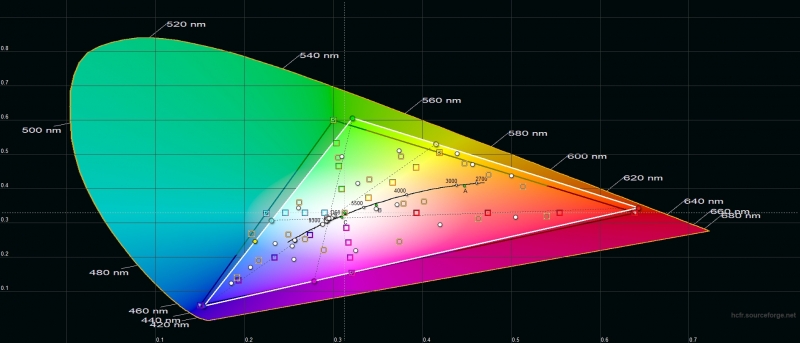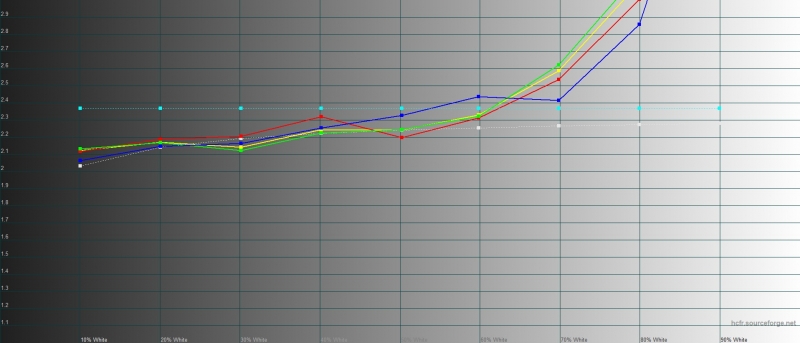 Color reproduction of the display Palm PVG100 quite normal, but to rank him an ideal still far. Color gamut is slightly offset relative to the reference space sRGB, gamma is the average of 2.37, and the color temperature is traditionally exaggerated – its value is an average of about 8000 K at the reference value of 6500 K. However, it is often the users themselves tend to believe the cool picture more attractive.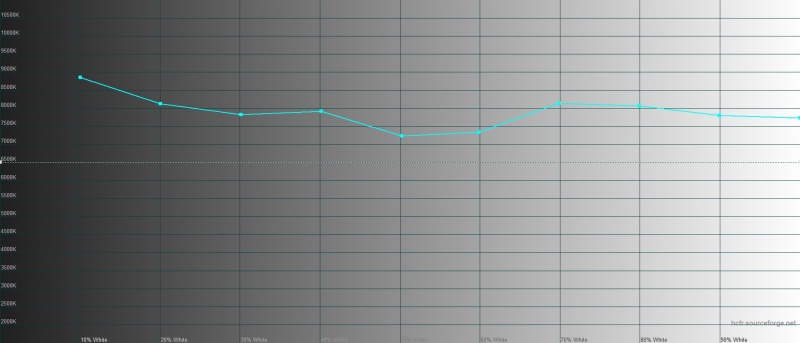 The average DeltaE deviation for the extended palette Color Checker, which will include different variants of grey, as well as an extended set of colors the results of measurements amounted to 5.19. With this overkill, since the reference value is 2, and the normal – 3. However, even this does not allow any to seriously criticize Palm PVG100 from the point of view of the screen.
Small case size has allowed designers to place only one speaker: he system, he voice. Mini-Jack, as already mentioned, no, so the only option is to connect wired headphones will be a port USB Type-C. However, the Bluetooth headphones also work without problems. So if you don't have a smart watch, this little smartphone can take for a run as a tracker and a music player.
Iron and performance
It would seem that the smartphone is designed to deliver us from the problem of excessive immersion in the world of electronic entertainment, must have very poor performance. However, in the case of Palm PVG100 it is not. Or rather part of it – with the flagships and even mid-range devices to compete it may not – but its specifications allow you to run most games and easily play.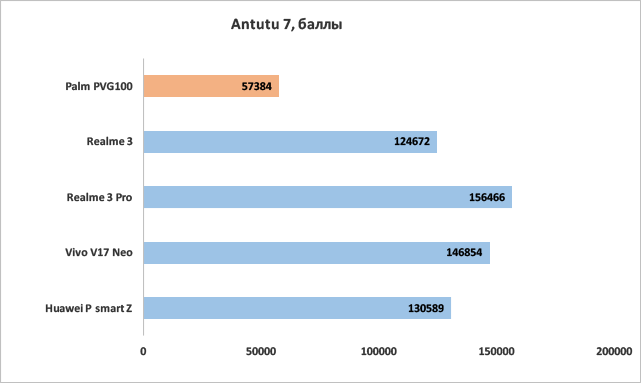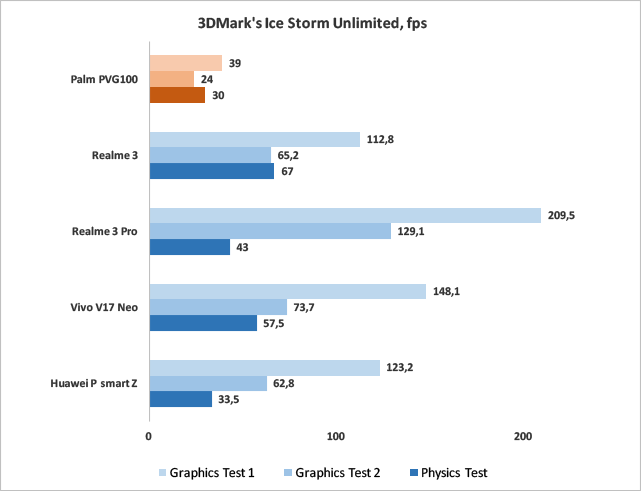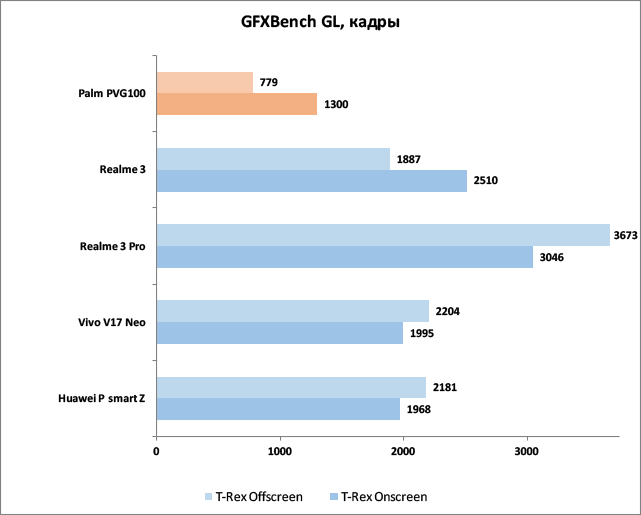 As for the interface, view the photos, videos and other things, everything is clear and smooth. Even browser-based applications run fast enough, which is clearly indicated by the results of the test WebXPRT.
In the process (or rather when you run "heavy" applications), the casing is considerably heated, and where the increase of temperature and lowering the maximum frequency of the processor, so that the results obtained in the CPU Throttling Test in line with expectations. We got 76% with an average performance 50,859 GIPS, which is quite good. Test AI Performance Benchmark given the expected low result – 4251 points.
It is worth noting that Palm PVG100 assumes no options on the part of the RAM, at least on the Russian market. Here we have exactly 3 GB of RAM and 32 GB onboard storage. Expansion slots in mobile no, so that being said, nothing does not deny.
Communications and wireless communications
Apparently, Palm PVG100 exists only in the version with one SIM-card, and sootvetstvuyushie module supports almost all modern communication standards, albeit with some limitations. For example, the maximum data transfer rate is 150 Mbps, and maximum download speed of 50 Mbps. the connection Quality is good, the antenna is located successfully, their work is not obstructed – even managed to connect and get a stable connection with a far-located Wi-Fi access points that are absolutely not visible on the iPhone X.
Camera
I'm pretty sure that in the process of developing new Palm PVG100 the idea of complete rejection of cameras was discussed seriously. And this, seriously, would be a challenge to society. Uo this did not happen. The camera in your smartphone is still there: main and front, and I can't say that they disappoint. On the contrary, from a device of this kind could be expected to arbitrarily horrible photo module, but here everything is very good.
The sensor has a resolution of 12 MP, the angle of view corresponds to approximately 26 to 28 mm on a full frame, there's even autofocus, but apparently contrast and not phase. There is even a led flash and possibility of shooting video in HD resolution at 30 frames per second.
Gallery images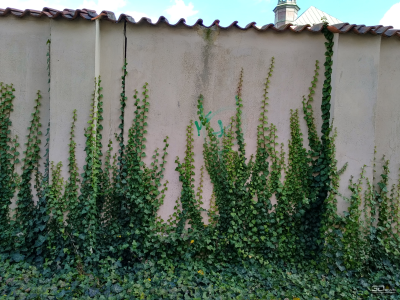 IMG_20191011_131822.jpg
See all images (10)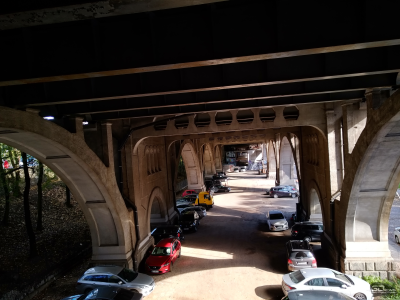 IMG_20191011_133427.jpg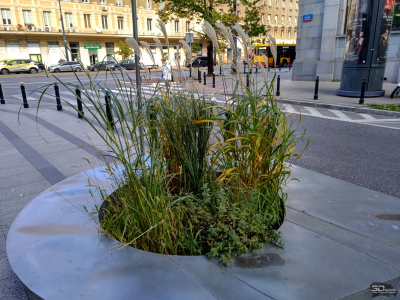 IMG_20191011_135150.jpg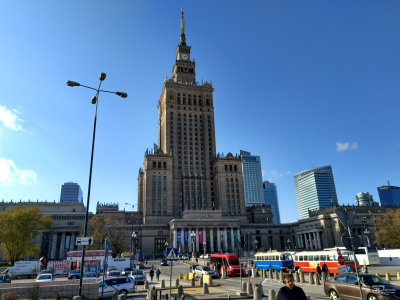 IMG_20191011_141556.jpg

IMG_20191011_145032.jpg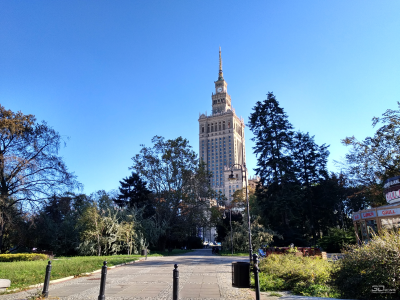 IMG_20191012_151847.jpg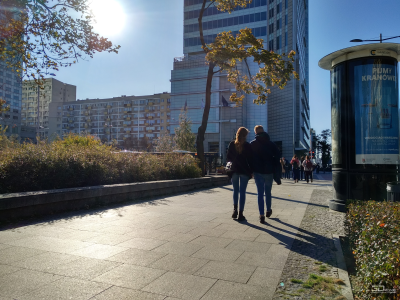 IMG_20191012_152004.jpg

IMG_20191012_170818.jpg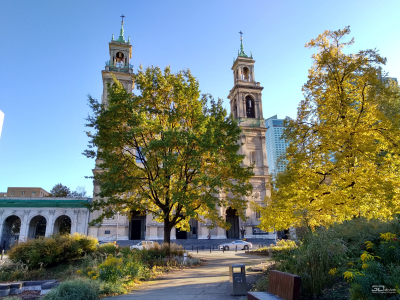 IMG_20191012_170823.jpg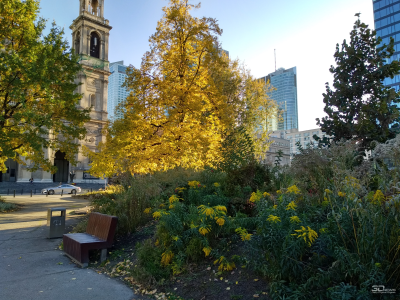 IMG_20191012_170829.jpg
See all
images (10)
In daylight the pictures come out quite sharp, quite detailed and bright. Probably there is even a small postprocessing in the form of increased brightness, contrast and saturation. But as soon as the sun goes down, the camera stops believing in himself and lowers his hands. In General, you understand – it's not the smartphone that can shoot in the dark.
Front camera 7 megapixels without autofocus and other benefits of civilization. However it copes with video calling and allows you to take a passable selfie, at least under natural light during the day. In the examples below, you can appreciate the lower quality the deterioration of lighting.
Work offline
Big mobile big battery. This rule in the world of Android works almost without exception. And if so, then it should work in the opposite direction. In a tiny package, Palm PVG100 is a removable battery of 3.04 W⋅h (800 mA⋅h, 3.8 V). It seems that the last time such values were found in push-button phones with monochrome screens. However, they can work a week without charging, and now the luxury we can only dream of. Alas, the owner of Palm PVG100 will dream at least on a light day of work without recharging, because with independent work is a complete failure. In our standard test it lasted 3.5 hours is an absolute maximum for continuous operation of the smartphone. I think that under load in 3D games it will last even less, as well as when shooting video.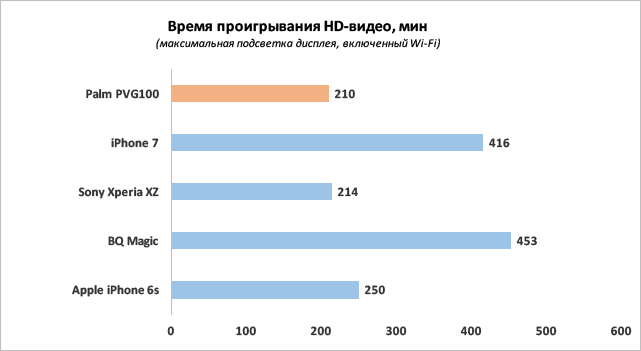 However, in the settings you can enable a special mode of Life Mode (in the Russian translation somehow "Relax Mode") that disables the wireless modules as soon as you lock your smartphone, and only in this case (and with some assumptions) Palm PVG100 can work from morning to evening. Well, perhaps nothing will discourage from digital over-consumption, as the battery is low.
It remains to add that a full charge from the supplied power adapter takes exactly 1 hour and 10 minutes. It is perfectly possible to do even without fast charging, although the platform Qualcomm Snapdragon 435 supports it.
Conclusion
Summing up, I would call the very idea of a release device for a digital detox failure. In fact, Palm PVG100 does not restrict you to browsing social networks, reading the telegram channels and other similar cases (well, except that a modest time, but many of us have a cigarette lighter socket in the car or powerbank in a backpack), but at the same time, it makes the process of responding to writing and absolutely unbearable. Yes, you can use the dictation can be saved by AutoCorrect, you can finally join the ranks of people who always send a voice message, but simply acknowledge that the problem of scattered attention and digital over-consumption is solved by not buying a separate device, but by meaningful work.
And at the same time, we must recognize that there are many people who don't like modern smartphones-shovels and prefer smaller devices. Selection of such people is not much, but coming soon should appear the Xperia 5 Sony, in addition, the network have long been rumours about the announcement of iPhone SE2. Palm PVG100 on this background looks quite expressive, to put it simply loses on all counts even devices 3-4 years ago. Yes, he's very handsome, he attracts attention, but I find it extremely difficult to recommend it not only as a Supplement to the basic smartphone, but to buy at all. If you manage to buy it for 100-150$ on ebay, where similar proposals lacking, it will be an interesting toy a few weeks you will be able to give without regret to my nephew, but 30 thousand rubles – this is very, very expensive. However, to bury svezheokrashennym brand is not worth, because if the company will TCL take into account all the errors and make the enclosure bigger (4.5 inches would be just right) put more capacious battery and will adjust the price, and most importantly, will refuse superfluous of philosophy at the positioning, then I'm sure everything will be fine.
Advantages:
very unusual and small.
quality materials of the housing;
good protection from dust and moisture;
successfully implemented interface.
Disadvantages:
paltry battery life;
difficulty in typing;
mediocre camera;
the lack of NFC module;
the prohibitive price.
Source: 3dnews.ru