Review ASUS ZenBook S13 UX392FA: ultrabook a successful person
Lately, our editors have visited a lot of interesting ultrabooks. Model ZenBook UX392FA S13, and it is possible to say with confidence now, looks very interesting against the background of other tested mobile PC. ASUS engineers managed to make a very light and compact ultrabook, equipping it with a 13.9-inch display and a fairly powerful battery. Well, mass ZenBook S13 UX392FA only a little over 1 kg.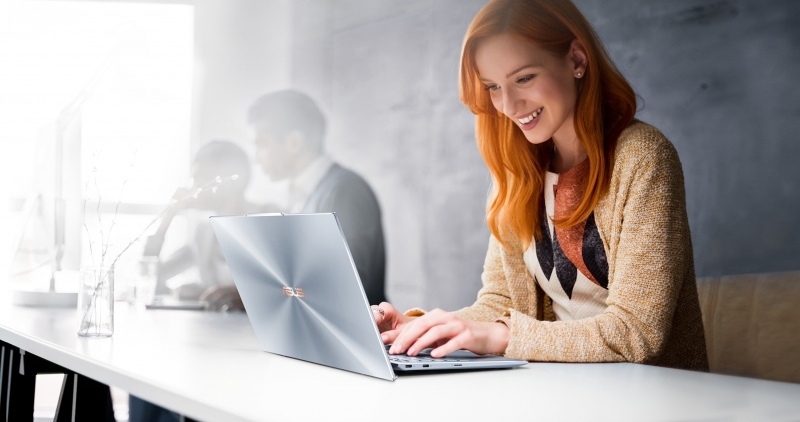 Specifications, equipment and
Series ZenBook S13 UX392FA has several models. In the sale you will find laptops with a Core i5 processor generation Whiskey Lake and with Core i7. Besides ultrabooks differ in amount of internal memory — both operational and permanent. Key features ZenBook S13 UX392FA indicated in the table below.
ASUS ZenBook S13 UX392FA
Display
13,9″, 1920 × 1080, IPS, glossy
The CPU
Intel Core i7-8565U, 4/8 cores/threads, 1.8 m (4,6) GHz, 15 W
Intel Core i5-8265U, 4/8 cores/threads, 1,6 (to 3.9) GHz, 15 W
Graphics
Intel HD Graphics 620
RAM
8 or 16 GB DDR3-2133, built-in
SSD
256 GB, 512 GB, 1 TB, PCI Express 3.0 x4
Interfaces
2 × USB 3.1 Gen2 Type-C
1 × USB 3.1 Gen2 Type-A
1 × 3.5 mm mini Jack acoustics/microphone
1 × microSD
Built-in battery
50 W·h
External power supply
65W
Dimensions
316 × 195 × 13 mm
Weight
1.1 kg
Operating system
Windows 10 x64 Home
Windows 10 x64 Pro
Guarantee
2 years
Price in Russia
From 119 000 rubles for a test model

To our test lab arrived the most advanced version ZenBook S13 UX392FA — it uses 4-core Core i7-8565U, 16GB RAM and 1TB SSD. At the time of writing this modification "Sambuca" cost in the Moscow retail from 119 to 141 thousand rubles.
Wireless network device implemented by the controller Intel 9560, which supports Wi-Fi standards IEEE 802.11 b/g/n/ac with 2.4 GHz and 5 GHz and a maximum bandwidth of up to 1734 Mbps and Bluetooth 5.0.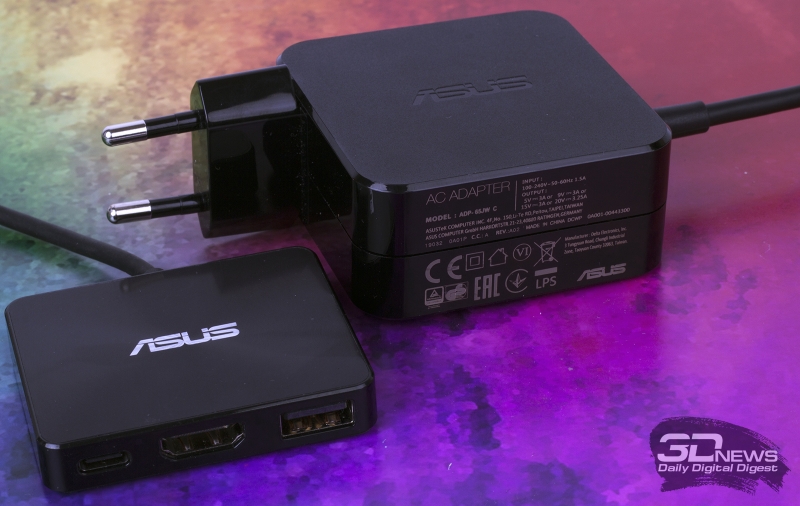 Complete with ASUS ZenBook S13 UX392FA there are a lot of interesting things. First, we will need an external power supply. It has a capacity of 65 watts and a weight of just 200 grams. I note that the charger got a ultrabook with USB Type-C. secondly, the bundle includes a special adapter that increases the functionality of the device. Connect it to any USB port Type-C — and get access to the exact same connector and to the HDMI output and full USB A-type. Finally, in the third, complete with "Sanbuco" go high-quality leather case-envelope and napkin to wipe the laptop.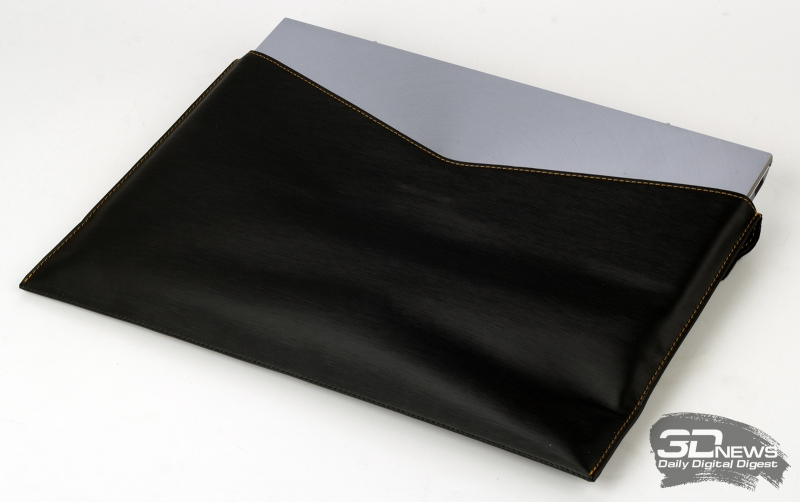 Appearance and input device
The designers have awarded the ASUS ZenBook S13 UX392FA unusual colour called Blue Utopia — and in this color I ultrabook looks a lot like. The design overall was a very recognizable — for example, on the cover there is typical for ultrabooks, ASUS circular pattern. The entire body S13 UX392FA ZenBook is made of aluminum. The surface of the device (the screen is not taken into account) — non-staining.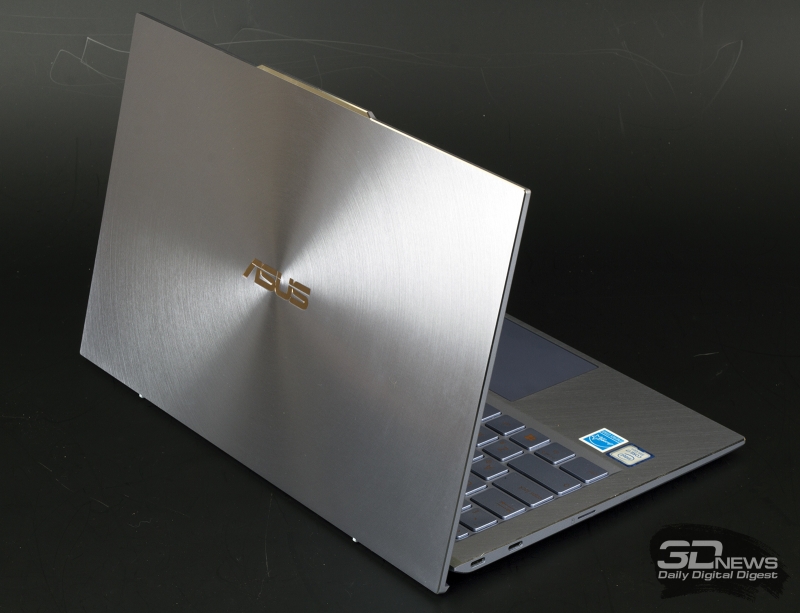 Apparently, the use of aluminium allowed us to make ZenBook S13 UX392FA so easy. Ultrabook weight is 1.1 kg, but even with all of the accessories that need to carry, you do not need to carry more than 1.5 kg of modern technology.
Attract attention in the test sample and its dimensions. The device has a 13.9-inch matrix, but the dimensions of the laptop has greatly diminished. Compared to the ZenBook 3 Deluxe new was less than 12.5 %. ASUS claim that the most compact notebook with a 13.9 inch screen, but note that this statement was made at the beginning of 2019.
The thickness of the S13 UX392FA ZenBook is only 12.9 mm, the length and width — 195 and 316 mm, respectively. For example, the dimensions of HUAWEI MateBook X Pro is also equipped with 13.9-inch matrix be 14.6 × 217 × 304 mm, and its weight is 1.33 kg without accessories.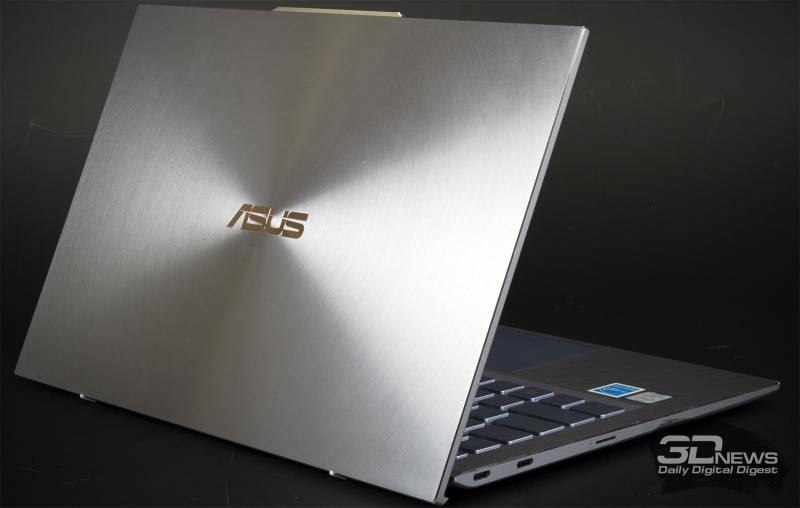 Of course, the screen ZenBook S13 UX392FA got a thin frame — their thickness does not exceed 2.5 mm, although in some places there are nodules. According to the manufacturer, the display covers 97 % of the total area of the top cover of the laptop.
Ergolift ultrabook hinges allow to open the cover approximately 135 degrees. Loops are used in the device are quite stiff, they are well positioned screen. And the hinges lift body ZenBook S13 UX392FA 4 degrees, such a structural feature, according to the manufacturer, provides greater comfort for the user, creates additional space for air circulation around the bottom of the shell and contributes to obtaining a more pure sound.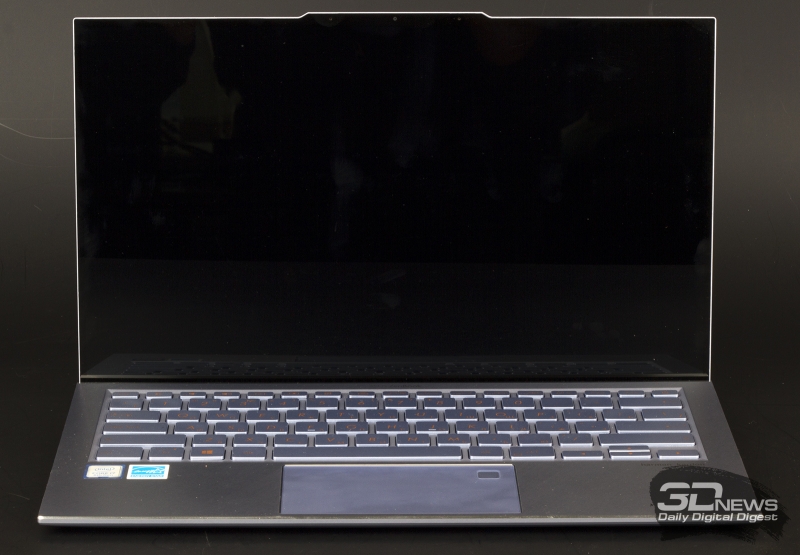 The lid of the laptop, by the way, access is very convenient — even with one hand. Just it has a small protrusion in the form of a trapezoid, which, apparently, had to do for installation at the top of the screen webcam.


Basic connectors ZenBook S13 UX392FA located on the sides of the hull. For obvious reasons, the ultrabook has no Ethernet connector, but with the thickness of 13 mm ASUS engineers still added a full USB 3.1 Gen2 A-type — it is located on the right side. There is also a 3.5 mm mini Jack for headphones and power indicators and battery charge.
On the left ZenBook S13 UX392FA withdrawn two USB 3.1 Gen2 C-type and a slot memory card format microSD.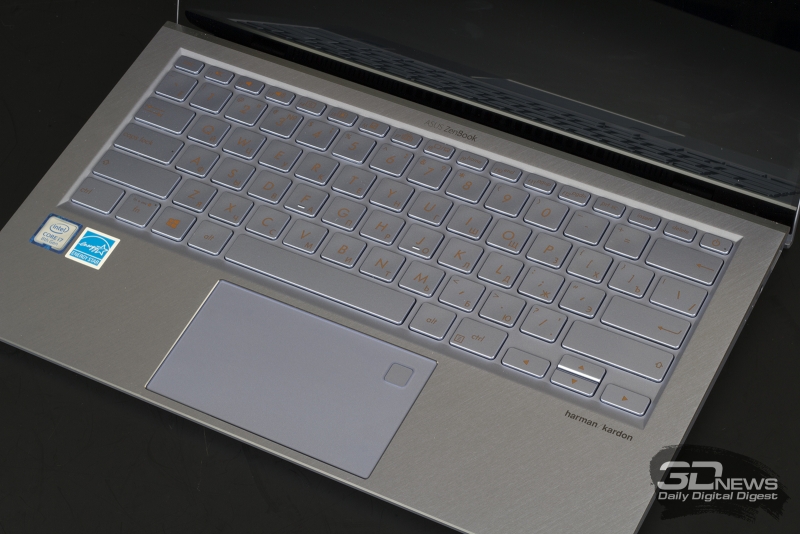 If you read the review of the ZenBook ultrabook 14 UX433FN, the keyboard ZenBook S13 UX392FA will seem very familiar. In the test device uses a scissor mechanism. I like that the keyboard has received a large Shift, Tab, Enter and Backspace. As someone who every day takes a lot of text, I can confidently say that working at a keyboard ZenBook S13 UX392FA very convenient.
Perhaps, the disadvantages can be attributed only to the unfortunate location of the keys on/off switch — it is located in the same row with the other buttons and is adjacent to Delete. I quite often use the latter — and the habit a couple of times I sent the laptop in sleep mode. All such controls laptops have better output separately from the other keys.
A row of buttons F1-F12, as it should be in ultrabooks, by default works in combination with the Fn button, while the priority is given to their multimedia functions. The keyboard has a three-tier white backlighting, wherein symbols are highlighted in orange. In the daytime the signs on the buttons when the backlight is well visible in the evening and at night — even more so.
To the touchpad nothing happens. Yes, it is small, but we are dealing with a ultrabook with a total length of 195 mm. the Surface of the touchpad is pleasant to the touch — it has a glass coating. The touchpad recognizes gestures, clicking on it accompanied by a distinct but soft click. It behaves quite adequately — checked in the computer card game "Quint". Naturally, it supports all the multitouch gestures of Windows 10. And on the touchpad in the upper right corner is a fingerprint scanner.
Webcam ultrabook running the test in 720p resolution when vertical frequency of 30 Hz. Good quality image with it to really get just being in a room with bright lighting. In most other cases, the picture is unattractive and very noisy.
The internal structure and capabilities upgrade
The laptop is pretty easy to disassemble, but keep in mind that the removal of the underbody you will need a screwdriver with small screwdriver type Torx.
The photo above clearly shows that in the design of the ZenBook S13 UX392FA used a very compact motherboard, and the other half is the battery. The first thing that you notice is the cooling system. Active cooling requires only a CPU, and ASUS engineers have considered that the Core i7-8565U will be quite cooler with one deplorable and a pair of tangential fans type. Noteworthy is the fact that the motherboard of the device is clearly designed for the Pinout of the graphics chip, as well as other its components. We already know that the series ZenBook S13 UX392FA discrete graphics is not received. Apparently, exactly the same motherboard used in ultrabooks UX392FN, which is equipped with a chip GeForce MX150.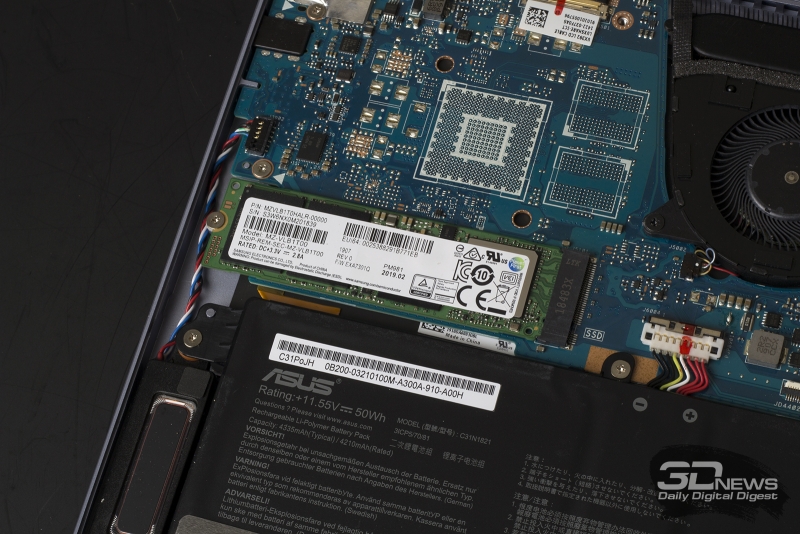 Replace laptop is only SSD. In the case of a test pattern that uses a terabyte drive Samsung MZ-VLB1T0HALR, referring to a series PM981 to do this, of course, possible, but pretty pointless. But RAM DDR3-2133 in ultrabook — built in. Be sure to take this into account when choosing a particular model of mobile PC, as wrong the decision with the lack of RAM in such a device will be able to fight only one way — buying a new laptop.
Testing methodology
Because the laptop uses integrated graphics in the CPU, then test the device in a modern AAA projects using high graphic settings makes no sense. In principle, test ZenBook S13 UX392FA in games makes no sense at all, and all in Full HD we have launched World of Tanks 1.0 (built-in benchmark, minimum graphic quality).
Gaming performance was determined using the well known program FRAPS. With its help we get the render time of each frame. Then, using FRAFS Bench Viewer utility is calculated not only the average FPS, but the 99th percentile. Using the 99th percentile instead of the minimum of the number of frames per second due to the desire to clear the results from the random bursts of productivity that was triggered not directly associated with the operation of the main components of the platform causes.
Performance measurement of CPU and memory was undertaken using the following software:
Corona 1.3. To test the speed of rendering using the same rendering. To measure the speed of constructing a standard BTR scenes used for measuring performance.
WinRAR 5.40. Archiving folders with a volume of 11 GB with different data format RAR5 and with the maximum degree of compression.
Blender 2.79. Determination of the speed of the final rendering in one of the most popular free package for creating three-dimensional graphics. Measured the duration of the construction of the final model from Blender Cycles Benchmark rev4.
x265 HD Benchmark. Test the speed of transcoding video in the perspective format: H. 265/HEVC. The table shows the arithmetic average after four runs.
CINEBENCH R15. Measurement of performance photorealistic three-dimensional rendering and animation package CINEMA 4D-test the CPU. The table shows the arithmetic average after 5 runs.
The test display was carried out using the colorimeter X-Rite i1Display Pro and HCFR application.
The time of the laptop battery is tested in three modes. The first version of the load — surfing the web — involves alternately opening and closing tabs sites 3DNews.ru, Computeruniverse.ru and Unsplash.com with an interval of 30 seconds. For this test, use the Google Chrome browser with enabled options "Block data and cookies third party sites and Not allow websites to store data". In the second mode, plays the video format is x265 (HEVC) standard player Windows 10 with an activated snooze function. In all cases, exhibited the same display brightness 200 CD/m2.
In games and other applications presents the results of the following laptops:
The test
Model
Screen
Processor
RAM
Graphics
Drive
Battery
HUAWEI MateBook X Pro
13,9″, 3000 × 2000, LTPS
Intel Core i5-8250U, 4/8 cores/threads, and 1.6 (3,4) GHz, 15 W
8 GB DDR3-2133 dual-channel
HD 620 + GeForce MX150
SSD, 256 GB, PCI Express 3.0 x4
57,4 W⋅h
MSI PS42 8RB
14″, 1920 × 1080, IPS
Intel Core i7-8550U, 4/8 cores/threads, 1,8 (4,0) GHz, 15 W
16 GB, DDR3-2133, single channel
HD 620 + GeForce MX150
SSD, 512 GB, PCI Express 3.0 x4
50 W⋅h
ASUS ZenBook 14 UX433FN
14″, 1920 × 1080, IPS
Intel Core i7-8565U, 4/8 cores/threads, 1.8 m (4,6) GHz, 15 W
16 GB, DDR3-2133, single channel
HD 620 + GeForce MX150
SSD, 512 GB, PCI Express 3.0 x2
50 W⋅h
ASUS ZenBook 15 UX533FD
15,6″, 1920 × 1080, IPS
Intel Core i7-8565U, 4/8 cores/threads, 1.8 m (4,6) GHz, 15 W
16 GB, DDR3-2400
HD 620 + GeForce GTX 1050 Max-Q
SSD, 512 GB, PCI Express 3.0 x2
73 W⋅h
ASUS ZenBook S13 UX392FA
13,9″, 1920 × 1080, IPS
Intel Core i7-8565U, 4/8 cores/threads, 1.8 m (4,6) GHz, 15 W
16 GB DDR3-2133
HD 620
SSD 1TB PCI Express 3.0 x4
50 W⋅h
Display and sound
When buying a ZenBook S13 UX392FA you will receive a device with a glossy screen. Personally I prefer displays with anti-glare surface — is it more convenient to work in the daytime. The hero of today's review is equipped with IPS-matrix Tianma TL139VDXP01 previously with the same manufacturer I've never met.
However, the screen ZenBook S13 UX392FA I was very pleased. See for yourself: the contrast of IPS-matrix Tianma TL139VDXP01 is 1362:1. Therefore, the ultrabook gives a deep picture, for example, when watching movies. The color temperature of the screen is stable around 6500 K, the display works correctly, it matches the standard gamma value of 2.2. In the end, the deviation in grayscale of 1.62 is the maximum value of 6.12 — good results for ultrabooks.
Minimum brightness Tianma TL139VDXP01 is 22 CD/m2, a maximum of 415 CD/m2. This is a great indicator for display with a glossy finish! High brightness here very useful.
In the test ColorCheker using 24 color pattern, the average error was 1.8. In my opinion, this "Sedbuk" may be advisable for those who frequently work with photos and video, but who always need to have on hand a lightweight laptop. And yet, given the small errors we did not get 100% coverage of standard sRGB triangle slightly shifted to the right.
As with other IPS matrices from the Glow-effect will not go away: it is clearly visible on a black field, but with colored images almost do not notice it. No PWM, or its frequency is too high for the human eye would notice. So the use of LED lighting can be classified as Flicker-Free solutions throughout the operating range. Stated viewing angles — 178 degrees vertically and horizontally — are true.
In terms of sound quality ZenBook S13 UX392FA not much inferior to its big brothers, and certainly is better than many other ultrabooks. Stated that the audio device is developed together with specialists from the company Harman Kardon, and it's probably not a marketing gimmick. So, let the dynamics work ultrabook in a small package, but the lower frequency, they create a very alive, of course, discount the fact that this is a "typewriter" with a thickness of just over one centimeter.
Temperature, frequency and noise
We have tested ultrabooks with Core i7-8565U, for example ZenBook 15 UX533FD. In fact, we have tuned chips Kaby Lake Refresh. In terms of architecture, nothing has changed — increased frequency. Thus, when the load is single-threaded frequency Core i7-8565U reaches 4.6 GHz, and when loading all four cores at 4.1 GHz. Flagship Kaby Lake Refresh Core i7-8555U, under the same conditions, operates at frequencies of 4.0 and 3.7 GHz, respectively.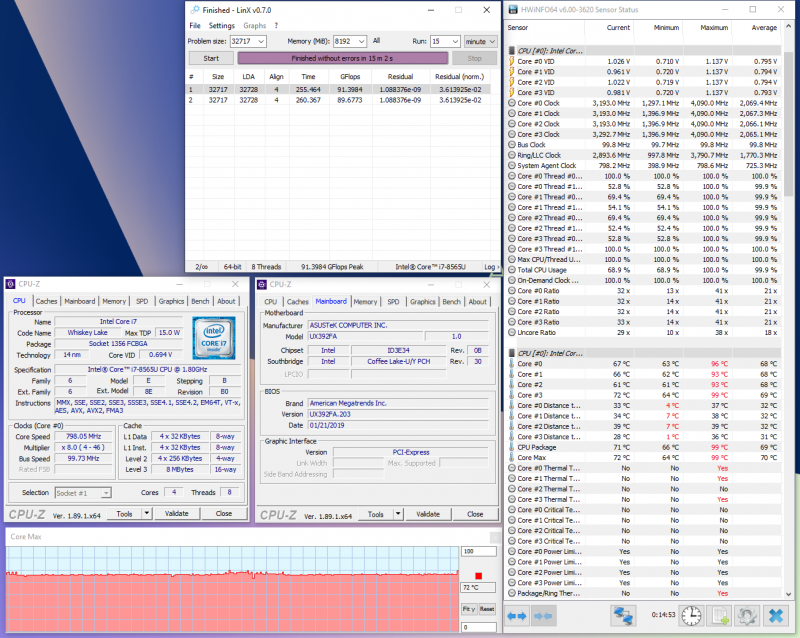 And it is important to make one remark: TDP Core i7-8565U is only 15 watts. It is obvious that the limit of the CPU will not allow him to operate at a frequency of 4.1 GHz when loading all four cores. Besides, we are dealing with the ultrabook — a thin and light device, which is physically not fit large cooling system. But because the real frequency of 4-core Whiskey Lake will be much lower.
Thus, the frequency of all cores Core i7-8565U from the model test in program LinX just a few seconds kept around the 4 GHz. During this time, the hot core of the CPU time to heat up to 99 degrees Celsius, but soon the frequency of the chip begins to noticeably decrease and it's not in the efficiency of the cooler ZenBook S13 UX392FA. We see that the frequency of the Core i7-8565U sometimes even goes down to 1.3 GHz, but most of the time kept by 2.05 GHz. And this is a typical scheme of work the Quad-core Intel chips in ultrabooks. I note that the laptop works very quietly — measuring device with a distance of ~30 cm recorded a 36.6 dBA.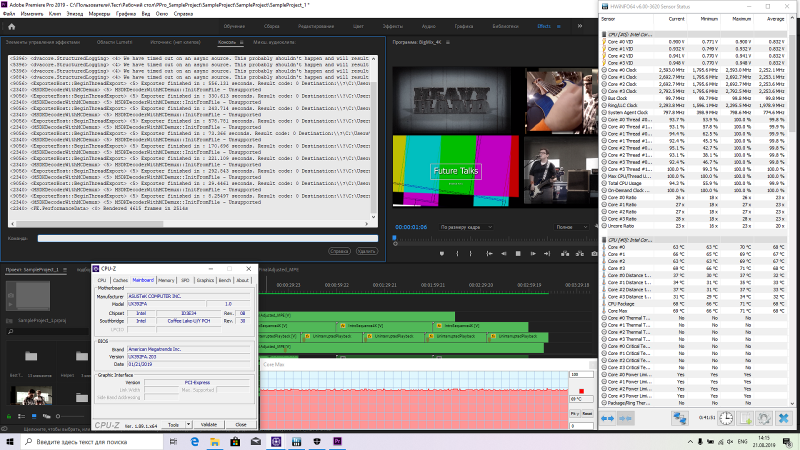 LinX is a program which is very strongly loads the CPU. In most cases, the ultrabook will not be used in such conditions. And still ASUS is positioning its device as being productive. In particular, States that "the size does not affect the performance of the ultrabook ZenBook S13, which is designed to easily and efficiently perform any task". Well, in the screenshot above, we see that in Adobe Premier Pro 2019 during rendering 4K video the frequency of the Core i7-8565U falls already up to 1.8 GHz, and the temperature of the hottest CPU core is kept around 68-70 degrees Celsius. Yes, compared to what it was in LinX, the CPU was operated at a higher frequency (about 200 MHz), but the TDP of the chips Whiskey Lake still limits their performance.
After testing a variety of ultrabooks, equipped with a 4-core processors Refresh Kaby Lake and Whiskey Lake, I can safely say that you will not find in the market model, where a processor in a multithreaded application will run on maximum. In such a device, or they can't handle cooling system, or the limit of capacity set by the manufacturer. Here in the easy scenarios (for example, when surfing the Internet), please to 4 GHz and above, Core i7-8565U — no problem.
The performance of the CPU, memory, and disk subsystem
To cite an obvious example. Not so long ago in the test lab hosted ZenBook 15 UX533FD. This model includes a massive by the standards of ultrasuoni cooling system, which allowed Core i7-8565U processor 3+ GHz, and this result can only be described as excellent. As for the ZenBook UX392FA S13, it is exactly the same chip behaving "modestly" and, figuratively, stands out from the crowd. About it it is safely possible to tell, if you compare a hero with such models like HUAWEI MateBook X Pro, PS42 8RB MSI and ASUS ZenBook 14 UX433FN.
| | | | | | |
| --- | --- | --- | --- | --- | --- |
| | Intel Core i5-8250U (HUAWEI MateBook X Pro) | Intel Core i7-8550U (MSI PS42 8RB) | Intel Core i7-8565U (ASUS ZenBook UX433FN 14) | Intel Core i7-8565U (ASUS ZenBook 15 UX533FD) | Intel Core i7-8565U (ASUS ZenBook S13 UX392FA) |
| Corona 1.3, with (less — better) | 435 | 416 | 373 | 294 | 361 |
| WinRAR 5.40, with (less — better) | 764 | 586 | 523 | 486 | 536 |
| Blender 2.76, with (less — better) | 353 | 346 | 340 | 271 | 293 |
| x265 HD Benchmark, FPS (higher is better) | 9,9 | 9,95 | Of 10.96 | 14.4 V | Of 11.36 |
| CINEBENCH R15, scores (more is better) | 530 | 524 | 583 | 706 | 565 |
The SSD in ZenBook S13 UX392FA installed very fast. Model Samsung MZVLB1T0HALR refers to a series of PM981. I'm sure you are familiar with this drive, the Korean manufacturer sells it at retail under the name 970 EVO. This means that Samsung MZVLB1T0HALR applied 64-layer TLC 3D V-NAND, which controls the eight-channel controller Samsung Phoenix. A detailed review of the Samsung 970 EVO out on our website.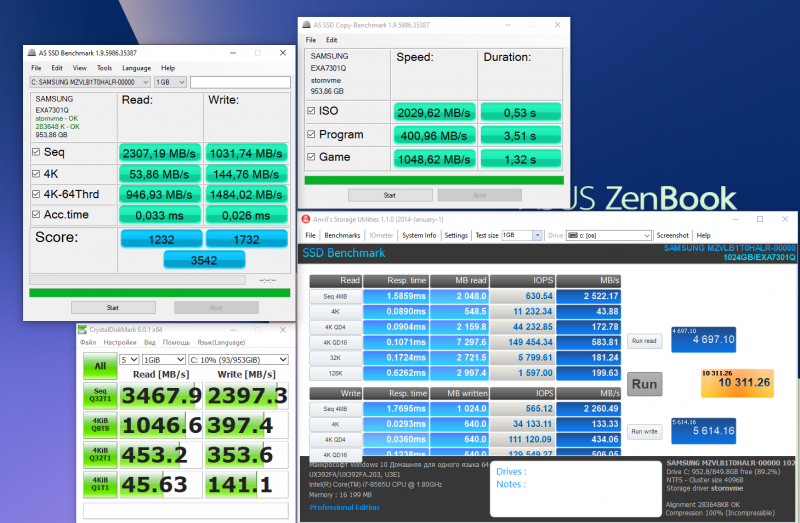 Graphics performance
Frankly, testing ZenBook S13 UX392FA in the graphics benchmarks is more for show. Even ultrabooks equipped with the GeForce graphics MX150, pull in Full HD with modern games mainly when you turn on the low graphics quality settings (and even then not always). Here we are dealing with a laptop without a discrete GPU. In the same Time 3DMark Spy review hero behind the ZenBook 14 UX433FN with its MX150 more than doubled, if we take into account the total score.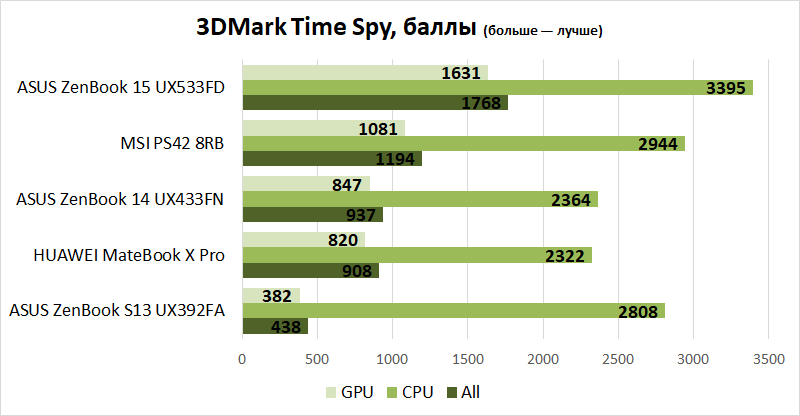 The performance of the integrated video Core i7-8565U (UHD 620) enough to run the most undemanding games. For example, if the minimum quality of graphics I was able to get 129 FPS average in the "Tanks." The minimum frame rate was 64 fps to play, in General.
If you need a ultrabook with GeForce MX150, it is necessary to take model ZenBook S13 UX392FN.
Work offline
The laptop has a lithium-polymer battery with a capacity of 50 W⋅h, recruited from three cells. In internal tests of the manufacturer, the notebook can last up to 15 hours. Our method load the system stronger, but because no one laptop that has been in the laboratory 3DNews failed to work at least 10 hours, even in the easy mode web surfing.
That ZenBook S13 UX392FA worked without connection to the mains slightly more than seven and a half hours. This much, however, it is still not the stated 15. However, this result can be safely regarded as excellent, because we are putting a fairly high brightness of the display — the kind in which it is convenient to work in the daytime. Especially in the ZenBook S13 UX392FA used in the screen with a glossy finish — not to see glare, the brightness to be higher
Off ultrabook battery is fully charged in 1 hour and 20 minutes. The battery is charged to 60 % in 49 minutes.
Time battery life, 200 CD/m2
Web (open tabs in Google Chrome)
7 h 38 min
View the video (x265, HEVC, 4K)
7 h 12 min
Insights
Well, it's safe to say that ASUS ZenBook S13 UX392FA has everything you need in order to be considered an ultrabook premium. It is well stocked, efficiently built, it rests on the aluminum housing. The laptop is equipped with all the modern ports, the presence of a standard USB connector A-type will allow to do without adapters. Have ultrabook great IPS display, which delivers vivid and deep picture. But the most important thing is that ZenBook S13 UX392FA is very light and compact laptop, which is able long to work on a single battery charge.
Source: 3dnews.ru