The predicted performance of Zen 3: 20 % growth and victory over Intel in games
This year will see AMD processors with Zen architecture 3, which will be produced for actual varieties of 7-nm technology. The performance growth relative to the generation Zen 2 must first ensure architectural changes. Sources claim that in integer operations in single-threaded terms, the advantage will reach 20 %.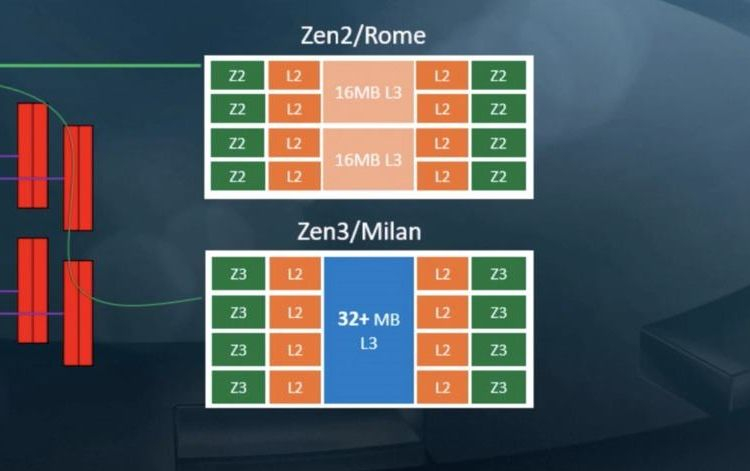 Such considerations were shared by the representatives of the popular Adored TV channel, referring to its own sources. First of all, they said that by the end of September AMD processors with Zen architecture 3 made in its evolution, stepping B0, which will be final terms of readiness to market. If Vermeer processors in the desktop segment will appear at the beginning of the fourth quarter, server Milan will probably have to wait until December to form certain inventory, satisfied customers.
The maximum volume cache of the third level of a new generation of Zen 3 is unchanged, but changed its distribution. In the specific expression for each complex CCX now has twice the cache of the third level, and it is the hope that consumer processors Vermeer show yourself in games better than the predecessors, beating competitors brand Intel. The base forecast for the increase in performance in integer operations in single-threaded tests — plus 20 % on the Zen 2, this proportion will be maintained with increasing number of cores up to 32 pieces inclusive. If we speak about load on 64 cores, the advantage of Zen 3 will be reduced to 10-15 %.
Rumors circulating about the performance increase by 50% in floating-point representatives of the Adored TV consider groundless.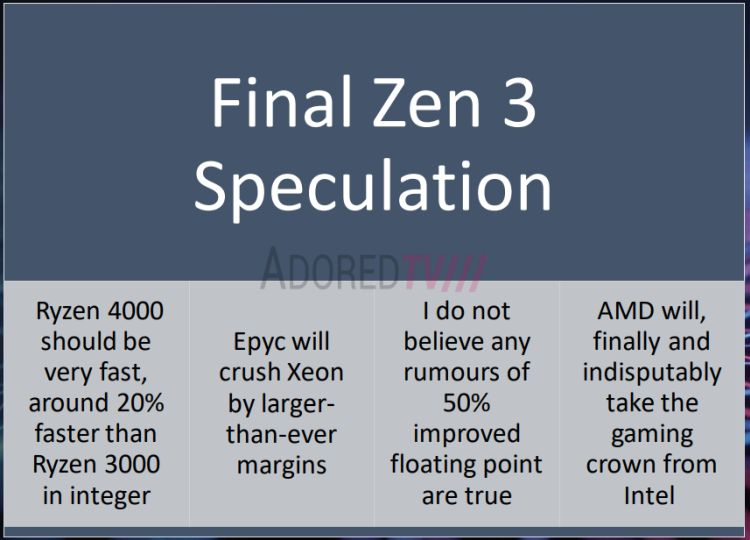 Well-known journalist Charlie Demerjian (Charlie Demerjian) in the framework of the call Susquehanna shared their ideas about the future plans of AMD. He is also convinced that the server processors Milan will be 20 % faster than its predecessor and will be released before the end of this year. On the other hand, the pandemic had a negative impact on expanding the customer base AMD in the server area, and it is difficult to predict how active the debut of Milan will increase the company's share in the server market. The good news mentioned the AMD allocation of additional quotas for the manufacture of products from TSMC, which is forced to refuse from cooperation with Huawei due to us sanctions.
Along the way, this source reports that the processors of Genoa and Turin, which will be released one after another, will use the same motherboard. This platform will offer support interfaces PCI Express CXL and 5.0, as well as ten-canalled memory type DDR5. Genoa processors with Zen architecture 4 will appear not earlier than 2022, but the development of this architecture has been completed. Apparently, the processors Turin will offer architecture Zen 5, while maintaining the current tradition is to borrow the names of Italian cities.
Source: 3Dnews.ru