Top 7 wireless headphones IFA 2019
Today completes its work, the Berlin consumer electronics show IFA 2019, where my colleagues and I saw a lot of interesting new features. One of the trends of the exhibition (and not only) of the year were the wireless headphones. So we decided to collect the most interesting of them in one material.
Adidas
We start with the headphone Sport series Adidas, which the German manufacturer of sports clothes and shoes produced together with the Swedish company Zound Industries. The latter, incidentally, licensed releasing headphones under the brand Marshall. All under the Adidas brand was represented by two pairs of wireless headphones with code symbols FWD-01 and RPT-01.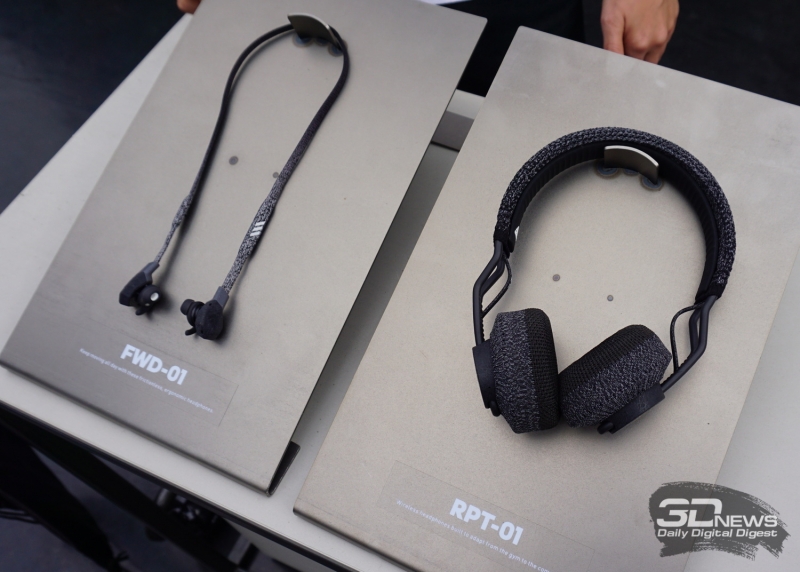 Novelty is intended primarily for users involved in sports and fitness and leading an active lifestyle. A key feature of the headphone is Adidas fabric finish, which model FWD-01 is reminiscent of the lace from the shoes, and the model RPT-01 refers to externally mesh sneakers series, Adidas Boost.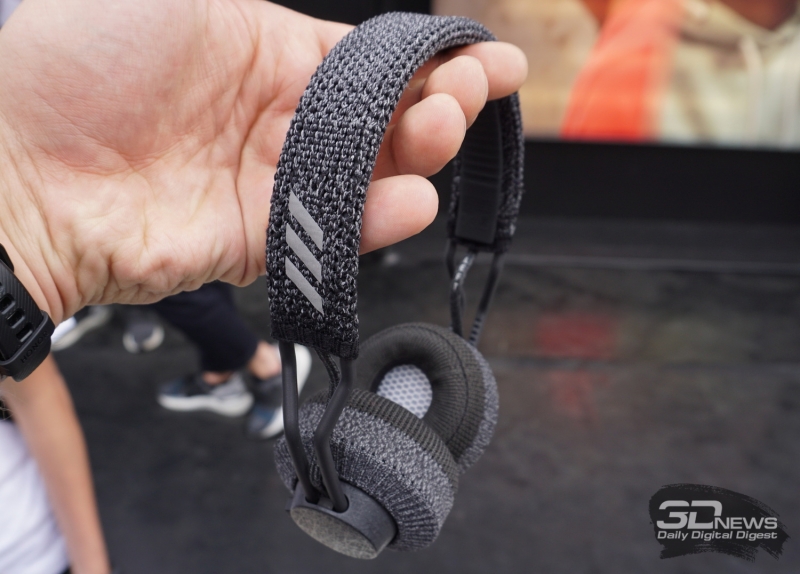 And actually, the fabric finish is quite a controversial decision, because in sports people sweat and the fabric on the headphones obviously will absorb these secretions, with all the ensuing unpleasant consequences. However, the ear pads have invoices RPT-01 removable and can be washed.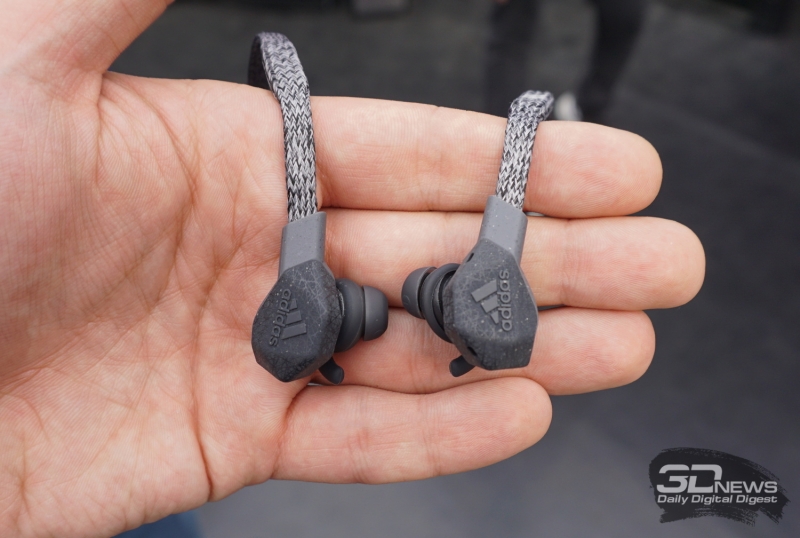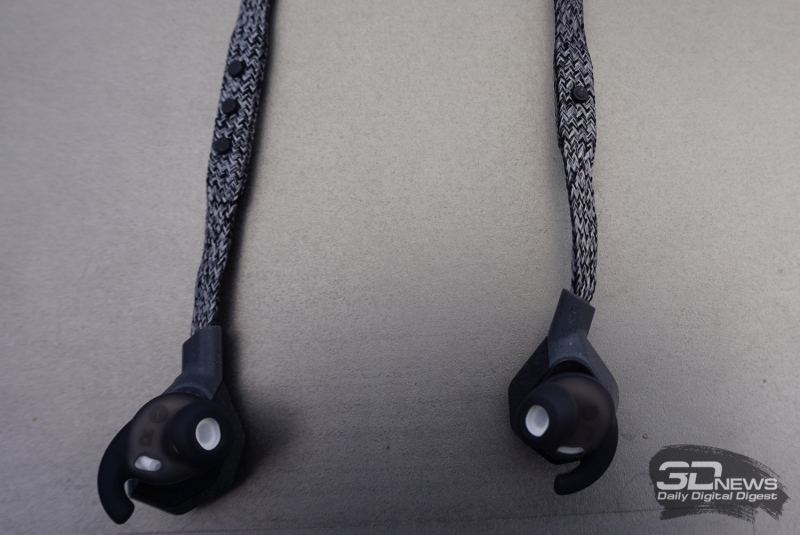 Model FWD-01 is a vacuum-type headphones, which are connected by a braided cable. Headphones themselves are pretty massive and heavy in the amount of 25 grams. For comparison, AirPods weigh 4 grams each. A lot of weight due to a rather large built-in battery, but because of this long use Adidas FWD-01 may cause discomfort. On the cable there are buttons for volume control and switching songs in the player. The battery life is 16 hours, which is quite a lot.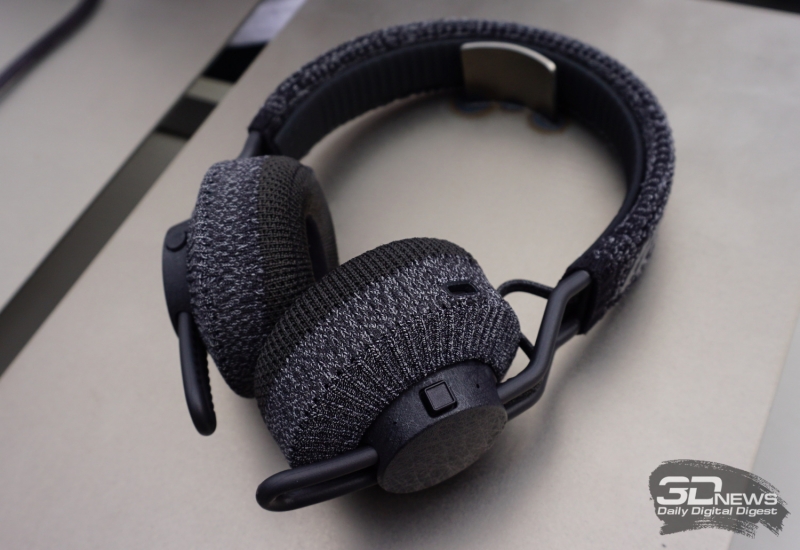 In turn, RPT-01 — ear headphones, which are able to provide more than 40 hours of battery life. There are also buttons to control. Both models for charging use USB Type-C connector, and to your smartphone or other audio source the headphones are connected via Bluetooth 5.0. Both pairs of headphones, Adidas protected from moisture according to the standard IPX4. Are available to them and the microphones.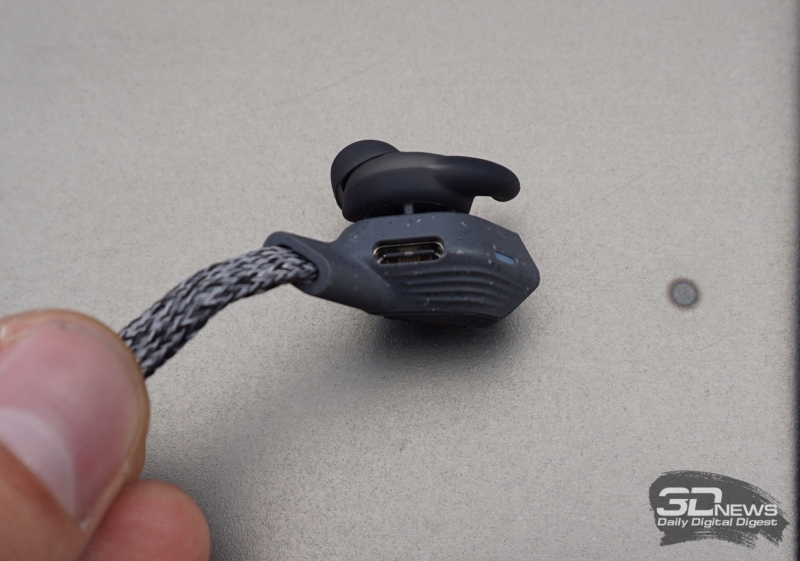 Price vacuum Adidas FWD-01 Sport is $150, while the overhead Adidas RPT-01 Sport is estimated at $170. The model is already accepted pre-orders.
Audio-Technica
Next on our list is a turntable, which in the framework of IFA 2019 introduced wireless headphones codenamed ATH-CKS5TW. The novelty consists of two separate vacuum the headset without any wires.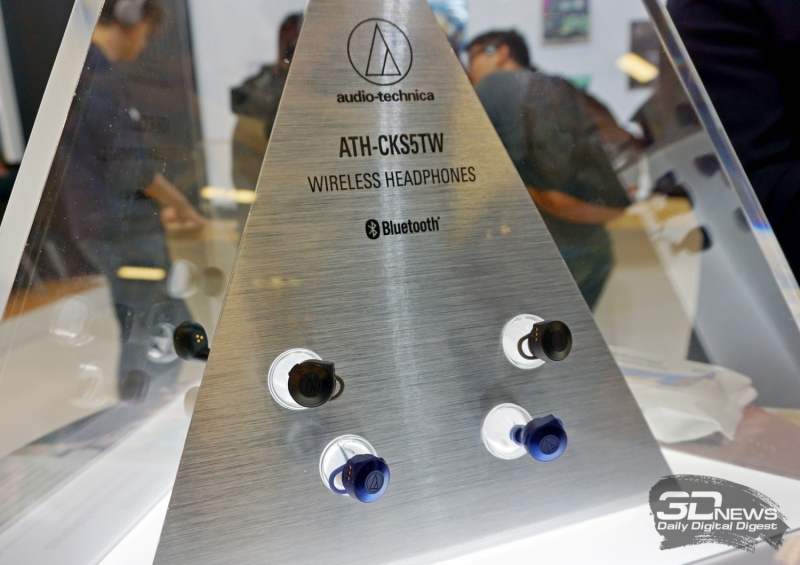 Their key feature is the long battery life — a fully charged pair of headphones can operate for up to 15 hours. Yet they can double to fully charge from the case, which has a built-in battery that in total provides up to 45 hours of work. Charging the case via USB connector Type-C.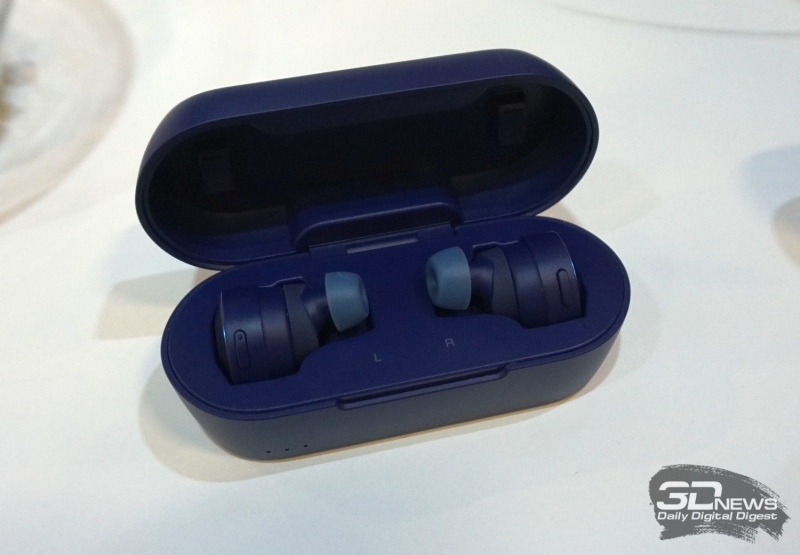 Capacious battery, of course, had an impact on the dimensions of the Audio-Technica ATH-CKS5TW and the weight of each earphone weighs about 8 grams. Dynamic headphones are used emitters diameter of 10 mm. For them the stated range from 5 to 40 000 Hz, impedance 16 Ohm sensitivity 110 dB/mW. There is also a built-in microphone.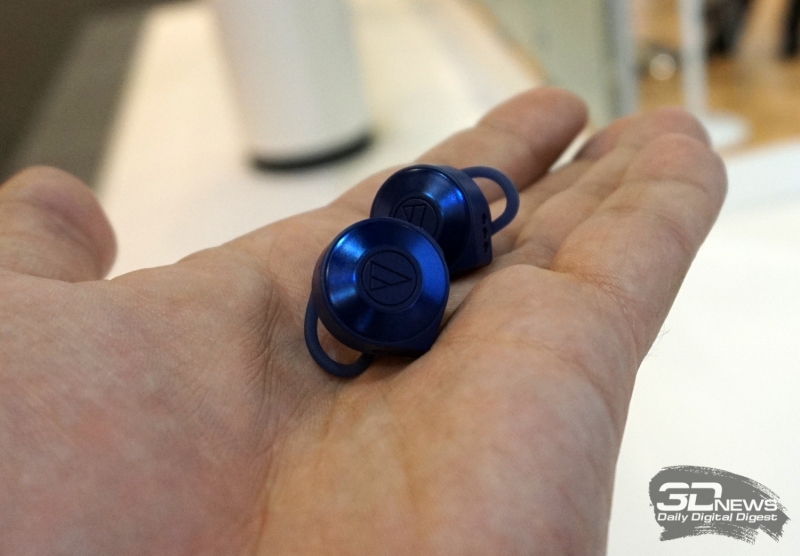 On the headphones there are buttons to control volume, switch music and answer calls. The connection uses Bluetooth 5.0. Declared support for aptX and AAC. Overall, despite the rather large size, sit in the ear headphones good, and the sound quality is, as far as I can tell, very decent. Headphones Audio-Technica ATH-CKS5TW can already be ordered at a price of $150.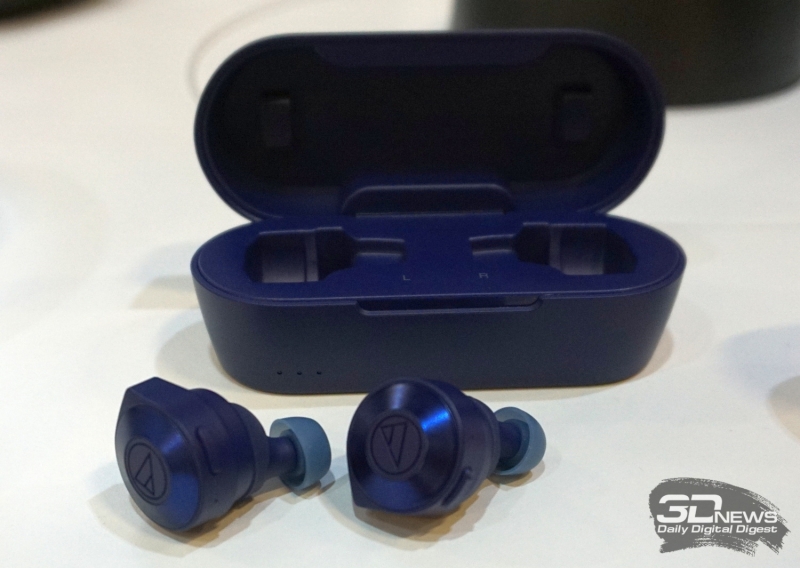 Huawei
Our top would not be complete without Huawei FreeBuds 3, which I have already told about innovations of Huawei. Therefore here only briefly go through the main points.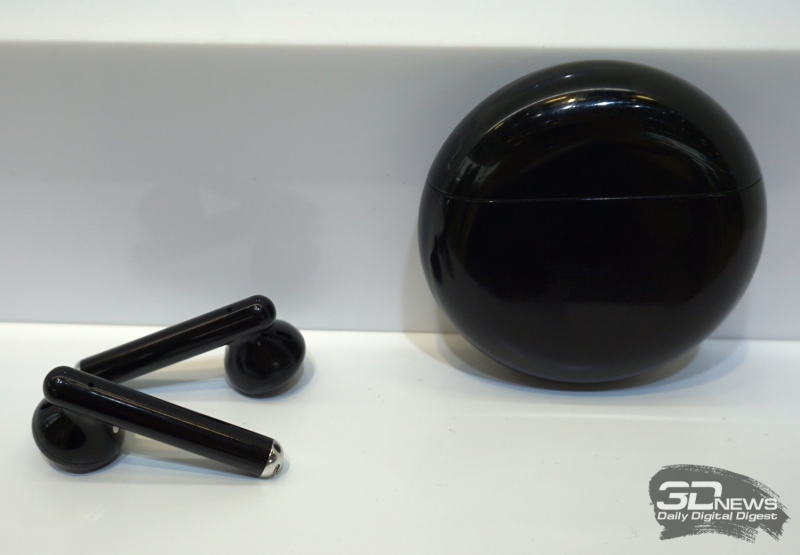 A key feature of FreeBuds 3 is to support the technology of active noise cancellation. According to Huawei, the world's first headphones with pluggable design, which offer active noise cancellation. The manufacturer notes that FreeBuds 3 can reduce environmental noise by up to 15 dB.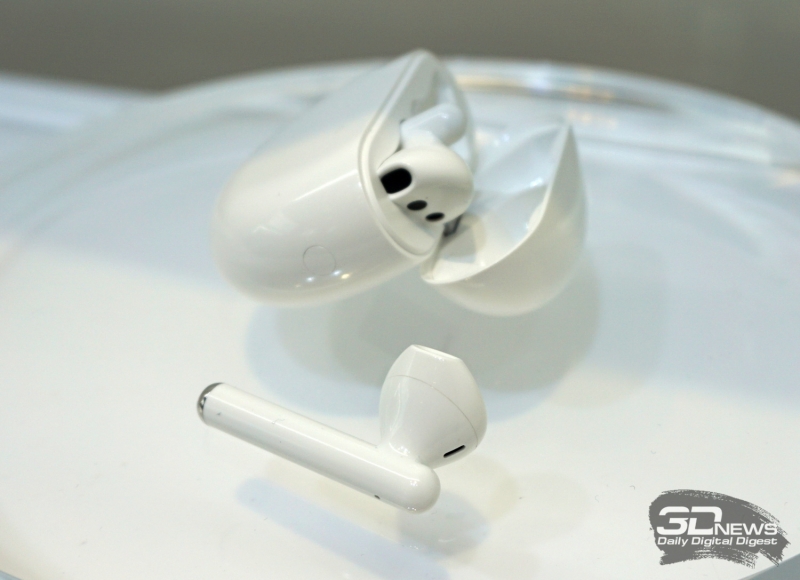 In the heart of the model is the new chip Kirin A1, which supports the latest Bluetooth standard 5.1, which has been reduced latency and improved connection stability and reduced power. Note that FreeBuds 3 received a fairly large 14-mm emitters, and their built-in microphones also have noise reduction.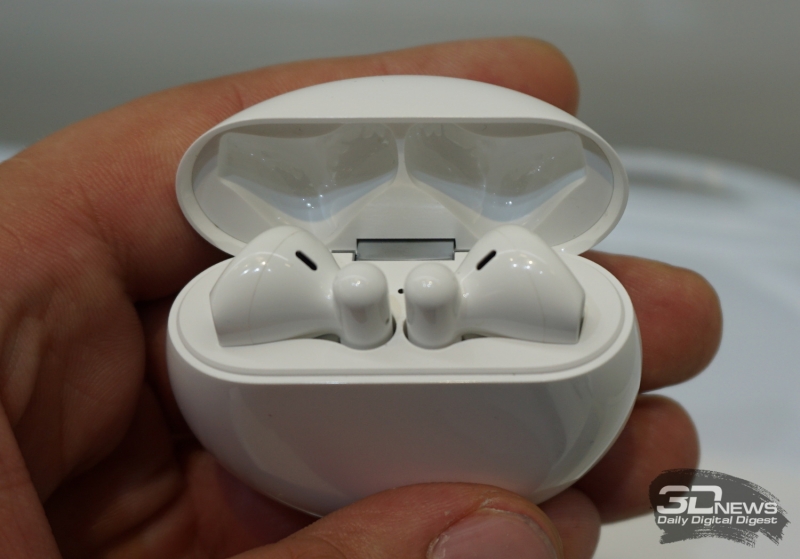 Externally FreeBuds 3 is very similar to the ones Apple AirPods. The very same Huawei claims that this form of her engineers was inspired by the shape of the head of a Dolphin. The battery life of headphones is only 4 hours, and with a case they can work up to 20 hours.
JBL
JBL presented on its booth at IFA 2019 new fully wireless headphones LIVE 300TWS. These headphones primarily interested in proprietary technologies TalkThru and Ambient Aware, which improve the process of using new products.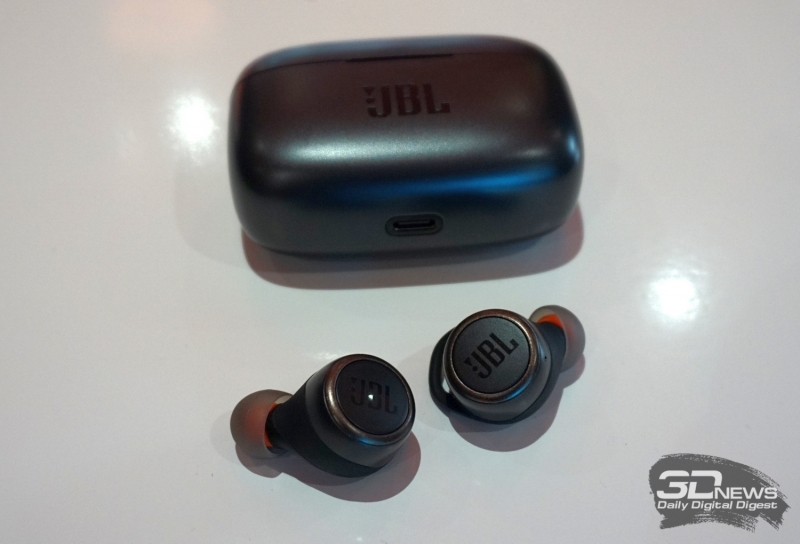 Technology TalkThru allows you to remove the headphones every time you want someone to talk to or to listen to some ad. When activated, this technology reduces the volume of the music and transmits the voice via built-in microphone straight to your earphones LIVE 300TWS.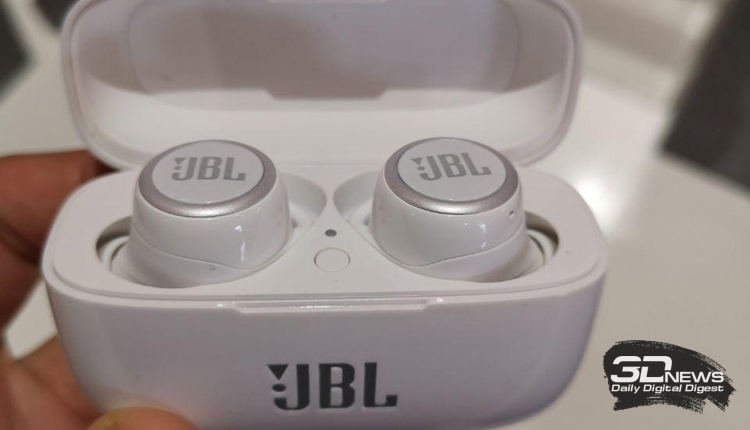 In turn, the Ambient Aware technology allows headphones to pass only loud external sounds, which on the street can serve as a signal for increased attention, for example, the car signal or a loud cry. By the way, there is also support for Google Assistant that allows you to control certain functions of the smartphone without removing it from the pocket.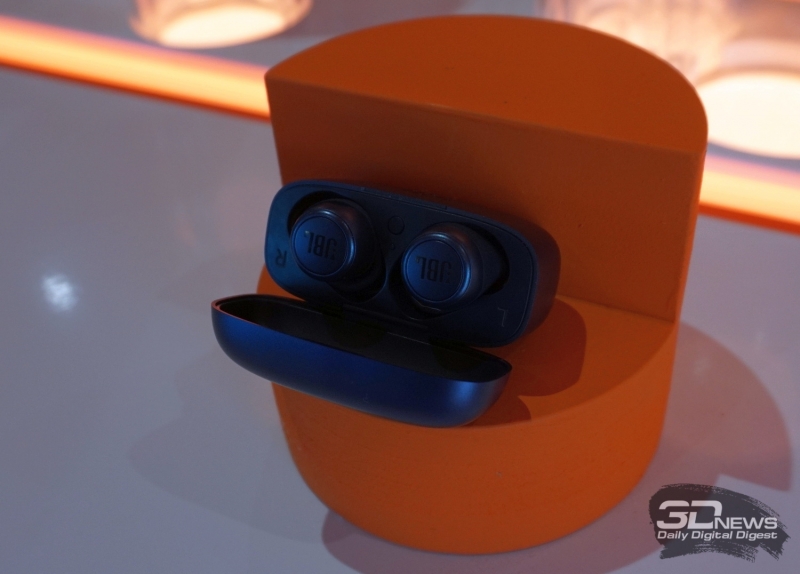 Fully charged LIVE 300TWS can work for 6 hours, and with charging case socket not needed for 20 hours. For everyday use at the time. Interestingly, also it supports quick charge, and just 10 minutes in case headphone charge up for one hour listening to music. The case charges via USB Type-C. the Headphones are connected via Bluetooth 5.0.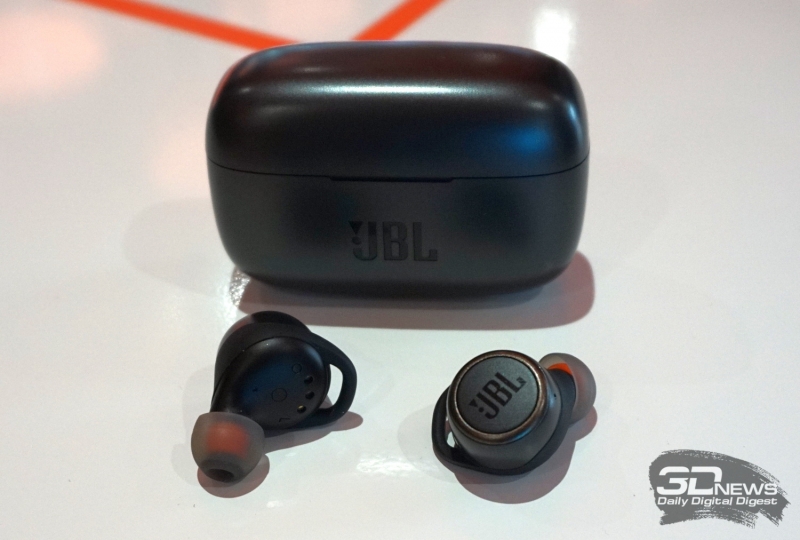 Headphones create a pleasant first impression. In my ears they sit well even with the standard silicone tips, though, the set will be supplied to nozzles of different sizes so you can choose the best option. The sound quality of the JBL, as usual, very good. I would also mention the moisture protection-standard IPX5.
Nokia
Company HMD Global, which owns the rights to the Nokia brand, presented in the framework of the IFA 2019 new headphones Power Earbuds. The main feature of these headphones completely wireless vacuum is long lasting battery life — up to 150 hours. Along with the briefcase, of course.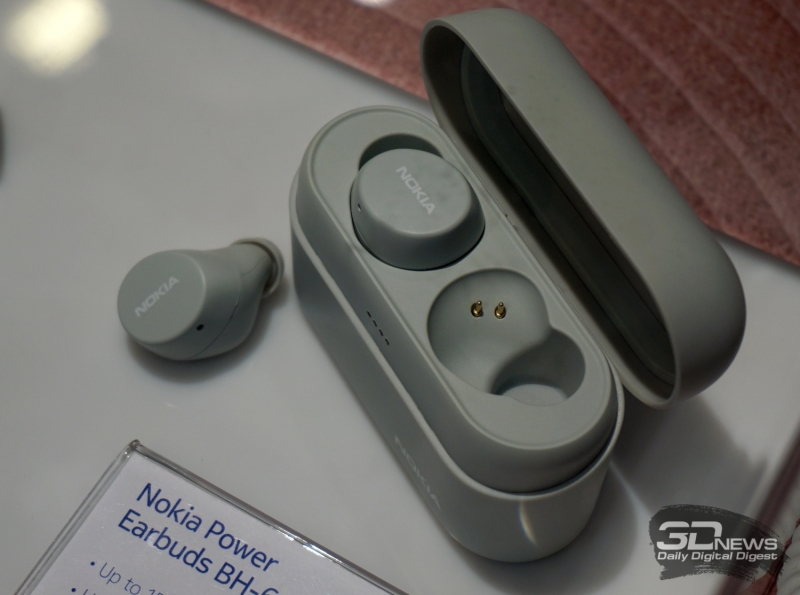 Themselves Nokia headphones Power Earbuds is able to work only 5 hours from a single charge. However, the case for them has a battery of 3000 mAh, which is enough to power headphones up to thirty times. It turns out that in total you can get about 150 hours of battery life. None of the other wireless headphones do not offer such a serious autonomy. To charge the case using a port USB Type-C.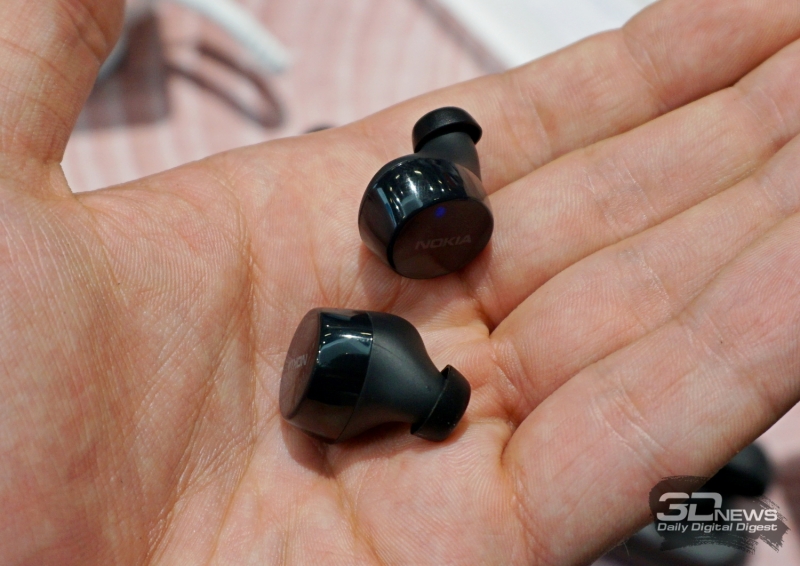 To connect Nokia Power Earbuds use Bluetooth 5.0. Inside their located graphene drivers with a diameter of 6 mm which, according to the manufacturer, provide a high sound quality. I myself appreciate the sound in the new Nokia, unfortunately, failed.
Headphones Power Earbuds support voice assistants, to call them you just touch one of the liners. I should also mention that the new Nokia you can swim, because they are protected from moisture by the IPX7 standard. New items will be available in black and light gray colors.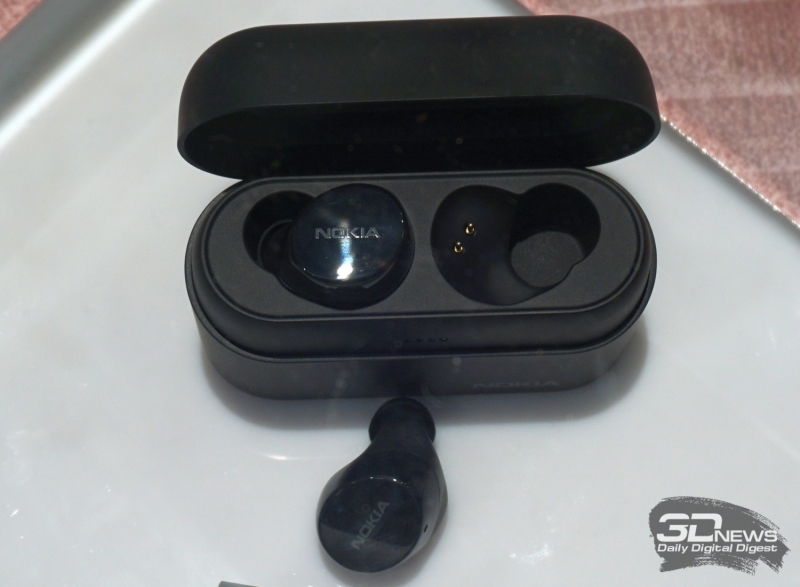 Pleased with price Nokia Power Earbuds just 79 euros, which is the background of most of the suggestions from other well-known manufacturers are very inexpensive.
Sennheiser
Company Sennheiser was presented at the Berlin exhibition of their updated wireless over-ear headphones premium Momentum of the third generation. And looking at these headphones, just downright feels high class, because, as usual from Sennheiser, they are made just perfect. Headphones are made of stainless steel and soft sheep skin black or beige.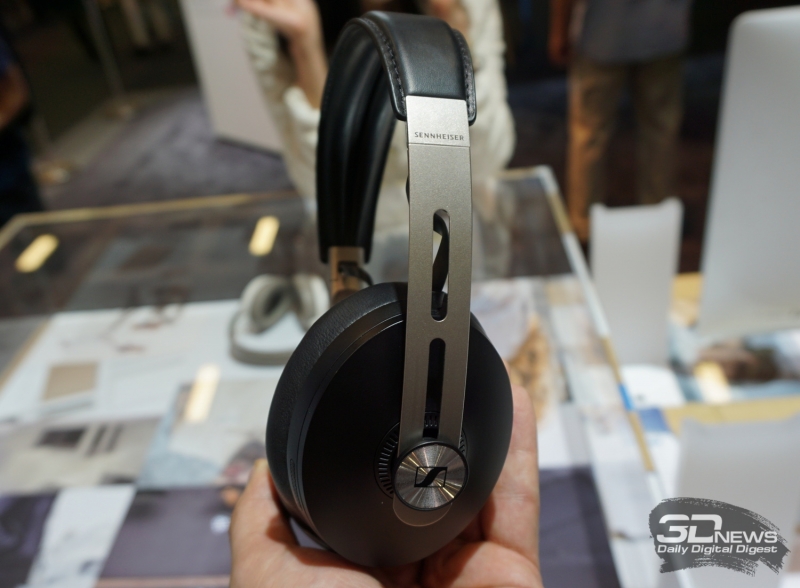 And they are good not only outwardly. Updated sound the Momentum is just fine, providing clear sound and almost complete absence of background noise due to the technology of the active noise cancellation. For audio playback immediately respond emitters with a diameter of 42 mm.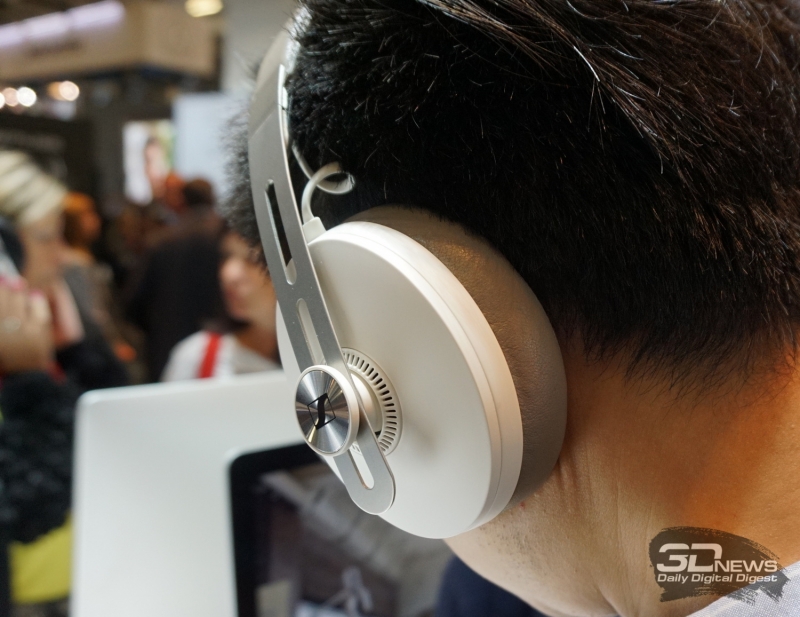 Of the nice features I would like to note that the headphones is able to detect when the user takes them off, and automatically pause the music playback. This feature can be disabled in the corporate application. Also the user can disconnect and noise reduction — the switch is located on the left earpiece.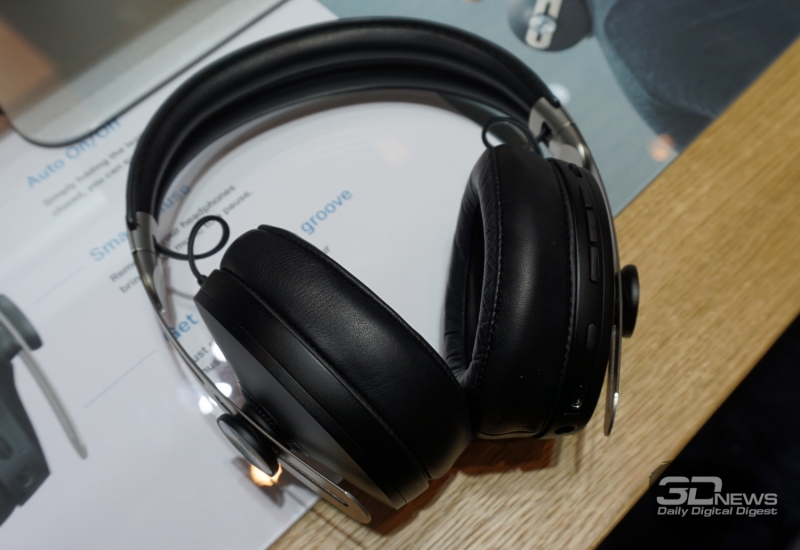 The manufacturer claims the updated Momentum for the battery life to 16 hours. It's not so much, but not enough. The headphones also have a 3.5 mm connector so they can be connected and wired way. However, if the battery is fully discharged, the noise canceling function will not work.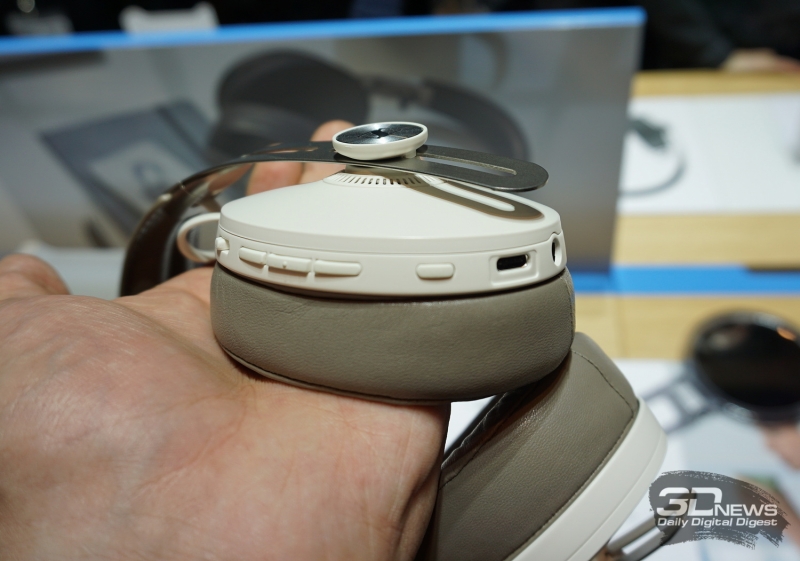 Is the new Sennheiser and voice assistants. Connector for charging USB Type-C. Sennheiser Momentum Headphones are already on sale at a price of 400 euros.
Sony
And rounding out our top wireless headphones Sony WI-1000XM2. It is also a vacuum "plugs" that are attached by thin cables to a flexible rim that is intended to be worn around the neck.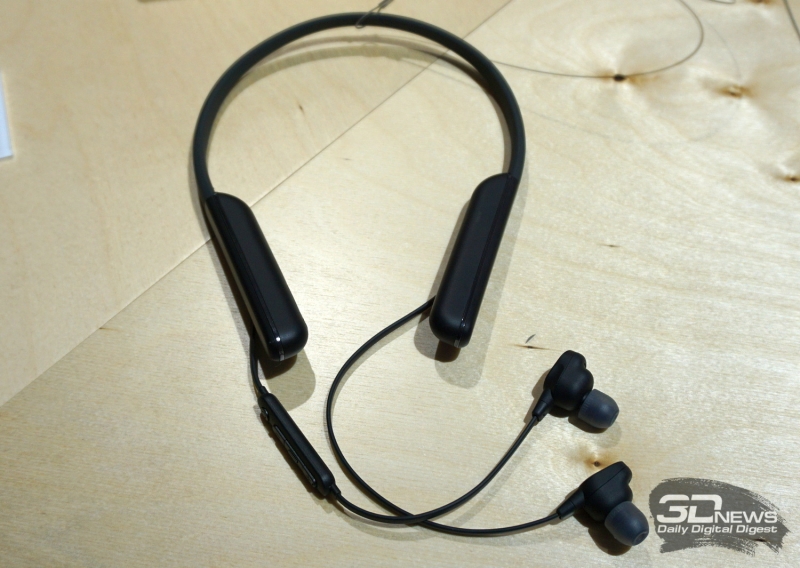 The novelty has received the support of the technology of active noise cancellation, and for her work meets the processor QN1, which "migrated" here from Sony overhead headphone WH-1000XM3, which became a benchmark of how it should work noise canceling headphones.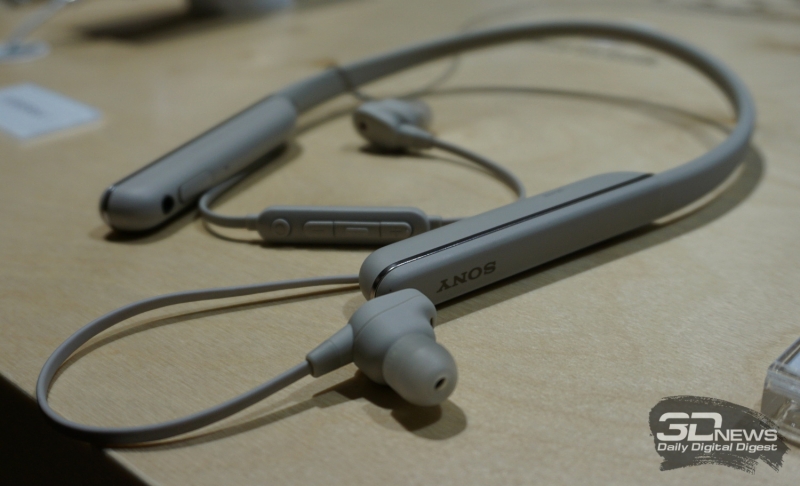 For high sound quality, and it is in WI-1000XM2 really very high, meets a hybrid speaker system, which consists of a 9-mm dynamic emitter and reinforcement of the radiator. As planned, this should provide a wide range of frequencies. And do the headphones a good sense of how deep bass and high tones.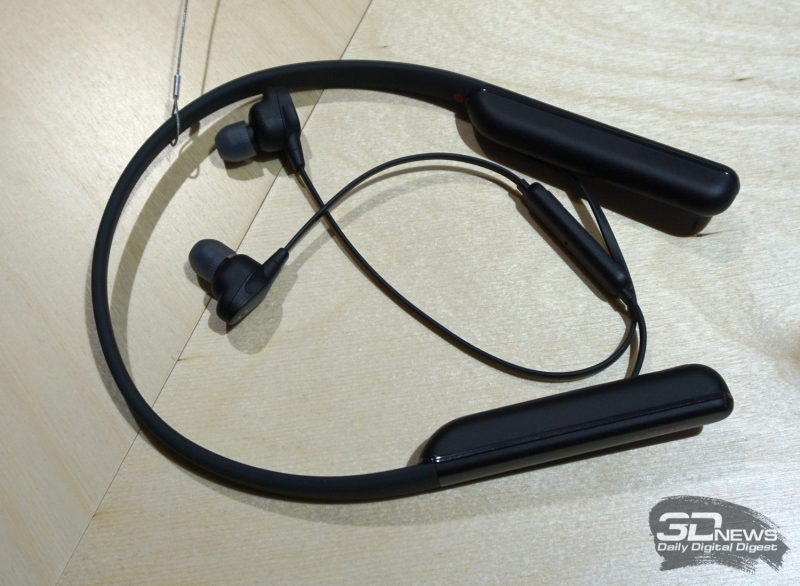 In addition, the product also supports DSEE HX (Digital Sound Enhancement Engine HX), which aims to improve the sound quality when playing compressed formats including MP3. This technology is not new, and it actually works. Note also that Sony provides the ability to automatically change settings sound headphones.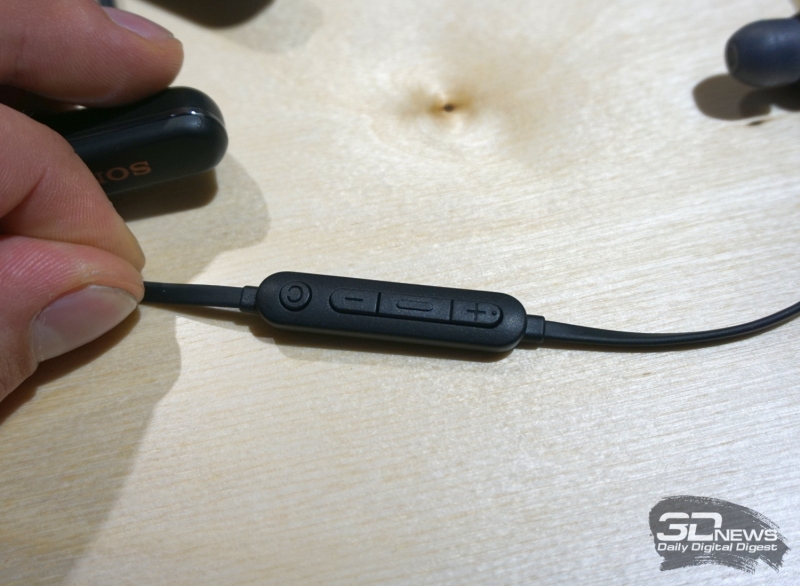 From built-in rim battery WI-1000XM2 can work up to 10 hours. There is also support for fast charging, due to which in 10 minutes the headphones can be charged to 80 minutes of work. The rim also has control buttons and a microphone.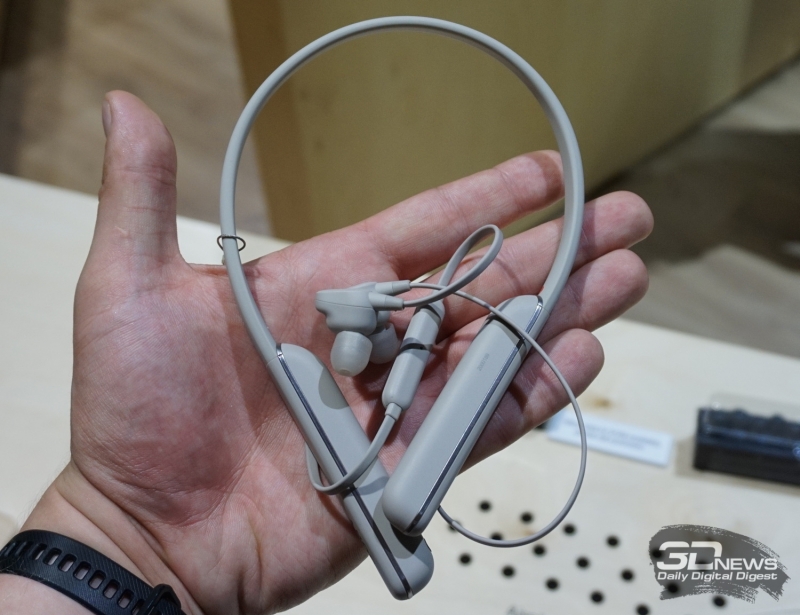 Conclusion
And this is not all the wireless headphones presented this year at IFA. After AirPods went to the real Val headphones from companies that used to do music and not — and the quality of these headphones is dancing very much, in this article we have tried to identify the most worthy options. However, gradually, wireless headphones are getting better, they have a sound quality and autonomy. And more and more users support this trend.
Source: 3dnews.ru