Review wireless headphones JBL TUNE 120TWS: mobile sound demanding
The American company HARMAN needs no special introduction. Thanks to the active promotion of the brand JBL, it is well known to fans and listen to loud music on the street through a Bluetooth speaker, and real music lovers who require more serious equipment. Among the audio devices, manufactured under the brand JBL are wireless headphones. One of the novelties came to us in a test lab. We are talking about the model JBL TUNE 120TWS fully wireless headphones with charging case, to which we turn next.
Specifications
JBL TUNE 120TWS
Type
False
Emitters
Dynamic, 5.8 mm
Frequency range, Hz
20-20 000
Impedance, Ohm
14
Sensitivity, dB
96
Maximum power, mW
15
Version Bluetooth
4.2
Profiles Bluetooth
A2DP 1.3, AVRCP 1.5, HFP 1.6
Frequency Bluetooth, GHz
2,402–2.48 in
Features
Built-in microphone
Work Hands-Free
Compatible with Siri and Google Now
Battery
Li-ion, 85 mAh / 3.7 V
Time of Autonomous work, h
4 (16 when using the case)
Weight (microphone and cable), kg
0,073
Guarantee, months.
12
Estimated price*, RUB
5 990
* Average price in "Yandex.Market" at the time of this writing.
The package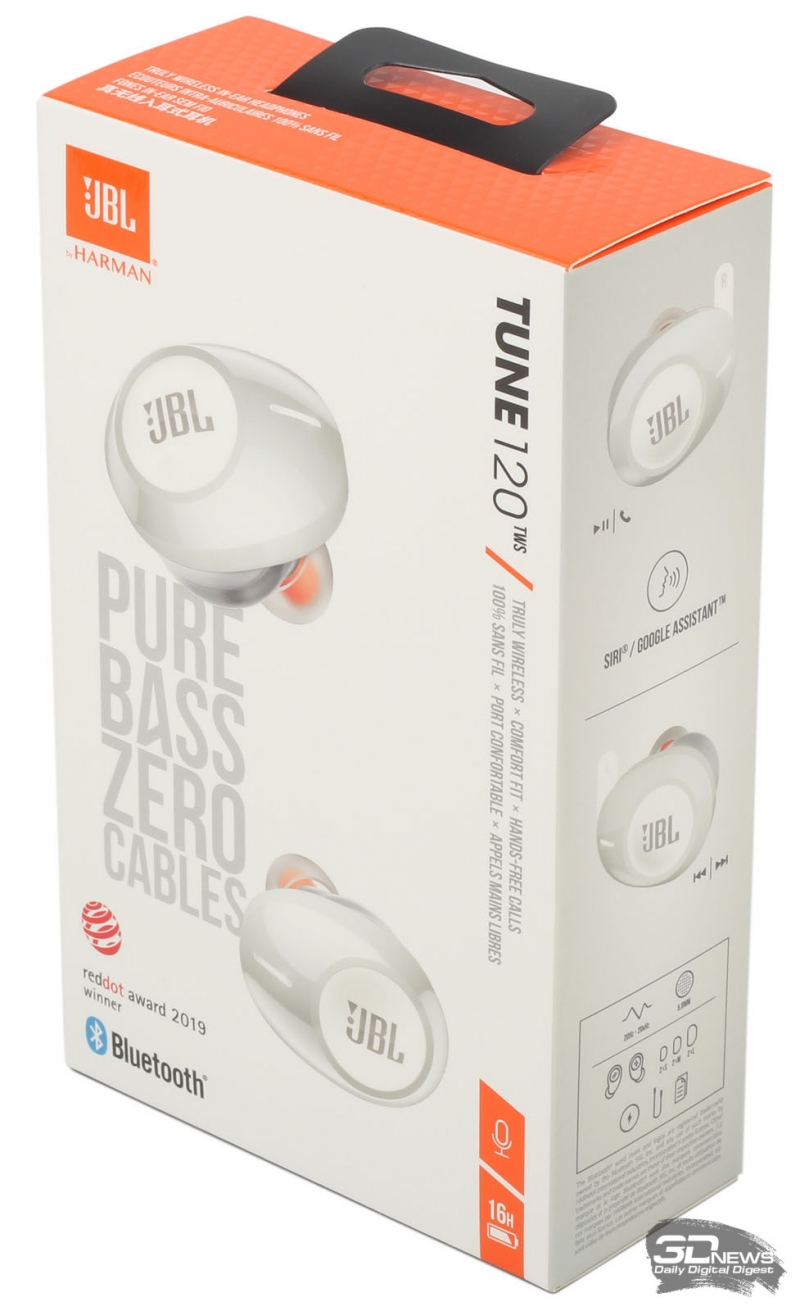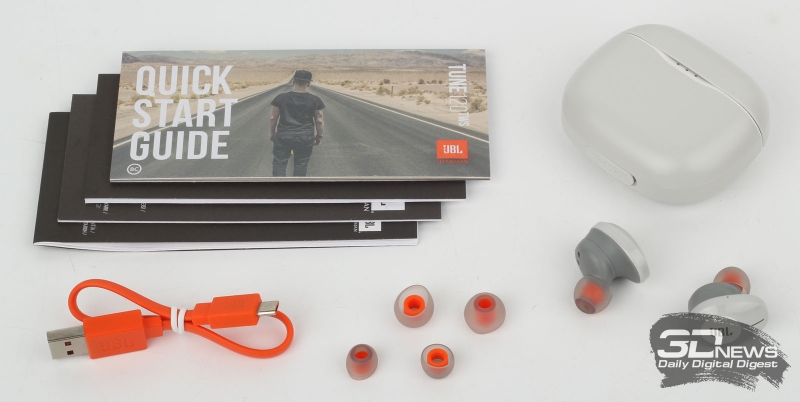 The packaging and the supplied headphones JBL TUNE 120TWS
Headphones come in a compact cardboard box, decorated in white and orange tones. Inside, except the headphones, we found the following accessories:
charging case;
two sets of extra silicone ear cushions of different sizes;
USB cable for charging;
short printed instructions for working with the device.
Note that the accessories included also have a bright orange finish, perfectly combined with white color headphones and just pleasing to the eye.
External view
Pass up these headphones, and by using their happy owners, not paying attention to them can be extremely difficult. The reason for that and eye-catching design, and a fairly large size unusual buildings. The last TUNE of the JBL 120TWS made not in the form of elongated drops, but more like no shells, no pebbles. At first glance it seems that they will not be able to stay in my ears, but this impression is deceptive. They keep well, thought out design, but it is important to choose the ear pads of your own size. As for the body, each of the headphones is neatly located in the bends of the ear, but not cling to it. Coupled with the lack of handles makes it unacceptable to use this model for sports. For these purposes it is better to choose a different model.
 
In addition to the lettering, right earphone differ from your left the presence of his body a tiny hole, which was, apparently, hiding the microphone. It is noteworthy that there is a hole not from below but from above. The outside of each headphone are led status indicators and round control buttons with short stroke and says "JBL".
The housing of each of the headphone is made of plastic of two types: lacquered Matt white outside and grey on the reverse side. The plastic is very pleasant to the touch. It is felt that the product belongs to the price range slightly above average.
Of the same matte plastic is made and charging case. The case is typical of this type of headphones form. The removable cover features a magnetic holding lock and padded inserts that prevent rattling of the headphones during transport. Magnetic done by the manufacturer and fixing the headphones in their nests. It is enough to bring headphones to the open case as they themselves literally jump into place easily somewas three pads.
The charging case is equipped with a charge indicator built-in rechargeable battery, consisting of three miniature LEDs. Also on the bottom edge there is a MicroUSB port, used for connecting charging cable. It remains only to note that the case with headphones easily fit into even the smallest pocket of trousers or even shirts so that the hassle of transporting its owner will not be exact.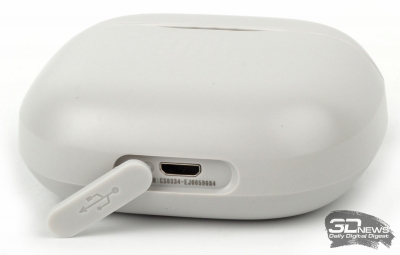 Design JBL TUNE 120TWS attracts attention, but the earphones themselves and I want to take it in hands, to twist them, to consider every detail of the bizarre twists of the case. Thanks to the intelligent design of the charging case and high quality execution of each element of this model can be put in the appearance of a solid "excellent"!
Connectivity and control
We tested the JBL TUNE 120TWS with multiple Samsung smartphones and Xiaomi. To each of them headphones connected quickly and without any problems. It was enough to translate them into search mode and in the relevant section of the Bluetooth settings of the smartphone to detect the line "JBL TUNE120TWS". For transfer to the search mode meets the button on the right earpiece. This enables each earmuff separately with your button. When you first switch on you will also need to hold a pair of headphones between them. This is done by simultaneously pressing the left and right headphones.
All of these actions can not be called intuitive, but they are not difficult. You can just search manual. The latter will need to understand the principles of management of calls and playable tracks. So, pressing the button on the right earphone while the incoming call will lead to the answer. One more push and you hang up the phone. But functions reject a call, alas, is not provided. The same button is also responsible for managing microphone for this it is necessary to hold for three seconds. Well, double clicking on it causes the voice assistant Siri or Google.
To stop or resume playing, you also need to use the right earbud. But the transition to the next or previous track is made single or double button the left earcup. Despite the apparent complexity of the control, use the buttons JBL 120TWS TUNE is no more difficult than buttons other headphones and headsets.
Experience and sound quality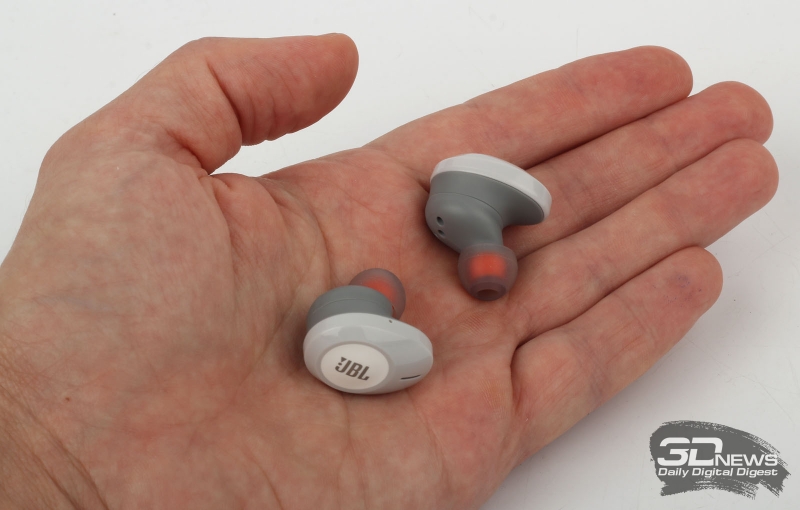 If you just pick the size of ear pads, no problem with mounting the earphone in your ears, you will not feel. They will be securely held inside, even with aggressive running. The only drawback is that when wearing these headphones much favor, so to speak, dimensions of your head. In other words, they strongly stick out from the ears, and this attracted the attention of others.
The second interesting aspect of wear is that the JBL TUNE 120TWS provide very good sound insulation. They are very much mute all external noise, including sounds from traffic, loud shouts and calls. Headphone is a big plus, but if you use the JBL TUNE 120TWS as a headset there is strong desire to pull it out the left ear to properly hear your own voice.
As a rule, from the sound of wireless headphones not expecting much. Those who wish to obtain maximum sound quality, choose wired headphones. But in some ways JBL TUNE 120TWS can even surprise its owner. For clean sound, no extraneous noises and bright deep bass this model can compete with many wired counterparts.
Headphones were perfect for rock and electronic music. These genres, as we thought, revealed in JBL speakers TUNE 120TWS fullest. The sound picture is quite dynamic and sharp. All instruments are well audible. Classical and instrumental music sounds as clean, but not so natural. However, it is a subjective assessment. For most users, the sound quality would be sufficient. In these headphones you will not hear a rattle or muffled sound typical of inexpensive wireless models.
Surprised and maximum volume level. In most cases, when working on a noisy street was enough for 60-70% of the maximum possible value. To provide a comfortable listening experience at home, the volume can still be a little less.
As for autonomy, then the specified indicators when testing was not achieved. But 3 hours and 40 minutes headphones worked, which is only slightly different from the declared value of 4 hours. If you use a case this time, with breaks for exercises managed to increase almost 15 hours. It is noteworthy that charging these headphones for only 15 minutes provides them offline for an hour.
It remains to add that the JBL TUNE 120TWS met expectations and when you use them as a headset. Despite the inability to reject the call, use them in that capacity convenient. Interlocutor can hear perfectly, and you'll hear even on a noisy street. There is only one important thing that you need to consider when using the headphones as a headset. They automatically shut down if you don't use them for a long time, what notify the user characteristic sound.
Insights
Some mobile phone accessories have magic effect – they simply do not want to let go of. Just treat them and the JBL TUNE 120TWS. The reason for that and the awesome looks and high class performance, quite sufficient for work with any modern smartphone.
Strengths of the JBL TUNE 120TWS should include:
bright attractive design;
very high quality performance;
wearing comfort;
excellent sound insulation;
high quality sound;
the ability to work as a headset;
voice assistants;
fast charging.
Of the shortcomings can be noted only sticking out from the ear corpus, but none on the wearing comfort or the sound quality is not affected. The cost of the headphones is also not the smallest, but for the money you pay, and this model is worth the money spent.
Source: 3dnews.ru