Review of the Microlab Solo 19: the new flagship bookshelf speaker
Three-way speakers Microlab Solo 19 heads popular series Solo company Microlab Electronics, one of the oldest manufacturers of multimedia speaker systems. The new flagship was presented to the public along with two other models – Microlab and Microlab Solo 11 Solo 16, about which we wrote earlier. In contrast, speakers older models are equipped with three, not two, speakers is the most powerful stereo system manufacturer, focused on large premises and applying for the best sound. We had a chance to meet new and learn about all its advantages and disadvantages.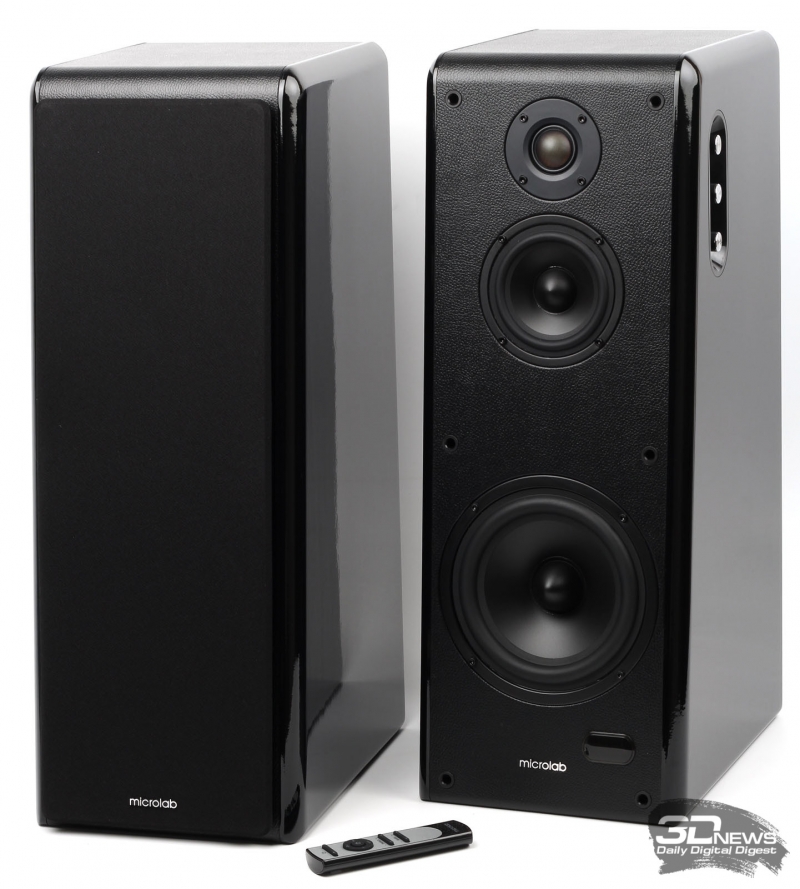 The package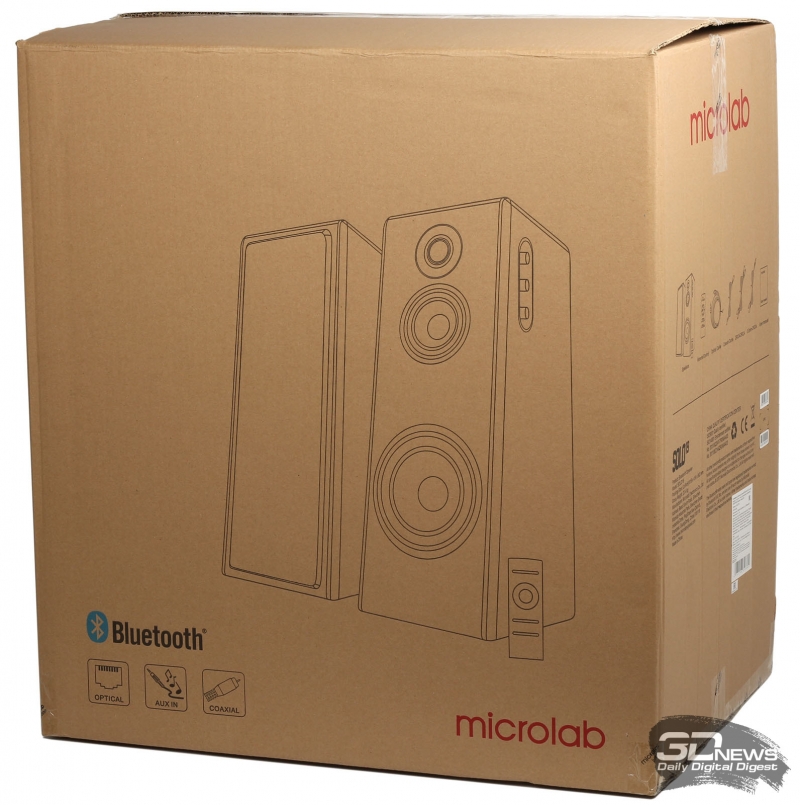 A huge cardboard box that comes new, has no handles to carry, why to move it even short distances difficult. This can be done only together. From external influences box contents traditionally protect the internal foam and speakers are additionally Packed in bags of non woven material, serving later for cleaning from dust and polishing to a Shine lacquered surfaces of their shells.
The delivery from Microlab Solo 19 does not differ from that in younger models. Along with speakers in the box we found:
remote control with battery CR2025;
high quality shielded interconnect audio cable to connect active and passive speakers;
audio cable 2 x RCA to jack 3.5 mm;
audio cable 2 × RCA-2×RCA;
optical S/PDIF cable;
coaxial cable in soft synthetic sheathing;
set of rubber feet for sticking on the bottom surface of the hulls;
the printed manual.
In the package a suitable cable for any way to connect speakers. All cables are standard and can be replaced if desired at a higher quality. Interconnect cable to replace the need there – it has a braided shield, and the outside is closed with a synthetic mesh. The length of this cable is 4 meters, which is enough for almost any installation of the speakers.
Specifications
Feature / Model
Microlab Solo 16
Microlab Solo 19
Type of acoustics
2.0 (stereo)
PA
2.0 (stereo)
three-band
Dynamics
Tweeter: 1 inch (6 Ohms);
WOOFER: 6.5 inch (4 Ohm)
HF: 1.5 inches (4 Ohms);
Midrange: 4.0 inch (8 Ohm);
WOOFER: 6.5 inch (4 Ohm)
Power, W (RMS)
180 (2 × 40 + 2 × 50)
200 (2 × 40 + 2 × 60)
Frequency range, Hz
40-20 000
20-20 000
Signal-to-noise, more, dB
80
Channel separation, more, dB
45
Sensitivity, mV
1000
Interfaces
Inputs
1 pair x RCA stereo
1 × Coaxial
1 × Optical S/PDIF
Bluetooth 4.2
Outputs
LFE (for subwoofer connection)
1 × USB (for charging smartphones)
Additionally
Control panel:
-volume, treble, bass;
-switching between inputs.
Remote control
Dimensions, mm
268 × 218 × 360
314 × 218 × 577
Weight, kg
11,6
19,9
Guarantee, months.
12
The average retail price, RUB.
15 249
27 892
 
For comparison, in the table of characteristics above given data model, Microlab Solo 16. It is seen that the novelty differs from it by a set of transducers: tweeter speakers Microlab Solo 19 very similar to those used in younger models, but with a diameter and a half – 1.5 inches. Twitter has dome type, made of silk. The resistance is 4 Ohms. Note that Twitter has a magnetic shielding enclosure.
Midrange and woofers are of similar design. They are both made of polymer material, have a rubber edge and is equipped with large magnets. Screening for them is not provided. Radiators are different sizes and resistance: 4.0 inches, respectively, 8 ohms for the midrange and 6.5 inch and 4 ohms for the low frequency.
Speakers have two separate acoustic chambers. Located in the upper high-frequency and midrange transducers and crossovers are filters designed to pass only certain frequencies. Apparently, the crossovers in this case are required to prepare the frequency range of the midrange speakers.
At the bottom of the acoustic chambers are positioned low frequency transducers. The lower chamber is equipped with a bass reflex, the bell which is being output on the rear panel of each speaker.
Motherboard mounted on a metal chassis with external interfaces of the active speaker, which is attached to another and the power supply. Also, like other models of acoustics Solo latest generation digital path novelties built in amplifiers TAS5342L class D from the American company Texas Instruments.
The set of interfaces of connection is the fact that we have seen in the Microlab and Microlab Solo 11 Solo 16. A wired connection to the speakers is possible by connection to the RCA inputs or digital interfaces: coaxial and optical S/PDIF. Wireless connectivity is provided by Bluetooth module AIROHA AB1520. This Bluetooth module 4.2 Taiwanese manufacturer of microelectronics Airoha Technology. The module is working with the profiles A2DP, HFP, HSP and EDR functions.
Despite the presence of columns Microlab Solo 19 three speakers, one of which is for reproduction of low frequencies, the manufacturer has taken care to ensure that this sound system you can connect a subwoofer into a system of standard 2.1. On panel of the active speaker has the audio output of LFE, which can be connected the subwoofer with the appropriate specification. Well for recharging connected to speakers via Bluetooth smartphone the active speaker has a port USB (up to 1 amp). Here only he is also uncomfortable as the younger models in the back, not on the front panel.
Source: 3dnews.ru