Review notebook Lenovo IdeaPad L340-15IWL (81LG00N0RU): undemanding pet, cheap
The IdeaPad series of laptops has a rich history, and Lenovo continues to release models under this brand. Such devices are popular among users who do not make high demands for computing, after all, to work with office applications, surf the web and run simple games don't need a really powerful laptop. Model Lenovo IdeaPad L340 — a clear example of low-cost mobile PCs available on the market.
Specifications, equipment and
In sales you will
meet a lot of different L340 Lenovo IdeaPad notebooks are equipped with different processors, graphics, drives, and displays. The main characteristics of such devices are shown in the table below.
Lenovo IdeaPad L340-15IWL
Display
15,6″, 1920 × 1080, TN, Matt
15,6″, 1360 × 768, TN; matte
The CPU
Intel Core i7-8565U, 4/8 cores/threads, 1.8 m (4,6) GHz, 15 W
Intel Core i5-8265U, 4/8 cores/threads, 1,6 (to 3.9) GHz, 15 W
Intel Core i3-8145U, 2/4 core/thread 2,1 (3,9) GHz, 15 W
Intel Pentium and Celeron Gold Gold (manufacturer doesn't specify model on the official website)
Graphics
Intel HD Graphics 620
NVIDIA GeForce MX110 2 GB
NVIDIA GeForce MX230 2 GB
RAM
4 GB DDR4-2400, built-in
SO-DIMM slot supports up to 16 GB DDR4-2400
SSD
1 × M. 2 (PCI Express or SATA 6 GB/s)
1 × 2,5″ (SATA 6 Gbps)
Interfaces
1 × HDMI
1 × USB 3.1 Gen1 Type-C
2 × USB 3.1 Gen1 Type-A (some models use USB 2.0)
1 × RJ-45
1 × 3.5 mm mini-Jack (acoustic/microphone)
Built-in battery
36 WH
External power supply
65W
Dimensions
363 × 255 × 23 mm
Weight
2.2 kg
Operating system
Windows 10 x64 Home
Without the OS
Guarantee
No data
Price in Russia
17 000 rubles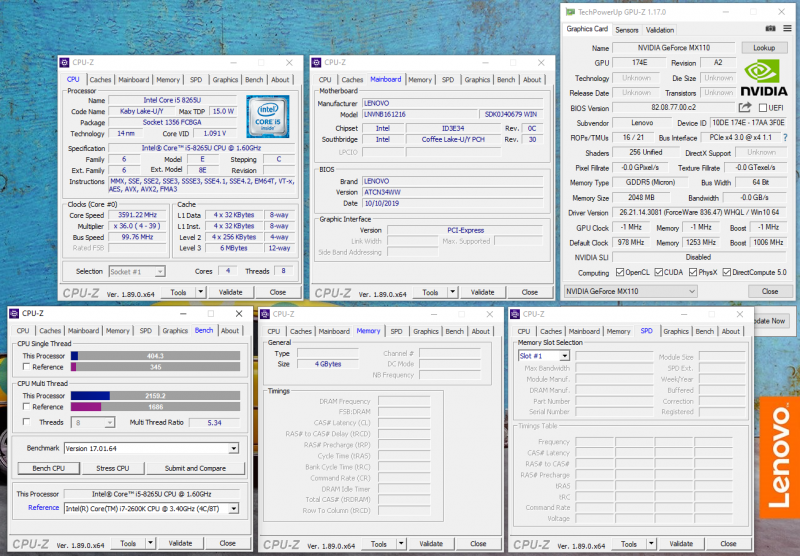 If you look at the screenshot above, you'll see that to us to test were quite fancy by the standards of the series IdeaPad L340 modification of the laptop. The model number 81LG00N0RU is equipped with 4-nuclear processor Core i5-8265U, 4GB RAM, 256GB SSD and GeForce graphics MX110. It is equipped with TN-matrix with a resolution of Full HD. Wireless network device implemented by the controller Intel Wireless-AC 9462, which supports IEEE 802.11 b/g/n/ac with 2.4 GHz and 5 GHz and a maximum bandwidth of 433 Mbps and Bluetooth 4.1. In the official Lenovo store at the time of writing this model was not on sale, but exactly the same version with the 512 GB drive was worth 41 590 rubles. In other Moscow stores for 81LG00N0RU requested from 37 to 43 thousand rubles.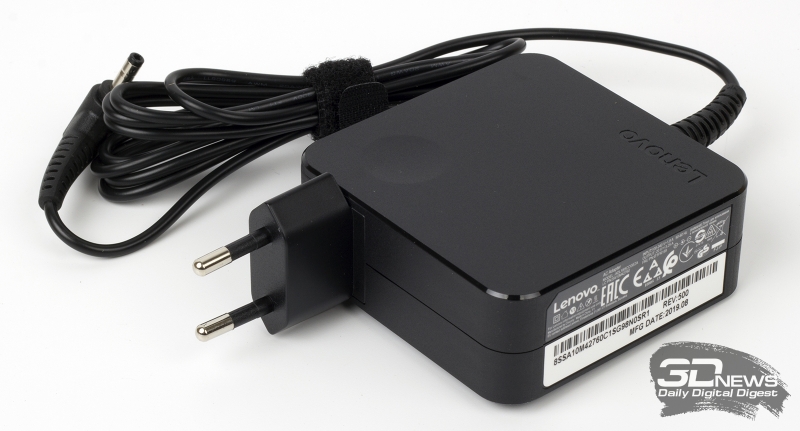 Included with the laptop was the small power supply capacity of 65 watts and a weight of just 200 grams.
Appearance and input device
The laptop looks rather austere and lovely. In the pictures it may seem that the device is made of metal, but in fact we are dealing with a completely plastic construction. The manufacturer called the color "platinum grey", but in sale you can find modifications in the style of "black granite" and "blue abyss". Case material easily soiled, so do not be lazy to take care of the laptop.
The lid reveals almost 180 degrees, but open it with one hand, unfortunately, will not work — in the design of the device uses a fairly tight loop. But they are well-positioned screen and do not allow him to hang out during the games and fast typing.
The thickness of the Lenovo IdeaPad L340-15IWL is 23 mm, and its weight does not exceed 2.2 kg. Before you is not an ultrabook, of course, but if you want it you can always take with you to the cottage, study and so on. Plus do not forget that the device is equipped with a lightweight and compact power supply.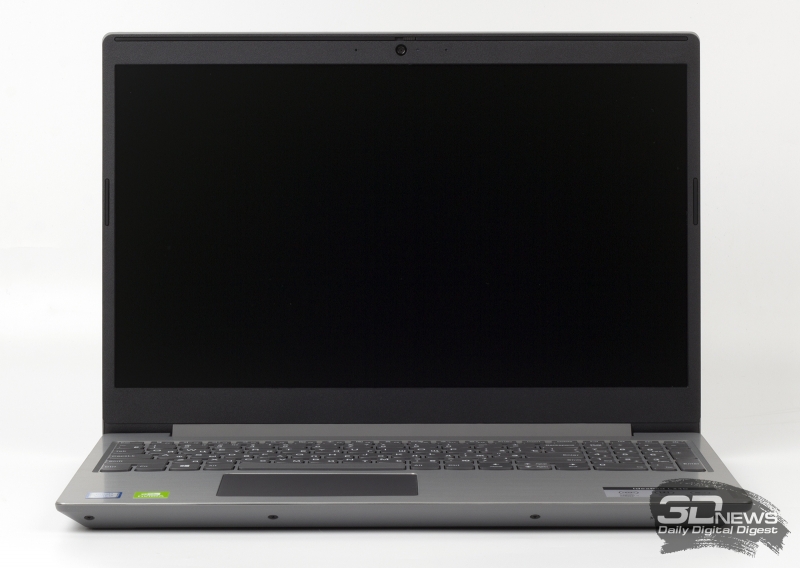 In the case of the test model, the display is placed in a black frame. Left and right the total thickness of the part is 9 mm, top — 18 mm, bottom 21 mm. the Web camera is located on top.



All interfaces Lenovo IdeaPad L340-15IWL placed on the left side. Here you will find an HDMI output, an Ethernet port, two USB 3.1 Gen1 A-type and one C type, and a combined 3.5 mm Jack for microphone and headphones. Full of happiness here is clearly not enough for a card reader.
On the right side of the laptop has only a slot for a Kensington security lock slot and optical drive.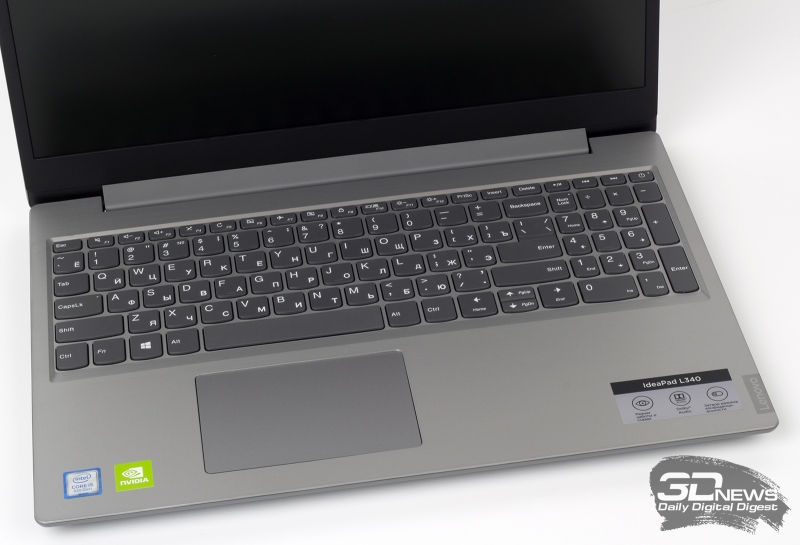 Keyboard Lenovo IdeaPad L340-15IWL looks very much like what we saw in the ThinkPad X1 laptop is Extreme — it's all in the keys with rounded corners. The keyboard is quiet, has a fairly sharp tap with a large swing. Unfortunately, the buttons are deprived of the backlight, so typing in the dark without external lighting, some users will be uncomfortable. But the IdeaPad L340 very large and comfortable Shift and Backspace, and also has a full numeric keypad. A number of keys F1-F12 by default works in combination with the Fn button, i.e., the priority given to their multimedia functions.
Touchpad Lenovo IdeaPad L340 not very large — 105 x 70 mm. It supports multi-touch gestures, but has additional keys. A press of the touchpad are quite stiff, the edges of the touchpad much recessed into the case.
In General, the area around the keyboard, to the keyboard and touchpad there's only one complaint: the plastic is pretty much "playing" during typing. No other problems.

The laptop is equipped with a 30-gercevoj web camera filming at 720p. Satisfactory image quality can be obtained only in a well-lit room or outdoors. In all other cases the image transmitted through the camera is very noisy.
Note that the "webcam" of a laptop equipped with TrueBlock Privacy curtain Shutter. One more move and you will no longer have to worry that someone is watching you through a camera.
The internal structure and capabilities upgrade
In theory Lenovo IdeaPad L340 is very simple understands: its owner is required to Unscrew 13 screws and that's it.
Disassemble the Lenovo IdeaPad L340 definitely makes sense. First, because most modifications of this laptop is equipped with only 4 GB of RAM — it's soldered directly on the motherboard. PCB of the device has a free slot SO-DIMM, in which you can set the bar of standard DDR4-2400 with capacity of 4, 8 or even 16 GB. We recommend you to use this opportunity.
Our Assembly was only a single drive. In the M. 2 slot, supporting PCI Express and SATA, installed HFS256G39TNH-73A0 256 GB. The search engines anything about this SSD does not know. In addition, in the notebook, you can add another drive — this time form factor of 2.5'.
For the cooling of the CPU and graphics is responsible the cooling system, consisting of a single copper heat pipes and fan is of a tangential type.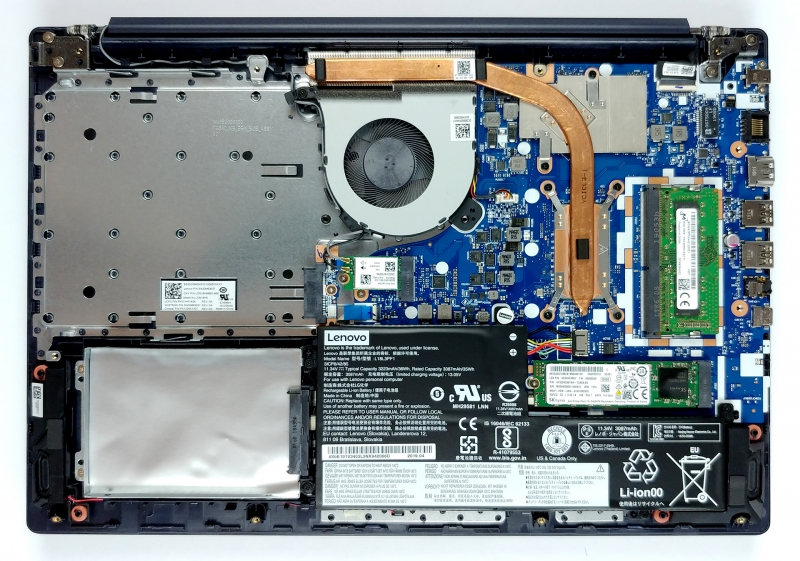 Source: 3dnews.ru