Review Fujifilm X-A7: a mirrorless camera for bloggers
Fujifilm X-A7 offers a number of quality improvements over the previous model Fujifilm X-A5: new 24-megapixel sensor APS-C (6000 × 4000), eight-and-a-half times more points of phase AF, support for 4K video recording at 30 frames per second (X-A5 allowed to record video in 4K only at 15 frames per second) and more. Let's see what produce the impression of novelty in practice.
Main features
Series cameras, Fujifilm X, which appeared for the first time in 2011, is developing very actively
and has already taken its solid niche in the market. There camera quite professional level and the apparatus is designed for experienced Amateur photographers. Range of X-A can be called the most "Junior" focused on the use of newcomers, actively applying in the process of shooting auto mode. Adhering to the retrodizayn, Fujifilm at the same time tried to develop "artificial intelligence" of the device and to reflect the modern trends in performance and control.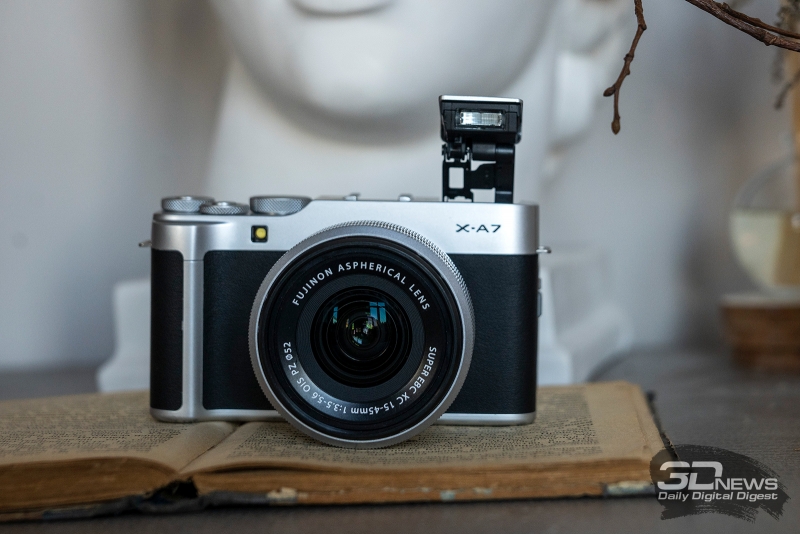 Unlike older models, the distinguishing feature of which is the use of a signature matrix X-Trans CMOS sensor that provides increased detail and allows you to prevent the occurrence of moiré despite the fact that they are deprived of the low pass filter, the representatives of the younger line consistently get the sensors with the classical ("bierowski") arrangement of the pixels. The Fujifilm X-A7 is installed the sensor in the same format (APS-C) and resolution (24 MP) and X-A5, but updated its structure: the manufacturer claims that the new copper wiring provides very high-speed signal transmission from the sensor to the processor (also updated). Also, as we have noted above, received in eight and a half times as many phase detection sensors — now up to 425. Respectively, needs to be significantly improved and accuracy and speed of autofocus. You can immediately add that in the X-A7 the function of tracking not only the face but the eyes.
The burst speed remains the same, and it is low — 6 frames per second. But a good break made in shooting video: Fujifilm X-A7 can record videos in 4K resolution at up to 30 fps and supports recording at 60 frames per second in resolutions Full HD and HD (720p).
The camera is capable of continuous recording up to 15 minutes of 4K video and up to 30 minutes of video Full HD and HD. This was also the first X series camera with the regime "countdown", in which users can specify the length of video which will be shot: there are options in segments of 15, 30 and 60 seconds.
Of the most striking visual innovation it should be noted new 3.5-inch LCD screen, which was given the leading role in the control of the camera.
Other innovations include improved automatic scene recognition; it is used in, among other things, HDR — a great rarity for cameras Fujifilm, usually pointedly ignores the exposition and gluing. It is also worth noting the presence of wireless connections Wi-Fi 802.11 b/g/n and Bluetooth 4.2
Me to test the camera came with three lenses: FUJINON LENS complete XC15-45mmF3.5-5.6 OIS PZ, fix XF50mmF2 R WR FUJINON telephoto FUJINON XC50-230mmF4.5-6.7 OIS II.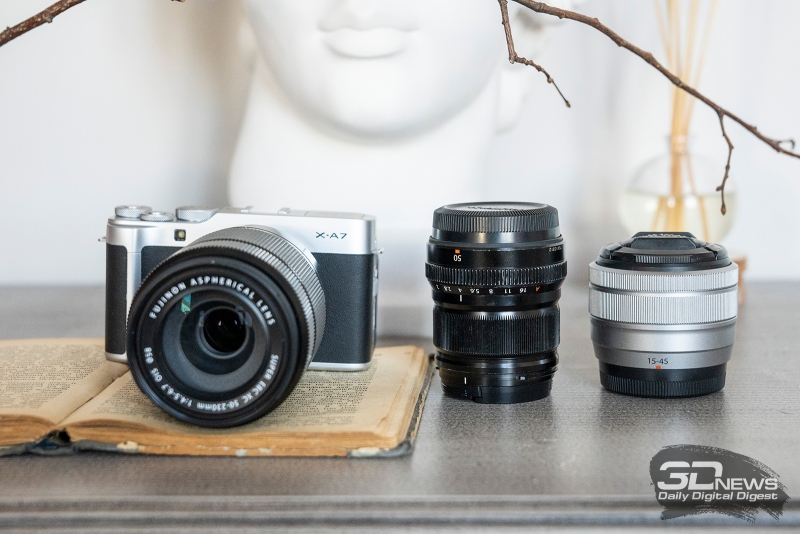 Fujifilm X-A7
Fujifilm X-T30
Canon EOS M50
Sony α6400

Panasonic Lumix G90
Image sensor
The 23.6 × 15.6 mm (APS-C) CMOS
The 23.6 × 15.6 mm (APS-C) X-Trans CMOS IV
The 22.3 × 14.9 mm (APS-C) CMOS
The 23.5 × 15.6 mm (APS-C) Exmor CMOS
17,3 × 13 mm (Micro 4/3) Live MOS
Effective sensor resolution
24 megapixels
26.1 megapixels
24.2 megapixels
24.2 MP
20.3 MP
Built-in image stabilizer
No
No
No
No
Built-in camera, 5-axis
Mount
Fujifilm X-mount
Fujifilm X-mount
Canon EF-M
Sony E-mount
Micro 4/3
Photo format
JPEG (EXIF 2.3, DCF 2.0), RAW
JPEG (EXIF 2.3, DCF 2.0), RAW
JPEG (EXIF 2.30), RAW 14-bit
JPEG (DCF Ver. 2.0, Exif Ver. 2.31), RAW 14-bit
JPEG (DCF Ver. 2.0, Exif Ver. 2.31), RAW
Video format
MPEG 4
MPEG 4
MPEG 4
XAVC S, AVCHD, MP4
AVCHD, MP4
Frame size
Up to 6000 × 4000
To 6240 × 4160
Up to 6000 × 4000
Up to 6000 × 4000
Up to 5184 × 3888
Video resolution
Up to 3840 × 2160, 30p
Up to 4096 × 2160, 30p
Up to 3840 × 2160, 25p
Up to 3840 × 2160, 30p
Up to 3840 × 2160, 30p
Sensitivity
ISO 200-12800, expandable to ISO 100-51200
ISO 200-12800, expandable to ISO 80-51200
ISO 100-25600 expandable to ISO 51200
ISO 200-12800, expandable to ISO 80-51200
ISO 200-25600 with the possibility of expansion to ISO 100
Shutter
Mechanical shutter: 1/4000–30 s;
electronic shutter: 1/32000–30;
long (Bulb); silent mode
Mechanical shutter: 1/4000–30 s;
electronic shutter: 1/32000–30;
long (Bulb); silent mode
Mechanical shutter: 1/4000–30 s;
long (Bulb)
1/4000—30 c; silent mode
Mechanical shutter: 1/4000–60 s;
electronic shutter: 1/16000–1;
long (Bulb); silent mode
The burst speed
Up to 6 frames per second
Up to 8 frames per second up to 20 frames per second with electronic shutter; with the extra 1.25 x crop – up to 30 frames per second
Up to 10 frames per second with frame focus, up to 7.4 frames per second with focus tracking
Up to 11 frames per second
Up to 9 frames per second; in the mode of 4K photos up to 30 frames per second with electronic shutter
Autofocus
Hybrid (contrast + phase), 425 points
Hybrid (contrast + phase), 425 points
Hybrid, Dual Pixel CMOS, 143 points
Hybrid (contrast + phase), 425 points
Contrast, 49 points
Metering modes
TTL-metering in 256 points: multipoint, center-weighted average, spot
TTL-metering in 256 points: multipoint, center-weighted average, spot
TTL-metering at 384 zones, evaluative/partial/center-weighted/spot
1200-zone evaluative: multi-segment, center-weighted, spot, spot for standard/large plot, averaged for the entire screen, in the brightest region
TTL-metering in 1728 points, multipoint/centre weighted/spot
Compensation
±5 EV in 1/3-step increments
±5 EV in 1/3-step increments
±5 EV in 1/3-step increments
±5 EV (in 1/3 EV steps or 1/2 steps)
±5 EV in 1/3-step increments
Built-in flash
Built-in, guide number 4 (ISO 100)
Built-in, guide number 7 (ISO 200)
There, the guide number is approximately 5
Built-in, sync 1/160 sec, guide number 6 (ISO 100)
Built-in, guide number 9 (ISO 200), the guide number of 6.4 (ISO 100)
Self-timer
2/10 with
2/10 with
2/10 with
2/10 with
2/10 with
Memory card
Single slot SD/SDHC/SDXC (UHS-I)
Single slot SD/SDHC/SDXC (UHS-I)
Single slot SD / SDHC / SDXC (UHS-I)
Single slot Memory Stick PRO Duo/Memory Stick PRO-HG Duo; SD/SDHC/SDXC up to UHS-I
Single slot SD / SDHC / SDXC (UHS-II)
Display
3.5 inch, 2 760 thousand points of inclined
3 inch, 1 040 thousand points of inclined
LCD, 3 inch, 1 040 thousand points, touch, swivel
LCD, 3 inch, resolution 921 thousand pixels, touch, tilt
LCD, 3 inch, 1 240 thousand points, touch, tilt
Viewfinder
No
Electronic (OLED 2.36 million dots)
Electronic (OLED 2.36 million dots)
Electronic (OLED 2.36 million dots)
Electronic (OLED 2.36 million dots)
Interfaces
miniHDMI, USB 2.0 (Type-C), 2.5 mm for external microphone
HDMI, USB 3.1 (Type-C), 2.5 mm for external microphone/remote control
misroUSB, miniHDMI, external MIC
microUSB, misroDMI, 3.5 mm Jack for microphone
microHDMI, USB Type-C, 3.5 mm microphone, 3.5 mm headphone
Wireless modules
Wi-Fi, Bluetooth
Wi-Fi, Bluetooth
Wi-Fi, NFC, Bluetooth
Wi-Fi, Bluetooth, NFC
Wi-Fi, Bluetooth, NFC
Food
Li-ion battery NP-W126S with a capacity of 8.7 WH (1200 mAh, 7.2 V)
Li-ion battery NP-W126S with a capacity of 8.7 WH (1200 mAh, 7.2 V)
Li-ion battery LP-E12 capacity of 6.3 W·h (875 mAh, 7.2 V)
Li-ion battery NP-FW50, 7,3 WH (1020 mAh, 7.2 V)
Li-ion battery DMW-BLC12 (1200 mAh, 7.2 V)
Dimensions
119 × 38 × 41 mm
Of 118.4 × 82,8 × 46,8 mm
116,3 × 88,1 x 58,7 mm
120 × 67 × 60 mm
130 × 94 × 77 mm
Weight
320 gram (incl. the battery and memory card)
383 grams (incl. the battery and memory card)
387-390 grams (incl. the battery and memory card), depending on the color variation
403 grams (incl. the battery and memory card)
536 grams (incl. the battery and memory card)
Current price
51 990 rubles for the version with complete XF lens 15-45mm f/3,5-5,6
59 990 rubles for the version without lens (body), 66 900 rubles for the version with a complete lens XF 18-55mm f/2.8-4
43 200 rubles for the version with lens (kit)
65 000 rubles for the version without lens (body), 74 990 rubles for the version with a complete lens E 16-50mm
69 990 rubles for the version without lens (body); 89 990 rubles for the version with lens (kit)
Design and ergonomics
Fujifilm traditionally excreted by the design of their cameras. The retro style — a proprietary "chip" of the company, and in the Amateur models, she realized, no less than in the flagship, and even more. The X-A7 available in four colors: traditional silver and black-silver and camel (beige) and mint green. Admittedly, the last two color solutions me with the move-and such diversity does not seem to me superfluous, because people who are passionate about photography, creative nature, visual creatures, and they quite often do not care how their camera looks. But, alas, mint green X-A7 in Russia is not officially sold and will not be sold.
 
"Solid" black machines to be fed, and the opportunity to wear your camera as a stylish accessory very nice. "Whale" lens 15-45 mm Fujinon XC F3,5-5,6 OIS PZ — lightweight, small, silver color — excellent visual complements X-A7. Camera weight with lens and battery — 455 grams (without lens — 320 grams) size — 119 × 38 × 41 mm. the Camera easily fits in a small bag. The camera body is made of plastic coated with a metal in the durability of the case, alas, we have to doubt, he seems very reliable. A large part of the shell applied anti-slip surface. There is a ledge to grip with the right hand, very small, but simplifies the interaction with the camera. There is also a thumb rest on the back.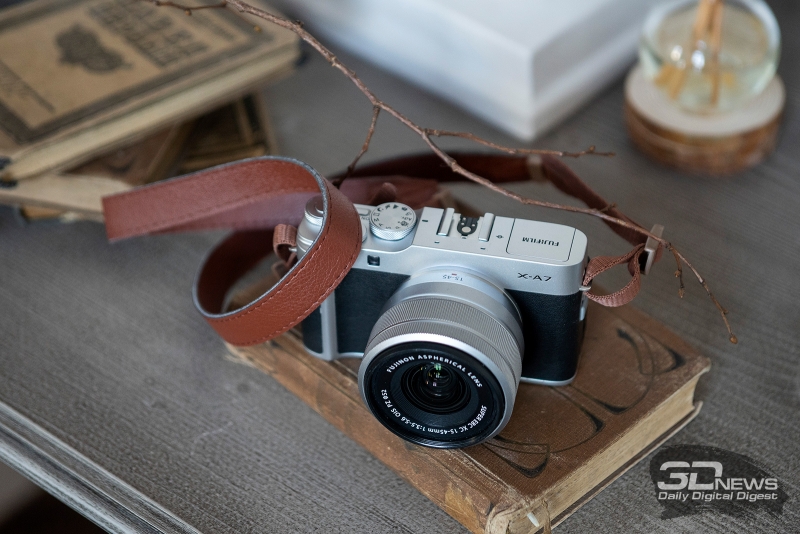 The management plan is a step in the direction of reducing the traditional analog cameras by authorities, and greater use of the touch screen. At first it was strange: the logic of navigation is different from what I'm used to doing on the Fujifilm cameras, and cameras of other brands. Simply put — "too few buttons". But after a few days you get used to managing and I understand that it is quite easy: progress does not stand still, in the end, all have long been accustomed to use touch when working with a smartphone. Those for whom X-A7 will be the first camera will most likely learn control very fast, and the owners of older models will have the first time to "hang out" while in my head is not going that quick button menu, for example, is not on the body and on the screen.
Let's consider in detail how the ergonomics FujifilmX-A7. On the left edge is a button lift the flash and MIC input (2.5 mm) under the rubber cover.
On the right side are located the connectors for in-camera charging, PC connection and video connection standards, USB Type-C (USB) 2.0 and miniHDMI.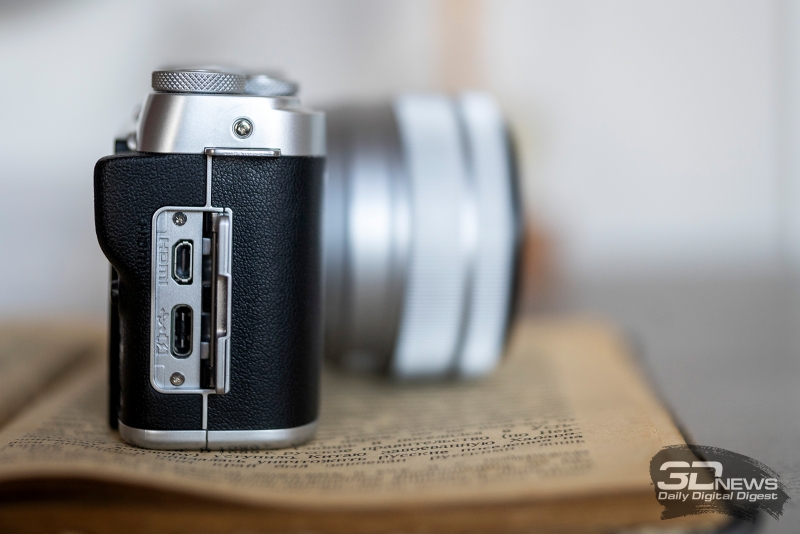 Front is a lens mount Fujifilm X Mount, the release button of the lens and lamp the AF-assist illuminator.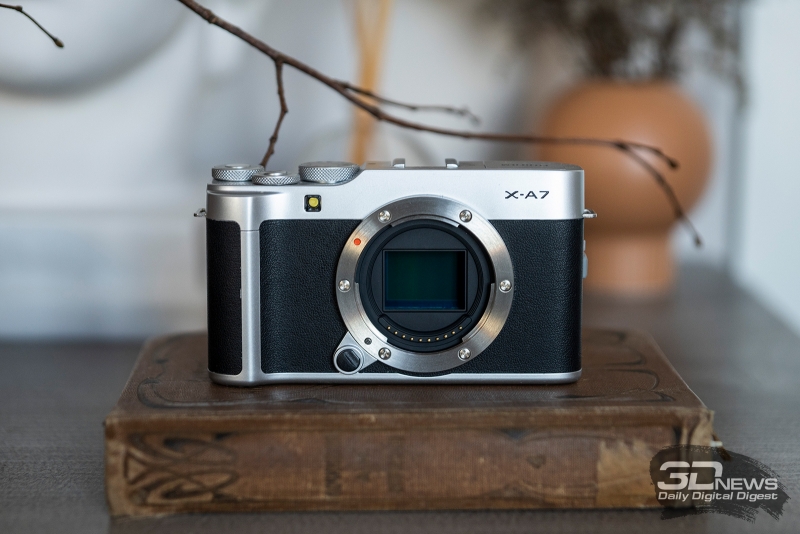 From below we see the tripod mount and very close to him, a combined compartment for the battery and memory card. The camera supports SD/SDHC/SDXC (ultimate standard speed UHS-I). When using the tripod platform compartment is locked, which of course is not very convenient in a situation when it is necessary to replace the memory card or battery, for example, in Studio work, but it's tolerable fee for the compactness of the camera.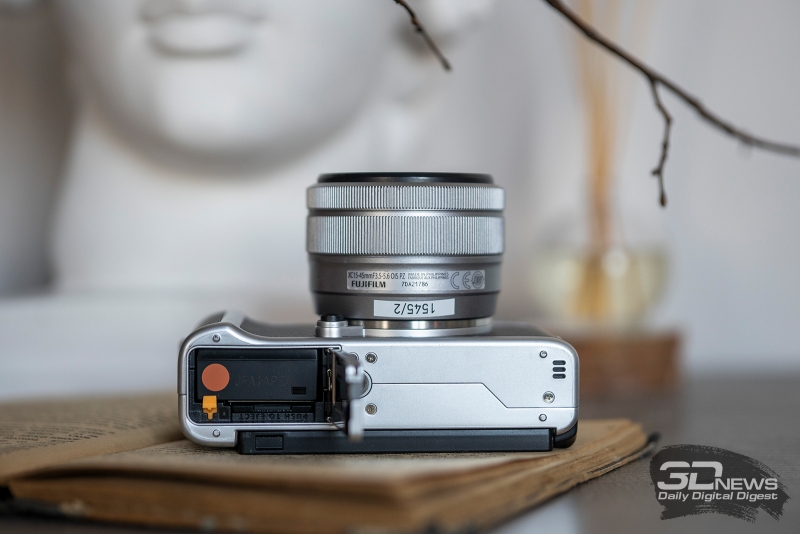 At the top are the built-in flash, hot Shoe, selector selecting a shooting mode, shutter release button, combined with the drive changing the settings, button on-off switch of the camera, the second disc changing the settings with the programmable button on top (by default it is responsible for video recording).
The most significant changes compared to the last model took place at the rear. Most of the space "cleared" by the display, placing two buttons on top — this selection button drive mode/bracketing/delete the pictures and the play button pictures. On the right are navigation joystick, a menu button and a button to change information display modes on the display.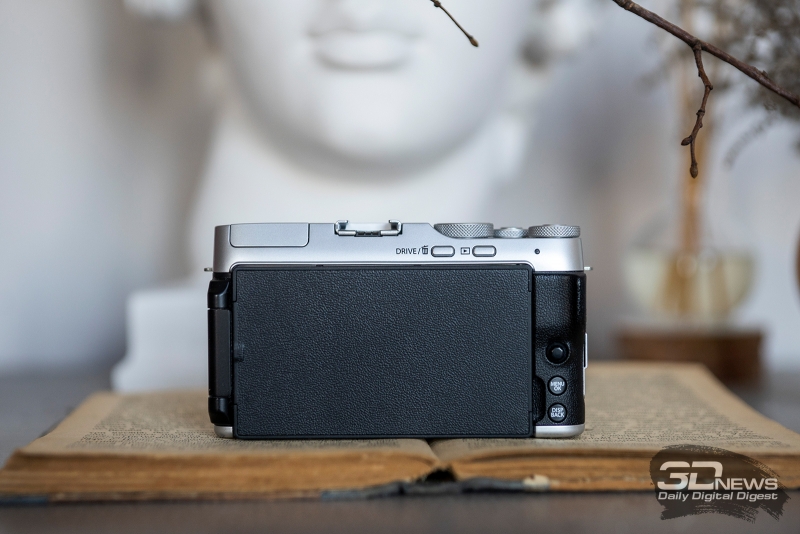 All the controls are quite tiny, but I have not felt that this creates a significant inconvenience when you are working. Is that button on-off switch located between the two wheels seem too small and tight for men with large fingers or women with long nails. But to be accustomed in any way.
Display
Let us dwell on the camera screen. It has a diagonal of 3.5 inches and a high resolution (of 2.76 million pixels). Of course, there are touch coating — available as navigation interface, and focus, or shooting touch. X-A7 is the first model in the X series, equipped with an LCD display with a variable angle of inclination. When you are not using the camera, the display can be kept in the closed position, which protects its surface from damage during transportation. For shooting from non-standard positions such as bottom, the screen can be rotated horizontally; also available rotate 180 degrees, which is especially convenient when shooting self-portraits/of vlogging. The screen moves very smoothly, the design gives the impression of a reliable. Important aspect is the screen aspect ratio is 16:9 despite the fact that the standard aspect ratio of a photograph is 3:2 or 4:3. Thus, the manufacturer decided to make a step towards the fans to make a video. However, some discomfort when taking a photo on such a "stretched" screen I felt a dark space at the edges of the frame does not bother the left at default, the exposure compensation, which is very convenient.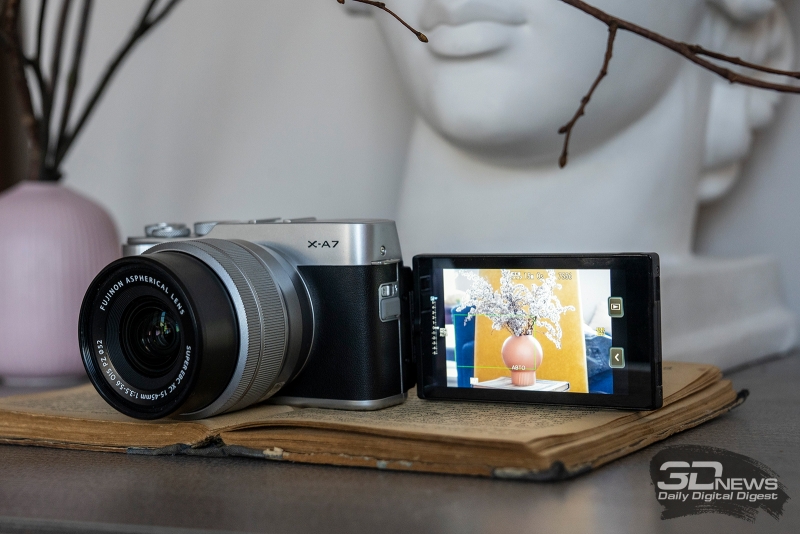 In the camera there is no viewfinder, and therefore the image quality on the screen is especially important. He showed himself well even when shooting in bright sunlight — the picture is clear, bright, contrast.
Interface
One of the "chips" camera "smart" menu. The main principle is to demonstrate to the user the changes. For example, changing one filter to another, we see the screen split in half, on the left side which demonstrates the effect of the current filter, while the right one is selected. Moving the slider with the touch screen, to conveniently compare the image. This is really a new and interesting technique, which we have not seen in other manufacturers.
The main menu is invoked by pressing the respective button on the rear panel. It is organized vertically and has six main sections, each of which is one or two pages with the settings. Settings every option open in the pop-up window on the same screen. Menu completely Russified, navigate it like you can with the analog controls, and touch method. For me the first version was a little more comfortable, as the inscription still not very large, and it is possible to miss (I have not so big hands; for photographers-men it would be more urgent). In General, the menu structure is quite logical, I think that confused it will not work.
Of course, the camera there is a quick menu which contains all the basic settings for the most convenient access. It is caused on the touch screen and contains sixteen points arranged in the form of a table. To specify which settings will be the quick menu, the user may (for this last section of the main menu select "customize buttons").
Gallery of images: menu

photo.JPG
View all pictures (19)

foto_1.JPG

foto_2.JPG

foto_3.JPG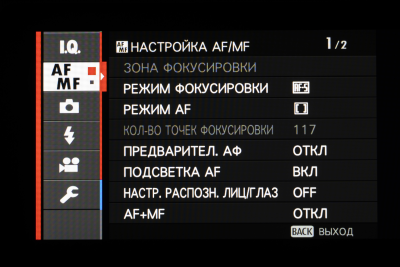 foto_4.JPG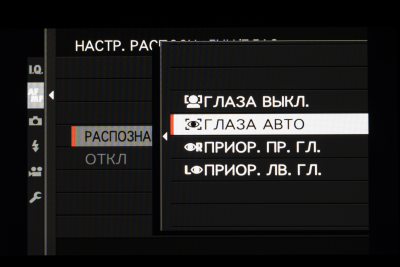 foto_5.JPG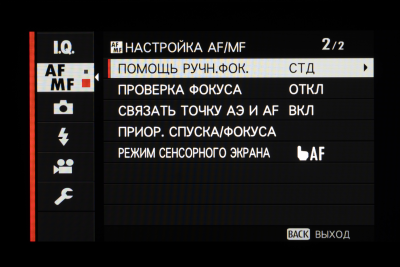 foto_6.JPG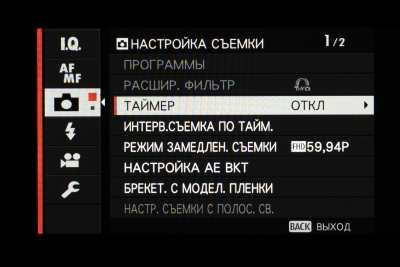 foto_7.JPG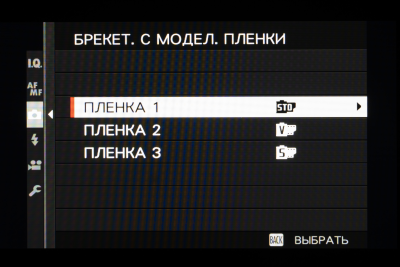 foto_8.JPG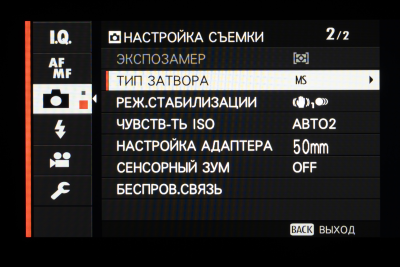 foto_9.JPG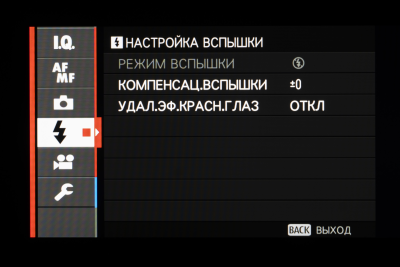 foto_10.JPG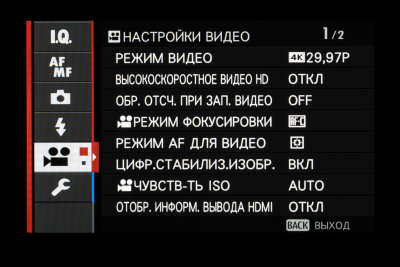 foto_11.JPG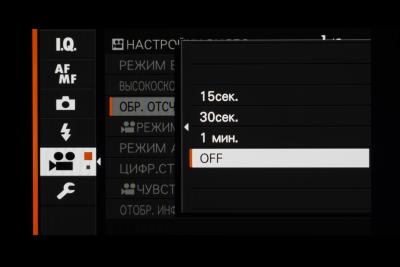 foto_12.JPG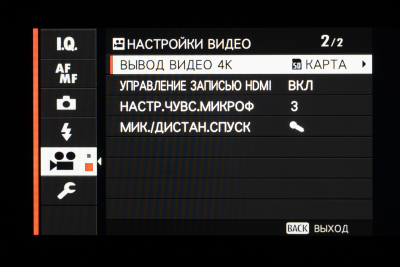 foto_13.JPG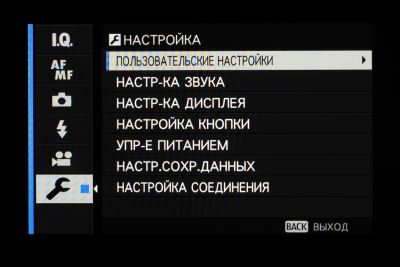 foto_14.JPG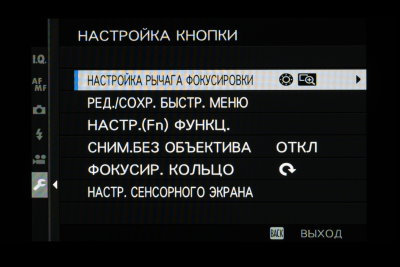 foto_15.JPG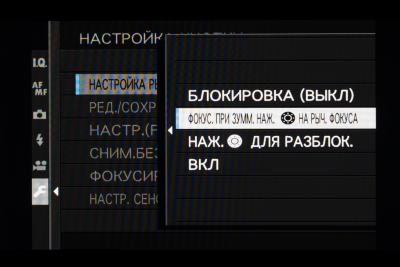 foto_16.JPG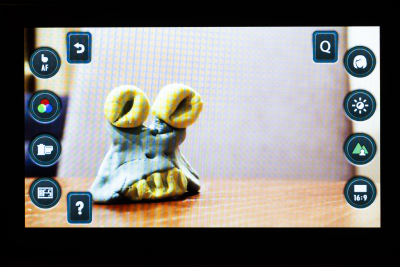 foto_17.JPG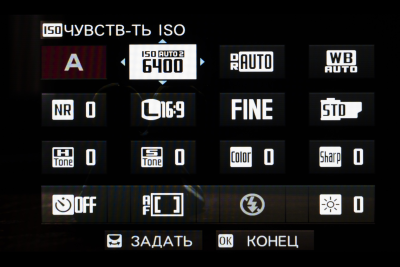 foto_18.JPG
See all
images (19)
Wireless connections
Of course, like any modern camera, the Fujifilm X-A7 is able to connect to a computer or mobile device via Wi-Fi and Bluetooth. At the first inclusion it offers to establish a connection with the smartphone, and this is in the spirit of the time. You'll need a free app Fujifilm Camera Remote, with which you can shoot remotely, setting up shooting parameters and viewing footage on your smartphone and quickly send captured images to a smartphone, including setting up automatic transfers.
Camera in operation. Shooting in JPEG auto mode, creative functions
Fujifilm series X-A belongs to the Amateur category, and so, largely is targeted on users who are many to remove in JPEG, without resorting to subtle manual control and careful postprocessing of the images. The camera is designed to work with it was easy, intuitive and at the same time had room for creative maneuver.
Auto
Mode SR+ is perfect for beginning photographers, it's most comfortable if you are used to shooting on a smartphone and not yet ready to master manual settings. In this mode, the camera determines the type of plot and selects the optimum shooting settings. The focus area in this case is highlighted by a green rectangle, and if the user wants to focus in a different area, he may do so by touching the touch screen. Available also enter exposure compensation (that is, you can make a photo darker or lighter on your own in auto mode), using the film simulation, the choice of aspect ratio, skin smoothing for portrait images and the degree of background blur (in fact, the user automatically can control the aperture, but for ease of understanding used very simple terminology).
In SR mode+ shooting with the electronic shutter that allows the camera to use faster shutter speeds and only in JPEG format. Of course, few users, shooting in auto mode, plans to work with RAW, but there are times when it is needed most: for example, if you know that shooting will take place in difficult light conditions, but I am afraid that will not cope themselves with the settings and trust exposure exposure automation, and then trying to "save" overexposed shots in post-processing, giving images a more experienced photographer/Retoucher. In this case, there is no such option. This saves space on the memory card, but very restricting in terms of creativity.
One significant downside that I noticed: if you were shooting in RAW+JPEG format in a manual or semi-automatic mode, and then switched to auto, then when you return back the photography continues to be in JPEG format only. If you own again don't turn on RAW, what is easy to forget, you will be disappointed.
Proceed directly to the quality of shooting in JPEG. The manufacturer focuses on the color camera: the claimed that the colours in the photographs work as natural, as they remain in the memory of the photographer. Indeed, this naturalness is felt. I admit that those who are accustomed to pictures from smartphones, which often look overly contrasty and sharp images with X-A7 can seem a bit "cool" and pale, but for my taste, they just have the balanced natural, which makes photos more noble. Sharpness and detail are also worthy. Of course, this is not the level of detail that is able to provide top-end professional camera with a huge sensor resolution, but we consider the class of camera. Below you can see some examples of shooting in SR+:
Film simulation
To make the image more atmospheric, affect the color/contrast/saturation by selecting one of the film profiles. This proprietary development of the company Fujifilm, which is familiar to us on many cameras, and for new users it will be a nice bonus. There are 11 film profiles, including several variations of black-and-white image with a simulation of use of different color filters. Some examples of using film profiles:
Artistic filters
The following shooting mode — Advanced. It offers user 19 creative filters to create different effects on pictures. The filters are quite interesting and varied. If the show imagination and creative vision, many of them it is possible to find good application in practice — those who are not familiar or do not want to bother with the photo processing, a way to diversify your shots probably will like. The number of filters seemed to me not very successful, for example "artistic HDR" gives quite unnatural, difficult for the eye picture: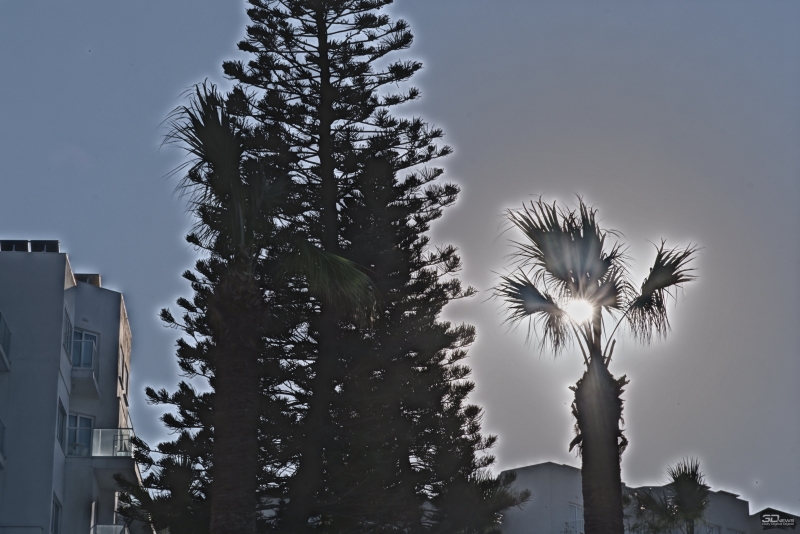 Problems arise when "highlighting": X-A7 allows you to take pictures, which will only show one color, and the rest of the image will be black and white. The idea is good, but in practice is not quite as I would like because of the admixture of the selected color are often found in non-obvious places, and the whole "wow effect" disappears. To succeed perfectly, it is necessary either to carefully use the colors of a scene, or to find a very good plot, where the colors are only present in pure form:
When shooting landscapes I sometimes appealed to the filter "miniature effect" and "fish-eye" — they give a quite interesting optical effects:
Good, for my taste, and the "filter effect toy camera" — it adds the picture of a cozy retrotransfer, I like to shoot still lifes:
Examples of shooting the same scene with different filters can be viewed in the gallery below.
Gallery of images: filters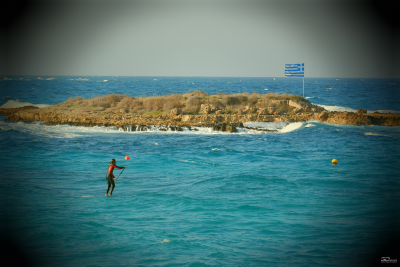 DSCF9376.JPG
See all images (14)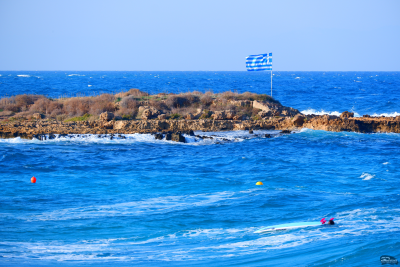 DSCF9381.JPG

DSCF9384.JPG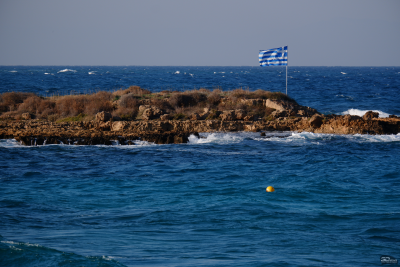 DSCF9393.JPG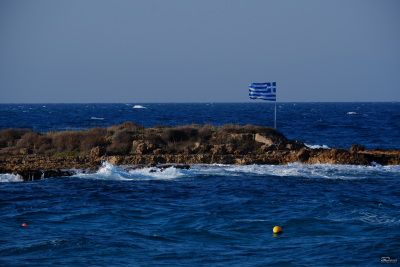 DSCF9400.JPG

DSCF9404.JPG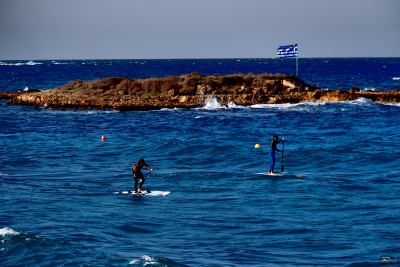 DSCF9414.JPG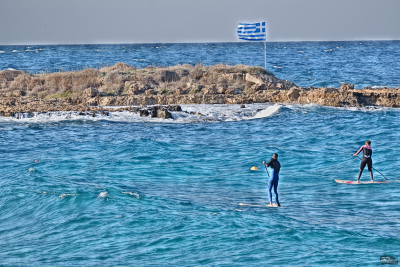 DSCF9419.JPG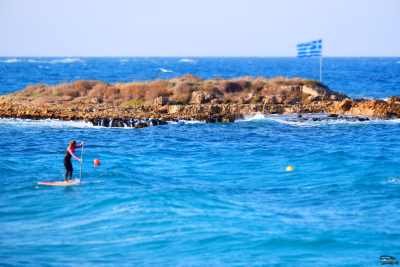 DSCF9423.JPG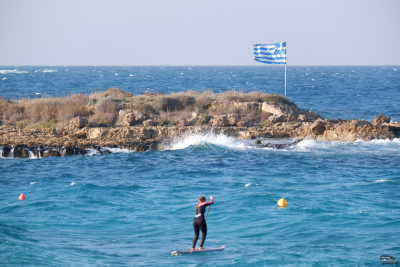 DSCF9430.JPG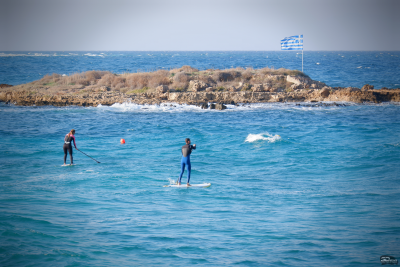 DSCF9436.JPG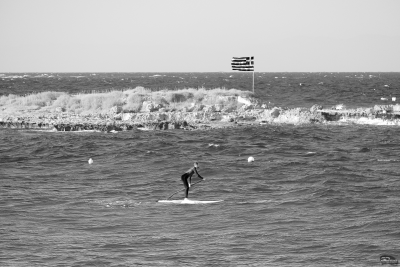 DSCF9440.JPG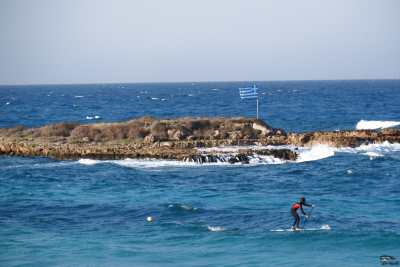 DSCF9462.JPG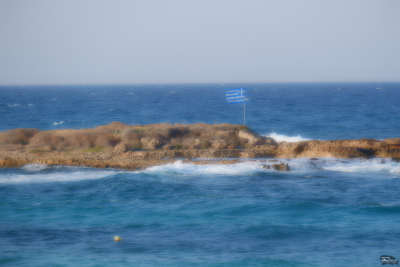 DSCF9465.JPG
See all
image (14)
I liked that the shooting mode with the filters imposed on the control wheel: when the filters are hidden somewhere in the menu, about which it is easy to forget or just too lazy to use them. When they are always at hand — no-no and pull to experiment. Addicted to various effects, perhaps not, but sometimes applied to the place the filter can play a photographer on hand.
The SP mode
This is another variation of auto mode, but the user himself can "tell" the camera what type of scene it takes to get the most appropriate settings. Considered the most popular stories (11 pieces). Of the most creative note program of repeated exposure, which in some other models the Fujifilm stand at the wheel of the modes, but there hid a little deeper. In this program the user can connect two sequentially acquired images in a single frame. You can get a pretty interesting fantasy images. However, the overlay algorithm is only one, and influenced user may not. It is also impossible to combine more than two frames — in this regard, a number of competitors ahead of X-A7.
 

 
And the most interesting — added a brand new program called "strip light". As an example, the user is offered an image of a night highway with traces of car headlights. In fact, this slow shutter speed techniques and for its high-quality implementation required a tripod or other fixing of the camera — it would seem, is nothing new. Curiously, the image is updated every second and the photographer, therefore, can track changes of the frame, stopping the shooting in the required time. I found a more original use of this option than shooting cars: photographing still lifes with colored filters (used a simple flashlight smartphone + pieces of colored plastic). In fact, this technique of working with light brush, and the concept of photography is revealed here in all its glory: the opportunity in real time to track the results of your actions, watching as decked frame, incredibly exciting — I feel like a real artist! Perhaps this is a very specific option, but it's really original and I really liked how the shooting process and the result:
On the wheel choice programs is also familiar to many modes — portrait, landscape, sports, night scene. The manufacturer did not "hide" them in SP mode, that will probably be convenient for photographers who use similar modes on other devices.
Selected shooting mode panorama — in this mode the user some time is photography, moving the camera in the specified direction and receives the output automatically glued image.

Sourse: 3dnews.ru