The review of laptop ASUS ROG Zephyrus M GU502GU: universal with an emphasis in games
Last year we were introduced to the series M Zephyrus and specifically with the model GM501GS. Laptop expected it turned out good: with relatively modest by the standards of 15-inch devices size and light weight; it pleased a great gaming iron. An updated version of the ROG M Zephyrus has inherited many advantages of its predecessor, but is it better? Check it out.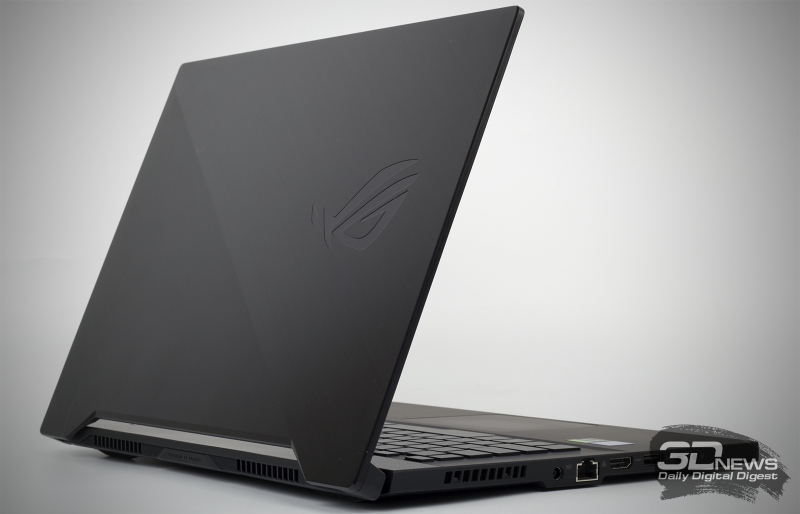 Specifications, equipment and
In selling you will encounter three types of laptops ROG
Zephyrus M GU502. Modification GU502G
W
is equipped with a graphics GeForce RTX 2070, GU502G
V
— GeForce RTX 2060, and GU502G
U
— 1660 GeForce GTX Ti. In all cases, a 6-core chip Core i7-9750H. Other characteristics of equipment are given in the table below.
ASUS ROG Zephyrus M GU502G
Display
15,6″, 1920 × 1080, IPS, matte, 144 Hz
15,6″, 1920 × 1080, IPS, matte, 240 Hz
The CPU
Intel Core i7-9750H, 6/12 cores/threads, 2,6 (4,5) GHz, 45 W
Video card
NVIDIA GeForce RTX 2070, 8 GB GDDR6
NVIDIA GeForce RTX 2060, 6 GB GDDR6
NVIDIA GeForce GTX 1660 Ti, 6 GB of GDDR6
RAM
Up to 32 GB, DDR4-2666
Installing drives
2 × M. 2 to PCI Express x4 mode 3.0 or SATA 6 GB/s
Optical drive
No
Interfaces
2 × 3.2 Gen1 USB Type-A
1 × Gen1 3.2 USB Type-C
1 × USB 3.2 Gen1 Type-A
2 × 3.5 mm mini Jack
1 × HDMI
1 × RJ-45
Built-in battery
76 W⋅h
External power supply
230 W + 65 W (optional)
Dimensions
360 × 252 × 18.9 mm
The weight of the laptop
1.9 kg
Operating system
Windows 10 Home/Pro
Guarantee
2 years
Price in Russia, by data "Yandex.Market"
105 000 rubles for a test version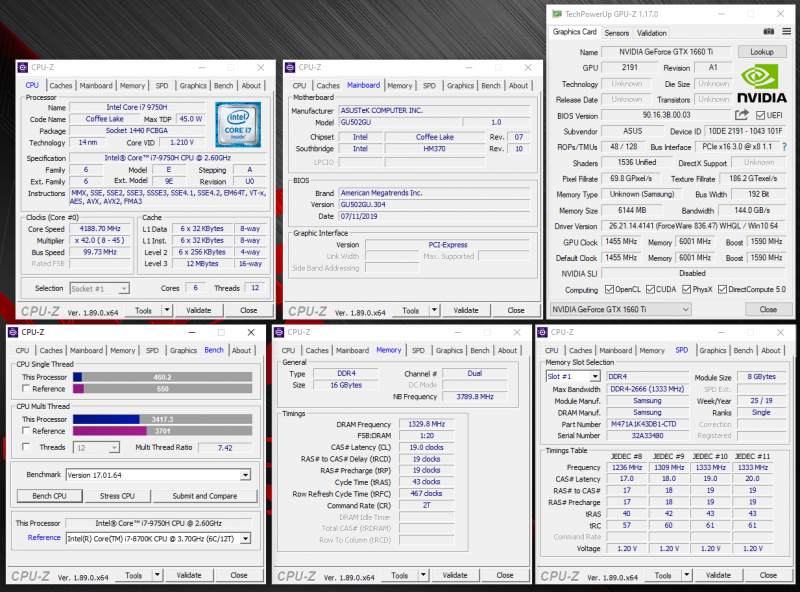 Today the question is GU502GU with NVIDIA GeForce GTX Ti 1660, that is, it turns out, about the most affordable version of the modern ROG Zephyrus M. However, for a model with 16 GB RAM and SSD at 512 GB in the Moscow retail the average asking 105 000.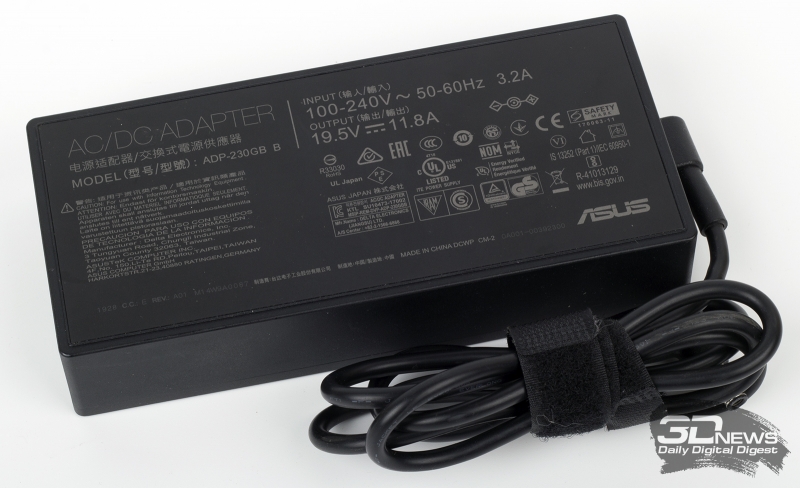 A laptop equipped with a wireless module Intel Wireless-AC 9560, which supports IEEE 802.11 b/g/n/ac with 2.4 GHz and 5 GHz and a maximum bandwidth of up to 1.73 Gbps and Bluetooth 5.
Bundled with ROG Zephyrus M GU502GU is an external power supply is 230 W and a mass of 600 g And the laptop is equipped with a detachable web-Cam GC21 ROG — ASUS, this approach can be called traditional, because the external camera goes to other models of the Taiwanese manufacturer, for example the ROG Strix SCAR III and ROG Zephyrus S.
Appearance and input device
It would be strange if the ROG design Zephyrus M GU502GU was not recognizable at first sight. Gaming laptop "Republic of gamers" is a model with a simple, outlined forms. On sale, by the way, in addition to the black version available and the version of ice blue.
Cover of "Marshmallow" — metal, illuminated ROG logo. The area around the keyboard is made of magnesium-aluminum alloy, and coating with something like soft-touch coating. The manufacturer claims that the special paint prevents the appearance of smudges and fingerprints, however the touchpad is still dirty pretty quickly. So don't be lazy to wipe the laptop as often as possible. Quite an interesting feature of the ROG Zephyrus M GU502GU is hidden from our eyes in order to make the panel stronger without increasing their thickness and weight, the chassis is equipped with ribs made in the form of hundred, so the manufacturer has made the laptop lighter, but no interest is not lost in rigidity.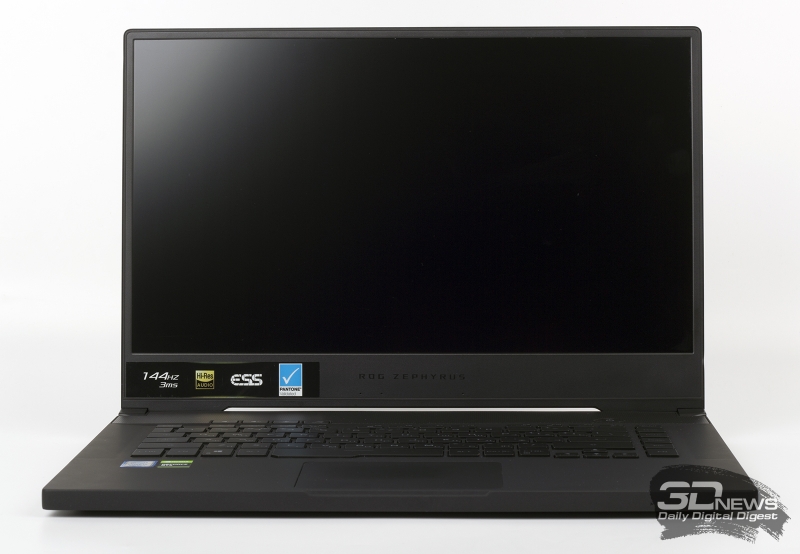 The bulk of the character test is only 1.9 kg. for large power supply to carry will have about 2.5 kg. it is Clear that the gaming system does not compete with the ultrabooks — the last is thinner and lighter. All the same, "Zephyr" is a daily carry. In addition, this model has one feature, which I'll discuss later.
The thickness of the device does not exceed 19 mm laptop Lid reveals about 130 degrees, the hinges have no complaints. As expected, in 2019, the screen ROG Zephyrus M GU502GU has a thin frame at the top and at the sides the thickness is only 6 mm. In comparison with model M GM501GS ROG Zephyrus the hero of the review is almost 2.5 cm, deeper than 1 cm and thinner by 1 mm. in Front of you is really very compact "tag".

On the left side of the laptop located the connector for the power supply, Ethernet port, HDMI output, one USB Gen2 3.2 A-type and two 3.5 mm mini-Jack. Right at the Zephyr, there are two USB 3.2 Gen1 A-type USB port 3.2 Gen2 type-C — the last connector is compatible with DisplayPort 1.4 a output, and it can be used to charge the laptop, using another power source. In some regions, external power supply 65W already comes in the kit. In such a composition to carry the ROG Zephyrus M GU502GU becomes more comfortable, however, you need to consider that the CPU and video card the computer will work at full capacity only when you connect a 230-watt PSU.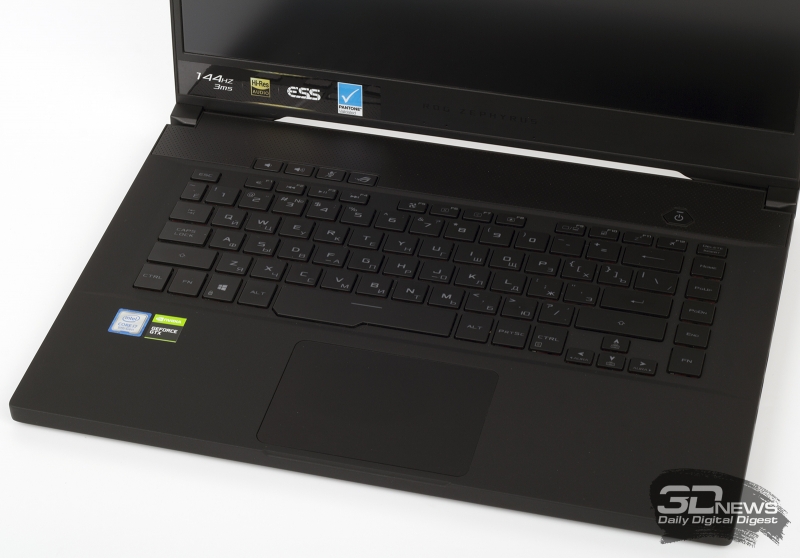 Keyboard 15-inch ROG Zephyrus M GU502GU does not have a digital unit, because the laptop was already noticeable its predecessor. Press each button on the keyboard is processed independently from the others — you can hold as many keys at a time. The actuation of the keys takes place long before its pressing somewhere on the half of the stroke, which, in my estimation, equal to approximately 1.8 mm.
Overall assessment of serious complaints. So, the hero of the review of large buttons Shift, which are often used in shooters. Personally, I would like to have in the Arsenal and a large (two story) Enter, but for such a button very can be used for any couple of days. Uncomfortable to use, except that the arrow keys — they are in ASUS notebooks have traditionally done very little.
The power button is located where it should be — apart from the rest of the keys. Four separate keys from the main keyboard by adjustable speaker volume and turns on and off built-in microphone. When you press the button with the brand logo application opens Armoury Crate. Key with a picture of the fan activates different profiles of the cooling system of the laptop.
To adjust the backlight of each key separately in Aura Creator. The keyboard has three levels of brightness. It is a little fuss — and you can create multiple profiles for work, games and other entertainment at certain times. For example, when you watch movies, the backlight will only interfere. When working at the laptop at night there is a sense to make the brightness lower and higher, or, conversely, to turn off the backlight completely.
As for the touchpad, then to him, besides being soiled, I have no complaints. The touch surface is pleasantly rough, recognizes multiple simultaneous touches and, as a consequence, supports the management of gestures.
External webcam ROG Zephyrus M GU502GU Full HD resolution when vertical frequency of 60 Hz. On the background frankly of peda 720p cameras installed in 99.9% of gaming laptops, the ROG GC21 works just fine.
The internal structure and capabilities upgrade
The laptop is quite simply disassembled: Unscrew the 15 screws — and carefully remove the plastic bottom.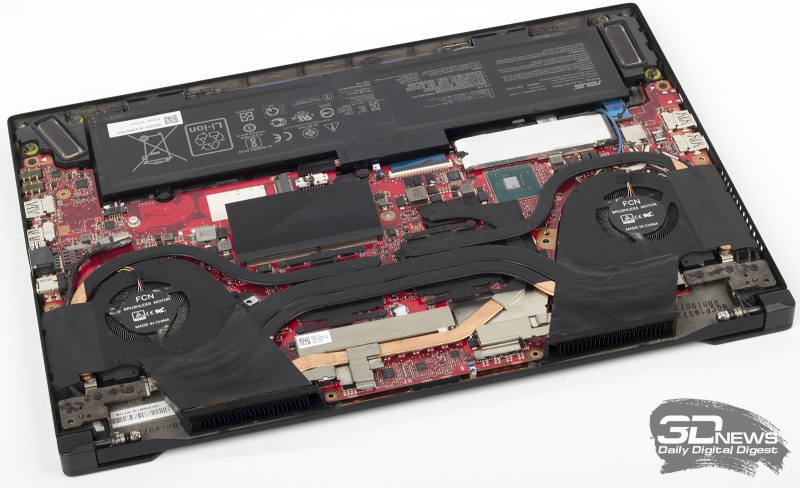 The cooling system of ROG Zephyrus M GU502GU consists of five copper teplorulon and two tangential fans type. Part teplorulon cools the chips, and some power converters. The manufacturer claims that Carlson has 83 of the blade thickness of only 0.1 mm. How effective is the cooler, "Marshmallow", we'll check on the second page of the article.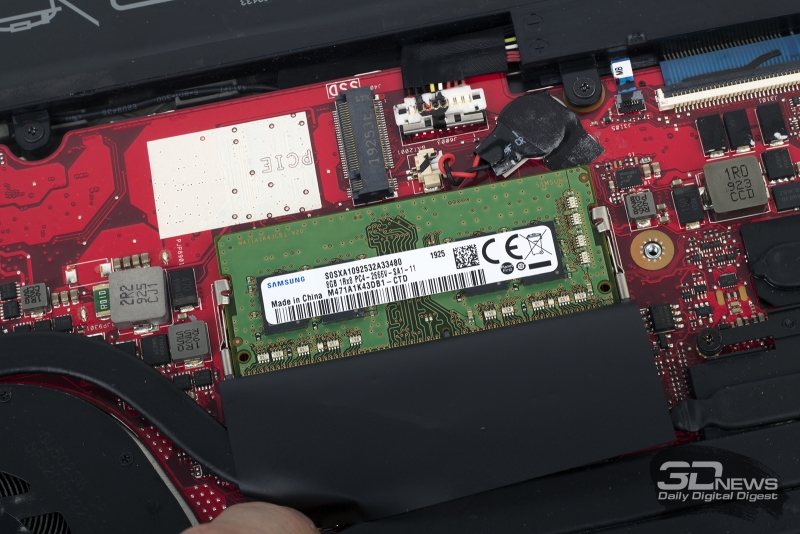 The mother Board ROG Zephyrus M GU502GU has only one slot SO-DIMM. In our case it contains an 8 GB module Samsung. All in all, the laptop is equipped with 16 GB of RAM standard DDR4-2666, which runs in dual channel mode. In versions Zephyr with GeForce GeForce RTX RTX 2060 and 2070, as I understand it, coming with 16 GB of RAM (here deal with only 8 GB). It turns out, over time, we can replace the existing module Samsung another larger one.
In one of the two ports M. 2 SSD installed Intel SSDPEKNW512GB of 512 GB. Again, over time, the user may purchase another SSD of the necessary capacity. To install a 2.5-inch storage devices in ROG Zephyrus M GU502GU will not work.
Source: 3dnews.ru