Review and test the ASUS ZenBook Duo UX481F: two displays to the masses
Last autumn we tested the flagship ASUS ZenBook Pro Duo
UX581GV equipped with two displays that greatly enhance its functionality. However, such a working car, can afford not everyone, because it is greater than 200 thousand rubles. Apparently, noting the great interest in this model, ASUS decided to expand the range of its potential customers and released a more affordable version, the price is more than twice lower than UX581GV. So there were several variations of the model ASUS ZenBook Duo UX481F with more modest hardware, but certainly with the same functionality in terms of the two displays. About the features of this model and its performance will be discussed in today's article.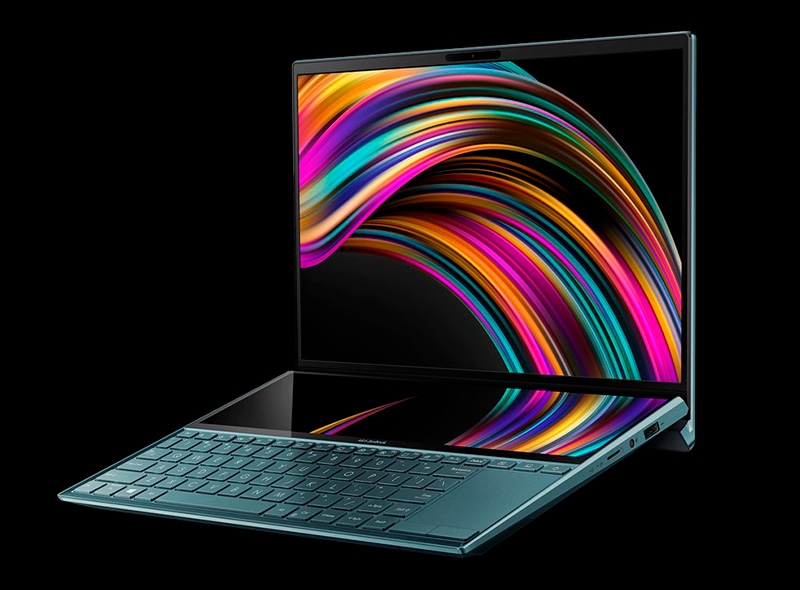 Picking and packing
The ASUS ZenBook Duo UX481F comes in a black box with a Golden label and a plastic carrying handle.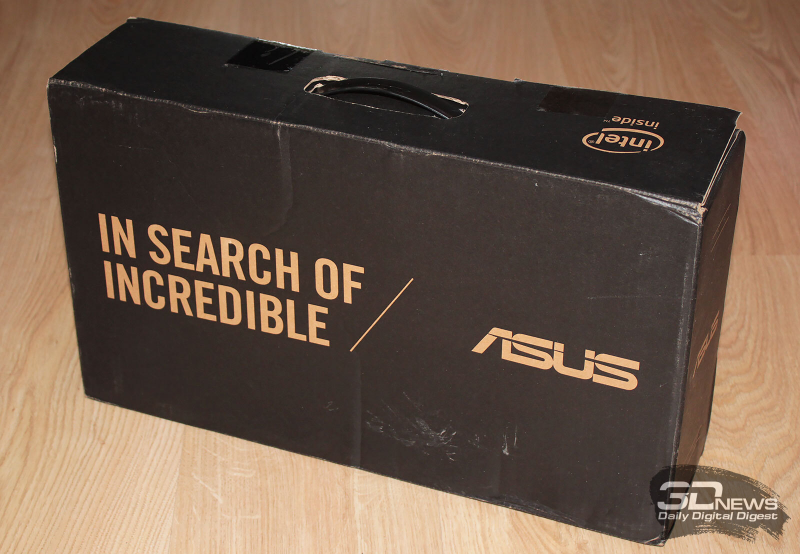 In the main box inserted another, safely secured inside four panels of polyethylene foam.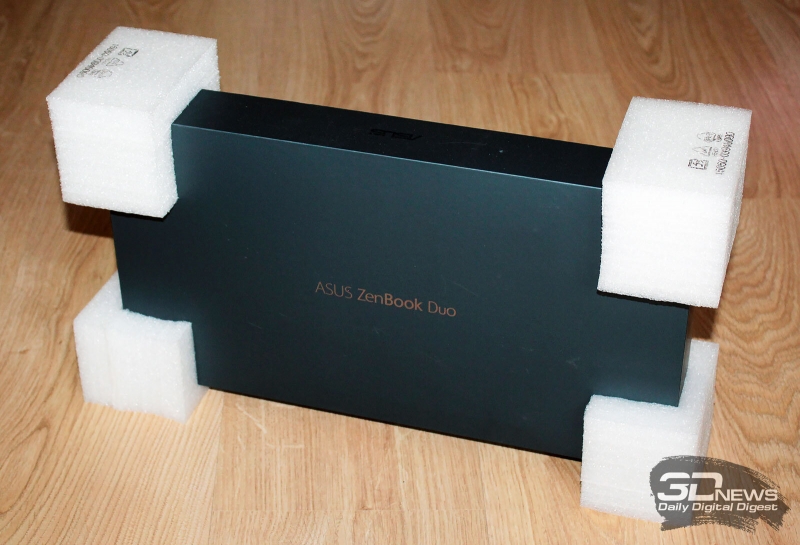 Inside is the laptop, a few brief instructions and reminders, as well as power adapter with power cable.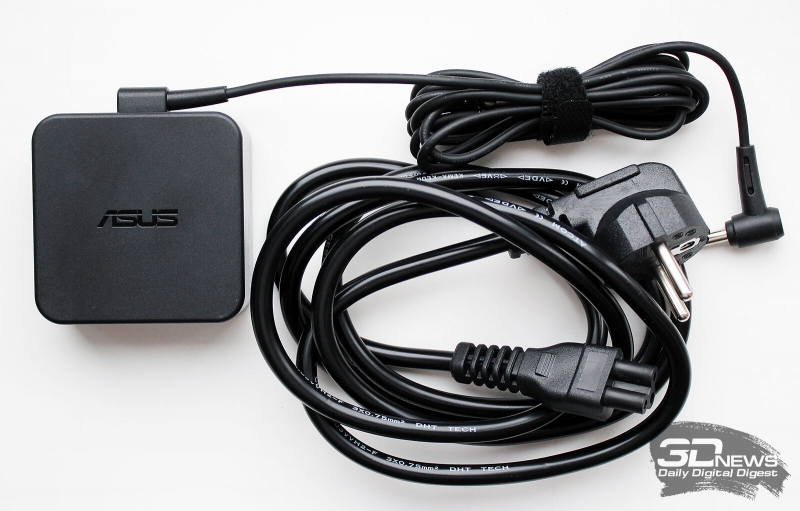 The laptop is manufactured in China, and it is a two-year warranty (not to exceed 30 months from date of production). Cost ASUS ZenBook Duo UX481F in our test configuration is 98 990 rubles.
The configuration of the laptop
ASUS ZenBook Duo UX481F
Processor
Intel Core i7-10510U (Kaby Lake-U, 1.8 GHz (with Turbo boost to 4.9 GHz), 4 cores/8 threads cache 8 MB, a TDP of 25 W)
Chipset
N/A
RAM
16 GB LPDDR3-2133 (2 x 8 GB 16-20-20-45 CR1)
Graphics
Intel UHD Graphics 620
NVIDIA GeForce MX250 2GB GDDR5/64-bit
Displays
14 inch, Full HD 1920 × 1080 pixels, IPS, extended color gamut of 100% sRGB;
12.6 inch, 1920 × 515 pixels, IPS, extended color gamut and 100% sRGB
Sound system
ASUS SonicMaster with the smart amplifier and surround sound support (certified by specialists Harman Kardon)
Drive
1 x SSD 1 TB (Samsung MZVLB1T0HARL-00000), M. 2 2280 PCIe 3.0 x4)
Reader
MicroSD
Network interfaces
Wired network
No
Wireless network
Wi-Fi 6 802.11 ax (Intel AX201D2W, 2 × 2 Dual Band, 160 MHz)
Bluetooth
Bluetooth 5.0
Interfaces and ports
USB 3.1 Gen1
1 (up to 5 Gbps)
USB 3.1 Gen2
2 (Type-A and Type-C, up to 10 Gbps)
HDMI 2.0
There
Mini-DisplayPort 1.4
No
RJ-45
No
Microphone input
There are (combined)
Headphone output
There are (combined)
Input devices
Keyboard
Full-size, illuminated and enlarged key travel (1.4 mm)
Touchpad
ScreenPad Plus and touchpad
IP telephony
Webcam
HD (30 FPS@720p), infrared
Microphone
There
Battery
70 WH, 4 cells, Li-polymer
Dimensions (W × D × T) mm
323 × 223 × 19.9 mm
Weight without adapter, kg
1,5
Power adapter
65 W (19,0 V; 3,42 A)
Operating system
Windows 10 Pro (64-bit)
Software
ASUS Number Key
ASUS Handwriting
ASUS Quick Key
ASUS Battery Health Charging
ASUS AppDeals
Retail price, for you!
98 990
Appearance, the case ergonomics and input devices
Design the new ASUS ZenBook Duo UX481F does not change from UX581GV, but he's a little leaner (323 × 223 × 19,9 vs 359 × 246 × 24 mm) and lighter at 1.5 kg, i.e., weighs three pounds less.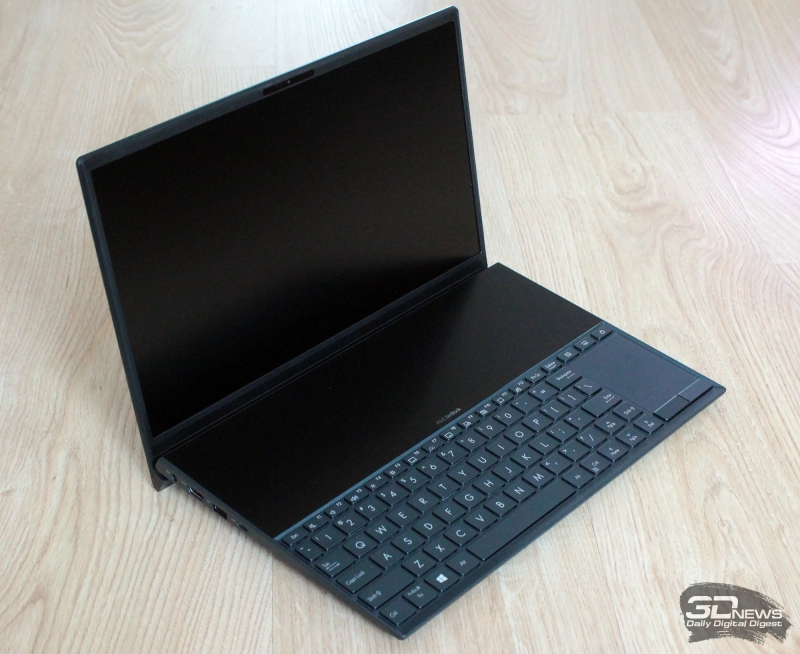 The laptop is neat and stylish in its forms there is nothing superfluous and catchy, and the overall style can be described as calm and Mature.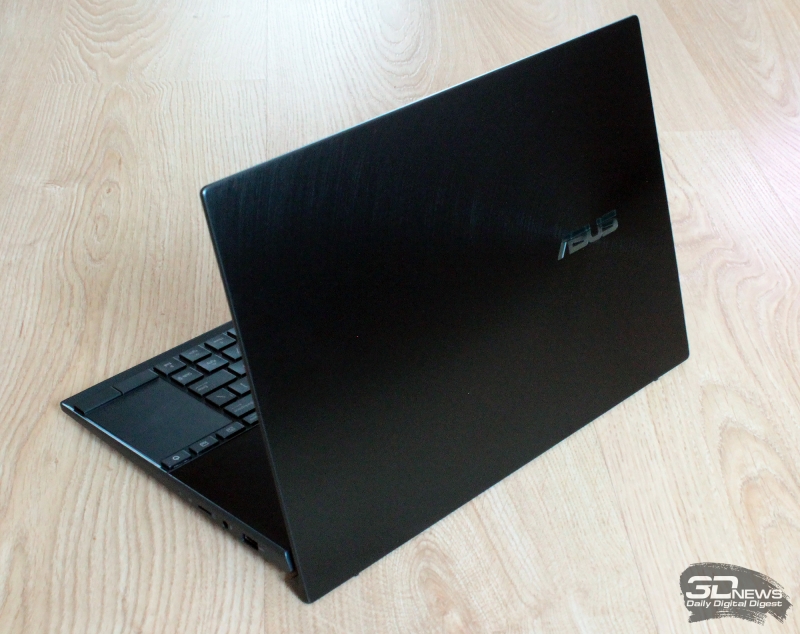 Of decor elements, click the silver ASUS logo on the top aluminum lid, framed by a concentric polishing.
The body of the laptop is built with high quality. All items tightly, without gaps,fitted to each other. Not for nothing, apparently, ASUS claim the line laptop military standard reliability MIL-STD-810G, as well as passing additional laptop ASUS internal tests (drop, vibration, operation at reduced pressure and high temperatures).
If the top panel is completely smooth and flat, then on the bottom there are two rubber feet, two speakers on the sides and the grille is almost in the center.
All the interfaces displayed on the side of the laptop case, so front and back it has no connectors.


On the left side you can find a connector to connect power adaptor, video output HDMI and two USB 3.1 Gen2 (Type-C and Type-A).

On the opposite end of the removed power led and battery, a slot for MicroSD card, combo Jack for headphones or microphone and USB 3.1 Gen1.

The main display of the laptop rests on the signature ErgoLift hinges that when opened the top panels lift the laptop above the surface.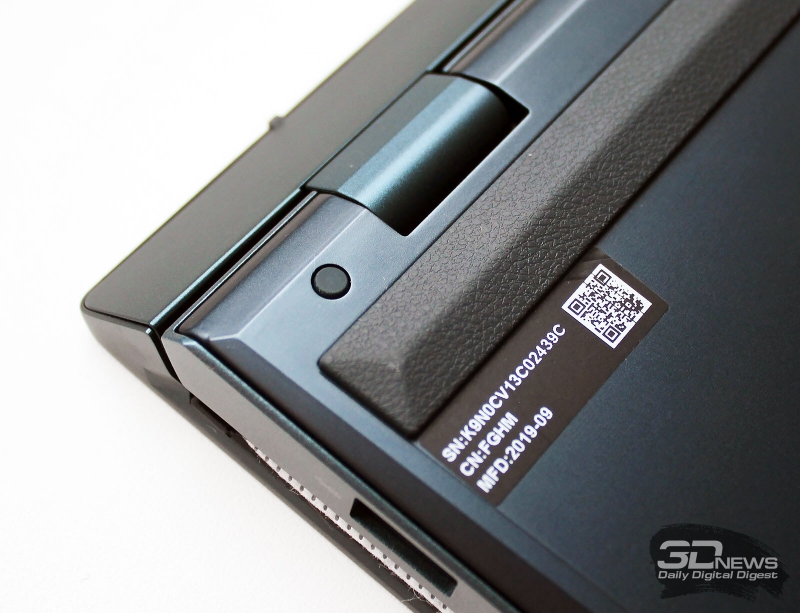 This decision of ASUS to kill three birds with one stone: it improves the cooling components of the laptop, the keyboard is tilted at a more comfortable hand angle and improves the sound quality built into the base of the columns.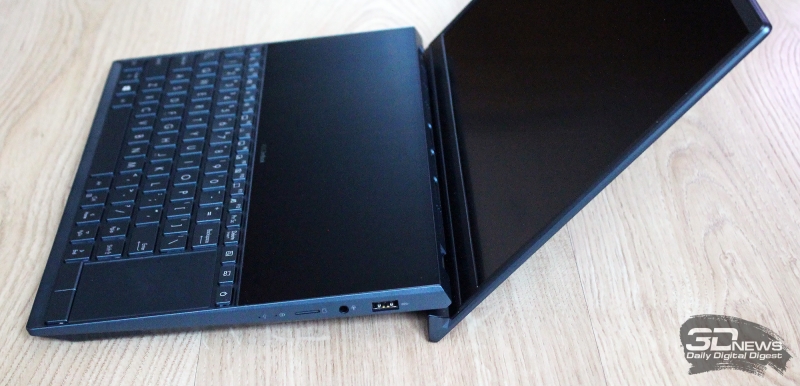 The width of the side part of the display NanoEdge is 5 mm, and the upper 9 mm. In ASUS call it the solution to frameless, to emphasize the previously taken course for a more compact — including at the expense of the width of the part of the screen — laptops. The lid is equipped with the infrared camera with a resolution of 720p and support of the Windows function Hello (biometric face recognition).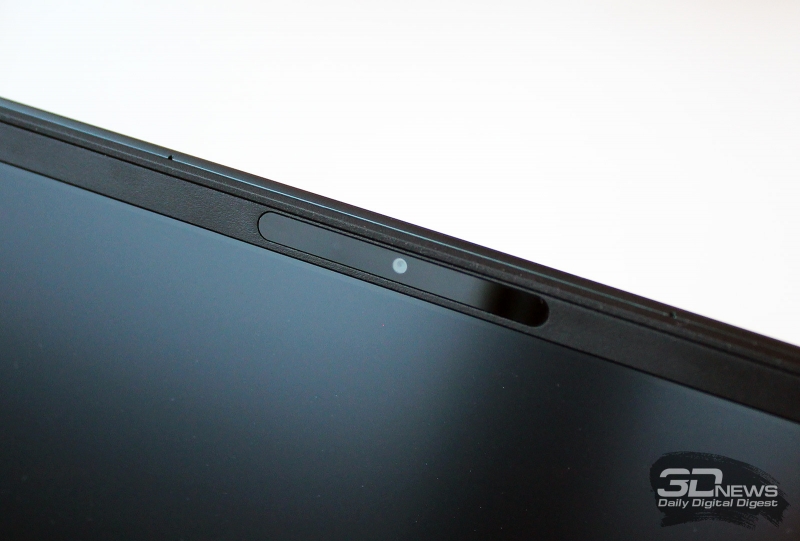 Keyboard ASUS ZenBook Duo UX481F membrane type keys with key dimensions of 15 × 15 mm and a range of function keys F1-F12 on top.
Each of the function keys combined with the Fn button performs an additional function of adjusting the settings of the laptop, whether it is volume, brightness or mode. The keys are slightly concave, and the stroke is 1.4 mm.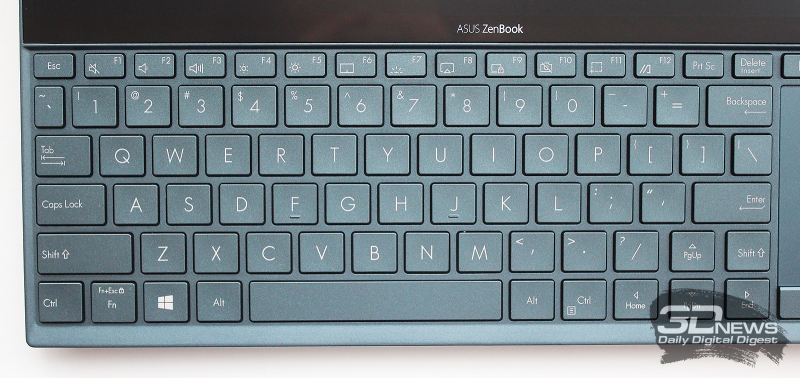 In our version of the laptop is only one layout – English, with Golden symbols and a three-level backlight. But this, of course, a feature of a test instance, the official retail samples will be Russian markings keys.
The numeric keypad on the keyboard no, but they are intended to replace the compact touchpad dimensions 70 × 55 mm.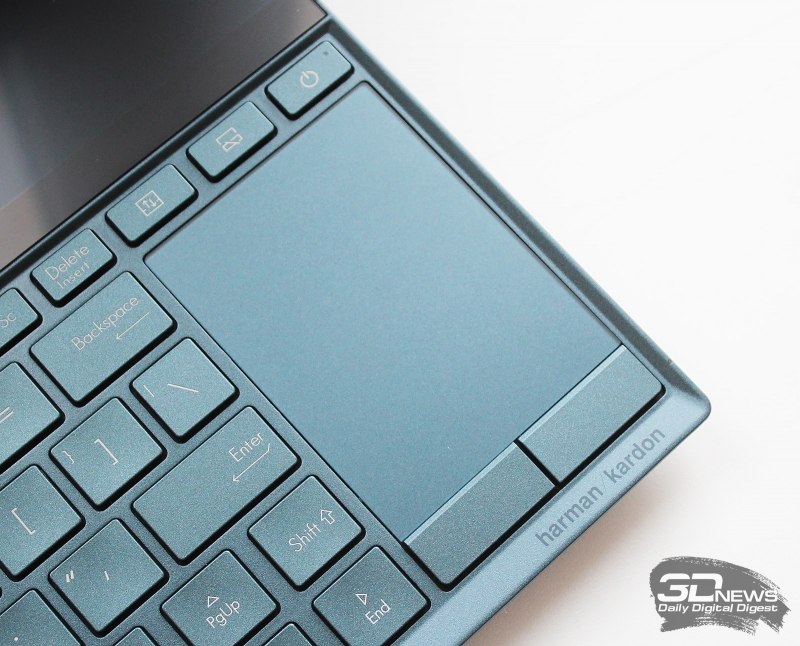 Above right above it there is a small switch laptop. Overall, subjective assessment, on this model, an adult will have to get used to, because the keyboard is very compact and the feedback she has in print no.
Of course, the main feature laptop – two screens. Basic IPS-matrix – matte, has a size of 14 inches, resolution 1920 × 1080 pixels, with a claimed 100-percent coverage of sRGB. The display is very contrasting, with sufficient for comfortable work with a range of brightness and wide viewing angles — 178°.
The second display — it's called ScreenPad Plus — takes up half the bottom of the laptop. It is also matte, made by technology IPS, its diagonal is 12.6 inches. The resolution is 1920 × 515 pixels, and viewing angles – 178°.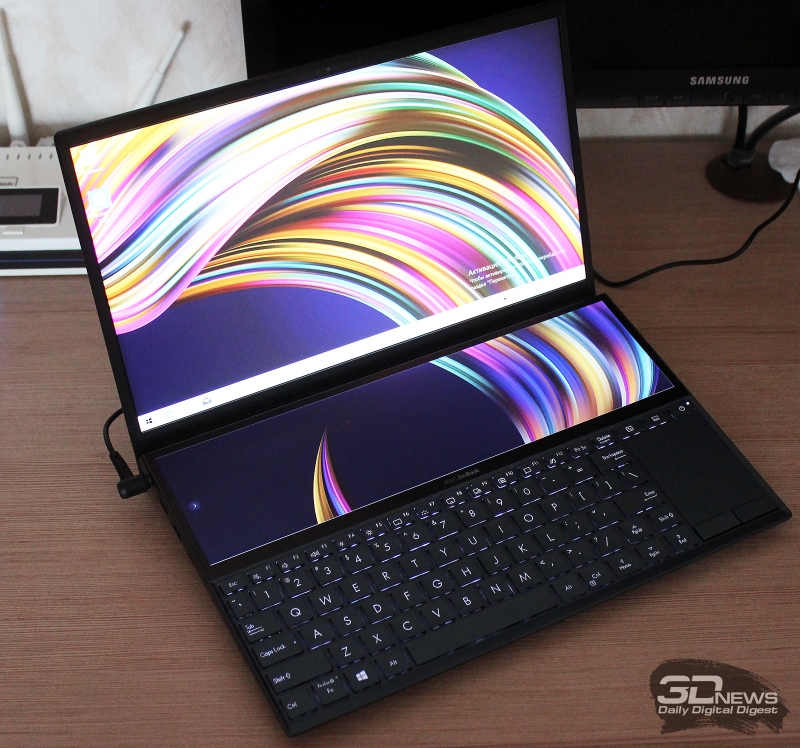 For more about this display, we talked in detail in the article about ASUS ZenBook Pro Duo UX581GV , but given the uniqueness of this solution, while unusual mass user should just dwell on it more.
By default, both screens working in extended mode. While ScreenPad Plus has its own menu allowing you to change additional settings screen, and run apps that are downloaded to My ASUS. For example, preset program Quick Key — it provides access to frequently used shortcuts. Of course, you can configure and their combinations.
ScreenPad menu Plus allows you to manipulate the displays. So, there is a Task Swap function — when you press open in different window screens are swapped. There is an option ViewMax — when enabled, for example, the browser is stretched on both panels. There is a mini-program Task Group: click on the icon and laptop runs multiple applications. Menu Organizer allows symmetrical positioning of Windows on secondary display. Finally, option Navigator App shows the ribbon all running on a laptop program.
Who will need a laptop with two screens? In my opinion, the ZenBook Pro Duo can be a great assistant to those who work with editing videos and photos. It's all quite simple: ScreenPad Plus can be positioned on a second display of the most frequently used submenu graphics editors. Thus we won't be overloading the main screen.
ZenBook Pro Duo will be useful for programmers, because the code window can be stretched across both displays. Finally, an additional screen will be convenient for the streamers — here you can put the chat and, for example, menu OBS.
Additional you can display the Windows of social networks or messengers — so they will not distract, for example, from watching a movie. And during operation it is convenient to place it additional material — then for viewing do not have to switch from the main window, just enough to lower the opinion. The only time you have to get used to the location of the second screen. Because you have to tilt your head down — and still you look at ScreenPad Plus under not a right angle.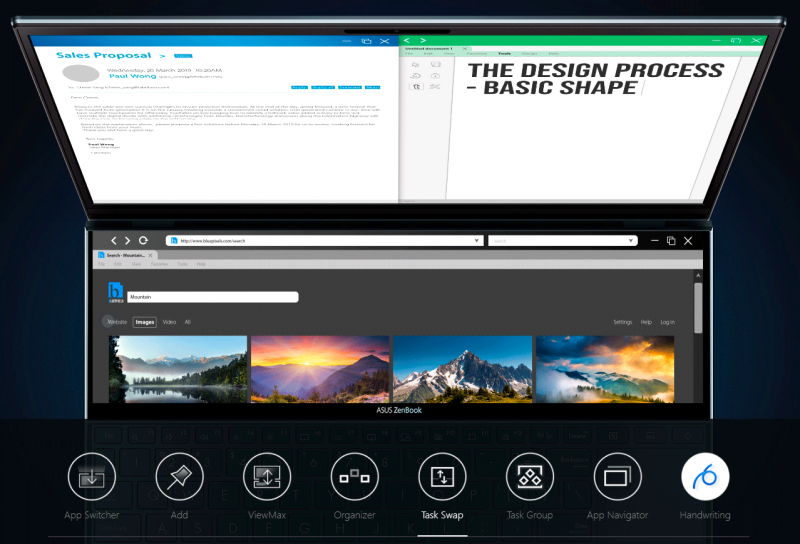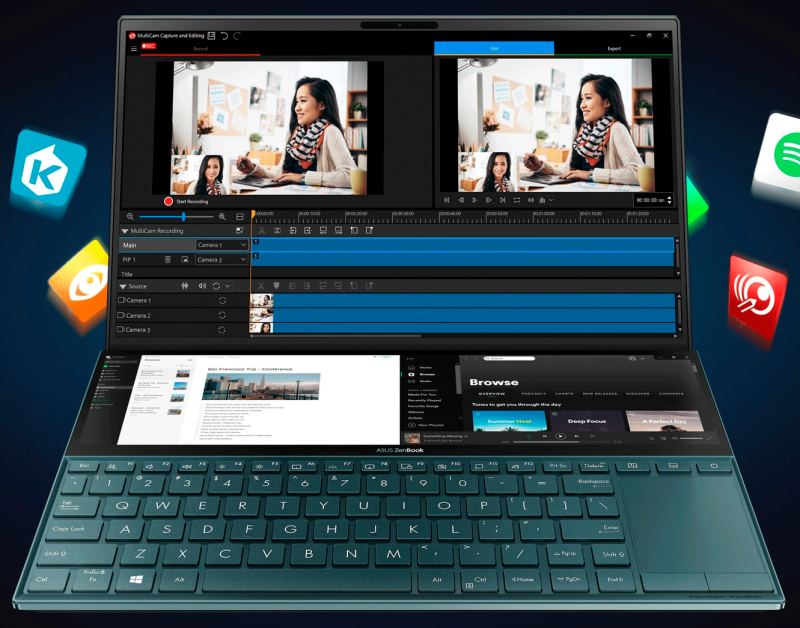 We would like to note that, as to any new high-tech development, additional display-touchpad takes some getting used to. And it will definitely need to customize yourself, the benefit in this respect it is 100% flexible.
The internal structure and capabilities upgrade
Unlike the ZenBook Pro Duo UX581GV, model UX481F has a more modest hardware configuration, which occupies about half of the internal volume of the housing, the second half is the battery.
The cooling system uses three heat pipes with a diameter of 6, 3 and 8 mm and two flat fan. We will pay attention later, but for now let's review the main components of this model.
Board and chipset diagnostic utility does not recognize CPU-Z actually reported the chipset called Intel Comet Lake, although this family of processors. The BIOS is dated August 6, 2019.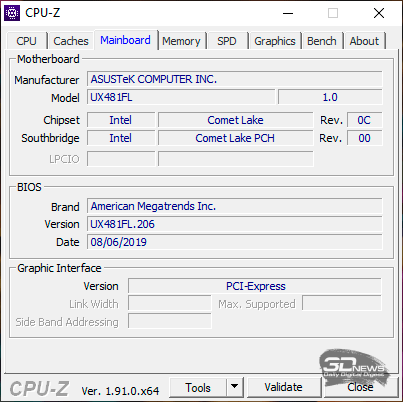 AIDA64 Extreme has also not helped in the determination of the set of system logic, while all the other characteristics of the components of the laptop display correctly.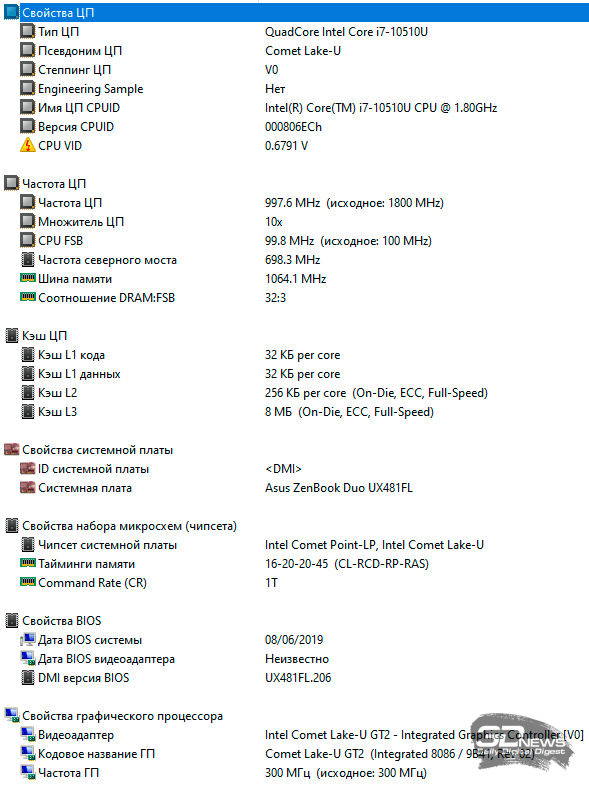 As the Central processor for ZenBook Duo UX481F ASUS chose a 14-nanometer Intel Core i7-10510U. He covered the eight-millimeter heat pipe and adjacent to soldered chips of RAM.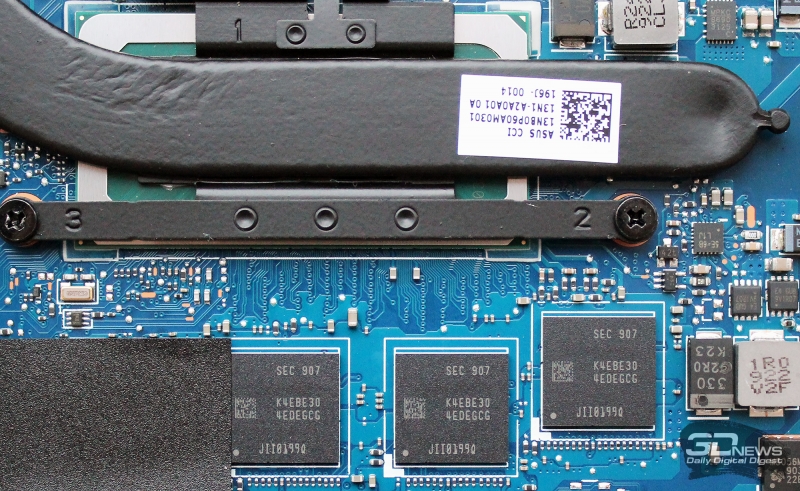 In this model of CPU is 4 cores and 8 threads, it can operate at frequencies from 1.8 to 4.9 GHz with a maximum TDP of 25 watts (15 watts TDP typical value).
Laptop there are four soldered chip of RAM of type DDR3 with a marking K4EBE304EDEGCG SEC, total capacity of 16 GB. The memory is running in dual channel mode at a frequency of 2133 MHz with timings 16-20-20-45 with CR1, so its speed characteristics are quite modest.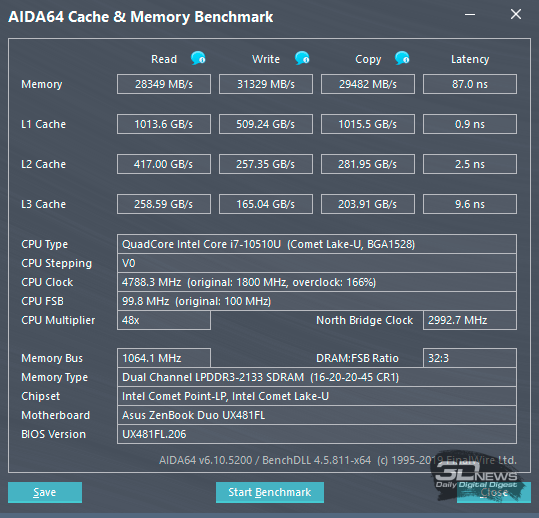 To ensure the operation of two displays to ZenBook Duo UX481F uses two graphics cores. First – Intel HD Graphics 620 – built into the CPU and is designed to work laptop power-efficient 2D-modes.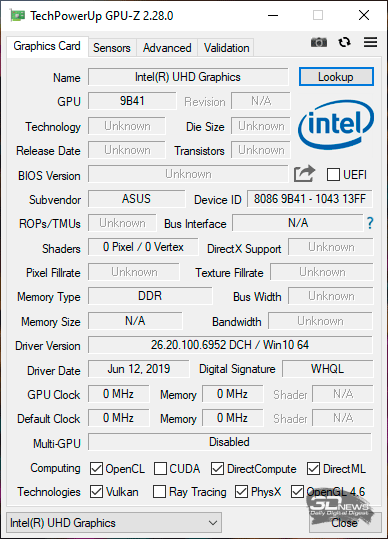 The second graphics processor is a discrete graphics card NVIDIA GeForce MX250 (10 W version), equipped with two gigabytes of GDDR5 (Hynix H5GC8H24AJR) on a 64-bit bus and the effective frequency of 6 GHz. Crystal GPU is connected to the cooling system of six-millimeter heat pipe.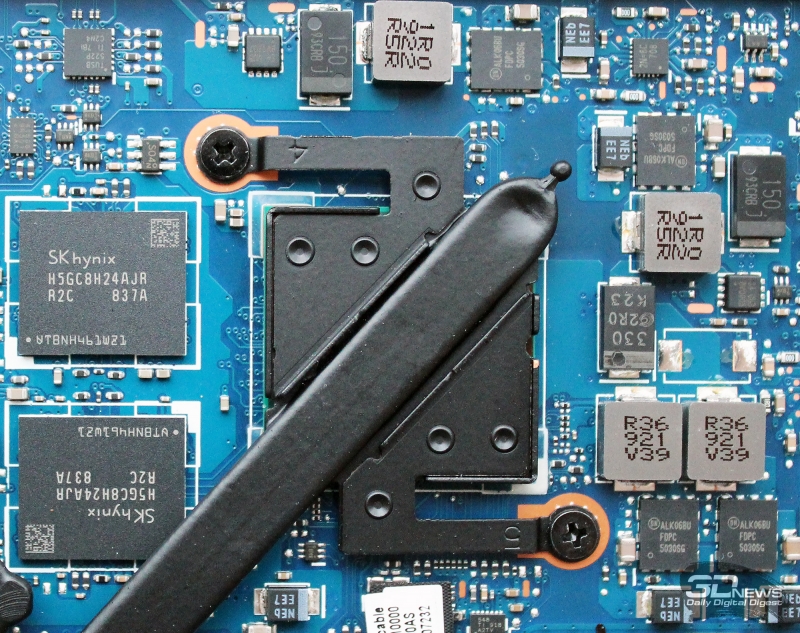 Drive for ASUS ZenBook Duo UX481F only one, and installing any additional is not provided. In our configuration uses NVMe drive SSD PCIe 3.0 x4 capacity of 1 terabyte, Samsung, PM981 (model MZVLB1T0HALR-00000).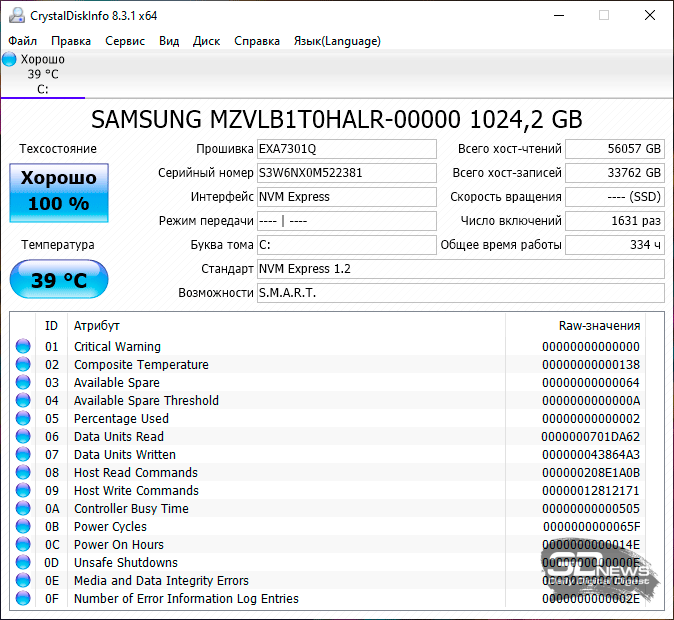 Speed characteristics of the drive is more than sufficient for any task that may be placed before the ASUS ZenBook Duo UX481F and depend on the speed of the SSD. We tested it in three benchmarks, and the results have fully satisfied.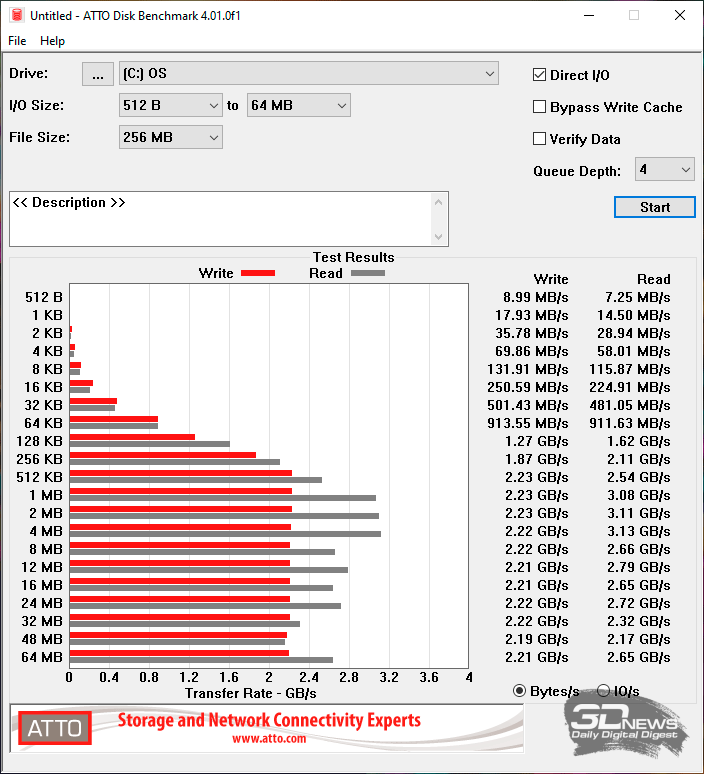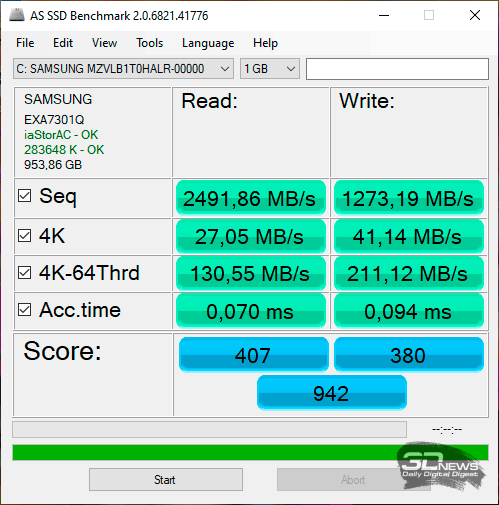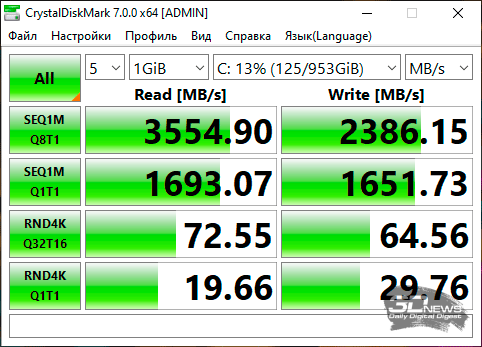 Remarkably, the performance of the drive in this model laptop does not practically depend on the mode (battery/network), what can be said about other components.
ASUS ZenBook Duo UX481F only have a wireless network interface. It is implemented by the controller Intel AX201D2W Wi-Fi enabled 6 (802.11 ax) and Bluetooth 5.0.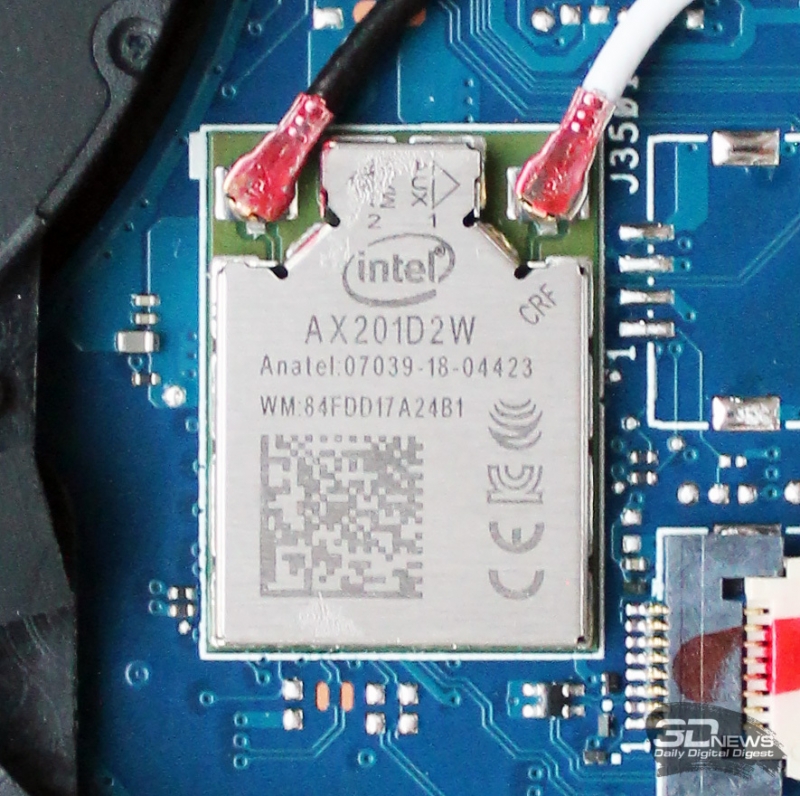 Built-in laptop sound system created in collaboration with specialists Harman Kardon, specializing in high-quality automotive acoustics. At the base of the laptop there are two stereo speakers with the effect of spatial positioning.
The basis lies audio codec Realtek ALC3288, complemented by an intellectual amplifier.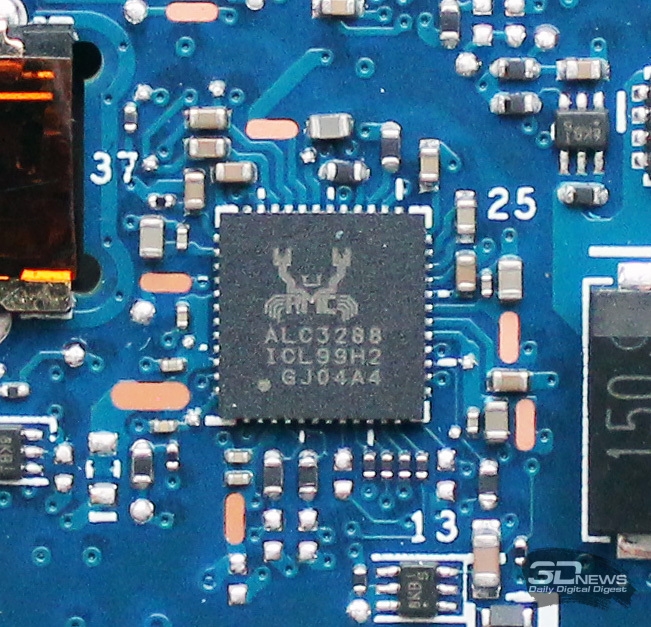 The sound of ASUS ZenBook Duo UX481F turned out crisp and rich, and the stock volume is enough to fill a room with an area of about 20 square meters.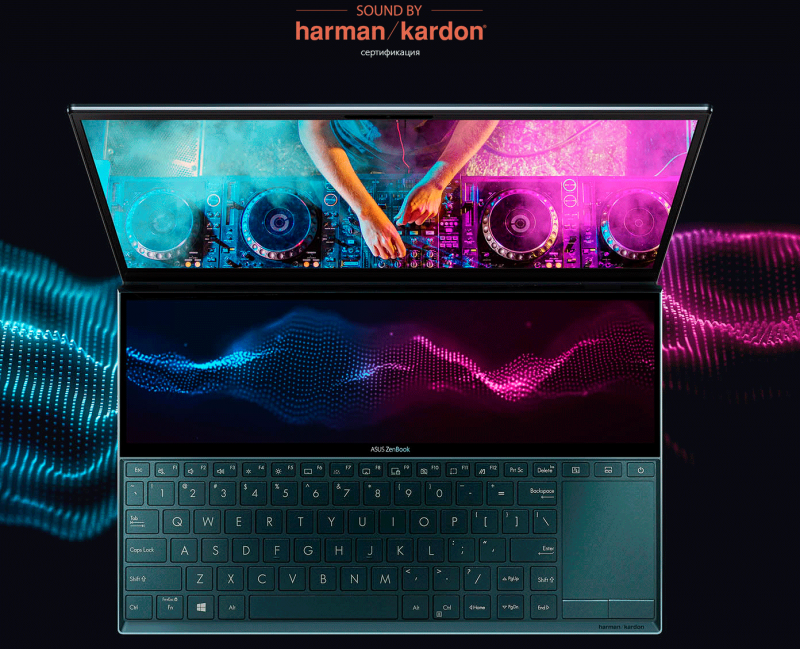 Source: 3dnews.ru