Close-up: a review of the platform office applications Maiofis
Our article about the history of office Suite Maiofis has
caused a lot of different emotions in readers. And this is not surprising: the product is fairly new on the market FOR office, ambitious and, most importantly, Russian. These three components became the starting point for heated debate and discussion. One hundred and fifty comments and interest in the product convinced us of the need to make a new overview software solutions. Especially since the previous publication about Maiofis has been almost four years and during this time the platform office applications has greatly evolved. At least so say the developers of the company "New Cloud", which granted us access to the installation files of the product.
Quick facts
First, a little about the product itself. Maiofis is an ecosystem of applications and services that runs on all modern platforms, including mobile, as well as through the web interface. The product is based on unique technology is put to work with documents. Company "New Cloud" available tools for working with email, calendar, contacts, mail and cloud servers, as well as a private messenger and free set of fonts. Different sets of application form the individual commercial products of the company.
Maiofis application developed for all popular operating systems, including Russian. In addition to all modern variants of Windows and Linux, this software works even on the operating system MSVS. On the one, which are equipped with computers with processors from MCST Elbrus. Mobile versions are available for Android, iOS, Tizen, "Aurora" (Sailfish). The latter, incidentally, developed structures of JSC "Rostelecom" specifically for the public sector. Version for Mac OS X has not yet officially presented, but it exists and is currently undergoing testing within the company. Cloud optimized for all modern browsers, including domestic "Yandex.Browser" and "Satellite".
Maiofis is a Russian product that creates almost 400 people in Moscow, St. Petersburg and Innopolis. It is included in the national registry and recommended for procurement by Russian companies and state structures.
There is a perception that Maiofis is fully built on the basis of the source Open Source is a carbon copy of the existing products on the market. This is not so. The core interface and a substantial part of the platform code is written from scratch, completely by experts of the company "New Cloud". The only exception is the email client for desktop computers, which used components of the Mozilla Thunderbird project, and editor presentations for desktops (built on the basis of LibreOffice). The product also involved some redistributable libraries. This is mainly service modules that provide support for certain popular technologies or protocols.
This combined approach to creating software (writing code "from scratch" and finalize the borrowed code with full rights for its use, modification and distribution) is a normal international practice. What is important is that the company strives to use only permissive license. Only the mail client and the program for creating presentations are published under the Mozilla Public license v.2. As far as we know, the company is planning to move away from their use and now creates all of their products such class.
All inclusive
In the composition Maiofis presents a complete set of applications for working with documents, email, calendars and contacts on PCs, mobile devices, and web browsers. Apps for smartphones are free, they are available to all users. Other products from composition Maiofis are currently available only for corporate customers. List the key components of the platform.
"Maiofis Text" editor to work with text documents of any complexity. Allows you to create documents using templates, styles and formatting of text.
"Maiofis table" — a spreadsheet program. Supports an extended set of formulas (over 150 mathematical, statistical, logical functions), and also includes tools for processing and visualization of data using graphs and charts.
"Maiofis Presentation" — application for viewing presentation files.
"Maiofis Mail" — application for the organization and conduct correspondence via email. The product consists of mail server and several client applications, PC applications, web-based email and apps for smartphones. Currently email clients for Windows and Linux developed on the basis of Thunderbird, they provide automatic authentication in Active Directory, and support encryption and the digital signature of the message using the algorithms GOST.
"Maiofis Calendar" is an application for scheduling meetings and planning workflows. To work with calendar through the web interface or through email clients for the PC. On smartphones, the connection of the calendar is carried out by any applications that support the standard CalDAV Protocol.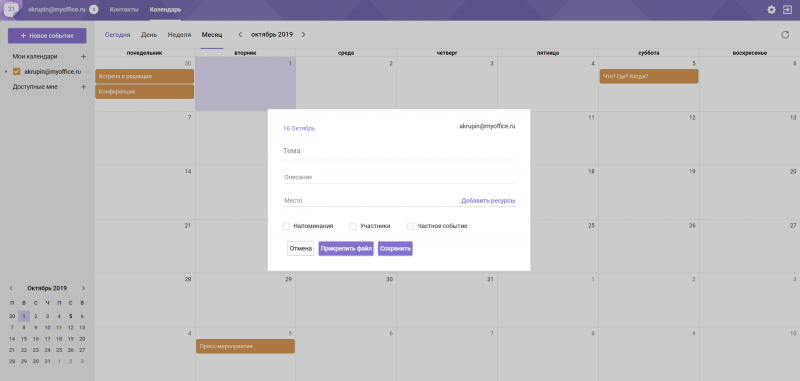 "Maiofis Contacts" — app to store and sync address book and user management.
"Maiofis Logo" — messenger for instant messaging, documents and files within the organization.
"Maiofis Documents" — a web application for collaborative work with documents and files. Provides access to web versions of office apps, the platform, list of files, configuration of access rights. Available in editions of "Maiofis Professional" and "Maiofis Private Cloud".
Platform Maiofis also includes the following server components:
storage — provides secure storage of documents and files and sharing them between employees;
complex of means of protection — guarantees the protection of information from unauthorized access;
server editing and collaboration — allows to work on documents for several employees simultaneously.
mail server "Maiofis Mail";
administration tools;
information and communication tools — messenger "Logo".
Applications "Maiofis" supports popular document formats and has the capability to export files in PDF format. The secure WebDAV Protocol and integration with Microsoft Active Directory.
Supported platform Maiofis document formats
 
Text
Table
Presentation
The native format
XODT
XODS
XODP*
GOST-format
ODT
ODS
ODP
Popular formats
DOC, DOCX, RTF, TXT
XLS, XLSX, CSV, TSV, CSCV
PPT, PPTX
* Edits format of the presentations are in the development stage.
Technical features
The first thing that you notice in Maiofis, is uniform interface, functional elements which are always displayed the same way everywhere. Regardless of the type of equipment used and the operating systems, Maiofis provides the user with a unified work environment with familiar controls. User interface and application functionality are repetitive on all platforms — it is perfectly visible in the following screenshots.
The second "trick" — a single cross-platform core of editors. Features of the product architecture is such that Maiofis can with minimal effort be adapted to any hardware and software platform. This actually explains the impressive number of supported systems.
With a single application engine Maiofis is identical to display documents on any device and support all of the features work together. To join the collective can work from any device from anywhere in the world where there is access to a global network. The platform allows to store the generated documents to your cloud-based files, share work files through corporate e-mail and instant messaging, and configure data access rights.
A separate topic for conversation — information security. Products Maiofis was originally designed to work in a corporate environment with high demands on IT security. They undergo an external audit of the system conducted by an independent testing laboratory. These procedures helped the developer to get certified FSTEK and FSB of Russia. And Maiofis has become the first Russian product that was able to be certified in FSTEC cloud solution as a whole. I did not managed to make any other product — some manufacturers could only certify superimposed on a cloud-based solution remedies.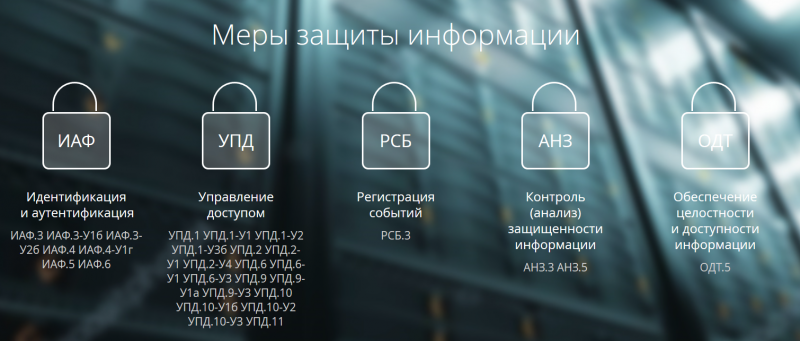 Platform allows you to control access to data, records user operations, support tools, enhanced authentication and encryption of transmitted network data. Architecture of the software designed and implemented in such a way that there is no single point of failure in the part of storage data provided for triple redundancy. Also important is the ability to deploy backend solutions in a public cloud environment and a private cloud of the organization. This provides enterprises complete control over the stored information and provides the opportunity to work with the cloud service in compliance with Russian legislation. As a result, the solution can be applied in public authorities, ministries and departments, state corporations, strategic enterprises, which work with confidential information and personal data.
Source: 3dnews.ru