The end of 2019: the camera
Olympic games. Mirror offset
Everything froze up here in the morning… the Situation on the market of photographic equipment really looked in 2019 "frozen": events practically happened, everything updates normally. Nikon, for example, has produced only one serious camera — Z50. The other three slowly dying from the Coolpix series. Canon was generous, but Sony has remained the only company (not counting Hasselblad), presenting a professional model — a9 II. About it we will certainly
talk at the time, she had already sold at a price of about 400 thousand rubles.
All because of the Olympics, which will be held next summer in Tokyo. Nikon and Canon have a low start — both companies have announced, even his professional cameras, and the plans for their release. With Nikon's announcement of its D6 did not disclose any details other than appearance. Canon, sorry, the announcement of the announcement of its EOS-1D X Mark III was noticeably more generous, declaring the use of its flagship sensor system with Dual Pixel. It also reported the presence of the electronic shutter, and the new camera can shoot up to 16 frames per second through the optical viewfinder with autofocus and up to 20 frames per second, autofocus in Live View, regardless of whether you use mechanical or electronic shutter. The camera is equipped with two slots for CF Express card, and the buffer will increase five times in comparison with what its predecessor. They say that working versions of the camera already exist and they begin to show photographers around the world.
What would not have answered this Nikon battle before the Olympics to be hot — most importantly, that no WADA banned.
Sony has surpassed Canon and Nikon in the full frame
While WADA is silent about the contest two major manufacturers of DSLRs, the problems sneak up on them where, of course, expected, but probably not so fast. Sony is bypassed and Canon and Nikon on full frame cameras market in Japan, now wait, when will pass throughout the world — it seems inevitable. Sale Sony full frame segment and in the segment of crop-cameras (APS-C) is continuously growing, while Canon and Nikon are falling.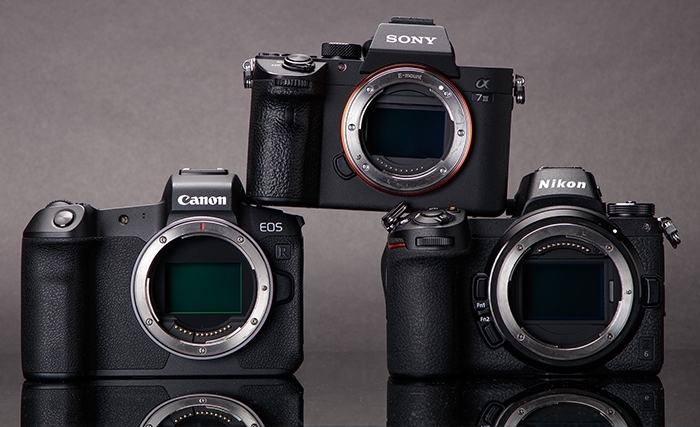 The giants greatly underestimated the potential of mirrorless cameras and too late with their competitive proposals in this area. Now try to catch up — at least Nikon was mirrored exactly zero new products in the past year, and two Canon SLR came two "buttercake". One almost exactly duplicates of its mirror counterpart (Canon EOS Mark II M6 ≈ EOS 90D). Not too late to stir?
Many megapixels
The Mpix race this year suddenly resumed. Primarily in the segment of smartphones, of course, where all of a sudden learned about the existence of technology Quad Bayer and began to put in a mobile device, the modules 48, 64 and even 108 megapixels. Soon there will be all 144.
But camera this trend is not over. In 2019 saw the light full-frame camera Sony a7R IV with a sensor that has a resolution of 61 megapixels, and the above mentioned Canon EOS 6D Mark II was one of the two cameras (along with the Canon EOS 90D), received the APS-C sensor with a record resolution of 33 megapixels. A separate line — epic medium format "mirrorless, the" Fujifilm GFX 100 with a resolution of 102 megapixels. 102 real megapixels, not Quad Bayer.
0 (zero)
This sad figure is the number of cameras to be released under the Pentax brand in 2019. Remember?
The best camera of the year — Sony a7R IV
The main camera of the year — the successor of the series, which turned the whole game into the world of professional and semi-professional cameras. Once again — faster, higher, stronger.
The most important innovation — a full-frame BSI-CMOS sensor with an insane resolution of 61 effective megapixels, which enables you to create images up to 9504 × 6336 points. RAW files such approval weigh 115-130 megapixels, prepare RAID arrays. The speed of continuous shooting with a maximum resolution of up to 10 frames per second.
Improved built-in patisia stabilization system, there was a recognition mode not only humans, but animals, and so on. The camera is, of course, very much — at the moment, more than 200 thousand rubles for the "carcass" (the body) – but it looks fairly even. By the time of publishing this material we have already complete the testing of this camera, expect a review after the Christmas holidays.
The best camera of the year Panasonic S1/S1R
The first full-frame mirrorless camera Panasonic has released a very successful one. Yes, of course, accompany her all the starting "disease" starting system: small quantity of optics for this new lens mount Leica L and problematic autofocus Panasonic has traditionally worked with the contrast system. But in General, and S1 and S1R was very interesting devices.
We talked in detail about S1R — and here let us mention this version. She really showed itself primarily in scenarios where we don't need high ISO: the camera features a huge resolution, excellent sharpness and detail and is a really effective stabilizer. At higher ISO it is capable of not very much, which makes sense — with such a resolution.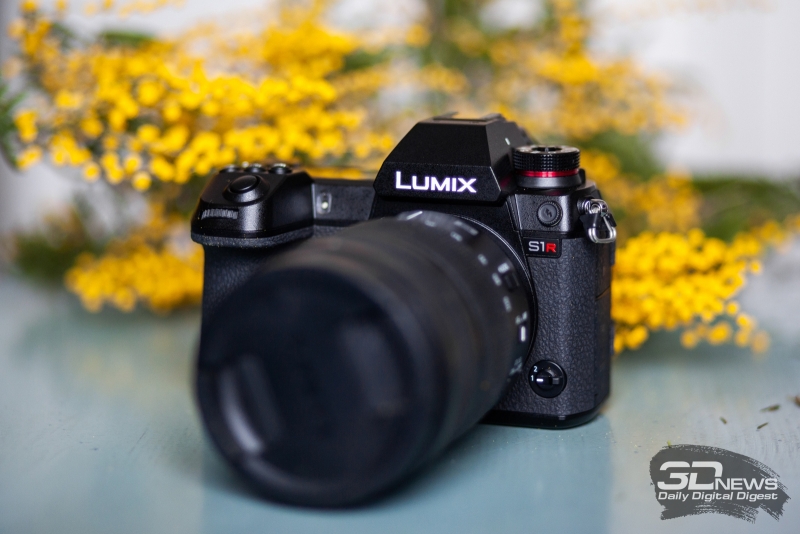 Of course, it should be noted trademark feature S1R – Panasonic, which is famous for its hefty devices of format Micro Four Thirds, made, of course, the biggest full frame sensor mirrorless. More other podnikatelek SLR cameras.
The best camera of the year — the Fujifilm X-T30
If Sony gradually caught up to the leaders of the segment full frame, on APS-C traditional leaders are very powerful Fujifilm pressed. The company annually produces at least two-three very interesting cameras. This year's highlight X-T30 is probably the best choice travel blogger.
Just quote our review: "It is lightweight and quite easy to control the camera that will be easy to get started. There are interesting creative functions that will allow you to do a variety of shots, not delving into all the intricacies of the settings and processing. But an experienced photographer bored with X-T30 should not be: the recording quality is good, the opportunities to flexibly configure the device for themselves – many RAW files have a worthy potential".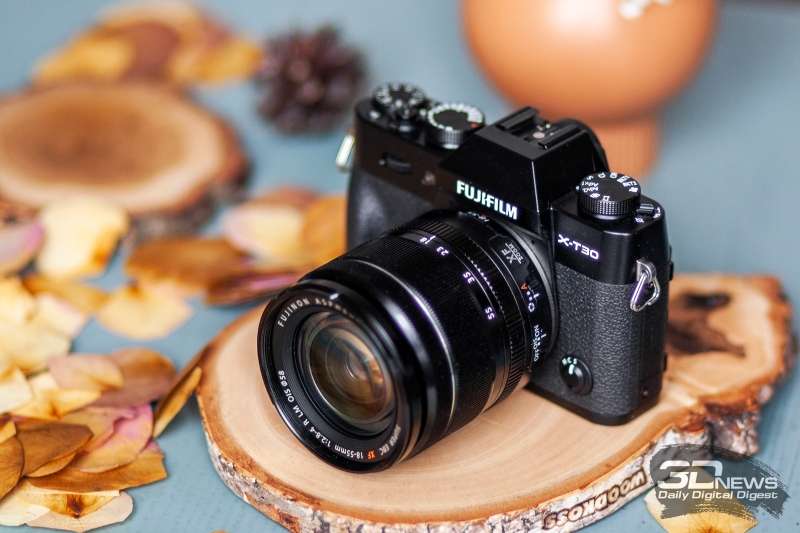 She's not very editorial capacity because of the small buffer, and AF tracking does not Shine. But frame-by-frame focus X-T30 manifests itself unexpectedly great, although Fujifilm was never particularly famous for their autofocus on their cameras. In General, it is simultaneously small, beautiful and very capable camera for travel.
The best camera of the year Nikon Z50
Nikon has suddenly made a knight's move and continued the series Z is not a full-frame camera, and a model with a crop-sensor equivalent to APS-C Nikon Z50 got the same new mount Z and, moreover, released simultaneously with two lenses specifically for the crop factor of 1.5 (as Nikon calls it DX).
It's a compact camera, which is unique in the Nikon SLR lineup yet. The closest analogy is that Nikon D7500, but it's quite a stretched comparison. Original ergonomics, well made case, great details… In fact the Nikon was a very good competitor for the above-mentioned Fujifilm X-T30 — adjusted while the little Park native, not requiring the adapter optics. Well, on a more boring design, why it will have the same bloggers.
Of the striking advantages of the camera note good opportunities of shooting at high ISO settings, good viewfinder, flexible adjustment of the camera by itself, separate setting buttons for photo and video. And the superiority of the Fuji X-T30 in terms of video.
The best camera of the year Canon EOS RP
Have Canon in 2019 came out a couple of good cameras but no real bombs. I doubt we put a M6 EOS Mark II or EOS RP — and still surrendered to the modest charm of a full frame.
This is the second camera in the Canon EOS series R. All as befits a new lens mount with greater capacity, but still modest fleet of optics, experiments in ergonomics, unusual positioning (a little expensive for fans, rustic for professionals), focus on movies (not soaked through). The main advantages of the camera — an amazing compact full frame camera, friendly management and excellent quality shooting in JPEG.
For Canon EOS RP as EOS M6 Mark II, it is clear that the potential of the "buzzerblog" Canon is, and considerable, but there is a long and difficult road that the same Sony anymore. Japanese two-headed monster was in the position of catching up for the first time.
Sourse: 3dnews.ru