Overview of NUC nettop iRU 115: compact, versatile, powerful
For the first time the Intel NUC (Next Unit of Computing) appeared in 2013. Since then it enjoys great popularity was presented for nine generations of these computers. Model iRU NUC 115, which will be discussed later, is a classic representative of this platform. The computer is equipped with a modern 4-core chip Intel Core i5-8259U, which refers to the 8-generation Core processors (aka — Coffee Lake). Let's see what this CPU and the system iRU 115 NUC as a whole.
Technical
characteristics and specifications

In fact, the iRU NUC quite flexibly scalable — the official website of the company the iRU informed that the computers can be equipped quite differently. In particular, the potential buyer can choose a model with a different processor. Every possible configuration iRU NUC is given in the table below (not all options available on all systems).
iRU NUC
The CPU
Intel Core i5-8259U (model iRU 115 NUC i5 8259U (2.3))
Intel Pentium N3700 (model iRU NUC 112 P N3700 (1.6))
Intel Core i3-8109U (model iRU NUC i3 8109U 113 (3))
Intel Celeron N3050 (model iRU 111 NUC Cel N3050 (1.6))
Intel Celeron J4005 (model iRU 111 NUC Cel J4005 (2.7))
Graphics
Built-in CPU
RAM
Up to 32 GB DDR4-2400
The possibility of installing the memory
1 × 2.5″ SATA 6GB/s
1 × M. 2 PCI Express x4 3.0.
The wireless communication module
LAN: Intel Ethernet Connection I219-V
Wireless network: Intel Wireless-AC 9560
Interfaces
4 × USB 3.1 Gen2 Type-A
1 × Thunderbolt 3
1 × HDMI 2.0
1 × card reader
1 × RJ-45
1 × 3.5 mm mini Jack
Power supply
90 watts, external
Dimensions
117 × 112 × 51 mm
Weight
~0.6 kg
Operating system
Windows 10 Pro
Home Windows 10 single language
FreeDOS
Guarantee
3 years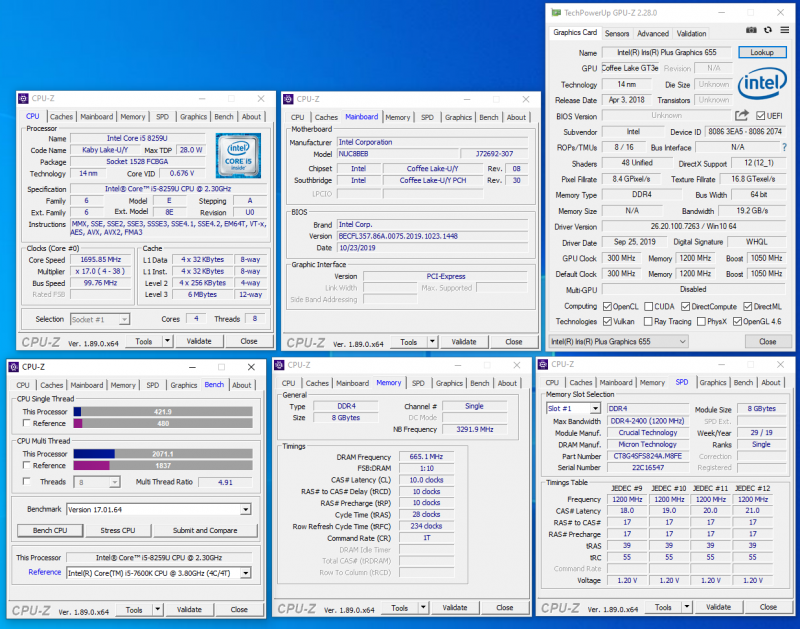 Us test lab arrived the fastest NUC modification of iRU — selling it can be found on the name of the iRU 115 NUC i5 8259U (2.3). A Quad-core chip Core i5-8259U produced according to the norms of 14-nanometer technology and supports Hyper-Threading technology, that is, can simultaneously process eight threads. From similar models from generations Refresh Kaby Lake, Whiskey Lake and Comet Lake this processor has an increased level of TDP — default estimated capacity is about 28 watts, and it's a lot for this type of devices.
As for the other components, the iRU NUC 115 detects 8 GB of RAM and SSD with capacity of 240 GB that was pre-installed operating system Windows 10 PRO.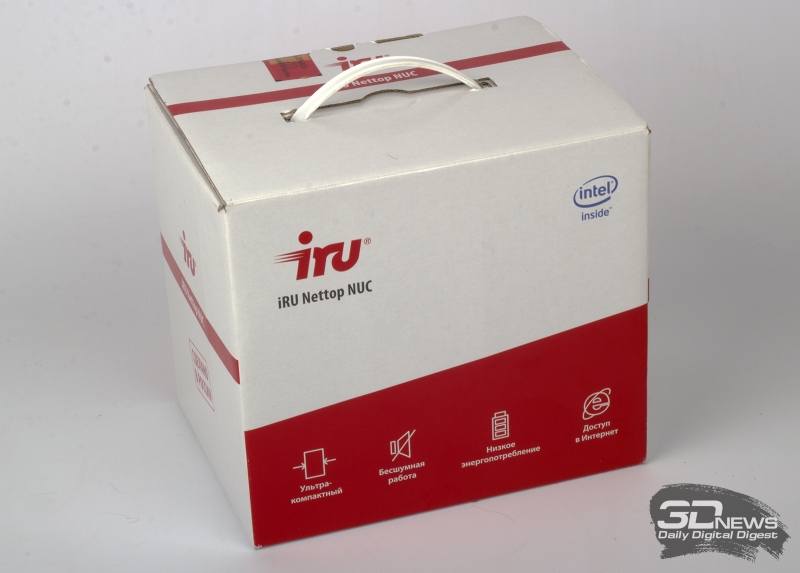 Computer Packed in a small cardboard box with a convenient carrying handle. Inside, in addition to the nettop, we found a compact external power supply is 90 watts and weighing no more than 250 grams.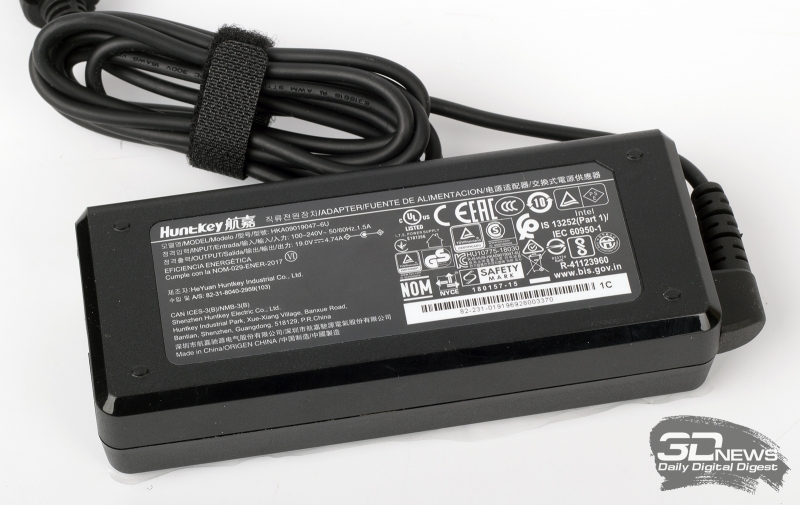 Appearance and functionality
iRU 115 NUC has a pretty recognizable appearance — NUC-system look like is not the first year, although, as we know, sales are at least three modifications nettop Intel. For example, in 2018, we tested the model NUC Hades Canyon. The body of the hero of this review is made entirely of plastic. The top black cover is glossy, but the rest of the panels have a matte finish graphite colour. IRU NUC chassis 115, which carries the components, is made of metal. Well, looks like the computer is strictly and practical, and therefore will look good both at home and in the office.
Of course, one of the main characteristics of the iRU 115 NUC is its compactness. Even though we are dealing with a desktop PC, but this box is quite possible to take it with you — its mass (excluding external power supply) is only 600 grams. See: iRU NUC 115 is slightly larger than a smartphone and fits easily into the palm of your hand!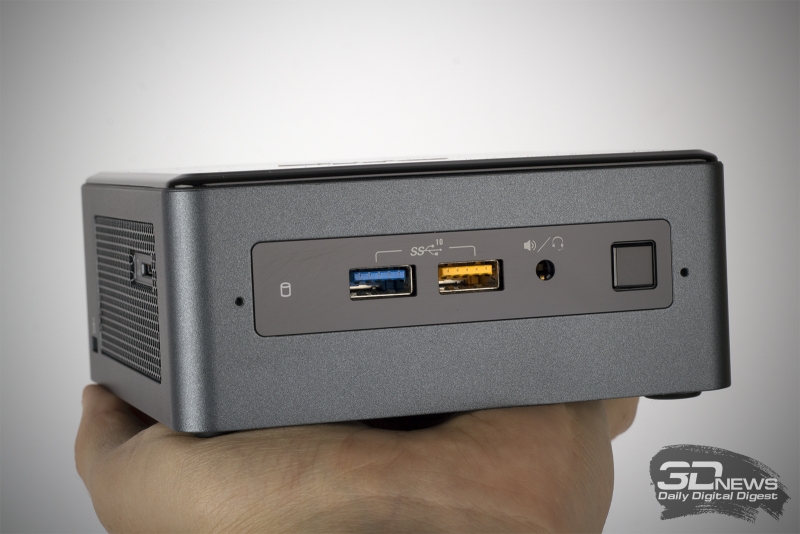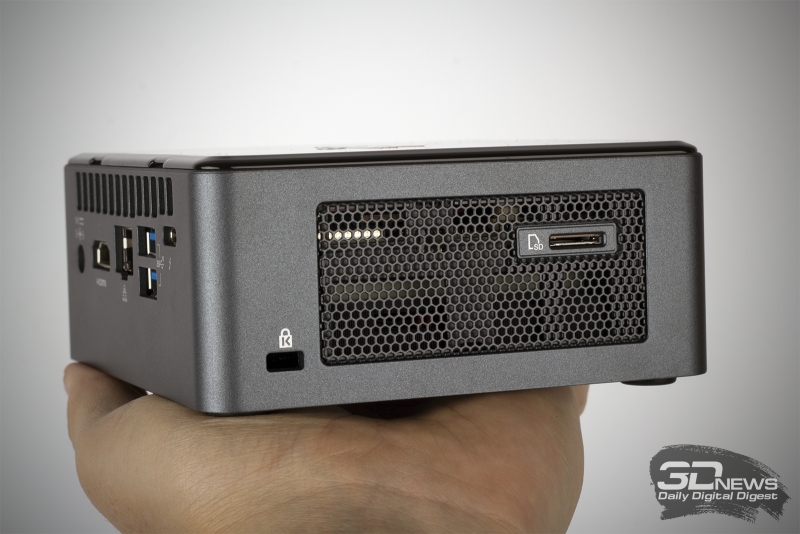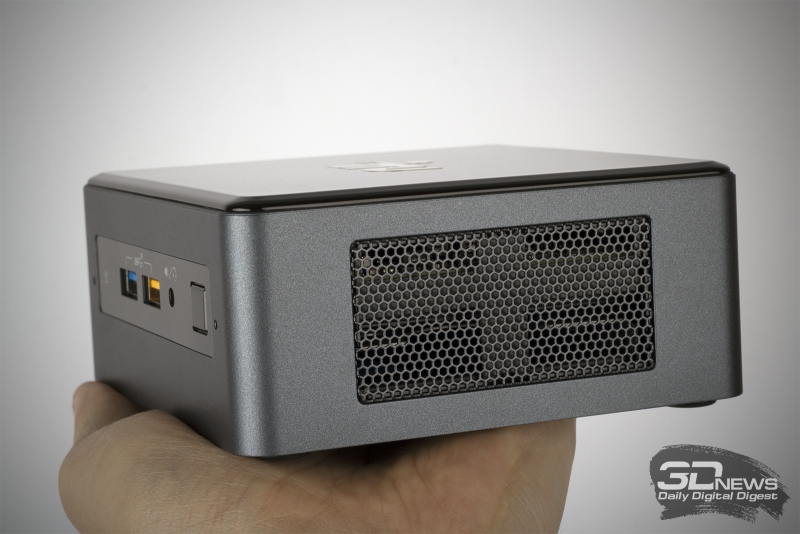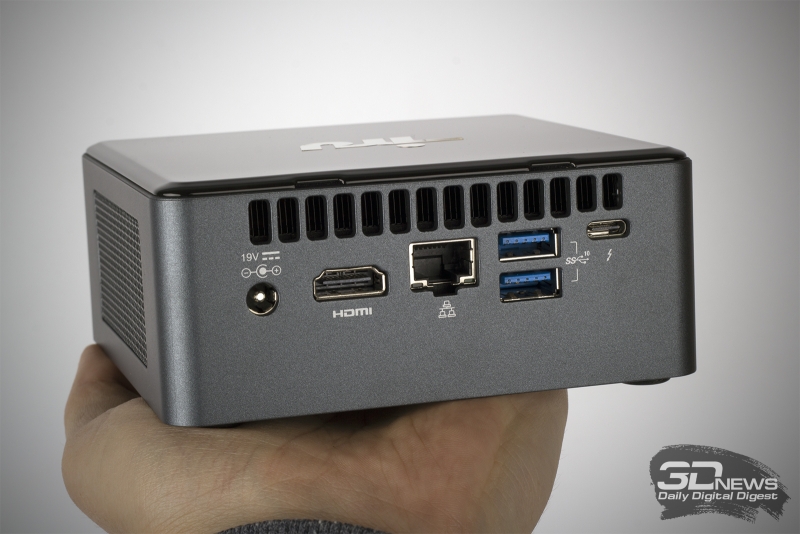 While iRU 115 NUC all right with functionality. On the front panel of the unit includes two USB 3.1 Gen2 A-type, 3.5 mm headphone Jack and the power button. It is also the indicator of operation of the drive device.
On the left iRU 115 NUC is a card reader that supports a mass storage device format microSDXC. There is also a slot for Kensington security lock. Rear panel nettop is equipped with a connector for connecting an external power supply, HDMI output 2.0, RJ-45 port, two USB 3.1 Gen2 A-type and Thunderbolt 3, which also compatible with USB 3.1 Gen2 type C and output mini-DisplayPort 1.2. It iRU 115 NUC without any adapter you can connect two monitor.
For wired network connection in the computer is compatible with the Gigabit controller Intel Ethernet Connection I219-V, and for wireless Intel Wireless-AC 9560. In the second case, the module supports Wi-Fi standards IEEE 802.11 b/g/n/ac with 2.4 GHz and 5 GHz and a maximum bandwidth of up to 1734 Mbps and Bluetooth 5.0.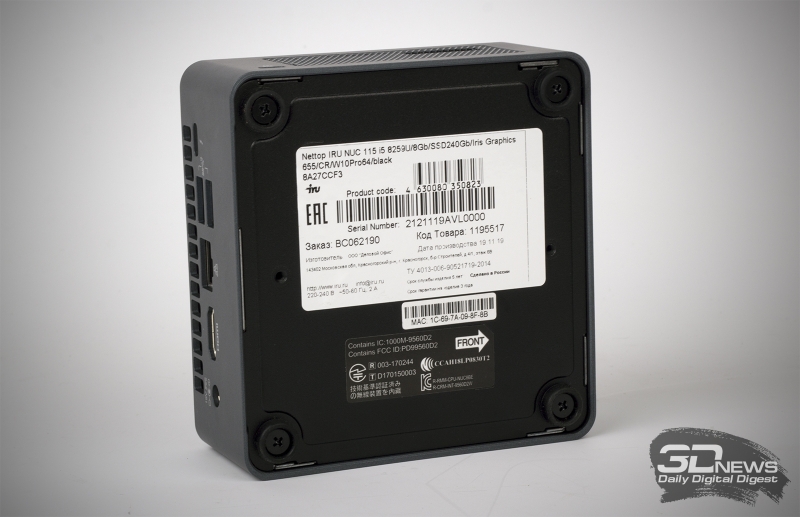 It is important to note that it is possible to install the workplace. The easiest way is to place a computer next to the monitor or monitors. However, the iRU 115 NUC legs allow it to be mounted behind the monitor, as the system supports standard VESA 100.
In General, we see that the nettop has a good level of functionality since with its compact dimensions the device is equipped with all necessary modern interfaces — there's more than the average laptop, although the case contains size smaller.
Possible upgrade
Another plus nucs iRU 115 lies in its good scalability. So, the computer understands is very simple, because it is necessary to remove only four screws. After removing the metal bottom we get access to the motherboard of the desktop.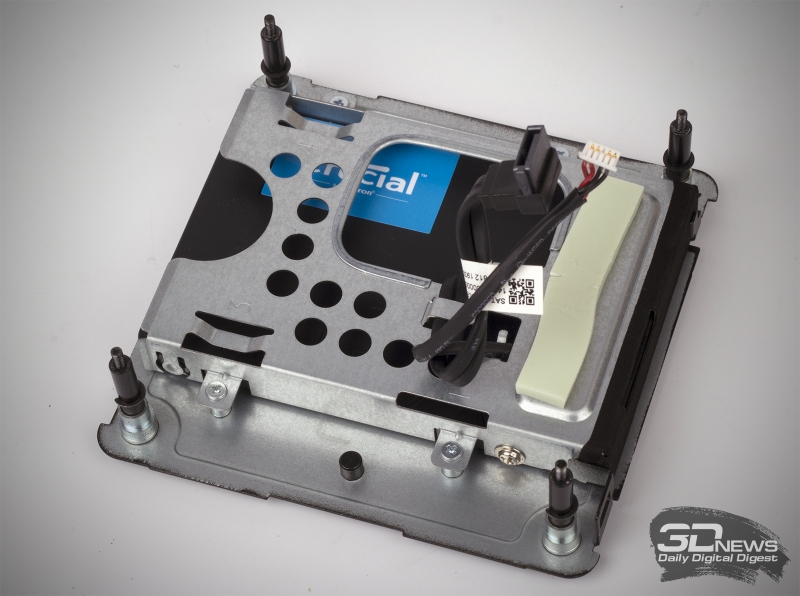 2.5-inch solid state drive is installed in a separate bin. In our case, a SSD Crucial CT240BX500SSD1 with capacity of 240 GB, which works in mode SATA 6 GB/s. If desired, it can be replaced by any other storage device of a similar size. So iRU 115 NUC can be turned into a HTPC, and it will store a lot of downloaded media. Naturally, for such purposes will require more bulk storage device.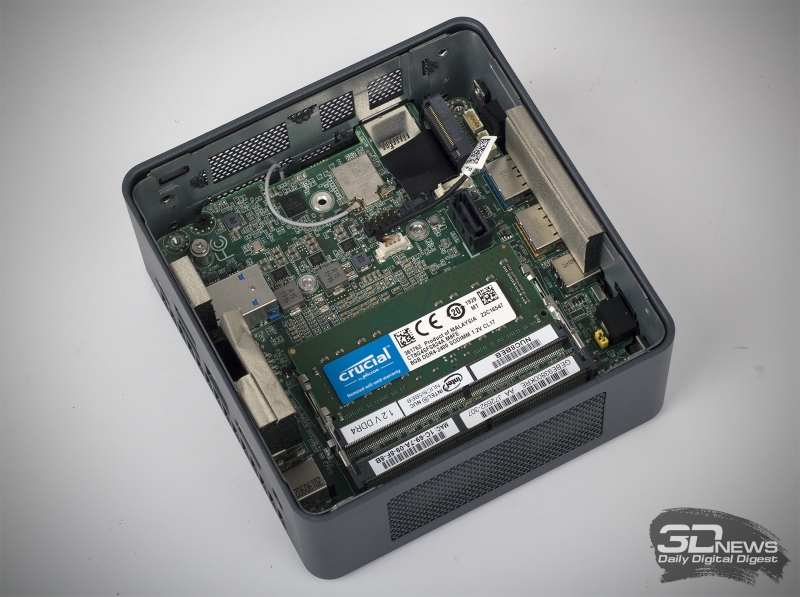 In this case, iRU 115 NUC allows you to install a second drive, this time an M. 2. The device is compatible with SSD length up to 80 mm, the connection is made via the bus PCI Express 3.0, available to all four lines.
Finally, in test model iRU 115 NUC installed only one module of RAM standard DDR4-2400 with capacity of 8 GB. If desired, in the second slot SO-DIMM you can install the second module. Please note that the memory controller Core i5-8259U supports up to 32 GB of RAM in dual channel mode.
Source: 3dnews.ru