Overview of ASUS ZenBook Pro Duo UX581GV: a failed experiment or the future of laptops?
About the fact that ASUS is preparing a laptop with two screens, I knew in the beginning of this year. Generally, as a person who constantly keep track of mobile equipment, me has long been obvious that manufacturers are trying to extend the functionality of their own products is through the installation of a second display. We are witnessing attempts to integrate additional screen in smartphones. We see that in the same deal, and manufacturers of equipment — immediately comes to mind is
Apple, with its "Makbuki" equipped with a touch panel Touchbar. Recently we told you about a series of gaming laptops HP Omen X 2S, which includes a tiny, 6-inch display. However, ASUS engineers have gone further and equipped all model ZenBook Pro Duo UX581GV a full 14-inch touchscreen panel with a resolution of 3840 × 1100 pixels. What came of it — read on.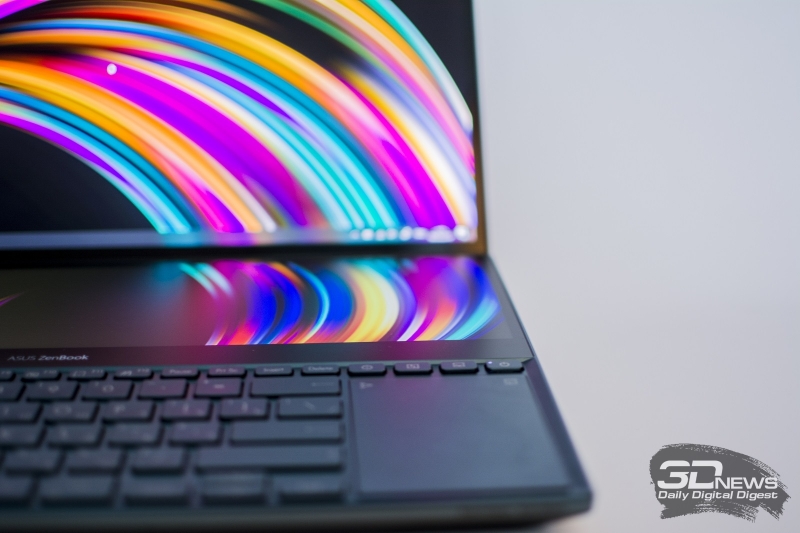 Specifications, equipment and
It should be noted that the ZenBook Pro Duo caught our attention not only by the presence of two screens. The fact that this laptop is equipped with very powerful hardware — it is obvious that the device is marketed primarily as a tool for content creation. All possible combinations of components ASUS ZenBook UX581GV given in the table below.
ASUS ZenBook Pro Duo UX581GV
Display
THE 15.6″, 3840 × 2160, OLED + 14″, 2840 × 1100, IPS
The CPU
Intel Core i9-9980HK
Intel Core i7-9750H
Video card
NVIDIA GeForce RTX 2060, 6 GB GDDR6
RAM
Up to 32 GB, DDR4-2666
Installing drives
1 × M. 2 to PCI Express x4 mode 3.0, from 256 GB to 1 TB
Optical drive
No
Interfaces
1 × Thunderbolt 3 (USB 3.1 Gen2 Type-C)
2 × USB 3.1 Gen2 Type-A
1 × 3.5 mm mini Jack
1 × HDMI
Built-in battery
No data
External power supply
230 W
Dimensions
359 × 246 × 24 mm
The weight of the laptop
2.5 kg
Operating system
Windows 10 x64
Guarantee
2 years
Price in Russia
219 000 rubles for a test model with a Core i9, 32 GB RAM and 1 TB SSD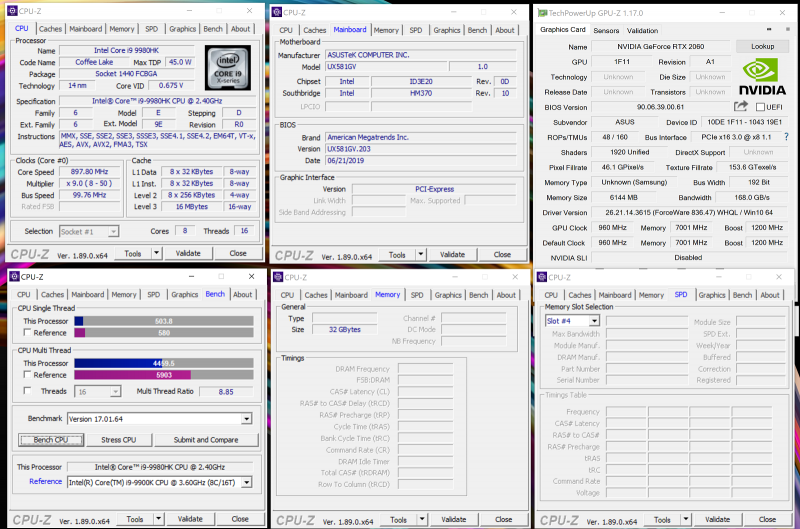 As you can see, to our test lab arrived the most productive version of "Zenbakia". In all models UX581GV installed graphics GeForce RTX 2060 6 GB, but the processors may be different. In our case we use the fastest mobile cosmedent — Core i9-9980HK, the frequency of which when the load on one core can reach 5 GHz. Also, the laptop has 32 GB of RAM and SSD of 1 TB. All of ASUS ZenBook Pro Duo UX581GV equipped with wireless module Intel AX200, which supports IEEE 802.11 b/g/n/ac/ax with a frequency of 2.4 and 5 GHz (160 MHz bandwidth) and maximum bandwidth to 2.4 Gbit/s and 5 Bluetooth. And the test model are certified according military standard reliability MIL-STD-810G. At the time of writing this model it was possible to pre-order for 219 000 rubles.
Complete with ASUS ZenBook Pro Duo UX581GV is an external power supply is 230 W and a mass of about 600 g.
Appearance and input device
ZenBook Pro Duo has a recognizable design. Those who created this device, I decided to use a strict log shape — it has, in my opinion, it is quite nice. The laptop casing is made entirely of aluminium, the color called Celestial Blue. However, we, of course, first attracted an extra ScreenPad screen Plus. More precisely, the combination of displays.
The main screen with a diagonal of 15.6 inches has a resolution of 3840 × 2160 pixels and standard aspect ratio of 16:9. In the ZenBook Pro Duo used an OLED panel, but about its qualitative characteristics we will discuss in the second part of the article. Touch screen, has a glossy surface. The thickness of the part to the left and right is 5 mm and top 8 mm. In ASUS has accustomed us to slim framework — better get used to it.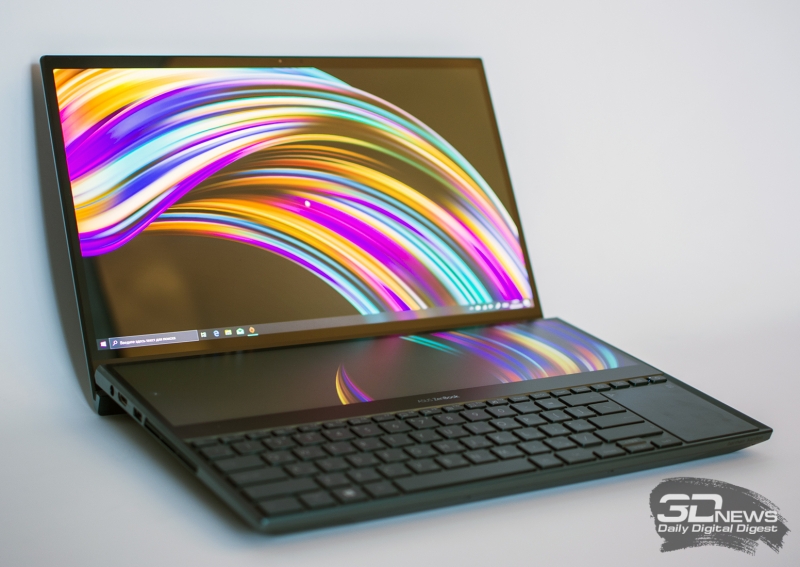 An additional screen with a diagonal of 14 inches has a resolution of 3840 × 1100 pixels, that is, the aspect ratio is 14:4. It is also touch-sensitive, but has a matte finish.
By default, both screens working in extended mode. While ScreenPad Plus has its own menu, very reminiscent of the start menu of the Windows operating system. Here we can change settings sub-screen, and run apps that are downloaded to My ASUS. For example, preset program Quick Key — it provides access to frequently used shortcuts. Of course, you can configure and their combinations.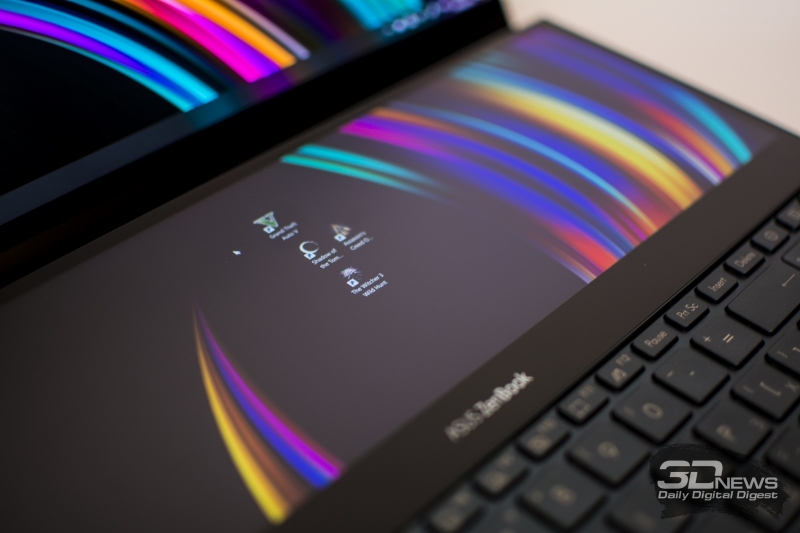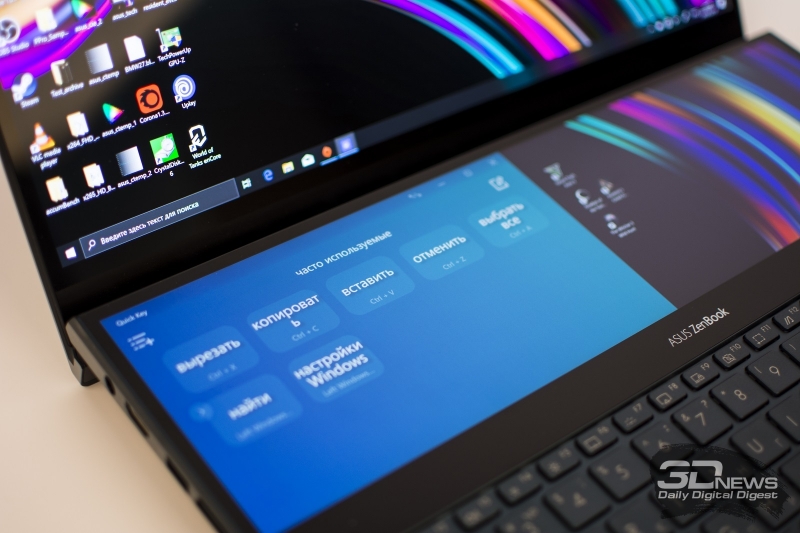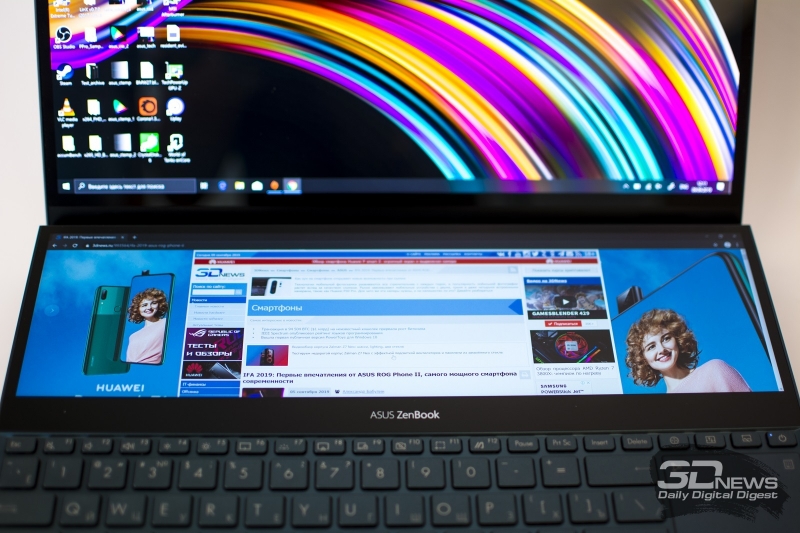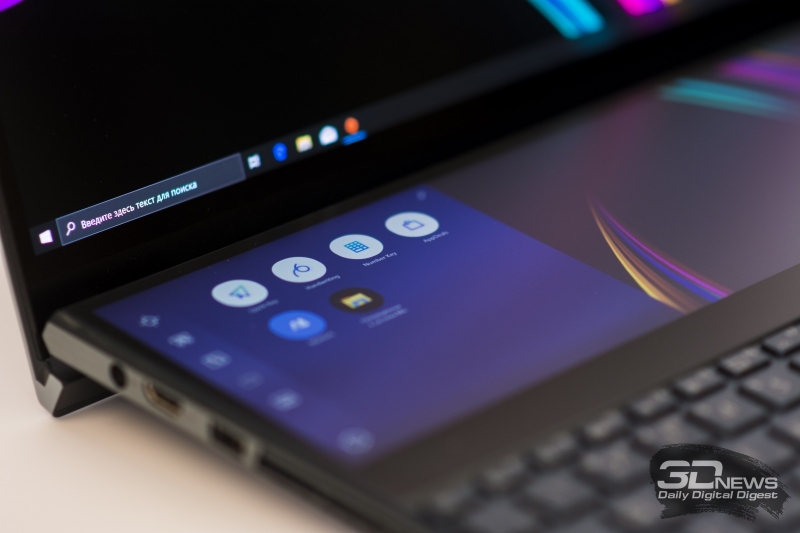 ScreenPad menu Plus allows you to manipulate the displays. So, there is a Task Swap function — when you press open in different window screens are swapped. There is an option ViewMax — when enabled, for example, the browser is stretched on both panels. There is a mini-program Task Group: click on the icon and laptop runs multiple applications. Menu Organizer allows symmetrical positioning of Windows on secondary display. Finally, option Navigator App shows the ribbon all running on a laptop program.
Who will need a laptop with two screens? In my opinion, the ZenBook Pro Duo can be a great assistant to those who work with editing videos and photos. It's all quite simple: ScreenPad Plus can be positioned on a second display of the most frequently used submenu graphics editors. Thus we won't be overloading the main screen.
ZenBook Pro Duo will be useful for programmers, because the code window can be stretched across both displays. Finally, an additional screen will be convenient for the streamers — here you can put the chat and, for example, menu OBS.
I used the ZenBook Pro Duo a little over a week. By occupation I have to constantly "hang" in social networks and messengers. So it turns out quite handy, for example, to write the article and at the same time to chat in "the Telegram" or "Facebook". And now I'm writing this text, and on ScreenPad Plus launched the review of laptop ASUS ROG Strix SCAR III (G531GW-AZ124T) — which is easier to view the graphs with test results.
The only time you have to get used to the location of the second screen. Because you have to tilt your head down — and still you look at ScreenPad Plus under not a right angle.
As we have seen, the laptop has very powerful hardware. It is obvious that in comparison with other "Jinbukan" version of the Pro Duo never is ultrabook. Thus, the thickness of the device is 24 mm and its weight is 2.5 kg. Add an external power supply — and that you have to carry around a 3+ kg of extra Luggage. In this regard ZenBook Pro Duo is a little different from a 15-inch gaming laptops.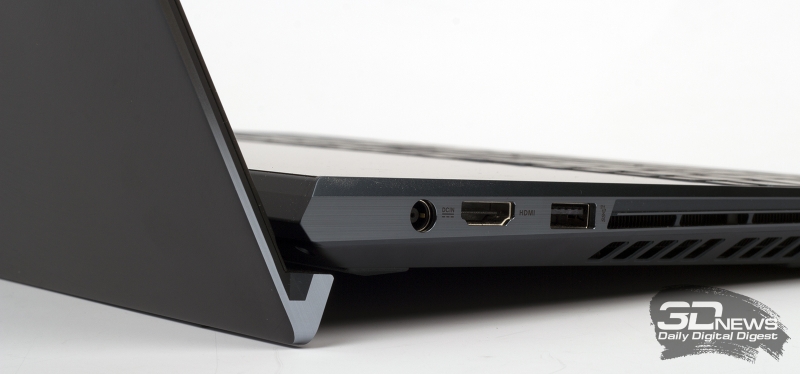 Cover of hero of today's testing reveals approximately 140 degrees. Hinges at the ZenBook Pro Duo tight, they are well positioned screen. The lid is easy to open with one hand.
Keep a notebook on your lap is not very convenient, as it hinges significantly raise the body of the laptop and dig into the body. To use loops in Ergolift ZenBook Pro Duo engineers made two things: first, you need to ensure the laptop cooler good air flow, and secondly, they tried to make it easier to use ScreenPad Plus (look at it from a steeper angle).

Connectors have "Zenbakia" not very much. On the left side has HDMI input and USB 3.1 Gen2 A-type. On the right — Thunderbolt 3, combined with the USB C-type, one USB 3.1 Gen2 A-type and a 3.5 mm headset Jack. Oh, the laptop designed for photo and video editors, is clearly not enough for a card reader! A large part of the left and right faces is a perforated grille of the cooling system of the laptop.
On the front panel near the ZenBook Pro Duo has a back light.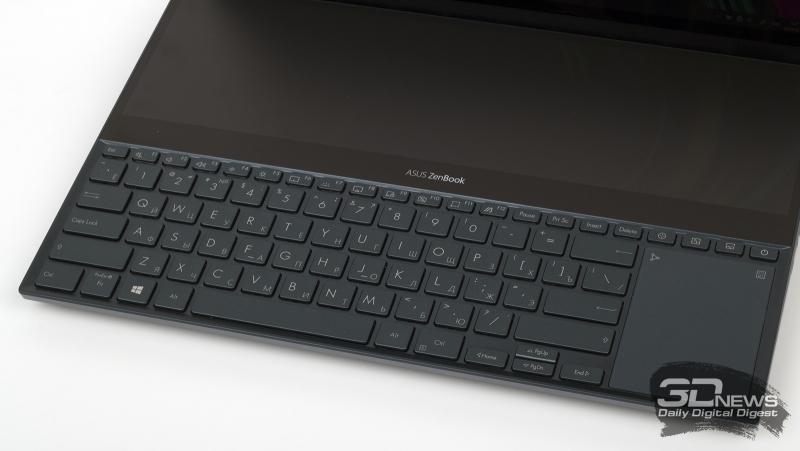 The keyboard ZenBook Pro Duo compact. Immediately warn you: to a vertically positioned and touchpad tiny keys F1-F12 will have some time to get used to. While the touchpad has a numeric keypad. A row of buttons F1-F12, in ultrabooks, by default works in combination with the Fn button, while the priority is given to their multimedia functions. The keyboard has a three-tier white backlighting. In the daytime the signs on the buttons when the backlight is well visible in the evening and at night — even more so.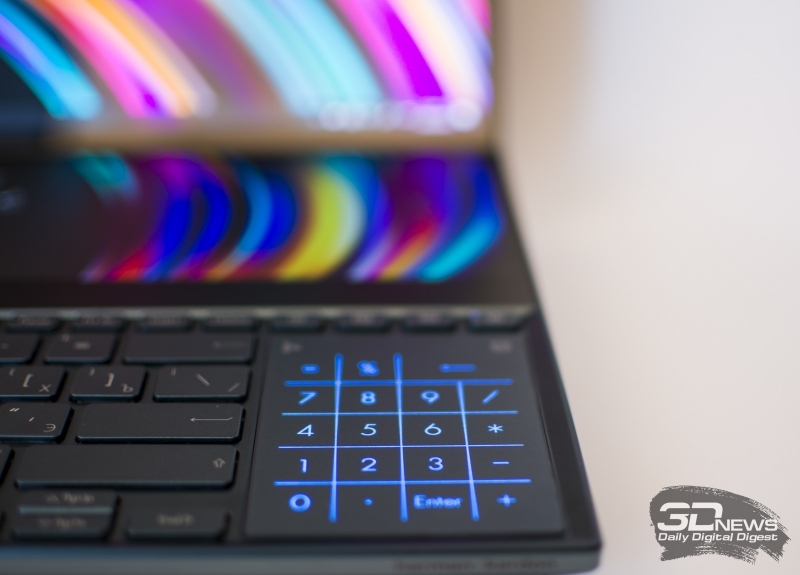 Overall after getting used to work at the keyboard "Zenbakia" is quite convenient. The key travel is 1.4 mm. the Only thing you have to do is out to place the laptop itself — centimeters at 10-15 from myself.
The webcam ZenBook Pro Duo set the standard — it allows you to shoot at 720p with the vertical frequency 30 Hz. I note that the laptop supports face recognition Windows Hello.
The internal structure and capabilities upgrade
The laptop is quite simply understands. To get to components, you must Unscrew a few screws — two of them are hidden by rubber plugs. The screws have a Torx connection, so you will need a special screwdriver.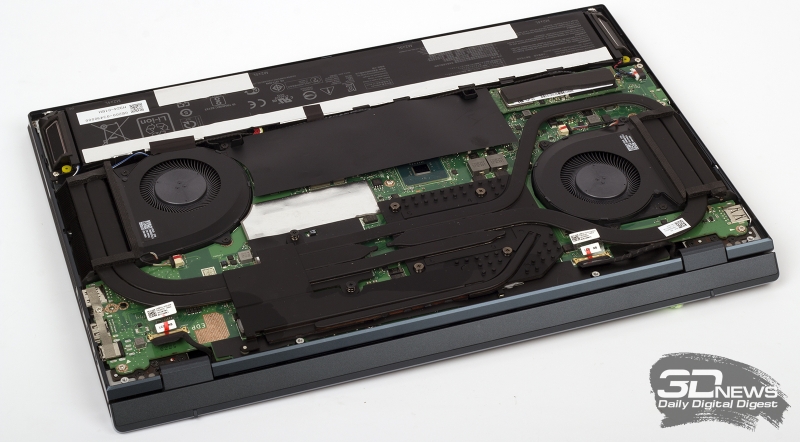 Cooling system ZenBook Pro Duo looks pretty interesting. First, we note the presence of five teplorulon. Four of them are responsible for the removal of heat from the CPU and GPU. Secondly, the fans are pretty far divorced from each other. It is seen that the impeller blows air outside the case on the sides. The manufacturer claims that each fan is equipped with a 12-volt motor and the blade 71.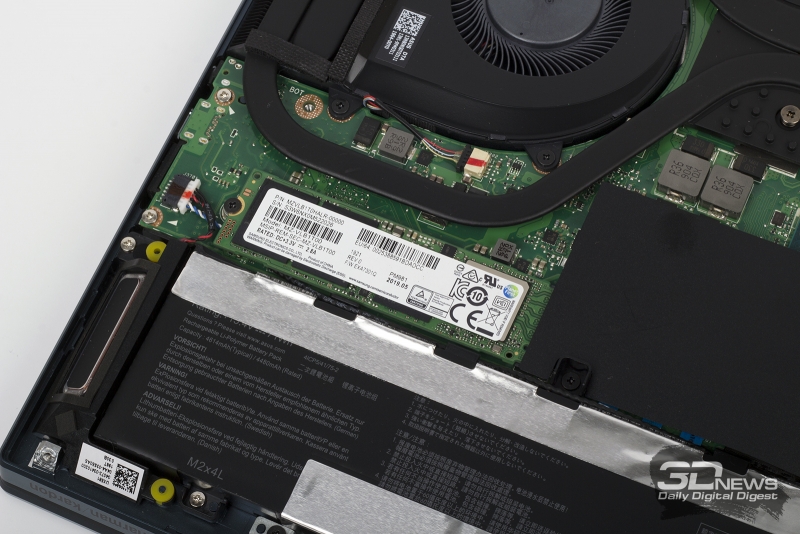 We can replace the ZenBook Pro Duo? In our case, to crawl under the cover, it seems, makes no sense at all. Perhaps someone will be more than one terabyte SSD then Yes, over time, drive Samsung MZVLB1T0HALR may give way to dvuhterabaytnogo solid state drive. But 32 GB of RAM should be enough for a long time.
However, it is necessary to consider one thing. On the official website of the manufacturer's specified that the sale can be found version of the laptop with 8, 16 and 32 GB of RAM. In the photo above, we see that RAM at "Zenbakia" — wired, its volume cannot be increased over time. Consider this point before buying.
Source: 3dnews.ru