"Mediocre, and the call state of the art": the CTO of Activision not happy with the graphics of Metro Exodus
Players ' opinions about the graphics of Metro Exodus strongly disagree, but the position of professionals from Digital Foundry on this point clear. They called the visual component of the shooter "a technological breakthrough", and in the computer version of NVIDIA-enabled RTX, — "a real phenomenon" (and even published a half-hour videorubber features operation of ray tracing in real time in this game). As it turned out, some prominent technical industry experts doubt the findings of the
staff of Eurogamer: for example, technical Director Activision, Hiking Angelo (Angelo Pesce) was surprised by the fact that "mediocre is called advanced."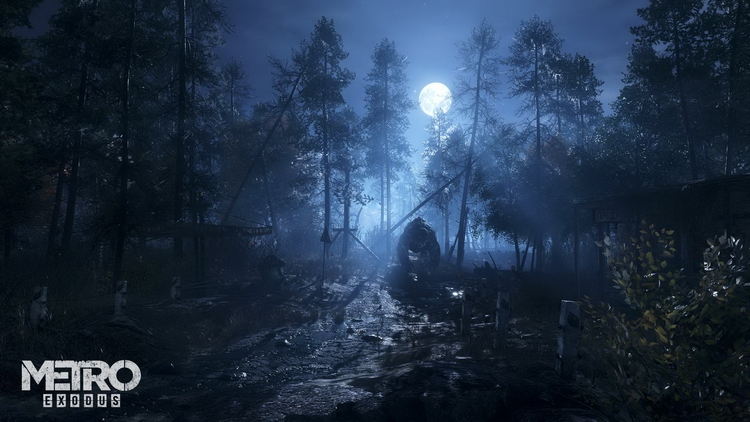 Hiking is the chief technology officer R&D division of Activision Jan 2013. On his page on Linkedin, he indicated that specializiruetsya on computer graphics in real time, machine learning, computational mathematics, data visualization, programming languages and low-level optimization. He participated in the creation of Call of Duty: Ghosts, Call of Duty: Advanced Warfare, Call of Duty: Black Ops 3 Call of Duty: aerial Warfare. He previously worked at Electronic Arts, Capcom and Relic Entertainment.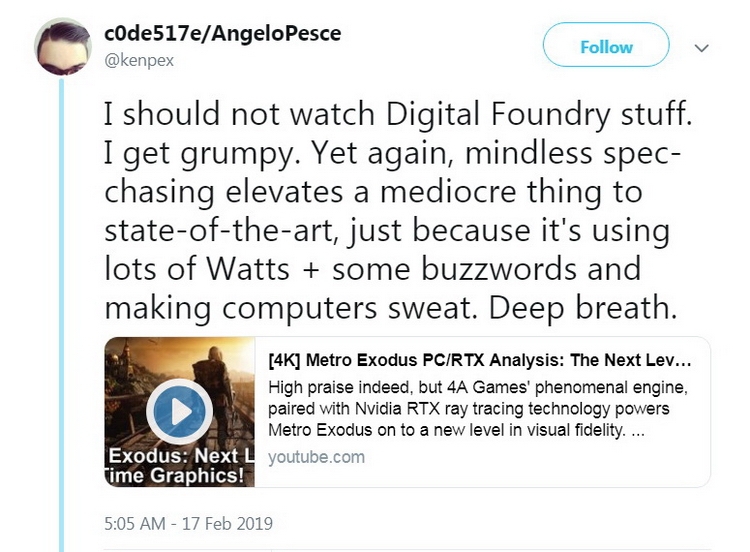 "I shouldn't watch videos Digital Foundry, they annoy me — Hiking wrote in his microblog. Stupid pursuit of characteristics leads to the fact that something mediocre is raised to the status of a state of the art just because it consumes a huge amount of watts, is described a fashionable term, and causes the computers to sweat. Deep breath".
Message Hiking did to the fans exactly as expected. Because of the reproaches he had to write an explanation, which he asked me to read anyone who's going to leave a comment. According to him, he likes the game series Metro, and developers from 4A Games, he said "perfect". He further said that really not impressed with the graphics of a shooter. Though he believes Metro Exodus "convincing open world game", it is, in his view, "there is nothing surprising or ground-breaking, so excited about."
"I know something about the revolution in computer graphics in real time, he explained. — [Metro Exodus] is not the case. It has a very well known technology, which is in the pile of other games. Meanwhile, the truly outstanding from a technical point of view, the projects go unnoticed. Very often — only because they have no options with mysterious acronyms, for which they would praise in the analysis of Digital Foundry. The authors of these critiques are often too detail and talk about some minor, unimportant features to the detriment of the overall picture".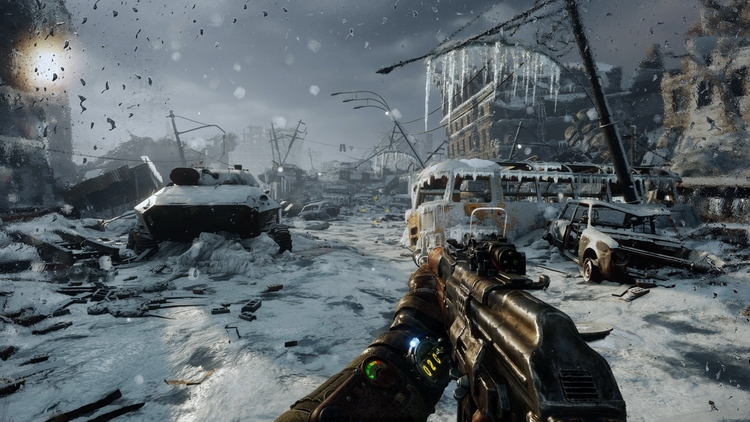 Some Twitter users agreed with foot that the reviews Eurogamer sometimes really false emphases, but noted that the explanations are available for a wide range of audiences and good is this.
"The obsession with technical achievements in games — the phenomenon is not new, especially if it is a PC, — continued the head. The problem is that everyone is still talking about benchmarks, pixels, frame rates of the simulation hair, menu options and all the acronyms, but no one, even now, in 2019 — not talking about the graphics. There are channels that are competent to talk about game design, narrative and other things. Graphics so there is usually her substitute for a list of technical features."
Metro Exodus, was released on 15 February on PC, PlayStation 4 and Xbox One. The shooter received a mixed press, but start selling in the UK was about 50% higher than Metro: Last Light (though Far Cry New Dawn took the lead).
Source: 3Dnews.ru