"That is not leadership, that's stealing": Game Workers Unite demands to dismiss the head of Activision Blizzard
This week Activision Blizzard has announced layoffs of about 800 employees (about 8 % of the state), despite record profits in the past financial year. According to the portal Kotaku, about 400 employees of the French branch still do not know whether they affected this process (in the Versailles office plans to cut 134 jobs). After a few days, the international organization Game Workers Unite to help in the education and protection of the rights of the employees of the gaming industry, demanded
to deprive of Bobby Kotick (Bobby Kotick) the CEO of the company.
Members of the trade Union has launched a petition on coworker.org with the immodest title, "Sack of Activision CEO Bobby Kotick because he pockets the millions and dismisses 800 workers". At the time of writing this article she gathered more than 1.5 thousand signatures. The text says that the dismissed employees involved in marketing, eSports and community, "is more important than CEO."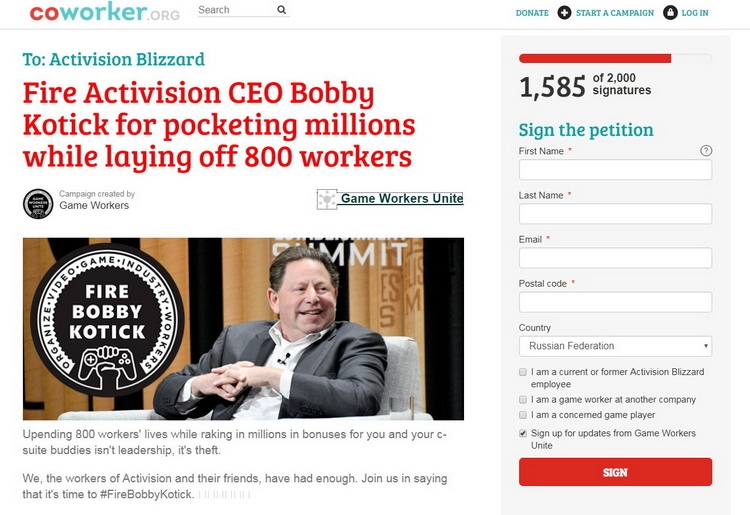 According to employees who joined the movement, the salary of the head of the $30 million "consists of stolen wages to his workers". They also criticized the decision to pay Durkin Dennis (Dennis Durkin), recently appointed chief financial officer, a bonus of $15 million just for a change of position. "Kitty is especially proud of the 9 percent increase in the value of the shares, but this growth is the result of our labour," they wrote.
"It's shocking to hear Kotick boasts of record revenue, and immediately announces the reduction of 8 % of state — continued members Game Workers Unite. — Layoffs are destroying our industry, because the income of the shareholders became more important than lives of workers and the development of quality games."
The creators of the petition have also left links to articles in the media, one of which (published by Kotaku) States that in 2017, the Manager received $28.6 million in 306 times more than other employees on average.
In addition, they started a campaign on Twitter in which he began to publish the messages with the hashtag #FireBobbyKotick. "To turn upside down the lives of 800 employees while you and your senior colleagues are getting millions in bonuses — is not leadership, it is theft, they said. We, the employees of Activision, and their friends, had exhausted his patience. Join us and tell me what time #Abolitionniste".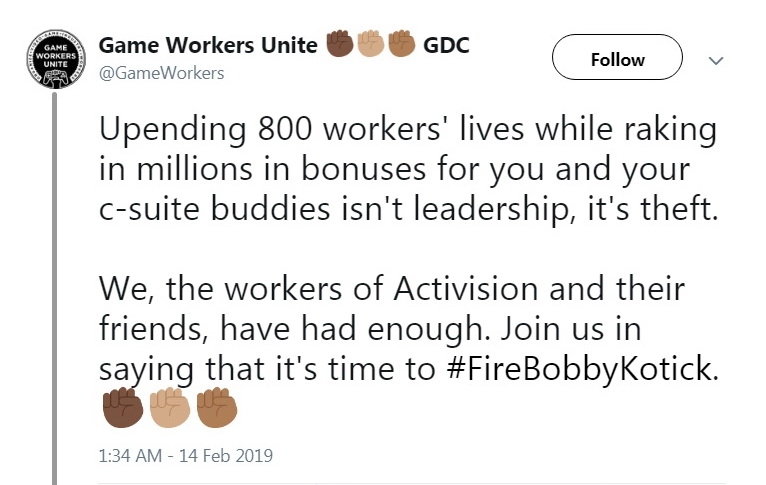 At a meeting with investors, Kotick explained that the cuts will only affect departments not directly related to game development. While Activision Blizzard is going to be a 20% increase of the team's key projects (including Overwatch, Diablo and Call of Duty).
In the last financial report Activison Blizzard reported $7.5 billion in net revenue for 2018. While sales in the Christmas quarter have appeared below predicted by analysts, Kotick said that the figures for the whole year could be higher. The company also confirmed that in 2019 Blizzard Entertainment will not release any major games and the new Call of Duty from Infinity Ward, which will be held this year, will add single-player campaign.
Source: 3Dnews.ru