First impressions of the smartphone Honor Magic2: the return of the sliders
"Senior" Honor with magical name first appeared in 2016 – not yet arrived officially to Russia, despite a great representation of the brand we have. Immediately is to say that the same awaits Honor Magic2 – it is already known that the device is designed exclusively for the Chinese market. But it is a very interesting device, with which we were able to meet immediately after the announcement. A full review will do later today – first impressions.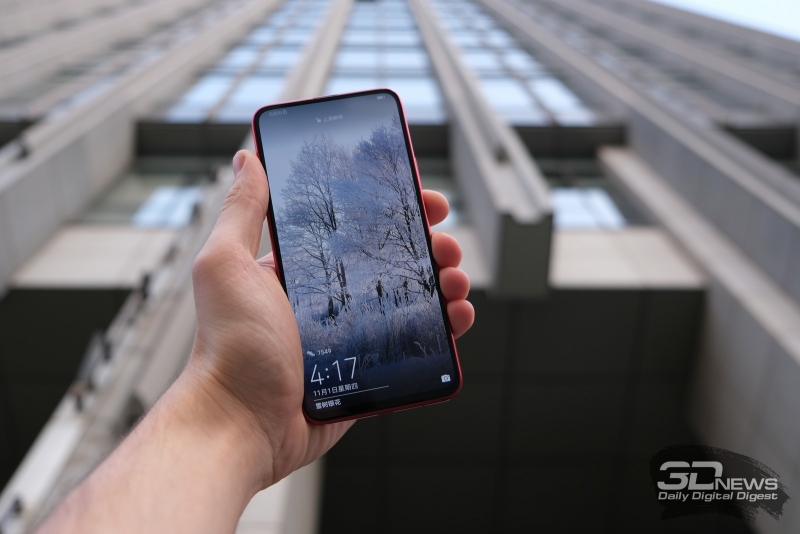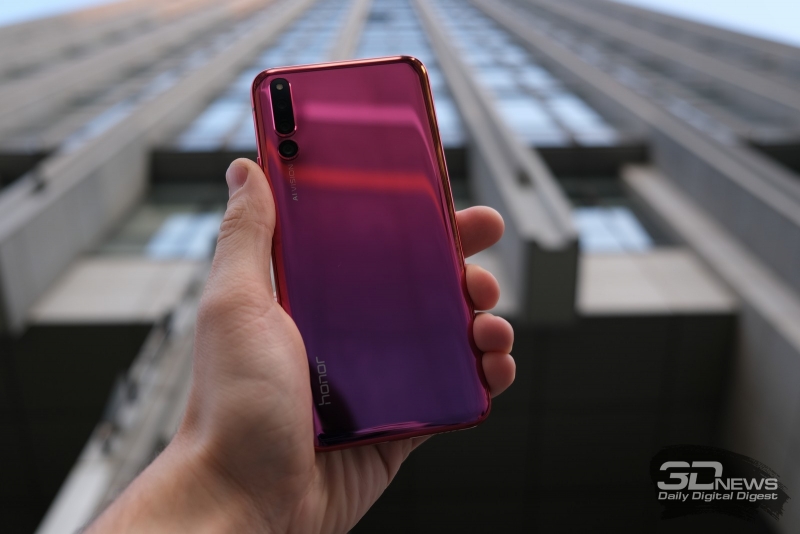 Two weeks ago, Huawei
introduced its flagship Mate 20/20 Mate Pro is the first smartphone on the new platform Kirin 980 who sports a particularly powerful artificial intelligence and a triple rear camera with the ability not only zoomed in / out the frame, but also to a wider angle. And here is the next move for the brand Honor. Magic2 is the second smartphone with Kirin 980 and it's not only the rear camera has a three lens and sensor, but the front! Yes, in addition to this slider design and a brand-new voice assistant YoYo. Sounds like a "Royal flush", but it's not quite as smooth.
Although the slide mechanism works really smoothly and nicely – Magic2 able to deliver tactile pleasure, uttering at the same characteristic clicks: they not only hear from the enclosure and from the bottom of the speaker. Simulation, but appropriate. The more the slider is fully mechanical and not electronic like in OPPO Find X – back housing it is necessary to push slightly upward to above the screen appeared in front of the camera. Back always are in place to push Honor Magic 2 to make any shot, no need. Exactly the same decision in your MIX Mi 3 and Xiaomi used, I managed with him also to talk a little time – and I must say, the Honor was better. The mechanism operates more clearly, we need to make less effort, and the risk of dropping the phone from his hand, capturing it in order to push, minimum.
It is a little strange, given that the case traditionally, to Honor almost entirely made of glass (made of metal made exclusively of faces) – well fingers clinging to the back of mirror, convenient to use Magic2. Through the use of this mechanism is gone "Bang", 6,39-inch display and almost completely took the faceplate frame is almost invisible, only the bottom is relatively large influx.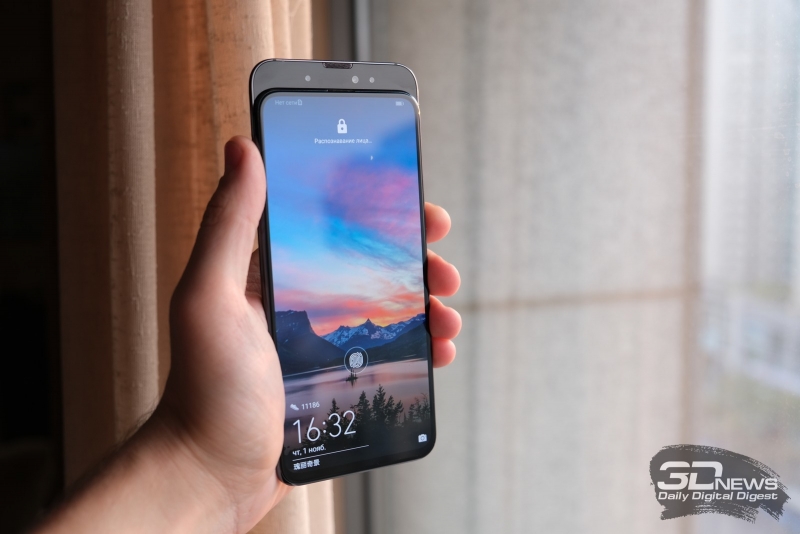 When apart of the Honor Magic2 automatically activated the facial recognition system is in the "normal" version of the standard, using only the front camera, a special version of Magic2 3D with three-dimensional scanner. This is, again, convenient – the only problem is that after recognition you get directly to the camera app to quickly take a selfie. If you like this script is not needed, you can unlock the phone using the screen fingerprint scanner, but it works like Mate 20 Pro, mediocre speed and precision (although more time is needed to form a clearer impression).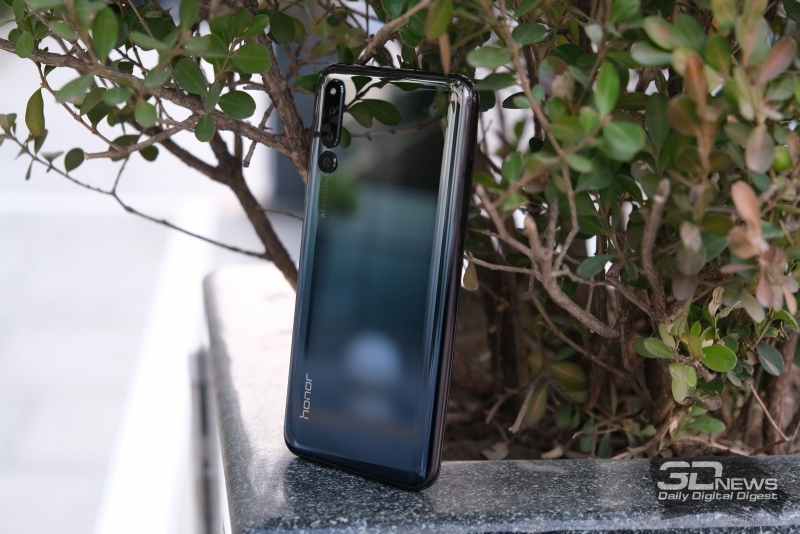 Unlocking Honor Magic2, the user must not get in the usual EMUI, and specially designed for this series the Magic shell UI. Alas, there is only Chinese version, and get to know her I had no opportunities, especially for testing provided under EMUI jailbroken gadget. And it is in Magic UI hides the main feature of the flagship Honor – voice assistant YOYO. It is, of course, today do not know the Russian language (but knows ten others) and generally has been excluded from that smartphone that got us to the test, but judging by a long story presentation, does more than Siri or Google Assistant: voice translation on the fly to the ability to unlock your smartphone, just by recognizing the voice of the owner, and he does it even in a noisy environment. To fully meet YOYO, you need to wait for the Russian version – when it will appear, no reports, but hope is definitely there.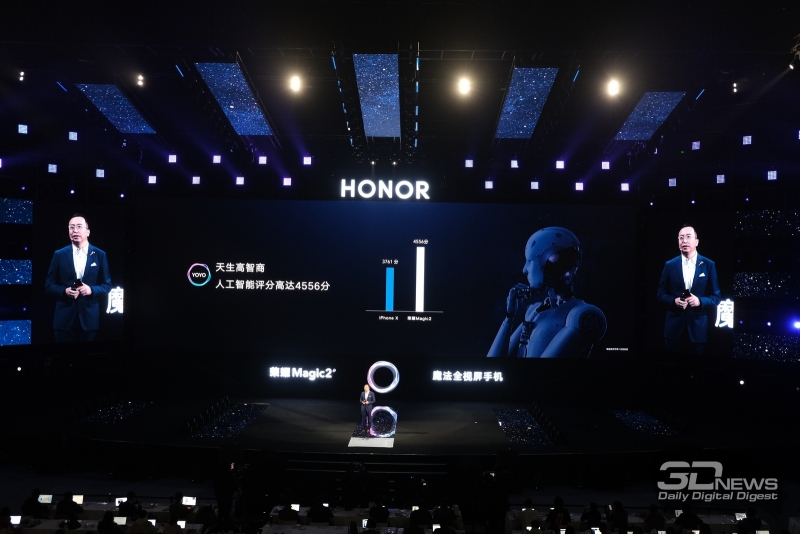 However, Magic2 installed in the platform Kirin 980 gives him no reason, of course, but a very good mental capacity, even without YOYO. In addition to the traditional way of using AI in smart phones – to improve the photos (or "improvement" here as anyone) – Honor demonstrated, for example, an application which in real time evaluates the condition of your skin: what age you look, as far as she is hydrated and so on. Even a certificate stating that this method is quite accurate, there Honor. Then there will be more apps taking advantage of neural network computing, as long as we have smartphones that are adapted to this. Honor, by itself, compared to the Magic 2 to the power of the work with neural networks with iPhone – but not Xs, which is built on the basis of the A12 with a dedicated Neural module Engine, and with last year's iPhone X. a Trick is not the most honest.
| | |
| --- | --- |
| | |
In terms of performance outside of AI scripting Kirin 980 could compete with Apple or Qualcomm Snapdragon A11 845, bypassing them, for example, in 3D graphics. But the dominance even today there is no more we'll talk about that in the upcoming review Mate 20 Pro.
Memory full procedure: online or 6 or 8 GB non-volatile – from 128 to 512 GB (latest – version 3D Magic2). It's a really powerful smartphone without much compromise. More precisely with one or no slot for memory cards microSD. For version at 128 GB, it is quite relevant, so that is something, if only a little regret.
About the display I said a few words above, complement is 6,39-inch AMOLED format 19:9 with Full HD resolution+.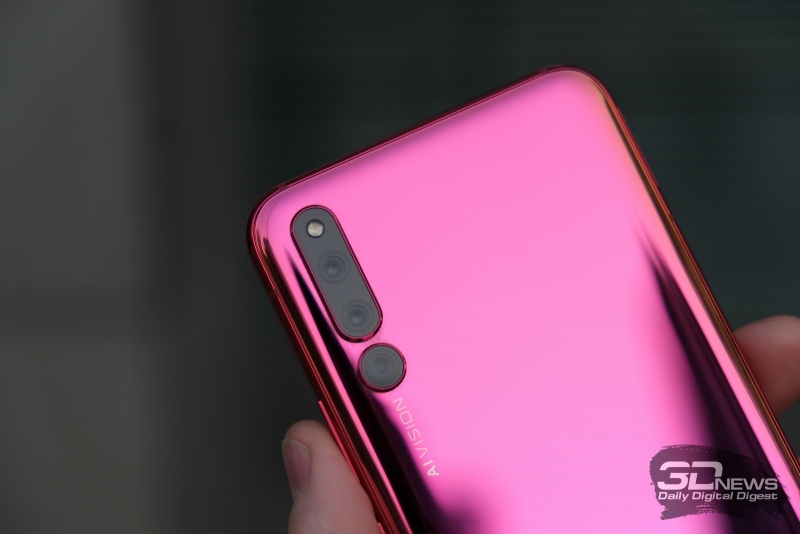 Camera – a rare event – not the most interesting thing in the smartphone. Back performed according to the scheme tested in the Huawei Mate Pro 20: each of the three responsible for its focal length, providing a pretty good optical zoom. Two of them 16 megapixel (f/1.8 and f/2,2), the third black-and-white on a 24 megapixel camera (f/1,8). Optical stabilizer, unfortunately, no, but the level of quality roughly equivalent to that demonstrate Honor 10 – with additional wide-angle mode.
Of course, supported disable artificial intelligence who can recognize one of the plot up to five simultaneous scenarios, "twirling" picture taking into account all of them. Some other the specifics of the camera for Magic2 I have not noticed.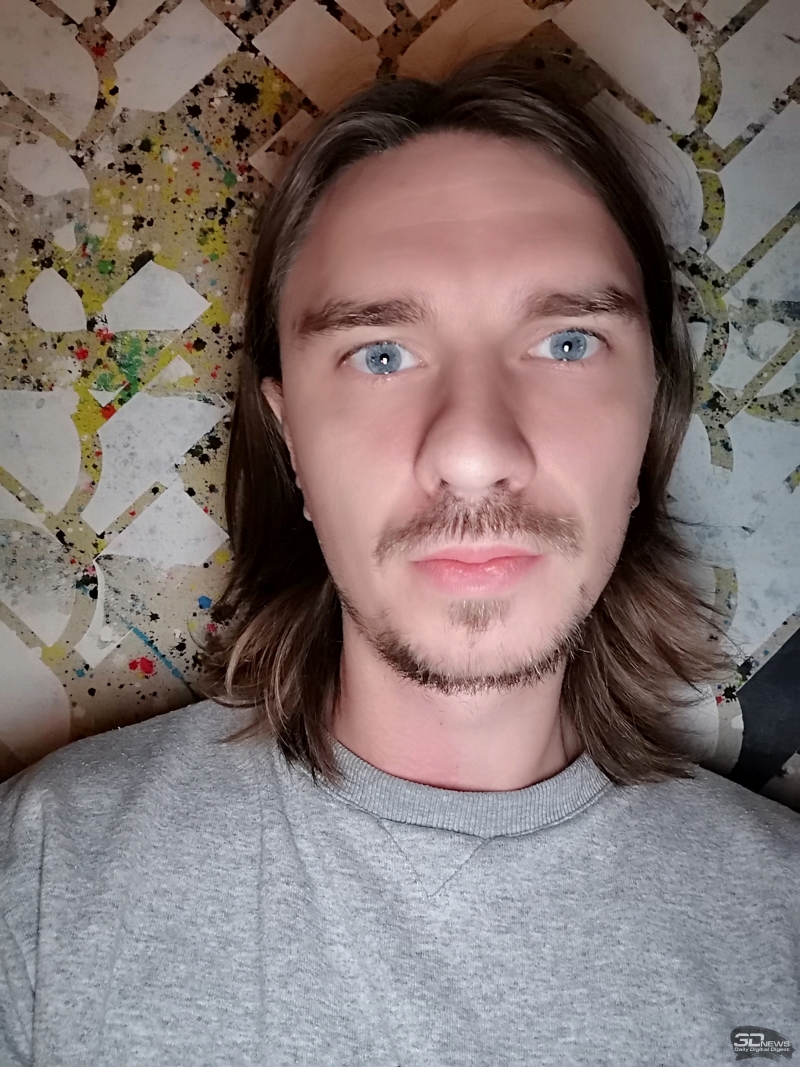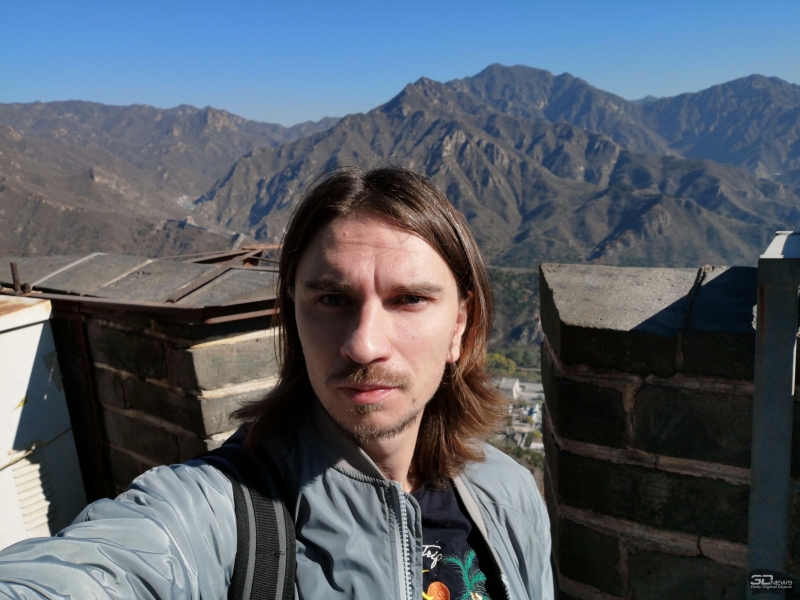 The front camera is even more interesting – in the first place. Their three: 16 megapixel (f/2.0) and two 2 megapixels – both to correct the software side. Why just two, no one to explain could not, and I'm in the process of a brief acquaintance I do not understand – quality processing of background Honor Magic2 even inferior to the same Huawei Mate Pro 20 with a single frontalka. But directly on the quality of shooting, no issues, excellent level.
Another feature that moved, right from the first Magic – quick charge with 40 watts (10V, 4A). With its help, the smartphone with a battery capacity of 3500 mA·h for half an hour is charged at 85%, and half in 15 minutes.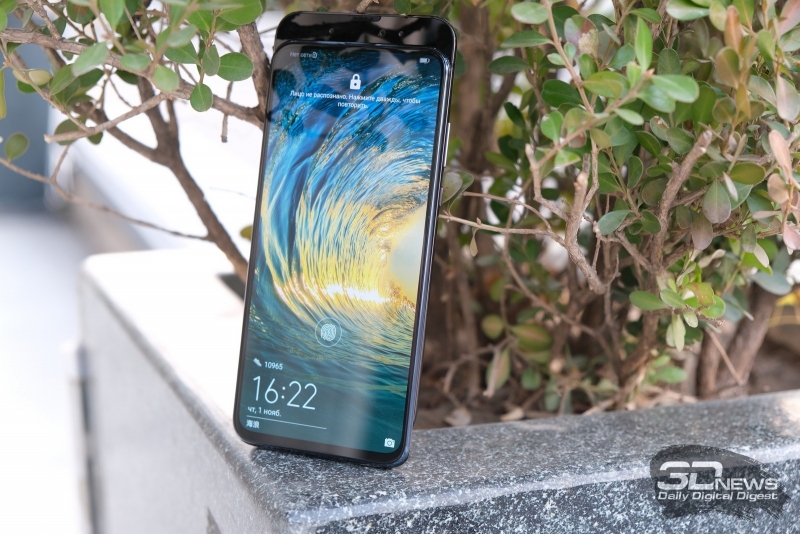 Like Mate 20 Pro, Magic2 got the dual GPS receiver to more quickly and accurately determine your location and record track moves, as well as Wi-Fi module with theoretical downstream data rate 1.7 Gbps. There is NFC, infrared port and Bluetooth 5.0. But the mini-Jack, as you can see in the photos, no – despite the fact that there is no moisture protection. This fashion, frankly, tiring.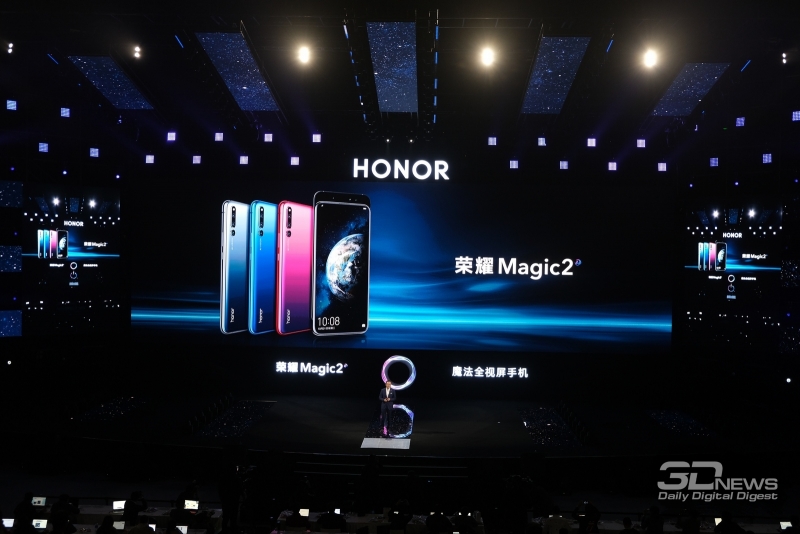 Honor Magic2 will be available in three gradient colours: red, black (both have our pictures), and blue. Alas, it will be available again, only in China, plans to relocate the model to other markets have Honor yet. And it would be honestly good prices, as is usually the case with Honor, very nice. The younger version 6/128 GB please 3 799 yuan (about 36 000), for the version on 8/128 GB – 4 299 yuan (40 600 rubles), the version on 8/256 GB – 4 799 yuan (45 350 rubles), for the Magic2 version 3D on 8/512 GB – 5 799 yuan (54 800 rubles).
First the Magic, which officially will appear in Russia, most likely will be the next, third, version – and it will happen next year. In the meantime there is only ever clicked his tongue and to choose another smartphone or order it in a Chinese shop, with the Chinese firmware, devoid of Google Play.
Source: 3dnews.ru