Review smartphone Sony Xperia XZ3: beauty in Japanese
Sony Xperia XZ3 was presented in Berlin at IFA 2018 at the turn of summer and autumn – and we did a preliminary review of the smartphone with the analysis of its main distinguishing features. Today is time for more thorough discussion and extensive testing. Whether or OLED display used in XZ3, better than the competition? How the new control scheme Side of Sense, all borrowed from the curved Samsung Galaxy, really changes the experience of the smartphone? Did one only software changes to
improve the performance of the main camera?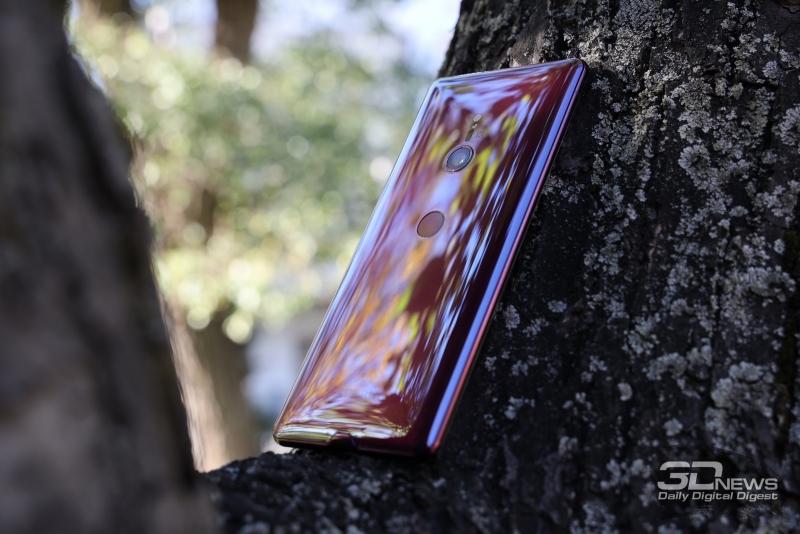 Issues actually, much more – Sony Xperia is very rarely boring and straightforward. XZ3 is no exception. Despite the fact that between the two flagship smartphones of the authorship of Sony, as usual, it's only been six months, a lot of changes, even the "skeleton" is left the same: design Ambient Flow, the platform Qualcomm Snapdragon 845, single 19-megapixel camera, front-facing stereo speakers.
Specifications
Sony Xperia XZ3
Sony Xperia XZ2
Huawei P20 Pro
Apple iPhone Xs
Samsung Galaxy Note9
Display
6 inch, OLED, 2880 × 1440, 537 ppi, capacitive multitouch
5.7 inch, IPS, 2160 × 1080, 424 ppi, capacitive multitouch
6.1 inch OLED
2240 × 1080 pixels, 408 ppi, capacitive multitouch
5.8 inches, Super AMOLED, 2436 x 1125, 458 ppi, capacitive multi-touch technology TrueTone
6.4 inch, Super AMOLED, 1440 × 2960, 516 ppi, capacitive multitouch
Safety glass
Corning Gorilla Glass 5
Corning Gorilla Glass 5
No information
No information
Corning Gorilla Glass 5
Processor
Qualcomm Snapdragon 845: four cores Kryo 385 Gold, 2.7 GHz + four cores Kryo 385 Silver, 1.7 GHz
Qualcomm Snapdragon 845: four cores Kryo 385 Gold, 2.7 GHz + four cores Kryo 385 Silver, 1.7 GHz
HiSilicon Kirin 970: Quad core ARM Cortex A73, 2.4 GHz + four cores ARM Cortex A53, frequency 1.8 GHz; architecture HiAI
Apple A12 Bionic six cores (2 × Vortex + 4 × Tempest)
9810 Samsung Exynos Octa with eight cores (4 × Mongoose M3, 2.7 GHz + 4 × Cortex-A55, 1.8 GHz)
Graphics controller
Adreno 630, 710 MHz
Adreno 630, 710 MHz
ARM Mali-G72 MP12, 850 MHz
Apple GPU (4 cores)
Mali-G72 MP18, 900 MHz
RAM
4 GB
4 GB
6 GB
4 GB
6/8 GB
Flash memory
64 GB
64 GB
128 GB
64/256/512 GB
128/512 GB
Memory card support
There
There
No
No
There
Connectors
USB Type-C
USB Type-C
USB Type-C
Lightning
USB Type-C minijack 3.5 mm
SIM card
Two nano-SIM
two nano-SIM
Two nano-SIM
One nano SIM and one e-SIM
Two nano-SIM
Cell 2G connection
GSM 850 / 900 / 1800 / 1900 MHz
GSM 850 / 900 / 1800 / 1900 MHz
GSM 850 / 900 / 1800 / 1900 MHz
GSM 850/900/1800/1900 MHz
GSM 850/900/1800/1900 MHz
3G cellular communications
800/850/900/1700/1900/2100 HSDPA MHz
800/850/900/1700/1900/2100 HSDPA MHz
HSDPA 850/900/1700/1900/2100 MHz
HSDPA 850/900/1700/1900/2100 MHz
HSDPA 850/900/1700/1900/2100 MHz
Cellular 4G
LTE Cat.18 (up to 1200 Mbps): ranges not specified
LTE Cat.18 (up to 1200 Mbps): ranges not specified
LTE Cat. 18 (up to 1200 Mbit/s), ranges 1, 2, 3, 4, 5, 6, 7, 8, 9, 12, 17, 18, 19, 20, 26, 28, 32, 34, 38, 39, 40, 41
LTE Cat. 16 (1024 Mbps): the bands 1, 2, 3, 4, 5, 7, 8, 12, 13, 14, 17, 18, 19, 20, 25, 26, 29, 30, 32, 34, 38, 39, 40, 41, 66, 71
LTE Cat. 18 (1200/200 Mbit/s), ranges 1, 2, 3, 4, 5, 7, 8, 12, 13, 17, 18, 19, 20, 25, 26, 28, 32, 38, 39, 40, 41, 66
Wi-Fi
802.11 a/b/g/n/ac
802.11 a/b/g/n/ac
802.11 a/b/g/n/ac
802.11 a/b/g/n/AC
802.11 a/b/g/n/ac
Bluetooth
5.0
5.0
4.2 (aptX HD)
5.0
5.0
NFC
There
There
There
Yes (Apple Pay)
There
Navigation
GPS, A-GPS, GLONASS, BeiDou, Galileo
GPS, A-GPS, GLONASS, BeiDou, Galileo, QZSS
GPS, A-GPS, GLONASS, BeiDou
GPS, A-GPS, GLONASS, Galileo, QZSS
GPS, A-GPS, GLONASS, BeiDou, Galileo
Sensors
Light, proximity, accelerometer/gyroscope, magnetometer (digital compass)
Light, proximity, accelerometer/gyroscope, magnetometer (digital compass)
Light, proximity, accelerometer/gyroscope, magnetometer (digital compass), infrared sensor
Light, proximity, accelerometer/gyroscope, magnetometer (digital compass), barometer
Light, proximity, accelerometer/gyroscope, magnetometer (digital compass), barometer, heart rate sensor, pressure
Fingerprint scanner
There
There
There
No
There
The main camera
19 MP, ƒ/2.0, optical stabilization, hybrid auto focus, led flash
19 MP, ƒ/2.0, optical stabilization, hybrid auto focus, led flash
Triple module 40 + 20 + 8 MP, ƒ/1,8 + ƒ/1,6 + ƒ/2,4, hybrid auto focus, optical stabilization, dual-led flash
Double module: 12 MP, ƒ/1,8 + 12 MP, ƒ/2.4 GHz, autofocus, chetyrehrjadnye led flash, optical stabilizer, both cameras
Double module: 12 MP with variable aperture ƒ/1,5/2,4 + 12 MP, ƒ/2.4 GHz, hybrid auto focus, optical stabilization in both cameras, led flash
Front camera
13 MP, ƒ/1,9, without autofocus, no flash
5 MP, ƒ/2.2, and without autofocus, no flash
24 MP, ƒ/2.0, fixed focus, no flash
7 MP, ƒ/2.2, and without autofocus, no flash
8 MP, ƒ/1,7, autofocus, no flash
Food
Removable battery 12,65 W·h (3330 mAh, 3.8 V)
A removable battery of 12.08 W·h (3180 mAh, 3.8 V)
Removable battery: 15,2 WH (4000 mAh, 3.8 V)
Removable battery: 10,13 W * h (2658 mAh, 3.8 V)
Removable battery: 15,2 WH (4000 mAh, 3.8 V)
Size
158 × 73 × 9.9 mm
153 × 72 × 11.1 mm
155 × 73,9 × 7.8 mm
143,6 × 70,9 × 7.7 mm
161,9 × 76,4 × 8.8 mm
Weight
193 grams
198 grams
180 grams
177 grams
201 grams
Protection case
IP65/68
IP65/68
IP67
IP68
IP68
Operating system
Android 8.0 Oreo, shell Sony Xperia
Android 8.0 Oreo, shell Sony Xperia
Android 8.0 Oreo, shell EMUI
iOS 12
Android 8.1 Oreo, own shell
Current price
69 990 rubles
51 860 rubles
54 990 rubles
from 83 700 rubles to 118 000
69 990 rubles for the version 6/128 GB, 89 990 rubles for the version on 8/512 GB
Design, ergonomics and software
Sony Xperia XZ3 develops the ideas of the past generation older Sony smartphones: Xperia Xperia XZ2 and XZ2 Premium. Square "Imperii" finally gone, they are replaced by smooth lines and design of the Ambient Flow.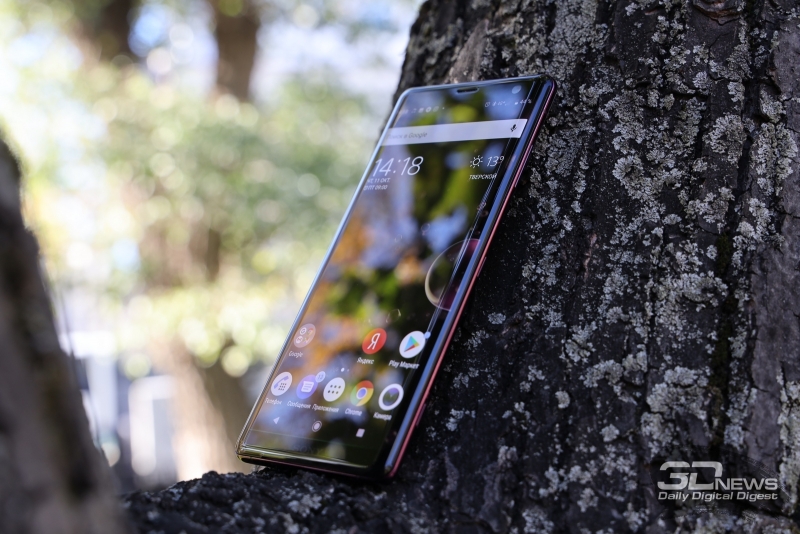 Read more about design XZ3 in particular and smartphones Sony as a whole can be read in our interview with a senior Manager of design, Sony Xperia, here I will mention only the highlights.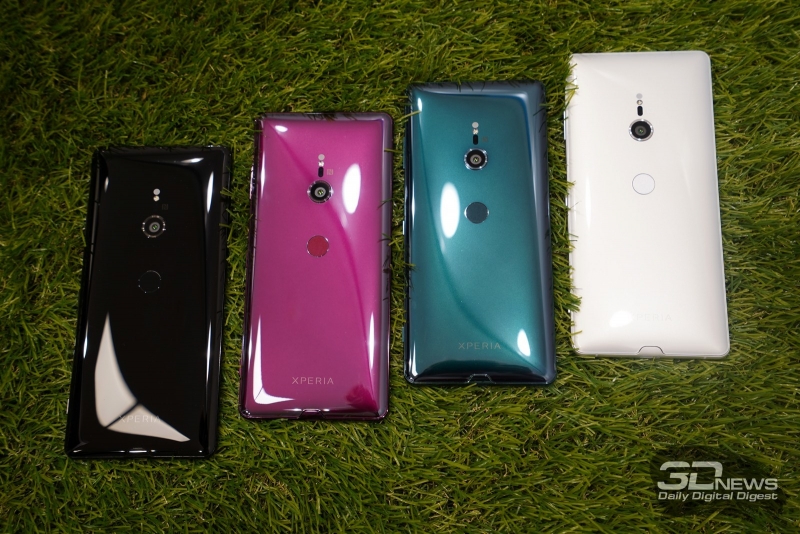 Xperia XZ3 has become noticeably thinner than XZ2 – 9,9 vs 11.1 mm, but have increased in width and height. Still, there is a 6-inch display, and use the cut-out for its smartphones, the Sony designers had not even considered. Well, the space at the top and bottom of the screen is left quite large – somewhere it is necessary to place the stereo speakers front audio output. Improves the impression a bit curved at the edges of the OLED display due to its use and combination with a convex back, the smartphone feels thinner than it actually is.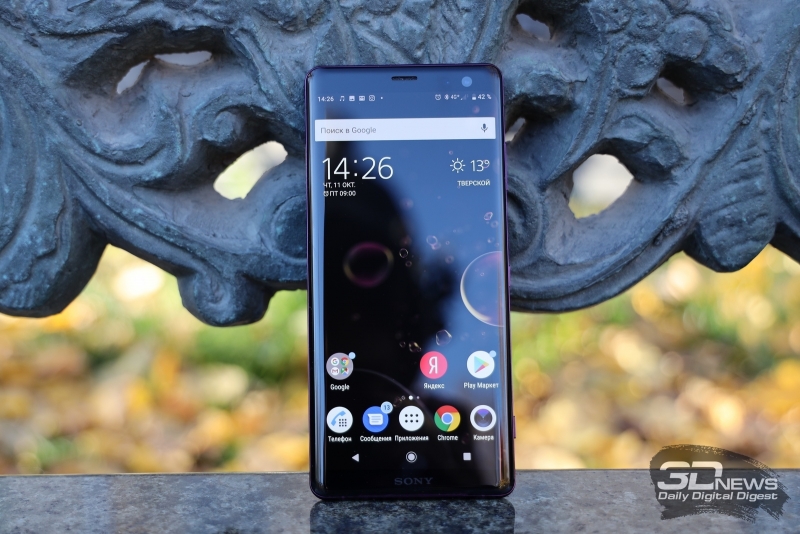 Really thin and small the most recent Xperia are already not call – this is to go either to the smartphones of other manufacturers, or XZ2 Compact. Yes, for the current generation of the compact version will not be – according to the manufacturer, the last have just not had time to become outdated. It is very reasonable for a semi-annual update cycle flagship — not argue.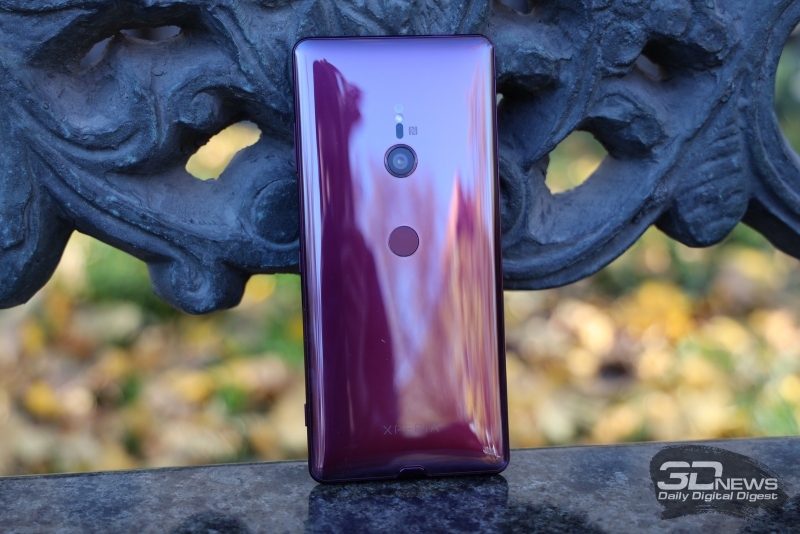 Smartphone with both sides lined with tempered glass with a pretty effective oleophobic coating and a good resistance to macrocarpon – this, remember, was the problem XZ2 Premium. Sony regularly emphasizes the increased strength of its smartphone — and by thicker than that of competitors, tempered glass, and due to the serious metal of the frame. During testing I accidentally happened to see the strength properties of mobile – it two or three times fall on different surfaces from a height meter and a half, but survived the fall without damage. To ensure that the next time he, for example, is not cracked just the glass, I can't, but some margin of safety in XZ3 is clearly there.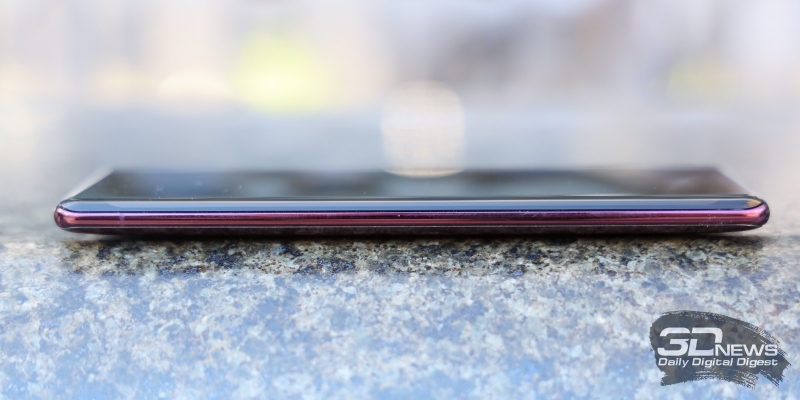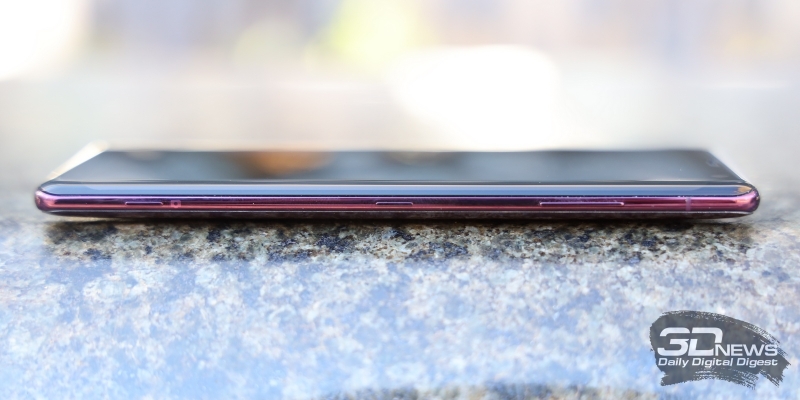 Another thing is that he fell for the same reason – too painful he is slippery, and besides, even and convex back and front face. Leaving your smartphone anywhere, be careful that it easily slips off and can go in free flight without your participation. But if he falls in the water, can be more or less quiet – Xperia XZ3 has an ingress protection class of IP65/68.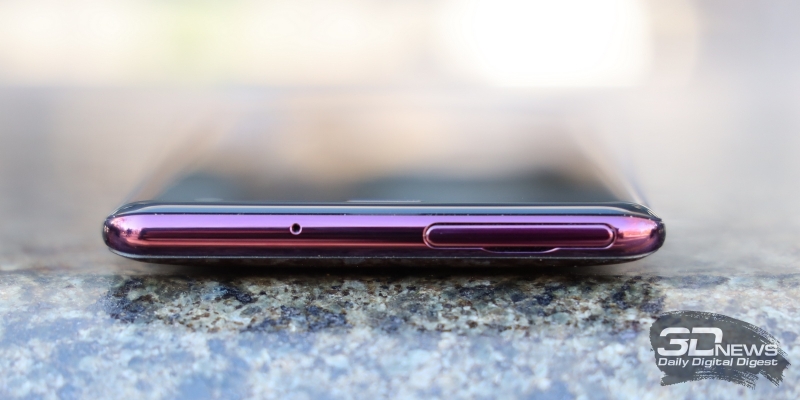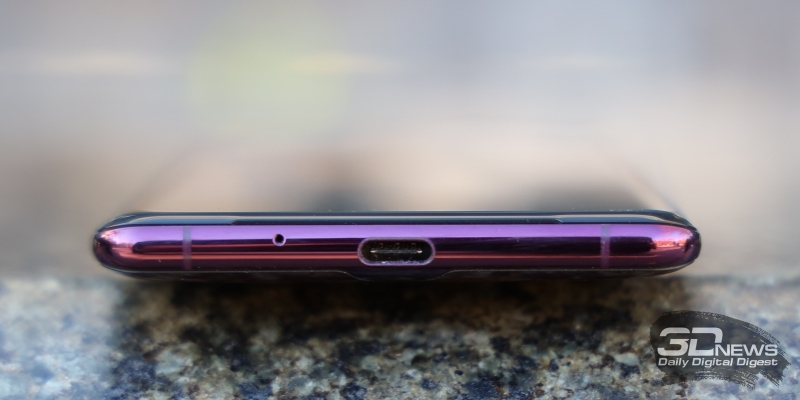 Here is the place to write about the lack of a mini-Jack, but this is, unfortunately, normal for Xperia and flagship smartphones of almost all other manufacturers. In terms of ergonomics generally change compared to the XZ2, the minimum of all keys in their seats, compartment for SIM cards and memory card on top. Open it without the help of a pin lock and, of course, be sure to restart the smartphone.
The difference, in fact, single – curved display, which Sony was able to implement its counterpart panel Edge, used for several years on curved Samsung smartphones. Japanese company lays on his system, dubbed Side Sense a lot of hope. According to representatives of Sony, it must be the embodiment of artificial intelligence of a smartphone. Needs – and perhaps ever will be, but not today.
To open the Side of Sense, which helps to control the smartphone with one hand, double-touch the curved edge of the screen, and the user and place can be changed (for example, the write Side of Sense on one side only or disable completely). This is good news, the bad news is that accidentally cause on the screen this panel is much easier than specifically. Spurious touches during a two-week test I had a huge number, but when I wanted to use the panel consciously, had to spend two or three attempts. If not for the motivation of the person doing reviews, I have disabled Side Sense already on the first day. Although not a bad idea – in this panel independently collects smartphone apps and features that you use most frequently, thereby adapting to your usage scenarios. Also it can help reduce Desk – again to control with one hand – and open notifications.
Other important "features" of the new shell Xperia related to the reaction of the smartphone simply for the fact that you pull out of your pocket. For example, the camera is activated if you get from a pocket the smartphone and translate it into a horizontal position in front of him (like going to take a picture), and over time, XZ3 need to adapt it for your pace – to get your smartphone like a cowboy his revolver from the holster or do it slowly. Interesting, but not very clear why this is necessary if you have physical keys camera app that allows you to do the same action with full control and much faster.
Another point of a more traditional smartphone wakes up, when you look at it, once again press the power key there is no need, just touch the fingerprint scanner; the problem is that clicking during this process the keys leads to the fact that the XZ3 will fall asleep for 5-6 seconds, during which will not respond to any commands. And the usual usage scenario of the smartphone initially leads to a strong irritation which subsides only when the new Xperia a habit. As in the case of Side Sense, an interesting innovation is imperfect in implementation. Trying to simplify the management of your smartphone, Sony complicates it – at least at first.
Another feature associated not only with software but also with OLED screen – advanced system Always-On Display that shows time and notifications, but also some screensavers. You can even use the lock screen as a photo gallery, and XZ3 is able to locate and select images from your gallery from these places. There was no gotchas, it works fine.
Screenshot gallery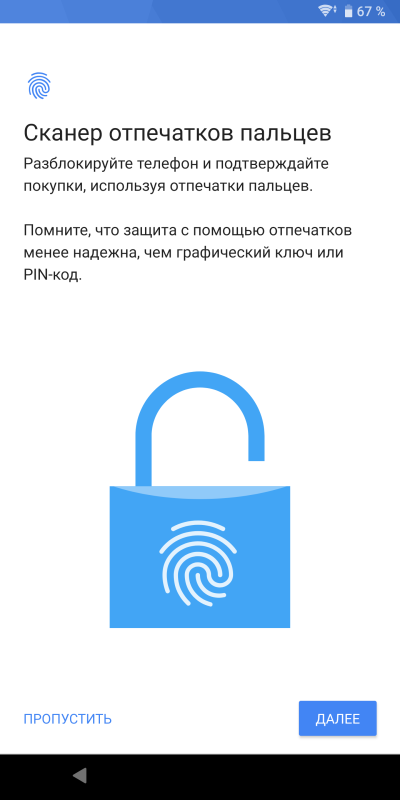 Screenshot_20180925-181843.png
See all images (29)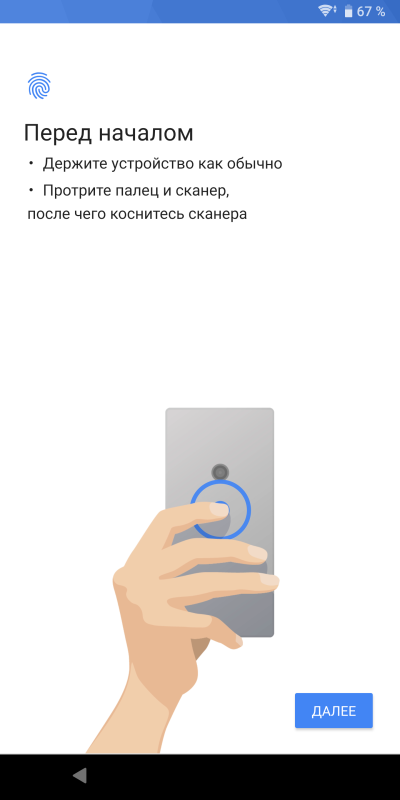 Screenshot_20180925-181855.png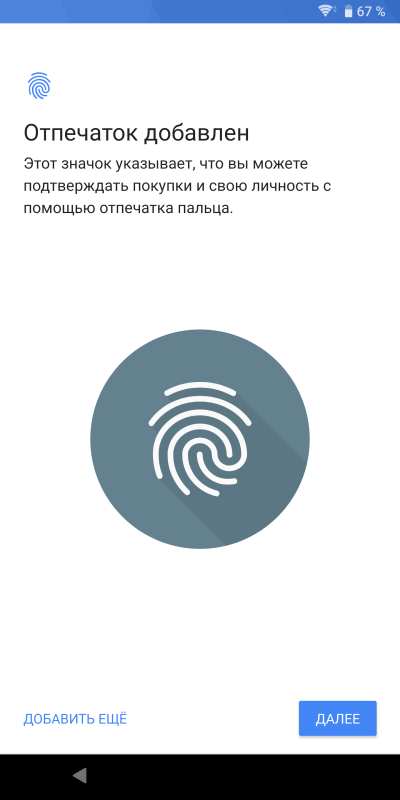 Screenshot_20180925-181909.png

Screenshot_20181001-154900.png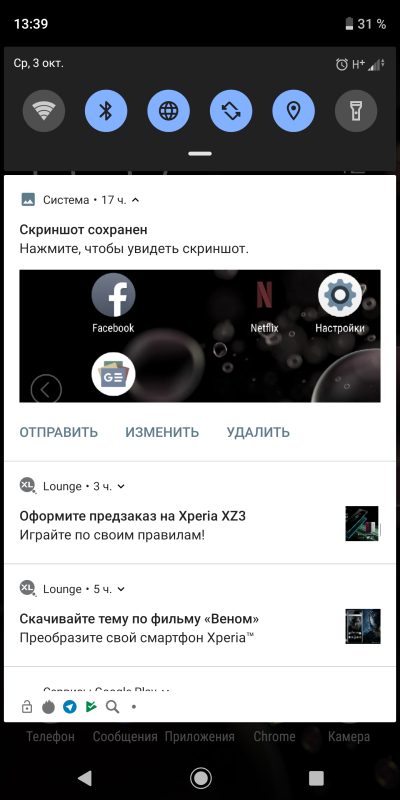 Screenshot_20181003-133914.png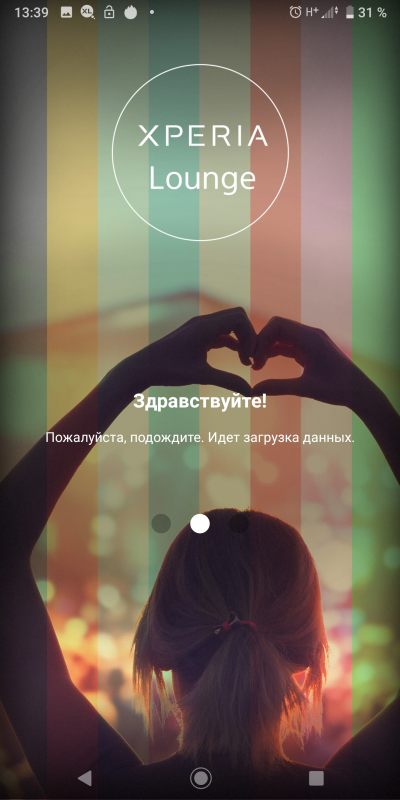 Screenshot_20181003-133919.png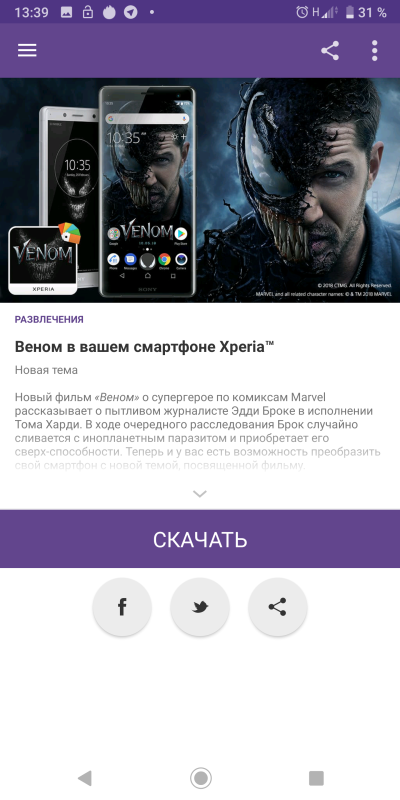 Screenshot_20181003-133943.png

Screenshot_20181003-133958.png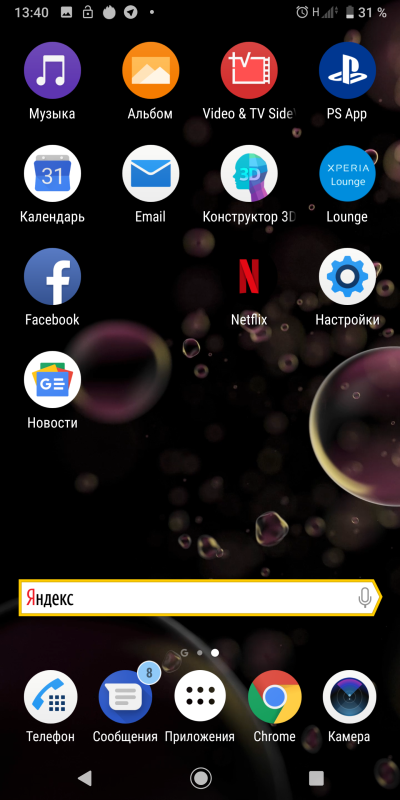 Screenshot_20181003-134011.png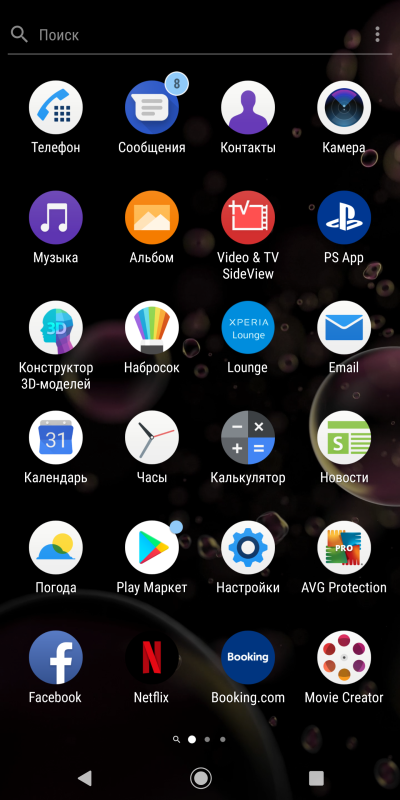 Screenshot_20181003-134057.png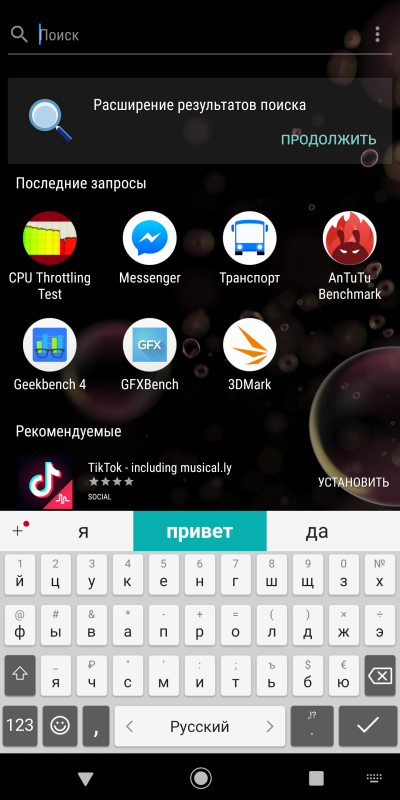 Screenshot_20181003-134102.png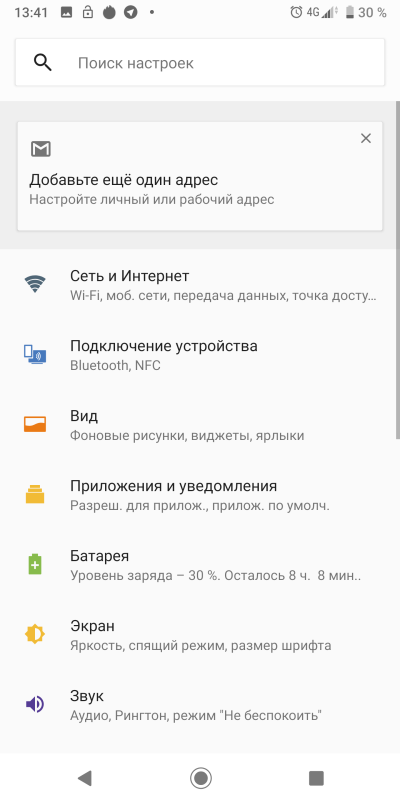 Screenshot_20181003-134134.png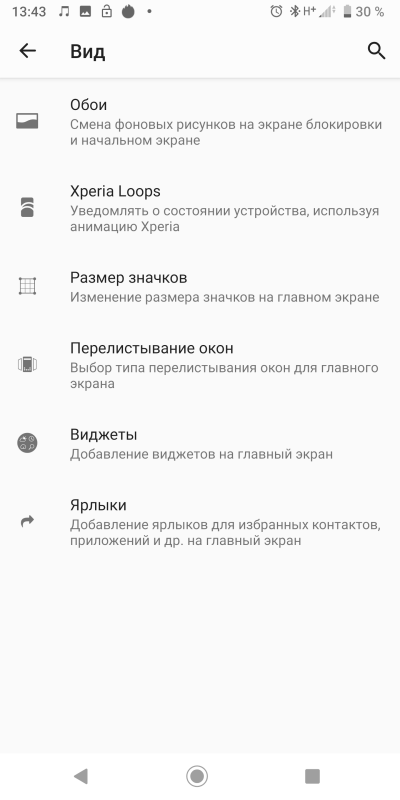 Screenshot_20181003-134307.png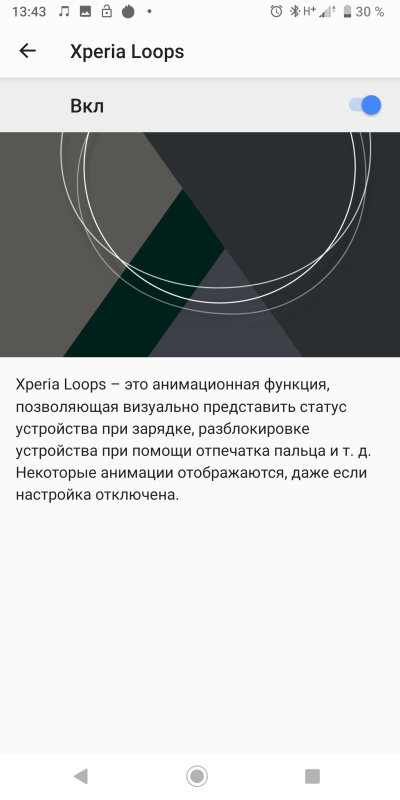 Screenshot_20181003-134312.png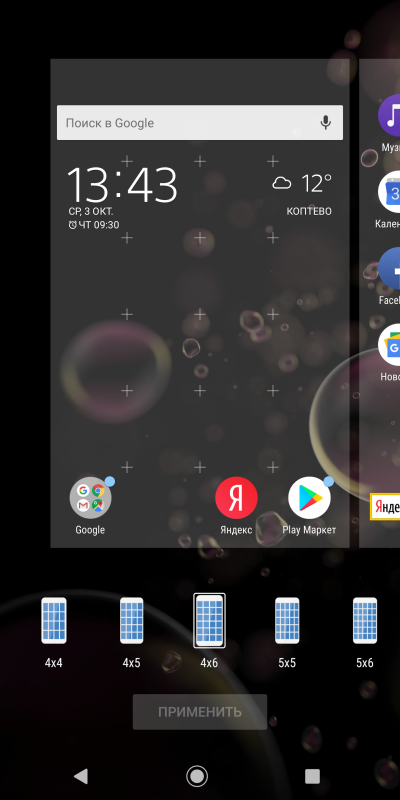 Screenshot_20181003-134318.png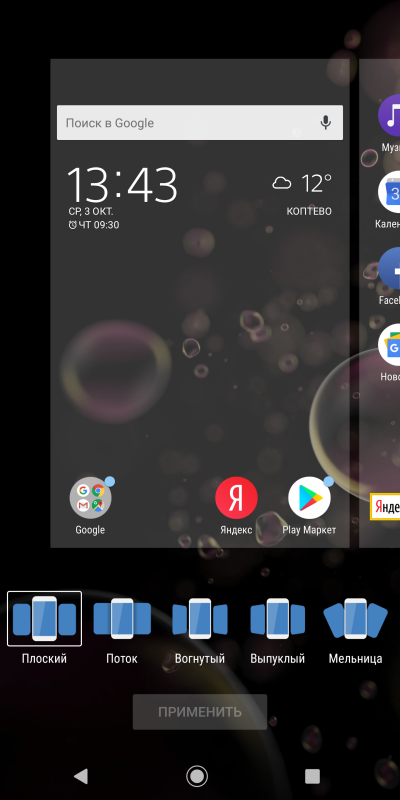 Screenshot_20181003-134323.png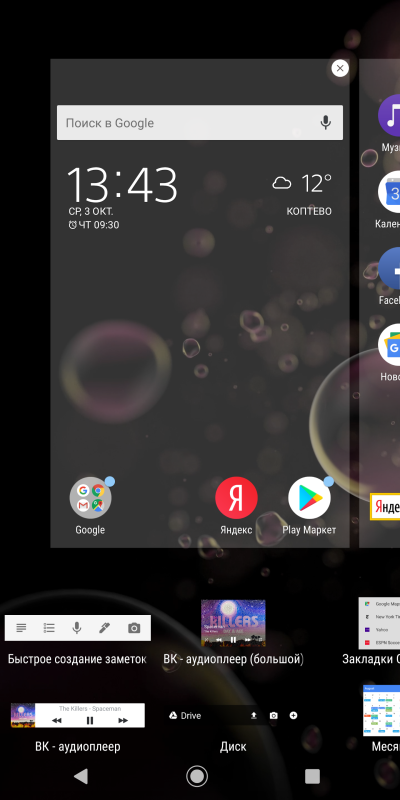 Screenshot_20181003-134327.png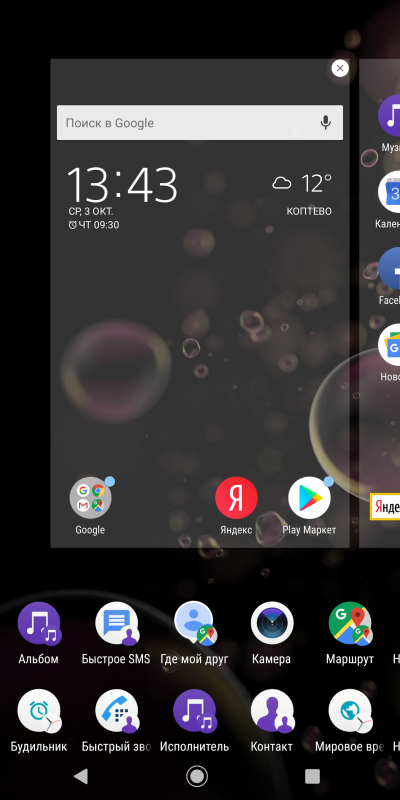 Screenshot_20181003-134332.png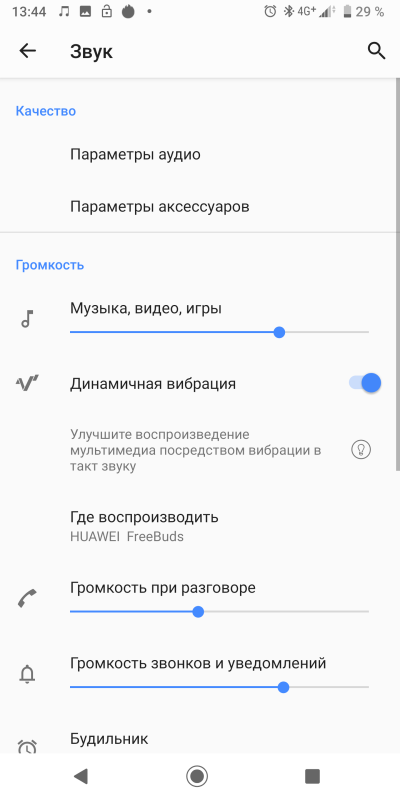 Screenshot_20181003-134435.png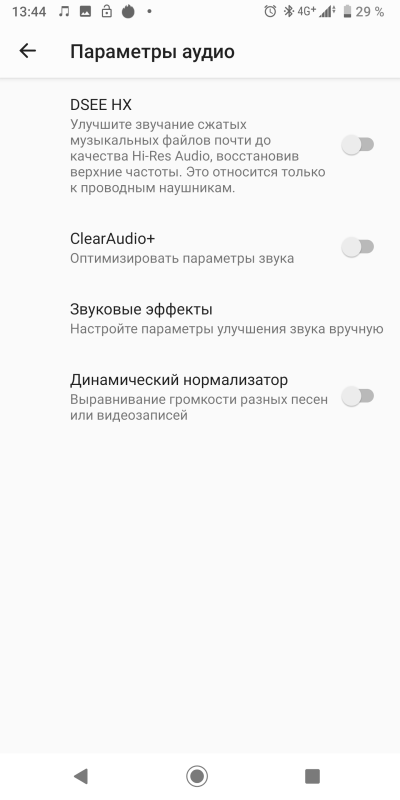 Screenshot_20181003-134438.png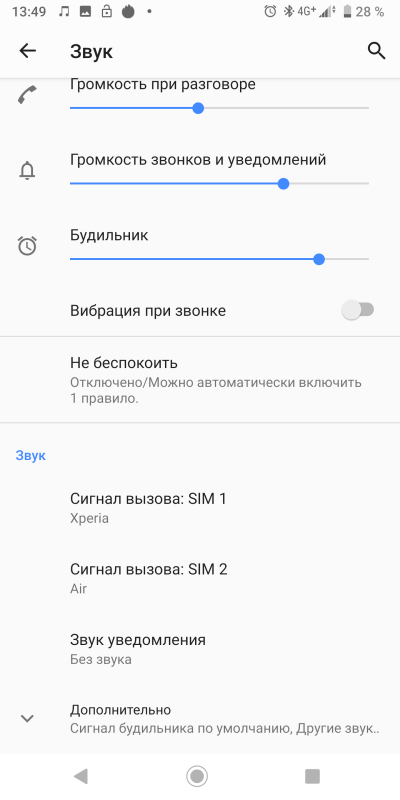 Screenshot_20181003-134943.png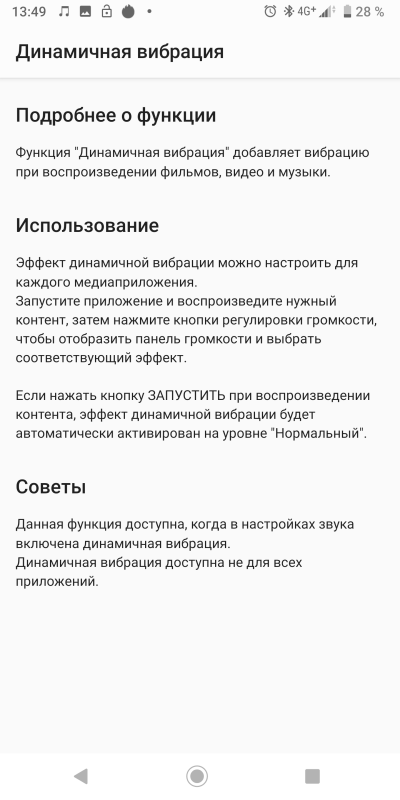 Screenshot_20181003-134952.png

Screenshot_20181003-135000.png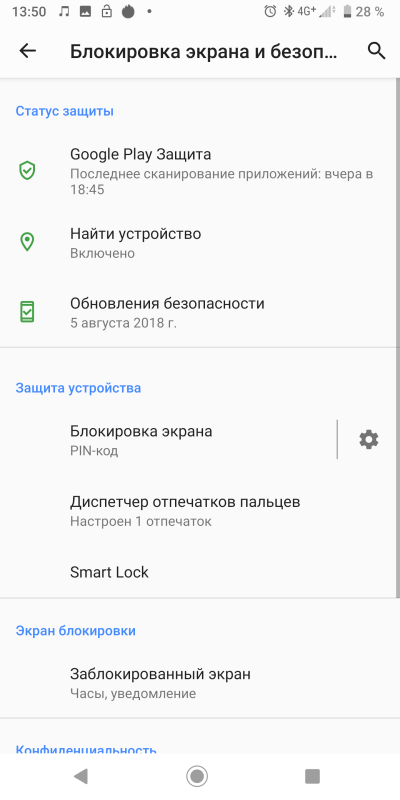 Screenshot_20181003-135012.png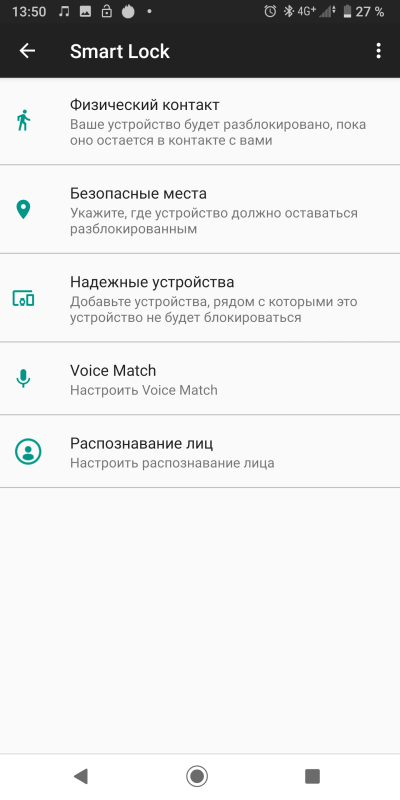 Screenshot_20181003-135020.png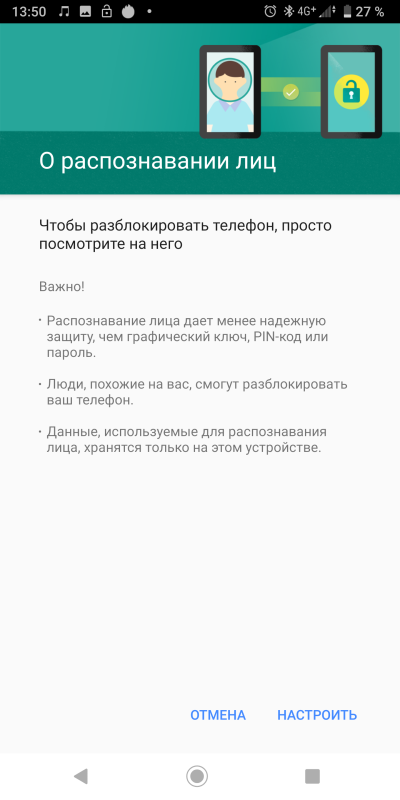 Screenshot_20181003-135024.png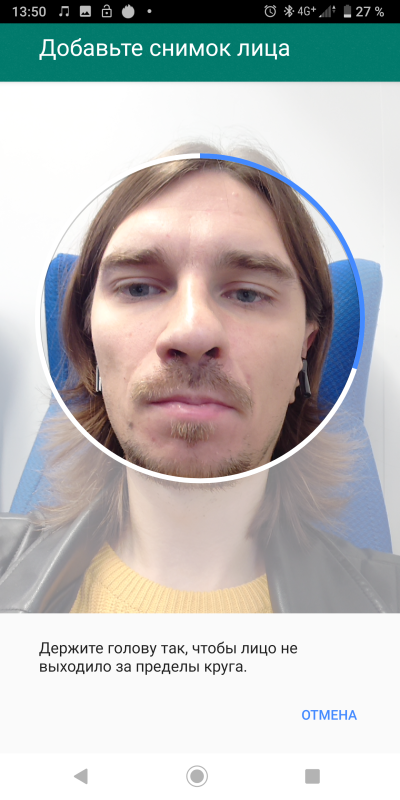 Screenshot_20181003-135033.png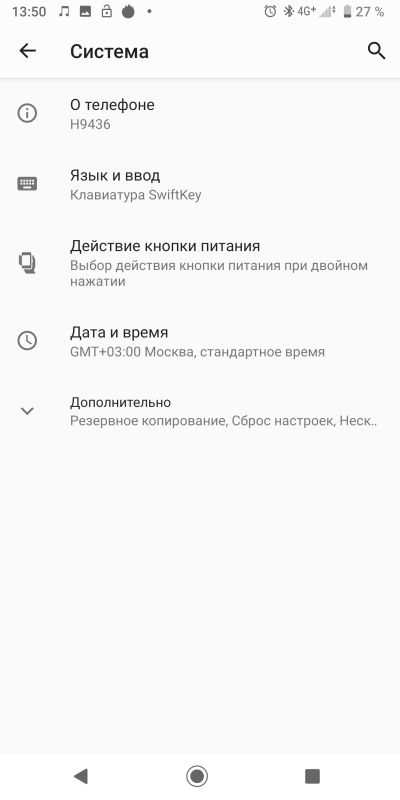 Screenshot_20181003-135056.png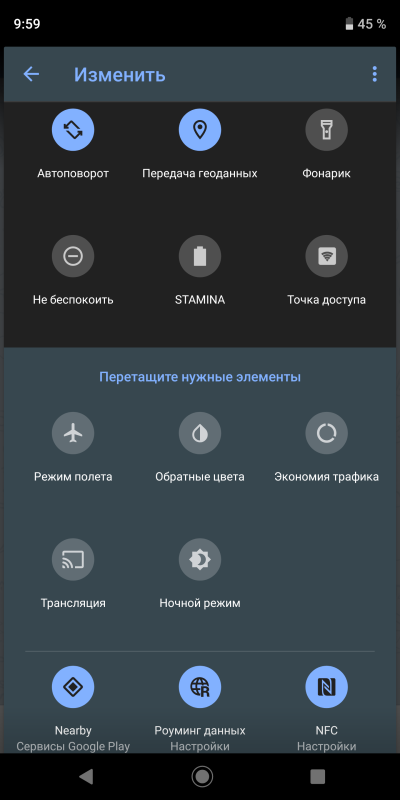 Screenshot_20181004-095941.png
See all
image (29)
Sony Xperia XZ3 – one of the first smartphones on the market, running Android 9.0 Pie out of the box. About the new version of the operating system Google we have already talked in detail, but here it is, of course, considerably sleek own shell, which, for example, has preserved a full set of virtual navigation keys. In full-length Pie will manifest itself already in the newly released Google Pixel 3.
A few words about the aforementioned fingerprint scanner. Here it is capacitive, it works very quickly and almost accurately, but it is not very good — too low relative to the usual position of the finger on the rear panel. So from time to time inevitably touch the lens of the camera is the fingerprint sensor. The problem moved with the XZ2 and XZ2 Premium. Facial recognition is available through the Smart Lock menu, but it's not a very reliable way of locking your smartphone, no help front camera in this case is not provided.
Display and sound
In related Xperia XZ2 and XZ2 Premium I asked the same question, which seemed rhetorical: how can the flagship smartphones in 2018 to put the LCD? Sony answered it, and business: XZ3 – the first smartphone in the company's history with OLED display. And the Japanese would not be themselves if the threshold is not said that they have the best display in the mobile world, with support for HDR and the same technologies that are used in the OLED TVs from the company.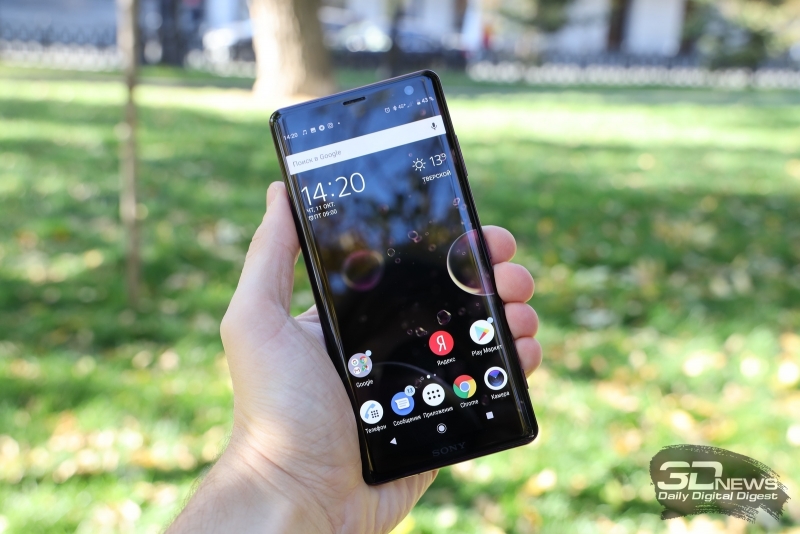 The display size of the Xperia XZ3 is exactly 6 inches, resolution – 2880 × 1440 pixels. Limited to Full HD+ in the manner of many of its competitors, Sony was not providing excessive picture clarity. The density of pixels – 537 ppi.
In addition to supporting HDR content, the smartphone is able to "drag" the image with a standard dynamic range due to the proprietary technology X-Reality. And detail images, and saturation to XZ3 may not be issues. Adds charm to the smartphone the lack of "monopoly", whereby perception of the image do not interfere. About Always-On Display I mentioned above – the lock screen is configured, it is possible to show just the time and of notification icons, and collections of photographs, including those tied to a particular location.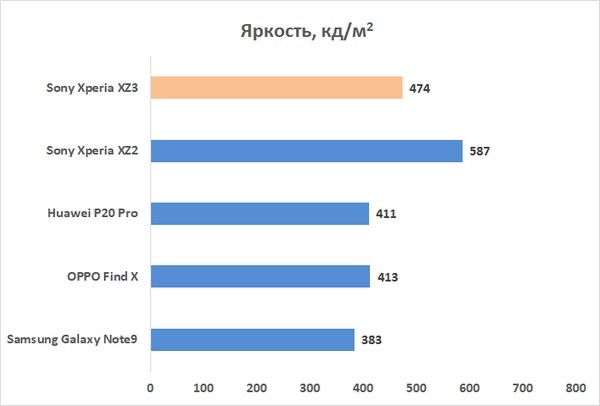 About the level of contrast applied to displays based on organic LEDs say it makes no sense as to call the numbers that usually indicate producers (from 1 000 000:1 and above). We used to call this level "conditionally infinite". But the brightness is measured in OLED displays meaning. Here XZ3 all too well — 474 CD/m2. Using a smartphone is possible in any weather and in any light.
In the settings you can change the color, brightness, white balance, auto switch to night mode. With the white balance I "play" did not, and measured the color in only two basic modes of the smartphone: standard, extended color space (close to the template of the DCI-P3) and professional, space is very close to the General sRGB.


I must say that the settings displays Xperia, the situation is rather stable in recent years, the situation has improved markedly, beyond the cool colors of the screens the developers of Sony Mobile no longer do. But "surgical" precision aim. In standard mode, gamma is the average of 1.87, median color temperature is in the region of 7 To 700, and the average DeltaE deviation for the extended Color Checker palette (shades of gray + a wide variety of colour shades) is of 6.80 at the maximum allowable rate of 3. When the approximate color range according to the standard DCI-P3 color accuracy of the smartphone in this mode can not boast.


In professional mode the situation is improving – color space still exceeds the sRGB standard, but gamma (1,95), and the deviation DeltaE in the Color table Checker (5,26) is already much closer to normal. While the temperature still increased – 7 800-8 000 K. Display Xperia XZ3 configured medium, although purely user experience is good.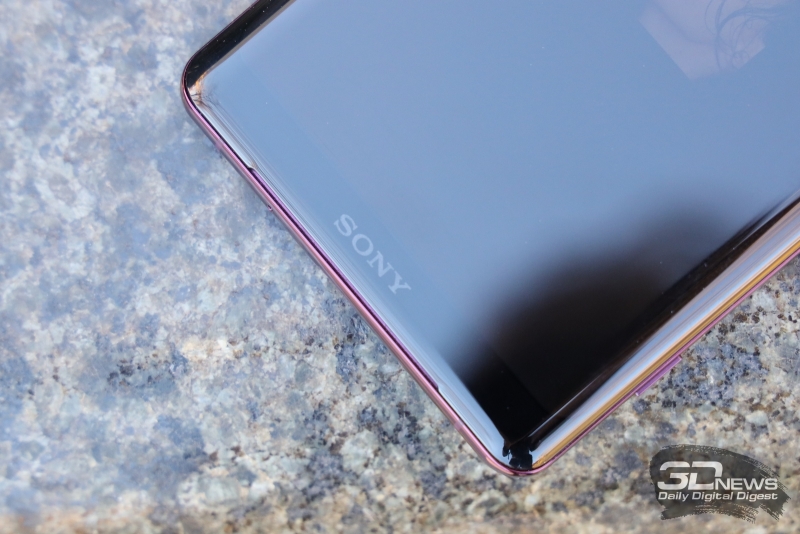 With sound business the new flagship of Sony, the situation is the same as the past – that is very good. The front speakers create a relatively detailed and readable stage, the power of a smartphone at an excellent level, as well as detailing. To create multiple Xperia XZ3 full-fledged home entertainment center (as Sony tried in Moscow the presentation of the smartphone) is not the same application they clearly do not pull, but with their direct duties handheld multimedia device XZ3 do fine. Almost better than anyone.
The sound in the headphones, the situation is twofold. On the one hand, there is all proprietary technology (DSEE HX, Clear Audio+), equalizer, support for LDAC and HD aptX for high quality wireless audio transmission. On the other – by-wire is nothing special. When using the adapter and high quality wired headphone or serious power reserves, no outstanding detail I have not heard. It is quite normal level. It should say on duty and two words about the technology Dynamic Vibration System, which makes the phone vibrate to the beat of the sound playing on it at the moment – it works great especially in games, really reminding vibration motor gamepad DualShock. What, Sony obviously wants, emphasizing the overall ecosystem of their gadgets.
Source: 3dnews.ru