Review of the tablet Huawei MediaPad 10 M5: good screen and hearty filling for a reasonable price
A few years ago, all manufacturers, if by agreement, began to produce a huge number of tablets. Thought it for the long haul. However, it took quite some time, and these gadgets from the category of imposed by marketers must have moved into the category of niche solutions. Today, the tablet is at best semi-professional tool for creativity, but these can be counted on the fingers of one hand. Often it's just a tool for content consumption: reading the news, answering email, web surfing and watching videos.
Well, the debate about what is better for this choice – tablet or laptop — do not subside until now. And right here, each user has their own approach — you need to do so, how convenient for you personally. And if the choice fell on the tablet, then pick up a good model is not so easy – on the screens and the stuffing will save many. Today we tell about one of the optimal solutions to the mid – Huawei MediaPad 10 M5. The gadget is quite cheerful, so as not to slow down and not to irritate the user, equipped with a sturdy screen that looks good any content and thus asking for it is much less than that for a decent laptop: it is possible to "rebut" moderate 25 thousand rubles.
Specifications
Huawei MediaPad 10 M5
Samsung S4 Galaxy Tab 10.5
Apple iPad Pro 10.5 (2017)
Display
10.8 inches, resolution of 2560 × 1600, 280 dpi; IPS-matrix
10.5 inch, resolution of 2560 × 160, 284 dots per inch; AMOLED-matrix
10.5 inch, resolution 2224 × 1668 (Retina Display), 265 dpi; IPS-matrix
Processor
Huawei HiSilicon Kirin 960: Quad core A73 frequency 2.4 GHz + four cores A53 frequency of 1.8 GHz; process technology of 16 nm
Qualcomm Snapdragon 835 MSM8998: four cores Kryo, frequency of 2.35 GHz + four cores Kryo, frequency 1.9 GHz; process technology 10 nm
Apple A10X Fusion: Hurricane three cores and three cores Zephyr; frequency of 2.38 GHz;
the manufacturing process is 10 nm;
coprocessor Apple M10
Graphics controller
Mali G71 MP8, 900 MHz
Adreno 540, 710 MHz
PowerVR (12 cores)
RAM
4 GB
4 GB
4 GB
Flash memory
32/64 GB
64/256 GB
64/256/512 GB
Memory card support
Yes
Yes
No
Connectors
1 × USB Type-C
1 × USB Type-C
1 × headset Jack 3.5 mm
1 × Lightning
1 × headset Jack 3.5 mm
SIM card
Nano-SIM (optional)
Nano-SIM (optional)
Nano-SIM (optional)
Cellular
2G: GSM / EDGE 850, 900, 1800, 1900 MHz;
3G: HSDPA+ (up to 42 Mbit/s);
4G: LTE Cat. 6 (300 Mbps) band 1, 3, 4, 5, 7, 8, 12, 17, 18, 19, 20, 26
2G: GSM / EDGE 850, 900, 1800, 1900 MHz;
3G: UMTS 850, 900, 1900, 2100 MHz;
4G: LTE Cat. 6 (300 Mbps) band 1, 2, 3, 4, 5, 7, 8, 17, 20, 28, 40
2G: GSM / EDGE 850, 900, 1800, 1900 MHz;
3G: UMTS / HSDPA 850, 1700, 1900, 2100 MHz;
CDMA CDMA/EV-DO 800/1900 MHz;
4G: LTE Cat. 4 (150 Mbps) band 1, 2, 3, 4, 5, 7, 8, 11, 12, 13, 17, 18, 19, 20, 21, 25, 26, 27, 28, 29, 30, 38, 39, 40, 41
Wi-Fi
802.11 a/b/g/n/ac, 2.4/5 GHz
802.11 a/b/g/n/ac, 2.4/5 GHz
802.11 a/b/g/n/ac, 2.4/5 GHz
Bluetooth
4.2
5.0
4.2
NFC
No
No
There
Infrared
No
No
No
Navigation
GPS, A-GPS, GLONASS, BDS
GPS, A-GPS, GLONASS, BeiDou, Galileo
GPS, A-GPS, GLONASS (optional)
Sensors
Accelerometer, scanner, fingerprint, gyroscope, proximity sensor, magnetometer (digital compass)
Accelerometer, scanner, fingerprint, gyroscope, geomagnetic sensor, magnetometer (digital compass), light sensor, iris scanner
Light sensor, proximity sensor, accelerometer/gyroscope, magnetometer (digital compass), barometer, fingerprint scanner
The main camera
13 MP, autofocus, flash, shooting 4K video
13 MP, autofocus, flash, shooting 4K video
iSight: 12 MP , autofocus, flash TrueTone, shooting a Live Photo shooting 4K video
Front camera
8 MP, without autofocus, no flash
8 megapixels; no flash
7 MP with autofocus, flash Flash Retina (display)
Food
Non-removable battery of 25.5 W·h (7500 mAh)
Removable battery 28,11 W·h (7300 mAh)
Non-removable battery
30,4 W·h (8134 mAh)
Size
258,7 × 171,8 × 7.3 mm
249,3 x 164,3 x 7.1 mm
Of 250.6 × estimated at 174.1 × 6.1 mm
Weight
498 grams
482 grams (without built-in modem)
483 grams (with internal modem)
469 grams (without built-in modem)
467 grams (with internal modem)
Protection case
No
No
No
Operating system
Android 8.0 Oreo with a proprietary shell Huawei EMUI 8.0
Android 8.1 Oreo with a proprietary shell Samsung
iOS 10.3
Current price
24 990 rubles (32 GB memory) 28 990 (64 GB memory)
52 990 rubles (64GB, Wi-Fi + LTE)
from 43 990 rubles (64GB, Wi-Fi) up to 75 990 rubles 512GB, Wi-Fi + LTE)
Design and ergonomics
Epidemic fashion for screens with an aspect ratio of 19:9, 18:9, and other oddities in the form of trendy bangs to tablets has not yet reached, so Huawei MediaPad M5 with its modest 16:10 looks quite traditional: just a little stretched vertically. And that's probably good.
Most (71.6 per cent) of the front panel takes the display. Above it is a tiny lens built-in front-facing camera. To the right (when viewed in landscape orientation) is simultaneously thin and long sensor: is the fingerprint scanner, which, as usual at Huawei, works very quickly and almost always accurately.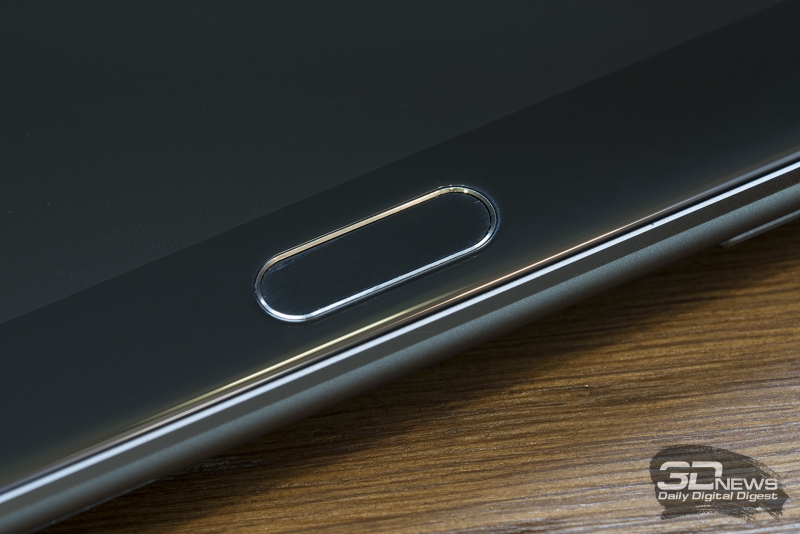 The frame around the display are quite thin, but no too much. Thumbs during use do not touch the sensors where they can be put, plenty. A bit frustrating is that the Huawei logo: placing branding elements on the "face" of the gadget – as it is not very.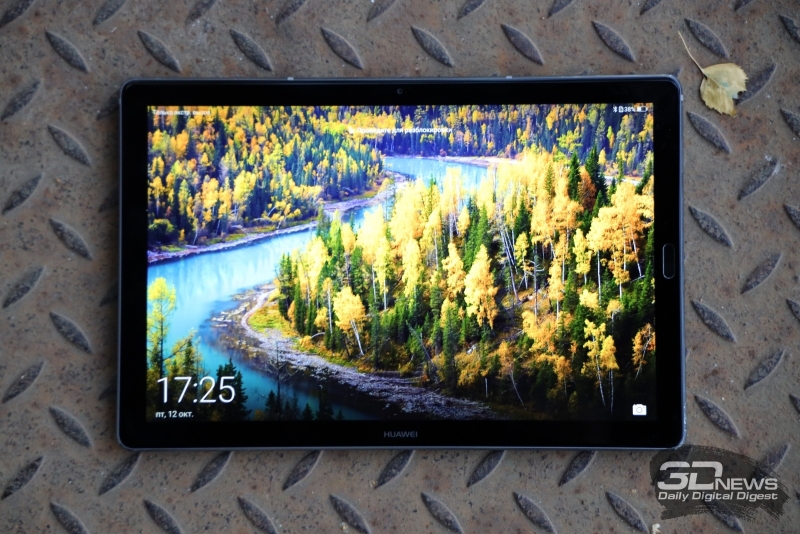 The entire rear panel of the tablet is metal pleasantly cools the palm, and hold it nice. The surface is matte and slightly rough, good color – no prints on dark grey is not noticeable. Because the gadget you can insert the SIM card and catching the signals of the networks, it was not without streaks of thin plastic antenna. For my taste, it looks neat, nothing to complain about.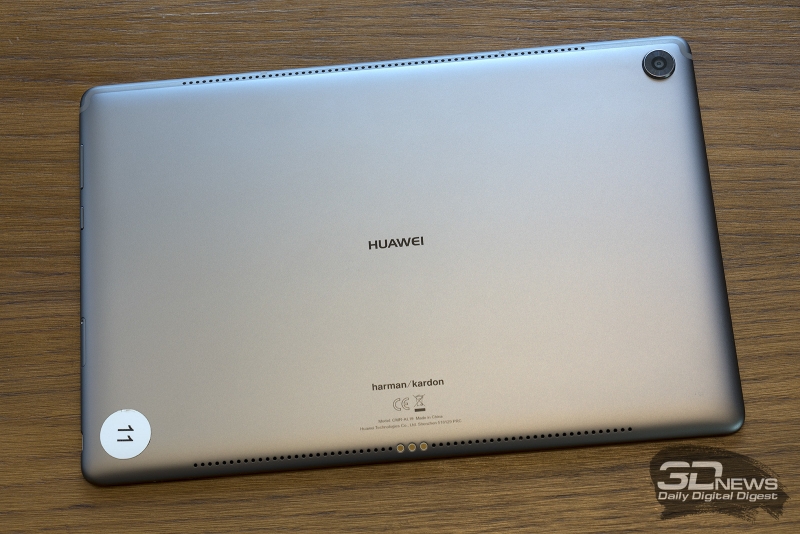 A plurality of holes along the top and bottom faces of the tablet on the back is a perforation of the built-in speakers. They're here about-go-go! First, they are already four. Secondly, help them to do the guys from Harman/Kardon. It is clear that a Symphony orchestra FLAC, letting a tear aesthete, they won't listen. But for all the everyday things – MP3 music and of voice-films or commercials from YouTube — stock the quality and volume is enough. External speakers are unlikely to need. A speaker successful – fingers on them accidentally will not close.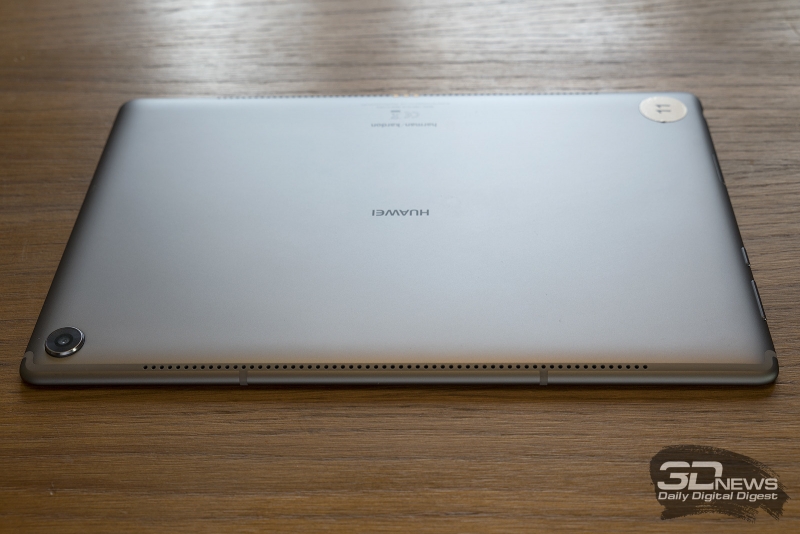 Three stellar contact – this is a platform to connect the dock. There is a special version of the MediaPad M5 with a proud "Pro" in the title. Is there a keyboard unit with touchpad (and stylus) is included in the delivery set, and for "unprofessional" (yeah, that sounds about right) of the tablet can be purchased separately — if you decide that you need one.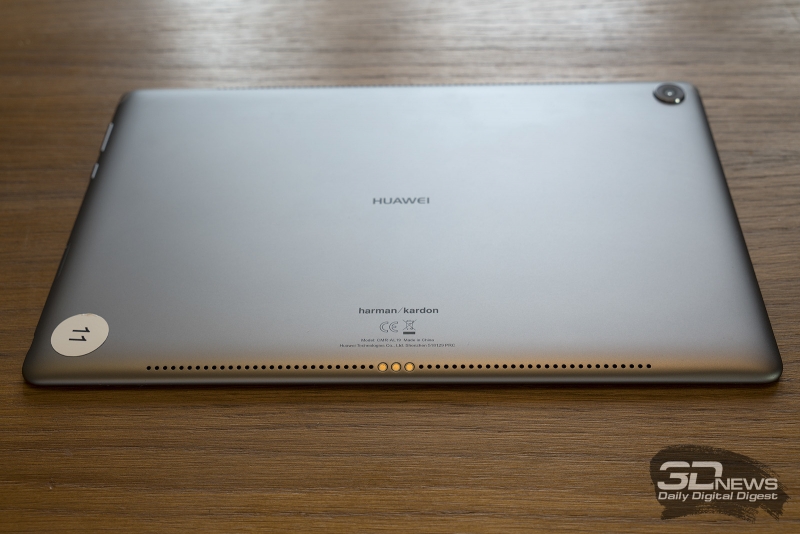 The only thing that upsets the neat design is the camera lens, which protrudes out of the housing for a good 2 mm. And okay it was just ugly, so it is also a fact accidentally scratched easy.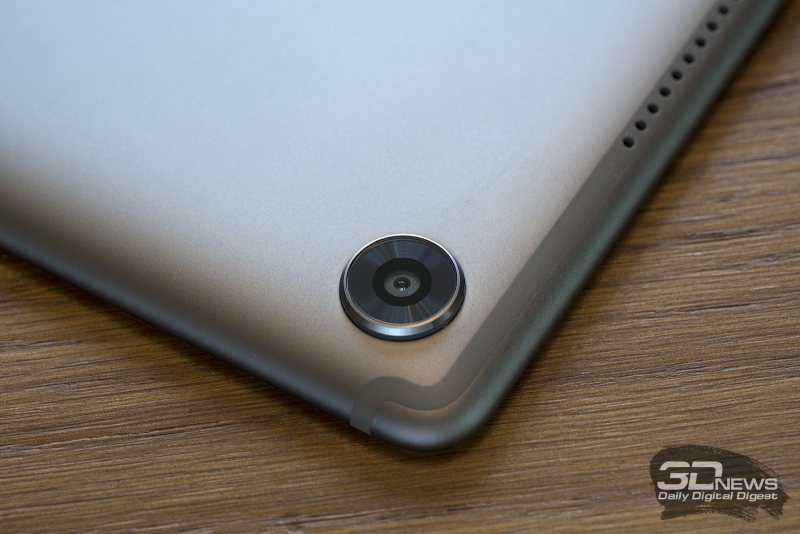 Another sudden confusion – the lack of the usual headphone Jack. And it's not super-thin smartphone with IP68, vibration motors and built-in coffee maker, where precious space for chip in for the weight in gold, and a hefty 10-inch tablet! Thanks, of course, that the USB Type-C 3.5 mm audiojack included there, but the pleasure from using it much below the average. And yet it can be easy to forget, and then have public transport or sad without video and music, or annoy everyone around you with the sound from the speakers, catching the accusing glances and blushing.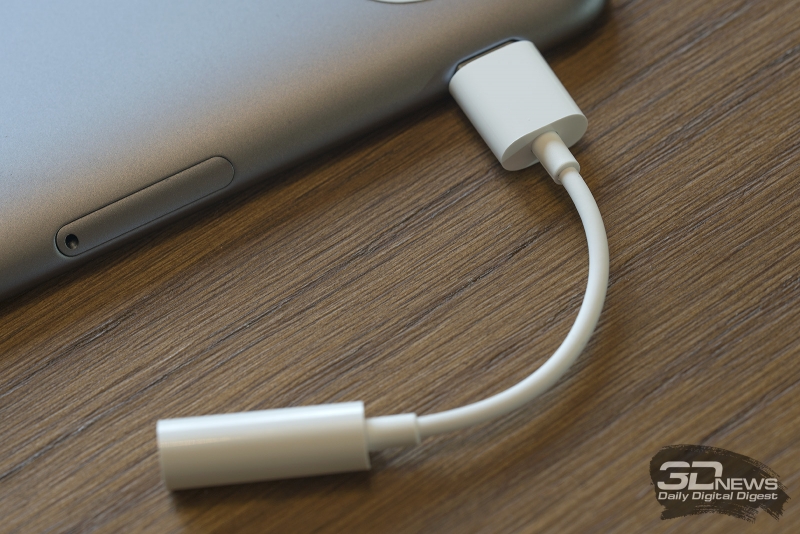 Display
The terrible times of budget tablets with HD displays, alas, is not yet over. But those tablets, which fall into the category of decent devices, confidently go in the direction of at least the mandatory Full HD. Have Huawei MediaPad M5 fared even better: the gadget features a 10.8-inch IPS-matrix with Quad HD resolution of 2560 × 1440 pixels. Individual points in everyday use in eyes do not rush, but if you still want to consider them and to look as it should, then they, of course, seen.
From the point of view of the Amateur, to find fault here is really not good: the maximum viewing angles, color reproduction seems natural, plus in the settings there are two predefined profiles to choose from and a interface for flexible adjustment of color temperature. The minimum level of brightness allows you to comfortably read in the dark, and high enough to work with the tablet on the street on a cloudy day. Sunny didn't check, sorry — at the time of testing they were not. But in General there is a feeling that on a clear afternoon still want to move.
The results of our measurements, the brightness of the display when you activate the "vivid" profile amounted to 303 CD/m2 – average. The measured contrast level was 1190:1 for a tablet with IPS-matrix it is normal.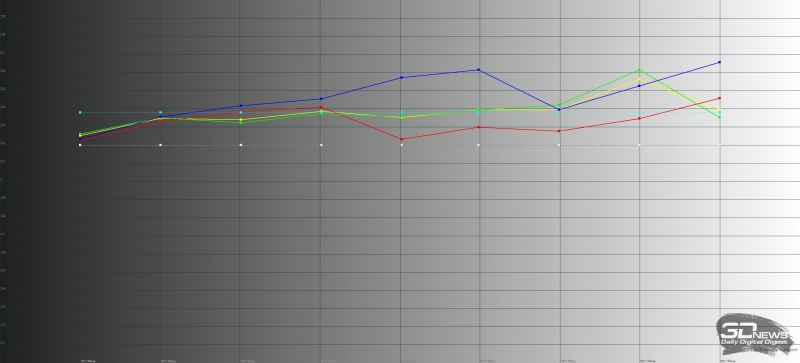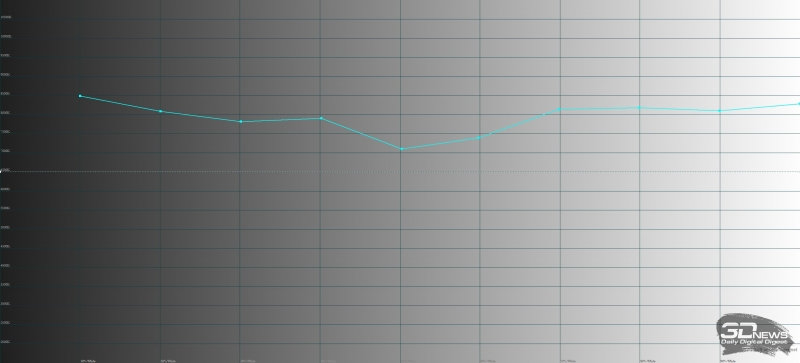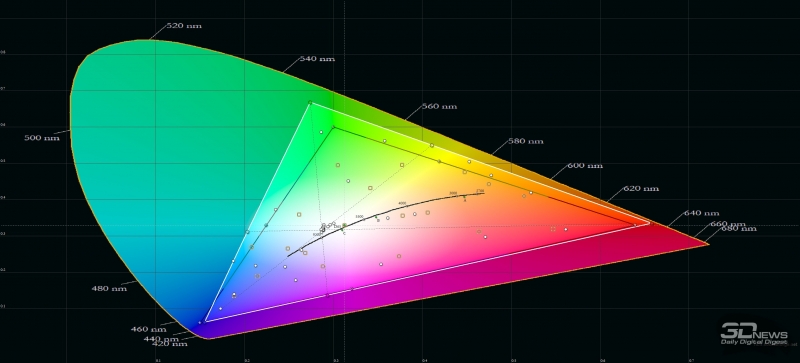 In bright mode Huawei MediaPad 10 M5 does not possess the accuracy. Use the advanced color gamut closer to DCI-P3, but the correct rendering is more negative. In addition, the screen in this mode shows too cold tone – color temperature on average is around 8 000 K. the Gamma is also far from ideal – of 2.38 in chaotic behavior of curves. As a result, the average DeltaE deviation for the extended Color Checker palette (shades of gray + a wide set of colors) is at the rate of 5.79 3 and the reference value 2.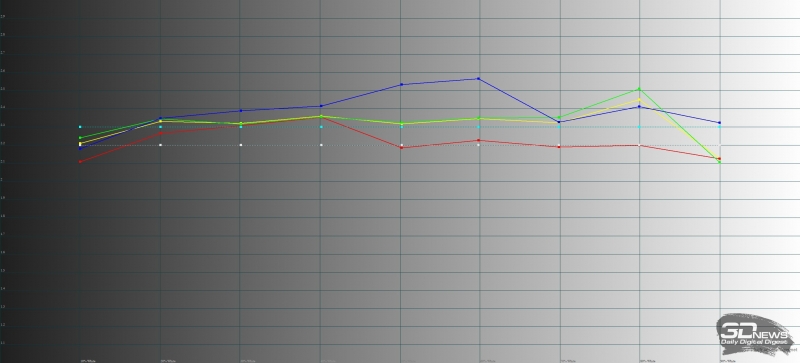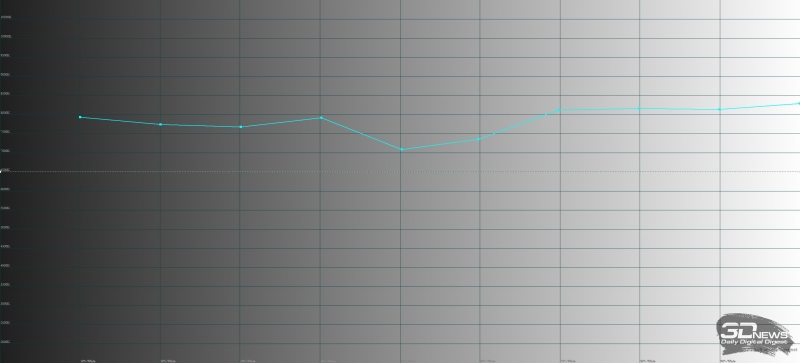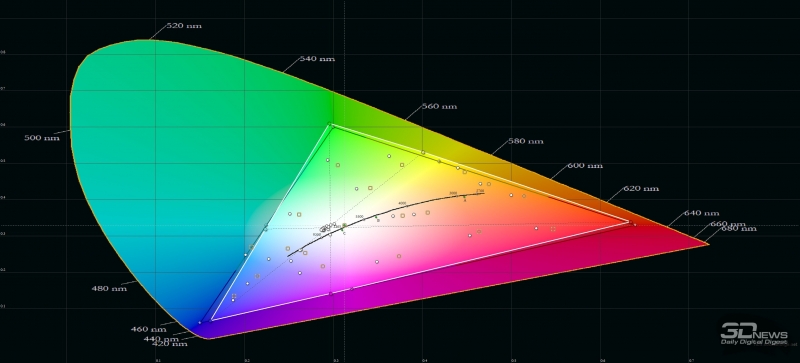 When activated, the standard color profile sRGB coverage is approaching, but the picture is still colder due: the color temperature is on average about 7 700-7 800 K, a gamma of 2.30 (with a more stable behavior of the curves). The average DeltaE deviation for the extended palette Color Checker makes 4.75. The situation is better, but still imperfect. Then to fix it you can manually adjust the color temperature by turning the tone to a warmer register.
Source: 3dnews.ru