Overview of smartphone Samsung Galaxy Note9: almost flawless
Cycle "in the spring Galaxy S – Galaxy Note in the fall" is not interrupted for seven years – last year over Note8 hovering clouds associated with the reliability issues of the seventh "laptop", but strongly Samsung released gadget. And not lost – the scandal seems to have jammed, and the Note9 seems the logical continuation of the series and comes as no surprise.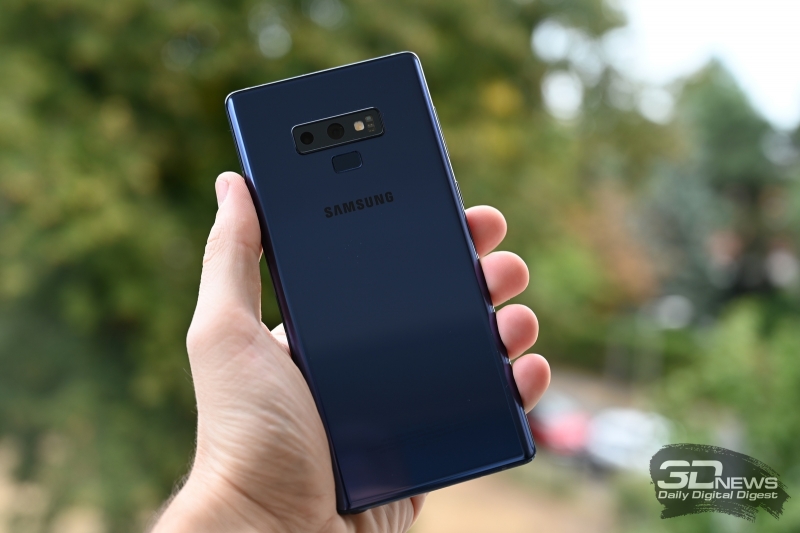 In the Note9 too, there are no surprises or radical innovation is the development of ideas S9 in the larger (and more
square) case with a 6.4-inch display and a stylus, well, the same camera and platform. In fact, it is S9 Plus in the package Note8 – design compared to the previous year has not changed. Key changes compared to the flagship note dual camera with adjustable aperture, a new stylus pen with Bluetooth that allows you to use it, for example, as a remote to switch slides, increased battery capacity and the presence of the version with 512 GB of internal memory. The latter is the most "capacious" of the modern smartphone along with the iPhone XS.
Specifications
Samsung Galaxy Note9
Samsung Galaxy S9
Huawei P20 Pro
Apple iPhone X
Sony Xperia XZ2 Premium
Display
6.4 inch, Super AMOLED, 1440 × 2960, 516 ppi, capacitive multitouch
5.8 inches, Super AMOLED, 1440 × 2960, 570 ppi, capacitive multitouch
6.1 inch OLED
2240 × 1080 pixels, 408 ppi, capacitive multitouch
5.8 inches, Super AMOLED, 2436 x 1125, 458 ppi, capacitive multi-touch technology TrueTone
5.8 inch, IPS, 3840 × 2160, 765 ppi, capacitive multitouch
Safety glass
Corning Gorilla Glass 5
Corning Gorilla Glass 5
No information
No information
Corning Gorilla Glass 5
Processor
9810 Samsung Exynos Octa with eight cores (4 × Mongoose M3, 2.7 GHz + 4 × Cortex-A55, 1.8 GHz)
Samsung Exynos 9810: eight cores (4 × M3, 2.7 GHz + 4 × Cortex-A55, 1.8 GHz)
HiSilicon Kirin 970: Quad core ARM Cortex A73, 2.4 GHz + four cores ARM Cortex A53, frequency 1.8 GHz; architecture HiAI
Apple A11 Bionic six cores (2 x Moonsoon + 4 x Mistral)
Qualcomm Snapdragon 845: four cores Kryo 385 Gold, 2.7 GHz + four cores Kryo 385 Silver, 1.7 GHz
Graphics controller
Mali-G72 MP18, 900 MHz
Mali-G72 MP18, 900 MHz
ARM Mali-G72 MP12, 850 MHz
Apple GPU (3-core)
Adreno 630, 710 MHz
RAM
6/8 GB
4 GB
6 GB
3 GB
6 GB
Flash memory
128/512 GB
64/128/256 GB
128 GB
64/256 GB
64 GB
Memory card support
There
There
No
No
There
Connectors
USB Type-C minijack 3.5 mm
USB Type-C minijack 3.5 mm
USB Type-C
Lightning
USB Type-C
SIM card
Two nano-SIM
one nano-SIM
Two nano-SIM
One nano-SIM
Two nano-SIM
Cell 2G connection
GSM 850/900/1800/1900 MHz
GSM/GPRS/EDGE 850/900/1800/1900 MHz
GSM 850 / 900 / 1800 / 1900 MHz
GSM 850/900/1800/1900 MHz
GSM 850 / 900 / 1800 / 1900 MHz
3G cellular communications
HSDPA 850/900/1700/1900/2100 MHz
UMTS/HSPA+/DC-HSDPA 850/900/1700/1900/2100 MHz
HSDPA 850/900/1700/1900/2100 MHz
HSDPA 850/900/1700/1900/2100 MHz
800/850/900/1700/1900/2100 HSDPA MHz
Cellular 4G
LTE Cat. 18 (1200/200 Mbit/s), ranges 1, 2, 3, 4, 5, 7, 8, 12, 13, 17, 18, 19, 20, 25, 26, 28, 32, 38, 39, 40, 41, 66
LTE Cat. 18 (1200/200 Mbit/s), ranges 1, 3, 4, 5, 7, 8, 12, 17, 20, 28, 32, 38, 39, 40, 41
LTE Cat. 18 (up to 1200 Mbit/s), ranges 1, 2, 3, 4, 5, 6, 7, 8, 9, 12, 17, 18, 19, 20, 26, 28, 32, 34, 38, 39, 40, 41
LTE Cat. 12 (450 Mbps): the bands 1, 2, 3, 4, 5, 7, 8, 12, 13, 17, 18, 19, 20, 25, 26, 28, 29, 30, 38, 39, 40, 41, 66
LTE Cat.18 (up to 1200 Mbps): ranges not specified
Wi-Fi
802.11 a/b/g/n/ac
802.11 a/b/g/n/ac 2.4/5 GHz
802.11 a/b/g/n/ac
802.11 a/b/g/n/AC
802.11 a/b/g/n/ac
Bluetooth
5.0
5.0
4.2 (aptX HD)
5.0
5.0
NFC
There
there
There
Yes (Apple Pay)
There
Navigation
GPS, A-GPS, GLONASS, BeiDou, Galileo
GPS, A-GPS, GLONASS, BeiDou, Galileo
GPS, A-GPS, GLONASS, BeiDou
GPS, A-GPS, GLONASS
GPS, A-GPS, GLONASS, BeiDou, Galileo, QZSS
Sensors
Light, proximity, accelerometer/gyroscope, magnetometer (digital compass), barometer, heart rate sensor, pressure
Light, proximity, accelerometer/gyroscope, magnetometer (digital compass)
Light, proximity, accelerometer/gyroscope, magnetometer (digital compass), infrared sensor
Light, proximity, accelerometer/gyroscope, magnetometer (digital compass)
Light, proximity, accelerometer/gyroscope, magnetometer (digital compass), barometer
Fingerprint scanner
There
There
There
No
There
The main camera
Double module: 12 MP with variable aperture ƒ/1,5/2,4 + 12 MP, ƒ/2.4 GHz, hybrid auto focus, optical stabilization in both cameras, led flash
12 MP, a variable aperture of f/1,5/2,4, autofocus, led flash, optical image stabilization
Triple module 40 + 20 + 8 MP, ƒ/1,8 + ƒ/1,6 + ƒ/2,4, hybrid auto focus, optical stabilization, dual-led flash
Double module: 12 MP, ƒ/1,8 + 12 MP, ƒ/2.4 GHz, autofocus, chetyrehrjadnye led flash, optical stabilizer, both cameras
Double module: 19 MP, ƒ/1,8 + 12 MP, ƒ/1,6, optical stabilization, hybrid auto focus, led flash
Front camera
8 MP, ƒ/1,7, autofocus, no flash
8 MP, f/1.7, no flash
24 MP, ƒ/2.0, fixed focus, no flash
7 MP, ƒ/2.2, and without autofocus, no flash
13 MP, ƒ/2.0, no autofocus, no flash
Food
Removable battery: 15,2 WH (4000 mAh, 3.8 V)
Non-removable battery: for 11.55 W⋅h (3000 mA * h, 3.8 V)
Removable battery: 15,2 WH (4000 mAh, 3.8 V)
Removable battery: of 10.26 W⋅h (2716 mAh, 3.8 V)
A removable battery of 13.45 W·h (3540 mAh, 3.8 V)
Size
161,9 × 76,4 × 8.8 mm
147,7 × 68,7 × 8.5 mm
155 × 73,9 × 7.8 mm
143,6 × 70,9 × 7.7 mm
158 × 80 × 11.9 mm
Weight
201 grams
163 grams
180 grams
174 grams
236 grams
Protection case
IP68
IP68
IP67
IP67
IP65/68
Operating system
Android 8.1 Oreo, own shell
Android 8.0 Oreo, own shell
Android 8.0 Oreo, shell EMUI
iOS 11
Android 8.0 Oreo, shell Sony Xperia
Current price
69 990 rubles for the version 6/128 GB, 89 990 rubles for the version on 8/512 GB
On average 49 000 rubles for a "grey" version with 64 GB of memory and 59 990 for the official
54 990 rubles
from 70 rubles to 990 81 990 rubles
79 990 rubles
Design, ergonomics and software
Samsung Note9 got a classic design in the style of previous models of the series, the Koreans began to flirt with the neckline or to invent some other tricks that allow to remove the frame around the display, but the left sloping side faces. In the end, given the numerous colleagues with monobromo Note9 looks, we can say even fresh. Well, solid – like the gentleman in the suit on the background of guys in t-shirts with fashionable prints. Well, this is fully consistent with the goals when creating the Samsung series.
Apparatus for curved on both sides of the faces makes an impression is made from a single piece of glass with metal inserts and plastic veins. Looks very good, including at the expense of exciting colors in addition to black there are blue and copper and purple to Russia is not reached. But most importantly, it is very practical. Usually when you look at the glass-fronted on two sides, the smartphone is already a gun there is a skepticism – using them without a case is often fraught with numerous scratches and small chipped. In Note9, according to the documentation, it uses the same Gorilla glass 5, and almost everywhere, but after two weeks of use it has not appeared noticeable scratches. It's really rare and it's really good.
Dimensions all just "normally": the smartphone with 6.4-inch display may not be small — a typical modern "two handed" device. Quite heavy (201 grams), relatively thick (8.8 mm), but not making the same impression bulky items, such as Sony Xperia XZ2 Premium.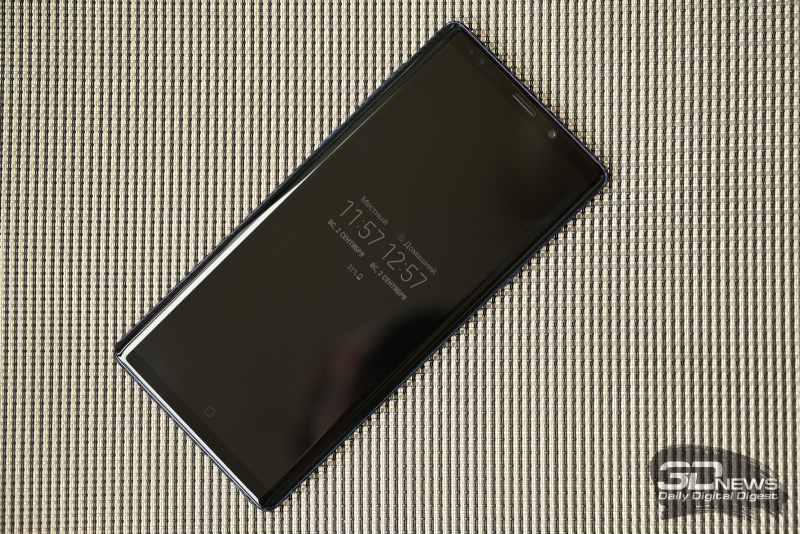 Any differences from Note8 on the set of functional elements and their placement no – power key on the right, the volume keys and startup assistant Bixby on the left, the slot for the stylus pen and mini Jack USB Type-C at the bottom. Button Bixby, by the way, you can reassign to another function on the user's choice – news of the update came already during the preparation of this material.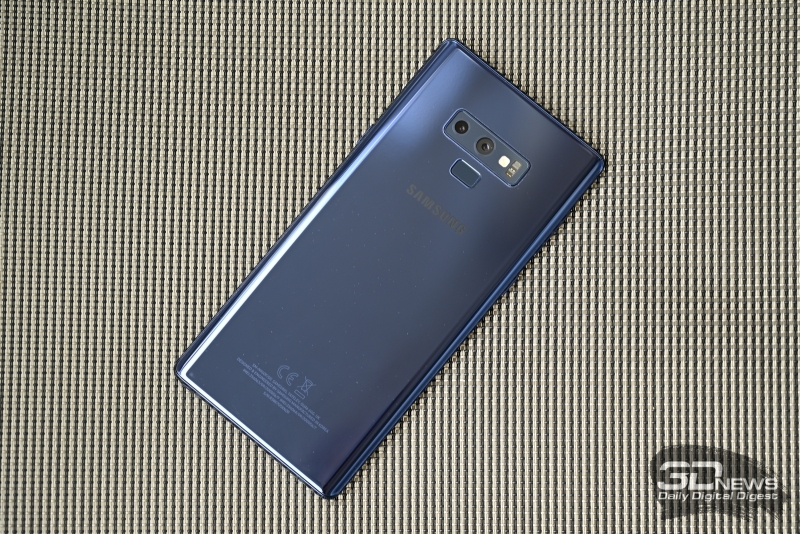 The presence of an analog audio Jack of standard 3.5 mm did not prevent Samsung once again to Express moisture and dust to standard IP68. If you wish, you can even try to dive with Note9 in hand – but to abuse his integrity, of course, not worth it.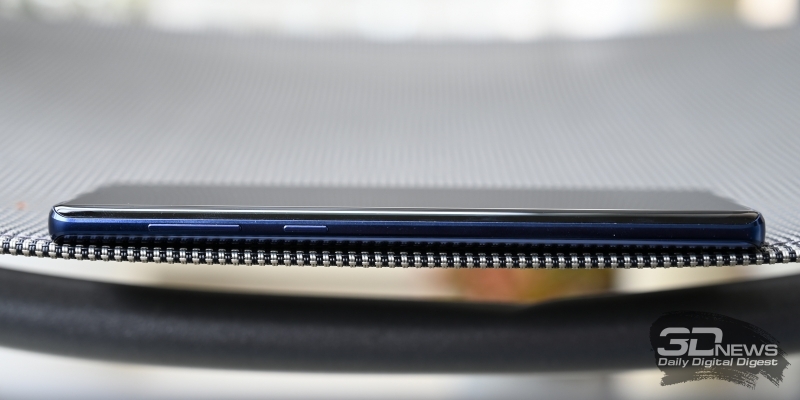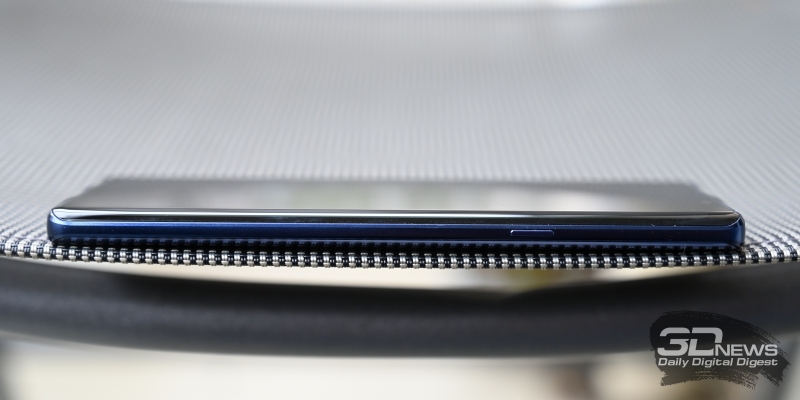 Also Samsung says Galaxy high resistance to drops Note9 – frame is reinforced, which affected, among other things, on the increased angularity of the smartphone. To check its crash test I certainly did not, so I have to take my word (or not believe – there is already to your taste).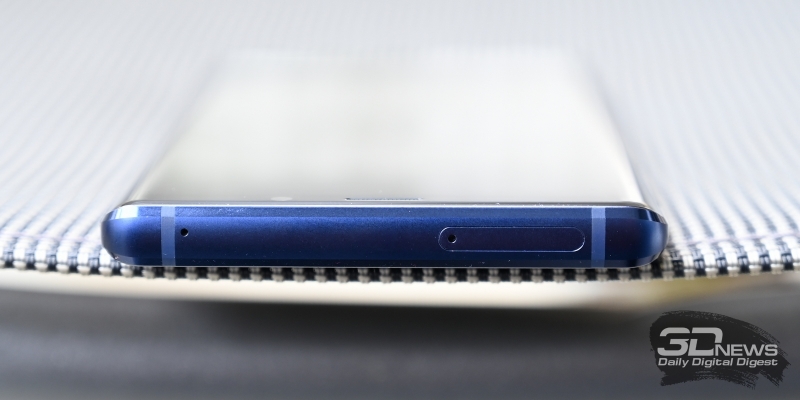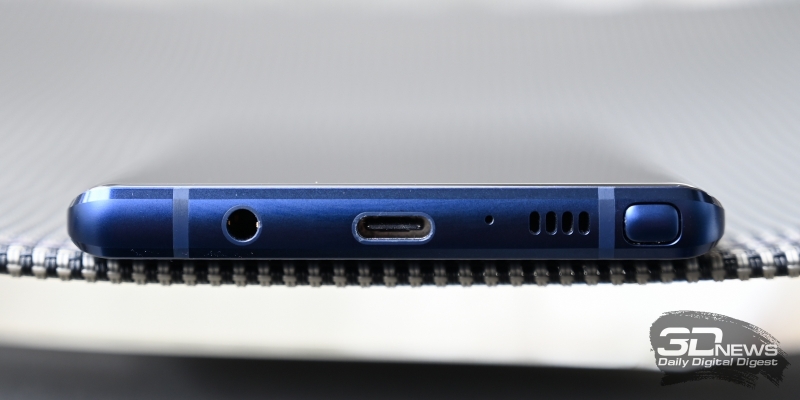 Above the screen, in addition to the speaker, able to work in a pair located at the bottom of "main", and the front camera is the scattering probes: from the usual ambient light sensor to the scanner of the iris, fiercely flickering red when activated. Here he is paired with the usual face detection with front camera. This is a much more reliable system than the rest of Android smartphones — it is comparable in reliability to that used in the iPhone X (to deceive with a simple photo, the scanner will not work). But it works slowly, you need to hold your smartphone in front of the face for one or two seconds, and it is important and the viewing angle.
| | | |
| --- | --- | --- |
| |   | |
I quickly tired of using a fashionable technology, I turned to the traditional fingerprint scanner located on the rear panel. Problem Galaxy S8, when the scanner and then miss getting a finger in the camera is already decided and the sensor is moved below. To confuse a finger on the camera and the scanner is still possible, but much less frequently. And triggered the recognition of print almost instantly, at the level of the best analogues is annoying pauses as using the face method, no. Probably to fool the fingerprint sensor is a little easier, and wearing gloves you can not use it, but these disadvantages, to be honest, look very strained. Old friend better than two new ones.
Screenshot gallery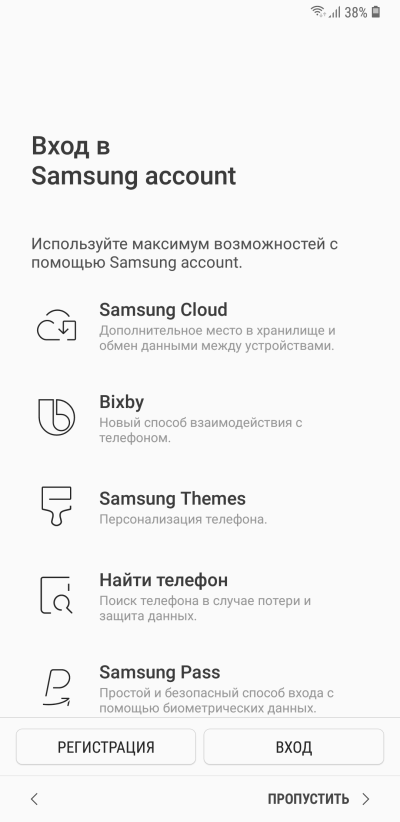 Screenshot_20180820-124437_Samsung Experience Service.jpg
See all images (31)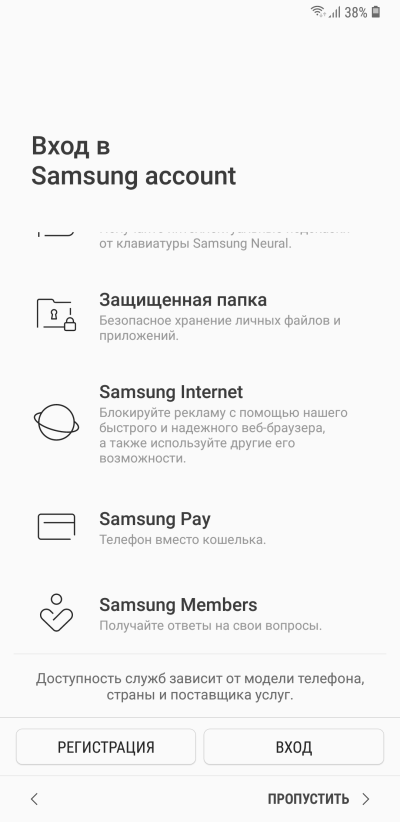 Screenshot_20180820-124441_Samsung Experience Service.jpg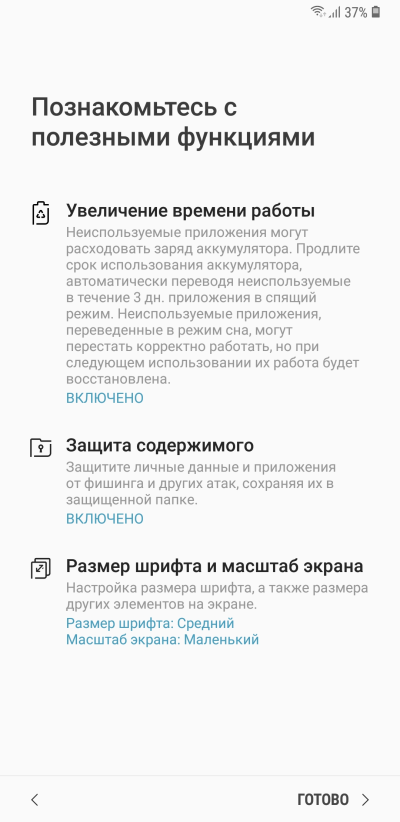 Screenshot_20180820-124611_Samsung setup wizard.jpg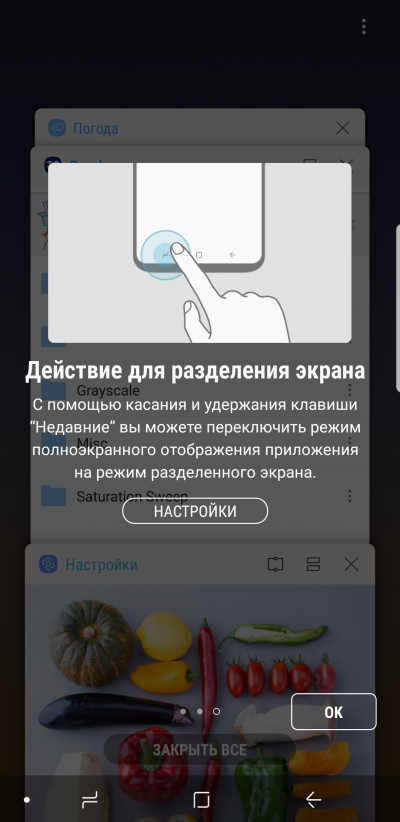 Screenshot_20180820-132339_Settings.jpg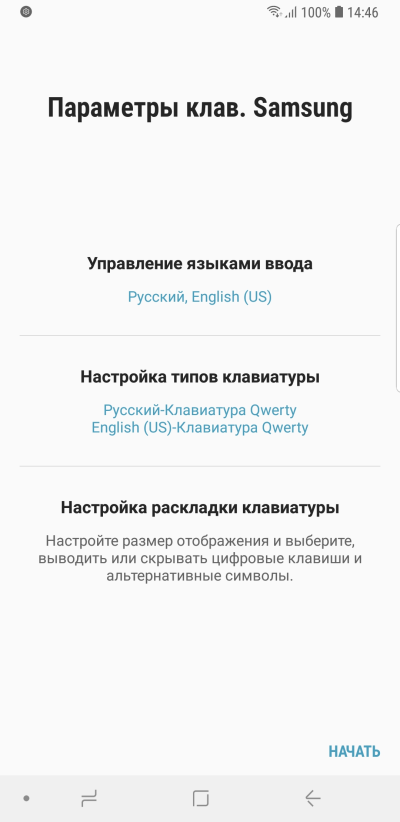 Screenshot_20180820-144652_Samsung Keyboard.jpg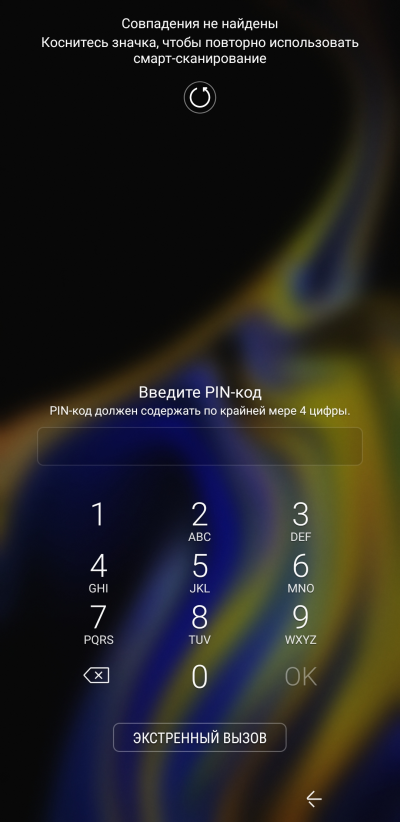 Screenshot_20180827-112227_Telegram.jpg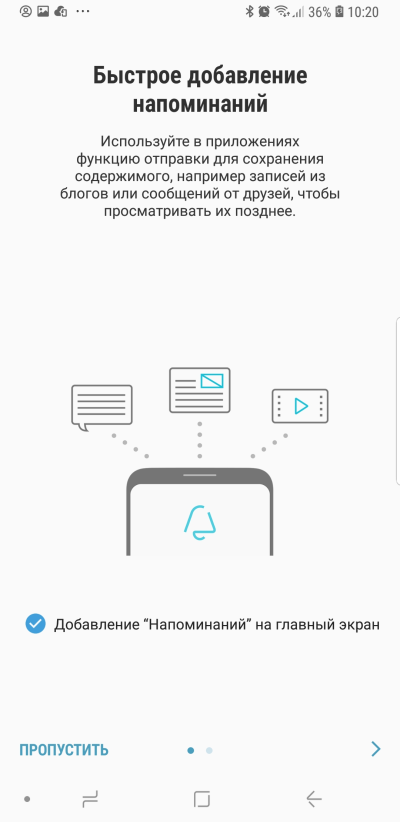 Screenshot_20180829-102012_Reminder.jpg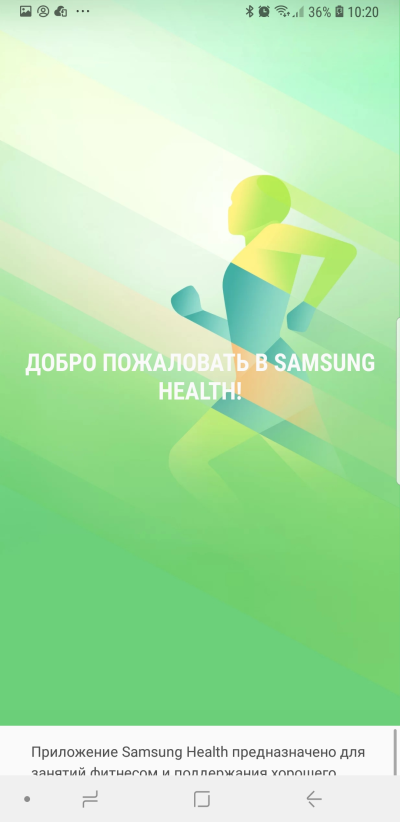 Screenshot_20180829-102042_Samsung Health.jpg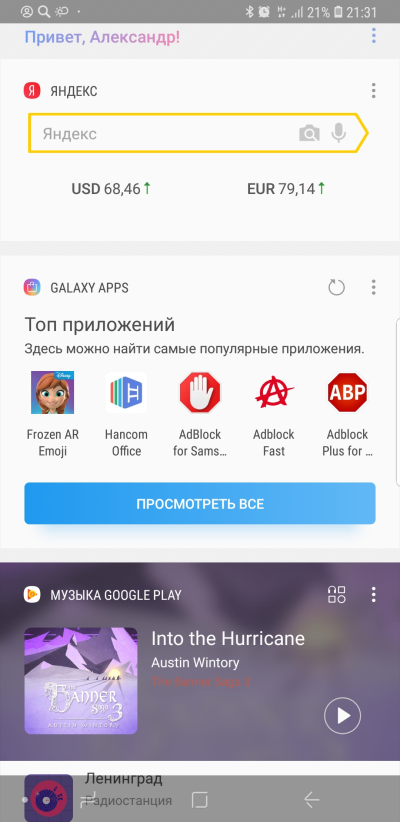 Screenshot_20180905-213149_Bixby Home.jpg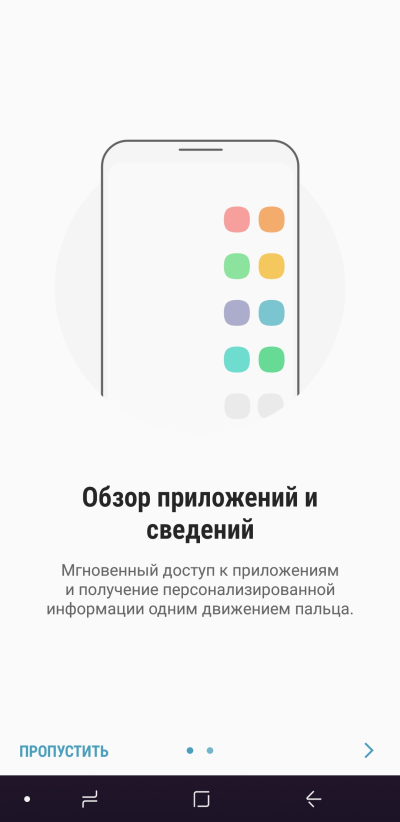 Screenshot_20180906-170117_Samsung Experience Home.jpg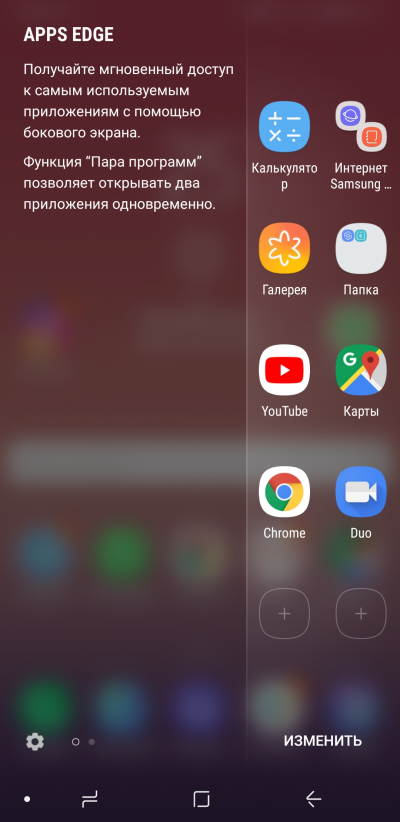 Screenshot_20180906-170124_Samsung Experience Home.jpg

Screenshot_20180906-170131_Samsung Experience Home.jpg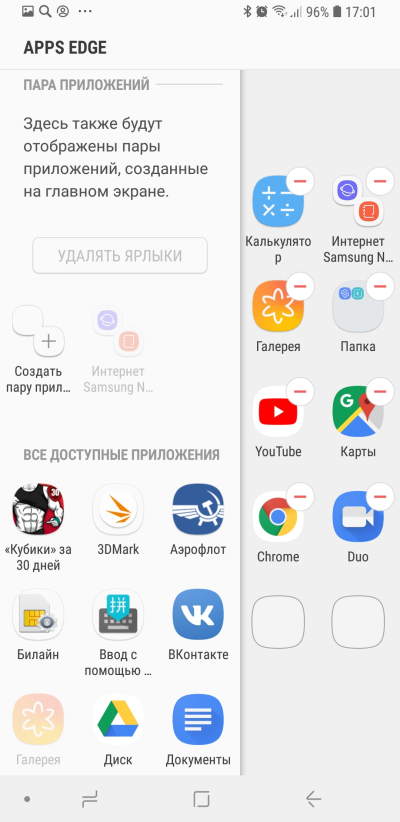 Screenshot_20180906-170144_Apps edge.jpg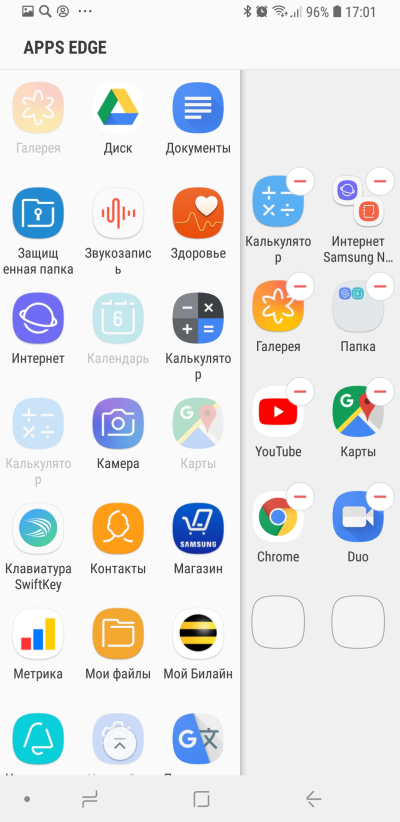 Screenshot_20180906-170148_Apps edge.jpg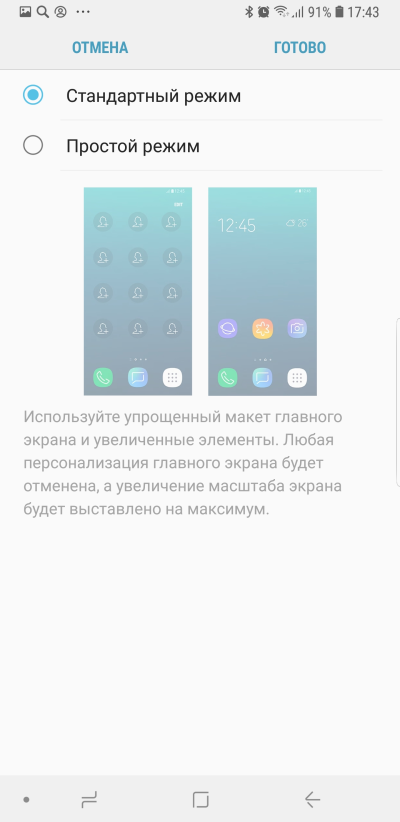 Screenshot_20180906-174354_Settings.jpg

Screenshot_20180906-174405_Settings.jpg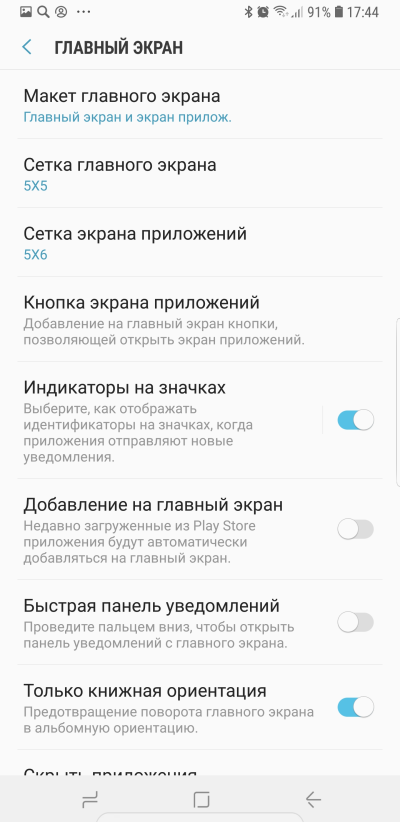 Screenshot_20180906-174436_Samsung Experience Home.jpg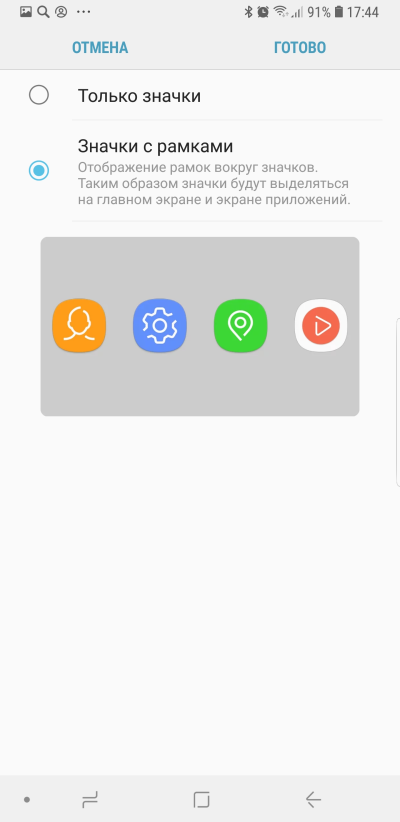 Screenshot_20180906-174445_Settings.jpg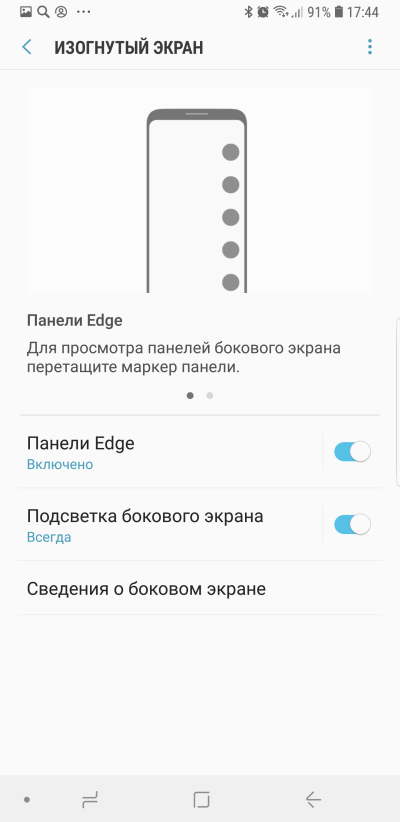 Screenshot_20180906-174454_Edge screen.jpg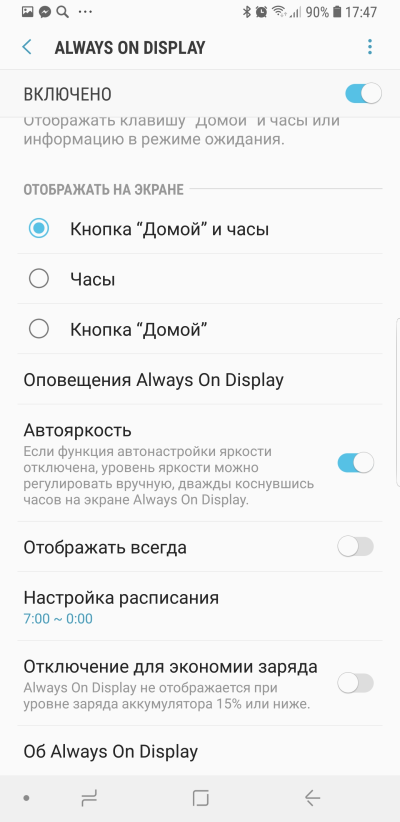 Screenshot_20180906-174707_Always On Display.jpg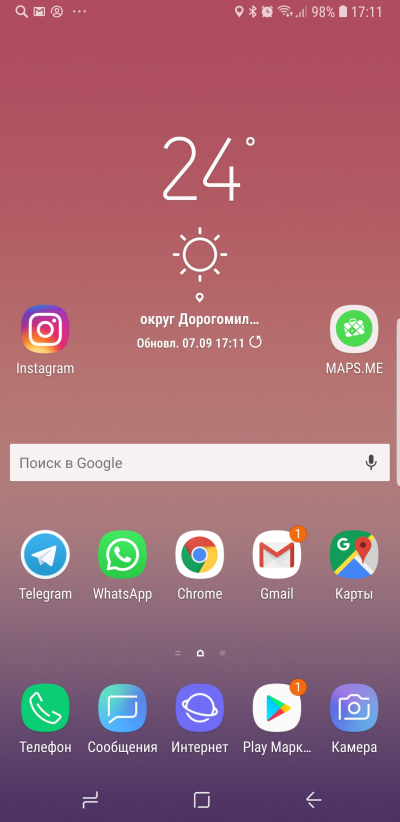 Screenshot_20180907-171144_Samsung Experience Home.jpg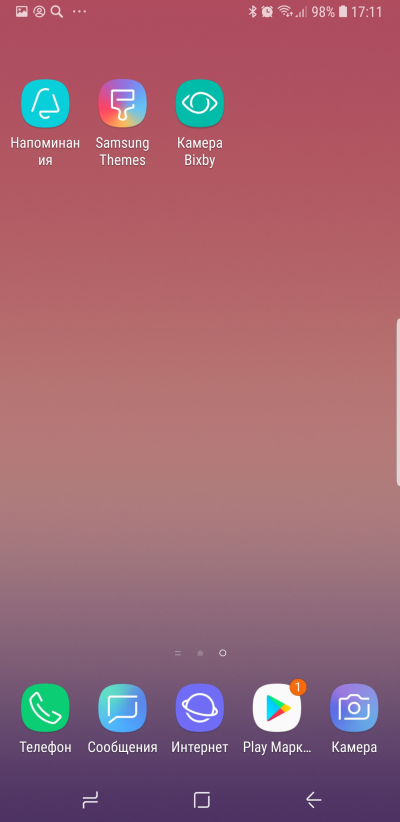 Screenshot_20180907-171147_Samsung Experience Home.jpg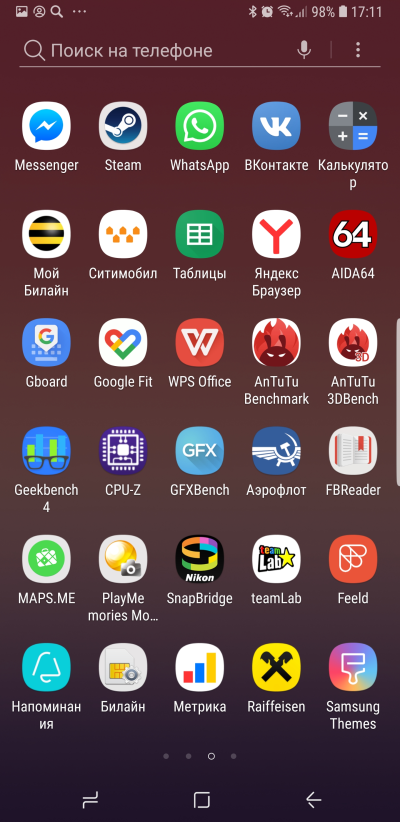 Screenshot_20180907-171155_Samsung Experience Home.jpg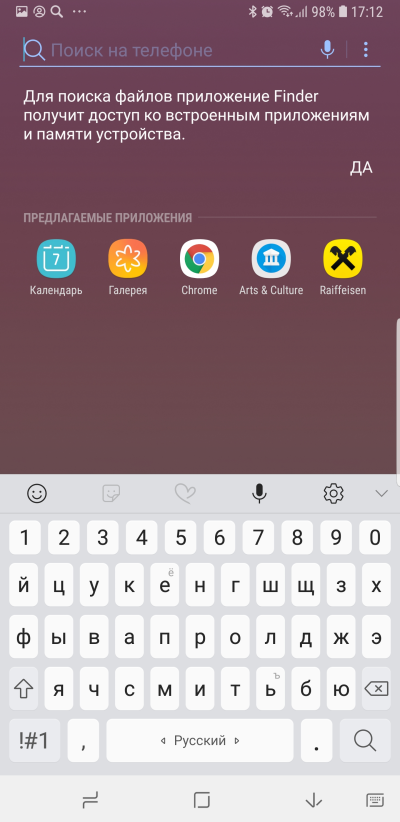 Screenshot_20180907-171201_Finder.jpg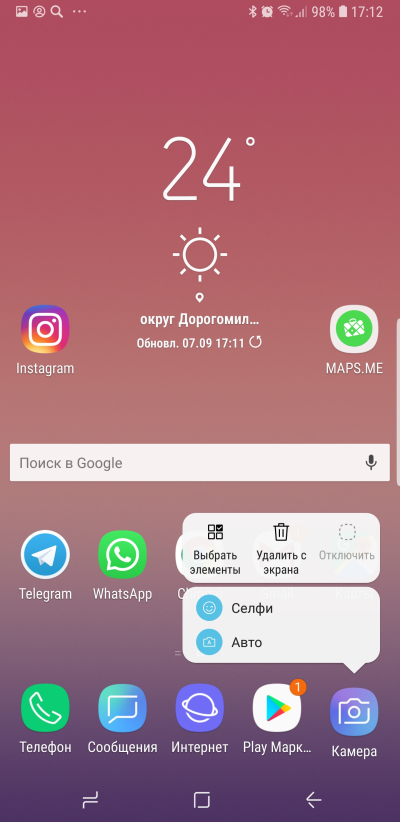 Screenshot_20180907-171215_Samsung Experience Home.jpg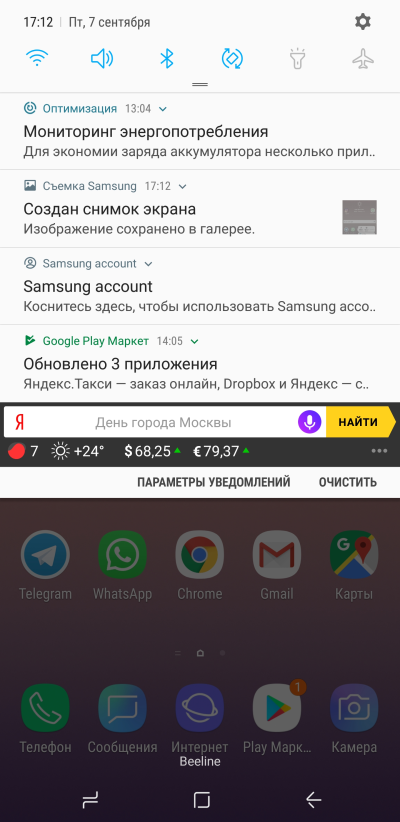 Screenshot_20180907-171222_Samsung Experience Home.jpg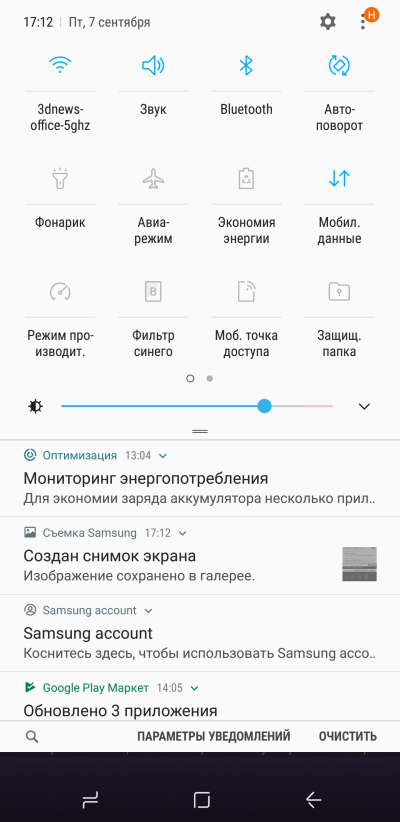 Screenshot_20180907-171226_Samsung Experience Home.jpg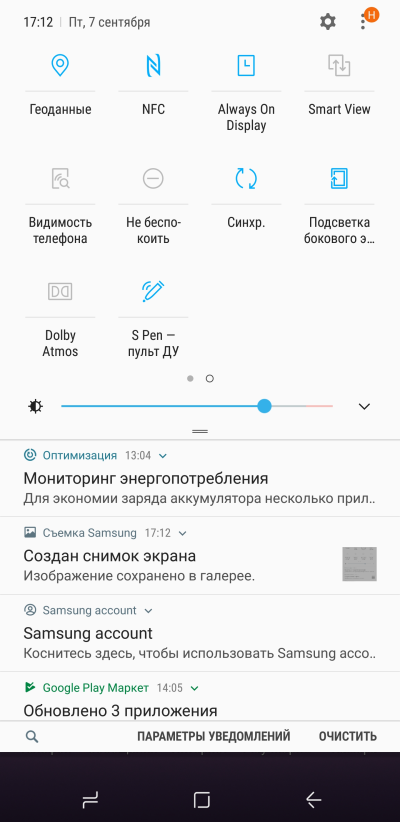 Screenshot_20180907-171229_Samsung Experience Home.jpg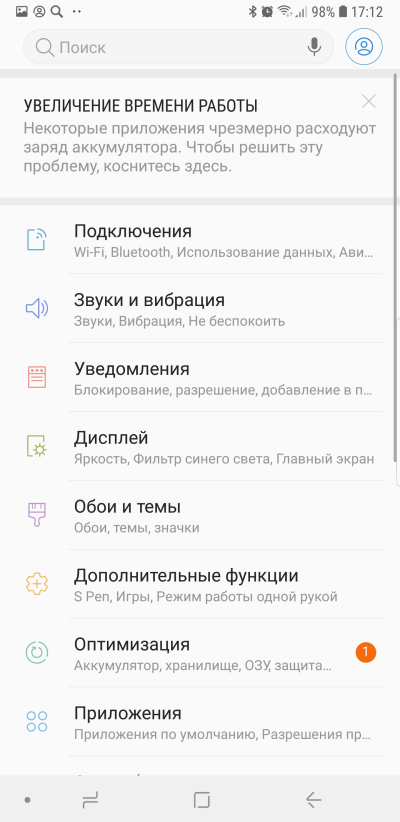 Screenshot_20180907-171241_Settings.jpg

Screenshot_20180907-171245_Settings.jpg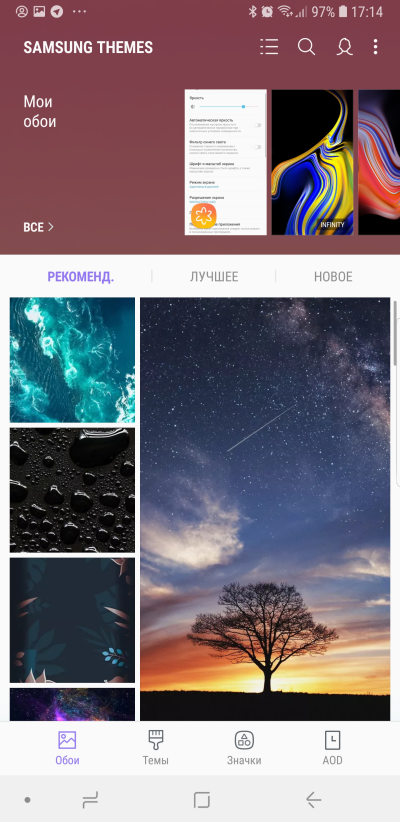 Screenshot_20180907-171422_Samsung Themes.jpg
See all
image (31)
In Samsung Note Android 9 installed 8.1 Oreo with a proprietary shell Samsung Experience version 9.5. It is no longer irritating for many TouchWiz, albeit with many of its features like distinctive colors and reminiscent of the past, and icons for proprietary applications. However, shell and Samsung is definitely not be attributed to the shortcomings of the device. Rather the opposite — she has a lot of advantages: neat design which is consistent with the traditional Android, very high speed (which is not surprising with such a hardware, but there are features about which below), good opportunities for setting up screens and pop-up hints actions for individual applications. On the other hand, a large number of branded apps (for the most part efficiently executed) and assistant Bixby along with Google Assistant (Yes, long press on the icon "Home" calls it).
Of the features of the shell that fell to my liking, I will note offline search at a time and installed on the smartphone applications and the Google Play store (and Galaxy App), the function of the cloning apps (from MIUI funneling through your fingers benefits), sidebar, called swipe from the side edge and, of course, feature Samsung Dex. Through it you can connect your smartphone to the monitor and to use as a kind of stripped-down PC, and games run in full screen and the supported resolution Quad HD (2560 × 1440).
Samsung Pay and is integrated into the shell directly – it can be invoked with a swipe from the bottom face.
S Pen
A separate section for work with the stylus this time I have not wanted to – it would seem that the year is not changing so much that to list it. But Note9 Koreans were again able to slightly really rethink your stylus and the possibility of its use.
The panel is still the same as most of the action directly with a smartphone: quick notes, screenshots — including those with slogans on them (written can be saved separately) and the allocation of certain places on the screen, text selection with immediate sending to the translator sketches. All can be grouped and edited in app Samsung Notes. Straight from the tin – the ability to make notes directly on the lock screen in the mode of Always-On Display. To take any action with the stylus, find from sinus or arranged in it, the smartphone responds by vibration.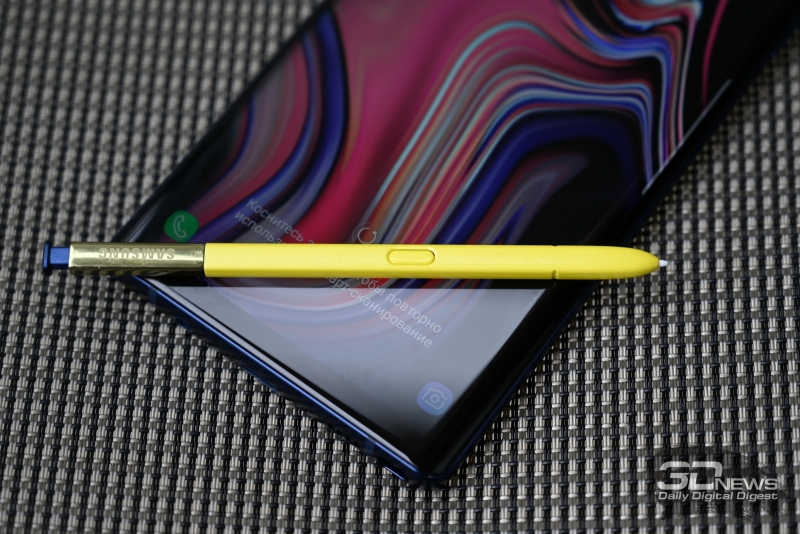 The stylus S Pen still recognizes 4096 degrees of depression, is secured in the groove on the bottom edge, looks great, easy to use, but now he has got the Bluetooth module and requires charging! However, the advantages of this solution is much greater than the disadvantages. Fully charged S Pen for 40 seconds, and this charging is enough for about 200 actuations of the keys, followed by data exchange with a smartphone.
With this exchange you can manage the applications (for example, to pause playback in the player or take pictures on the camera), start any applications (the same camera), to "steer" presentations to Samsung Dex and so on. In fact, it is a bit primitive, but the remote control of the smartphone goes well with its functionality the business of the gadget. The possibility of its operation in this mode are configured, and the S Pen acts like a single press, double, and holding the keys.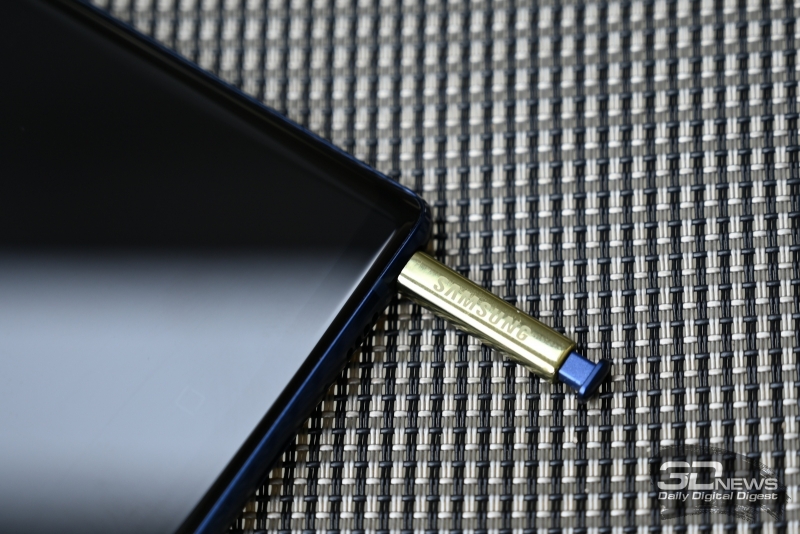 After seven years since the release of the first digital Note pen remains one of the key benefits of the series – somehow, no one is trying to keep up with Samsung leaving Galaxy Note alone in this area. And I, for example, every time you take the test the next Note, after a couple of days begin to regularly use handwritten notes, "steering wheel" in the advanced view screenshots and so on – is not just another marketing thing, but really useful thing (which every year is getting better). Here is why Samsung has no competitors – absolutely incomprehensible.
Display and sound
The Samsung Galaxy Note9 installed curved AMOLED display with a diagonal of 6.4 inches, format 18,5:9 and a resolution of 2960 × 1440 pixels. The pixel density is 516 ppi is a comprehensive value. More can be useful is that when viewing 4K content on the screen, but to see such detail on a mobile display (even large ones) without a magnifying glass impossible. In General, with fonts and small details on the picture no problem. If desired, the display resolution is lower – and the default is the value 2280 × 1080 pixels (Full HD+) that has a positive impact on autonomy of the device.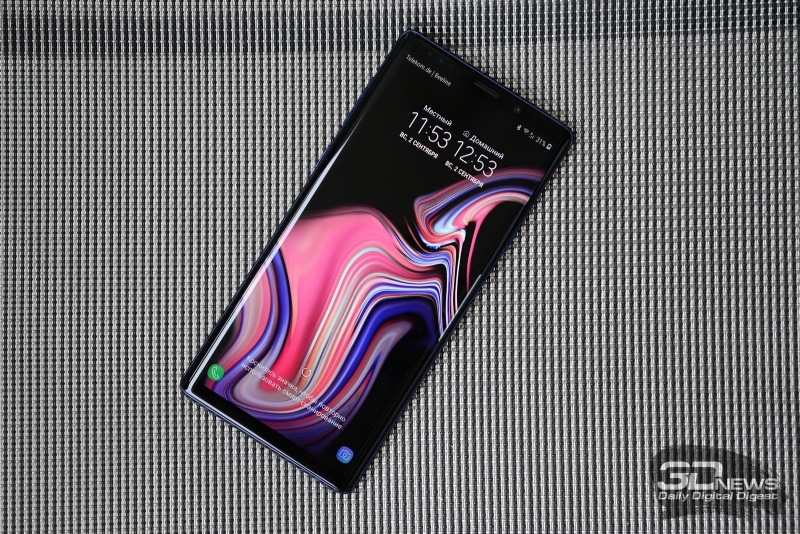 The screen is equipped with a very good oleophobic coating and again resistant to the appearance of macrocarpon – to have a remote added to and then removed in a smartphone, you do not want to (but you can, Samsung has a variety in stock).
The Always-On Display enabled by default, almost does not consume energy (for the accurate calculation is not possible), it displays the clock, Home button and icons of the applications that currently have notifications. You can adjust the screen brightness in this mode, specify a work schedule Always-On Display and to turn it off to save battery at a certain charge level.
You can adjust the size of the font type icons (within or without), scale, filter, blue, and other basic things and change the color. The default is "adaptive" mode in which the phone decides which to use color range, saturation and sharpness depending on ambient conditions and the currently displayed information. Also available mode "Film AMOLED", "Photo AMOLED" and "Main". I measured the color in "adaptive" mode "Film AMOLED". If desired, you can manually configure color temperature, and saturation in individual color channels.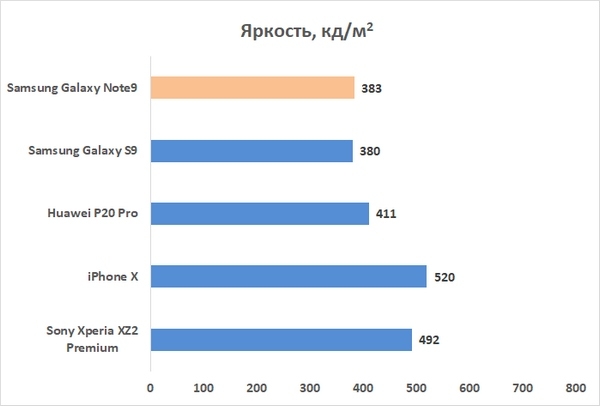 But first – about the brightness. The measured level amounted to 383 CD/m2, digital ratio does not go to any comparison with LCD displays, but in fact to use Galaxy Note9 under direct sunlight comfortable, sometimes you do not even have to turn up the brightness to max. Viewing angles are also free, but with a strong deviation of gaze from the perpendicular, which is typical for OLED-matrix, change color.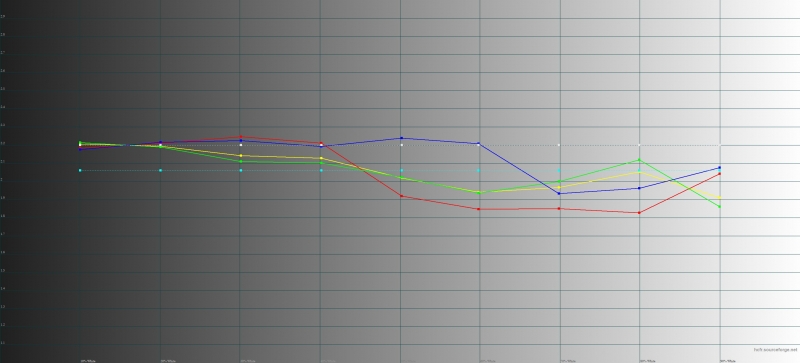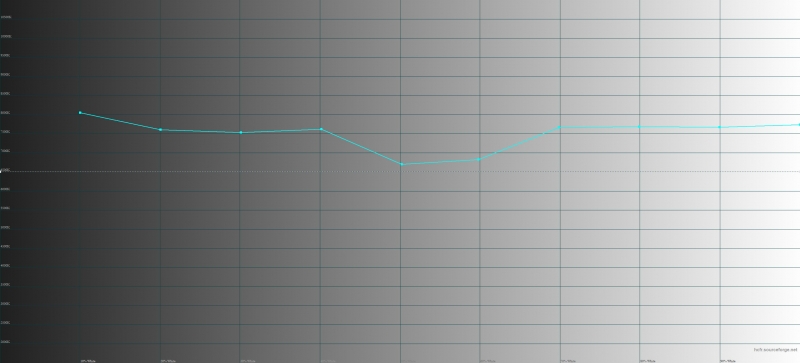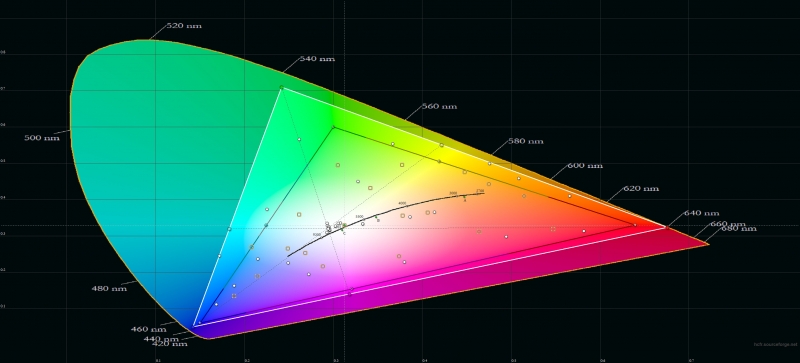 In "adaptive" mode rendering Galaxy Note9 uses a wide range of colors (close to DCI-P3). Limit color accuracy relative to the standard sRGB, of course, can not speak. Gamma is the average of 2.06, the color temperature is slightly elevated (average: 7 500 K), the average DeltaE deviation for the extended Color Checker palette (shades of gray + a wide variety of colour shades) is 5,85 (at a rate of 3 and the reference value of 2). The picture is bright, rich and cold.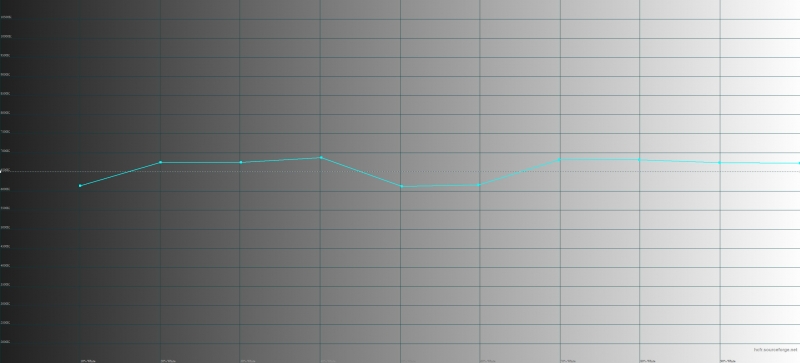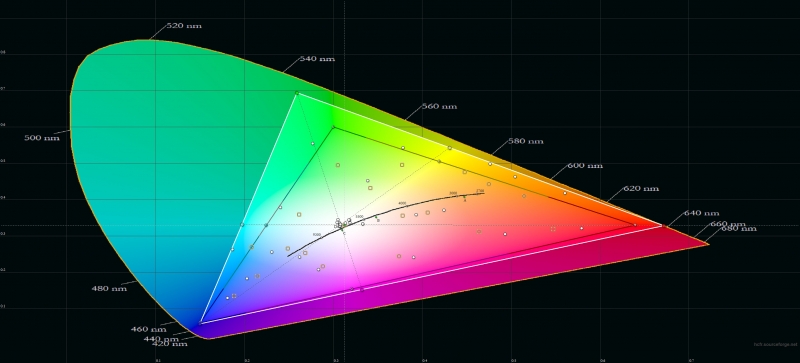 In the color mode "Film AMOLED" color gamut too close to DCI-P3, but the picture is significantly warmer (the average temperature fluctuates around the reference value of 6500 K), gamma is committed to the level of 2.10, and the average deviation of Delta E on the scale of the Color Checker is of 4.59 – mostly miss is not in shades of gray, but it is in the colors.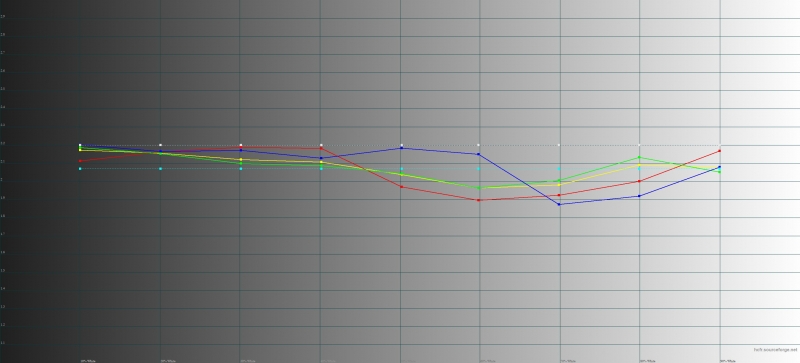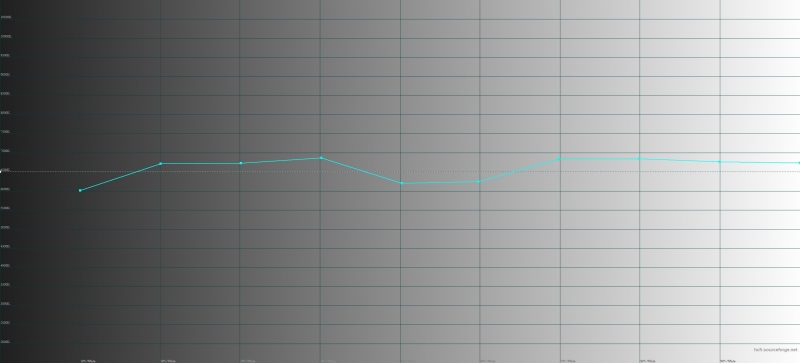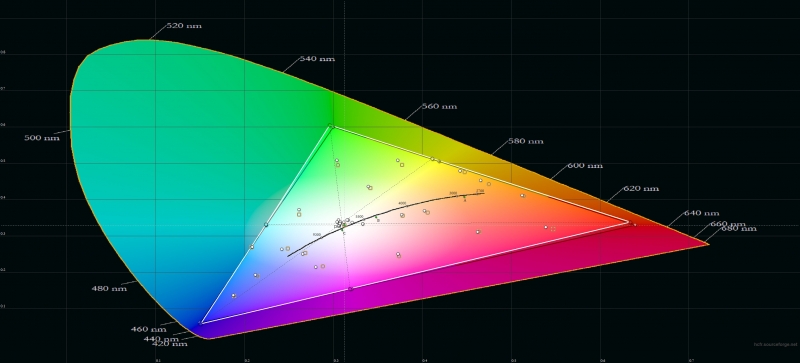 Good color Samsung Galaxy Note9 only in "native" mode – gamma and temperature correspond roughly to those in the mode "Film AMOLED", but color gamut is close to sRGB, and the result rednee deviation of Delta E on the scale Color Checker is 3,30, which is closer to the norm, which is 3.00. But to call settings display Note9 reference is still impossible.
Koreans do not make much emphasis on sound Galaxy Note9 — like the fact that it has a 3.5 mm mini-Jack, enough to match its flagship status, and it surpasses all of its "obeschannyh" competitors. In principle, this view is not without reason, but nothing special in terms of the sound Note9 really does not present – the volume reserve is not prohibitive, the sound is normal. Headphones included, authorship AKG, very good job with high frequencies, but the bass they frankly not enough. More powerful headphones Note9 may "shake", but the title of the best for sound reproduction, this smartphone does not apply.
The same applies to external speakers. There's two of them, but one of them is not directed toward the user and down/sideways – but at least not obstructed by the finger, when the horizontal grip. The volume is great, the detail is average. Problems with the earpiece as a microphone, no – classic Note9 phone can be used completely.
Source: 3dnews.ru