First impressions of the Sony Xperia XZ3: finally OLED
The Japanese market is very specific and dictates the conditions of Japanese companies. The release of two directly successive flagships a year, do not dare to call a necessity, but in this case, you will have to force him to do it. Xperia ZX2 appeared in the spring, becoming the first officially released smartphone with Snapdragon 845 on Board, but at the end of August (less than six months) we meet the Xperia XZ3 – smartphone, not complementary to its predecessor, namely how it would
continue.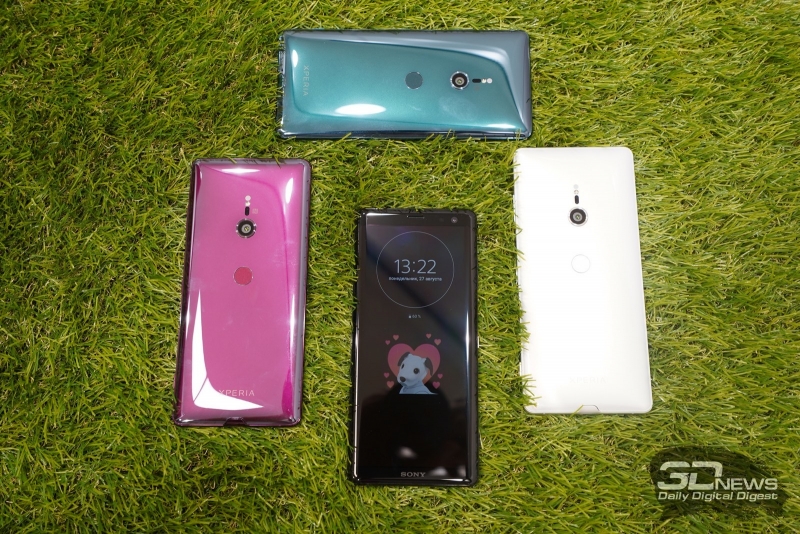 | | | |
| --- | --- | --- |
| | Sony Xperia XZ3 | Sony Xperia XZ2 |
| Processor | Qualcomm Snapdragon 845: four cores Kryo 385 Gold, 2.7 GHz + four cores Kryo 385 Silver, 1.7 GHz | Qualcomm Snapdragon 845: four cores Kryo 385 Gold, 2.7 GHz + four cores Kryo 385 Silver, 1.7 GHz |
| Display | 6.0 inch, OLED, 2160 × 1080 | 5.7 inch, IPS, 2160 × 1080 |
| RAM | 4 GB | 4 GB |
| Flash memory | 64 GB | 64 GB |
| Cellular | GSM, UMTS, LTE (Cat.18) | GSM, UMTS, LTE (Cat.18) |
| Wireless modules | 802.11 a/b/g/n/ac (4×4 MIMO), NFC | 802.11 a/b/g/n/ac (4×4 MIMO), NFC |
| Camera | 19 megapixels, ƒ/1,8 optical stabilization, hybrid auto focus, led flash | 19 MP, ƒ/2.0, optical stabilization, hybrid auto focus, led flash |
| Front camera | 13 MP, ƒ/1,9, without autofocus, no flash | 5 MP, ƒ/2.2, and without autofocus, no flash |
| Battery | A removable battery of 12.66 W·h (3330 mAh, 3.8 V) | A removable battery of 12.08 W·h (3180 mAh, 3.8 V) |
| Dimensions | 158 × 73 × 9.9 mm | 153 × 72 × 11.1 mm |
| Weight | 193 g | 198 g |
| Operating system | Pie Android 9.0, brand sheath | Android 8.1 Oreo, shell EMUI |
Sony is still moving on after many years of "square design" ways to "operate" and "rounding". XZ3 has become noticeably thinner and quite a bit, but it's easier – let and retained overall direction given in the spring. There is still a fairly large screen frame, due to the massive metal frame that gives the handset rigidity and strength. In the end, XZ3 looks quite interesting, but a little outdated in a time when everyone wants the maximum area of the front panel, covered with screen, Sony is trying to take care of reliability.
Both the front and back panel covered with Gorilla glass 5 – XZ2 and XZ2 Premium was used more thick "sandwiches" here are the Japanese still a little sacrifice durability in favor of grace. But hardly seriously, the weight is still 193 grams – not so much with respect to XZ2 Premium and really a lot relative to competitors of other brands.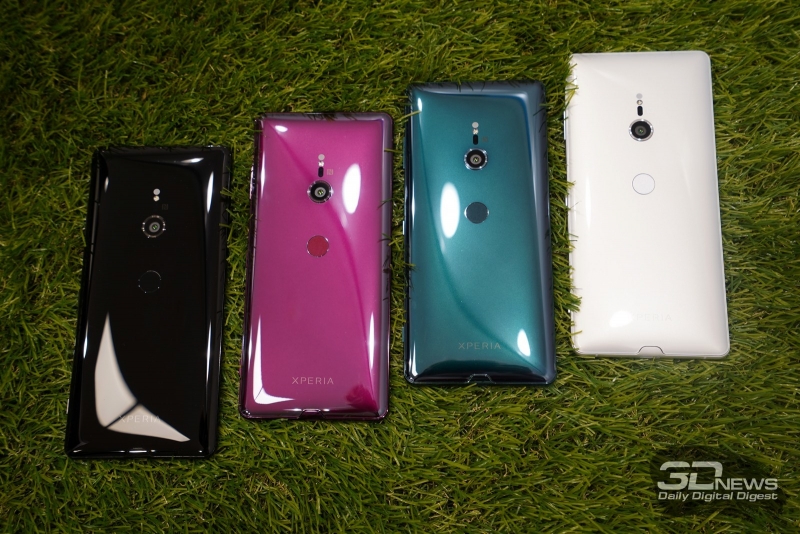 Xperia XZ3 very pleased with their flowers – is, as usual (and enjoying the most popular) black and white options, and a really beautiful Burgundy and green. The photos don't quite convey the feeling from these colors – in reality they are much darker and look even more noble. Back, like last time, markedly curved, narrow frame and made of aluminum to hold XZ3 convenient. Even slippery.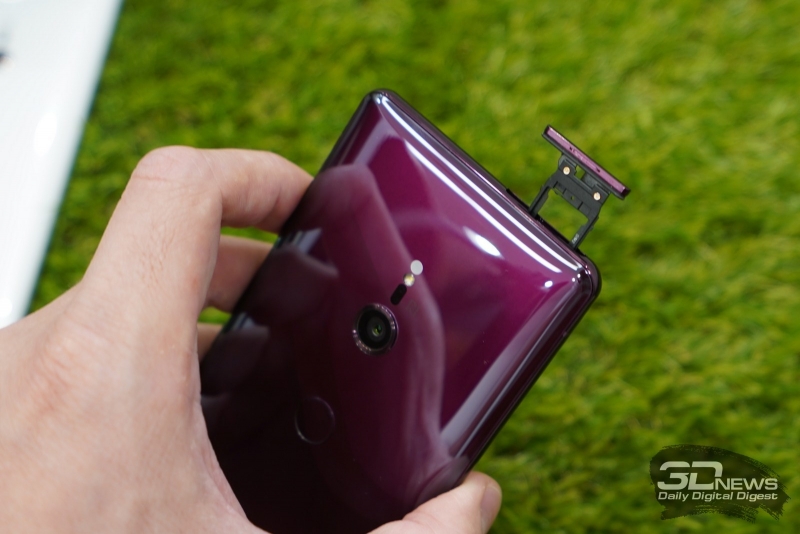 Recruitment and arrangement of functional elements no change: connector for SIM-cards and/or memory card on top (and any tampering with him, as always, send the phone to reboot), there is a button assigned for shooting, mini-Jack no, but the fingerprint sensor is located right in the center of the rear panel (not very comfortable).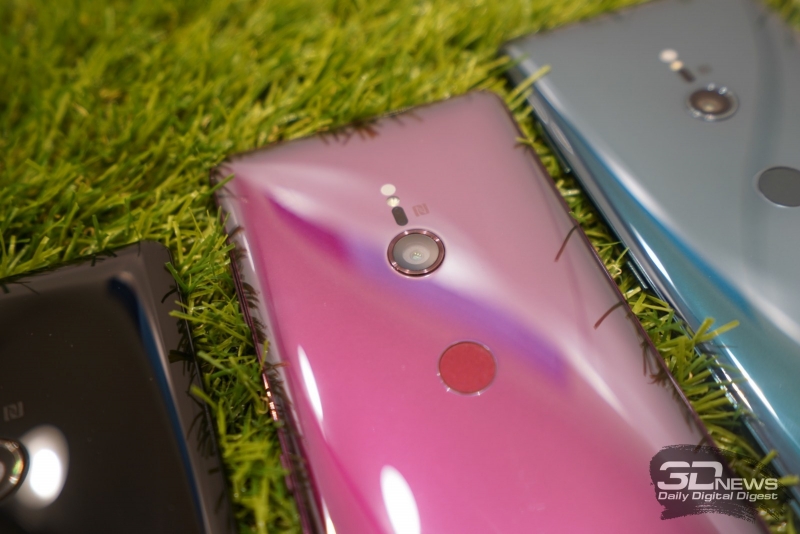 The back camera is a single – XZ3 demonstrates a remarkable retrograde, though, it seemed that after XZ2 Premium dual camera needs to slowly settle down and in the family of Xperia. But no, everything is like the XZ2 is the only 19-megapixel sensor (the physical size 1/2. 3') with a lens aperture of ƒ/2.0 and optical stabilization.
Sony claims that, leaving unchanged compared to the previous flagship of the camera module, the company has fully revised the respect to the software and the difference with the XZ2 as shooting should be very noticeable. To test this I have not yet had the opportunity, but at least the shooting menu looks different – more modern. Supports recording of 4K video with HDR, and in a larger format (HEVC 10-bit BT HLG.2020) – a small sensor does not allow XZ3 to argue, for example, with the camera Sony a7R III, but it's great that the achievements of the company are used in many of its products.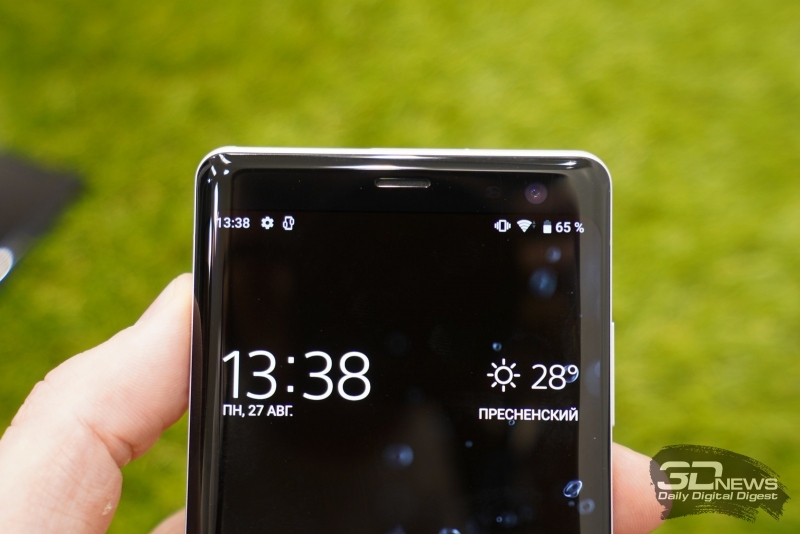 Front camera moved to the XZ2 XZ3 with Premium and even improved on the road, getting a little more high-aperture optics –ƒ /protivƒ 1,9 /2,0. Will not go away once 3D modeling, but now it has grown more and animation. Yes, your scanned head now learned to speak, wink and blink. Looks, frankly, scary.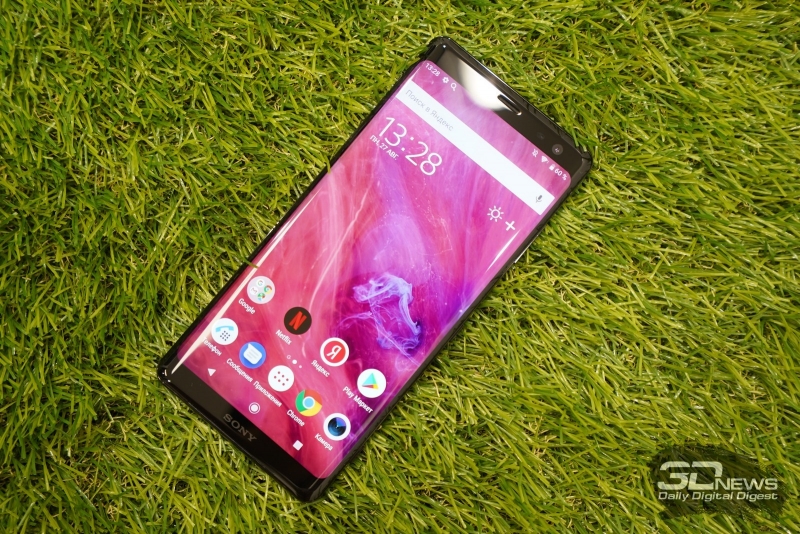 If the camera is a breakthrough theoretically possible, but in practice hardly it will be highly visible without the use of a fresh combination of sensor and optics, with a screen radical improvement is already evident. This is the main advantage XZ3 – Sony finally caught up (almost) all and installed it on their flagship smartphone OLED display. Everything that works in 2018: 6 inch resolution FHD+ (2160 × 1080, format 18:9) – flirting with 4K left to "premium". Of course, claimed to support HDR (standard HDR10), and using the same algorithms as in the main OLED TV, the company – A1. If you are attracted to the idea of looking at a six-inch screen films – that is the big reason for joy, look here they are great.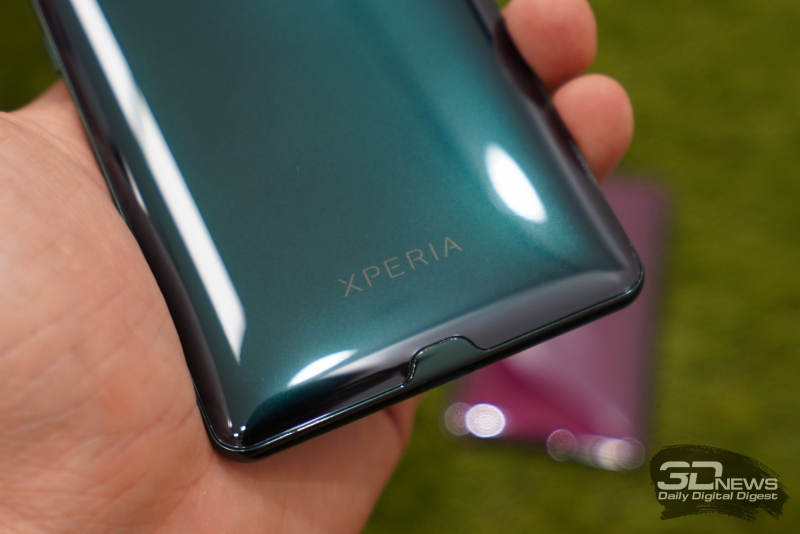 Add effect and dynamics – again, in stereo, displayed in the front plane of the smartphone. This, incidentally, is one of the reasons a large indentation above the screen and below it. They sound, in my opinion, even better than before, Xperia XZ3 is clearly going to take the title of most talented multimedia smartphone. Mini-Jack for a full and unconditional victory in this field he, of course, is not enough.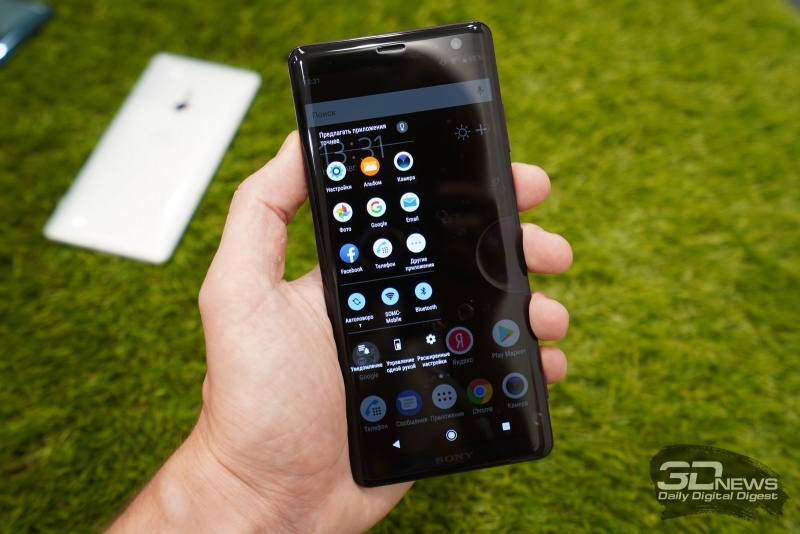 Sony Xperia XZ3 will go on sale with Android 9.0 Pie on Board, becoming one of the first smartphones with "nine" (the first, of course, will be Google Pixel 3). A fresh version of the operating system, about which we wrote, added a couple of fresh software features. For example, XZ3 learned to respond to double tap on the side faces of the smartphone in the result displays a quick menu that adapts to the user: it is able to Orient himself in time and preferences of the owner of the smartphone, offering the most familiar applications. How this will work in reality – I'll be sure to watch. Similar things for a while HTC brags, but they work in the Taiwan smartphones is so-so.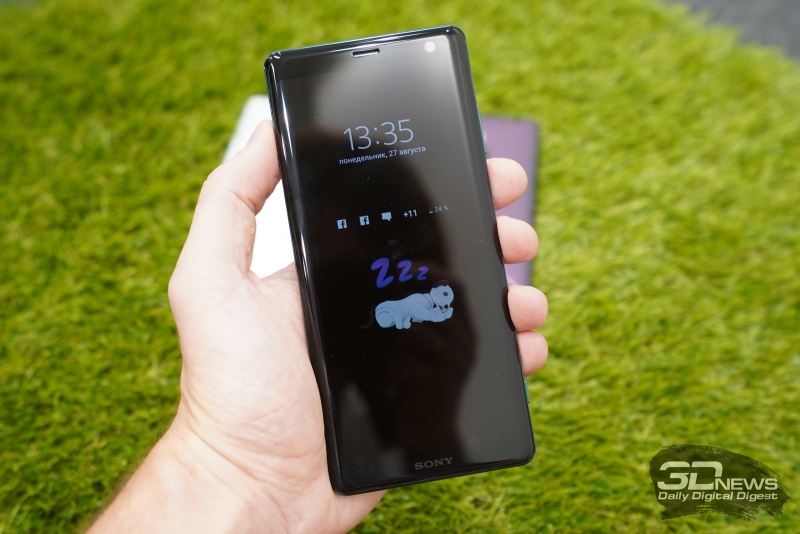 Another feature associated not with the software, and with the OLED screen – advanced system Always-On Display that shows time and notifications, but also some screensavers. You can even use the lock screen as a photo gallery, and XZ3 is able to locate and select images from your gallery from these places. Also right on the lock screen, you can activate the camera without pressing special keys. If you hold the smartphone at the hip or in the pocket, and then sharply raise it to the horizontal position – he is ready to do the; for the test sample was unstable, but such things are always allocated the Sony technique in comparison with others.
Also used to distinguish and maximum adaptability, but lately, the Xperia is so-so. If the hardware platform everything is fine (Snapdragon 845, anything better now still not found), then the memory, again is not very memory XZ3 installed only 4 GB, and flash memory – 64 GB. Such stinginess is repeated from model to model and from model to model, it is inexplicable.
Price Xperia XZ3 to date unknown, as the date of receipt of the smartphone on the market. You can focus on the current value XZ2 – 60 000 rubles. Most likely, that's the number at the start will cost and XZ3.
Source: 3dnews.ru