Gentleman's set: 25+ programs that need to be on Android-smartphone
Apps for Android are different. There are useful and not so, free and commercial, entertainment and is intended for solving applied problems created for the corporate market or aimed at the mass consumer market, designed with the soul or bat anyhow "on the knee" for a few moments, popular and still had not managed to gain fame among the user base of the online store Google Play, at the moment numbering, whether a joke — almost 3.2 million apps! And there are the programs without which in
everyday life without hands and which have to use almost every day. Exactly, the majority of owners of Android-devices products the focus of our review, for convenience, broken into categories — Internet, office, information, security, system, sports, transportation and navigation, entertainment, Finance and whatnot.
Internet
Opens our hit parade application "number one" for all without exception of mobile gadgets with Internet connection browser Chrome, unequivocally ruling the roost in the market of web browsers in Russia and in the world. The dominant position of the "Chrome" on the market is not only an impressive number of pre-installed copies of the browser on Android devices and developed the functionality of the program, which includes voice control, protection from malware and phishing attacks, the functions of savings and synchronize custom data with desktop version of Chrome, the background preloading of pages when you type an address or search query, interpreter, and tools to download the content "one-click" and its further viewing in offline mode. Google unabashedly calls a "Chrome" one of the fastest mobile browsers, and this is the truth. Moreover, in contrast to alternative web-browsers, also developed on the basis of the source code of the open source project Chromium, the Chrome gets regular updates and security fixes, which is very important to protect against online threats.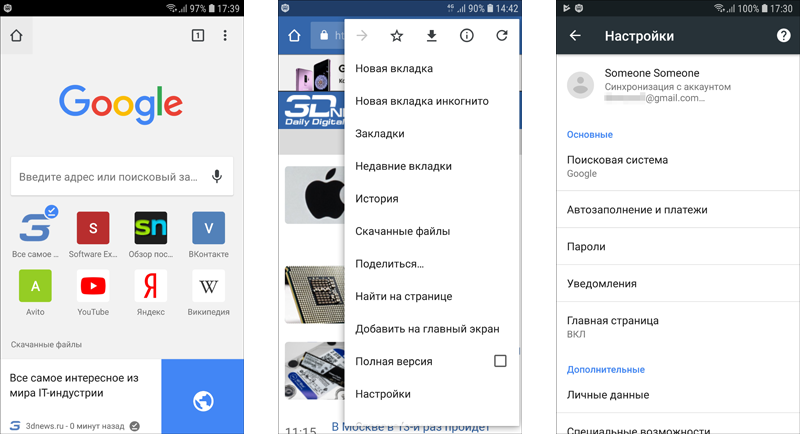 Life owners of mobile gadgets is unthinkable without such communication tools as e-mail, to work with which is great the app is Gmail, also running in the standard delivery of many devices based on Android OS. Despite its name, the mail client Gmail is great not only the eponymous email service, but also with many others, among which are Outlook.com Yahoo Mail, "Yandex.Mail", "Mail Mail.Ru" Microsoft Exchange and other services with support for POP3/IMAP. The program has a simple and user-friendly interface allows you to manage multiple accounts and to promptly notify the user about new mail, mail is able to sort and group correspondence with one theme in chain supports working in offline mode (you can read the messages and write replies without being connected to the Internet), and is also equipped with anti phishing system that automatically recognizes in the stream of emails suspicious emails. In General, we recommend.
No less relevant in network environment are the messengers, whom now, speaking by the mouth of the infamous Cat Matroskin from Prostokvashino, well, just heaps! Viber, WhatsApp, Facebook Messenger, "tamtam", Skype, the good old ICQ, blocked by Roskomnadzor, but they continue to function properly in Russia Telegram — you name it. To agitate in favor of a product will not. Just to say that the results of the expert tests the most secure IM client is the Telegram. First place in the rating this messenger has provided not only open source client applications, Protocol and API, but also an impressive set of tools of information security, including full end-to-end encryption (where the information is in encrypted form is transmitted from device to device directly, without intermediaries), support secret chats with access control to data and other tools.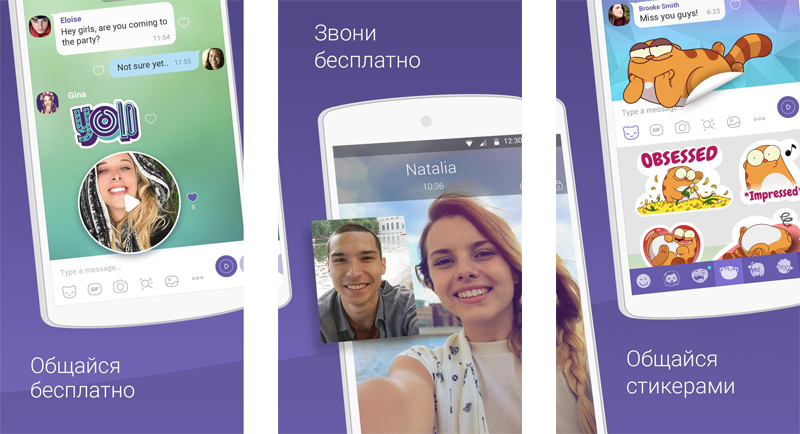 Office
To be fully prepared, do not be amiss to have on hand any software for work with documents Word, Excel, and PowerPoint. The right choice will help our recent survey of office apps for the platform Android, in which the leading position due to its characteristics — ease of use, ease of interface, functionality, cost — took Microsoft Office, Google Docs and Thinkfree Office. The possibility of any of these products more than enough for viewing and editing texts, spreadsheets and presentations.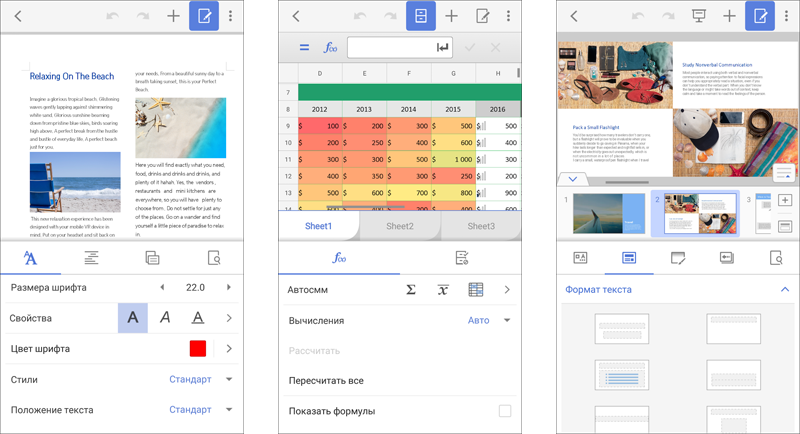 When working with foreign language documents, a great addition to the office suites will be the translator, Google Translate, support for more than hundreds of languages, able to work without connecting to the Internet which allows you to translate not only the texts, voice messages and SMS, but any inscription with the camera of the gadget. The demand for mobile interpreter shows an impressive audience of users. Every month, more than 500 million people use the app to simplify the communication and to access information in other languages. The day is running more than a billion translations.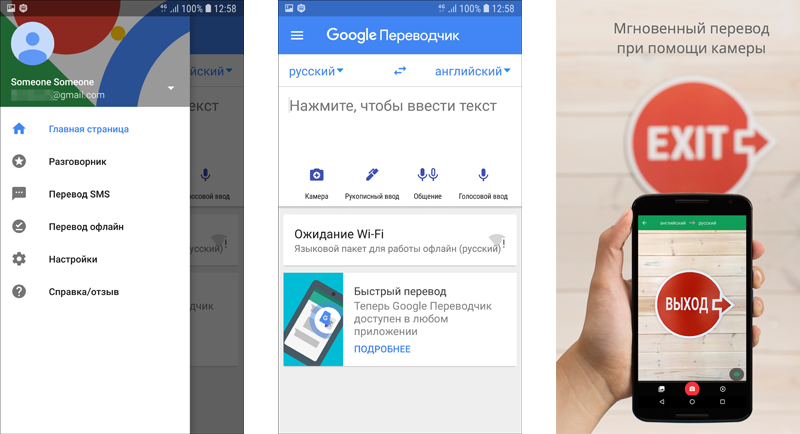 Information security
Considering the necessary for Android application, one cannot ignore anti-virus solutions, the relevance of which many are still in doubt — but in vain! In favor of such products are eloquent not only of the analysis is companies, but Google releasing monthly patches and hotfixes for the "Android" prompt accessed by only the owners of Nexus devices and Pixel, and also low-cost smartphones Android One family. The rest of the manufacturers of mobile devices based on Android, not usually in a hurry with a firmware upgrade and removal of the detected "holes" — and thus not only substituted its users under attack of cyber criminals, but also provide the latest a wide field for malicious experiments with vulnerable devices. For comprehensive protection from viruses and network threats, you can use multifunctional antivirus solution (e.g., Kaspersky Internet Security for Android or Avast Mobile Security), for forming the first shield will fit perfectly any lightweight antivirus whether Dr.Web Light or Bitdefender Antivirus Free.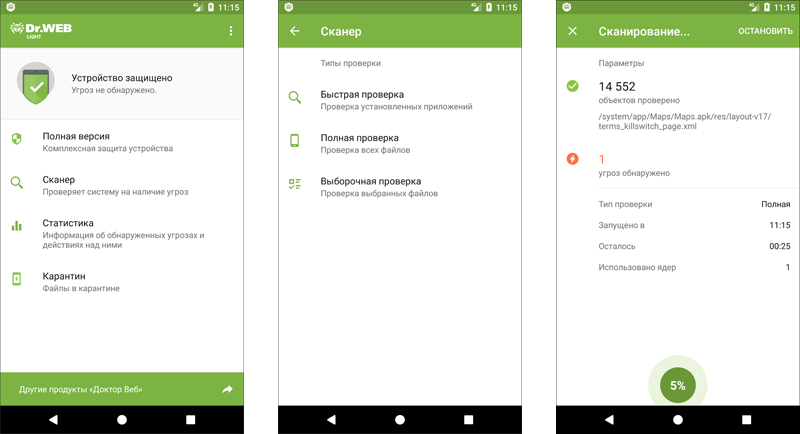 Since we are talking about information security, not be amiss to mention such a useful and modern tool as a VPN client TunnelBear. With it is not difficult to quickly establish a secure data channel for web surfing, to ensure anonymity in the global network, work via public Wi-Fi access points and safer to circumvent the established providers limitations.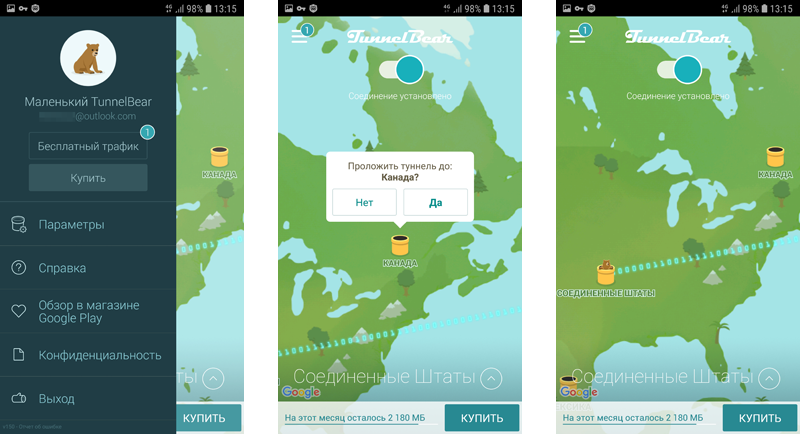 System
Gentleman's set of Android apps would be incomplete without a mention of the file Manager provides a convenient interface for working with data stored in the memory of the mobile device data. In Google Play such applications, a car and small truck, but the best of the best on all indicators of them is Total Commander — Yes, the same one that many IT-remember the old-timers in the PC version.
Functional stuffing the Android version of Total Commander is not inferior to the original version of the file Manager. The program supports work in two-pane mode and has a multilingual user interface, can find common language with ZIP – and RAR-archives, feature custom menu and panel control keys. In addition, the mobile asset Total Commander includes built-in tools to sort and find files, media player and text editor tools file transfer via Bluetooth, support FTP, SMB and WebDAV, and other features that put the app on step above similar products.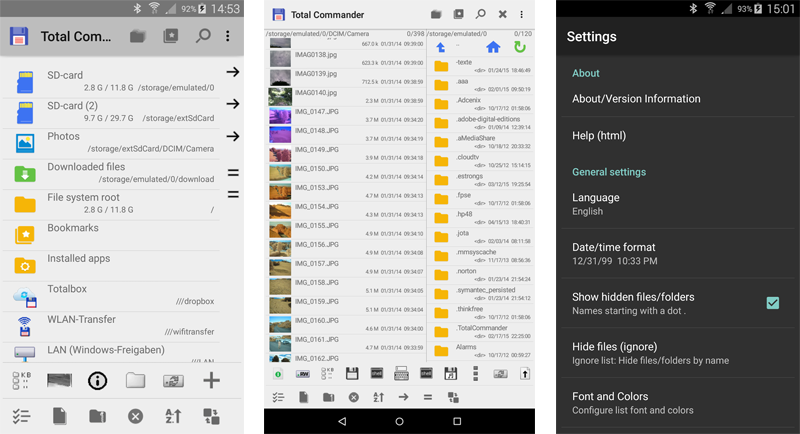 More of the system applications residence in the memory of any Android gadget developed by Google deserves the onscreen keyboard Gboard , supporting more than 400 languages and dialects around the world — more than any other program of this type. In addition to the manuscript, Gboard supports voice and gesture typing text (to print the word, you need to hold your finger over the letters), due to machine learning the keyboard can predict user input phrase and automatically correcting typos. In addition to features to simplify the typing on the small screen, the application is integrated Google search, translator and lots of visual objects Emoji, stickers and animated gifs, allowing users to more fully Express their feelings and emotions when communicating in a virtual environment. Well, to stay in the latter are not marred by huge bills for network traffic, it would be logical to keep the program Datally to help you understand what it consumed precious megabytes. Datally shows what applications are the most demanding traffic, what time is increasing its consumption, encourages savings on the basis of user activity and suggests the nearest Wi-Fi network to which you can connect.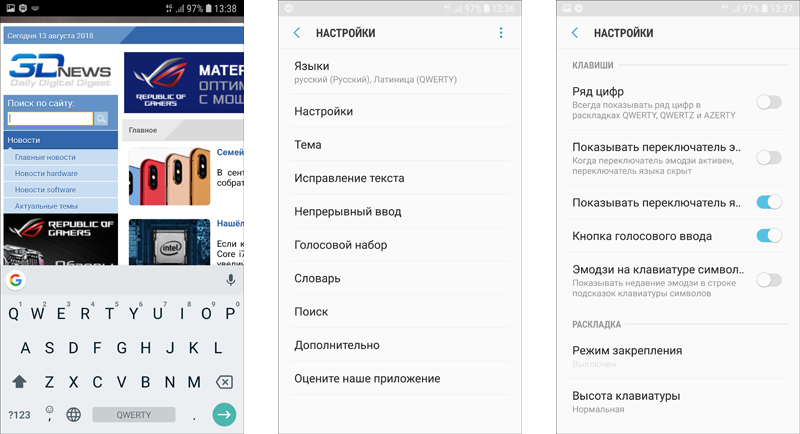 Entertainment
For those who used the free time to indulge in reading, I suggest you look to Moon+ Reader — the best, in our opinion, the application for e-books. Features of the program are to support formats TXT, HTML, EPUB, PDF, MOBI, UMD, FB2, CHM, CBR, CBZ, RAR, ZIP, OPDS, integration with online libraries and dictionaries, the ability to sync books across devices and a heap of different settings and modes, allowing the flexibility to configure the program and get pleasure from reading books.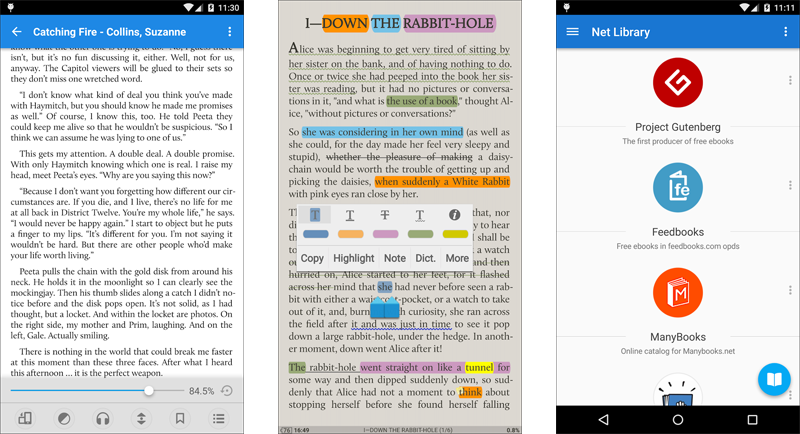 One thing a thoughtful reading of the books, and quite another — watching movies on the screen of the mobile device or listening to music. And in that and in other case, useful popular cross-platform media player VLC, capable of playing almost any video and audio formats. The strength of the player is support wireless broadcast to Chromecast. This allows users the easiest way to transfer media content stored on a mobile device or even online storage, on the big screen or other compatible with the Chromecast device.

Transport and navigation
The leader in this category is, without a doubt "Yandex.Navigator" — a great helper for car owners and travelers. Navigation application provides a strip of road routes in Russia, Abkhazia, Azerbaijan, Armenia, Belarus, Georgia, Kazakhstan, Kyrgyzstan, Moldova, Tajikistan, Turkey, Uzbekistan and Ukraine, taking into account the situation on the roads. The program in a timely manner rebuilds the route based on constantly updated information about traffic jams, accompanied by the movement of the voice prompts, and alerts about traffic events (accidents, roadworks and so on), speeding when driving on the road and surveillance cameras, and also displays additional information about buildings and other objects on the map. In addition, "Yandex.Navigator" supports voice control, allows you to find nearby Parking in the city and pay the fines. Savings include a save feature selected cards in the device memory.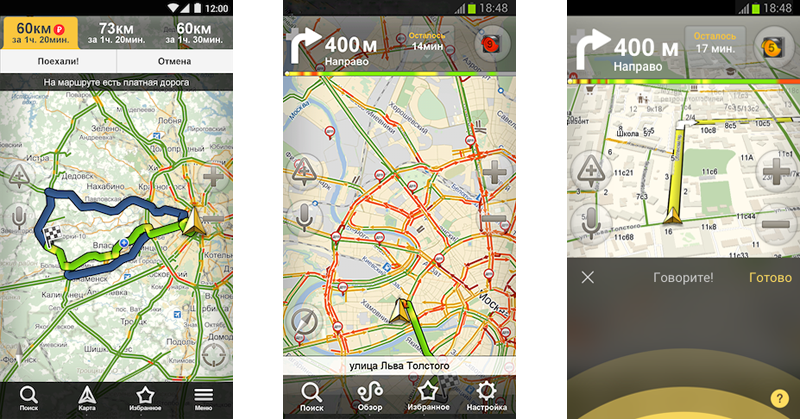 Who prefer public transport personal, to a good service will serve the application "Yandex.Transport", which allows real-time monitor the movement of buses, trams, trolleybuses, minibuses and find out the exact time of their arrival. The program has a map, stops and public transport in Moscow, St. Petersburg, Yekaterinburg, Novosibirsk, Kazan and other major Russian cities. "Yandex.Transport" also works in Kiev, Astana, cities of Finland (Helsinki and Tampere), Hungary (Budapest), Australia (Sydney and Brisbane), New Zealand (Auckland) and Belarus (Baranovichi, Slutsk, Lida, Bobruisk, Pinsk, Grodno, Vitebsk, Mogilev and Brest). Also important is the fact that recently the application is able to display not only public transport, but cars carsaniga that can be rented for short-term rent in Moscow.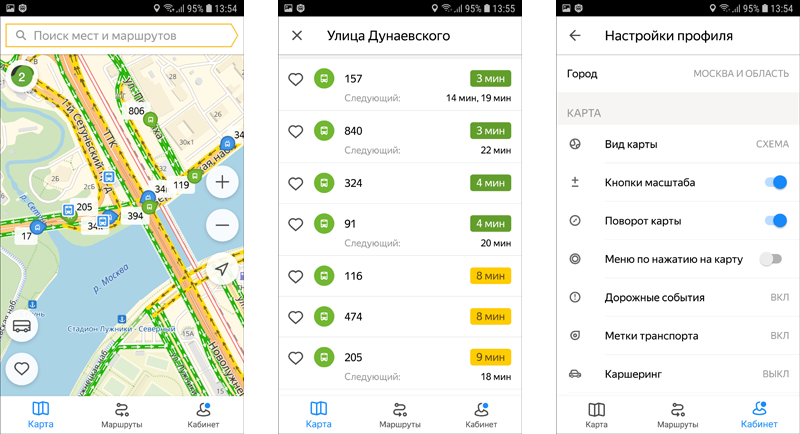 Finally, a good addition to the mentioned products is the electronic directory with maps of cities 2GIS. Not only does it contain the most complete and regularly updated information about the organizations of the city (location, opening hours, phone number, website, social networks, reviews), but also able to work as a Navigator, suitable for car and for public transport and walking. App features allow you to build routes taking into account all types of public transport: buses, taxis, trolleybuses, trams and metro, view detailed maps of shopping centers with floor plans, save your favorite locations for instant access, shares its location on the map and use 2GIS as a tourist city guide. The program has maps of Moscow, Saint-Petersburg, Yekaterinburg, Novosibirsk, Chelyabinsk, Barnaul, Samara, Krasnoyarsk, Ufa, Kazan, Tyumen, Irkutsk, Perm, Omsk, Kiev, Astana, Bishkek, Dubai, Prague, Santiago and more than 300 cities in 9 countries.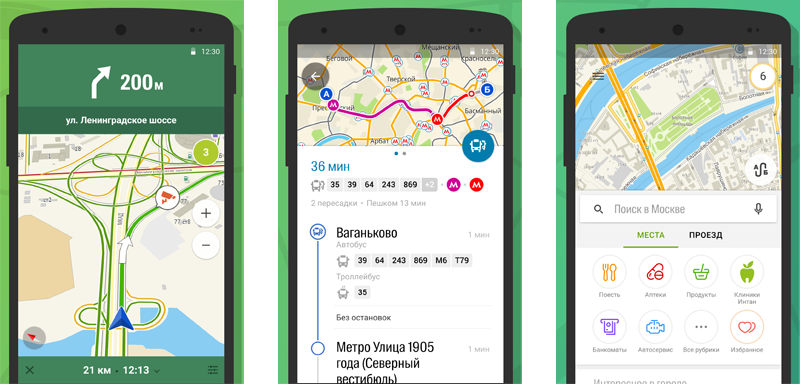 Finance
Financial unambiguous noteworthy payment service Google Pay, allow to pay for services and purchases via smartphone, phablet or tablet with a built-in NFC module. After installing the application it is necessary to add a credit card, and the store that accepts contactless payments, or bring an unlocked mobile device to the payment terminal. Google stress that to make purchases in this way is even safer than the map, because Google Pay store in the phone and assign to the seller its details. Instead, they use a special identifier (a token) that is generated for each card when it is registered in the system. You can use any privileges attached Bank card — bonus miles, bonus programs and special offers.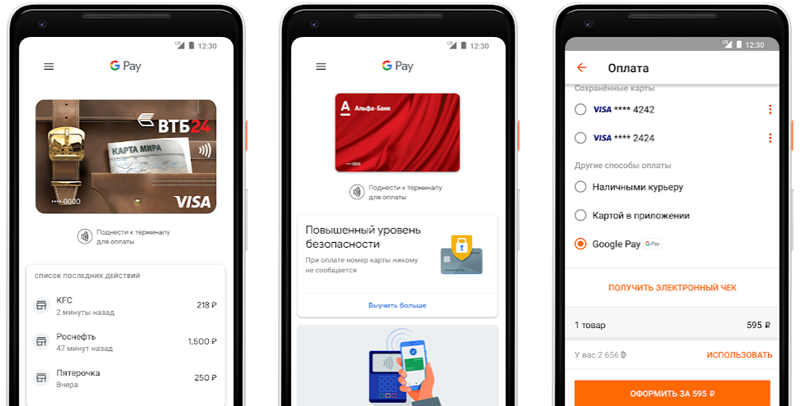 Sport
For sports and physical activity good option is the fitness tracker Runtastic, through GPS/GLONASS receiver, accelerometer and other available in modern mobile devices sensors to measure time, speed, distance, altitude, calories burned and many other parameters of all types of training. The program collects detailed statistics for all sports are fully compatible with the platform Android Wear supports voice-guided training and data sync with the same apps Garmin Connect, MyFitnessPal and Google Fit. On assurances of developers, Runtastic allows you to quickly achieve your goals in the sport, helping to dramatically improve the overall health and physical fitness. Doubters can in practice verify the veracity of these words.
Sundries
Smart Tools. A real "Swiss army knife" for Android that allows to use the smartphone as a sound level meter, range finder, vibration meter, detector, device for measuring illuminance, a thermometer, a radar for measuring the speed of moving objects, level, magnifying glass, metronome, tuning fork, wave and many other important household tools, of which in the Arsenal of the program, as many as 38 pieces! Each of them uses the readings from the respective sensors of the mobile device, so the full application is possible only when the sensors light, proximity, accelerometer/gyroscope, magnetometer (digital compass), barometer and other sensors.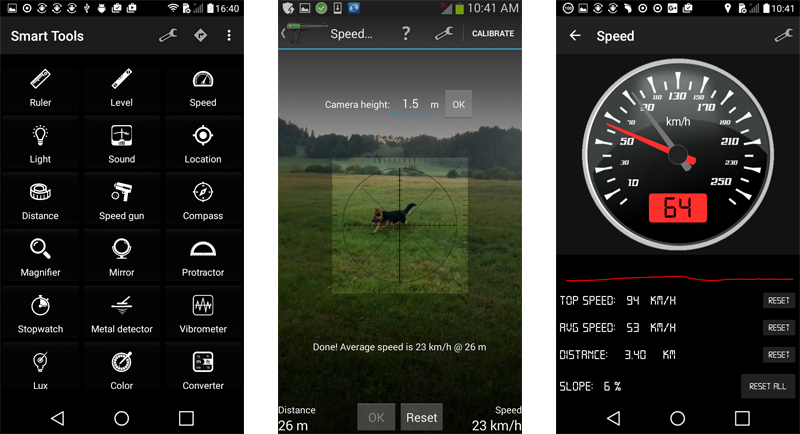 "Mobile rescuer". Developed by EMERCOM of Russia program, which is useful to have on hand in case of emergencies (knock on wood). Feature of the app is the interface, equipped with a big red button "to Send signal SOS". Just one touch on her person can from anywhere in the country to call the emergency services and alert SMS-message loved ones, relatives and friends that he was in an emergency situation or there is an emergency. "Mobile rescuer" automatically determines the user's location, region, operator, and selects from the database the appropriate number to call emergency services. Additionally, the program included illustrated guides that demonstrate ways of rendering first aid, rules of conduct in various emergency situations and other useful information.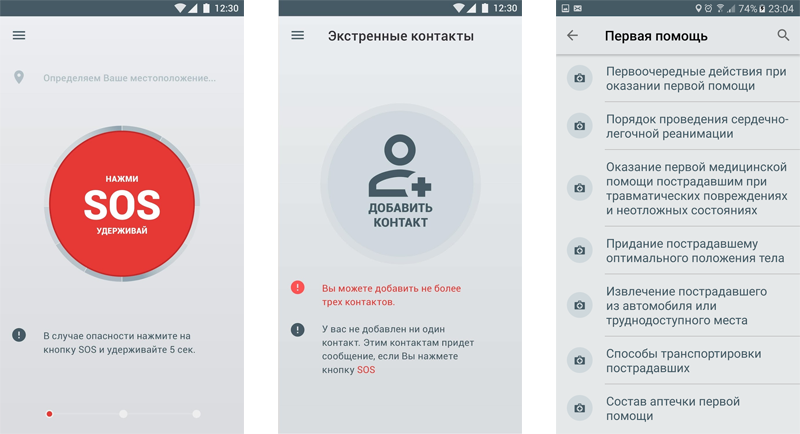 Well, today concludes our publication of the application "Google news", allowing you to keep abreast of world events and be aware of the most important news. Feature of the program is an intelligent recommendation system that generates a news summary on the basis of interests and preferences of the user. At the same time the sources of information used by authoritative publications, always checking the validity of their information before publication. There in the database is "Google News" and our website, 3DNews Daily Digital Digest representing the most objective information about everything happening in the IT market. Subscribe!
Source: 3dnews.ru