No Man's Sky NEXT — how things have changed! Or not?..
Genre
Simulator
Publisher
Hello Games
Developer
Hello Games
Minimum requirements
Intel Core i3-530 2.9 GHz/AMD Athlon X4 730 2.8 GHz, 8 GB RAM, graphics card with DirectX 11 support 1.5 GB of memory, for example NVIDIA GeForce GTX 480/AMD Radeon HD 6970, 10 GB hard disk, Internet connection and a Steam account
Recommended requirements
Intel Core i7-860 Quad 2.8 GHz/AMD FX-8120 3.1 GHz, 8 GB RAM, video card with support for DirectX 11

and 2GB of memory, e.g. NVIDIA GeForce GTX 960/AMD Radeon R9 285
Release date
24 Jul 2018
Age limit
12 years
Platform
PC, PlayStation 4, Xbox One
Official website
The game was tested on PlayStation 4
In the era of games-services and development of the Internet developers constantly releasing updates and actively support their projects. Someone achieves success and keeps the audience through the issuance of additions and major patches, losing popularity very slowly. Someone starts poorly, but not stop and continues to make changes and improvements. And someone is not lucky generally, and attempts to fix things lead to nothing.
The second category usually get major publishers and developers who have a large enough budget to support a not very successful release. But a group of indie studios sometimes can boast the same tenacity. Including Hello Games released two years ago, the ambitious No Man's Sky. And for twenty-four months staff did everything possible to disappointed fans forgave them for their many unfulfilled promises.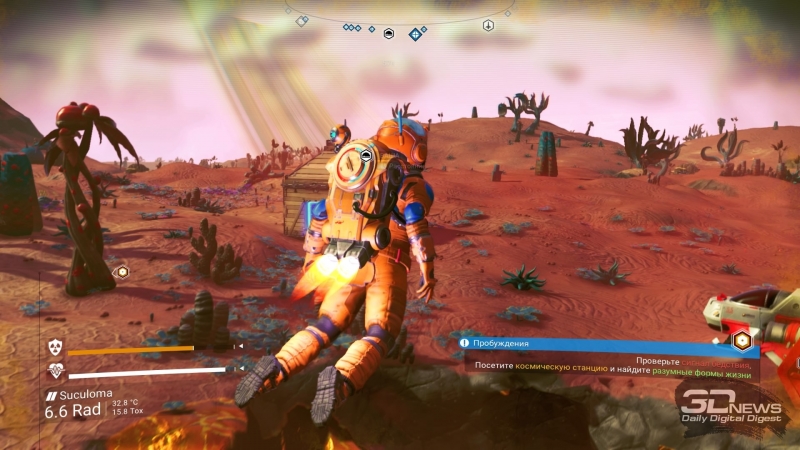 Return home
The biggest update the game has received this summer — it's called No Man's Sky NEXT and makes the simulation of the cosmic wanderer many welcome changes. One of the main support co-operative mode and the chance to meet other travelers in the far reaches of space. However, to completely revamp the game mechanics, the developers did not — in many ways it remained the same as before, just there is much more opportunities and freedom. And for some it will be a plus, but someone will find a reason to continue not to pay the game any attention.
You still start with the passage on an unknown planet, fix your ship, collect resources, use those resources to support life support systems, and then go into space and can fly in any direction. Someone's journey will begin in a beautiful place where only occasionally raining, but the rest of the time it's hard to stop to admire the lovely plants and a bright light plains. Other luck will be on your side, and they have to survive in not the most pleasant conditions with occasional storms and storm winds.
And over time you realize that the unfortunate Grinda Hello Games is not disposed of, it remains at the core of the game. Here you can't just run around the planet and examine the surroundings, just as you can't just sit in a spaceship at any time and fly aimlessly. You constantly need resources for the restoration of the suit, for protection from storms, for the filling of vehicle fuel, to create tools to use modifications of the multitool. Over time these processes will become less exhausting, but too long here have to run around the planets and burn the trees, bushes and stalagmites.
Will not go away and monotonous filling of the planets — wherever falling, nearly always you'll find the same resources. The vegetation may look different, but for her destruction receive the same thing than scoring equipment in the last fifty planets. The above mentioned sand storms, acid rains and radioactive storms and other weather phenomena from each other did not differ in anything at all — they equally reduce the strength of the suit and a few seconds over, and to wait in any house or in a nearby cave.
If the second problem does not get rid of for the first have a solution. In one of the previous updates in No Man's Sky has added several modes, among which is "the Creation." It's kind of a creative mode in which to worry about resources do not have. Wanted to fix a broken ship, which not a dozen functioning parts? Just click on everything and repair. Wanted to put a base with many rooms, compartments, floors and stairs? Just choose the desired pose. There were no problems with the suit, no damage from falls, no need to think about the fuel and everything else.
Yes, in this mode the game becomes quite different, and deprived of many elements. From surviving on planets of a wanderer who appreciates any crumbs of resources and tries not to waste time, you turn into a normal traveler. But without Grinda personally, my game seemed much more fun. When developers talk about 18 the zillions of planets that differ from each other in appearance, flora and fauna, want to stay in one place long and hard looking for resources, earning foreign currency and engaging in trade. It's hard to fight the urge to explore all that is offered by this giant universe.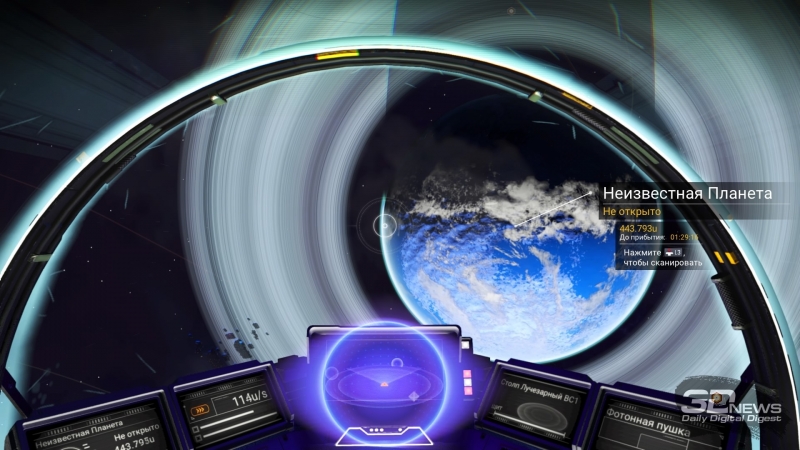 Lepota
The research process became even more exciting than before. The opportunity to sit in the ship, to fly from one planet and land on another without any loading screens is impressive as much as two years ago. But with the latest updates of these celestial bodies became more beautiful and diverse — in the NEXT, for example, introduced the planet to be completely covered with water, and sit on them problematic. The visual design is improved and the lighting is pleasing to the eye, and with a third person to walk in the middle of the previously unseen plants and creatures much more enjoyable.
The main purpose of No Man's Sky has not changed — to complete the game, you need to get to the center of the Galaxy. However, for those who prefer to do quests, not to entertain themselves, recently available a complete storyline with funny quests, dialogues, a couple of interesting characters and learning some mechanics. At some point you will be asked to build a base, then will be forced to hire professionals to placed in different rooms of the terminals, and then hired creatures will also begin to fill you orders. All this can be done in normal mode and in "Creation", and to complete some quests to find and collect the trash have, even in creative mode.
With the release of the NEXT players removed all restrictions on the construction of the base. Although this element of the game goes against the basic idea of No Man's Sky (journey through the star systems and the search for the center of the Galaxy), you can ignore global goal and to engage in trade or construction within several systems, visiting only a neighboring planet. Now to design the database even under water — its I placed on a small island in a vast sea, putting the terminal on land and moving the landing sites on water, erecting of fortifications and a couple of rooms. It turned out compact and cute, although the limit in this game, of course not.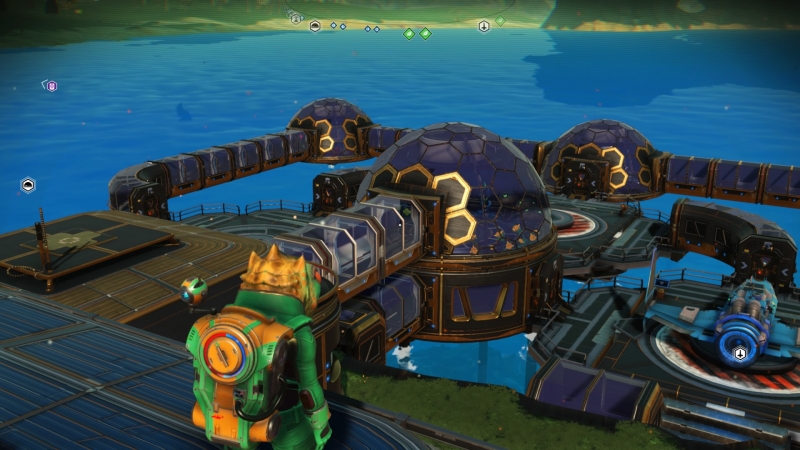 To design the database more fun in co-op, and the last update added the ability to get together with three friends in a single session. You always see each other, can communicate, including gestures and transfer of a single game in the joint improvements for vehicle and all sorts of resources to share with colleagues. For example, you play for a long time and have accumulated a lot of upgrades for your spaceship, and your partner flies "trough" without any modifications — can help the poor to make the ship cooler.
However, in multiplayer, the performance of No Man's Sky starts sometimes limp. The sound will stick for several seconds, then "picture" to briefly freeze, then freezes it'll be too noticeable. If you overdo it with the number of objects in the database, when you visit the game turn into a slideshow. On the other hand, given the scale of the universe and the size of each particular planet, wonder falling frame rate is not worth it. Still initially the game was not about friends, connecting corridors, dozens of rooms. This is just a nice addition, which is more or less well implemented. At first, the game is also buggy in co-op mode, but a small patch to correct this shortcoming.
***
Update No Man's Sky NEXT don't change the formula of No Man's Sky two years ago, it only improves many of its elements and offers several major innovations. But basically the game was "grindylow" monotonous in terms of filling planets, and collections of resources. At the same time a great creative mode is able to hold TVs and monitors those who abandoned the project two years ago. No survival in this case is not, as well as resource extraction, but No Man's Sky has always been much more interesting to travel from one star system to another, not sit in the inventory and burn with a laser the stones.
No Man's Sky NEXT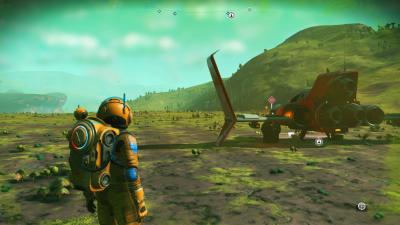 No_Mans_Sky_NEXT_review_1.jpg
See all images (15)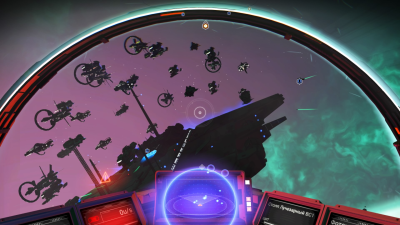 No_Mans_Sky_NEXT_review_2.jpg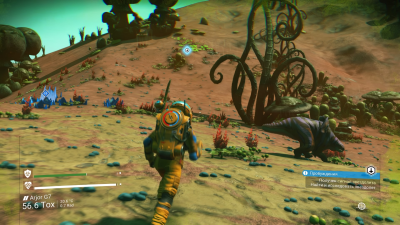 No_Mans_Sky_NEXT_review_3.jpg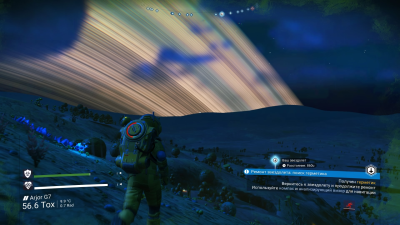 No_Mans_Sky_NEXT_review_4.jpg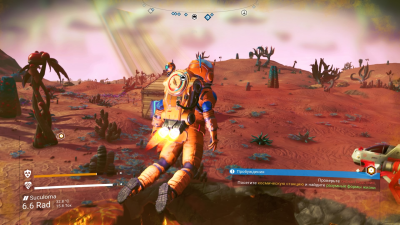 No_Mans_Sky_NEXT_review_5.jpg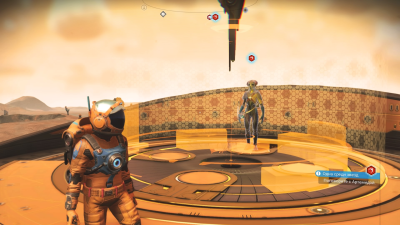 No_Mans_Sky_NEXT_review_6.jpg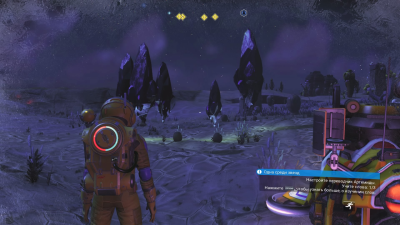 No_Mans_Sky_NEXT_review_7.jpg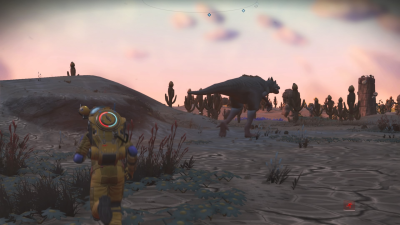 No_Mans_Sky_NEXT_review_8.jpg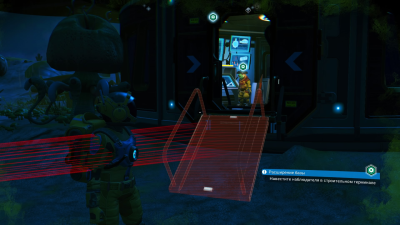 No_Mans_Sky_NEXT_review_9.jpg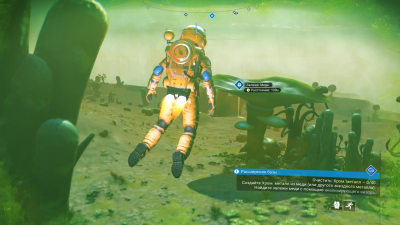 No_Mans_Sky_NEXT_review_10.jpg

No_Mans_Sky_NEXT_review_11.jpg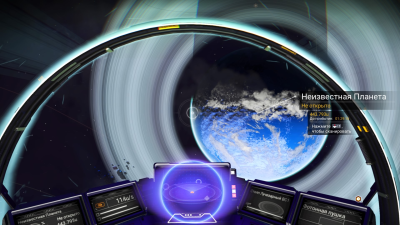 No_Mans_Sky_NEXT_review_12.jpg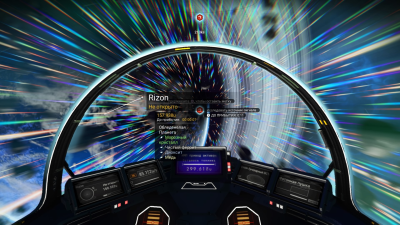 No_Mans_Sky_NEXT_review_13.jpg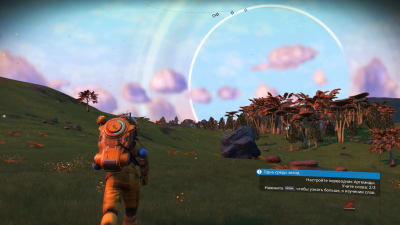 No_Mans_Sky_NEXT_review_14.jpg

No_Mans_Sky_NEXT_review_15.jpg
See all
images (15)
Video:
Source: 3dnews.ru