The share of Amazon on the market online trading USA is already 49 %
Amazon has already been called on the carpet in the White house when it came to threats of antitrust investigations. And although some observers say it's just a whim of Donald trump (Donald Trump), which likewise may relate to any, new figures from the research from eMarketer suggests the opposite. According to these data, in 2018 the share of Amazon will have a turnover of $258,22 billion, amounting to 49.1% of all retail purchases by U.S. citizens in online stores and 5 % of all retail sales in this country.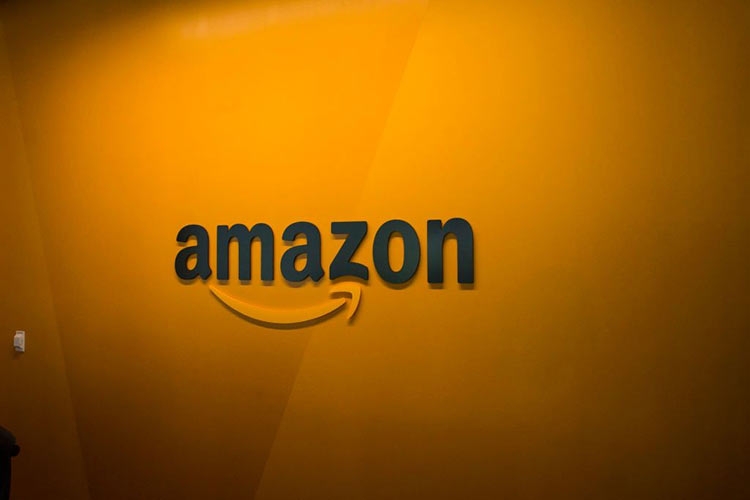 The company started as online book store, but today Amazon is a giant in all areas of ecommerce, fueled by a powerful network of third-party sellers Marketplace, an ever-expanding range of products from grocery products to fashionable novelties, as well as offers a very popular loyalty program Prime.
Now the company has approached a tipping point where more Americans will spend money on the Internet through Amazon, than through all other retail Internet sites combined. The closest competitor to Amazon in the face of eBay behind is just tremendous, occupying only 6.6% of the market while Apple is in third place with 3.9 %. Walmart is the world's largest retail chain, if we talk about physical shops — is still relatively modest shows itself in e-Commerce and is inferior to Apple, with a share of 3.7 % online sales USA.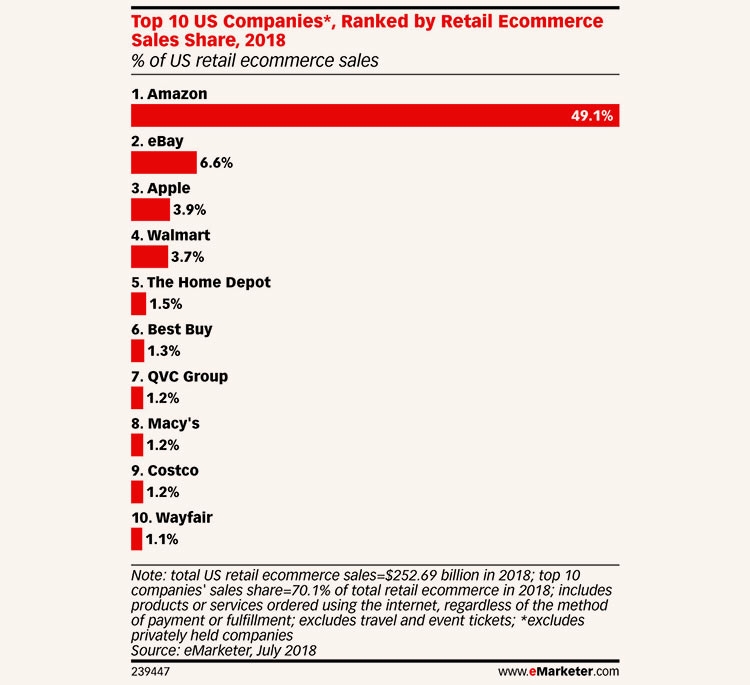 The eMarketer numbers are estimates based on analysis of quantitative and qualitative data from research firms, government agencies, media, public companies, as well as interviews with top managers of publishers, buyers of advertising and agencies. They are notable not only for its size of influence Amazon but rate of growth: sales of the company increased by 29.2% compared to the same period last year, when it owned 43 % of all retail sales in the field of e-Commerce.
Growth Amazon at the moment is a Marketplace platform, on which the company enables third-party sellers to use our retail and (if they choose) logistics infrastructure for sales and delivery of products to customers Amazon. Currently, it accounts for 68% of all retail sales, accounting for nearly $176 billion, compared to 32% of direct sales to Amazon. Not surprisingly, many other companies involved in online trading, trying to repeat the successful model of the market, allowing you to profit with no direct involvement in the trade.
From the point of view most popular products of consumer electronics and technology continue to remain the leading product category sales, according to estimates by eMarketer, the $65,82 billion, which is about a quarter. The second is clothing and accessories, the turnover of which is estimated at $39,88 billion, the Third most popular category in 2018 — health, personal care and beauty ($16 billion), and the fourth for food and drinks ($4.75 billion).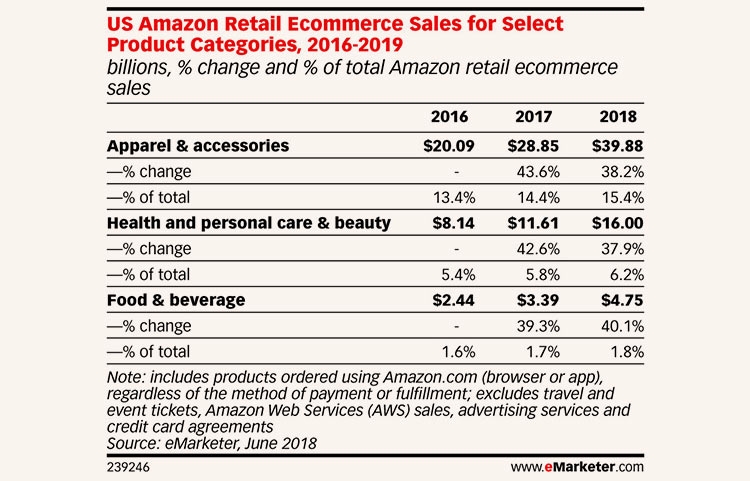 Sales in all these categories are growing faster than the others, and Amazon is investing heavily to become a direct player in these huge markets. In technology it offers books Kindle, Fire tablets, set-top box, Fire TV, and of course, enjoying great popularity based on the digital assistant Alexa, the Echo device, as well as many other products. In the clothing category to actively promote their own private brands of the company. Not long ago, Amazon announced the takeover of $1 billion on-line retailer of drugs and medical services PillPack — this asset will be a key lever in the extension activity on the market of products and services for health.
And finally, you may recall that in August last year, Amazon absorbed the American network of nearly five hundred Whole Foods supermarkets, specializing in the sale of food products without artificial additives. Amazon is also quickly ramping up its services for the delivery of food packages and developing a network of cafes with self-service. Expansion of the network of physical retail outlets, according to eMarketer, will generally play a strong role in the growth of Amazon, especially in the category of food and beverages.
"The strategy of Amazon for food and drinks in many respects no different from the approach to trading books — the company aims to dominate in this category — said in the report, eMarketer senior analyst Patricia Orsini (Orsini Patricia). — However, online trading in the field of food presents its own challenges. The share of online sales in this category is low, because most people for many reasons prefer to buy products in the conventional physical stores. The advantage of Amazon is that its customer base is already accustomed to shopping online. Along with ideas such as the development of networks of Whole Foods, Amazon, I think, have the best chance to transform an ordinary retail customers of food products to regular customers online stores".
In General, soon it will be possible to speak not only about the monopolization of Amazon online trading in USA, but similar trends in retail trade as a whole.
Source: 3Dnews.ru