Captain Toad: Treasure Tracker — it's nice to break down. Review
Genre
Puzzle
Publisher
Nintendo
Publisher in Russia
Nintendo
Developer
Nintendo
Release date
July 13, 2018 (Nintendo Switch)
Age limit
Without restrictions
Platform
Switch Nintendo, Nintendo 3DS, Nintendo Wii U
Official website
Game tested on Nintendo Switch. Screenshots are in portable mode.
In July, the attention of many owners of Nintendo Switch focused on Octopath Traveler
role-playing game in the spirit of classic old school JRPG. One day her came another Nintendo exclusive, which is a reissue of one of the best releases for the Wii U. Talking about Captain Toad: Treasure Tracker is a puzzle, able to fall in love a player of any age. And all thanks to excellent design and great variety of levels.
Lucky losers
Almost always toad was a supporting character in the games about Mario, playing the role of his assistant. In Captain Toad, he finally in the main role: if a moustached plumber rescues Princess Peach, the toad goes in search of Toadette that at the beginning of the passage is kidnapped by a huge crow. The game is divided into three equal duration of the episode, and each of them either toad or Toadette be in danger, forcing your partner to overcome many obstacles on the way to their salvation.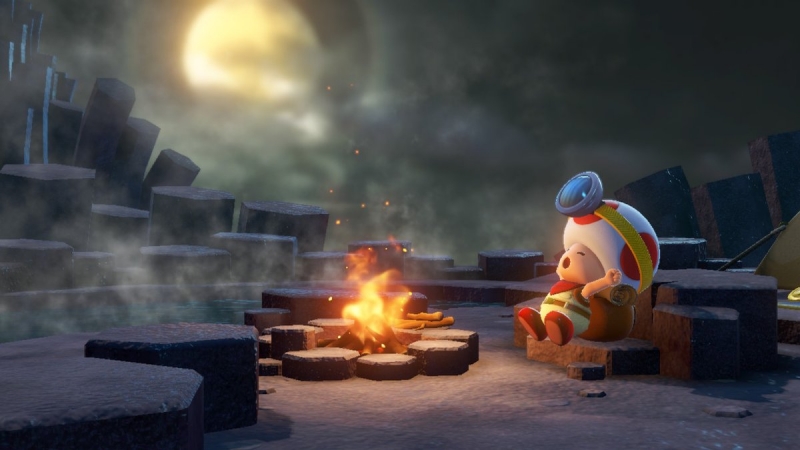 Wherever these guys not bringing: in the jungle, and the ruins on the coast, and on a moving train will ride. Each new level is not similar to the previous one — where all is peaceful and quiet, somewhere out of nowhere there are ghosts, and somewhere to grow flowers with teeth or placed guns. The surprises, the game presents non-stop: always interested to see what awaits you next time. Treasure Tracker fully justifies this expectation a variety of unique locations.
The main problem is always the same — to get to big star. Often it's easy to do, and want to just beat the game as fast as possible is unlikely to face any problems. Harder to clean all the location: find three hidden diamond, collect all the possible coins (some of which are not visible, yet they are not suitable), eliminate all the enemies, if you find a way to do it. Fight neither toad nor Toadette can't, but they know how to throw the enemies items, and kill them, falling on top of them.
In search of secrets and the study of each area of the map never ceases to amaze great game design and the ingenuity of developers. Many puzzles require the player to rotate the camera so you can see hidden passages, hidden in the bushes and barely visible caches of coins. Conditions are constantly changing: the fact placed everywhere in the button, raising or lowering of the platform, these platforms can be moved by pressing the touch screen.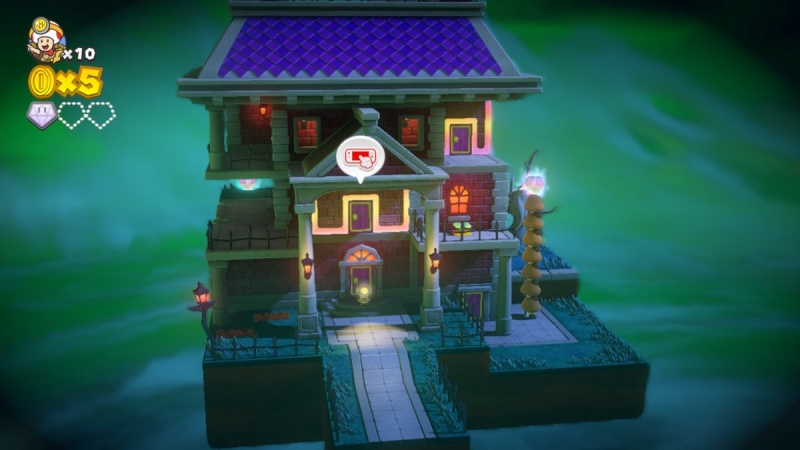 After completing a level in its description, a new line appears — a special condition which does not necessarily perform. But still time after time there is a desire to make the game everything it can, including to complete these tests that are of genuine interest. You have ten minutes spent on the passage of the location of the buttons, all gathered and explored, and now you are asked to complete the level in only three clicks. It turns out that it is possible! Or you want to collect 150 coins, although you seem to have turned everything upside down and found only 90.
Sometimes to complete the test or collect the collectible items impossible — hero falls from a platform or behind him collapses the bridge, from-for what there is no way back. In such moments I want to pause and restart the level, but since the release of the Wii U this option was not added. Or have to go to the main menu, or to die, and the second option would not be a problem if death is not wasted "life." Make them not so hard (they are issued for every hundred accumulated coins), but it is not a panacea.
Another disadvantage associated with the co-op mode — in this second player will quickly become bored. While you control a Toad and explore the map, your friend can rotate the camera and throw the fruit, bringing the sight to the desired location. It greatly simplifies some of the testing — if alone you can kill enemies only with the help of plants that you uprooted from the land (usually very small), then there is enough to scatter all the fruit and be done with it. That is, the riddles become easier, and cooperative no not really, but because even young children will begin to yawn after a few levels.
Better and better
As regards the other parts Treasure Tracker is difficult to fault. In total there are over 70 levels, each will take 10 to 15 minutes including restarts, quest items and other classes. After another victory immediately start the next Chapter — it's so hard to break away from passing. By and large, in addition to finding the primary star is enough to collect diamonds as a specific number, the game periodically asks for access to the next chapters. But even without prizes, achievements and even some bonuses enjoy learning every secret passage and look for ways to deal with opponents.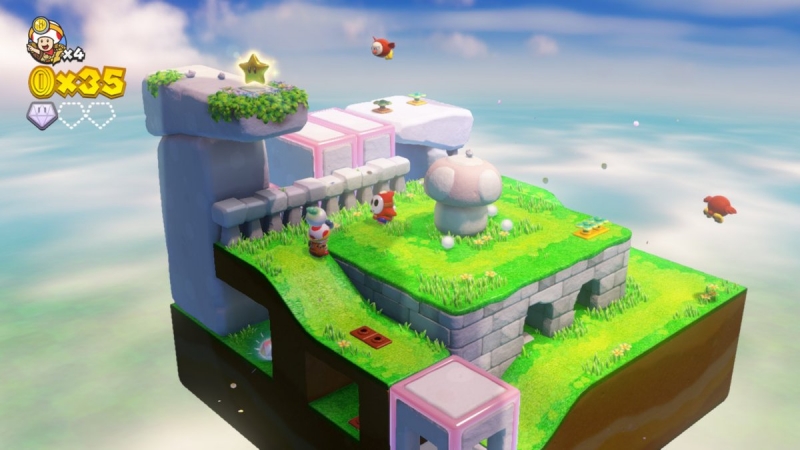 One more game in the game called "Hide and seek" — this mode is available for all levels and razblokirovat after their passing. Nothing changes in it, but on some wall or object depicted pixel toad. You find it, click on it with your finger and get a useless medal. Sometimes the image is very difficult — it can be hidden in a dark hallway or under a rock, you break down, sending the gun. The mode is quite stupid, but will be a good reason pereproyti favorite Chapter if all of the usual secrets you have found.
Not necessarily to do it immediately. If many other games are very hard to come back some time later when you have forgotten the controls, the story and all sorts of details, in Treasure Tracker all instantly remember when you start a new level. Assists in the variety of tasks — in some episodes, instead of one of Toad have to drive two and stand on different buttons to activate platforms, and in the other you do not move on foot, and ornate pipes, trying not to touch monsters, which cannot be erased.
***
Therefore, in a portable format Captain Toad: Treasure Tracker is especially convenient — you can take Switch or 3DS and from time to time to solve a great riddle. It's hard to call the game one of the top releases for Switch: run for it to the store for a console just does not. Yes the price is high (2 799 rubles in the Nintendo eShop at the time of writing), especially considering that this reissue project four years ago. But to see with this puzzle is definitely worth it — during the passage she doesn't get bored and will constantly delight original ideas and unusual tests.
Advantages:
dozens of exciting levels in many locations;
a large number of secrets and side tests;
great design and inventive puzzles;
cute visual design.
Disadvantages:
quickly restart the level;
the second player in co-op will be very boring.
| | |
| --- | --- |
| Graphics | The characters constantly find themselves in different locations, making the game get tired only at the end of the campaign. Treasure Tracker looks great always — and when the sun shines brightly, and when you get in a spooky haunted mansion. |
| Sound | The soundtrack is enjoyable, but you have nothing to lose if you have to pass the game without sound in a public place. |
| Single game | The main levels will take about seven hours, and searching all the secrets and perfect completion of all chapters will take almost fifteen. And you will do this with great pleasure, though no awards for perfectionism is not provided. |
| Multiplayer | Local co-op added "for show", the second player just rotates the camera and throws the fruit. |
| Overall impression | A fun puzzle game with lots of levels that will captivate for a few nights and will continue to surprise us. |
Rating: 8/10
Read more about the ratings system
Captain Toad: Treasure Tracker

Captain_Toad_review_1.jpg
See all images (13)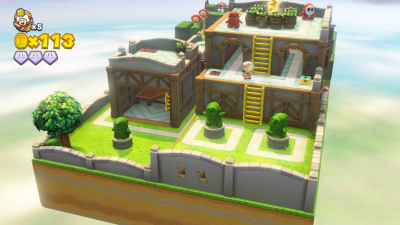 Captain_Toad_review_2.jpg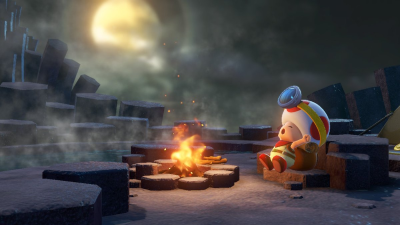 Captain_Toad_review_3.jpg

Captain_Toad_review_4.jpg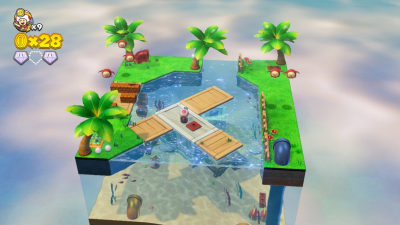 Captain_Toad_review_5.jpg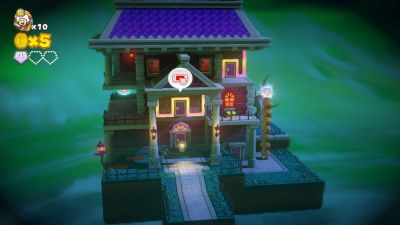 Captain_Toad_review_6.jpg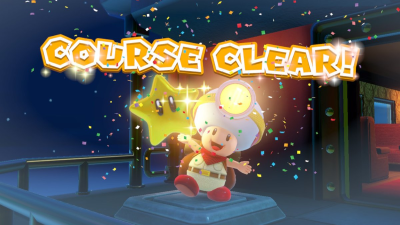 Captain_Toad_review_7.jpg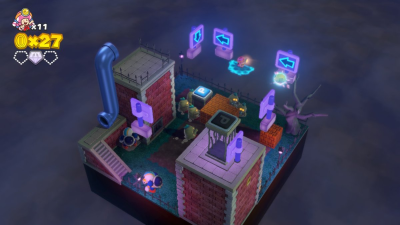 Captain_Toad_review_8.jpg

Captain_Toad_review_9.jpg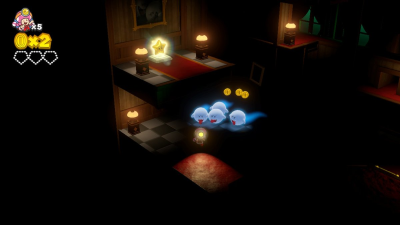 Captain_Toad_review_10.jpg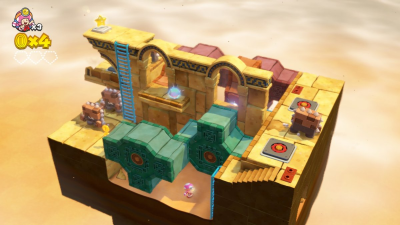 Captain_Toad_review_11.jpg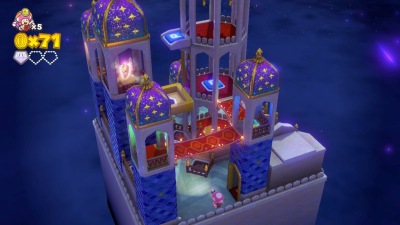 Captain_Toad_review_12.jpg

Captain_Toad_review_13.jpg
See all
image (13)
Video:
Source: 3dnews.ru