Overview of the smartphone HTC U12+: important for sound
HTC U11 appeared first unusual feature of this series that you would expect from an absolutely edge-to-edge smartphones, although U11 frameless call. Talking about the management by the compression enclosure with minimal involvement of physical keys. U12+ brings this feature to a new, even more radical level – here physical keys at all. The sinewy on the right side the power button and the volume control is a touch trick, created in order not to break custom control patterns too drastically.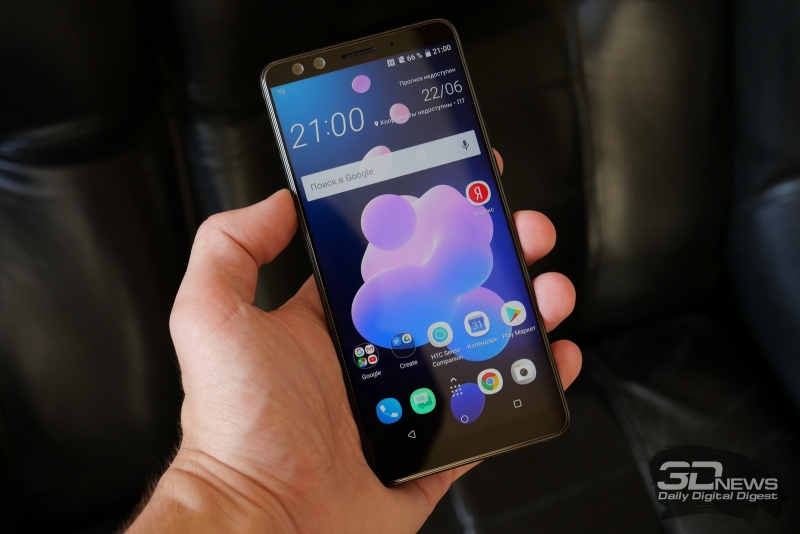 But not only unusual control scheme is notable for the new flagship HTC. This is the first in the history of the smartphone with two double modules, the most powerful to date platform available to manufacturers of Android smartphones (Qualcomm Snapdragon 845) extended a six-inch display with Quad HD resolution and a unique sound capabilities — in terms of both playback and recording. View out if the company that produced the very successful Google Pixel 2, to create a truly competitive flagship smartphone only his authorship.
Specifications
HTC U12+
HTC U11+
Huawei P20 Pro
Apple iPhone X
Samsung Galaxy S9
Display
6 inch, IPS, 2880 x 1440, 538 ppi, capacitive multitouch
6 inch, IPS, 2880 x 1440, 538 ppi, capacitive multitouch
6.1 inch OLED
2240 × 1080, 408 ppi, capacitive multitouch
5.8 inches, Super AMOLED, 2436 × 1125, 458 ppi, capacitive multi-touch technology TrueTone
5.8 inches, Super AMOLED, 1440 × 2960, 570 ppi, capacitive multitouch
Safety glass
Corning Gorilla Glass 5
Corning Gorilla Glass 5
No information
No information
Corning Gorilla Glass 5
Processor
Qualcomm Snapdragon 845: four cores Kryo 385 Gold, 2.8 GHz + four cores Kryo 385 Silver, 1.7 GHz
Qualcomm Snapdragon 835: Kryo four cores, the frequency of 2.45 GHz and four cores Kryo, frequency 1.9 GHz
HiSilicon Kirin 970: Quad core ARM Cortex A73, 2.4 GHz + four cores ARM Cortex A53, frequency 1.8 GHz; architecture HiAI
Apple A11 Bionic six cores (2 x Moonsoon + 4 x Mistral)
Samsung Exynos 9810: eight cores (4 × M3, 2.7 GHz + 4 × Cortex-A55, 1.8 GHz)
Graphics controller
Adreno 630, 710 MHz
Adreno 540
ARM Mali-G72 MP12, 850 MHz
Apple GPU (3-core)
Mali-G72 MP18, 900 MHz
RAM
6 GB
4/6 GB
6 GB
3 GB
4 GB
Flash memory
64/128 GB
64/128 GB
128 GB
64/256 GB
64/128/256 GB
Memory card support
There
There
No
No
There
Connectors
USB Type-C
USB Type-C
USB Type-C
Lightning
USB Type-C minijack 3.5 mm
SIM card
Two nano-SIM
Two nano-SIM
Two nano-SIM
One nano-SIM
One nano-SIM
Cell 2G connection
GSM 850 / 900 / 1800 / 1900 MHz
GSM 850 / 900 / 1800 / 1900 MHz
GSM 850 / 900 / 1800 / 1900 MHz
GSM 850/900/1800/1900 MHz
GSM 850/900/1800/1900 MHz
3G cellular communications
800/850/900/1700/1900/2100 HSDPA MHz
UMTS/HSPA+/DC-HSDPA 850/900/1700/1900/2100 MHz
HSDPA 850/900/1700/1900/2100 MHz
HSDPA 850/900/1700/1900/2100 MHz
UMTS/HSPA+/DC-HSDPA 850/900/1700/1900/2100 MHz
Cellular 4G
LTE Cat.18 (up to 1200 Mbit/s): the bands 1, 2, 3, 4, 5, 7, 8, 12, 13, 17, 20, 28, 32, 38, 39, 40, 41, 66
LTE Cat. 15 (800 MB/s): the bands 1, 3, 4, 5, 7, 8, 12, 17, 20, 28, 32, 38, 39, 40, 41
LTE Cat. 18 (up to 1200 Mbit/s): the bands 1, 2, 3, 4, 5, 6, 7, 8, 9, 12, 17, 18, 19, 20, 26, 28, 32, 34, 38, 39, 40, 41
LTE Cat. 12 (450 Mbps): the bands 1, 2, 3, 4, 5, 7, 8, 12, 13, 17, 18, 19, 20, 25, 26, 28, 29, 30, 38, 39, 40, 41, 66
LTE Cat. 18 (1200/200 Mbit/s): the bands 1, 3, 4, 5, 7, 8, 12, 17, 20, 28, 32, 38, 39, 40, 41
Wi-Fi
802.11 a/b/g/n/ac
802.11 a/b/g/n/ac
802.11 a/b/g/n/ac
802.11 a/b/g/n/AC
802.11 a/b/g/n/ac 2.4/5 GHz
Bluetooth
5.0
5.0
4.2 (aptX HD)
5.0
5.0
NFC
There
There
There
Yes (Apple Pay)
There
Navigation
GPS, A-GPS, GLONASS, BeiDou, Galileo
GPS, A-GPS, GLONASS, BeiDou
GPS, A-GPS, GLONASS, BeiDou
GPS, A-GPS, GLONASS
GPS, A-GPS, GLONASS, BeiDou, Galileo
Sensors
Light, proximity, accelerometer/gyroscope, magnetometer (digital compass)
Light, proximity, accelerometer/gyroscope, magnetometer (digital compass)
Light, proximity, accelerometer/gyroscope, magnetometer (digital compass), infrared sensor
Light, proximity, accelerometer/gyroscope, magnetometer (digital compass)
Light, proximity, accelerometer/gyroscope, magnetometer (digital compass)
Fingerprint scanner
There
There
There
No
There
The main camera
Double module: 12 MP, ƒ/1,75 + 16 MP, ƒ/2.6, the hybrid autofocus, optical stabilization (main camera)
12 MP, ƒ/1,7, autofocus, led flash, optical image stabilization
Triple module 40 + 20 + 8 MP, ƒ/1,8 + ƒ/1,6 + ƒ/2,4, hybrid auto focus, optical stabilization, dual-led flash
Double module: 12 MP, ƒ/1,8 + 12 MP, ƒ/2.4 GHz, autofocus, chetyrehrjadnye led flash, optical stabilizer, both cameras
12 MP, a variable aperture ƒ/1,5/2,4, autofocus, led flash, optical image stabilization
Front camera
Dual: 8 MP + 8 MP, ƒ/2.0, fixed focus, no flash
8 MP, ƒ/2.0, no flash
24 MP, ƒ/2.0, fixed focus, no flash
7 MP, ƒ/2.2, and fixed focus without flash
8 MP, ƒ/1.7 m, fixed focus, no flash
Food
Removable battery the 13.3 WH (3500 mAh, 3.8 V)
Removable battery 14.9 W⋅h (3930 mA⋅h, 3.8 V)
Removable battery: 15,2 WH (4000 mAh, 3.8 V)
Removable battery: of 10.26 W⋅h (2716 mAh, 3.8 V)
Non-removable battery: for 11.55 W⋅h 3000 mA * h, 3.8 V)
Size
156,6 × 73,9 × 9.7 mm
158,5 × 74,9 × 8.5 mm
155 × 73,9 × 7.8 mm
143,6 × 70,9 × 7.7 mm
147,7 × 68,7 × 8.5 mm
Weight
188 grams
188 grams
180 grams
174 grams
163 grams
Protection case
Mean, standard IP68
Mean, standard IP68
There are, IP67
There are, IP67
Mean, standard IP68
Operating system
Android 8.0 Oreo, custom UI HTC Sense
Android 8.0 Oreo, HTC Sense UI
Android 8.0 Oreo, own shell EMUI
iOS 11
Android 8.0 Oreo, own shell
Current price
58 990 rubles for the version with 128 GB
39 990 rubles
54 990 rubles
from 70 rubles to 990 81 990 rubles
51 990 rubles
Design, ergonomics and software
HTC U12+ original on a number of technical solutions, but also unconventional looks. The first is to say that it lacks a cutout in the area of the status bar – the true signs of the times, to distinguish a smartphone 2018 release from any other. You can call it backwardness of fashion, but I don't dare to do – painfully "right moves" based solely on marketing rather than the engineering advantages of, tired of. It is a pity that in this case, the lack of "monopoly" is also accompanied by atypical large frame around the display is a Taiwanese, of course, in vain.
In the second place is to talk about two of the three colors. Black does not deserve an extra mention – it just turns U12+ in a relatively ordinary gadget. But the maroon and gold, which smartphone looks simply great, especially the blue one looks really impressive. In the latter case, the rear panel is made translucent – through caseback you can see the chips that make up the stuffing of the smartphone. We have already met before the phone with a transparent body, but at this level – for the first time.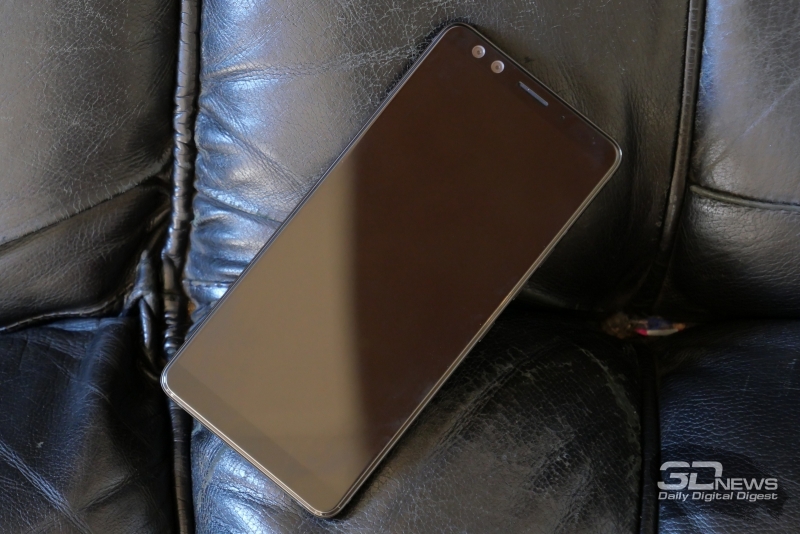 Finally, it is necessary to mention that HTC has once again done the most thick smartphone among all competitors. Almost 10 mm of a thickness slightly smoothed beveled edges, but still the device feel bulky. Not enough to drastically damage the relationship with the user, but enough to often to remember this. With one hand smartphone does not use this, although some progress in this direction is, for example, you can pull the curtain with notifications even with the screen center, and of the panel Edge Sense also helps in control – although strictly theoretically.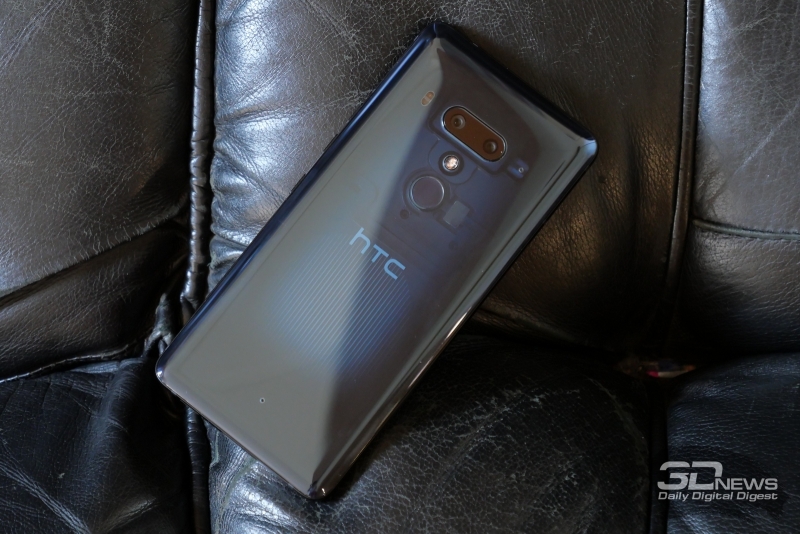 Both the front and back panel lined with glass – protected from the glare on the front and a mirrored back. This solution looks very nice in the photos and when you first get acquainted with the gadget, but requires constant care or the use of cover. Which adds thickness so not to bad gadget. However, all this gloss today, no surprise – this design is called all the rage.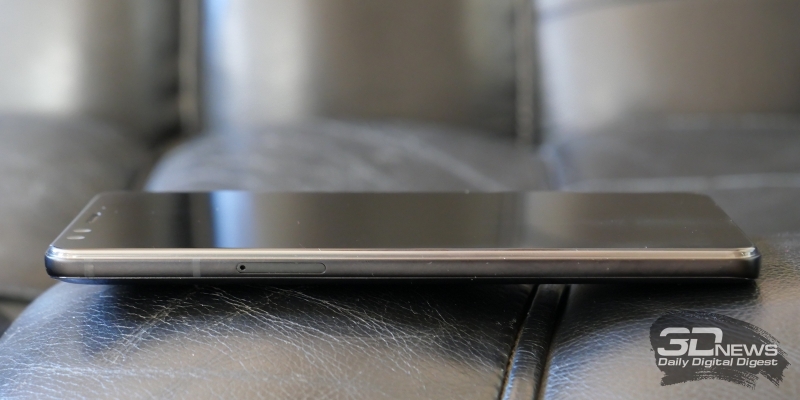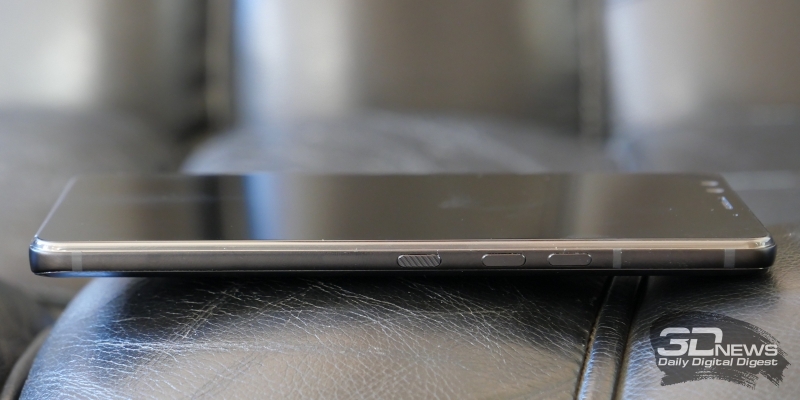 The housing is dust – and splash-proof – mini-Jack here either, and HTC at least shows for what was abandoned. Protection everything right according to the standard IP68, which allows not to worry, even if the smartphone is going to dive for several minutes. The lack of physical keys also plays into the hands of the device. But the strength of the body U12+ is no different – any smartphone with glass panels are very fragile, and if someone proves the opposite – do not believe.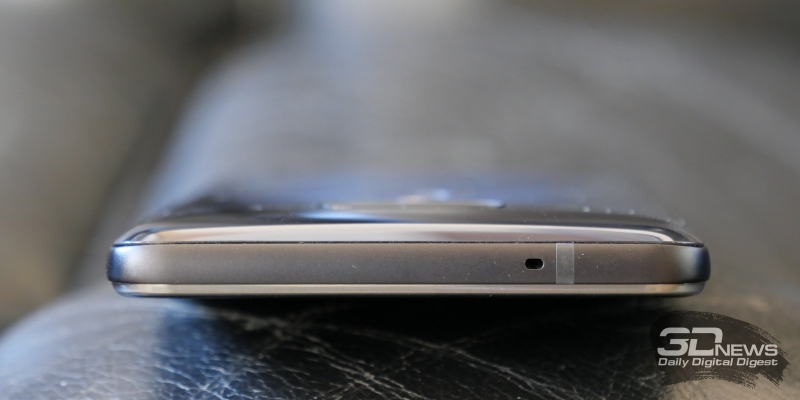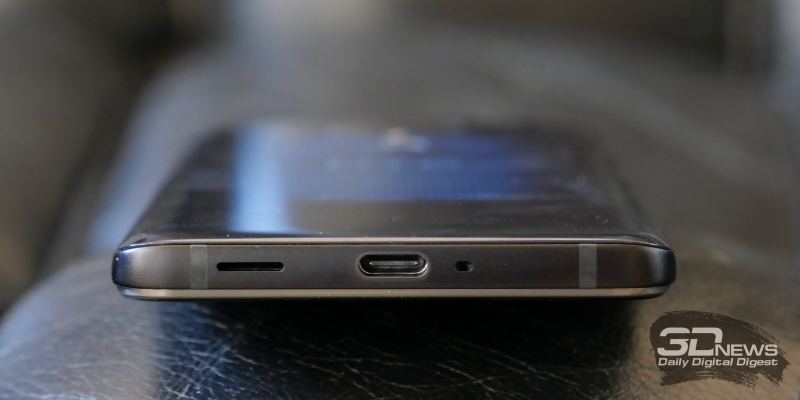 The control circuit HTC U12+ standard for a modern Android smartphone. Despite the lack of physical keys, touch the power button and volume controls are disguised as real and respond to touch clear with haptic feedback. But to use them, for example, for taking screenshots is impossible. Additional control is proposed to hang on the compression housing.
About this feature we wrote in detail in the related U11 and U11+, and here the big changes she has undergone. A long tap one of the faces on the screen appears a semicircle of icons shortcuts where you can put anything from any application to individual contacts from the phone book. Compression from both sides activates the specified function – and the smartphone is able to distinguish between the short squeeze and long lasting. I would not say that using this very comfortable for two weeks I was not able to learn to trigger menu Edge Sense ten times out of ten. Also regularly there are false positives – if you catch the gadget in the hand is somehow "wrong." In General, the trick is interesting, but a major competitive advantage to name language does not turn.
There are, however, and the little things that make working with U12+ do a bit more pleasant in comparison with competitors. For example, the smartphone recognizes how you hold it, and make the decision to change the orientation of the image on this basis, and not just according to the gyroscope. It is really a great feature.
The fingerprint scanner is located here at the rear, under the camera, flash and sensors. Looks, by the way, the whole unit is very stylish – that's the power of symmetry. The capacitive sensor, standard, it works very quickly and accurately. Biometrics is only used to unlock the device. There is also a mandatory for Android smartphone Oreo face recognition using the front camera. No special features it's not – method is less reliable than a fingerprint, and the percentage of wrong positives above.
Gallery with screenshots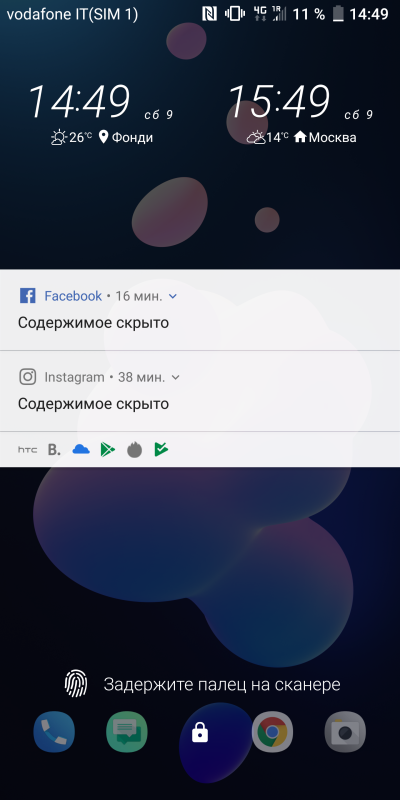 Screenshot_20180609-144928.png
View all pictures (27)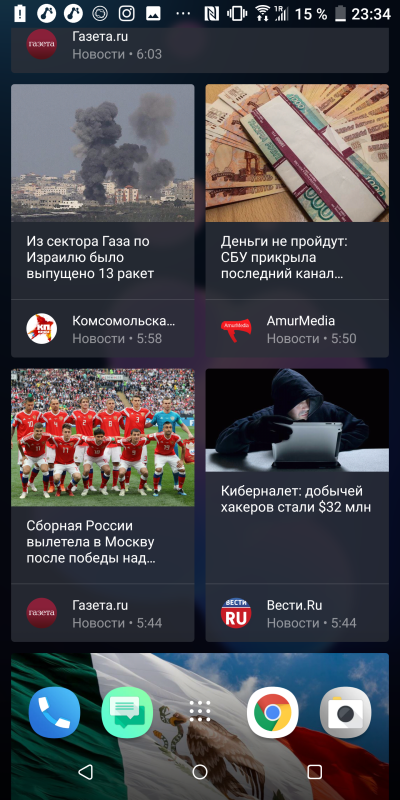 Screenshot_20180621-233444.png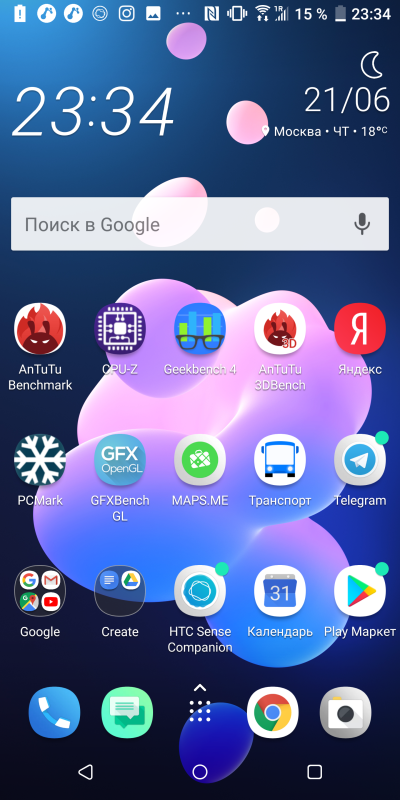 Screenshot_20180621-233452.png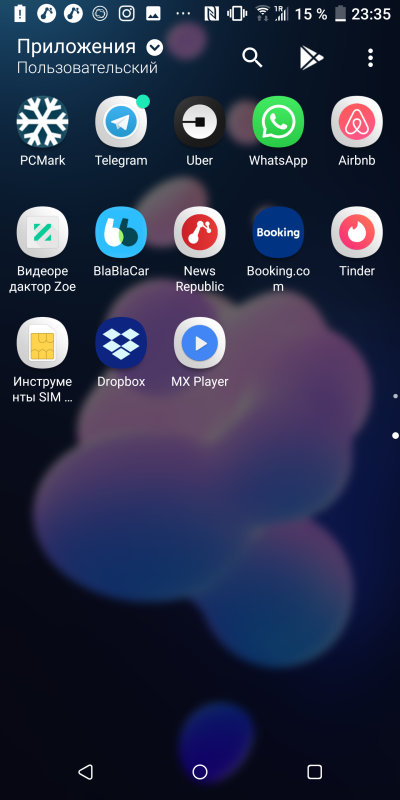 Screenshot_20180621-233507.png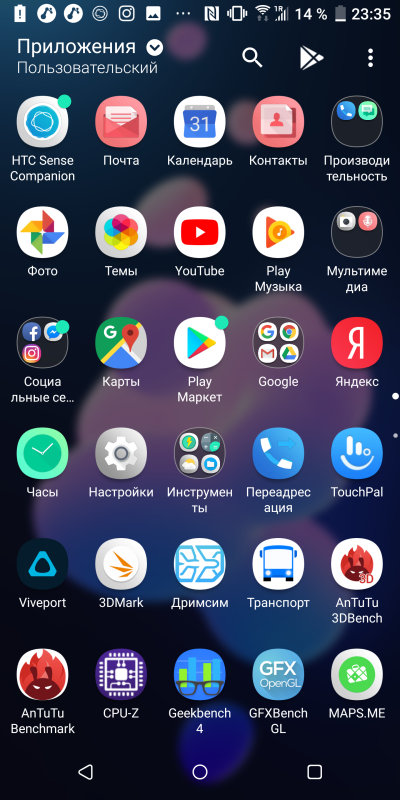 Screenshot_20180621-233532.png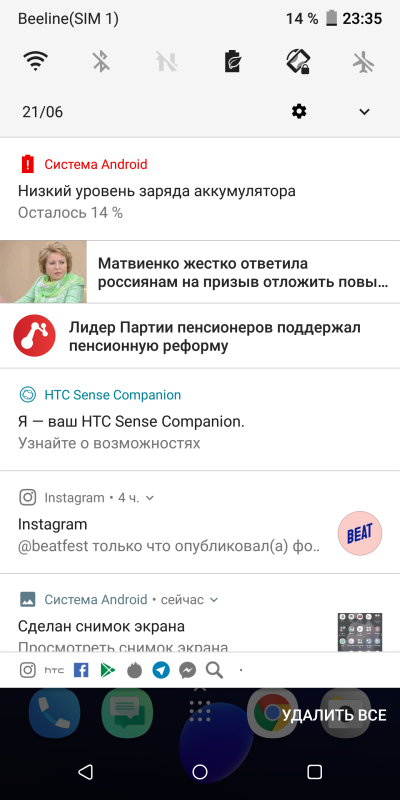 Screenshot_20180621-233542.png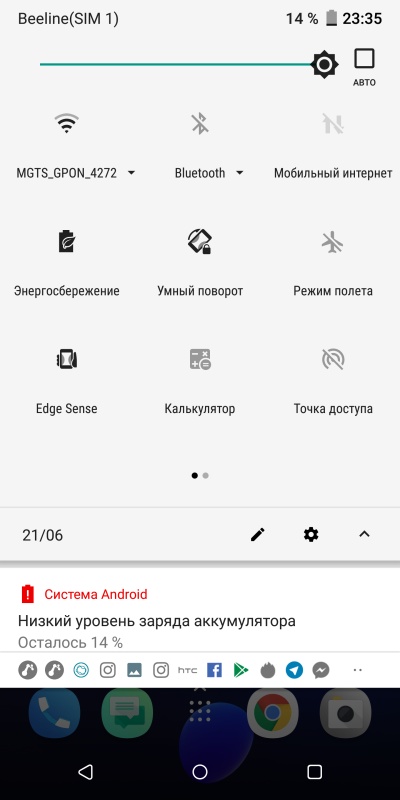 Screenshot_20180621-233547.png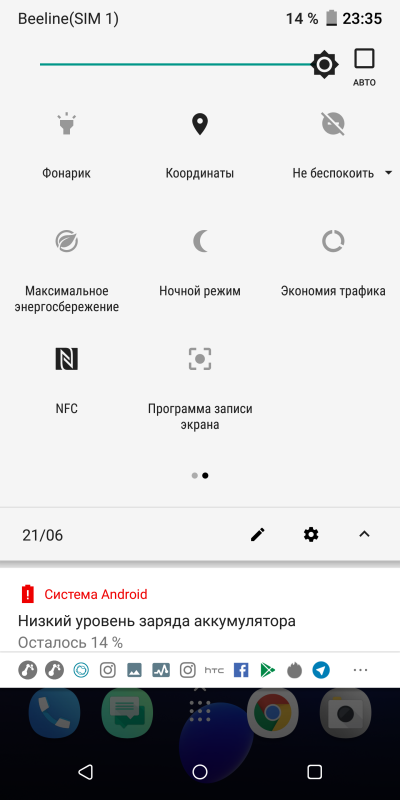 Screenshot_20180621-233549.png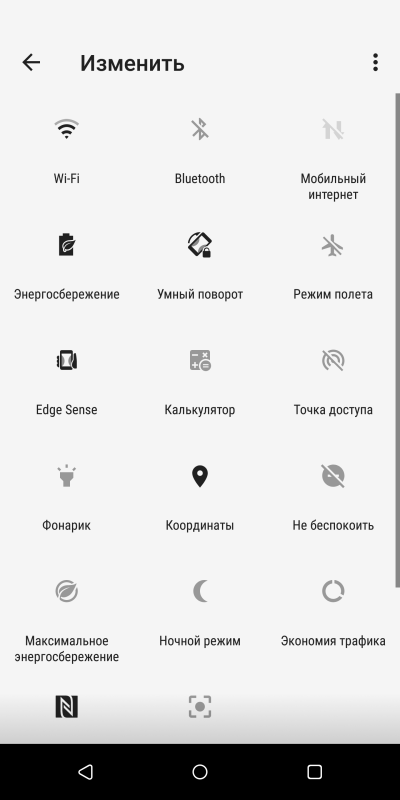 Screenshot_20180621-233603.png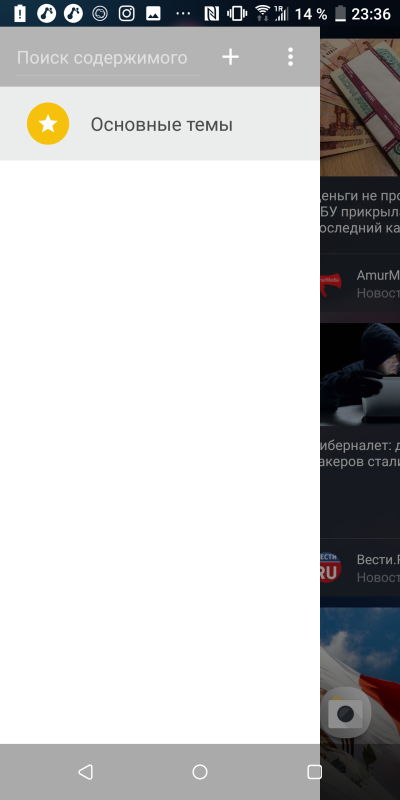 Screenshot_20180621-233615.png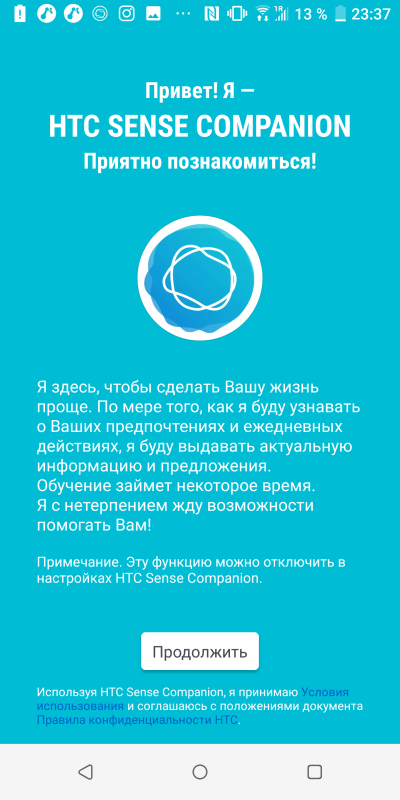 Screenshot_20180621-233719.png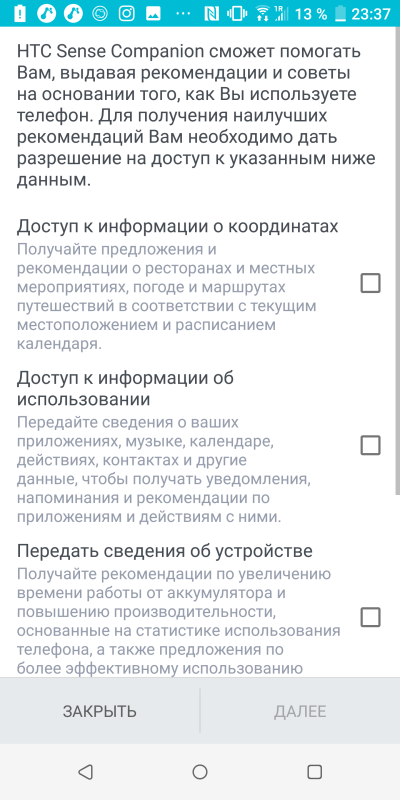 Screenshot_20180621-233722.png

Screenshot_20180621-233734.png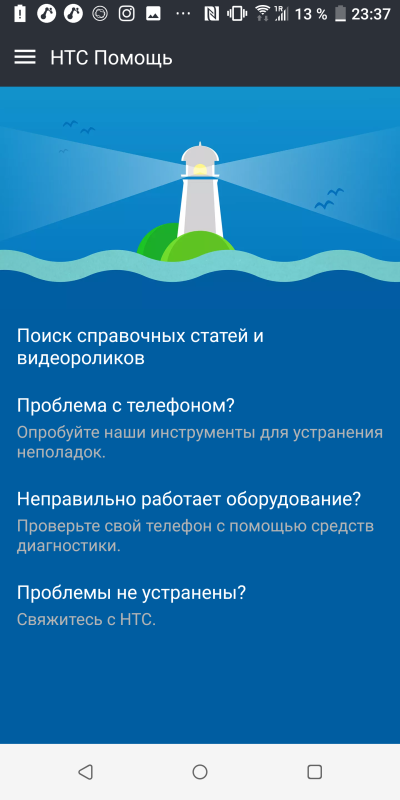 Screenshot_20180621-233756.png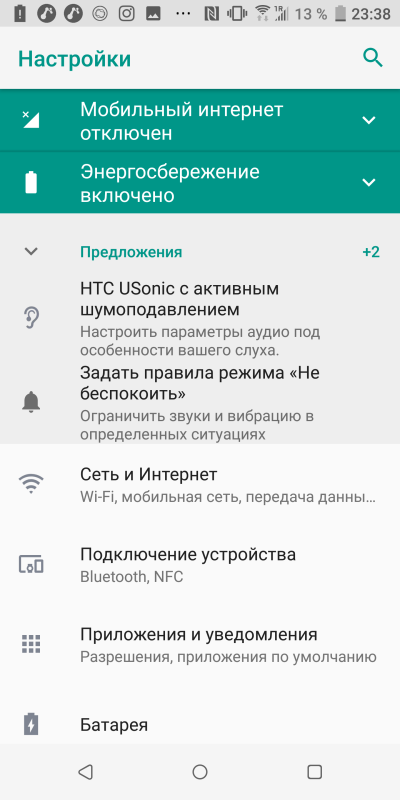 Screenshot_20180621-233807.png

Screenshot_20180621-233810.png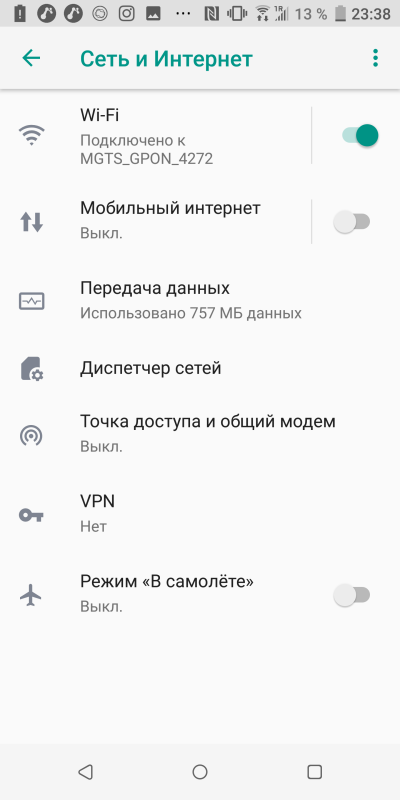 Screenshot_20180621-233821.png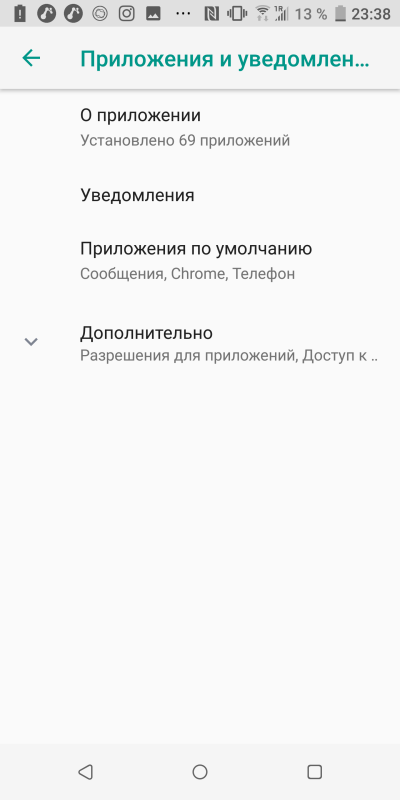 Screenshot_20180621-233843.png

Screenshot_20180621-233847.png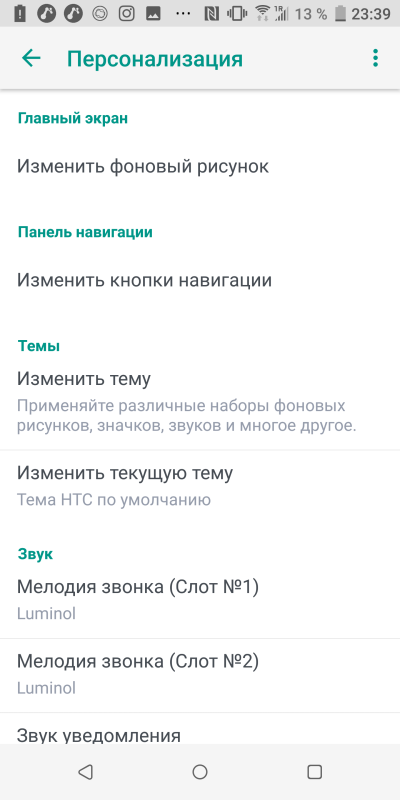 Screenshot_20180621-233908.png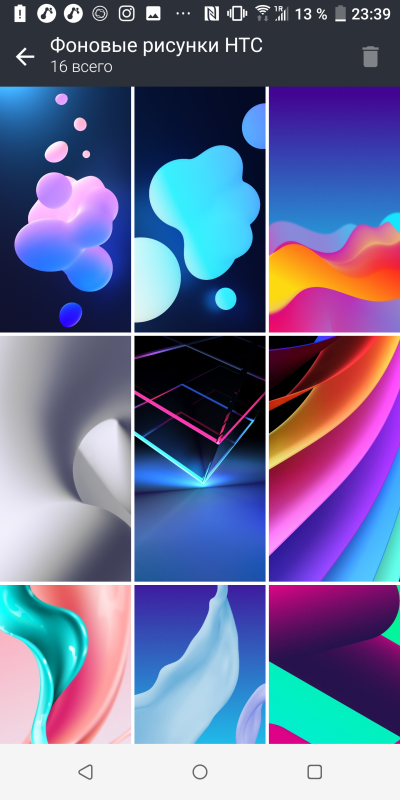 Screenshot_20180621-233915.png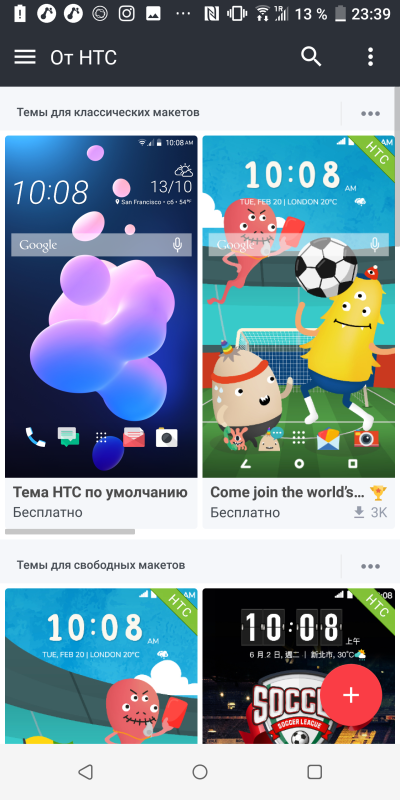 Screenshot_20180621-233925.png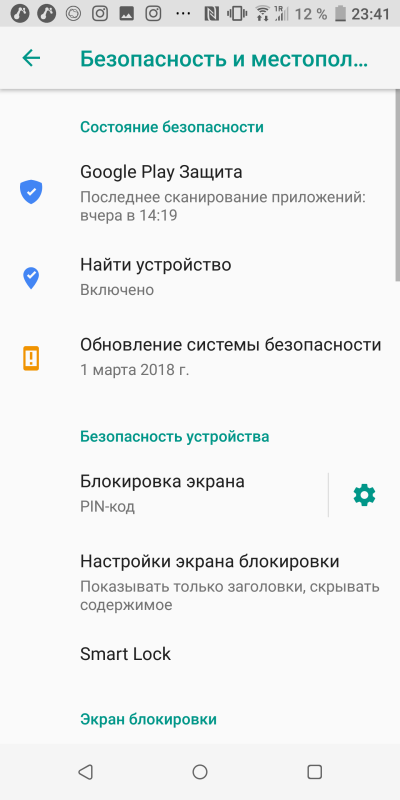 Screenshot_20180621-234117.png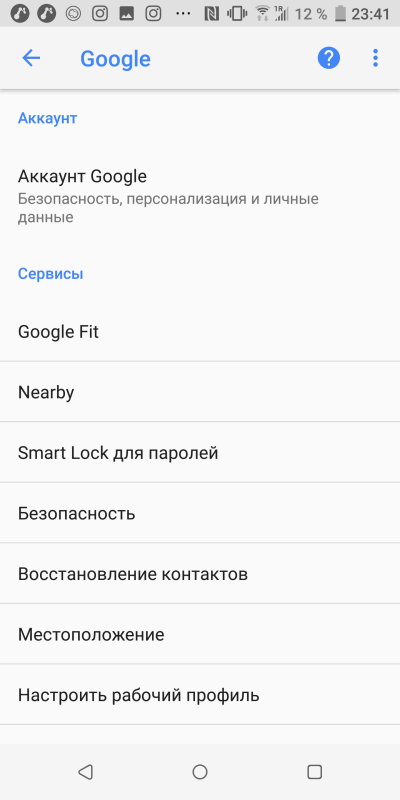 Screenshot_20180621-234124.png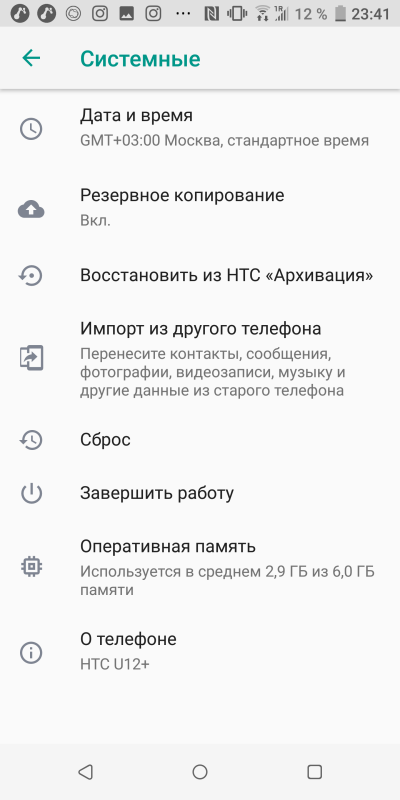 Screenshot_20180621-234131.png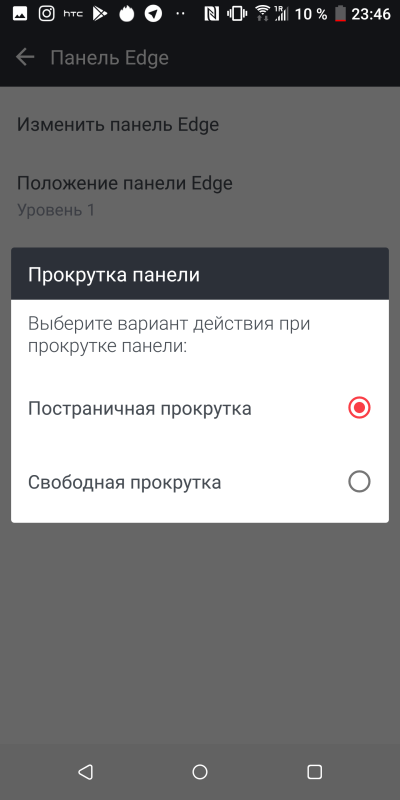 Screenshot_20180621-234653.png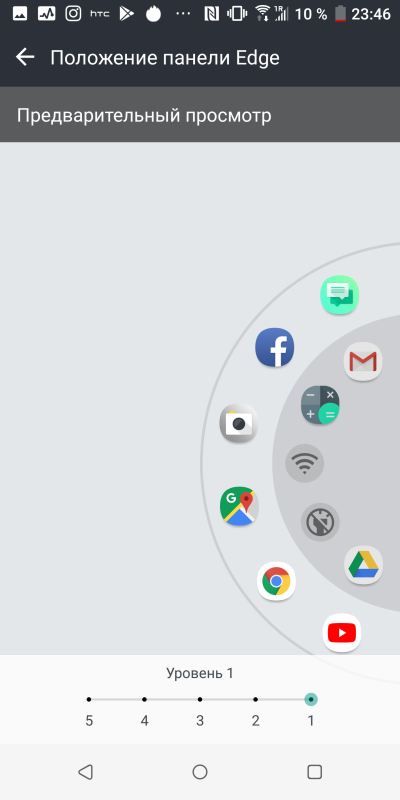 Screenshot_20180621-234656.png
See all
image (27)
Works HTC U12+ running Android 8.0 Oreo with a proprietary shell HTC Sense. Major differences in it compared to last year's version there is a normal shell with the usual Android control logic and design, but no longer the best, as it was at the dawn of the operating system of Google.
Display and sound
HTC made the same mistake that LG, which is installed in its flagship smartphone the G7 ThinQ LCD display with IPS-matrix. Smartphone for 50-60 thousand rubles with screen based on OLED, alas, in our time is absolutely bad form, even if you are using a very high-quality matrix, as here.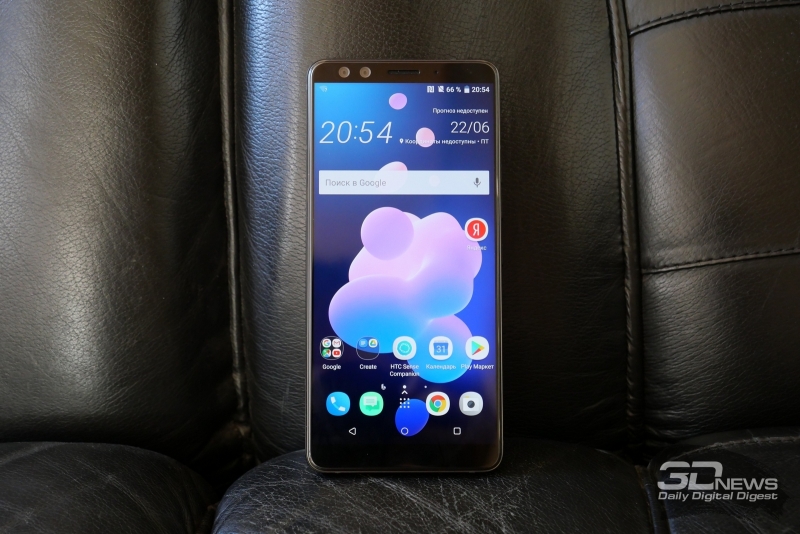 By itself, the screen that is to be expected for a smartphone of this level features: 6-inch, 18:9, resolution 2880 × 1440 with very high pixel density – 538 ppi. The viewing angles are decent, the picture looks great, but reasonable contrast, and not the maximum level of comfort while using the smartphone in Sunny weather, upset, from the expensive gadget has become accustomed to more.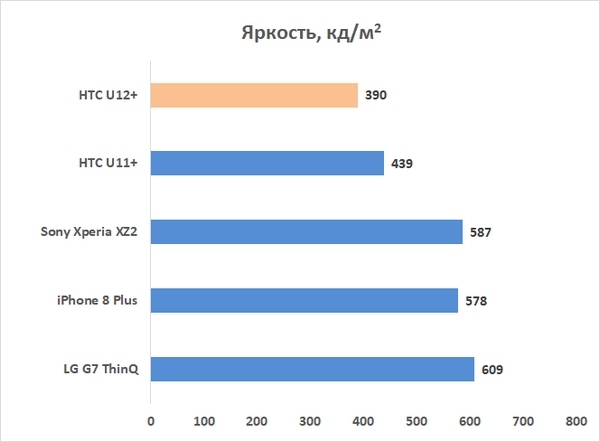 Problems HTC U12+ on the fact of usage of LCD screen do not end there. In addition, he frankly does not have enough brightness – measured peak is 390 CD/m2. Surely the sun smartphone software slightly lifts the brightness, but the changes will not be so strong. To watch anything on this screen under the sun is uncomfortable, what I wrote above.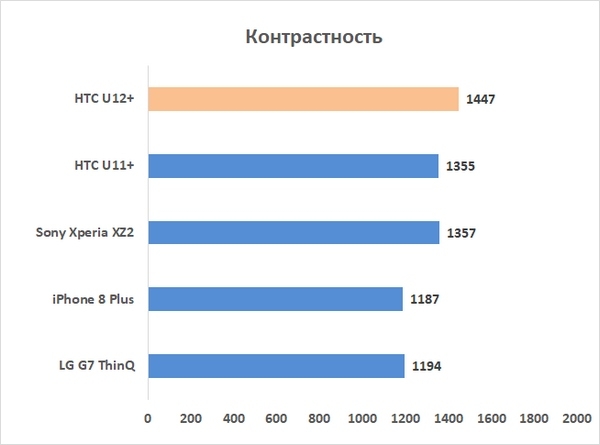 The contrast thus, the IPS-display is very high – 1447:1. Among the competitors who also chose LCD displays, U12+ looks good.
When you adjust the image in HTC U12+ you can choose not just the color temperature or a preset like "natural color" or "bright", and immediately the color space in which display will work. Very convenient.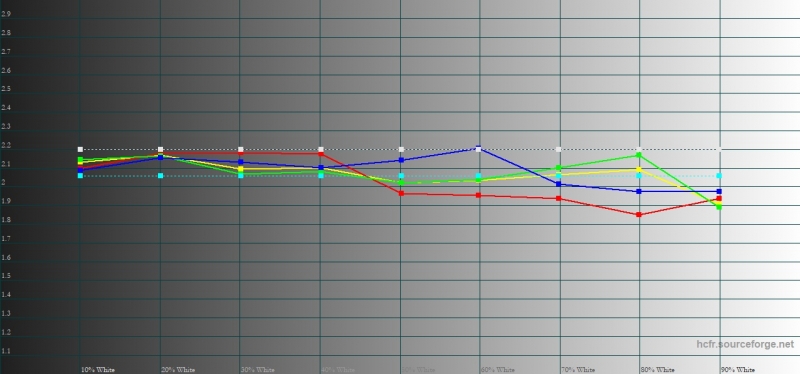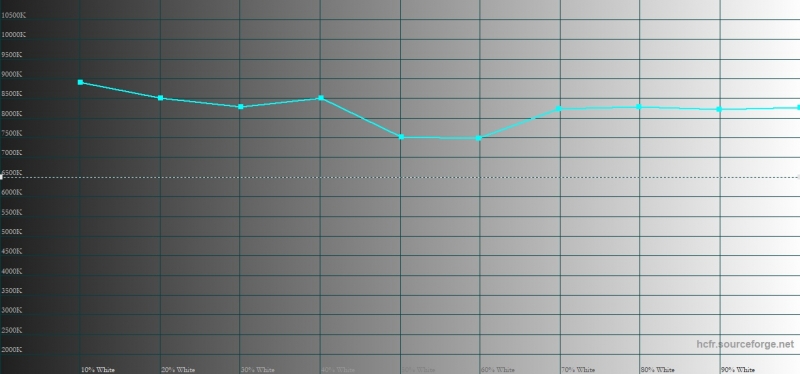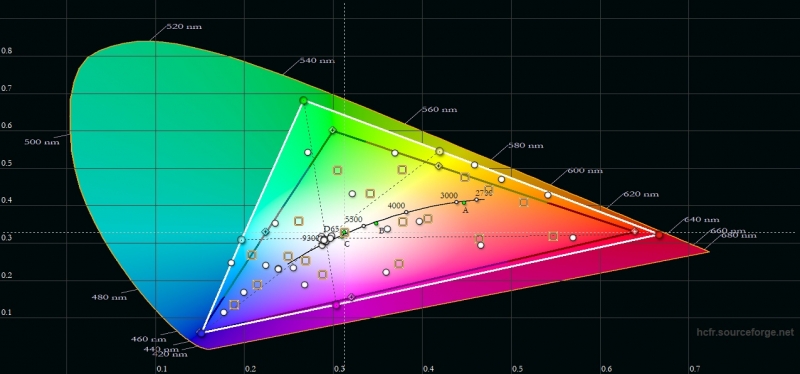 Default HTC U12+ displays colors across the wider DCI-P3 – and it is, admittedly, not bad. The average gamma value of 2.06 is a calm behavior of the curves, the temperature of the walks range from 7 500 To 8 500 K, with a peak of 9 000 K, and the average DeltaE deviation for the extended color palette and shades of gray (table Color Checker) is 5,10. The colors in the end a little chilly, but overall much to pay for an expanded palette is not necessary.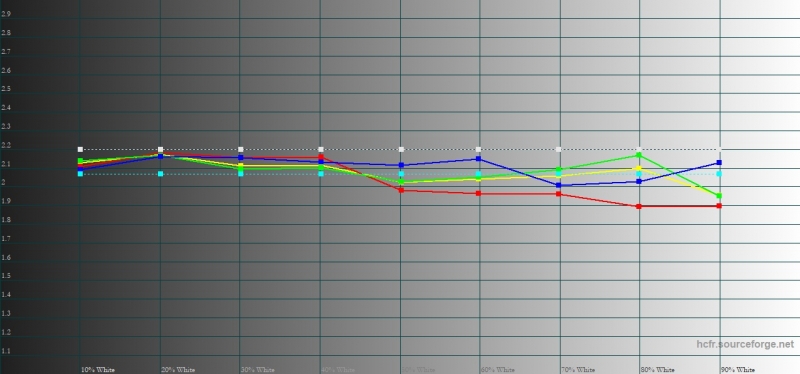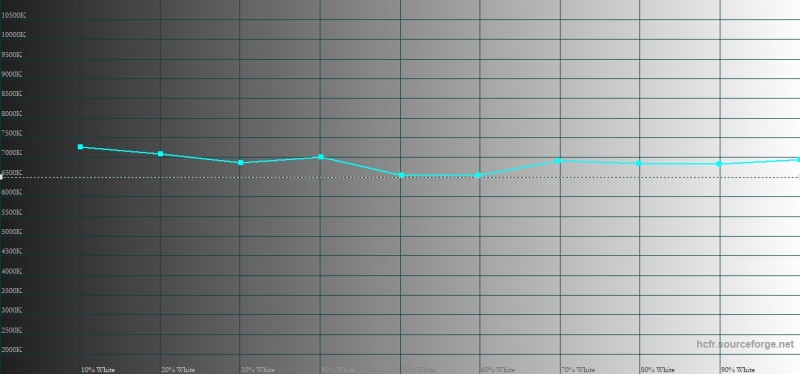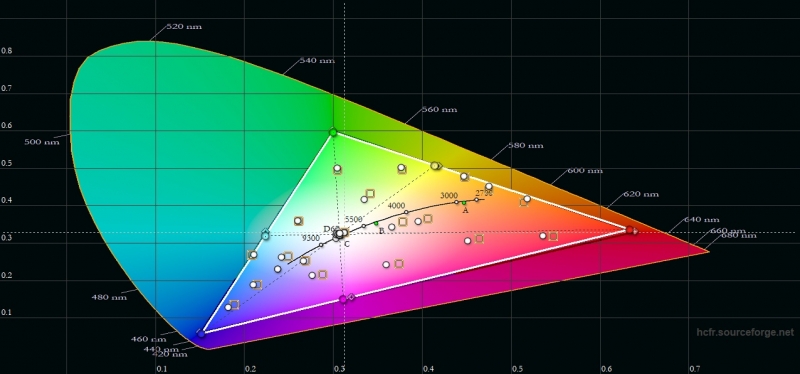 Fans can see the colors as intended by the authors of the content should just switch to sRGB color profile – the picture is just "warmer", cold shades of leaves, the accuracy will greatly increase. The average range in this mode is of 2.07, the color temperature is genizah normal – between 6 500 and 7 000 K, and the average deviation Delta E according to the table Color Checker is 2.60 at the upper limit of normal of 3.00. In terms of settings the HTC U12+ everything is fine.
HTC – one of the main (along with Apple, of course) of adherents waiver of the analog connector standard 3.5 mm. And not just for the mythical failure of the enclosure protection mode, and use USB Type-C as a full him replacement. Since U Ultra in the box with the phone headphones support digital connector, which are able to adapt to the ear of the user and thereby ensure higher quality of sound compared to the normal plug-in headphones. While headphones themselves are, unfortunately, far from ideal – and since U Ultra the situation has not changed: sound HTC USonic not enough parts and support Hi-Res Audio in this case plays no role. To connect other headphones can only be through the adapter or use wireless (supports aptX, the sound will be good), but use a proprietary system to improve the sound in this case, of course, fail. To call this smartphone a "audiophile" I still do not dare.
But to external speakers do not find fault – the system Boomsound is good. Sound is emitted through two speakers located on the bottom face and conversational, and he's really loud and at the same time unexpectedly for a mobile device detailed. Moreover, the frequency distributed according to the speakers, whereby the sound gets a no, and volume. Very cool.
Source: 3dnews.ru