AMD UPS the ante: 32-nuclear Ryzen Threadripper 2 this summer
One of the most high-profile announcements from AMD at Computex 2018 was the presentation by its Vice-President Jim Anderson (Jim Anderson) processors Ryzen Threadripper the second generation. Contrary to the earlier assumption that the CPU Ryzen Threadripper 2 (they Ryzen Threadripper 2000) will be "cosmetic" upgrade of first-generation models, the new series HEDT processor impresses with its performance. Everything goes to the fact that in the desktop segment will debut close in performance
to the older AMD server EPYC 24 – and 32-core CPU in the form factor TR4. For comparison, the chips Ryzen Threadripper the first generation operated on 8, 12 and 16 cores.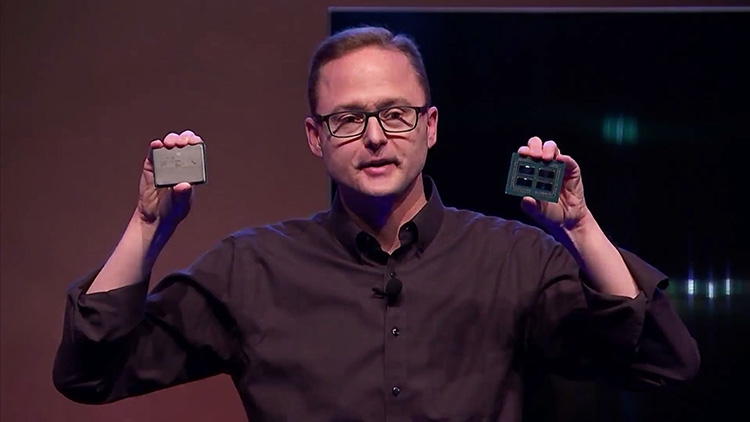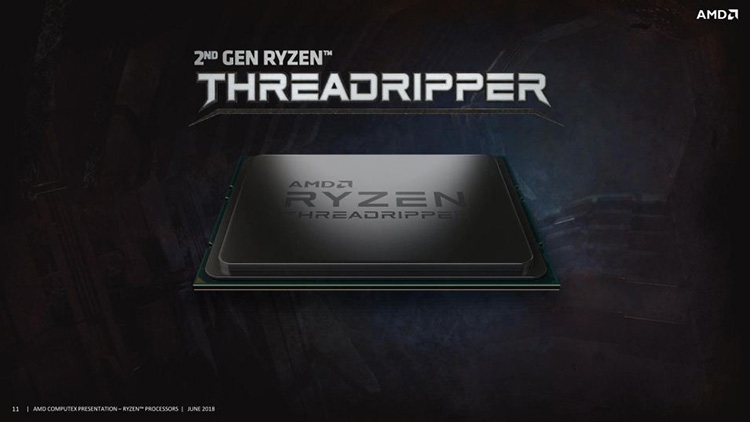 Regarding the "stuffing" of the new processors to err in forecasting was difficult: Ryzen Threadripper 2 will use four 12-nm crystal Zeppelin, containing eight physical cores Zen+ each. In fact we are talking about the crystals of Pinnacle Ridge, which lie at the heart Ryzen CPU 2 (Ryzen 2000), announced in April.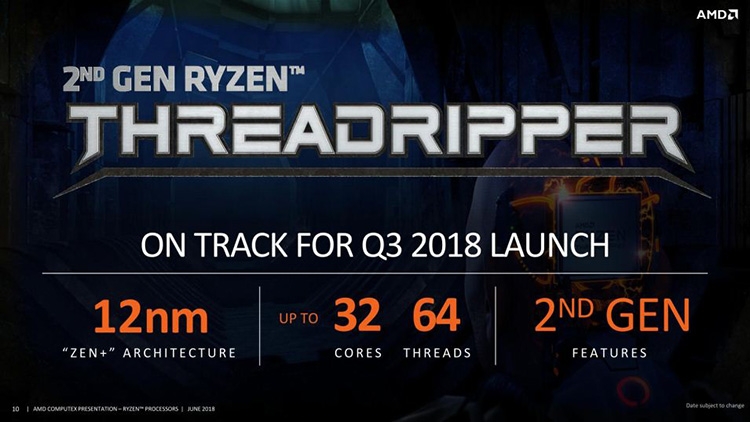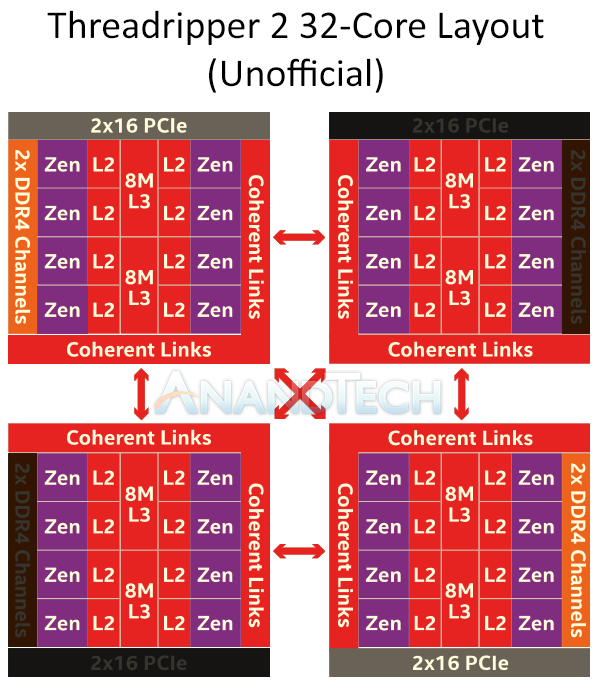 One chip has a 16 MB cache third level, two channel DDR4 memory and 32 lines PCI Express 3.0. According to AnandTech, the older 32-nuclear Ryzen Threadripper 2, compared with EPYC, disabled half lines PCI Express 3.0 and two of the four memory controllers. Volume cache of the third level has doubled relative Ryzen Threadripper 1950X — up to 64 MB. However, for 24-nuclear CPU a volume of L3 cache is not guaranteed.
Ryzen Threadripper 2 ES (32 cores)
Ryzen Threadripper 2 ES (24 cores)
Ryzen Threadripper 1950X
Ryzen Threadripper 1920X
Ryzen Threadripper 1900X
Family CPU
Threadripper 2
Threadripper
Manufacturing process, nm
12
14
Cores/threads
32/64
24/48
16/32
12/24
8/16
Frequency, GHz
≥3,0/3,41
3,4/4,0
3,5/4,0
3,8/4,0
L3 cache MB
641
32
16
Controller RAM
4 channel DDR4≥2933
4-channel DDR4-2666
The PCI-E 3.0
60 + 4
TDP, watts
2501
180
Chipset
X399
Connector
TR4
Release date
beginning August 1, 2018
10 Aug 2017
August 31, 2017
1— pre –
Presented by AMD 24 – and 32-core samples Ryzen Threadripper 2 have a nominal frequency of 3.0 GHz and able to operate at 3.4 GHz in boost mode (for all cores). A barrier to purchase copies of the series of these processors can become their dissipation is 250 watts, which exceeds the corresponding figure Ryzen Threadripper the first generation almost 40 %. Part of the existing motherboard TR4/X399 would be incompatible with Ryzen Threadripper 2 because of the increased power of the latter.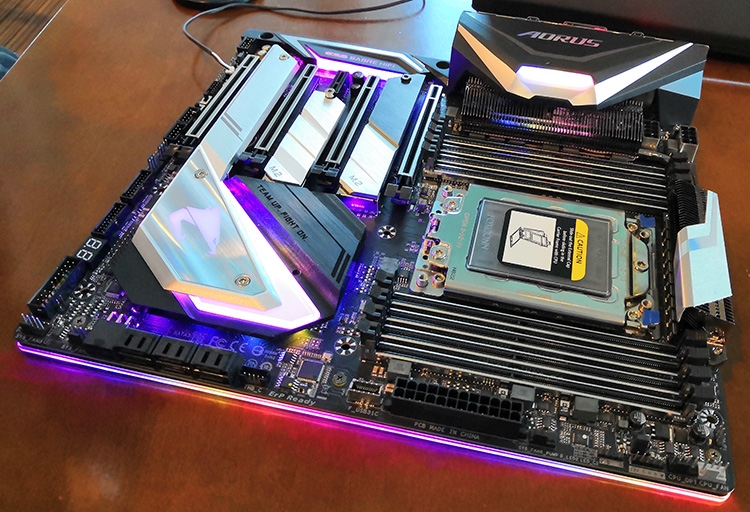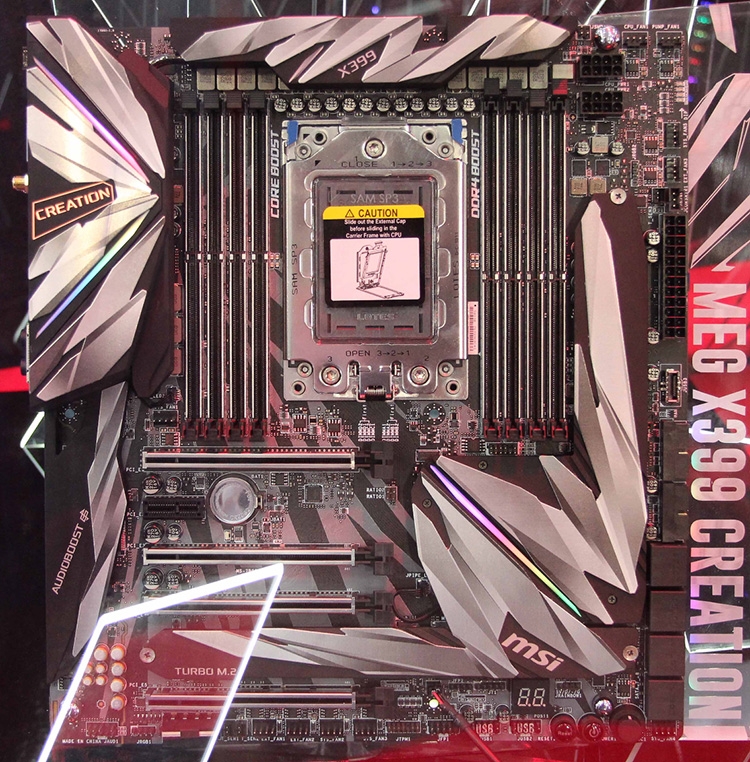 Source: 3Dnews.ru