Comparative test of cameras in smartphones ASUS Zenfone 5, Honor 10 and Nokia 7 Plus
Typically, these tests are organized among the flagship models – not just as talking about the specific smartphones, but rather as a show of "arms", with which manufacturers came out on today's market. Last time we were talking about flagships and definitely will return to this topic later, but today let us consider in more affordable devices, just ' cause… why not? It's almost more interesting, because these smartphones will likely be sold even more.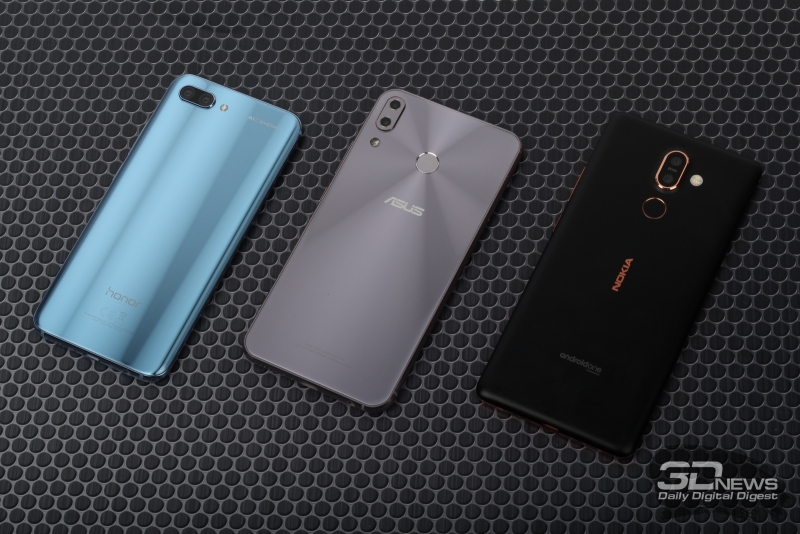 The competition will converge ASUS Zenfone 5, Honor 10 and Nokia 7 Plus. Yes, this is not a comprehensive set – at least on the way Samsung Galaxy A6+, maybe even LG Q7 will be able to compete. And there Xiaomi Mi 8 will come, will put things in order. Or not induce? At the moment (early June) are presented in this comparative test, the smartphone definitely looks the key contenders for the title of best in its price segment – first and foremost, in the quality of shooting.
All three smartphones are equipped with double modules, but it's a little different solutions, and everyone has their own. ASUS as a Supplement to the main camera resolution 12 MP and aperture of ƒ/1,8 offers ultra-wide module that allows you to capture more of everything. At Huawei, the camera consists of an RGB sensor with a resolution of 16 megapixels and aperture of ƒ/1.8 and monochrome sensor resolution 24 MP – they always work in pairs and allow you to get a hybrid double zoom. Nokia is the most high-aperture optics on the main, 12-megapixel camera – ƒ/1,75; auxiliary, aperture of ƒ/2.6, the works solely to achieve the same two-fold zoom.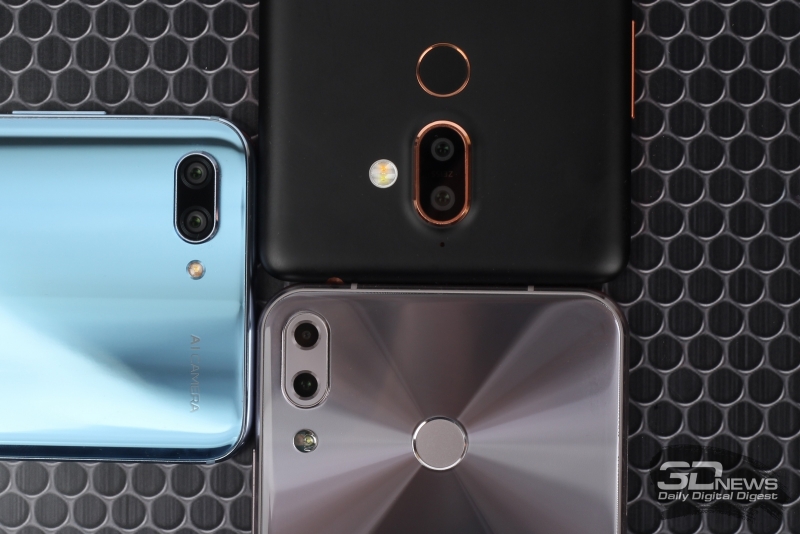 I did not compare the operation of the auxiliary chambers themselves too they have different goals and capabilities. Touch on only the main camera in the key subjects, with the exception of the evaluation of artificial bokeh – here Nokia forcibly activated your optional module.
Another important point that I must say before testing: the Zenfone 5 is the optical stabilizer, and Honor 10 and Nokia 7 Plus it is not. Well, it's congratulations to ASUS with this and at the same time to test how in reality it affects the quality of mobile photography in the dark.
Testing
In different tests we will evaluate the result according to various criteria, but the key factors are the sharpness and detail. In addition, the result affects the accuracy of exposure and white balance. In each test a smartphone can score 1, 2 or 3 points — depending on them. The best will be named the smartphone with the highest aggregate number of points.
All pictures are signed on, guess where, who, is not necessary, but the order of images is constantly changing in order to avoid any pattern of perception.
And of course, we have to mention that all this evaluation is extremely subjective. All photos at your disposal, you can do to draw their own conclusions.
Landscape in Sunny day
The simplest and most basic stage, where in the first place from the camera need to detail, wide dynamic range, and color quality.
Evident big the saturation of the picture Honor despite the fact that here was forced off proprietary "artificial intelligence", which suffers from excessive scoring of contrast or care in an unnatural color. But you can call these colors are also the most juicy.
Have Zenfone 5 smooth picture quality with slightly cool undertones and some brute force with green undertones, and Nokia 7 Plus with the same character rendering the best detail. The trend of Honor of 10, to improve contour sharpness, as if borrowed from Samsung, looks a winner, but weighs small parts.
Nokia 7 Plus – 3 points;
Honor 10 – 2 points;
ASUS Zenfone 5 – 1 score.
Seascape in a cloudy day + edge sharpness
A fairly simple plot for any smartphone – no bright sun (i.e. no discolouration), are not so many small parts that need to be worked out. But in cloudy weather it is easy to get a white, "milky" sky – there is important dynamic range. In this story I "let go" of the reins, allowing the smartphones to choose how to shoot HDR with activation or without it. Took advantage of the bonus only Zenfone 5.
On the crop I selected a fragment from the edge, at the same time to evaluate edge sharpness and spatial distortion.
Honor 10 shows overall better job on detailing it here along with Nokia 7 Plus, but flaunts a more accurate white balance and noticeably better edge sharpness. Zenfone 5, despite the activation of HDR, does not receive benefits of detail in shadows, but produces an unexpectedly loud and "dirty" picture.
Honor 10 – 3 points;
Nokia 7 Plus – 2 points;
ASUS Zenfone 5 – 1 score.
Shooting when lighting is poor
Optical stabilizer is not here miraculous lotion. Yes, night shots are obtained on the Zenfone 5 is much more sharp than the competition, but a little more noisy — the noise reduction is not very great. However, this is enough to get first place in this competition.
Honor 10 on the second highest detail and best color rendering. Also note the "clean" sky – from the threshold, all is well. Nokia 7 Plus also fulfills the situation confidently, but the combination of factors turns out to be a little behind, and Honor, and ASUS.
ASUS Zenfone 5 – 3 points;
Honor 10 – 2 points;
Nokia 7 Plus – 1 point.
Shooting with artificial light
Another night scene, but much more gentle and familiar for most users – the city lights. Focus specifically on the processing of light sources and again the quality and amount of detail.
ASUS expected at high level – the picture is clear, sharp, light bulbs no glare. A little too much noise, but it does not prevent the perception of pictures. Nokia manifests itself in a similar way – except that the shades are colder than I would like, and the bulb is illuminated.
Honor again over the top with a contour sharpness, in this case killing all the details. The best color rendition does not rescue the "top ten" from the last place in this competition.
ASUS Zenfone 5 – 3 points;
Nokia 7 Plus – 2 points;
Honor 10 – 1 point.
Shooting through glass
And last night scene – now the urban landscape, and shot through the glass. An absolute classic – who among us didn't?
Glass between the photographer and the object just eats the sharpness itself and thereby eliminates the notorious superiority of the ASUS Zenfone 5. Plus the scene is not that difficult for a smartphone with a good sensor and high-aperture optics – that is, for all three.
But best of all it shows Honor 10 – there usual a lot of contour sharpness does not interfere to the normal details, and well-chosen white balance displays the creation of Huawei into the lead. Zenfone 5 is good again, but it brings the white balance (too green hues we saw at the full landscape). Nokia 7 Plus is inferior to both competitors on all counts.
Honor 10 – 3 points;
ASUS Zenfone 5 – 2 points;
Nokia 7 Plus – 1 point.
Macro
When shooting close-up POPs up embarrassing moment – every smartphone has its own minimum focusing distance, so it is absolutely valid comparison impossible, we have to adapt to the least adapted to the macro – in this case ASUS Zenfone 5. For purity of experiment we will take again two scenes – day and night.
"Zenfan" and so would receive minus one point for the fact that less focusing distance its competitors, thereby limiting the user's ability when shooting close up, but even in scenes tailored to him, he still loses both clarity and detail and color rendering.
On Nokia 7 Plus is slightly more complicated than for Honor 10, to obtain a sharp image – you have to do more takes. But when she finally turns, space for NIT-picking remains a neat little sharpness, a little chilly, but normal color rendition, excellent detail. The smartphone Huawei worse is the case with the detail and sharpness – and the rating, respectively, below.
Nokia 7 Plus – 3 points;
Honor 10 – 2 points;
ASUS Zenfone 5 – 1 score.
Portrait
Another scene that caused some difficulties. The fact that Nokia 7 Plus have a second camera with a long focal length, and Honor 10 – no. Have a Zenfone 5 and it provides a wider angle. In theory Nokia suited for portraits better than the competitors in practice, we were shooting on the main camera without the inclusion of options. And we evaluate it.
Here every smartphone has its advantages – Pro bonus Nokia, I said above; the camera lets you get a portrait with a good white balance (to pay attention primarily on your skin tone), but with a weak division of plans and unnecessary smoothing of the picture.
ASUS Zenfone 5 is very good in terms of detail and good separation plans. But skin tone obtained by the pictures on the Taiwanese smartphone are probably the worst of all.
Picture Honor 10 the balanced – according to detail, he is not inferior to "zanfona", good in the division of plans and the best in terms of skin tone.
Honor 10 – 3 points;
ASUS Zenfone 5 – 2 points;
Nokia 7 Plus – 1 point.
Software blur background
Another example of a portrait – this time with artificial lighting and activation functions of an artificial blurring of the background. Since this function is at all – why not to check it. There is already Nokia forcibly turned my second camera from this we see the character of the blur and excessive noise (after all, aperture ƒ/2.6 V).
No, it is not the author of the article took the defective the demo the camera of ASUS Zenfone 5 is the camera missed focus on a whole lot of pictures, despite the fact that the focus was put forcibly in the face. The quality of the blur Zenfone 5 at the same time, perhaps the best of all.
Honor 10 blur out the background a little rougher than Zenfone 5, but the skin tone, and sharpness and quality of bokeh it the best. Nokia 7 Plus, alas, fails with detail and noise, and rougher all blur out the background. But at least it is in focus. However, to distinguish between ASUS and Nokia, I can't.
Honor 10 – 3 points;
Nokia 7 Plus – 1 point;
ASUS Zefnone 5 – 1 score.
HDR
And the last story – an evening where we will check the quality of the gluing HDR.
It is more important than just the balance of light between the subject (merry-go-round and people) and the sky. Honor 10, despite all its advanced algorithms, unnecessarily obscures the carousel, while not standing out detail in the sky compared to competitors. Also again evident extra contour sharpness. But the balance white is again the best.
Nokia 7 Plus and ASUS Zenfone 5 in this competition is approximately equal, with a minimal advantage, the Taiwanese smartphone due to the better balance of lights and shadows – note the white color of the fence.
ASUS Zenfone 5 – 3 points;
Nokia 7 Plus – 2 points;
Honor 10 – 1 point.
Conclusion
Overall, all three devices good camera. However, it was known before testing. So here, without spreading the idea of the tree, I note trends and patterns. ASUS Zenfone 5 due to the optical stabilizer wins in night scenes and very good methods in software processing (HDR), but a little lost in the day scenes because of the instability of white balance and noise in the images. Also it is weaker than its competitors in macro photography.
Nokia 7 Plus manifests itself the worst of all (but not that bad) night, but otherwise she is very good and balanced camera that allows to count on a stable result in most scenarios. Except that the white balance a little disappoint.
To Honor 10 include the same words with a couple of amendments: there are no problems with white balance, and the camera of this smartphone is very efficient at night. The main complaint is excessive effort in trying to achieve the maximum contour sharpness.
The results:
Honor 10 to 20 points;
ASUS Zenfone 5 – 17 points;
Nokia 7 Plus – 16 in points.
In conclusion, comparative testing, like last time, it would be worthwhile to draw Parallels with the rating DxO Mark, which is now accepted to focus, but this is not possible – of the characters in the test it presents (in a very good position) only ASUS Zenfone 5, which took our test in second place.
Source: 3dnews.ru