Overview of the smartphone Vivo V9: the top ten?
Belonging to the group BBK OPPO and Vivo brands for several years, a number of occupy a high place in the ranking of smartphone manufacturers, but in Russia, until recently they were practically unknown. And if OPPO already attempted (failed) to enter the Russian market of cellular phones, the Vivo until last year, generally avoided it. Well, maybe it's time to try – for the first time in a long time, fell out of the top five, and possible success in Russia can help to regain lost ground.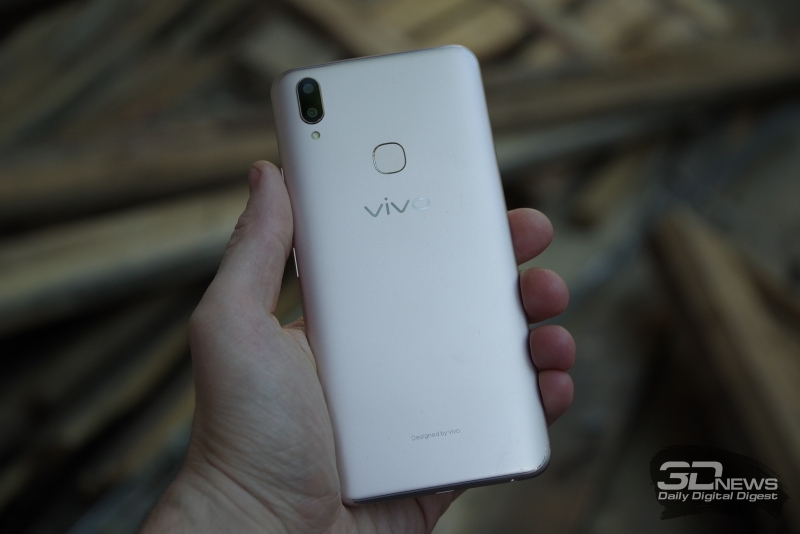 Vivo V9 is a key device in the Vivo family, a kind of "Golden mean" between flagship smartphones, X-series budget models (which, in fairness, and doing the company's cash in China). He replaces presented at the end of last year, we have V7/V7+, and this is the infrequent case when Russia is important for the company's smartphone appears almost simultaneously with China. Is that a sign of a serious attitude?
By itself, the V9 is a new "frameless" smartphone with a cutout in the middle top of the screen – this spring they flooded the market like an avalanche. V9 claims and if not best then one of the first places according to how much space on the front surface is the screen – there is as much as 90%. Other important features of a smartphone: very serious front camera (24 megapixels) and a set of fancy software features. Plus mandatory today, a huge display (6.3 inch), dual cameras (to create bokeh), facial recognition technology and Qualcomm platform, in this case, Snapdragon 626. Does all of this in a picture of a smartphone that can turn any game on the market today?
Specifications
Vivo V9
Vivo V7+
ASUS Zenfone 5
Xiaomi Mi MIX 2
Nokia 7 Plus
Display
6.3 inch, IPS,
2280 × 1080 pixels, 400 ppi, capacitive multitouch
5.99 inch, IPS,
1440 × 720 pixels, 269 ppi, capacitive multitouch
6.2 inch, IPS, 2246 × 1080 pixels, 402 ppi, capacitive multitouch
5.99 inch, IPS,
2040 × 1080 pixels, 403 ppi, capacitive multitouch
6 inch, IPS,
2160 × 1080 pixels, 401 ppi, capacitive multitouch
Safety glass
Is, manufacturer unknown
Is, manufacturer unknown
Corning Gorilla Glass (version unknown)
Is, manufacturer unknown
Corning Gorilla Glass 3
Processor
Qualcomm Snapdragon 626 (eight cores ARM Cortex-53, frequency up to 2.2 GHz)
Qualcomm Snapdragon 450 (eight cores ARM Cortex-53, frequency up to 1.8 GHz)
Qualcomm Snapdragon 636 (eight cores Kryo 260, 1.8 GHz)
Qualcomm Snapdragon 835 MSM8996 (four cores Kryo, frequency 2.45 GHz + four cores Kryo, frequency 1.9 GHz)
Qualcomm Snapdragon 660 (eight cores Kryo 260, 2.2 GHz)
Graphics controller
Adreno 506, 650 MHz
Adreno 506, 650 MHz
Adreno 509, 720 MHz
Adreno 540, 710 MHz
Adreno 512, 850 MHz
RAM
4 GB
4 GB
6 GB
6/8 GB
4 GB
Flash memory
64 GB
64 GB
64 GB
64/128/256 GB
64 GB
Memory card support
There
There
There
No
There
Connectors
microUSB, minijack 3.5 mm
microUSB, minijack 3.5 mm
USB Type-C minijack 3.5 mm
USB Type-C
USB Type-C minijack 3.5 mm
SIM card
Two nano-SIM
Two nano-SIM
Two nano-SIM
Two nano-SIM
Two nano-SIM
Cell 2G connection
GSM 850/900/1800/1900 MHz
GSM 850/900/1800/1900 MHz
GSM 850/900/1800/1900 MHz
GSM 850/900/1800/1900 MHz CDMA 800 / 1900
GSM 850/900/1800/1900 MHz
3G cellular communications
HSDPA 850/900/1900/2100
HSDPA 850/900/1900/2100
HSDPA 850/900/1900/2100
800/850/900/1700/1800/1900/2100 HSDPA MHz
HSDPA 850/900/1900/2100
Cellular 4G
LTE Cat. 6 (300/50 Mbit/s): the bands 1, 3, 7, 8, 20, 28, 38, 40, 41
LTE Cat. 6 (300/50 Mbit/s): the bands 1, 3, 5, 7, 8, 20, 38, 39, 40, 41
LTE Cat. 12 (600 Mbps): ranges not specified
LTE Cat. 12 (600 Mbps): the bands 1, 2, 3, 4, 5, 7, 8, 12, 13, 17, 18, 19, 20, 25, 26, 27, 28, 29, 30, 34, 38, 39, 40, 41
LTE Cat. 6 (300/50 Mbit/s): the bands 1, 3, 5, 7, 8, 20, 28, 38, 40, 41
Wi-Fi
802.11 a/b/g/n/ac
802.11 b/g/n
802.11 a/b/g/n/ac
802.11 a/b/g/n/ac
802.11 a/b/g/n/ac
Bluetooth
4.2
4.2
5.0
5.0
5.0
NFC
No
No
There
There
There
Navigation
GPS, A-GPS, GLONASS, BeiDou
GPS, A-GPS, GLONASS, BeiDou
GPS, A-GPS, GLONASS, BeiDou
GPS, A-GPS, GLONASS, BeiDou
GPS, A-GPS, GLONASS, BeiDou
Sensors
Light, proximity, accelerometer/gyroscope, magnetometer (digital compass)
Light, proximity, accelerometer/gyroscope, magnetometer (digital compass)
Light, proximity, accelerometer/gyroscope, magnetometer (digital compass)
Light, proximity, accelerometer/gyroscope, magnetometer (digital compass)
Light, proximity, accelerometer/gyroscope, magnetometer (digital compass)
Fingerprint scanner
There
There
There
There
There
The main camera
Double module, 16 MP, ƒ/2.0 + 5 MP, phase detection autofocus, dual-led flash
16 MP, ƒ/2.0, phase detection autofocus, led flash
Double module, 12 MP, ƒ/1,8 + 8 MP, ƒ/2.0, phase detection autofocus, led flash
12 MP, ƒ/2.0, phase detection autofocus, optical stabilization, dual-led flash
Double module, 12 MP, ƒ/1,75 + 13 MP, ƒ/2.6, the phase detection autofocus, dual-led flash
Front camera
24 MP, ƒ/2.0, fixed focus
24 MP, ƒ/2.0, fixed focus, flash
8 MP, ƒ/2.0, fixed focus
5 MP, fixed focus
16 MP, ƒ/2.0, fixed focus
Food
A removable battery of 12.39 W·h (3260 mAh, 3.8 V)
A removable battery of 12.26 W·h (3225 mAh, 3.8 V)
Removable battery by 12.54 W·h (3300 mAh, 3.8 V)
Removable battery: 12,92 W·h (3400 mAh, 3.8 V)
A removable battery of 14.44 W·h (3800 mAh, 3.8 V)
Size
154,8 × 75 × 7,89 mm
155,9 × 75,7 × 7.7 mm
153 × 75,65 × 7.7 mm
To 151.8 × 75,5 × 7.7 mm
158,4 × 75,6 × 9,55 mm
Weight
150 grams
160 grams
155 grams
185 grams
183 grams
Protection case
No
No
No
Splash protection (IP54)
No
Operating system
Android 8.1 Oreo, shell Funtouch OS 4.0
Android 7.1.1 Nougat, shell Funtouch OS 3.2
Android 8.0 Oreo, shell ZenUI
Android 7.1.1 Nougat, shell MIUI
Android 8.1 Oreo (Android One)
Current price
23 990 rubles
16 990 rubles
27 990 Rubles
26-32, 000 for the "gray" option, 35-50 000 for official
27 990 rubles
Design, ergonomics and software
About key features Vivo V9 behalf of Frida Kahlo I mentioned above – and the word is unnecessary here, a glance at the smartphone is enough. However, a strong similarity with the iPhone X is not here – there is only a cutout, all the other design decisions are different.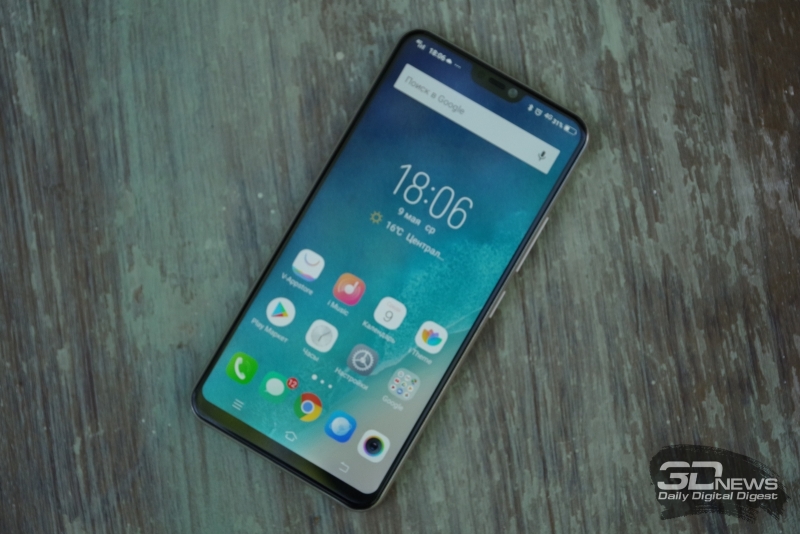 First and foremost it is worth noting that Vivo V9 plastic case is quite unusual for today's smartphones even the basic price categories, but for V9 similar devices cost more than 20 thousand rubles — even more so. While it's funny that on the back panel you can notice the curved strips, which metal phones regularly enter the plastic inserts for the correct operation of antennas. Here they simply are not needed, but, apparently, perceived by developers as a curious design decision. Or is it just inertia?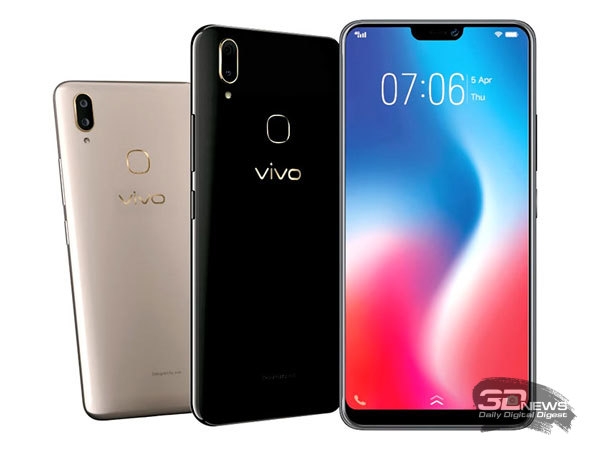 Color option two: Navy blue and gold. Both with a dark front panel — to make up weird moves and pour a thin white edge designers did not. It's for the best.
Plus the plastic case that the smartphone was really easy. Yes, do not write any hateful stamp like "nice Taglit hand", but when it comes to large smartphone with 6.3-inch display and a fairly capacious battery, better easy than hard. Vivo V9 weighs 150 grams – for a smartphone of this format just has abnormally small. Of course, the elongated display, which almost completely covers the front panel, allows to keep the dimensions within the normal range. The smartphone fits in any pocket, it is normally operated, and at the expense of the thin case can even reach the fingers of one hand almost to any point on the screen. But it is very difficult to manage them will probably need both hands, it is now the norm.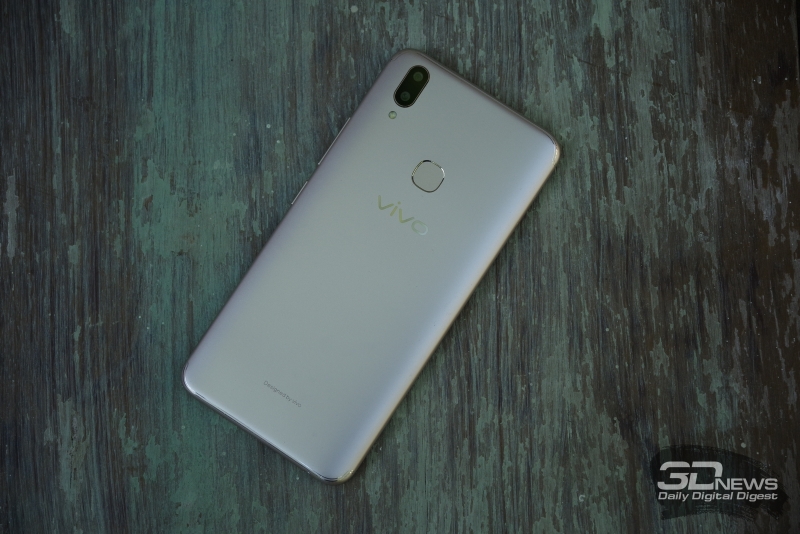 The front panel is covered with a slightly curved 2.5 D glass. However, accurate and natural movements-swipes at the edges no – edge is quite sharp, feeling the smooth transition of your finger on the side, for which the smartphone and install the convex glass, it is impossible.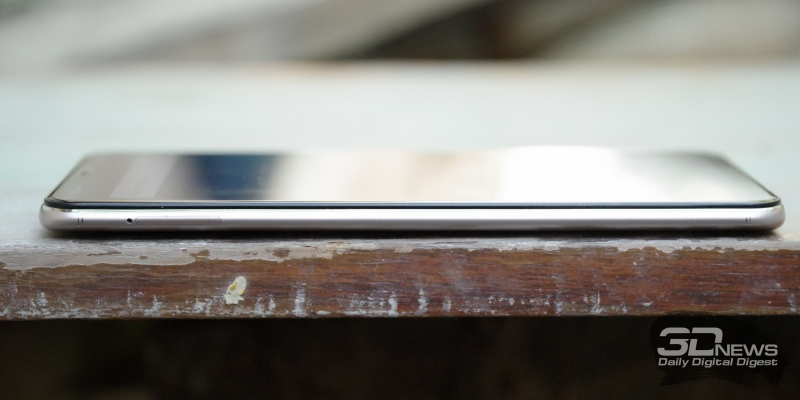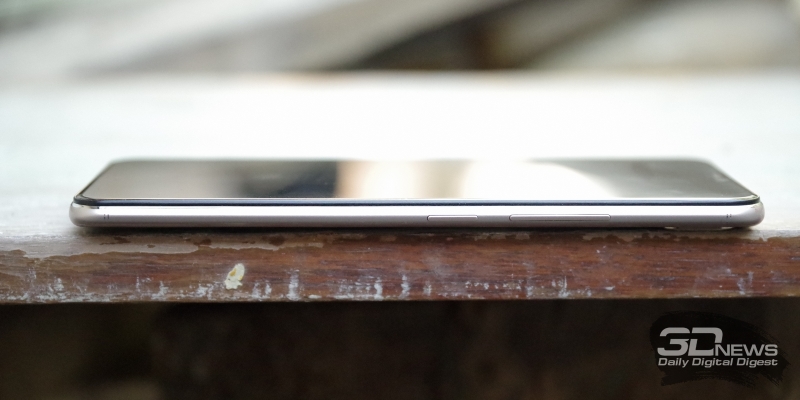 The default screen is covered with a protective film. In this case the glass is not devoid of oleophobic coating – effective record-I will not name, but it is quite normal. You can live without an additional film, when it will inevitably wear out.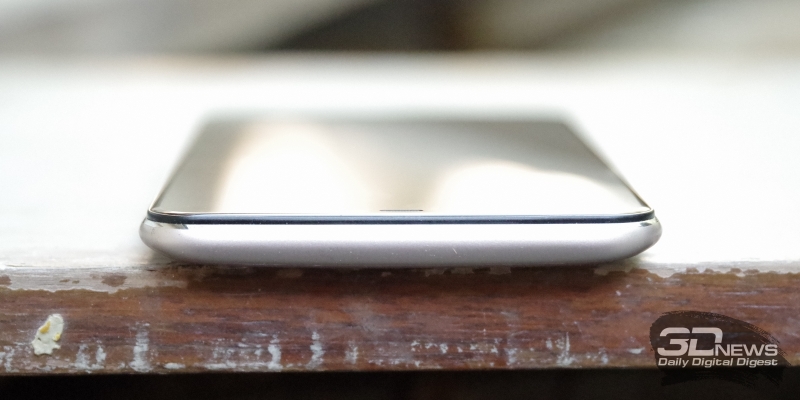 For Vivo V9 not stated water – and dust protection, with complete silicone cover has a lid for the microUSB port.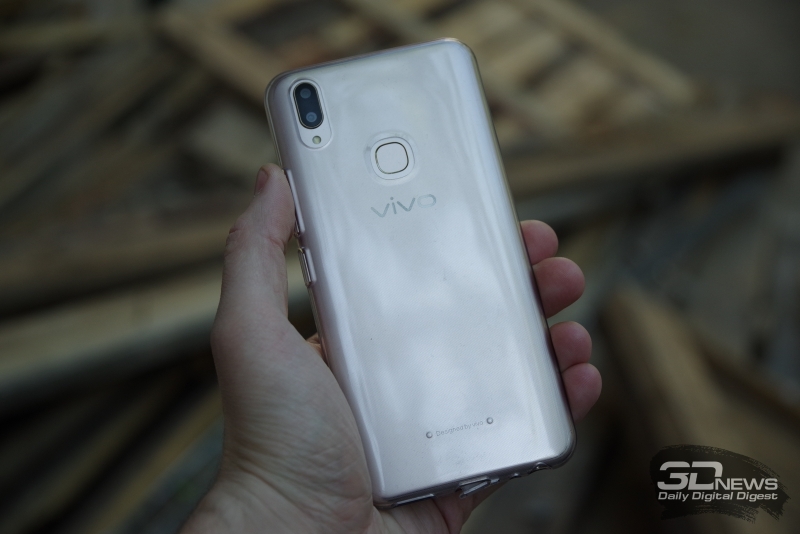 It is not noted in the specifications and the description of the device, so you can dip your smartphone in water to check if he can handle this procedure in a case, I decided not to. Mini-Jack (he is here, Vivo did not yield all fashion trends at once) and a speaker in any case remain naked even with the case.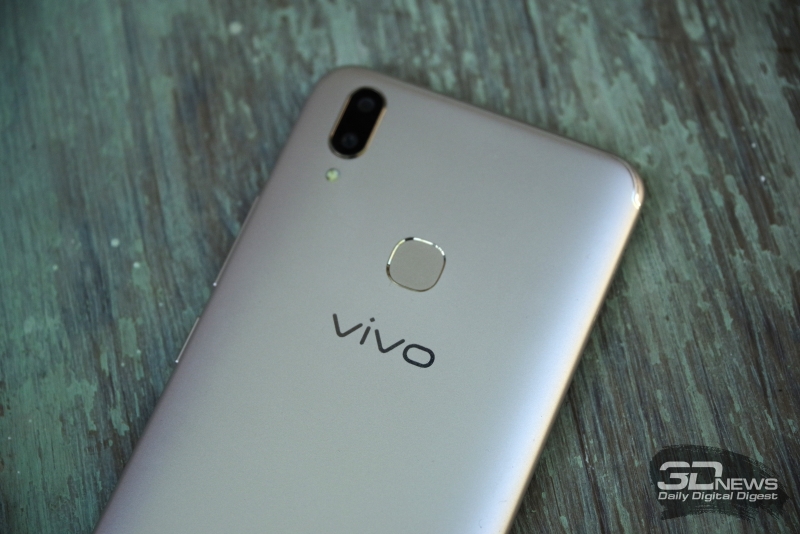 The fingerprint scanner located on the rear panel. Front for him, just no place to use the ultrasonic sensor, hidden in the "sandwich" of the screen, the company in this case did not. Despite the primacy in this area – Vivo X20 Plus UD officially became the first production smartphone with a "screen" print scanner. Here the sensor is the most common, capacitive. It is located in a convenient location to get instead of his finger at the camera is impossible — it is instantly on the touch and then work. The recognition accuracy is quite stable.
Use the scanner to unlock the device or organizations quick access to an encrypted folder. To confirm the payment through the Google Pay you cannot use it – this system does not support Vivo V9, there are simply no even NFC. An ordinary phenomenon for Chinese smartphone previous years – in Podnebesnoy, let me remind you, it's very common electronic payment through QR codes. Recently Chinese developers still remember about Western consumers and begin to install the modules Near Field Communication on an ongoing basis. But not in this case, Vivo, who for many years worked exclusively for the domestic market, yet fills bumps.
Also have to fill the cones Vivo and further improvement of its shell Funtouch OS. She has no problems with stability and speed: despite not using the most recent and powerful platform (the peak of relevance Snapdragon 626 has passed a year and a half ago) runs smartphone very fast – serious difference with the same Nokia 7 Plus or Honor 9, which can be called to a certain extent the standard speed in the medium price category, I felt. Affected by, among other things, the use of the latest Android version (8.1 Oreo). Can not be attributed to the shortcomings and unusual system with two blinds: top down the notification list and the search string; bottom raised panel with various system settings, screen brightness, volume and the four apps you used last. Although one can learn how to raise it without touching the system navigation keys, it turns out not at once.
Vivo V9: Screenshot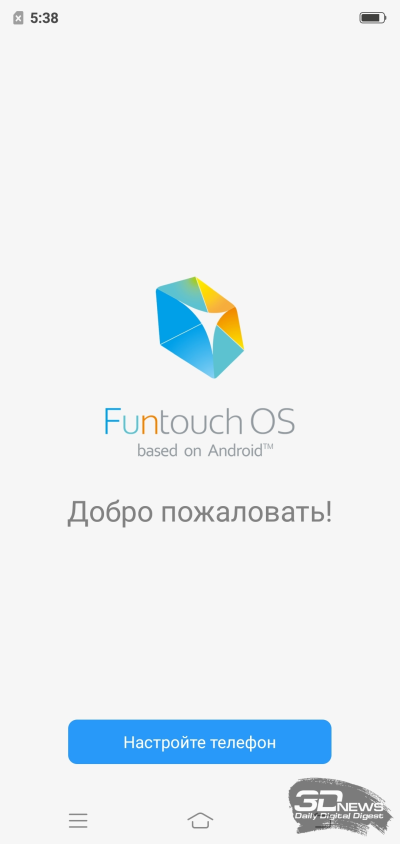 Screenshot_20180120_053820.jpg
See all images (24)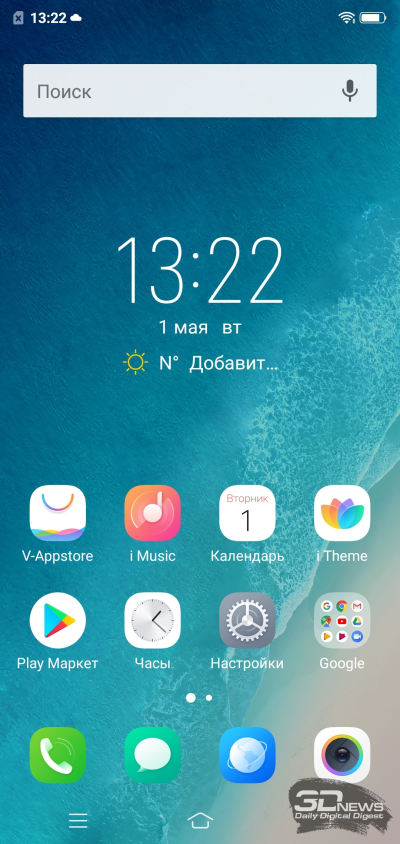 Screenshot_20180501_132213.jpg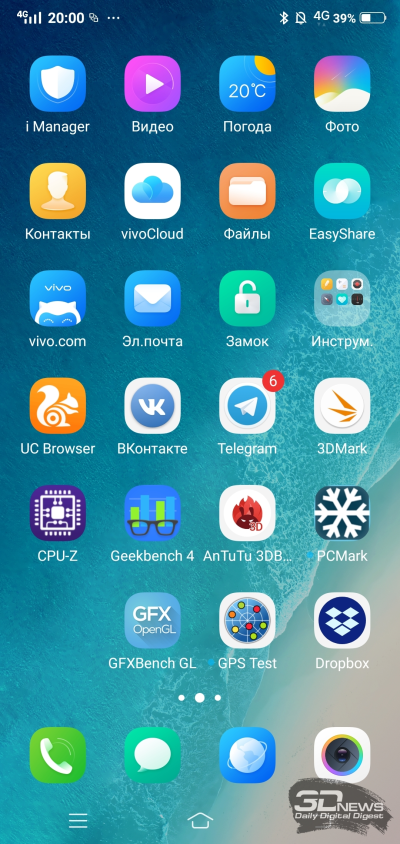 Screenshot_20180503_200058.jpg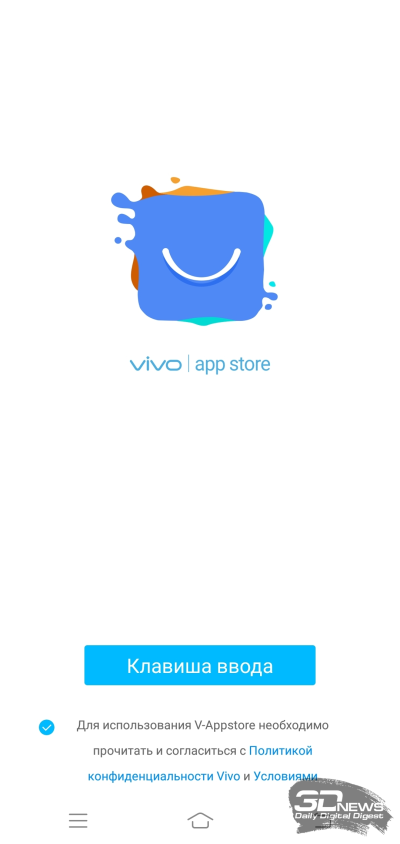 Screenshot_20180503_200105.jpg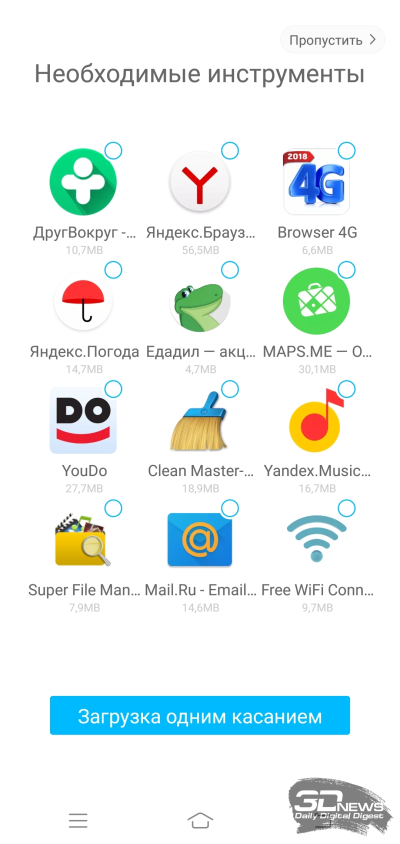 Screenshot_20180503_200110.jpg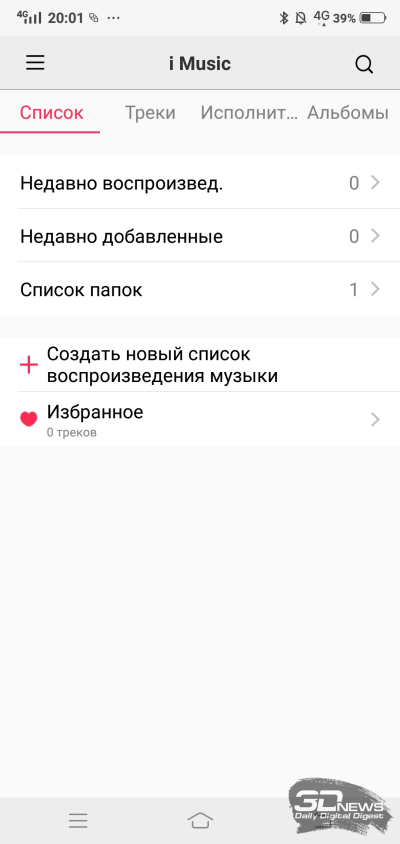 Screenshot_20180503_200124.jpg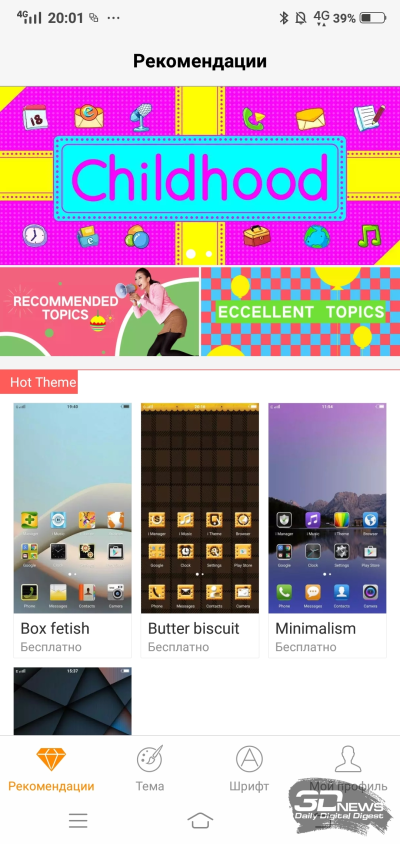 Screenshot_20180503_200149.jpg

Screenshot_20180503_200215.jpg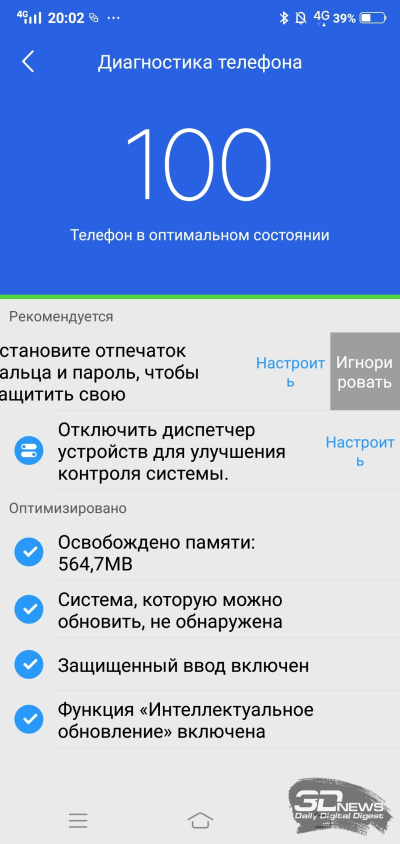 Screenshot_20180503_200226.jpg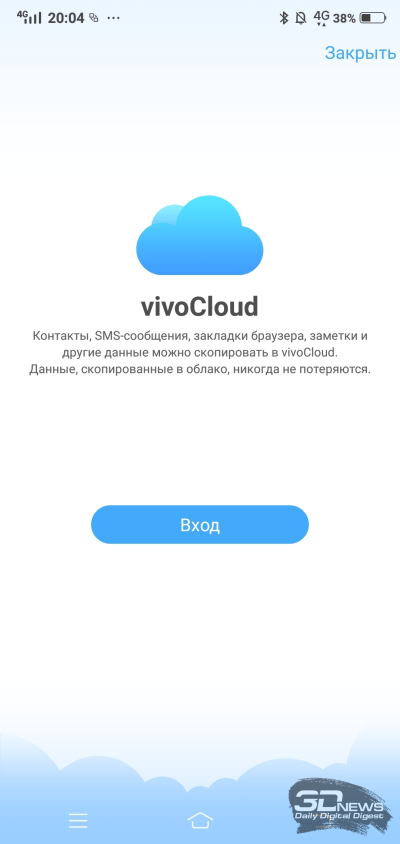 Screenshot_20180503_200453.jpg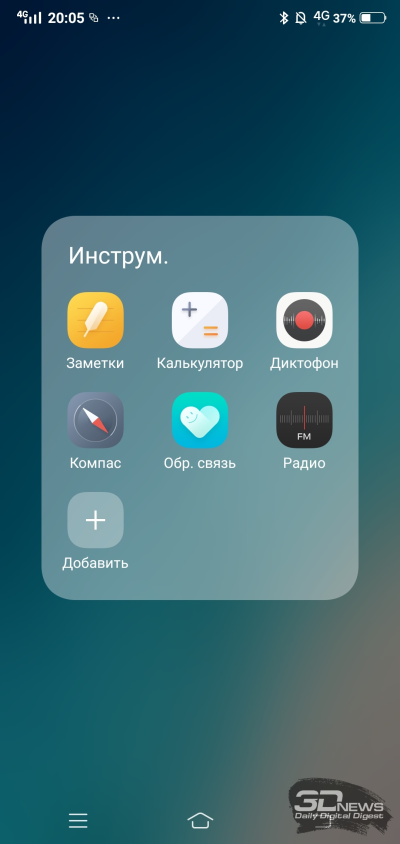 Screenshot_20180503_200510.jpg

Screenshot_20180503_200532.jpg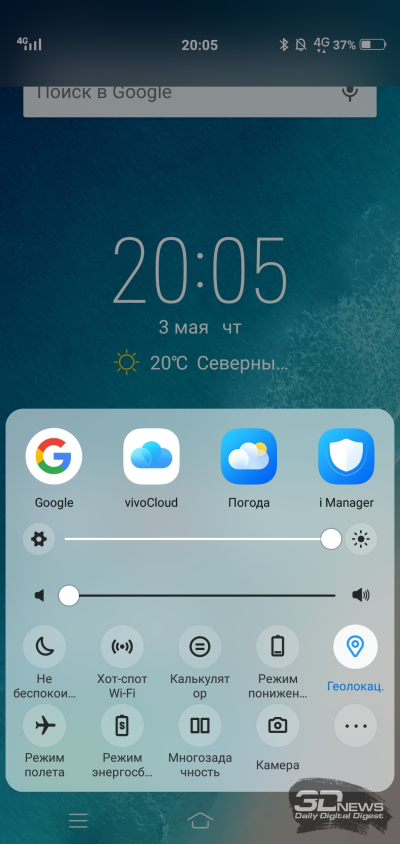 Screenshot_20180503_200537.jpg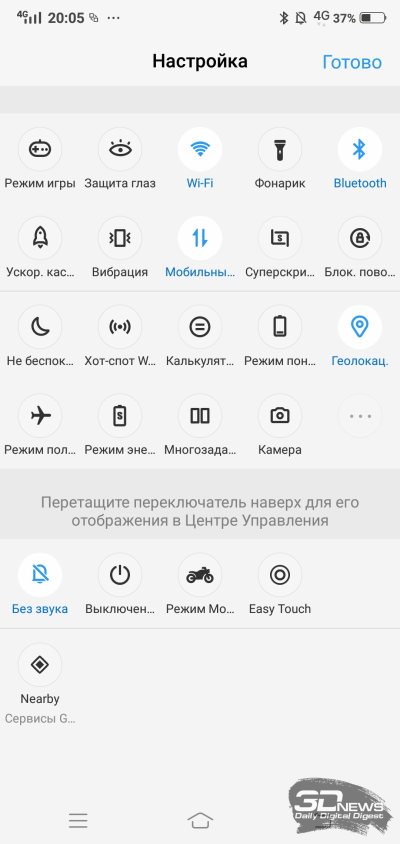 Screenshot_20180503_200540.jpg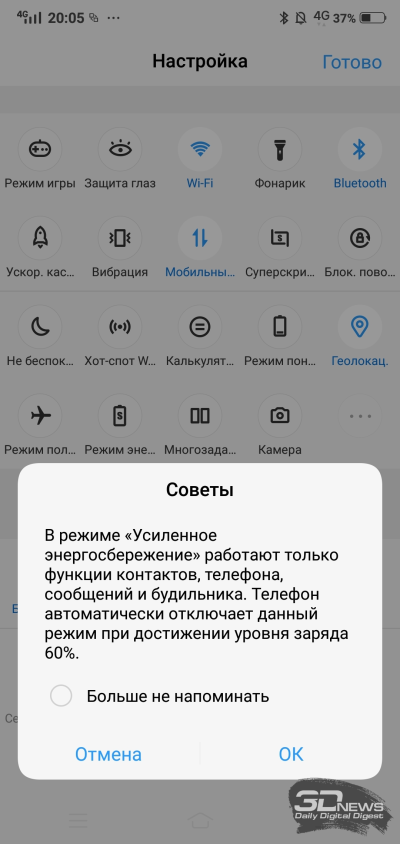 Screenshot_20180503_200545.jpg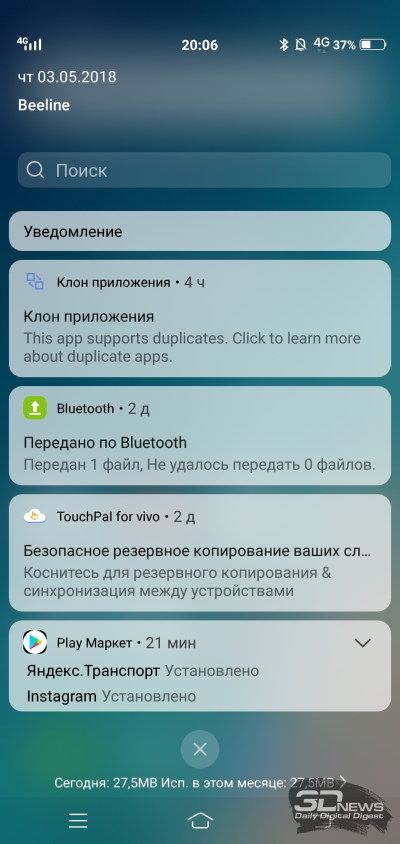 Screenshot_20180503_200608.jpg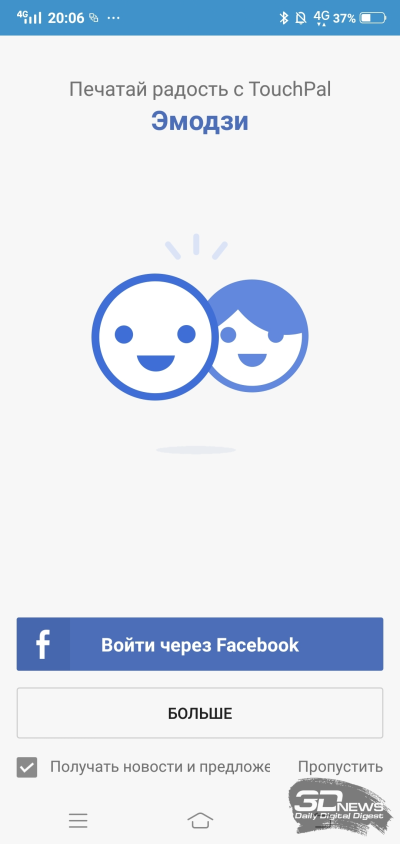 Screenshot_20180503_200613.jpg

Screenshot_20180503_200653.jpg

Screenshot_20180503_200705.jpg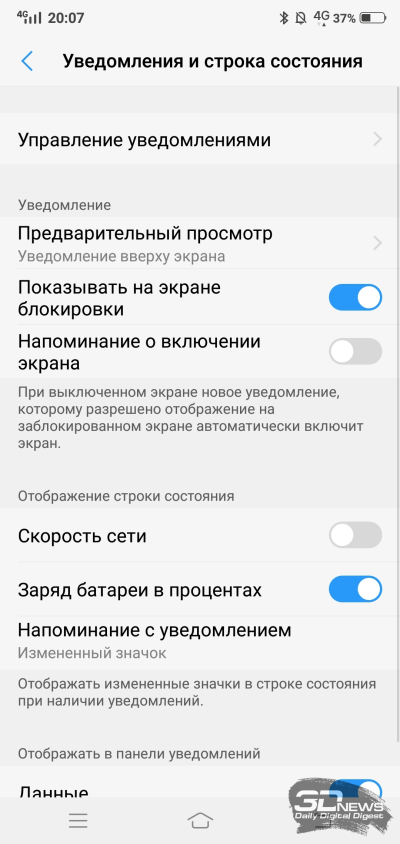 Screenshot_20180503_200709.jpg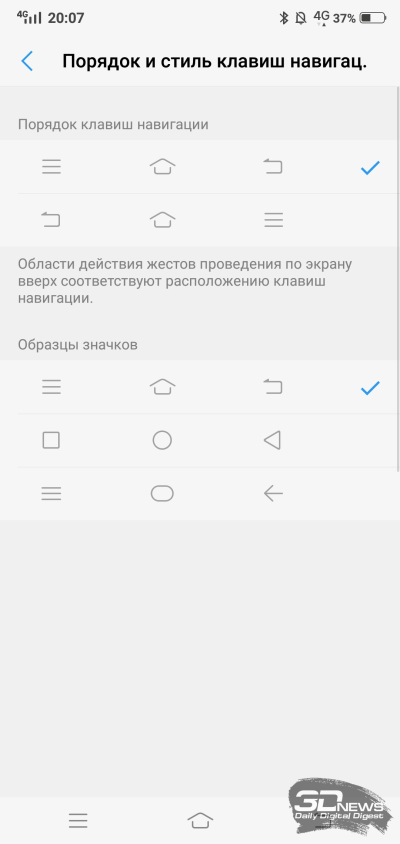 Screenshot_20180503_200716.jpg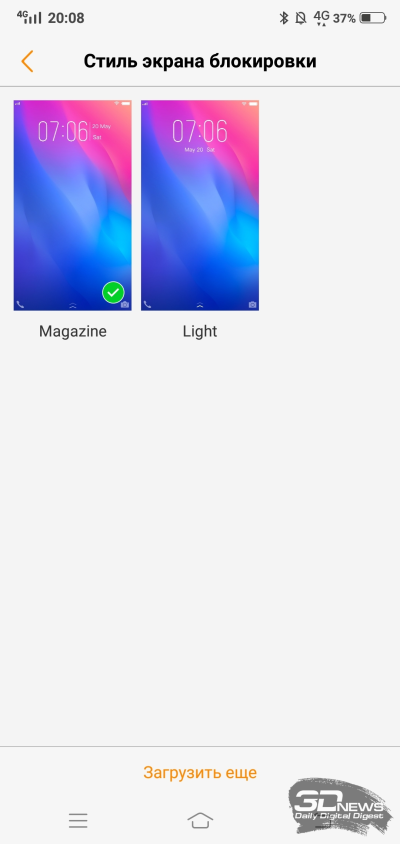 Screenshot_20180503_200810.jpg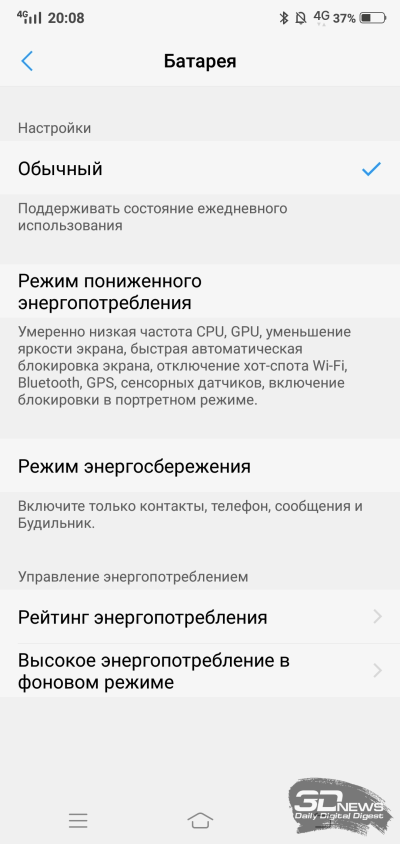 Screenshot_20180503_200820.jpg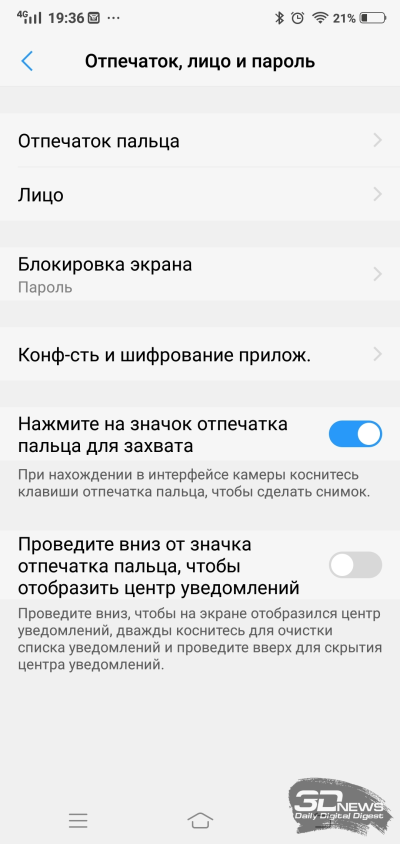 Screenshot_20180504_193635.jpg
See all
image (24)
Problems Funtouch OS version 4.0 hiding in the disputed additional applications, partially duplicating a standard for Google. The set itself, however, is quite normal, puzzled at the name of those applications: i Theme, i Manager, i Music. So, with the gaps, it looks, shall we say, clumsy. There is a separate icon for your app store on closer examination it turns out to be just a recommendation service. It is rather a plus than a minus, so the amount of extra apps on the desktop is reduced (although the inevitable UC Browser overtook Vivo and V9). Also worth noting, and proprietary browser with a built-in ad blocker that works an amusing way: for example, pirolli it cuts and leaves banners. Thanks to him Vivo V9 puts the record on the speed of the free Wi-Fi network in the Moscow transport.
Another point that definitely needs to be processed "file" — fonts and translation. Here to explain especially will not – see the screenshots. There are also a number of small flaws and unusual scenarios – for example, when you add a contact, I have not found how it directly tied to your Google account, so it's not lost when transplanted from one smartphone to another.
It is worth mentioning a few specific modes: arcade and motorcycle. In the first case, you choose the application where you will be less distracted: you can block the notification or does not connect to Wi-Fi, and you can just reject all calls — settings flexible. The second smartphone is able to determine the speed at which it rejects all calls, answering for SMS you prepared in advance. In this mode, again there is additional configuration. Both functions seemed at least curious — they add Funtouch his face.
Oh, and about the face: it's Android Oreo, that is Vivo V9 allows you to unlock the smartphone using the front camera. He does it very well – better than, for example, the ASUS Zenfone 5. But before the person's record offers "to sign a" waiver of responsibility and recommends the scanner of fingerprints as a more reliable method. Front camera easy to trick photography, and in the dark she's helpless.
Display and sound
Vivo V9 received one of the biggest displays among all the smartphones: 6.3 inches. This is more than, for example, ASUS Zenfone 5, which we talked about recently. However, for devices with screens format 18:9 or 19:9, as in this case, you should make allowances in talking about the diagonal – Yes, the display is still more than, say, mainstreamy to the beginning of last year was 16:9 5.5 inches. But if diagonal difference is almost a full inch, the area of advantage extended beginners not so great. It is still there – the screens grow inevitably and quickly, whereas the dimensions of the smartphones are more or less rigid; for example, Vivo V9 even lower in Vivo V7+ c 6-inch screen. Continue to grow, in fact, have nowhere to go.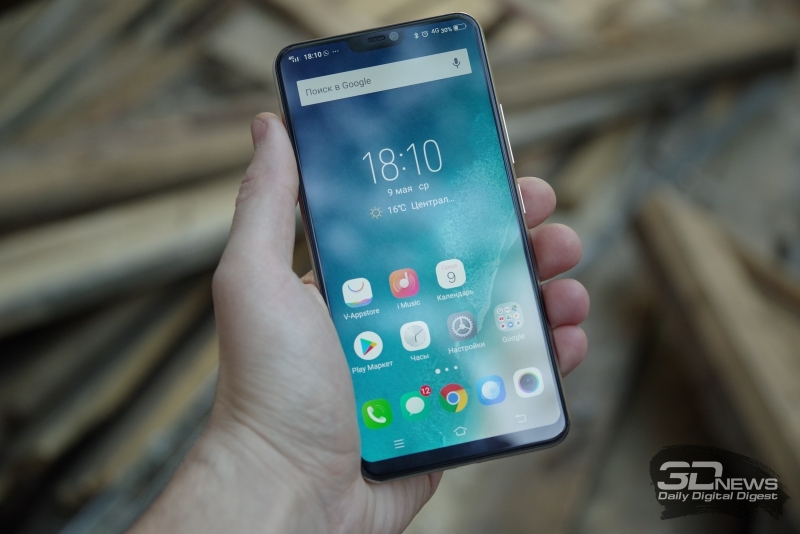 Aside from the size and cut, by itself, the display is quite familiar: IPS-matrix, the resolution of which is 2280 × 1080 pixels and pixel density respectively is 400 ppi. The psychologically important threshold of 400 dpi is passed, the picture looks fine, the pixelation it's hard to see. Touch cover supports gestures multi-touch, but only responds to five simultaneous touches. A special regime for the work gloves I have found, but the sensor is sufficiently sensitive to labor, but to respond to touch-clad hands.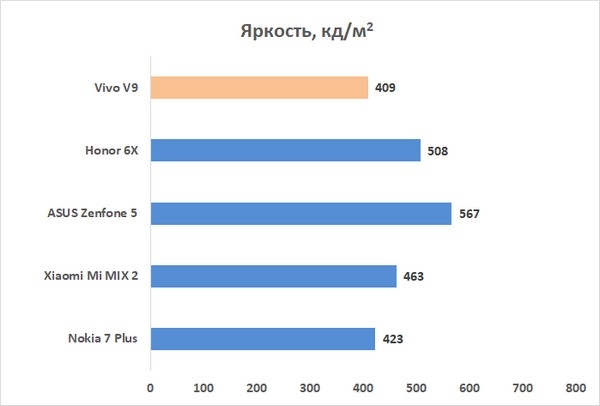 The polarizing layer in place of the air gap is not, but to call the smartphone is very suitable for use in the sun I can't. The maximum measured brightness is only 409 CD/m2. The picture remains difficult, but is readable in almost any environment – just the fun of it, you hardly get.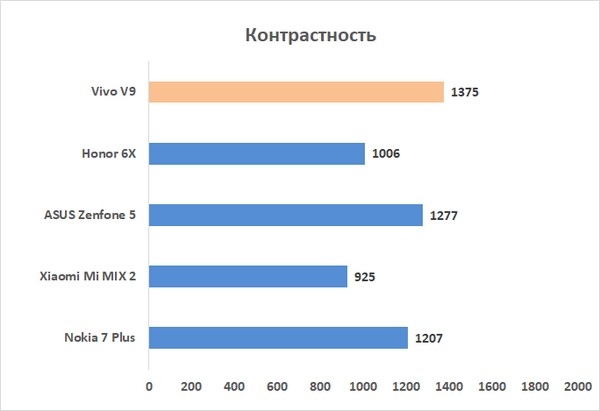 But a high enough level of contrast – 1375:1. It is quite a usual thing for a relatively dim screens. Should not deceive ourselves – absolute black color in high contrast scenes you will not see the glare of the inevitable, but overall the picture is quite pleasing to the eye.
The ability to change the display settings to its own discretion the user does not have to use exclusively with the factory settings of color. You can activate the "eye protection", which is Aki allowed to set manually – although there's no point if still to put cool shades? Also has automatic brightness adjustment for account information received from the light sensor. Sometimes the smartphone, unfortunately, it was over the top, making the picture too dark.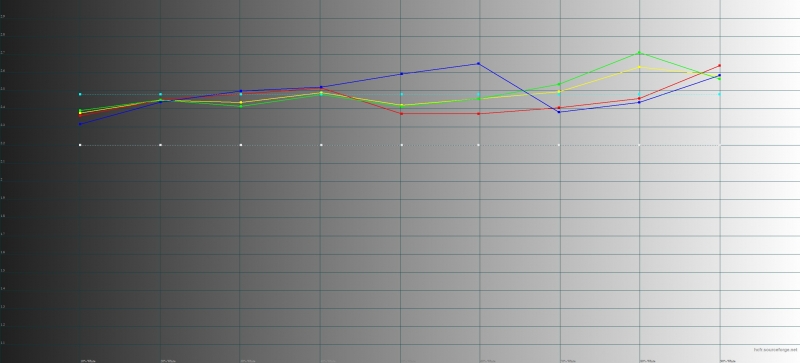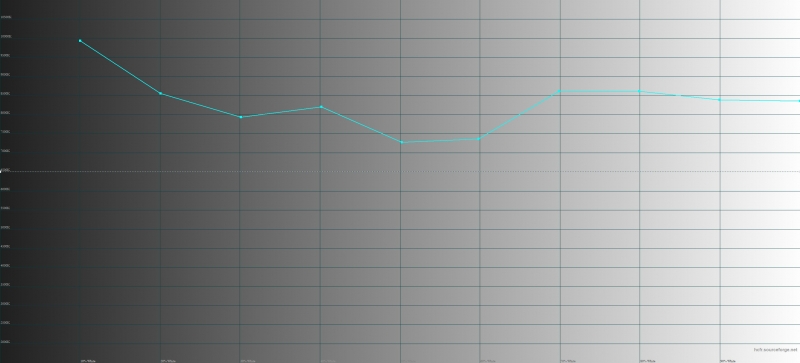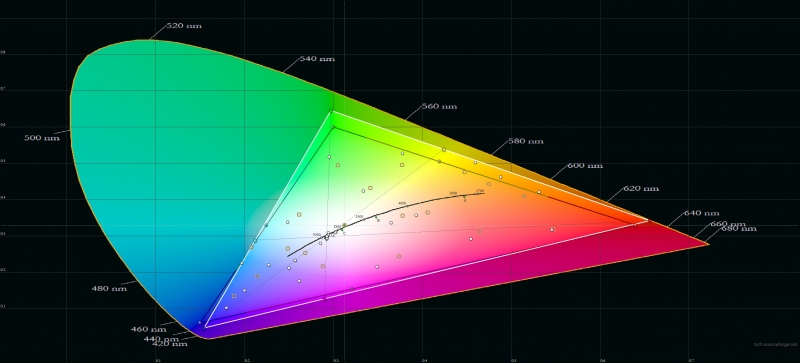 One would assume that, taking all the responsibility for color reproduction of the device, the Vivo will do all right. But, alas, this did not happen – accuracy settings display V9 does not Shine. Average gamma is 2.48 – despite the relatively moderate behaviour of gamma curves, the overall level is much too high. Color temperature jumps from 7 300 to 10 000 K with a median of 8 500 K. This is overkill — just have to deal with cold undertones. Color gamut of sRGB, but seriously it is not DCI-P3 – the accuracy of transmission of shades of the question. However, the average deviation of DeltaE Color Checker on a scale of 6.08 is not that bad, albeit far from standard.
Significantly better in Vivo V9 is the case with sound. Mini-Jack allows not to suffer with adapters, built-in sound system gives a pretty powerful sound stream – although the volume to completely kill the noise underground without the use of headphones with active noise cancelling, is not enough. The audio quality is normal, serious complaints I have had. For high positions in terms of sound transmission via Bluetooth to the smartphone lacks support aptX protocols or similar.
Speaker for audio playback to the external world in Vivo V9 single, located on the bottom of the case. Volume is enough to call was heard almost in any situation and in the next room. About the quality nothing — neither good nor bad — can not say. Of connection issues I noticed when using one SIM card, but work correctly in dual-SIM mode V9 might not provide.
Source: 3dnews.ru