First impressions of Honor 10: a new favorite of the middle class
The last "major Honor" is, in essence, has canceled its flagship smartphones under the brand name Huawei. And Honor 8 and 9 to Honor its characteristics and the user experience is not very different from Huawei Huawei P9 and P10, respectively, while possessed, perhaps, even more attractive design and cost a third less. They invariably become hits, but undermined at the root of the sale of their fellows.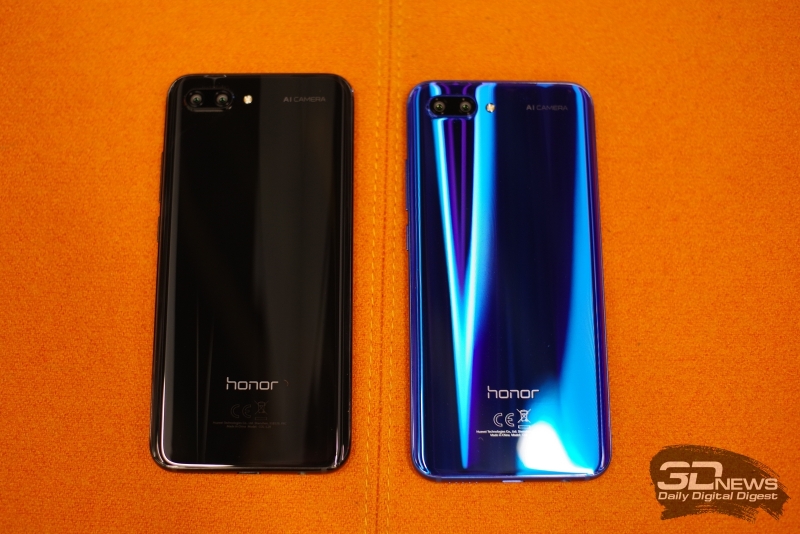 This year the situation is the same, but simultaneously different. Honor 10 do in many ways resembles the Huawei P20: the same hardware platform, the same key pieces (artificial intelligence, frameless display with a cutout) and even approximately the same, with small differences, the design. But this year, the main smartphone Huawei became the P20 Pro, which is not just a larger display, as usual, but radically different and absolutely unique camera. So its key device Chinese this time, not clipped wings. Only its truncated version.
Another funny tradition connected with Honor, is a "double" announcement of the smartphone coming out under this brand. They always appear first in China and then, as if the whole world didn't notice (really, China is like another planet) is already advertised in Europe. The same thing happened with Honor 10 — 18 April he was presented in China, and now, on may 15, we're talking more about this smartphone in connection with his official announcement in London.
Honor 10
Huawei P20
Honor 9
Processor
HiSilicon Kirin 970: Quad core ARM Cortex A73, 2.4 GHz + four cores ARM Cortex A53, frequency 1.8 GHz; architecture HiAI
HiSilicon Kirin 970: Quad core ARM Cortex A73, 2.4 GHz + four cores ARM Cortex A53, frequency 1.8 GHz; architecture HiAI
HiSilicon Kirin 960: eight cores (4 × ARM Cortex A73, 2.4 GHz + 4 × ARM Cortex A53, frequency 1.8 GHz), graphics core ARM Mali-G71
Display
LCD, 5.84 inches
2280 × 1080 pixels
LCD, 5.8 inch,
2244 × 1080 pixels
LCD, 5.15 inch, 1920 × 1080 pixels
RAM
4 GB
4 GB
4 GB (there is a version with 6 GB)
Flash memory
64/128 GB
128 GB
64/128 GB + slot for microSD
Cellular
GSM, UMTS, LTE (Cat.13)
GSM, UMTS, LTE (Cat.18)
GSM, UMTS, LTE (Cat.12)
Wireless modules
802.11 a/b/g/n/ac, NFC, infrared port
802.11 a/b/g/n/ac, NFC, infrared port
802.11 a/b/g/n/ac, NFC, infrared port
Camera
Duplicate module 16 MP + 24 MP, ƒ/1.8 is two-fold zoom
Leica dual module 12 MP + 20 MP, ƒ/1,6, optical stabilizer, double zoom
Dual module 12 MP + 20 MP, ƒ/2.2, and optical stabilizer, double zoom
Front camera
24 Megapixel, fixed focus, no flash
Leica 24 Megapixel, fixed focus, no flash
8 MP, fixed focus, no flash, f /1,9
Battery
3400 mA·h
3400 mA·h
3200 mAh
Dimensions
149,6 × 71,2 × 7.7 mm
149,1 × 70,8 × 7.65 mm
147,3 × 70,9 × of 7.45 mm
Weight
153 g
165 g
155 g
Operating system
Android 8.1 Oreo, shell EMUI
Android 8.1 Oreo, shell EMUI
Android 7.0 shell EMUI 5.1
Price
26 000-30 000 (estimated cost)
45 000
26 990 rubles
| | | |
| --- | --- | --- |
| |   | |
Design Honor 10 I would like to call a meeting of key fashion trends 2018 and then I was sprawling all over the front panel display with "monopoly", and a mirrored back panel with metal edges — but stumble on the mini-Jack. Today it just should not be in self-respecting "cool" smartphones (at least so say the manufacturers), but here it is. Yes, Huawei for the sake thrown out of the list of advantages of smartphone moisture protection, these things have recently become mutually exclusive.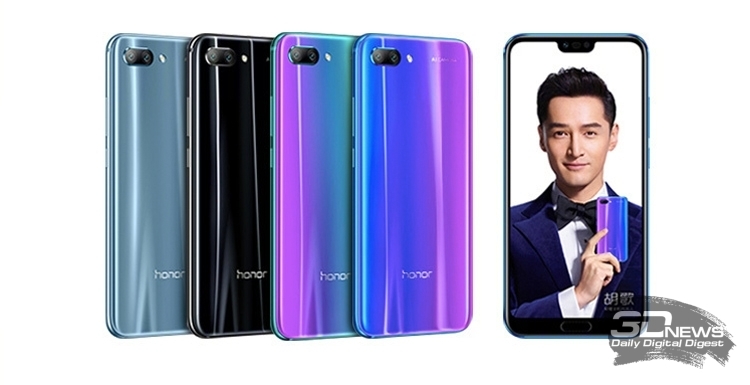 Importantly, 10 Honor took over from his older brother, is color scheme. In addition to the standard black version will also be pretty grey blue and the two impressive gradient. They are difficult to describe in words — better to look at the photo.
The one that managed to see alive, shimmering shades of blue and purple — to be honest, in terms of color is nothing more beautiful and Huawei Honor 10 P20/P20 Pro today just yet. Though here on the fan — to someone the most beautiful color of the phone remains black.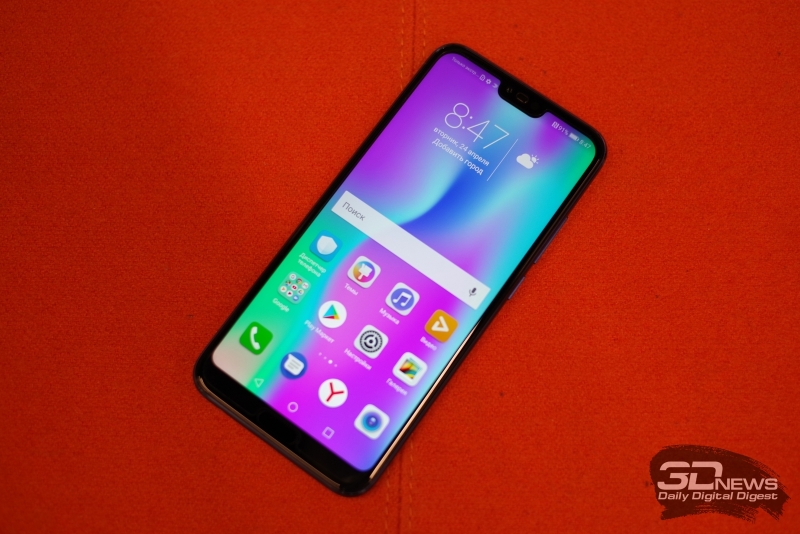 The front panel is covered by a single piece of glass — this, at first glance, nothing unusual, now everyone is doing it. But for the first view to be a second — and then you notice that under the glass is hidden and the button "Home" with built-in it a fingerprint scanner! No, it's not the most revolutionary solution to which you are drawn and with Apple and Samsung, and Vivo has already come.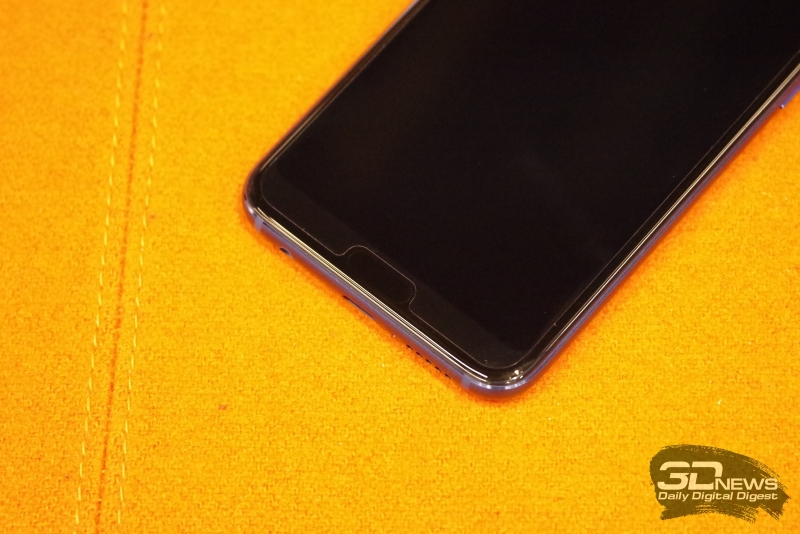 This ultrasonic sensor, just not dedicated tactile. It takes its rightful place under the display, and he especially extended frame. To use it relatively comfortably, even without easily detectable to the touch the edges, though on the back of the scanner would be still more appropriate — do not get tired to talk about it.
Speaker is located in the cutout in the middle of the screen the status received oval shape instead of round. The camera unit, projecting slightly above the body, here horizontal, not vertical, and the inscription "Leica" is replaced by the more modest "AI Camera" — license to use the German brand in Honor does not apply. On it external differences from P20, in fact, end. But there are differences between tactile — Honor 10 much easier. And because seems like the smartphone is more compact, although it is not — they have almost identical dimensions.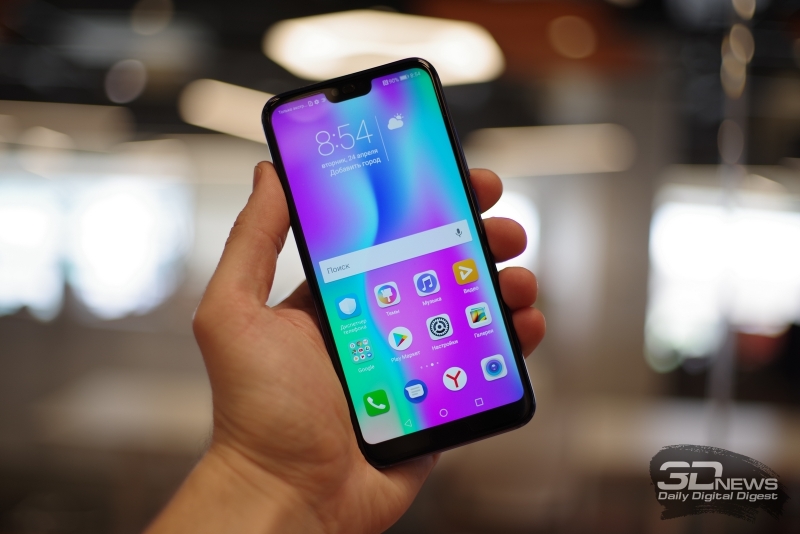 And Honor of 10, even a little larger display is 5.8 inches 5.84 inches here. Sounds a bit ironic, but it is a fact. Is different and the resolution is 2244 × 1080 pixels is standard for today 2280 × 1080. The aspect ratio is approximately 19:9. Used LCD technology, matrix — IPS.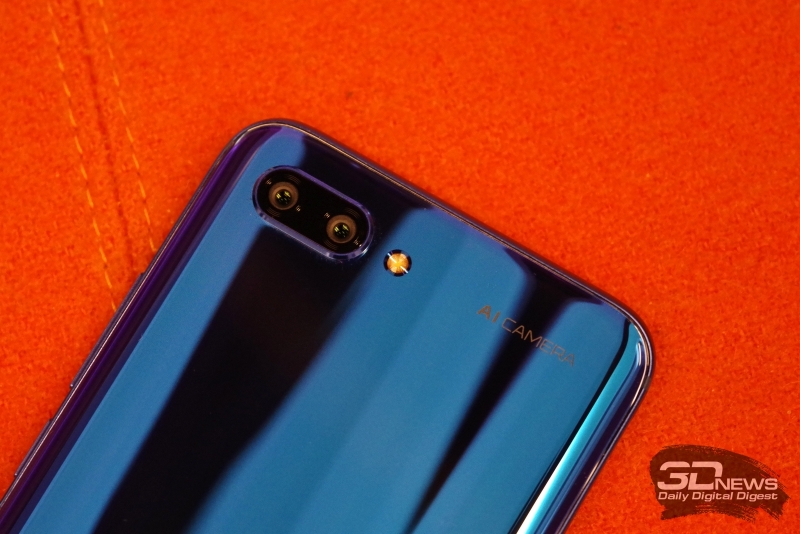 It would be logical to assume that the camera here will be the same as in Huawei P20, with some cosmetic changes like the missing optical stabilizer, but it is not. Yes, the stabilizer really did not, but the other module. In Honor of 10 using the same double circuit with monochrome and RGB sensors, but their resolution is 24 and 16 megapixels respectively. First, take the courage to guess, no different from b & W sensor, which is installed in P20 Pro. But the second before that at Huawei we never met. Paired with him running optics aperture of ƒ/1,8. The system enables the hybrid two-fold zoom, improves dynamic range and has good abilities when shooting in the dark.
The main feature of the camera — here Huawei insists — is artificial intelligence. The number of available scenarios is the recognition of objects in the frame extended: there are now more than twenty. Does their work and whether the work of artificial "reason" disconnect — be sure to explore more when the full testing of the gadget.
The front camera is the same that the P20 or P20 Pro — 24 megapixels, no autofocus, nor flash. However, you can count on a very decent image quality.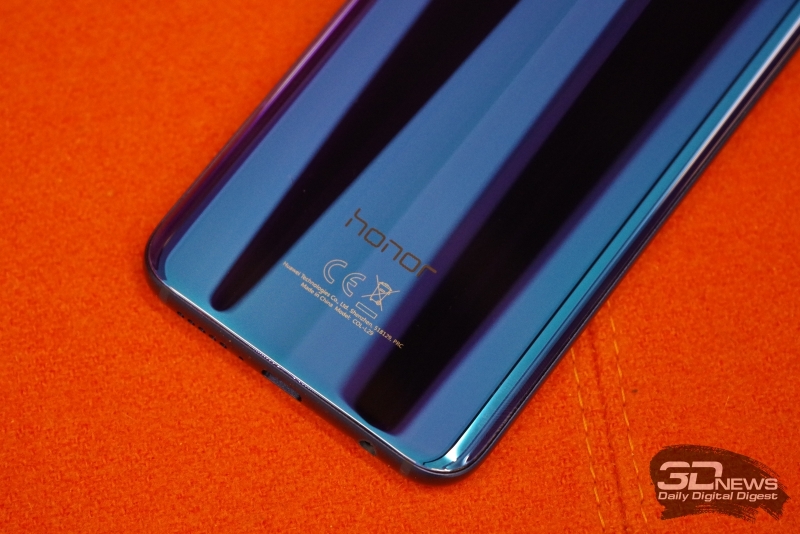 Hardware platform — OCTA-core SoC Kirin 970 with a dedicated module responsible for working with neural network computing. For the first time she "lit up" in Huawei Mate 10, which review it in detail and talked. The battery is quite capacious — in 3400 mA·h; there is a possibility of fast charging using the USB Type-C. the Developers promise a full charge in 80 minutes.
Wireless capabilities extensive: the modem works with LTE networks, providing maximum data receiving rate up to 400 Mbit/s (first, though, you need to find a network that is capable), Bluetooth version 4.2 supports the standard HD aptX, Wi-Fi — dual-band (802.11 a/b/g/n/ac), and NFC, and IR port.
Works Honor 10 running Android 8.1 Oreo shell EMUI 8.0. As we have become accustomed, in Honor to the Russian market will be prefixed various local services, from certain applications of "Yandex" to "savings Bank.Online."
There will be two version Honor 10, which differ in the amount of internal memory. Operational they have the same — 4 GB, but the non-volatile or 64, or 128 GB. And in this case, the choice is really critical — to "fix" the shortage of the memory card can not be the slot for it is not provided.
At the time of writing was only available to domestic prices 10 Honor for China: 2 599 yuan for the version with 64 GB and 2 999 yuan for 128 GB. When converted at the current exchange rate we get about 26 and 30 thousand, respectively. Quite expected, "fork": and Honor 8, Honor 9 were sold at launch for the same money — and has consistently held a very high position. All the evidence suggests that the situation with Honor 10 again.
Source: 3dnews.ru