Review notebook-transformer Acer Nitro 5 Spin: play without getting out of bed
Recently, our website has published a review of ASUS FX570UD, which has a 4-core Core i7-8550U and GeForce GTX 1050. Testing has shown that such models have a right to exist — in games this bundle is not worse than analogues on the basis of processors Kaby Lake. Model Acer Nitro 5 Spin, which will be discussed later, has a similar configuration, only in the test sample set Junior chip series Kaby Lake Refresh. And this laptop caught our attention was the fact that it's actually a transformer,
that game is not typical.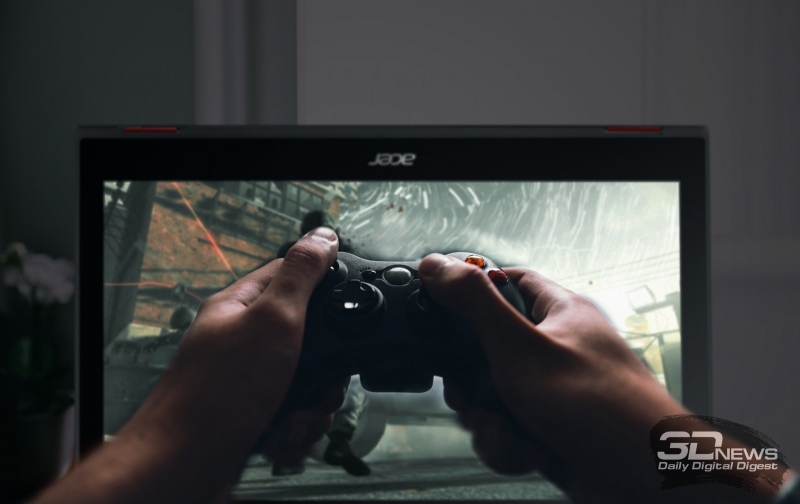 Specifications, equipment and
At the time of writing, on the official Acer website listed three models Nitro 5 Spin — all their possible characteristics are given in the table below. In the sale I found only one version of "Nitro" (not to be confused with the usual Spin Acer 5, which ultrabook-trasnformer with integrated graphics) is the youngest, and it is somewhat different from the modifications shown on the website.
Acer Nitro 5 Spin
Display
15,6″, 1920 × 1080, IPS, touch
The CPU
Intel Core i7-8550U, 4/8 cores/threads, 1,8 (4,0) GHz, 15 W
Intel Core i5-8250U, 4/8 cores/threads, and 1.6 (3,4) GHz, 15 W
Graphics
NVIDIA GeForce GTX 1050, 4 GB GDDR5
RAM
8 GB DDR4-2400
Drives
SSD: 256 GB
HDD: 1000 GB SATA 6 GB/s
Interfaces
1 × USB 2.0 Type-A
2 × USB 3.0 Type-A
1 × USB 3.0 Type-C
1 × HDMI
1 × card reader
1 × 3.5 mm mini Jack acoustics/microphone
Built-in battery
4 cells of 50.7 W·h
External power supply
90 W
Dimensions
382 × 258 × 18 mm
Weight
2.2 kg
Operating system
Windows 10 x64 Home
Guarantee
No data
Price in Russia (according to DNS)
68 500 rubles. for the test configuration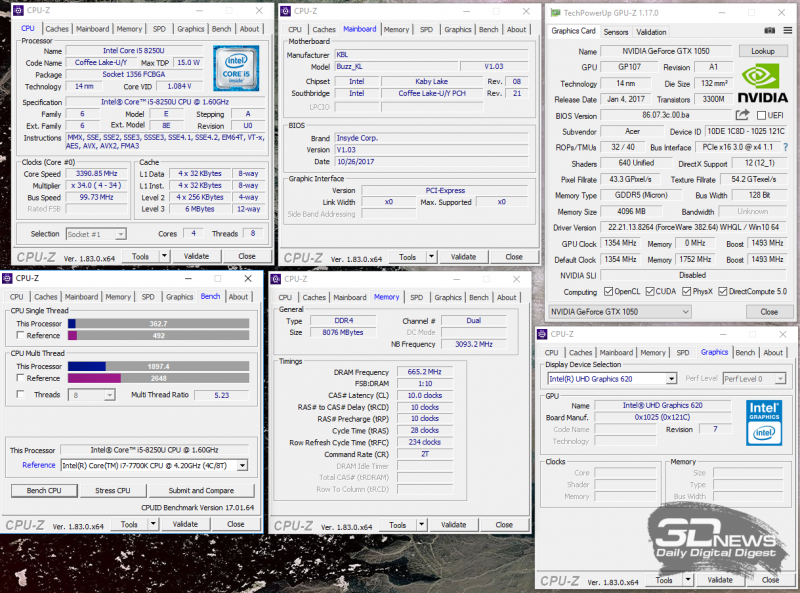 In all models Nitro 5 Spin uses a 4-Gigabyte version of the GeForce GTX 1050 and 8 GB of DDR4 RAM. Further, the user has the right to decide for themselves what processor Kaby Lake Refresh it needs, however, to choose, as in most other cases, of two models: Core i5-8250U and Core i7-8550U. The Junior version does not have an SSD in it, Windows 10 is mounted on a 2.5-inch hard disk capacity of 1 terabyte.
Wireless network implemented by the controller Qualcomm Atheros QCA61x4A, which supports IEEE 802.11 b/g/n/ac with 2.4 GHz and 5 GHz and a maximum bandwidth of up to 867 Mbps and Bluetooth 4.2. The same chip is used, for example, in your model, Acer Predator Helios 300.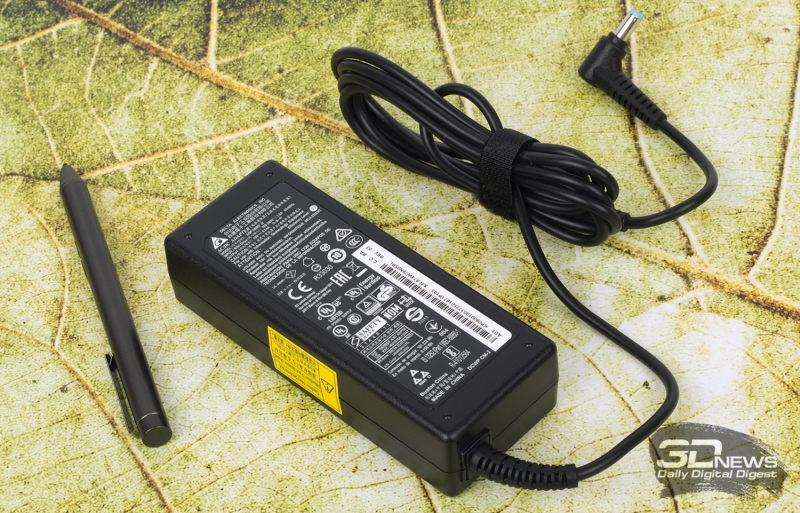 Included with the laptop comes the external power supply is 90 watts and a weight of approximately 500 grams. Also, together with the device is a miniature aluminum stylus pen Active Stylus. The pen is designed for easy control over the laptop and to solve various creative tasks. Stylus works from an AAAA battery, which is easy to install in untwisted metal housing. The tip of the pen is sensitive to pressure, which allows to work with graphics. According to the specifications, the stylus detects up to 1024 pressure levels. Height guidance is 5 mm. Further on the barrel of the pen has two side keys, which shaved one of the operation modes of the pen.
Unfortunately, the body is Nitro 5 Spin does not have a cavity for mounting the stylus, but at the same time, complete with a feather no protective case. So this accessory have to be stored carefully in a separate pocket of the bag.
Appearance and input device
Nitro 5 Spin looks quite strictly, but gaming oriented device gives keyboard — buttons WASD are additionally highlighted in red. The device is made entirely of metal. Assembled "necrobook" good.
As mentioned at the outset, Nitro 5 Spin — transformer, i.e. it can operate in several modes. Modes "laptop" and "tablet" all clear — so the device will use most often. The mode "Screen" (as shown in the photos below) is convenient for watching videos on trips and to the games using a gamepad.
At a mass of 2.2 kg and a thickness of 18 mm 5 Nitro Spin is quite easy to carry in a backpack. But keep a five-pound device for a long period of time will not work. We are dealing with a powerful computer, not a compact tablet.
To convert Nitro 5 Spin from laptop to tablet, the cover must be rotated 360 degrees. The hinges of the laptop are trustworthy, although I used a device very briefly, to assess reliability. Used hinges clearly positioning the screen and do not let it hang out while typing. Have a tight hinge is the reverse — open lid with one hand will not work.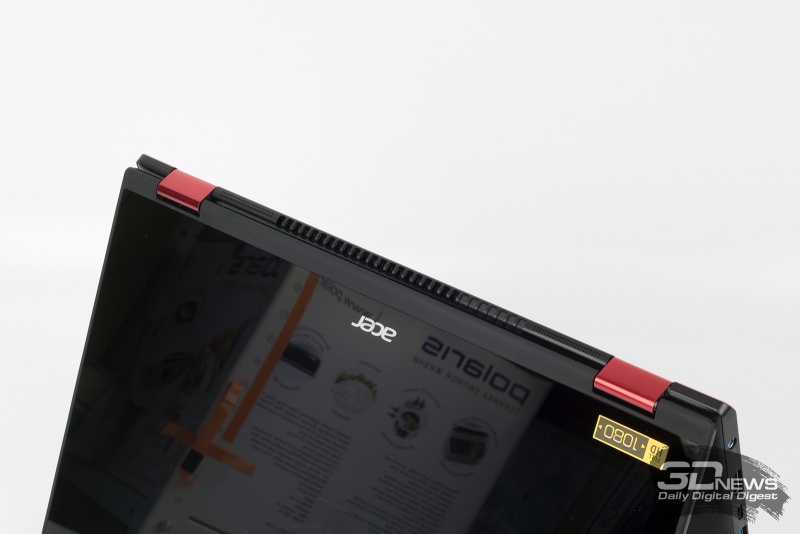 The device stands firmly on four rubber spacers on any smooth surface. To in tablet mode and display metal case was not scratched on the lid of the laptop and around the keyboard also has a small rubber feet.
All ports Nitro 5 Spin displayed on the sides. On the left side of the laptop is HDMI out, USB 3.0 type C and two USB 3.0 A-type. On the right side there is a slot for a Kensington lock, USB 2.0 A-type card reader (supports SD, SDHC, SDXC, MMC) 3.5 mm mini-Jack for connecting a headset. Here is the key switch on/off the device button on the swings to change the speaker volume and activity indicators of work of transformer.
Separately, I note that Nitro 5 Spin has no Ethernet port.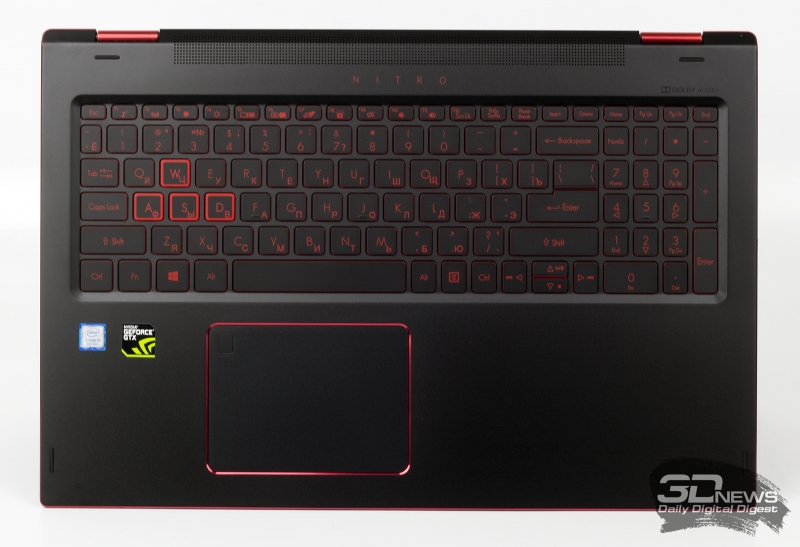 Island keyboard with scissor mechanism and the touchpad is made of matte plastic. The keys have 5 Nitro Spin is small — around 1.5 mm, but to print and play over a laptop quite comfortably: pressing clear, the layout serious complaints. Key button — Shift, left Ctrl, Enter, and Backspace is pretty big. Digital block is not cut, however for this I had to significantly "compress" right Alt, Ctrl and the arrow buttons "Up" and "Down". The top row keys such as Esc and F1-F12 were also very small. Perhaps these bits and pieces will have to get used the longest.
As I said, the WASD block allocated banding of red. The keyboard itself is equipped with single-level backlight is red.
Nitro touchpad 5 Spin noticeably shifted to the left relative to the center of the bottom, but it is small in size (105 × 78 mm). Keys of the touchpad are hidden in this design they are not allocated on the General background. When working with such HID should be remembered that the left click works on all touch surface, while the right only in the lower right corner. Click made with a specific force, with the minimum speed and the characteristic loud click. Installed on the touchpad, the fingerprint sensor supports multi-touch gestures to Windows and handwriting.
Webcam Nitro 5 Spin works in 720p with frequency of 30 Hz. With artificial light the image is blurred and noisy: for the quality of the streams this camera will not work, but for video calls on Skype it will be enough.
The internal structure and capabilities upgrade
The laptop is very easy to disassemble. To remove the bottom cover, you will need a regular Phillips screwdriver — Unscrew all 11 screws then gently scoop the bottom with something thin.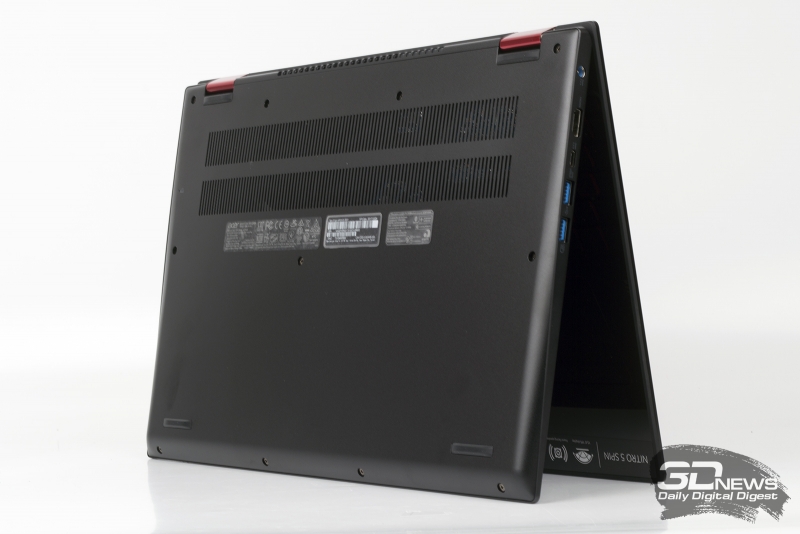 In the photo above it is well visible how the laptop cooling system: fans suck the air through the perforations in the bottom and blow him after the housing rear wall. Common for CPU and GPU cooler consists of two teplorulon, aluminum radiator and two fans tangential type. As you can see, Nitro 5 Spin used much better cooling than the recently tested Acer ultrabook Swift 5. This cooling system is encouraging.
Well, the laptop is easy to upgrade yourself, as we are dealing with the most simple configuration. Sooner or later you will want to install the system the SSD — it Nitro 5 Spin equipped with a connector M. 2, which can install the SSD with a length of 80 mm. By default, the primary storage device is a hard disk Western Digital WD10SPZX capacity of 1 terabyte.
RAM, alas, to increase will not work. On the circuit Board are soldered 8 GB of RAM in the form of LPDDR4 chips SK Hynix H5AN8G6NAFR-UHC, which operate on the effective frequency of 2400 MHz with latency 17-17-17-39. The inability to increase the amount of RAM I personally think is one of the most serious shortcomings of the model.
Source: 3dnews.ru