Review notebook ASUS FX570UD: as CPU for ultrabooks made friends with game graphics
Recently on our website an overview of the ultrabook HP Spectre 13 (2017) c Intel
Kaby Lake Refresh. Thin and light mobile devices without exception are moving to using chips of this family. Earlier testing showed that the Quad-core model Core i7-8550U is considerably larger than the low-voltage CPU of past generations and the level of performance is close to the processors used in gaming laptops. And if so, it is very interesting to know how ultrabusy chip will work together with the game graphics NVIDIA. To learn with
ASUS FX570UD.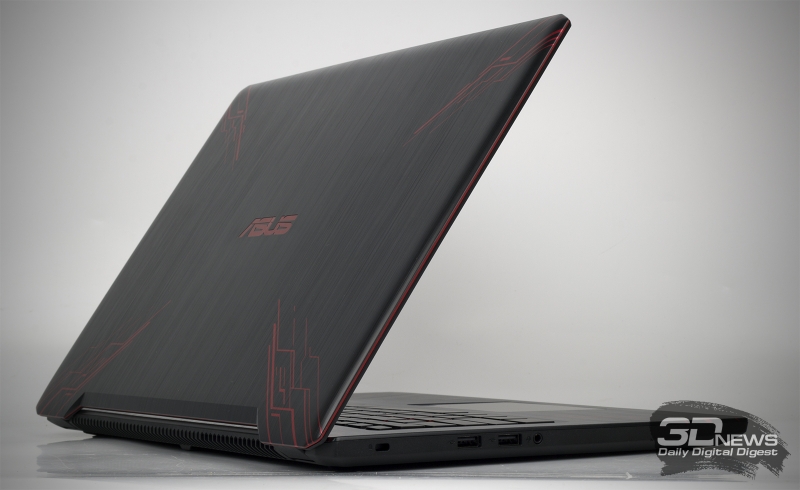 Specifications, equipment and
Apparently, in our lab we came engineering sample ASUS FX570UD. This explains, for example, that the laptop keyboard does not have Russian layout. Also on ASUS website at the time of writing, there was no product card. So I don't know what other modifications FX570UD will go on sale, but ours. Unknown and the cost of the laptop. The table below lists all of the known characteristics of the model, which will be discussed further.
 

ASUS FX570UD
Display
The 15.6″, 3840 × 2160, IPS
The CPU
Intel Core i7-8550U, 4/8 cores/threads, 1,8 (4,0) GHz, 15 W
Graphics
NVIDIA GeForce GTX 1050, 4 GB GDDR5
RAM
16 GB DDR4-2400, 2 channel
Drives
SSD: 256 GB, SATA 6 GB/s
HDD: 500 GB, SATA 6 GB/s
Interfaces
2 × USB 2.0 Type-A

1 × USB 3.0 Type-A

1 × USB 3.0 Type-C

1 × HDMI

1 × RJ-45

1 × micro-SD

1 × 3.5 mm combo mini-Jack
Built-in battery
3-cell, 48 WHr
External power supply
120W
Dimensions
374 × 256 × 22 mm
Weight
1.96 kg
Operating system
Windows 10 x64 Home
Guarantee
No data
Price in Russia, by data "Yandex.Market"
No data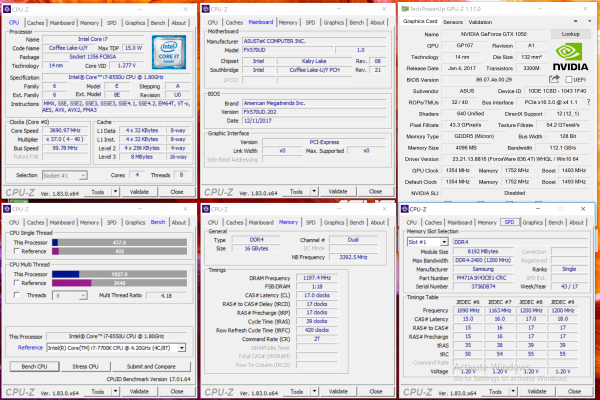 Us for a test arrived sufficiently advanced configuration ASUS FX570UD — talking about it and a 4K display, and a combination of a decent amount of SSD and HDD. Also the laptop is equipped with wireless module Realtek 882BE, which supports Bluetooth 4.0 and IEEE 802.11 b/g/n/ac with 2.4 GHz and 5 GHz and a maximum bandwidth of up to 433 Mbit/s. Exactly the same Wi-Fi module used in the model ASUS ROG Strix GL702ZC.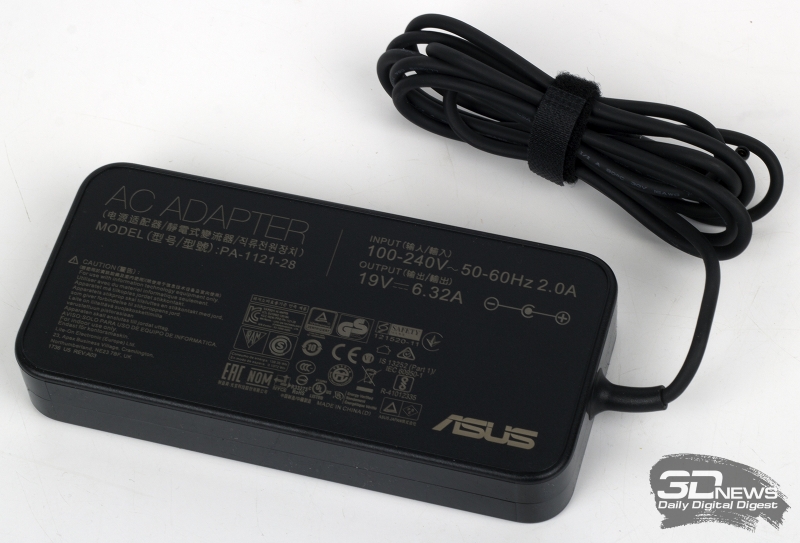 Included with the laptop comes external power adapter 120 watt power and weighing about 500 grams.
Appearance and input device
I think the designers have the goal to accurately convey the orientation of the device. Yes, ASUS FX570UD can be safely attributed to the category of gaming laptops. This example shows the highlighted block WASD keys on the keyboard. Youth ASUS FX570UD will attract due to the unusual red lines are plotted as on the cover, and a perimeter region around the keyboard.
The body of the laptop is made entirely of plastic, but is struggling to look like brushed aluminum. Complaints about the quality of the material and to the Assembly I have, is that a little "play" laptop cover when pressed hard at her.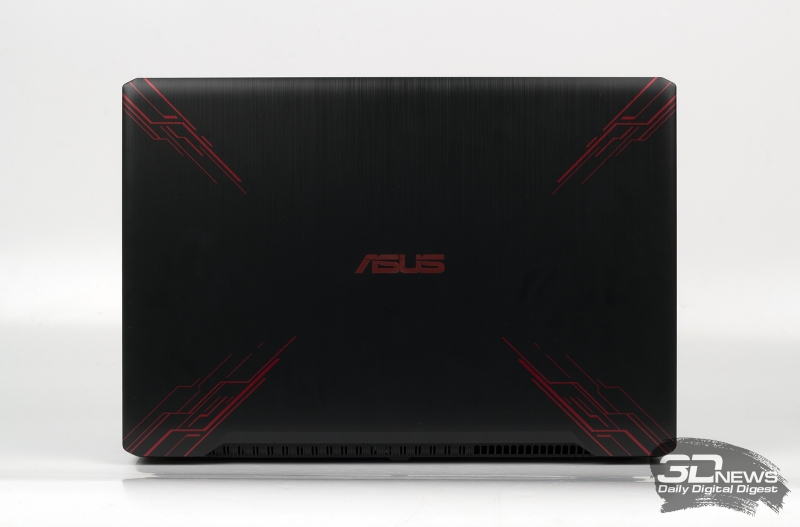 It opens about 130 degrees, that is a device to use, even if you place him on his knees. Joints in structures are used fairly tight, they are clearly positioning the screen and don't let him hang out during gaming sessions. At the same time, you will easily open the lid with one hand.


The thickness of ASUS FX570UD is quite modest by today's standards, 22 mm. in Front of us, of course, is not the Spectre 13 with a record of 10.4 mm, but not recently tested the HP Omen 17 with a thickness of 33 mm. In various reviews I have repeatedly said that modern gaming laptops can't afford to be bulky, so ASUS FX570UD is trending. The entire notebook weighs in at a little less than 2 kg, so transporting in a backpack that "tag" is comfortable enough.


On the front and the rear of the laptop, nothing interesting is: front housing is generally solid, and the rear duct includes a cooling system through which flows the hot air leaving the case.
All major interfaces located on the sides of the device. To the left are two USB 2.0 ports A-type, 3.5 mm headset connector and a loop for a Kensington lock. The right side of the laptop equipped with one USB 3.0 port, A-type, one connector USB 3.0 type-C, and HDMI-out, RJ-45 port and slot for cards of format micro-SD.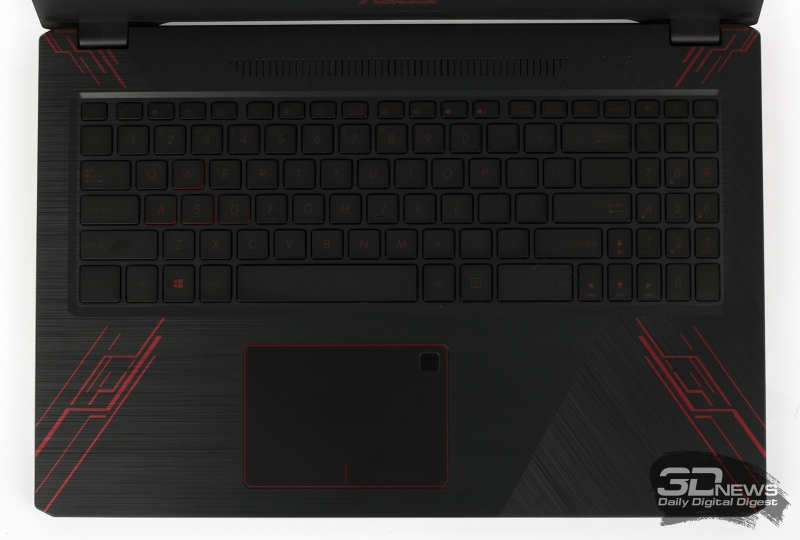 Keyboard ASUS FX570UD is very similar to that used in the model ASUS VivoBook Pro 15 N580VD. Judge it by the location and size of the keys on the laptop, and the presence of a three-level backlight is red. Design it the standard for this type of laptops — used button island-style and used a scissor mechanism with the key travel is 1.4 mm. is Provided and slightly pared-down number pad, which you still have to get used to. The buttons have a distinct touch and not sway. Letter keys are quite large (15 × 15 mm), Ctrl, Enter and Shift too far from small. Awkward ASUS FX570UD 15 only the arrow keys.
If you do not pay attention on a tiny number pad, then play this keyboard was very convenient, however, I never considered myself to demanding professionals. Perhaps the guys who has spent a few thousand hours of my life on Dota 2 or Counter Strike: Global Offensive, she may not like the look at all. About the highlighted block WASD keys I wrote in the beginning of the article.
Touchpad traditionally is shifted closer to the left side of the body. Used medium size touch surface with a working area of 105 × 73,5 mm. Individual keys are not provided. Clicking with the touchpad pronounced, with a distinctive click. The touchpad supports multi-touch gestures of Windows and handwriting, and is also equipped with a fingerprint sensor.
The laptop has a built in HD camera with a refresh rate of 30 Hz. The image quality is really poor, the room in the presence of artificial light the picture is dark and very noisy. Decent video quality can be obtained only in bright ambient lighting. For gaming stream this image is, of course, will not work, but Skype issued a "webcam" quality would be sufficient.
The internal structure and capabilities upgrade
Plastic bottom ASUS FX570UD monolithic, and it has removed entirely. Laptop stands firmly on any smooth surface thanks to four rubber feet. On the bottom there are three small areas with ventilation grilles through one of them, the laptop's fan sucks cool air into the case. Small square perforations on the bottom is a little confusing when it comes to laptop with powerful processor and graphics, but in the case of ASUS FX570UD everything should be fine, as the level of TDP Quad-core Core i7-8550U is 15 watts.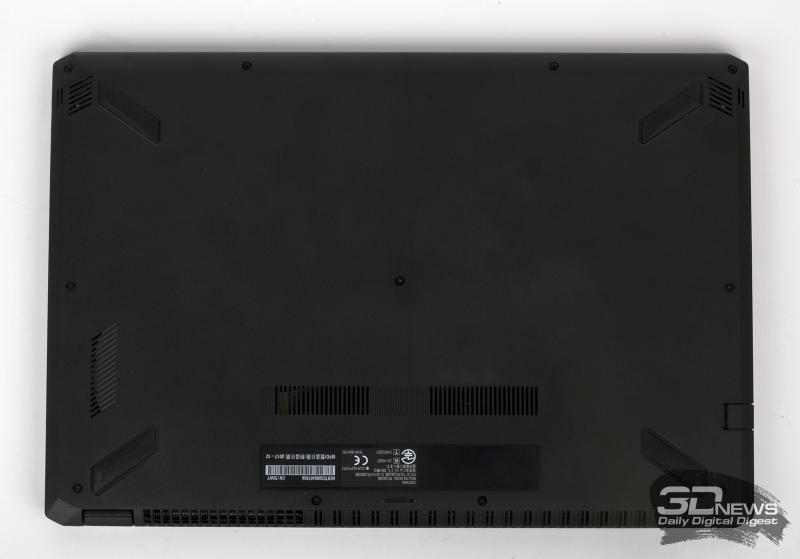 To remove the bottom I did not succeed. It seems simple: Unscrew 11 screws and carefully open the lid. However, the second paragraph arose the main difficulty — the bottom did not want to part with the rest of the body. Well, overly zealous, I did not. In addition, a list of all components used in the notebook, was known in advance.
So, the operating system is installed on SSD SanDisk SD9SN8W256G1002 256 GB. Before this SSD my eyes did not come across. The second drive is a 2.5-inch HGST HTS545050B7E660 500 GB. An odd choice, because, as you know, the difference in price between the disk and polterabayta storage device to one terabyte minimum. As for the RAM, motherboard ASUS FX570UD installed two modules DDR4-2400, manufactured by Samsung. Memory modules operate with delays 17-17-17-39. The ultrabook chips Kaby Lake Refresh usually complement the slower RAM is DDR3-2133.
Source: 3dnews.ru