Review mini-PC NUC Hades Canyon (NUC8i7HVK): how AMD helped Intel to create a processor with the fastest integrated graphics
You remember how it all began? The first rumors about the processors Kaby Lake-G appeared in the first half of 2017. Even then there was talk about that on the same substrate with Quad-core Intel chip will huddle module HBM memory of the second generation GPU from AMD. Such news on our website accompanied by comments like "but today is not April 1," and representatives of AMD and Intel for a long time refused to comment on the rumors. In the end, at CES 2018 the secret is out: Intel showed the
processor Kaby Lake-G, which do have an integrated graphics Radeon RX Vega. At the same event, was presented the first laptops with such CPUs. The first desktop with Kaby Lake G on Board was a tiny NUC Hades Canyon, which will be discussed further.
At the presentation of Intel, which was held recently in Moscow, a lot of time was devoted to the possibilities of the computer in VR. Indeed, on the market appeared first on solutions, integrated graphics which will cope with this task. As it turned out, Hades Canyon NUC works well with many modern games.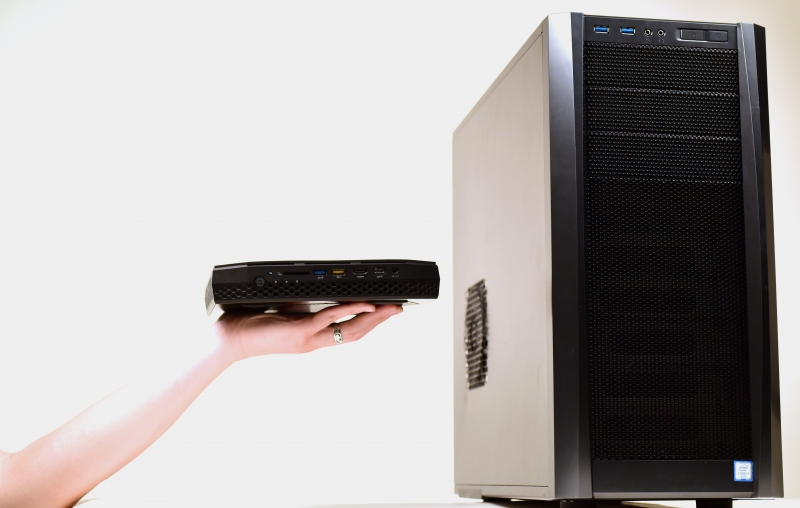 Kaby Lake Intel-G
At the moment of time represented by five series processors Kaby Lake-G. I note that all the chips are BGA, intended primarily for use in laptops. So, on the 2018 CES, Dell announced a version of the XPS 15, and HP — Spectre x360 15. Intel itself compares Kaby Lake-G with a bunch of processor-based Core i7-7700HQ and the GeForce GTX 1060 to Max-Q-design. Today, however, we will focus on the desktop, to whom Hades Canyon NUC is.
Kaby Lake Intel-G
 
Core i7-8809G
Core i7-8709G
Core i7-8706G
Core i7-8705G
Core i5-8305G
Production technology
14 nm
14 nm
14 nm
14 nm
14 nm
The number of cores/threads
4/8
4/8
4/8
4/8
4/8
Clock frequency (Turbo Boost)
3,1 (4,2) GHz
3,1 (4,1) GHz
3,1 (4,1) GHz
3,1 (4,1) GHz
2,8 (3,8) GHz
Cache in the third level
8 MB
8 MB
8 MB
8 MB
6 MB
Integrated memory controller
DDR4-2400, dual-channel, up to 64 GB
DDR4-2400, dual-channel, up to 64 GB
DDR4-2400, dual-channel, up to 64 GB
DDR4-2400, dual-channel, up to 64 GB
DDR4-2400, dual-channel, up to 64 GB
Integrated graphics
HD 630
HD 630
HD 630
HD 630
HD 630
Radeon RX Vega M GH, 24 CU
Radeon RX Vega M GH, 24 CU
Radeon RX Vega GL M, 20 CU
Radeon RX Vega GL M, 20 CU
Radeon RX Vega GL M, 20 CU
Frequency of integrated graphics Intel
1100 MHz
1100 MHz
1100 MHz
1100 MHz
1100 MHz
Frequency of integrated graphics Radeon (Boost)
1063 (1190) MHz
1063 (1190) MHz
931 (1190) MHz
931 (1190) MHz
931 (1011) MHz
HBM memory
4 GB 800 MHz
4 GB 800 MHz
4 GB, 700 MHz
4 GB, 700 MHz
4 GB, 700 MHz
TDP
100 W
100 W
65W
65W
65W
Please note that among the models Kaby Lake-G "wormed" CPU Core i5-8305G, but even he supports Hyper-Threading technology. Flagship chip — the Core i7-8809G — notable that it has an unlocked multiplier. Also, this processor supports high-frequency memory. Other models such overclocking does not have the capacity. In terms of energy consumption five Kaby Lake-G are divided into two groups: chips with high TDP of 100 watts and solutions with heating package 65 watts. For comparison, the recently released six-core Core i7-8700K the TDP is 95W, while Core i7-7700K — 91 watts. Just do not forget that these desktop CPUs do not have such productive graphics.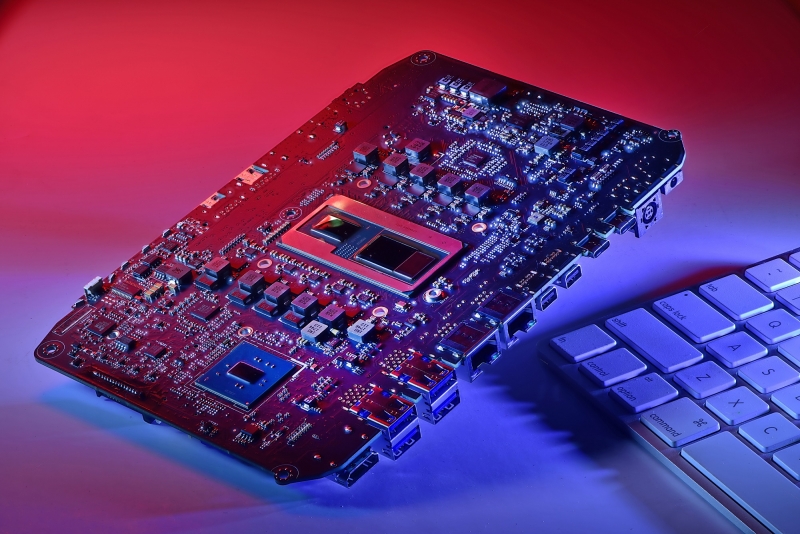 The computational part of the Kaby Lake-G, to be Frank, no no interest. If you want to study in detail all possibilities of the generation of Kaby Lake, read our detailed review of the model Core i7-7700K. The most interesting in the G-series is undoubtedly the use of integrated graphics Radeon RX Vega.
In addition to the CPU and GPU on the substrate size 58.5 x 31 mm module HBM memory of the second generation with capacity of 4 GB. In consumersa devices this memory was first used in 2015, when AMD released the Radeon R9 X. Application of technology HBM (High Bandwidth Memory) implies the principle of operation is called stacked DRAM, when memory is placed in layers in a vertical plane. This approach allows us to increase throughput and reduce delay. According to estimates AMD HBM consumes three times less electricity with GDDR5 at equal bandwidth — this parameter is very important for productive compact systems and, of course, laptops. And another module, such a memory takes up much less space on the PCB.
Chip HBM memory of the first generation included the four-stack of 1 GB each, connected to the GPU 4096-bit bus. This module operated at a frequency of 500 MHz technology DDR (1 GB/s per line). Thus, the resulting throughput was up to 512 GB/s. Chip HBM2 got a four times increased the volume — now in a single stack have 4 GB of memory, however, was cut half the bus width. And yet, due to the increase in frequency (in the case of Radeon RX Vega M, GH/GL, it is 700/800 MHz, Radeon 64 RX Vega — 945 MHz), the throughput was reduced slightly.
Chips Core i7-8809G and i7-8709G equipped with integrated graphics Radeon RX Vega M GH, which has already 24 unit Compute Unit, that is 1536 Shader ALU, 96 texture units and 64 ROP. The Intel Core i7-8706G, Core i7-8705G and Core i5-8305G got a Radeon RX Vega GL with 20 M CU-modules, 1280 ALU with 80 texture units and 32 ROP. Both versions of the iGPU (except that which is installed in the Core i5) can operate at a frequency of 1.19 GHz in Boost mode. For example, the graphics chip Polaris XL 20 used in the Radeon RX 570 has 2048 Shader processors, 128 TMU and 32 ROP, and Polaris 20 XTX (Radeon RX 580) — 2304, 144 and 32 elements, respectively.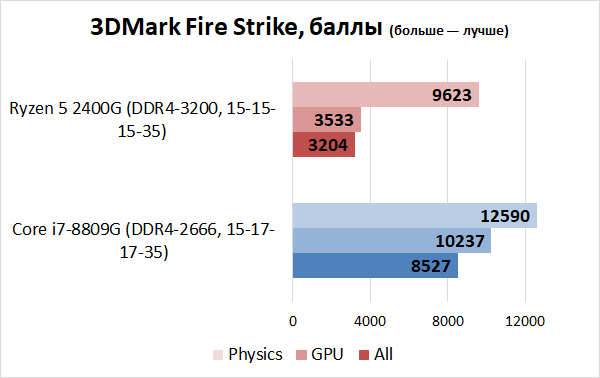 As you can see, compare Radeon RX Vega M GH and Radeon RX Vega M GL makes sense with discrete graphics. Laptop or desktop — not so important, as the line between these devices long ago eroded. The "normal" integrated graphics never can compete with what is used in the chips Kaby Lake-G. Proof of my words is shown in the graphs above.
In April, AMD has presented processors Ryzen Ryzen 5 2400G, and 3 2200G — these chips are made for 14-nm process technology, using the architecture Zen, but added to solutions 2000 series. This is the first "stones" AMD, in which the architecture of Zen combined with integrated graphics Vega. The older model is equipped with iGPU Radeon Vega 11, in which the set of 11 CU is 704 stream processors (38% more than the decisions of generations Kaveri, Carrizo and Bristol Ridge). This is applied approximately 13% increase in the frequency graphs, the increased number of blocks texturing (from 32 to 44) and ROP (8 to 16), and a new generation of architecture. The testing showed Ryzen 5 2400G, coupled with high-frequency memory in forces to compete with discrete graphics card GeForce GT 1030. At the same time, we see that the Radeon RX Vega M GH to the nines carries Radeon Vega 11.
I think that graphics Radeon RX Vega M GH and Radeon RX Vega M GL adequately to call the built-in, though the GPU and is implemented as a separate chip. At the same time, the crystal cores are equipped with another "insertions" — HD Graphics 630, and it's not disabled in the processor. This is done primarily in order to preserve the efficiency of technology Quick Sync. Due to this, Kaby Lake-G with no problems the hardware plays 4K video with low power consumption and encodes the content quickly, with low consumption and with acceptable quality. And some laptop manufacturers will release a model without the graphics AMD. At least, in a series of laptops Dell XPS 15 such "exhibits" are available.
Technical characteristics and specifications
At the time of this writing, any Hades Canyon was only possible to pre-order. All Intel released two versions of the NUC. The two constitute a barebones, because the RAM and storage have to buy and install yourself. The Junior version of mini-PCs based on the Intel Core i7-8705G, senior — Core i7-8809G. All the specifications shown in the table below.
NUC Hades Canyon
Model
NUC8i7HVK
NUC8i7HNK
The CPU
Intel Core i7-8809G, 3,1 (4,2) GHz
Intel Core i7-8705G, 3,1 (4,1) GHz
Graphics AMD
Radeon RX Vega M GH
24 CUs, 1063-1190 MHz, 4 GB HBM2
Radeon RX Vega M GL
20 CUs, 931-1190 MHz, 4 GB HBM2
RAM
Up to 32 GB, DDR4-2400, 2 channel
Up to 32 GB, DDR4-2400, 2 channel
Drives
2 × M. 2 22×42/80 SATA 6GB/s or PCI Express 3.0 x4
2 × M. 2 22×42/80 SATA 6GB/s or PCI Express 3.0 x4
Interfaces
5 × USB 3.0 Type-A
1 × 3.5 mm mini Jack acoustics/microphone
2 × HDMI
2 × mini-DisplayPort
2 x Thunderbolt 3
1 × USB 3.1 Type-C
1 × USB 3.1 Type-A
2 × RJ-45
1 × S/PDIF
1 × card reader
5 × USB 3.0 Type-A
1 × 3.5 mm mini Jack acoustics/microphone
2 × HDMI
2 × mini-DisplayPort
2 x Thunderbolt 3
1 × USB 3.1 Type-C
1 × USB 3.1 Type-A
2 × RJ-45
1 × S/PDIF
1 × card reader
External power supply
230 W
230 W
Dimensions
221 × 142 × 39 mm
221 × 142 × 39 mm
Guarantee
No data
No data
Price in Russia
No data
No data
Price in USA
$999
$799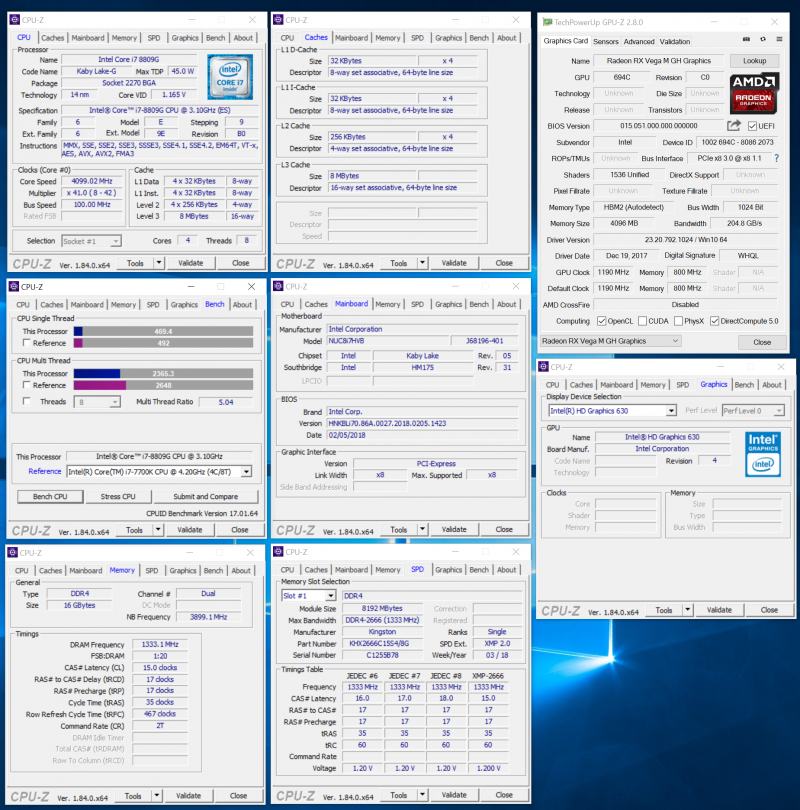 Details about these chips, I had already written, so I will once again repeat itself. To our test lab arrived the flagship model that can not but rejoice. The computer is equipped with a wireless module Intel Wireless-AC 8265, which supports IEEE 802.11 b/g/n/ac with 2.4 GHz and 5 GHz and a maximum bandwidth of up to 867 Mbps and Bluetooth 4.2. For a wired connection answer Gigabit controllers Intel I219-LM and I210-AT.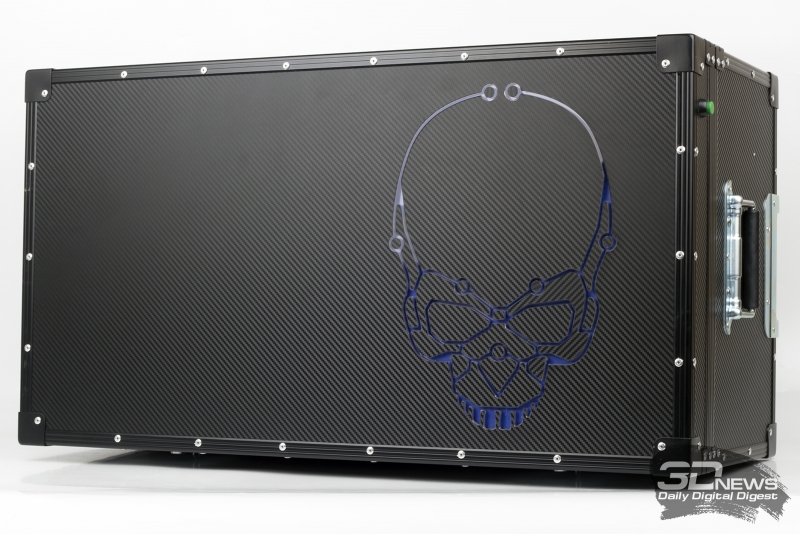 PC came in an unusual package…. Hades Canyon was placed in a great big box on wheels with the logo in the shape of a skull. By the way, when you press the green button and the logo lights up.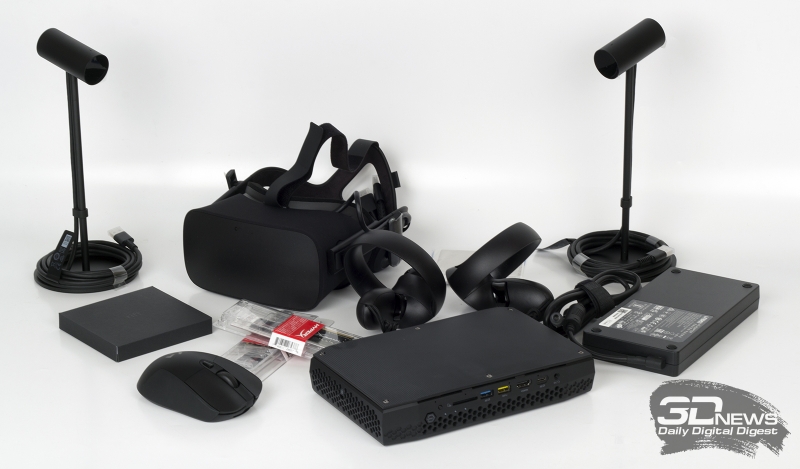 In addition to the computer, the mobile chest was set with glasses of virtual reality Oculus Rift, a wireless mouse Logitech G403 Prodigy and keyboard Logitech K380, cloth for wiping down everything that comes to hand, two memory modules Kingston HyperX HX426S15IB2/8 and external power supply. I do not argue that this unusual set is unlikely to leave anyone indifferent. Something similar we saw, when we came to test the 21-inch 21 Acer Predator X. this layout once again suggests that we have an unusual and iconic for your company device. It is a pity that the cost of such a set (with a VR-helmet, accessories and peripherals) is still unknown.
Along with Hades Canyon is the huge external power supply 230 watts and a weight of about 2 kg. In size, this device is comparable to NUC. So personally I have no wow effect when we first met with this device is not felt. So, to transport a mini PC with power supply in a backpack is not very comfortable.
Appearance and functionality
Externally NUC Hades Canyon is very similar to the model of the previous generation. I have the feeling that before us is slightly opravivshis Skull Canyon. Indeed, the amount of NUC8i7HVK is 1.2 l, which is half a litre more than NUC6i7KYK. Computer case made entirely of plastic. The top cap is engraved signature and a recognizable skull without the lower jaw, but in the pictures you will not see it because the logo glows only when the device is switched on. Front, back, bottom and sides of a perforation, necessary for the efficient operation of the cooling system.


With a thickness of just 39 mm mini-PC features a huge number of various interfaces. The front panel card reader, two USB ports 3.1 A – and C-type, USB 3.0 A-type ports, HDMI out, and 3.5 mm headset Jack. On the rear panel you'll find four USB 3.0 ports, A-type, one HDMI output, two mini DisplayPort, Duo RJ-45, two ports Thunderbolt 3, compatible with USB 3.1 Type-C, and optical S/PDIF.
As you can see, with the functionality of Hades Canyon are all just great. Even the flagship motherboard for desktop AMD and Intel processors can't always boast such a set of interfaces. Gaming laptops — the more. One of the HDMI outputs specifically removed the front panel — so for the computer to connect a virtual reality helmet.

On the left and right sides of the test NUC any items not provided. On the left is the slot to secure the lock type Kensington.
The internal structure and capabilities upgrade
It is not surprising that the most interesting thing in Hades Canyon hidden inside him. Since we are dealing with a barebone, the owner of this PC will still have to partially disassemble it.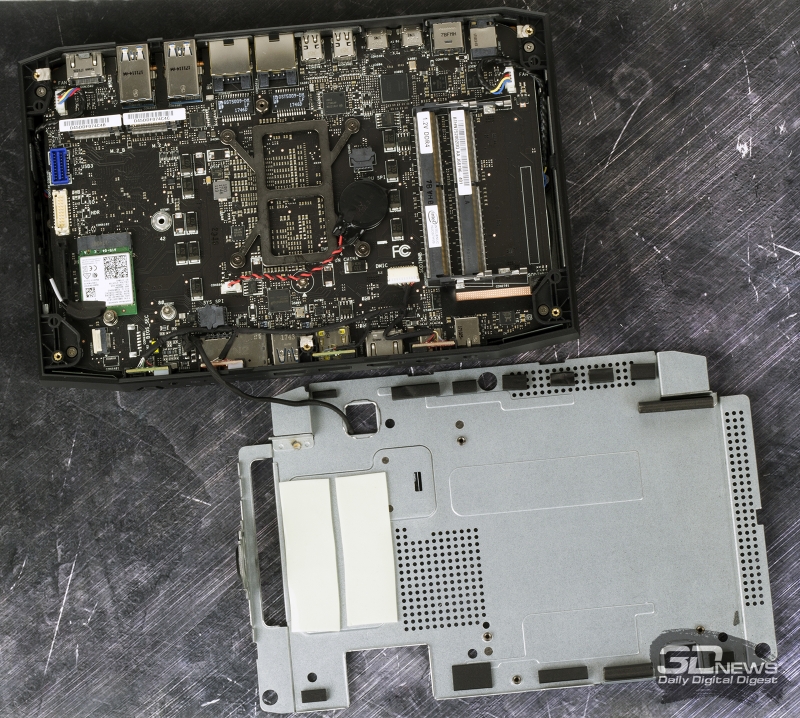 In order to reach the SO-DIMM slots and M. 2, you must remove the top panel — it is held up by six Allen screws. Next is to dismantle the metal plate, which, in fact, is a passive cooling system SSD.
Motherboard Hades Canyon has two M. 2 connectors, each of which is summarized by four lines PCI Express 3.0. One of the ports supports installing drives with a length of 42 and 80 mm. the Second port only supports 80 mm SSD. For testing to one of the ports was installed NVMe drive Team Group T-FORCE CARDEA.
Slots SO-DIMM you can install dual channel memory kit DDR4 memory with capacity up to 32 GB. To test Hades Canyon I used two modules of Kingston HyperX HX426S15IB2/8 running on the effective frequency 2666 MHz delays 15-17-17-35.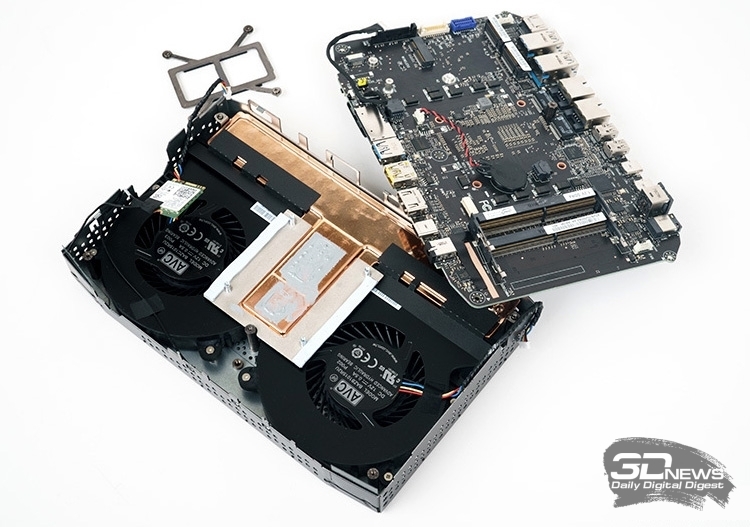 For cooling the Core i7-8809G responsible enough massive vapor chamber, a copper part which is connected to a large aluminum heatsink. The composition of the cooler includes two tangential fan type. They suck the air through the perforations in the bottom and side walls.
Source: 3dnews.ru