An overview of gaming notebook ASUS ROG CHIMERA G703VI-GB008T: four cores still in fashion
It so happened that ASUS ROG CHIMERA G703VI-GB008T got my tenacious paws a few days before the official announcement laptop of a new generation of Coffee Lake. As you know, now the modern model will be equipped with 6-core chips. ASUS has officially confirmed that the updated version of the ROG CHIMERA G703, too, will use the latest mobile Core i9. It would seem that in this case, it makes no sense to test the model, which features a Quad-core Core i7-7820HK generation Kaby Lake. However, this
laptop will be on sale. Besides components ROG CHIMERA G703VI-GB008T overclocked ASUS. So laptops with Kaby Lake is still in the fight!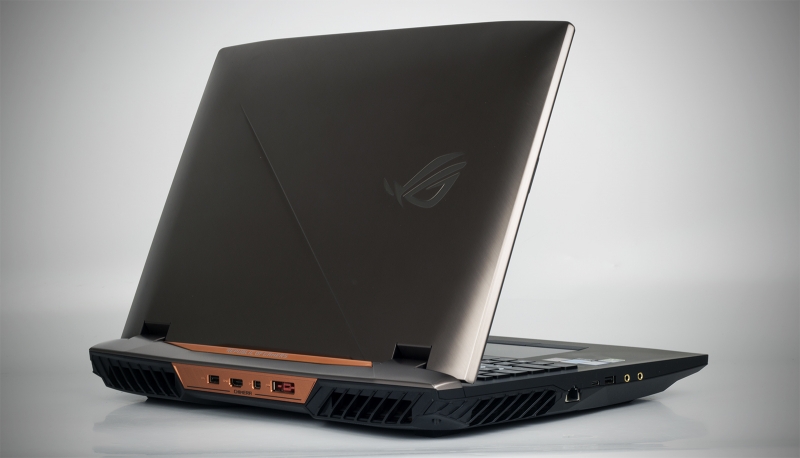 Specifications, equipment and
At the moment in the Russian retail you will find two models of the ROG CHIMERA: G703VI-E5132T and G703VI-GB008T features of these laptops displayed in the table. As you can see, laptops are very different from each other — as it came off the same Assembly line FORD GT 2017 and Mondeo.
ASUS ROG CHIMERA G703VI
 
G703VI-E5132T
G703VI-GB008T
Display
A 17.3″, 1920 × 1080, IPS (144 Hz), G-SYNC
17,3″, 3840 × 2160, IPS (60 Hz), G-SYNC
The CPU
Intel Core i7-7700HQ, 4/8 cores/threads, 2,8 (3,8) GHz, 45 W
Intel Core i7-7820HK, 4/8 cores/threads, 2,9 (3,9) GHz, 45 W
Video card
NVIDIA GeForce GTX 1080, 8 GB GDDR5X
NVIDIA GeForce GTX 1080, 8 GB GDDR5X
RAM
16 GB, DDR4-2400, 2 channel
64GB, DDR4-2800, 2 channels
Drives
1 × M. 2 256GB in mode PCI Express 3.0 x4
2 × M. 2 512GB in mode PCI Express 3.0 x4, RAID0
Optical drive
No
No
Interfaces
4 × USB 3.0 Type-A

1 × Thunderbolt 3.0 (USB 3.1 Type-C)

2 × 3.5 mm mini Jack acoustics/microphone

1 × HDMI

1 × mini-DisplayPort

1 × RJ-45

1 × card reader SD/SDHC/SDXC
4 × USB 3.0 Type-A

1 × Thunderbolt 3.0 (USB 3.1 Type-C)

2 × 3.5 mm mini Jack acoustics/microphone

1 × HDMI

1 × mini-DisplayPort

1 × RJ-45

1 × card reader SD/SDHC/SDXC
Built-in battery
71 W⋅h
71 W⋅h
External power supply
330 W
330 W
Dimensions
425 × 319 × 51 mm
425 × 319 × 51 mm
The weight of the laptop
4.7 kg
4.7 kg
Operating system
Windows 10 x64
Windows 10 x64
Guarantee
2 years
2 years
Price in Russia, by data "Yandex.Market"
200 000 RUB.
290 000 rubles.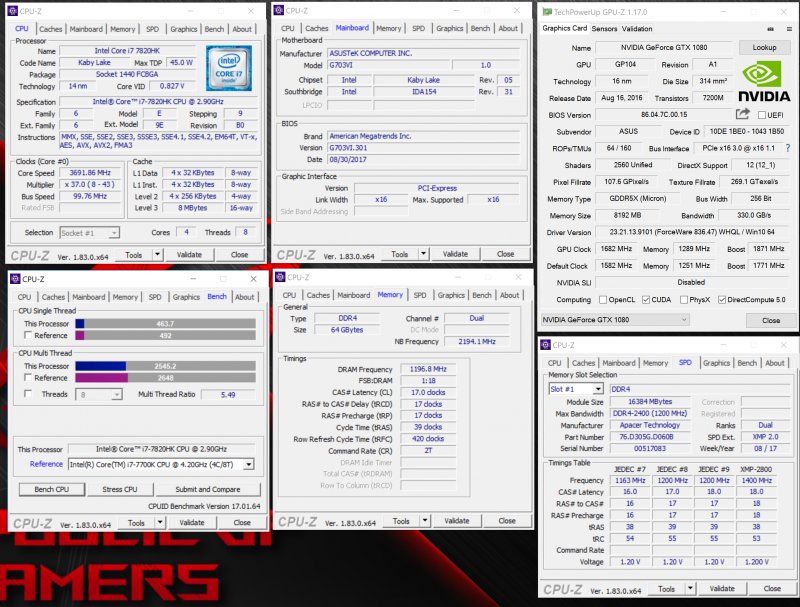 Version G703VI-GB008T "stuff" so that many never dreamed of. Core i7-7820HK and GeForce GTX 1080 is the basis, but the laptop has 64 GB of RAM standard DDR4-2400, two SSD of 512 GB, RAID 0, and a hard disk on 2 TB. In addition, the laptop is equipped with a matrix with a resolution of Ultra HD technology support G-SYNC. Says the youth, ASUS ROG CHIMERA G703VI-GB008T is topcik. This definition deserves and the cost of the laptop. Fans to compare mobile and desktop will certainly indicate that for the same amount you can collect is much more productive desktop. For example, like this.
For a wireless connection in the laptop meets Intel Wireless-AC 8265. The Wi-Fi module supports the standards IEEE 802.11 b/g/n/ac with 2.4 GHz and 5 GHz and a maximum bandwidth of up to 867 Mbps and Bluetooth 4.2.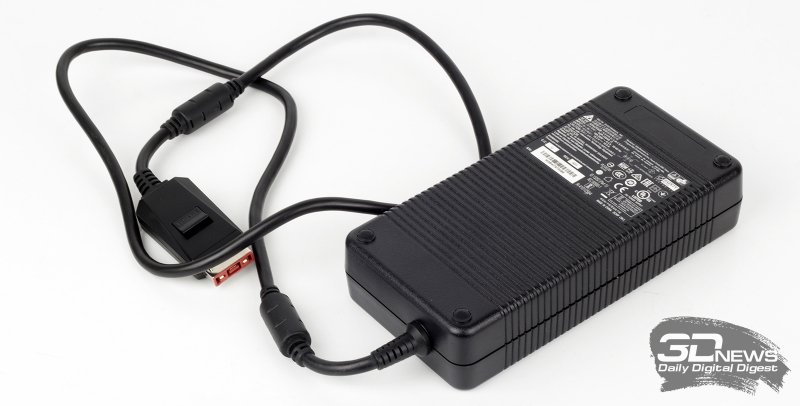 Bundled with ROG G703VI is a huge polutorametrovy the power supply is 330 watts. It connects to your laptop with a specially designed big connector located at the rear. And still in the box I found mouse ASUS ROG Harrier GT300.
As always, along with the operating system Windows 10 on the laptop comes with many proprietary utilities ASUS ROG, which can be activated by the same button. Read more about all the programs you can read here.
Appearance and input device
The attentive reader will have noticed that the test model is very much like (both externally in parts) the other 17-inch gaming laptop ASUS — ROG G701VI. In turn, ROG CHIMERA G703VI is no less brutal: with lid disappeared the coloured stripes, but there is a diagonal podshtampovki — the first time such a design move we saw in the ASUS ROG ZEPHYRUS (GX501). The materials from which the body has not changed: still is practical aluminum and high quality matte plastic, in which dust and fingerprints are hardly visible. The area around the keyboard made from soft-touch plastic, on the contrary, attracts everything and requires careful maintenance.
The laptop is great — without power supply will have (if you have) to carry 4.7 kg of selected iron. However, the ASUS Triton backpack Backpack "Chimera" fit with no problems. Frankly: to carry the laptop across Moscow without Breakfast, it was still fun. I note that ROG CHIMERA G703VI heavier (0.9 kg) and thicker (16 mm) ROG G701VI.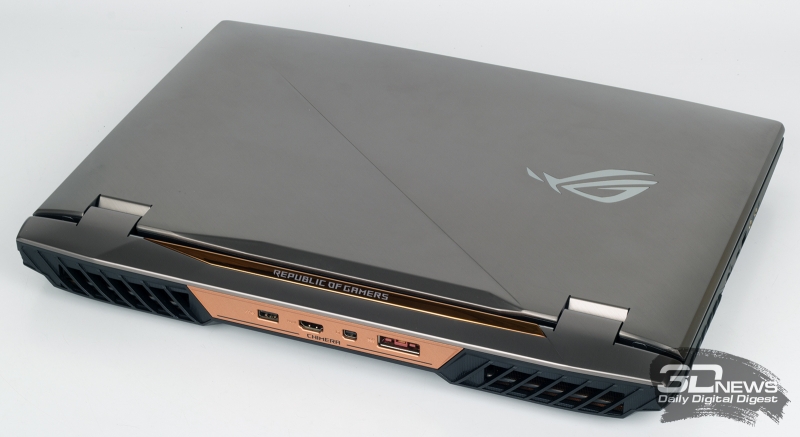 Cover ROG CHIMERA G703VI reveals a maximum at 135 degrees, which is enough if you use the device on the street, putting the laptop on his knees. Loops are hard, but because the screen is positioned very well and is not loose during the games. Is the laptop on four big rubber feet. Because of the large mass to move the device from any smooth surface is problematic.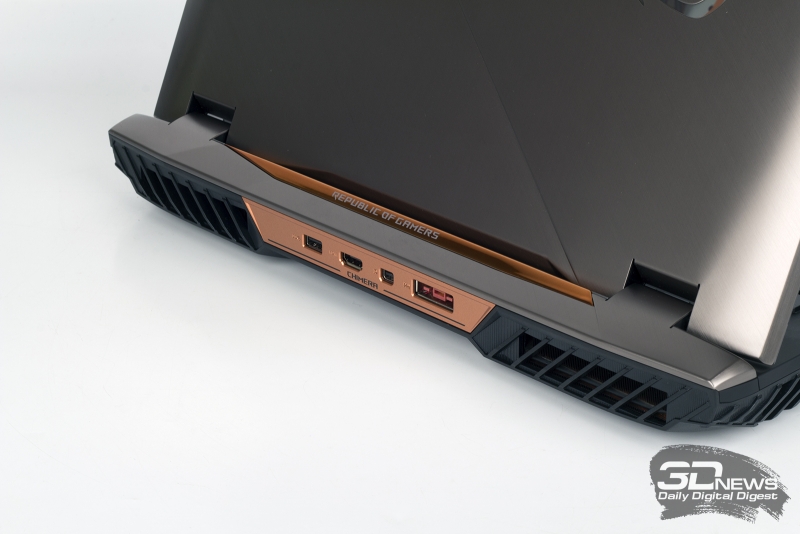 All major interfaces ROG CHIMERA G703VI located on three sides. On the front panel, closer to the left edge, placed just indicators of activity of the device. Located behind the connector for the external power adapter, video outputs HDMI and mini-DisplayPort as well as USB 3.0 A-type. Here is curly perforation for output of the cooling system
of the heated air.


Also the heated air leaves the housing and through the grates on the side panels. To the left of the "hundred third" soldered one USB 3.0 A-type, Thunderbolt 3, combined with USB 3.1 Type-C, two 3.5 mm mini-Jack for headphones and microphone, and an Ethernet port. Displayed to the right of card reader, supporting flash cards of SD, SDHC, SDXC and MMC, and two USB 3.0 A-type. In my opinion, the connectors are right. In most cases, ROG CHIMERA G703VI will be used as a replacement for a stationary PC, so these ports as outputs, it makes no sense to place on the side.
Keyboard and touchpad G701 in its time has received only good reviews. In ROG CHIMERA G703VI ASUS engineers do not have to reinvent the wheel. The design of the keyboard uses a time-tested mechanism scissor-type was increased to 2.5 mm key travel, and with the possibility of up to 30 simultaneous keystrokes. Block WASD highlighted in a different color. Each button has a recess of 0.3 mm, which allows the fingers to better cling to them. The most important thing for me is ergonomics. So, the keyboard got a huge break from your Shit, Ctrl, Enter, and Backspace. Big ROG from CHIMERA G703VI and numpad with a number of keys F1-F12. All this allows us not only to deftly play, and print the text.
Just above the main keys on the body are seven hot buttons. One of them automatically starts the program XSplit Gamecaster. The second calls the AURA, which sets the mode of the keyboard backlight. And ROG CHIMERA G703VI the module is equipped with Xbox Wireless, which can connect up to eight controllers to Xbox One at no additional USB adapters. A special hot key causes the control panel of the Xbox Game. With its help you can also record gameplay, stream and play along with friends using the Xbox Live system.
As for the RGB-backlight, the Chimera can be separately configured for each button. All in all, the program AURA nine modes of illumination. The brightness of the backlight is adjusted in a wide range and in increments of 33 %.
Touchpad ROG CHIMERA G703VI too comfortable, he's got big keys, which will not miss playing "Quint" or Hearthstone. However, support for multi-touch Windows touch and handwriting input is not provided.
Together with purchase the device you get unlimited license to use the software XSplit Gamecaster. However, in G703VI built a simple HD camera with a frequency of 30 Hz, which gives a very mediocre picture. Laptop cost under 300 thousand rubles, which is a considerable disadvantage. For example, during the stream of this "webcam" is better not to use. Want to see top devices cameras support at least Full HD resolution.
The internal structure and capabilities upgrade
The RGB backlight is, of course, well to a certain extent, but I believe the main technical improvement ROG CHIMERA G703VI having a removable hatch for quick access to model hardware. It is enough to remove the rubber cover and Unscrew only one screw. With this procedure, even for my grandma!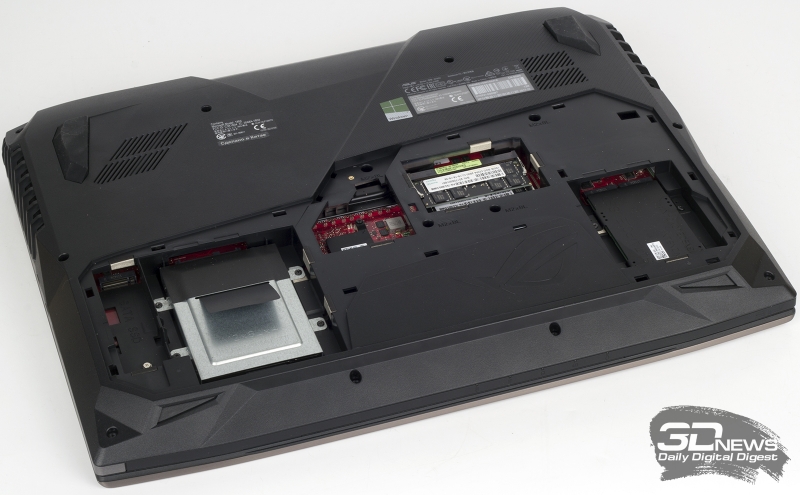 As a result, the user can replace the RAM and drives.
And yet this point is more relevant to the ROG CHIMERA G703VI-E5132T. In G703VI-GB008T to change in the near future is simply nothing. So, you have from 64 GB of RAM standard DDR4-2400, manufactured by Apacer and working in the default mode with the timings 17-17-17-39. In this case, we can activate the XMP-profile set of RAM then it will run at an effective frequency of 2800 MHz with latency 18-18-18-38.
In the top configuration ROG G701 mechanical drive is not used at all. In ROG CHIMERA G703VI installed 2.5-inch hard drive Seagate ST2000LM007 capacity of 2 TB. In turn, RAID level zero consists of two MZVKW512HMJP Samsung SSD with 512GB each. At the same time on the motherboard is empty another M. 2 slot that allows you to install a third SSD form factor 2280.
Further disassembly ROG CHIMERA G703VI complicated, so as to remove the bottoms entirely necessary to remove the RAM and drives and also remove the hidden screws. In the presence of a removable hatch to do this manipulation makes no sense.
The CPU and GPU are cooled fairly massive system. The heat from the GPU, Converter power supply and memory chips provide four heat pipes. Cooled Core i7-7820HK are engaged in three copper heat pipes. It is known that the radiators used in this laptop are very fine ribs, their thickness is only 0.1 mm. According to the manufacturer, this solution increases the total area of teplosetevaya by 16% and reduces resistance to air flow by 7 %. In addition, the dust and fine particles are excreted from the body "Chimera" in two specially constructed tunnels, located at the edges of the fans. According to ASUS, this prevents the accumulation of dirt inside the device.
Source: 3dnews.ru