History of architecture AMD GCN will be completed in 2019-2020 together with the GPU, Navi
In may last year, AMD has shared his plans for the development of graphics cards in the coming years. GPU next-generation Vega is the code name of Navi, will go into production this year and will be available for 7-nm DUV factories GlobalFoundries using a multilayer memory HBM next generation will offer significantly increased performance and improved scalability. On the next Navi accelerators were known only timing: beginning in 2020, but the use of second-generation 7-nm EUV process
technology.
Now the resource TweakTown.com reported on the launch of the first accelerators Navi during the event SIGGRAPH 2018, August 12-16. This will be the video card, professional grade — consumer Radeon RX in 2019. In turn, the site WCCFTech.com said that Navi will be the last, the sixth generation of accelerators AMD GCN architecture, on change which in 2020-2021 years to come is completely new and yet unnamed microarchitecture.
It is not known how strong the influence on the post-GCN-design had a former division Manager of the AMD Radeon Technologies Group Koduri Raja (Raja Koduri), from November last year to lead the Intel team on the development of discrete accelerators. However, leaving your post in AMD, he said, "I truly believe in our projects — Vega, Navi, and the next, and incredibly proud of how far we've come and where we're going…".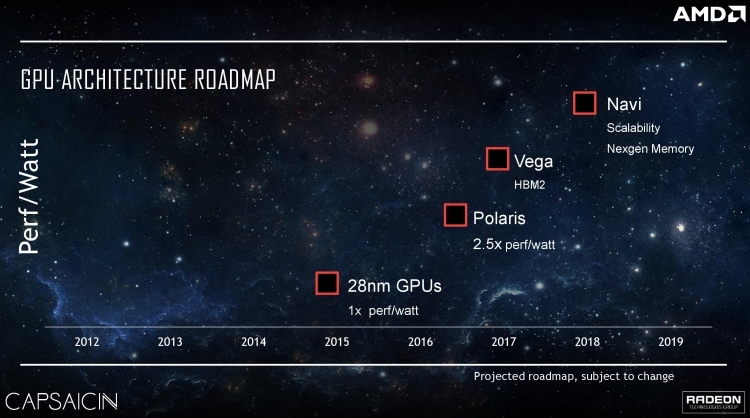 Created under his leadership, Vega graphics cards vastly inferior to the efficiency of the NVIDIA accelerators with architecture Pascal and become less attractive to players. And hope that the situation will improve products Navi, it can not be justified. At least, sources TweakTown.com claim that Vega was a disaster for AMD, as the Radeon team allegedly not confident about the future and believes that Navi will repeat the fate of Vega. After all, NVIDIA is enough to move to a new process technology to give a decent answer, not to mention the architectural improvements and the use of memory GDDR6 or HBM2. Last year, the share of NVIDIA graphics cards on the market exceeded 70 %.
At the time of GCN, which replaced the TeraScale in 2011 in the face of the Southern Islands graphics cards have been very innovative and forward-looking. Suffice it to recall the Radeon R9 290X and heavy-duty dual-processor graphics card Radeon R9 295X2, as well as the popularity of AMD's products. Now in the graphics sector, "red" has become difficult to compete with "green" sales Vega kept largely on the mining of cryptocurrencies, and optimized accelerators Navi unlikely to change something in this regard.
We can only hope that AMD, as always before, will be able to reverse the situation and her new following the Navi (and, more broadly, GCN) architecture will return balance to the market of graphics cards.
Source: 3Dnews.ru