First impressions of the Huawei smartphones P20 and P20 Pro
Several years in a row, since the premiere of the iPhone 6, we're not talking about the usual imitation of all manufacturers Apple, but rather that the device of an American trendsetter joined the slender ranks about the same smartphones. In 2017, the premiere of a very unusual and controversial iPhone X copertina decided to return to tradition. First thought after the appearance of "dozens" was "Well, no, it will find a more elegant solution than this cut". Alas, no – at least not yet. In
2018, we are waiting for a shaft of smartphones with a very characteristic shape of the screen — with a minimum of framework and the recess in the upper part. The similar decision (not) to stir, and Huawei with their flagship Duo P20/P20 Pro.
| | | |
| --- | --- | --- |
| | Huawei P20 | Huawei P20 Pro |
| Processor | HiSilicon Kirin 970: Quad core ARM Cortex A73, 2.4 GHz + four cores ARM Cortex A53, frequency 1.8 GHz; architecture HiAI | HiSilicon Kirin 970: Quad core ARM Cortex A73, 2.4 GHz + four cores ARM Cortex A53, frequency 1.8 GHz; architecture HiAI |
| Display | LCD, 5.8 inch, 2240 × 1080 | 6.1 inch, 2240 × 1080 |
| RAM | 4 GB | 6 GB |
| Flash memory | 128 GB | 128 GB |
| Cellular | GSM, WCDMA, LTE | GSM, WCDMA, LTE |
| Wireless modules | Wi-Fi 802.11 a/b/g/n/ac, Bluetooth 4.2 | Wi-Fi 802.11 a/b/g/n/ac, Bluetooth 4.2 |
| Camera | Leica dual module 12 MP + 20 MP, ƒ/1,6 + ƒ/1,8, optical stabilizer | Leica triple module 20 MP + 40 MP + 8 MP, ƒ/1,6 + ƒ/1,8 + ƒ/2.4 GHz, three-time optical zoom with optical image stabiliser |
| Front camera | Leica 24 MP, ƒ/2.0 | Leica 24 MP, ƒ/2.0 |
| Battery | 3400 mA·h | 4000 mAh |
| Dimensions | 149,1 × 70,8 × 7.65 mm | 155 × 73,9 × 7.8 mm |
| Weight | 165 grams | 180 grams |
| Operating system | Android 8.1 8.1 shell EMUI | Android 8.1 8.1 shell EMUI |
Series P many years someone happy, and someone upset a relatively small display sizes – it is possible to keep the dimensions of the smartphone in the bounds of decency. These devices are quite deservedly can be called one of the most convenient to use among its competitors. However, in the last year all manufacturers have found a way to insert your models screens with almost tablet diagonals, while leaving the gadgets pocket – it needed to "stretch" the display vertically, stepping down from the usual 16:9 format and at the same time minimizing all possible frame around the screen. Huawei itself debuted in this field a great smartphone Mate 10 Pro, and then presented with a variety of more or less low-cost devices under the main brand and as part of a family Honor. P20 was another representative of this genus.
| | | |
| --- | --- | --- |
| |   | |
Get rid of the frames all with varying degrees of radicalism – someone keeps a full hem around the perimeter, they leave a place at the top or bottom for sensors and cameras. Huawei in P20 and P20 Pro gets stuck somewhere in the middle. On the one hand, the "neck" on top, which is inscribed in front camera, speaker and ambient light sensor saves valuable space on the front panel. With another – from below we can see the physical (even touch) the Home key centered in it a fingerprint scanner. Recall that Apple, in order to minimize the scope, got rid of the fingerprint sensor at all, completely relying on the facial recognition system. Many for the same purpose moved the scanner to the rear panel, but Huawei kept it in the same location as the P10, is a questionable solution, but at least brave.
Key was very narrow, but use it quite convenient. Another thing, what is the location of the scanner initially, in my opinion, loses the rear – in order to use it, you have to carry the weight of the smartphone on its lower edge, the position unnatural, so long, and dropping the camera. The more that the back panel have become the signature style is made of tempered glass, as well as the front. It looks extremely nice, but the body, first, zalamyvayutsya easily and quickly covered with scratches, and secondly, is extremely slippery. No wonder complete with P20/P20 Pro is the case – it is proposed to use by default.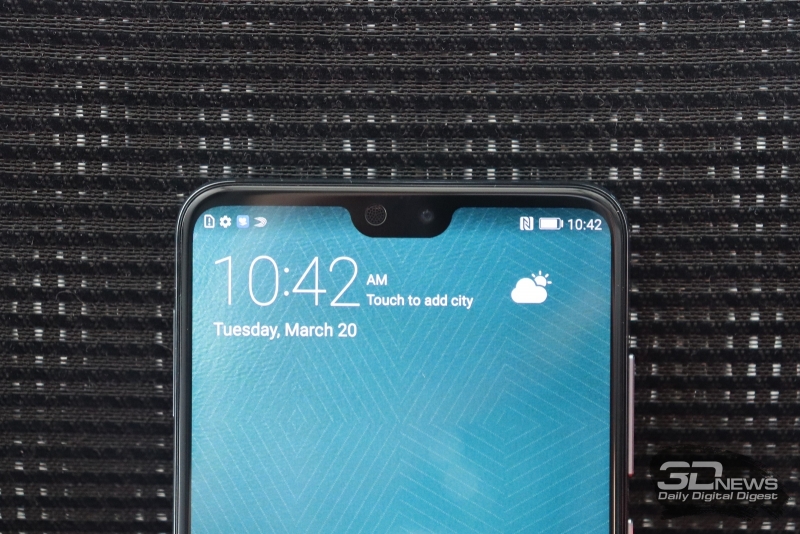 A couple of words about the design. Call frameless P20 does not. The display is surrounded by a very well marked black edging, and the upper part shows several layers: you can see where the screen is glued into the front panel. At a cursory glance it does not pay much attention — P20 is quite modern and beautiful on the shelf, but up close it's execution seems a little sloppy.
But the rear panel is traditionally good, especially in the new Pantone color, which is an indescribable tints of purple hues is a very beautiful gradient. P20 Pro is exactly that color you can see in the photo above.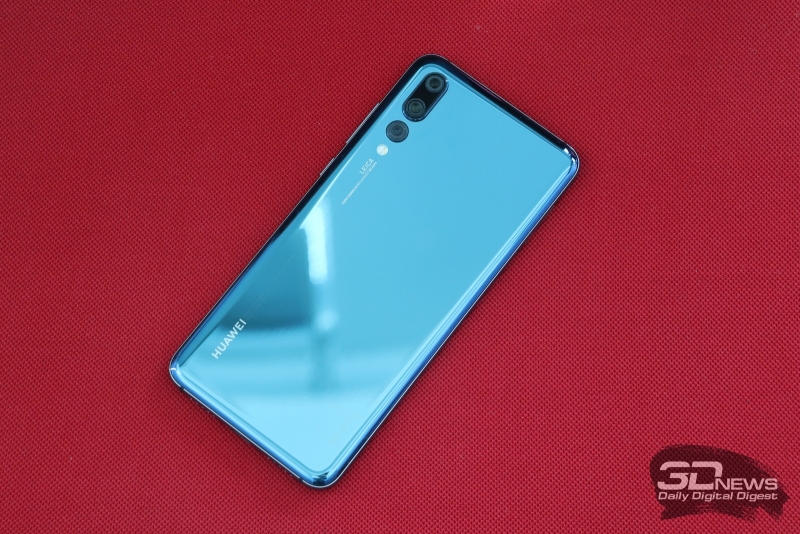 Smartphones will be presented in "deep black" and "midnight blue". The latter can be seen most of the photos in this material. There will be P20 other colors ("rose gold" and – Oh, these names of colors – "Golden champagne"), but they will most likely not reach Russia.
Now, actually, about what Huawei need to do P20 probation conditions. It's simple – in the case whose dimensions are not much different from what we have seen in almost five-inch P10 hosted a display with a diagonal of 5.8 inches. I recall the dimensions of the P10 – 145,3 × 69,3 × of 6.98 mm. For comparison, the P20 – 149,1 × 70,8 × 7.65 mm. Yes, it is slightly "swollen" and weight by 20 grams, but the muscles played with much more energy.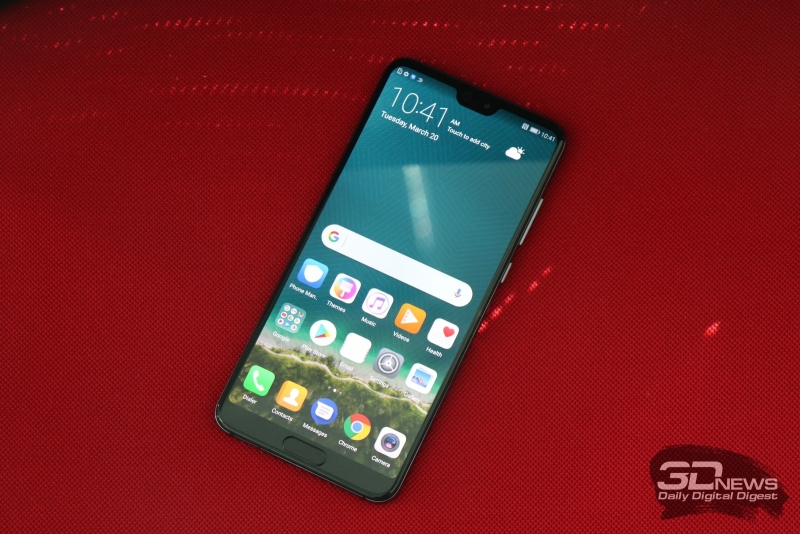 The version of the P20 Pro more screen – 6.1 inches. This unit is bigger and heavier, of course (the parameters can be seen in the table above), but the word "phablet" since the language is not broken. The screen resolution of both versions is the same – 2240 × 1080 pixels. As you can see, the format of the screens of the novelties of the quite unusual – to have the usual ratio of 18:9 added some tenths. Many apps will either start with black frames, either programmatically stretch to full screen – however, the experience of numerous predecessors P20 suggests that this is not a problem.
The older P20 Pro display is made by technology OLED, and the younger version of LCD. On personal feelings, this is a standard IPS – it is brighter, but less contrast and poorer viewing angles.
Despite the fact that P20 is thicker predecessor, the body has no space for a mini-Jack – alas, this trouble is not over, and Huawei. Yes, instead of the characteristics appeared protection from external influences according to IP67 standard, but as we all know, to combine the analog headphone Jack and moisture protection is more than possible. Another sad victim of the fashion. Complete with P20 is an adapter from USB Type-C (here it is the full version 3.1) male plug to 3.5 mm.
But the case has a place for stereo speakers – one located on the bottom face, the other takes the round conversational it is, of course, inserted into the cut. Other features of performance P20 I also note the IR sensor on the upper side and strongly protruding above the housing unit dual camera. Have slightly thicker P20 Pro it acts exactly the same, just add a third lens, a little lower.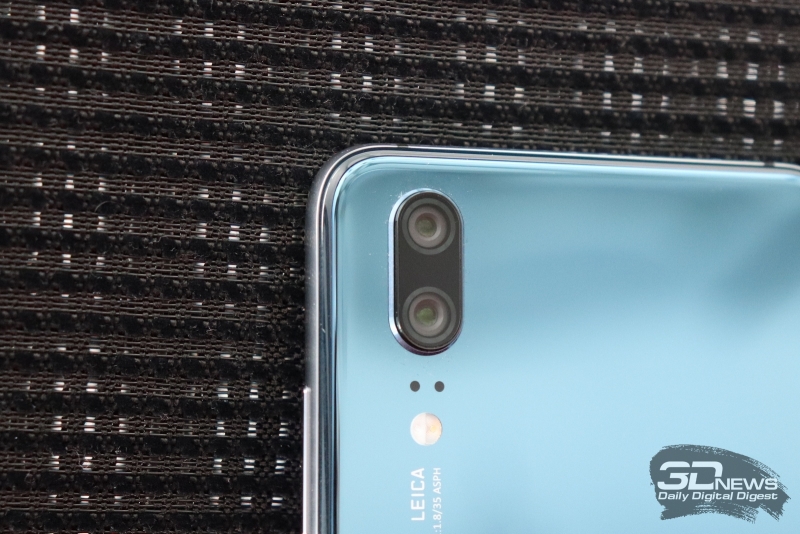 So we moved finally to the main feature of novelty is the additional camera. She has only older version, Pro. The younger is quite normal for Huawei scheme with two modules Leica with a resolution of 12 megapixels (color) and 20 megapixels (monochrome), which provide a two-fold software zoom, expanded dynamic range and high quality camera work in the dark, thanks to the optical stabilizer. Such a set we saw at Mate 10 Pro. Here, the system is modified programmatically added plus predictive focus (works really blazing fast), but nothing really new should not wait.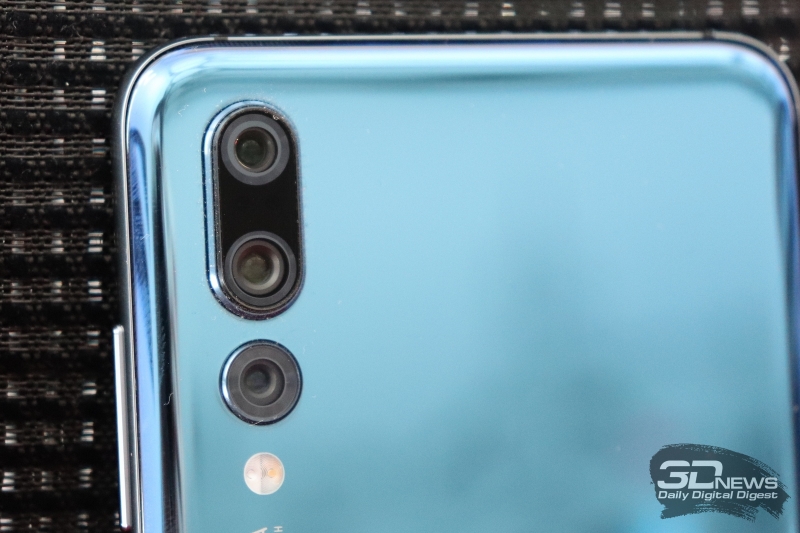 Another thing — P20 Pro: there is a unique system consisting of a pair of sensors 40 and 20 megapixels (color and monochrome respectively), which operates optics aperture ƒ/ƒ 1,6/1,8, respectively, and additional color module with 8 megapixels, aperture of ƒ/2,4, which adds the ability three times optical (equivalent focal length – 28-105 mm) and five-fold software zoom without a noticeable loss of quality.
Unfortunately, it is normal to work with a very interesting camera P20 Pro, I had neither the time nor opportunities. Above you can see examples of photography illustrating the operation of the zoom – really, a radical drop in the quality of shots even with a five-fold approach I have not noticed. But the camera should definitely be tested in different conditions.
Front camera is also improved, and on both versions of the flagship, now it is 24 MP, but flash and auto focus she got. On all the cameras, as usual, tagged Leica. The role of the German guru of photography in the creation of these modules will be covered in fog.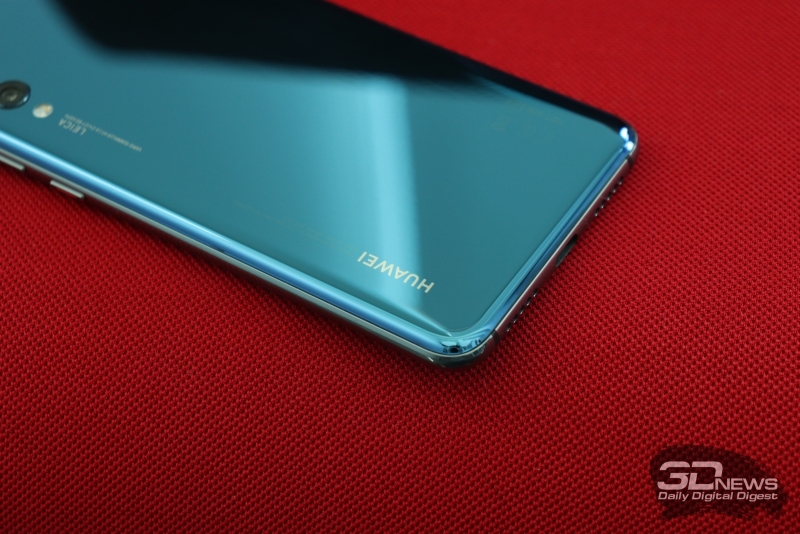 In addition to the impressive physical parameters, there are a lot of interesting software features like slow motion in HD format at speeds up to 960 frames per second – another fashion, which asked Sony in the past year. Also Huawei announces video stabilization six (!) axes – this issue we will discuss in detail in the full review of the smartphone, and yet no explanations from company representatives was not achieved. And of course, refers to a significant part in the process of shooting artificial intelligence – he picks the best settings for a particular plot, it is able to identify subjects in the frame, it helps to cut beautiful clips of footage (Highlights 2.0). And of course, not without "animaze" animated bells and whistles added to the image in augmented reality mode.
For all of this machinery are responsible, of course, the platform Kirin 970 as Mate 10 Pro. Recall parameters: four-core ARM Cortex-A73 2.4 GHz plus four ARM Cortex-A53 with a frequency of 1.8 GHz. They work 12-core graphics chip ARM Mali-G72. There is a separate subsystem is responsible for neural network calculations. Performed system-on-chip, 10-nm process technology.
Huawei P20 comes with 4 GB RAM and 128 GB of non-volatile memory, P20 Pro with 6 GB of RAM and the same amount of "flash". Another "alas" – both versions have missed the slot for the memory card. But the built-in capacity, in theory, should last for more or less all, even in our time of frantic information consumption and constant fixation on photos and videos of everything that happens to us.
The youngest unit is equipped with a battery of 3400 mAh, senior – 4000 mA·h supports quick charging Huawei SuperCharge using a voltage of 4.5 V and a current of 5 A is in theory allows you to charge the battery P20 20% over 10 minutes and 58% in half an hour. The questions about battery deterioration Huawei tried to give an immediate answer – the manufacturer claims that the sinking capacity by 20 percent will not happen after 500 recharge cycles, as "competitors", and after 800 cycles.
Prices on the Russian market are not yet announced, but we already know that in Europe, the model P20 will cost 649 euros, and P20 Pro is € 899. Information about price of new products in Russia and the start of sales we will add material later.
Source: 3dnews.ru