The tablet iconBIT THOR and SPACE II: a good mix of good options
Company revenues in the domestic market should feel quite confident. Why? The fact that it produces really interesting and high quality devices (one can think of the recently released iconbit nettab MATRIX II ), with lifts on them the price tag. If the cost of its devices would be quite a bit higher (say even a few thousand), they would definitely represented less interest and, therefore, they would be less demand. However, the company's products. the ratio of price and quality seasoned almost
perfectly (of course, you can always do something more cheaply, but it is not always useful). And therefore we rejoice when in our test lab comes a new Foxconn device. So that, perhaps, finish this digression, and will move immediately to the testing of two new products.
Equipment
The devices come in boxes of cardboard, decorated in corporate style of the manufacturer. On their front sides applied to images of gadgets and summaries of the main technical characteristics, which can make first impression on new products. Pique interest phrase Ultimate Full HD HDMI Tablet PC (on the box THOR) and Advanced Full HD HDMI Tablet PC (on the box SPACE II) — just want to check whether the device deserve such high ranks. However, we'll get to that. Special attention is given funny icon Dual Core CPU, which painfully resembles the logo of any of the Intel Core the latest generation. On the back sides of the boxes to see the location of all ports and buttons tablets, as well as detailed technical specifications supported media file formats.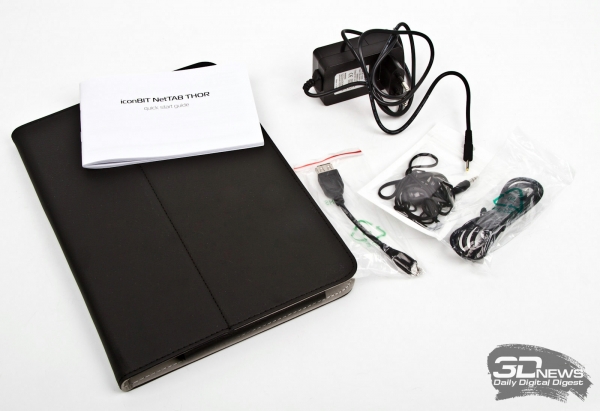 Kits supply of new products is identical. Each includes the following:
headphone Axelvox;
synthetic case;
user manual;
adapter USB ↔ microUSB;
the USB adaptor (mother) ↔ microUSB (OTG);
charger.
As you can see, tablets comprehensive package that allows you to get any of the devices out of the box and immediately start their full use. The domestic manufacturers were very pleasant trend: and headphones to his tablet to put in as a makeweight, cover, and OTG-cord. Nothing needs to be purchased separately.
Appearance
The front panel of the tablets do not contain anything remarkable. The large display takes up almost the entire surface. Around the screens are a medium size frame, the top of which is eye webcam (2.0 MP at THOR and 0.3 MP at the SPACE II). Both gadgets the entire front side is covered with a protective glass, scratch it or keep it to a fingerprint is not so easy.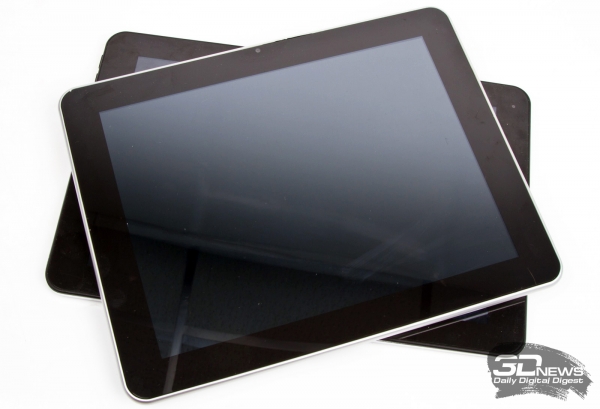 Despite almost identical diagonal screens (the difference is 0.4 inches can not take into account), the devices are totally different. The fact that tablets with different proportion of display sides: 16:9 have a THOR and 4:3 SPACE II. Apparently, therefore, decided to conduct a kind of experiment and see which tablet customers will take warmer.

"Rocker" increase/decrease the volume and all interfaces (restart button, a 3.5 mm headphone Jack, a small external speaker, video output micro HDMI 1.4 version, a slot for memory cards microSD, microUSB interface and a connector for connection to charging) THOR collected on the left side, and the SPACE II on the right. They are placed on the piping that runs along the entire side surface of the gadgets. By the way, THOR, this is the metal edging, and SPACE II — plastic.

The younger the device button power/lock passed on the right side of the upper end. In older models it is on the side, along with all the other controls. The other edges of the tablet are empty.






The rear panel of both devices matte. Thanks to her, the gadgets are nice in the hands and not strive to slip out of them. Unfortunately, "zalamyvayutsya" panel pretty quickly. Here, by the way, at first glance, contrary: THOR the heel seems to be plastic, SPACE II — heavy metal panel. In fact, in THOR also used a metal plate, but covered with a thin layer of plastic. Upstairs features a megapixel camera, and next to them — flash. At the bottom of the panels are certification marks and serial numbers of the devices.
The appearance of novelties in General attractive. First, the tablets turned out to be relatively compact (thickness is normal for modern devices ten millimeters) and acceptable weight (650 grams). Second, the gadgets are securely collected: hanging anything anywhere and does not creak even when an external impact. However, the gaps are even it is not everywhere. However with the appearance from THOR and SPACE II all right. Go to the stuffing.
Specifications
iconBIT nettab THOR
iconBIT nettab SPACE II
Processor
2×1,6 GHz, ARM Cortex A9
Graphics controller
Mali-400MP
Screen
10.1 inches, a resolution of 1280×800 pixels,
capacitive, IPS
9.7 inches, 1024×768 pixels,
capacitive, IPS
RAM
1024 MB DDR3
Built-in disk
8 GB Flash
Connector flash cards
MicroSD (up to 64GB)
Ports
1 x MicroUSB 2.0
1 x Mini HDMI 1.4
1 x audio output mini-jack 3.5 mm
Bluetooth
2
Wi-Fi
802.11 b/g/n
Sensors
G-sensor
Camera
Front: 2.0 MP (no autofocus)
Main: 2.0 MP (without autofocus, with flash)
Front: 0.3 MP (no autofocus)
Main: 2.0 MP (without autofocus, with flash)
Food
Li-polymer battery (8000 mAh)
Li-polymer battery (7800 mAh)
Size
261x171x10 mm
241x187x9,9 mm
Weight
650 g
653 g
Operating system
Android 4.1 Jelly Bean
Android 4.0 Ice Cream Sandwitch
Official manufacturer's guarantee
12 months
The average retail price
8 490 rubles
8 990 rubles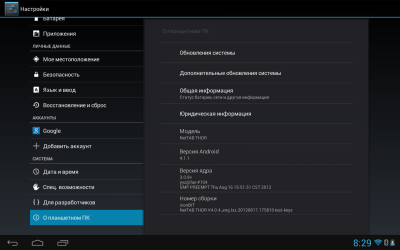 As you can see, from a hardware point of view, the tablets differ by and large only screens. Iron they are exactly the same. She Therefore positions its new offspring as games, and the company has every reason. Judge for yourself: the devices have capacitive screens large diagonal, dual-core Cortex A9, clocked at 1.6 GHz, and "Quad core" graphics controller Mali-400MP, which still can be considered among the best in its class. Sin on this car, not to drive and not shoot at someone!
Filling gadgets allow without significant "brake" to run most three-dimensional games and play high definition video. With web surfing and multimedia tasks the tablet can handle even more without difficulty. At the disposal of new products is one Gigabyte of RAM and eight gigabytes of internal (you can add another 64 GB through memory cards). Let us note once again that, despite a very, very decent inside, the gadgets are quite compact, which can not but rejoice.
Display model THOR
As we have noted, iconbit nettab THOR screen with large, by the standards of a tablet PC with a diagonal of 10.1 inches. But the not so great resolution is just 1280×800 pixels. Therefore, individual pixels are visible to the naked eye (the point density is approximately 149,5 one inch). Generally speaking, this standard HD resolution operating system Android 4.1, but in this case it would be nice to increase. IPS-matrix ensures that the device has good colour reproduction, fast response and wide viewing angles — 178°, according to the developer. Specifically this number we can not confirm, but the fact that the colors are not inverted in case of significant deviation of the sight from the perpendicular, is the fact. The display of the tablet supports up to ten simultaneous touches.
In manual brightness control, the minimum luminance level of the white field was 74 CD/m2, a maximum of 314 CD/m2. The backlight level is quite decent, the screen will remain suitable for perception even outside on a lovely day. The luminosity of the black field is from 0,122 to 0.43 CD/m2. A good indicator — black on the tablet display looks really black, not dark gray. The contrast is set at a level of about 675:1. Color gamut significantly narrower than the palette sRGB (72%) and even more so than Adobe RGB (53.5 per cent).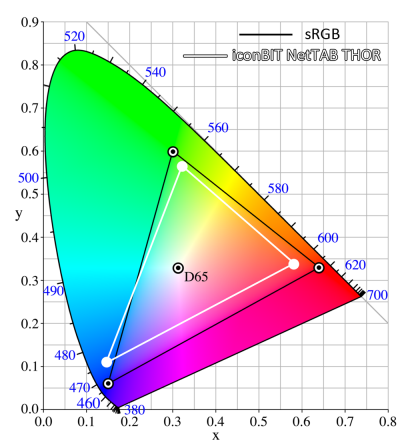 Display model SPACE II
IconBIT nettab SPACE II has a screen with a diagonal of 9.7 inches. Its resolution is 1024×768 and an aspect ratio of four to three (iPad 2, Hello!). The pixel density is less than that of THOR: 132 dots per inch, but visually perceive the information from it better than from the screen of the older model. Like THOR, the display is based on IPS-matrix, so the picture looks vivid, colorful and juicy. The screen also supports up to ten simultaneous touches, and very quickly responds to each of them.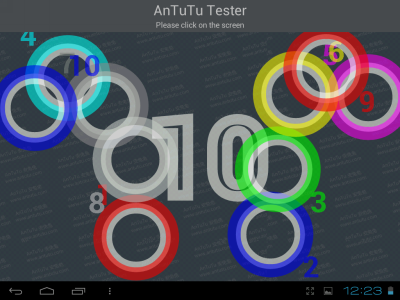 The levels of illumination of the screen SPACE II are about the same as THOR. The boundaries just a little pushed down from 70,5 to 309 CD/m2. The luminosity of the black field is the same as that of the display the older model: from 0.156 to 0,492 CD/m2. A similar range of brightness will allow you to use the device in almost any conditions. The average value contrast ratio is 550:1. Color gamut a little wider than THOR, but still much narrower palette sRGB (76%) and Adobe RGB (56.4 per cent).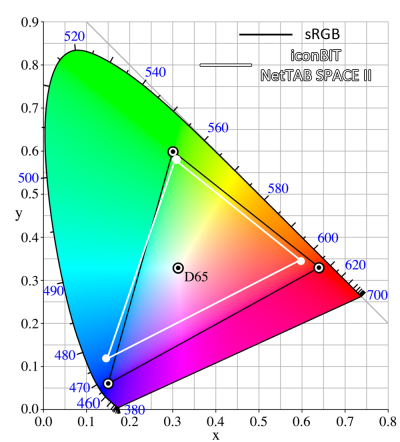 Performance
To evaluate the performance of tablets used proven synthetic tests. The results obtained are listed in the table. Compare new items we want are not equal, and with devices known to be higher class (in the second and third generations have written Ultimate and Advanced on the boxes — will have to match):
Samsung Galaxy Note 10.1 GT-N8000: ten world-famous flagship, the company is equipped with a Quad-core processor and two gigabytes of RAM;
ASUS Eee Pad Transformer Prime: the transformer tablet running on the Tegra 3 processor and has a similar screen size. Power mode to "balanced."
Discipline
iconBIT nettab THOR
iconBIT nettab
SPACE II
Samsung Galaxy Note 10.1
ASUS Eee Pad
Transformer Prime
Quadrant scores
4022
4274
5434
4217
AnTuTu Benchmark, scores
7081
8253
12398
–
Linpack Single Thread Mflops
55,139
60,793
57,068
45,1
Linpack Single / Multi Thread Mflops
92,112
94,227
174,359
75,471
Nenamark 2, FPS
50,8
56,5
58.9 per
47,8
Basemark 2 Taiji, FPS
31,48
38,18
36,21
–
RightWare BrowserMark, Stock, points
140122
146211
156208
110295
RightWare BrowserMark, Chrome, scores
151344
153198
158518
115957
| | |
| --- | --- |
| | |
| | |
The results of the testing we were pleasantly surprised. Yes, tablet computers are everywhere were able to surpass your rivals, but it is from them and no one was waiting because the devices are totally different price categories, which differ in two or two and a half times. But to get closer to his older brothers gadgets quite managed, and in some tests easily beat the much-vaunted "Tegra". In synthetic test iconbit nettab THOR Quadrant scored 4122 points, and SPACE II — 4274. It can serve as a guarantee that the tablet will not slow down when surfing the web, scrolling Windows operating system, HD video and other multimedia tasks. AnTuTu benchmark confirmed it, appreciating the work of the older model more than seven thousand points, and Junior — more than eight thousand.
| | |
| --- | --- |
| | |
| | |
The results shown in CPU-jobs, was quite expected. Much more interesting was how manifest itself, the device in "gaming" tests, because Foxconn is positioning novelty as gaming tablets. Well, tested and demonstrated. The hopes gadgets acquitted. In a simple test Nenamark 2 gave THOR a FPS value equal to 50.8 mm, and the SPACE II — a 56.5. The last is as close to perfect (60). Any casual toy to slow down will not. For the performance of more complex 3D games meets the job Basemark 2 Taiji. In it, THOR got quite a good estimate — of 31.48 FPS; SPACE II bypassed his older brother and in this test with a score of 38.18 FPS.
It turns out that playing on the whole SPACE II: any pair of fps in games — not too much. Yes, and a screen with an aspect ratio other than 4:3 is better suited for toys. And watch movies, of course, better at the screen of THOR. Most of the films is currently filming with an aspect ratio of 16:9 (or widescreen — 21:9), and the display SPACE II too would have squeezed the picture. Although the whole play and watch a movie on both devices.
The battery life
| | |
| --- | --- |
| | |
| | |
IconBIT nettab THOR is powered by a lithium-polymer battery 8000 mAh, while at the iconbit nettab SPACE II has only 7800 mA*h it is Logical to assume that a fairly high battery capacity should contribute to a long "life" of the tablet on a single charge. It is, but with some reservations. Not to mention that gadgets are quite high energy consumption (still, big screens need a lot of energy!). In the profile test AnTuTu THOR scored a very decent 825 points, SPACE II — a little more: 899. Tablets deservedly bypassed the Acer Iconia Tab A500 — the device with similar characteristics, but much less capacious battery (3260 mAh). When playing HD video file non-stop with the maximum backlight level and an active Wi-Fi connection, both devices worked for a little more than four hours (THOR passed out the first SPACE II reached about 15 minutes). If you use any of the tablets moderate its battery is enough for working day or on the day of operation. If you plan to use gadgets outside the home — it is better to take a charger.
Camera
As we know, the camera on the tablet is inserted not so much for users, but for the presence of one of the numbers in the specifications of the device. Unfortunately (or fortunately, because you can overpay for good, but, in fact, useless camera don't have), in the case of new tablets iconBIT this figure is quite small — only 2 MP. With the help of rear camera you can create images in the format .jpg 1600×1200 pixels, but even in good light will have to endure low contrast, poor level of detail and the wrong color. Often in the pictures you can notice chromatic aberration. However, it is to be expected. The question is whether this camera? Won't mind his own business and leave this question to the discretion of the beholder.
The interface of the camera apps from both tablets standard, "vedrody". You have the following settings: digital zoom (which with megapixel matrix, of course, better not to touch), using the flash (auto, on, off), white balance (auto, incandescent, daylight, fluorescent and cloudy) and select the type of scene (auto or night). In the lower right corner is the mode switch: photo, video, or creating a panorama. The video files are recorded in format .mp4 with 640×480 resolution. Of course, their quality leaves much to be desired. But panoramas work smooth, with a barely noticeable "seams". Of course, they are the same artifacts that were in the photos.
Example of panorama; the picture is presented without editing:

Gallery of pictures taken on camera iconBIT nettab THOR (from SPACE II is exactly the same, so get one and also two tablets, we did not). All images are presented without editing.
The front camera of the tablet THOR also has megapixel matrix, and here it turned out quite successful. So much so that it even more pleasant to use for calls on Skype. In good light the called party will see your face quite clearly, and the level of detail would be acceptable for Skype. If there is not enough light, the picture will be covered with a generous layer of noise, but will still be "readable" to the interlocutor.
Available SPACE II there is the usual 0.3 MP webcam. As analogues, even in good light the picture is grainy and noisy, that really there to talk about extreme conditions the video.
Conclusion
Company iconBIT presented to the Russian users of two very interesting tablet. Their value is less than nine thousand rubles, while the device has a number of advantages over devices similar price categories:
excellent performance;
good the screen is based on IPS-matrix;
rich equipment;
the modern version of the operating system;
compactness (thickness of the device 10 mm);
a wide choice of interfaces, scalable bundled wire OTG.
Without flaws, as we know, you can not do, and so we list them:
the lack of 3G and GPS;
weak rear camera;
the included case partially covers the corners of the screen.
The drawbacks we have discovered are generally small. Although if you look on the other hand, the device could have been done a little better. For example, it would be possible to throw out them rear camera, which in the present performance is absolutely not necessary, because hardly anyone of the users dare to do it through photography. Could be added 3G-module, but this should not wait: IconBIT believe that it is better to buy a portable 3G router and distribute the Internet from all devices, including the tablet. This toy is inexpensive, in addition, also the life time of the tablet extend. Sorry, the GPS does not appear. Otherwise we, albeit with a few reservations, forced to admit that for such money a tablet really even Ultimate (this is perhaps more about SPACE II than about THOR), and quite a Advanced.
Source: 3dnews.ru