Review of the protected Canon camera PowerShot D30: deep
In the distant by the standards of the IT industry 2009 Canon jumped into the last car of the protected chambers, releasing one of his last firstborn D10. This camera was similar to the bathyscaphe that no matter how hinted at the advanced abilities of the camera under water. However, something significant D10 surprise could not — as in terms of functionality and in terms of depth of immersion. Then followed a three-year pause. The design of the next model, D20, was also quite peculiar, but
it was closer to the usual design of ultracompact. But again — nothing extraordinary or even unique in its class, this camera the potential buyer could not offer.
But D30 surprise quite standard housing. He's not as deliberately brutal as the Panasonic DMC-FT5 and not so extreme as the Fujifilm XP200. Nikon AW120 is also on a much more masculine, and even cameras with low class of security look much more aggressive. But appearances are deceiving: the D30 at the moment among protected cameras is the "deep water". It's no joke — 25 meters dive without Boxing, 15 meters more than its predecessor! Most of the competitors crumple at the level of 12-15 meters, and still the leader in this discipline — Nikon AW120 — behind an impressive 7 meters. Other "protective" features are pretty standard — the camera can withstand frost up to 10 degrees and drop up to 2 meters. D30 also, like all direct competitors, equipped GPS module. And the cost new is similar with most top-end cameras-SUVs, which are now not so little. In General, despite the striking advantage of the immersion depth, easy life D30 to be seen.
Specifications
Canon PowerShot D30
Image sensor
1/2. 3-inch CMOS sensor with backside illumination, 13 MP
Effective number of pixels, MP
12,1
The format for saving images
A photo frame: JPEG (EXIF 2.3, DCF 2.0, DROF 1.1)
Video: MOV (MPEG-4 AVC / H. 264)
Focal length range, mm
5,0 — 25,0 (EGF 28-140)
Frame size in pixels
A photo frame: up to 4000×3000
Video: up to 1920×1080
Sensitivity, units in ISO-equivalent
Auto, 100, 200, 400, 800, 1600, 3200
The range of exposure, with
1-1/1600 (default settings)
15-1/1600 (total range-varies by shooting mode)
Metering modes
Evaluative metering (AF frame to face detection), center-weighted integral metering, spot (center. point)
Compensation
+/-2 EV in 1/3-step increments
The range for the flash, m
SHU: 0,3 — 3,2 (ISO Auto)
Body: 1,0 — 3,0 (ISO Auto)
Self-timer,
2, 10, multiple delayed 1-10 and from 1 to 10 exposures
The storage device
SD, SDHC, SDXC
LCD display
3 inch 461 thousand points
Viewfinder
No
Interfaces
HDMI, USB, TV-out (analog)
Additionally
GPS/GLONASS
Food
Li-ion battery NB-6LH, 4.0 W·h
Dimensions, mm
109,4×68,0x27,5
Weight, g
218 (with battery and memory card)
The package
The delivery something special stands out — the camera, charger, battery, USB cable, hand strap, user manual and a CD with additional software. As options are available a couple of covers, silicone case bumper, a couple of remote flashes, various cables, an organizer for accessories as well as the float, which will not drown the camera. In General, with additional options too sparse.
Appearance and usability
As already noted, the Canon PowerShot D30 is not like the usual protected gadget — there's no aggression or brutality. However, more important than design, and how well the body tolerates all the hardships and privations of extreme exploitation. Decorative front panel Canon PowerShot D30 is made of aluminum. The surface is Matt and the paintwork is very durable — accidentally scratch it is not so easy, although if you fall on asphalt or stones it may break, but during testing this has not happened. The rest of the body panels are made of a very tough, thick and solid plastic that even the needle was not so easy to scratch.
The build quality is of course impeccable. At the bottom of the camera emblazoned inscription Made in Japan, which are less likely to be found not only on the compacts, but for SLRs. In the front and the rear parts of the enclosure has two large pads of hard rubber with an interesting textured pattern. Lining due to hard rubber compound will not attract dust, but fixation is provided solely by the texture of the surface and not grip properties of the rubber, in wet hands, the camera tries to slip that is attributed to the significant deficiencies. However, there also needs to be noted that, in General, the camera lies very convenient.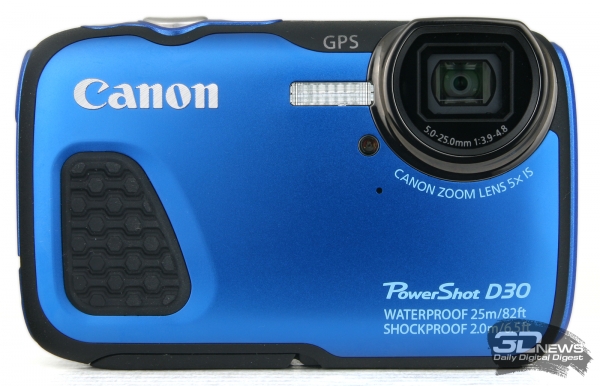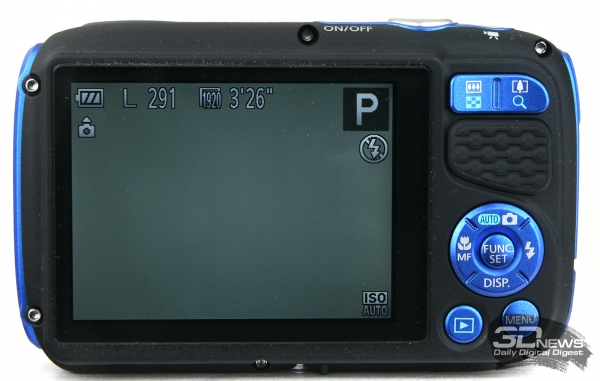 In front are the only lens, window's built-in flash and mono microphone. Most of the back surface, of course, takes the display to the right of which are key-swing control zoom and zoom buttons in playback mode and display the main menu and a four-way thumb pad, supplemented by a Central OK button/call the quick menu.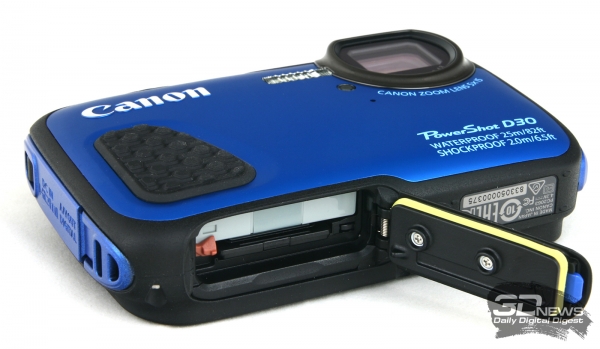 Top noticeable only three keys — power, shutter and video recording. The lower part of the camera is not too loaded — just plug setup on the tripod and the door of access to the compartments for memory card and battery. Classic protected system cameras duplex locking the door is not here, but by chance a compartment are unlikely to open because the lock slider should not just slide, but also a bit. But in any case, this is the least reliable lock among all the competitors.
The locking mechanism of the door is on the right side similar. Under the door are hidden connections USB/AV – and HDMI-cables and socket connections to an external power source. The left side surface is empty.
Sourse: 3dnews.ru