Review of the MSI AP16 Flex: little more tablet
The range of the MSI is so large that it divided into groups in accordance with the purpose. In addition to multimedia and gaming, the range of MSI there are still monoblocks of the Professional series, which can be partly attributed to the corporate segment. This series comes in four models, one of which was in our lab. The MSI AP16 Flex can boast of high-performance hardware or advanced multimedia functions, but it has small dimensions and allows literally flexible approach to the question of
the organization of working space, which can be Desk, wall or even the ceiling.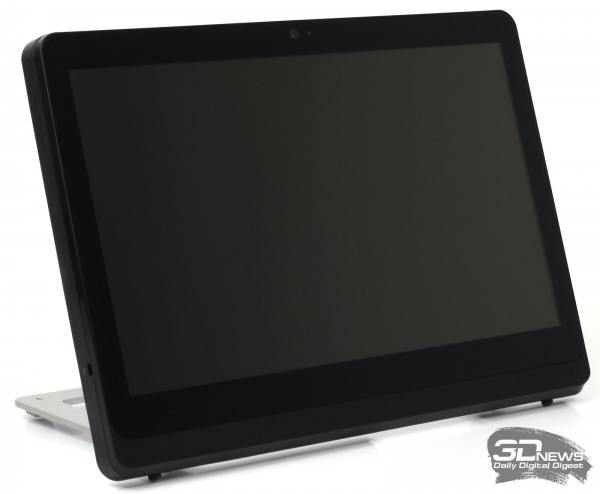 The package
Monoblock comes in a nondescript cardboard box, inside which, in addition to the device itself, were found to be the minimum set of accessories, consisting of a power adapter with detachable cable, printed materials including a manual start and a CD with drivers. The latter is surprising, because the optical drive in this candy bar there, so if necessary, drivers still need to be downloaded from the manufacturer's website. The package the minimum possible, but do not have to pay for is not always convenient input device, which often come together with the desktop, keyboard with mouse sometimes easier to buy your own.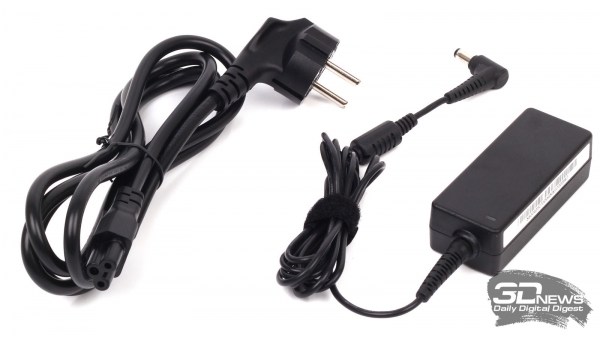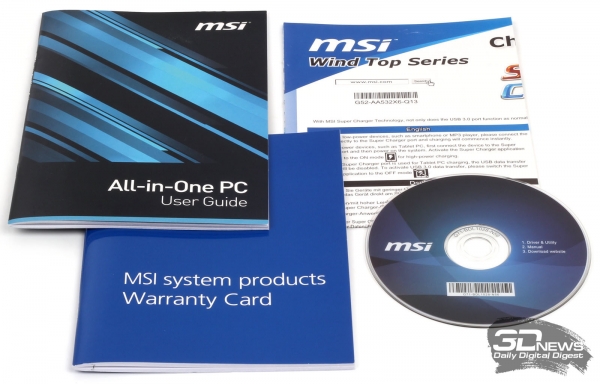 Specifications
MSI AP16 Flex
Processor
Intel Celeron J1900 2.0 GHz (up to 2.41 GHz)
Graphics controller
Intel HD Graphics
Screen
LCD, 15.6 inch WXGA (1366×768)
multi-touch (up to 10 touches simultaneously)
RAM
4 GB SO-DIMM DDR3-1333 (666 MHz)
Hard drive
HGST Travelstar
2.5 inch, 500 GB, SATA 6 GB/s, 7200 rpm
Optical drive
Missing
Connector flash cards
SD/SDHC/MMC/MS
Interfaces
1 × USB 3.0 (with optional super charger)
3 × USB 2.0
1 × RJ-45
1 × audio jack 3.5 mm
Wi-Fi
802.11 b/g/n (Realtek RTL8188EE)
Bluetooth
Missing
Network adapter
10/100/1000 Mbps (Realtek GBE)
Sound
Realtek ALC887 High Definition Audio
Additionally
1-MP web camera
Speakers 2 × 2W
Size, mm
382 × 264 × 25
Weight, kg
2,0
Operating system
Windows 8.1
Guarantee, months.
24
Price, RUB.
n/a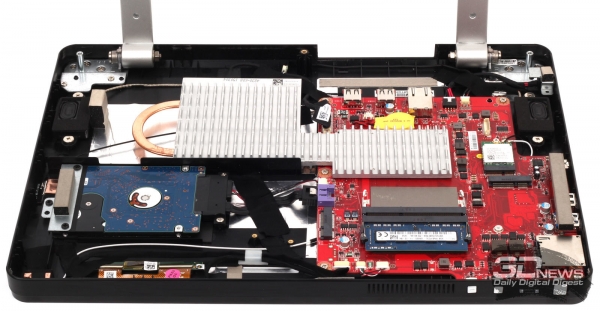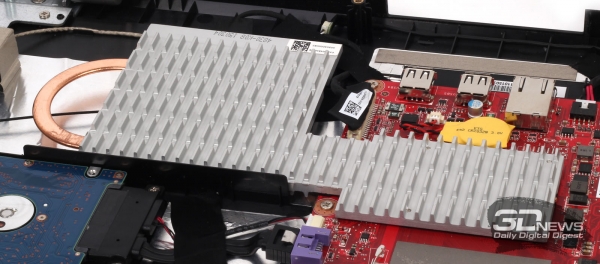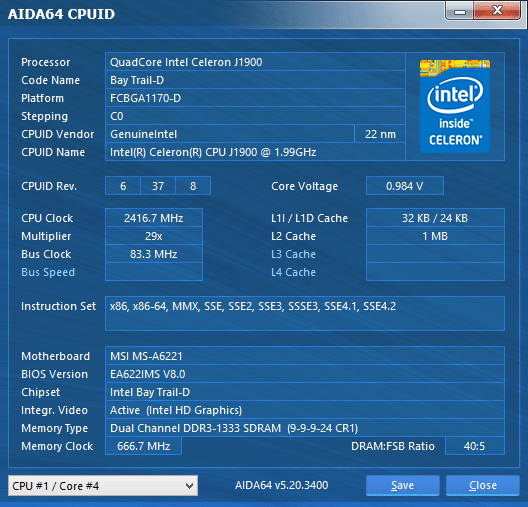 | | | |
| --- | --- | --- |
| |   | |
The monoblock is built on the platform Intel Bay Trail with Quad-core processor "desktop" series Bay Trail-D Celeron J1900 Intel architecture Silvermont. Recall, Bay Trail — stage evolutionary development of the Atom processor, the desktop version which Intel decided to call the word Celeron. The basic clock frequency of this processor is 2.0 GHz, but in Turbo mode it can reach up to 2.42 GHz. The capacity of the cache memory of the second level is 2 MB, and TDP of only 10 watts, allowing the processor costs a passive cooling system.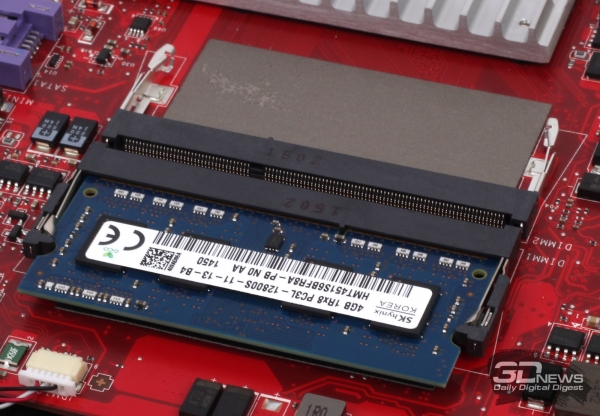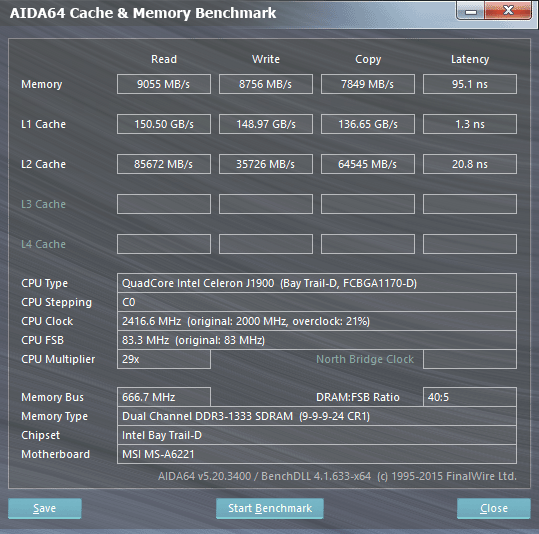 The platform is built with the versatile MSI AP16 Flex is a dual-channel 128-bit controller RAM DDR3 1333 MHz. On the motherboard of the monoblock there are two SO-DIMM slots, which can be installed memory modules with a total capacity of up to 8 GB. In our sample, only one was installed the DDR3-1600 HMT451S6BFR8A-PB 4GB production company SK Hynix.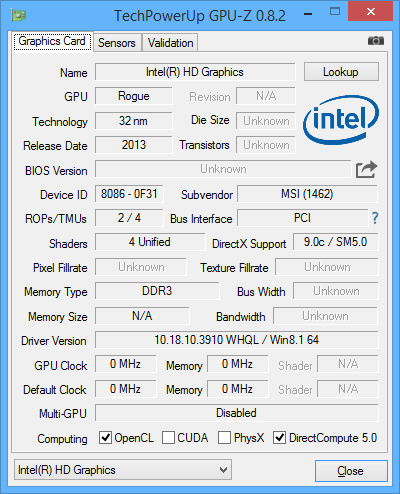 Intel Celeron J1900 has its own integrated graphics core Intel HD Graphics running at a base clock frequency of 688 MHz, with a possible increase to 854 MHz. Intel calls since almost all of their video cards, so often the name is difficult to adequately assess the performance of specific solutions. In this case, being knowledgeable of the number of execution units — in the local HD Graphics are only four, that is, we are weak and economical video card. The possibility to install a discrete graphics card in MSI's AP16 Flex is not provided.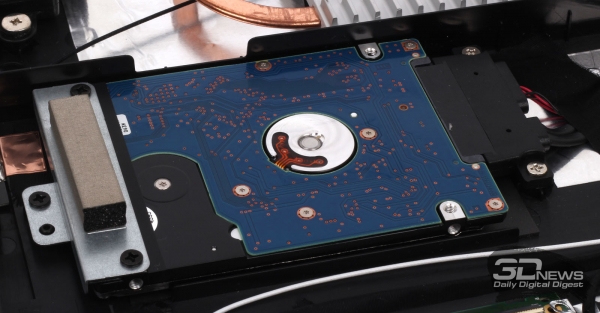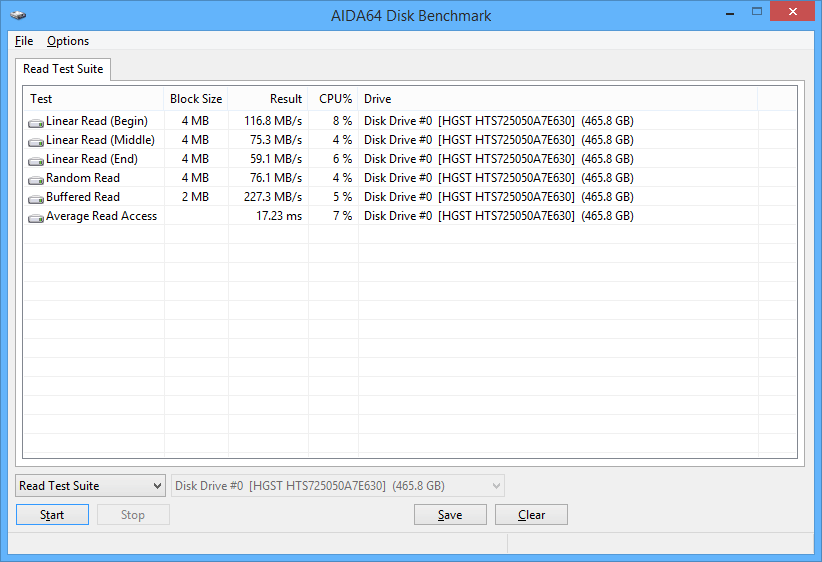 Monoblock built in the common 2.5-inch hard drive HGST Travelstar Z7K500 (HTS725050A7E630) production units of Hitachi. It is possible to model capacity 500 GB buffer memory of 32 MB and works with SATA 6 GB/s and a spindle speed of 7200 rpm Optical drive in this candy bar is not provided, but there is a reader for flash cards of formats SD/SDHC, MMC and MS.
The set of interfaces on Board minimum required. Of the four available USB ports only one can boast of specification 3.0. But this port works with a proprietary function Super Charger allows you to charge various connected devices even when the computer is off. Of communications, except Gigabit Ethernet controller, on Board our sample includes a wireless communication module 802.11 b/g/n, but the official specifications on the manufacturer's website indicated that the monoblock may be supplied with a module 802.11 ac. But the Bluetooth module from the MSI AP16 Flex is not. But there are two slots Mini PCI-E, one of which is a module Wi-Fi, and secondly you can install a Bluetooth module or other equipment. For example, the expansion Board can be a TV tuner, which, according to information from the manufacturer's website, comes this candy bar is optional.
Design and ergonomics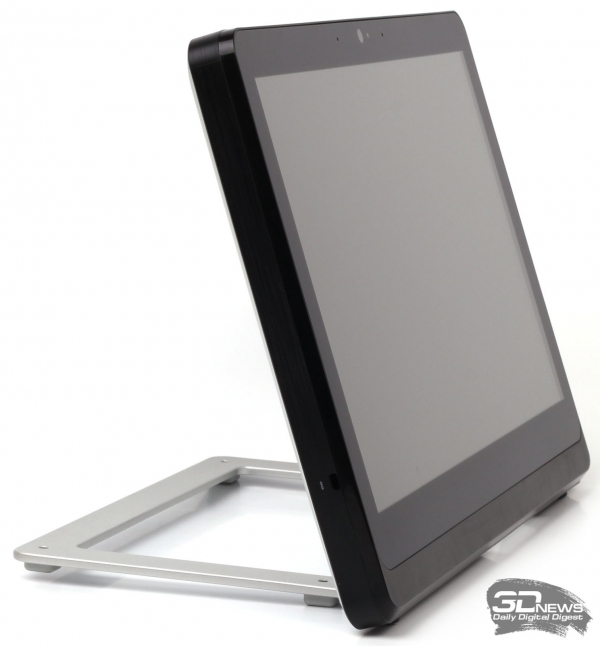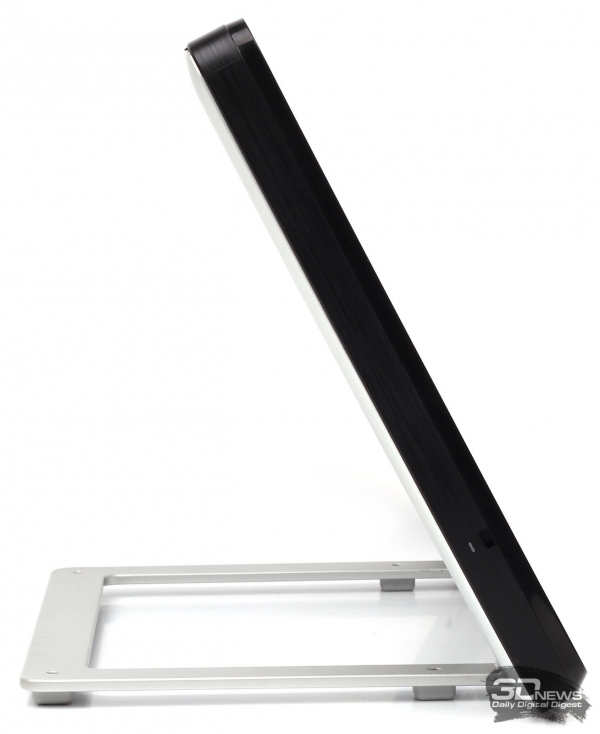 Form-factor trends is traditional for this type of device, but the size is unusually modest. The diagonal displays the most candy bars that are used as home media centers, typically greater than twenty inches, but the hero of our review this option is only 15.6 inches. To watch movies on this screen from a distance of several meters is unlikely to succeed, but to work with the new, placing the candy bar on the Desk or hanging it on the wall over the kitchen table, without problems.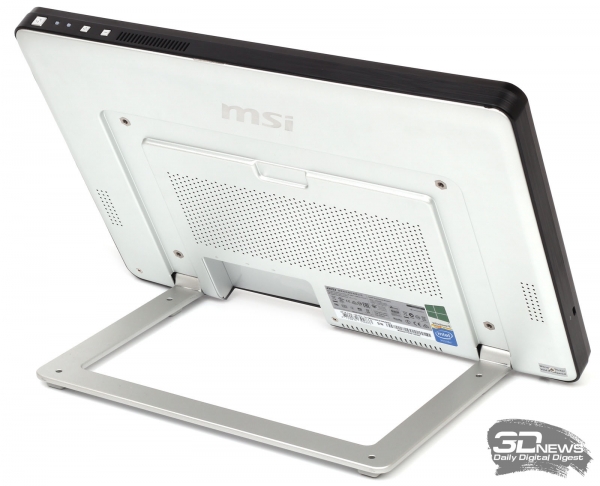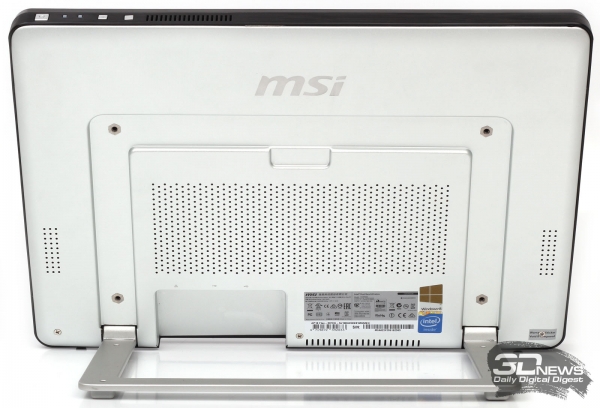 On metal rear wall light plastic housing with the versatile MSI AP16 Flex fixed foldable metal bearing p-shaped. It decomposed at an angle of about one hundred degrees relative to the plane of the body and allows you to turn your device into a table, wall and even ceiling PC. In the latter case, the monoblock will be hanging upside down and the bearing will be mounted on the ceiling.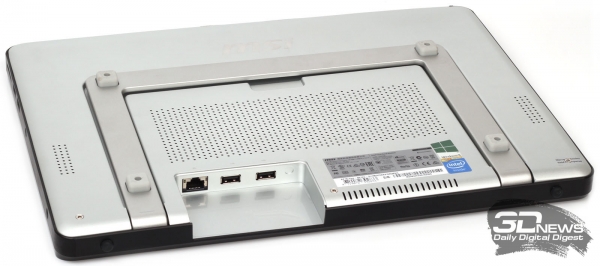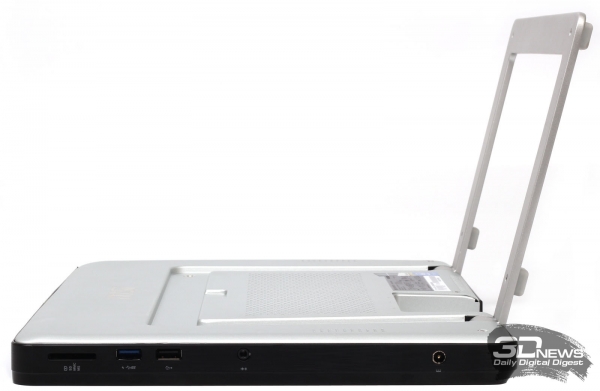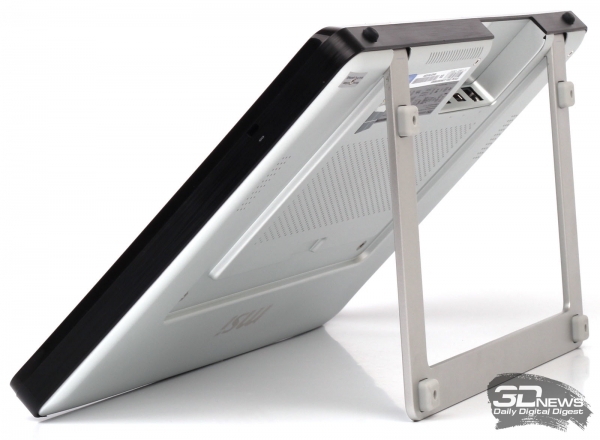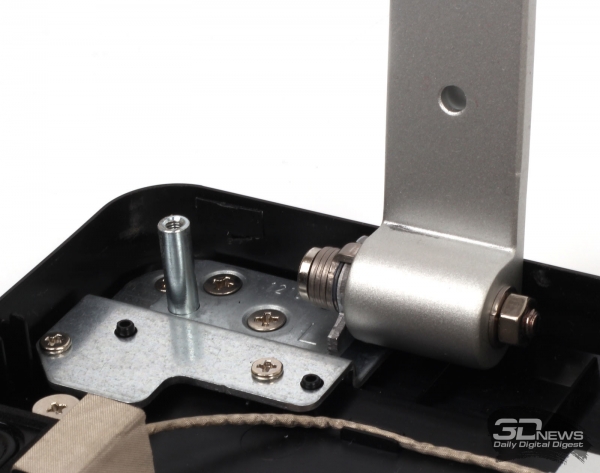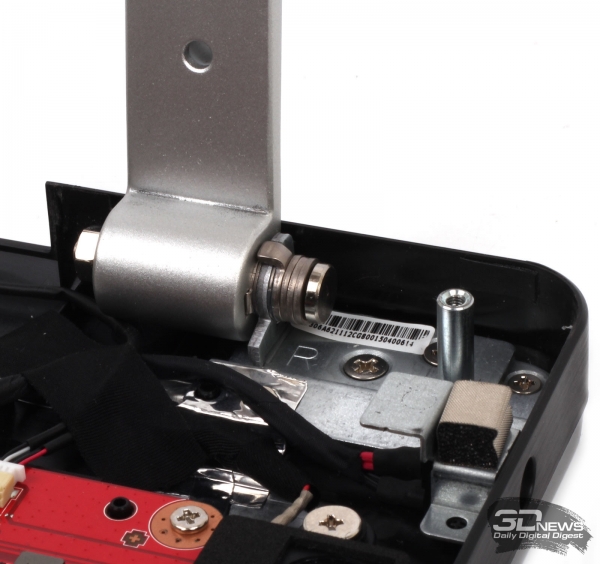 For tabletop use in the support provided rather large legs of a soft plastic, having through holes for fastening to the wall or ceiling. In turn, in the case of the candy bar, just below the openings on a support located inside a recessed threaded nuts that you can also mount the AIO to any smooth surface. Reliance itself has a smooth but fairly tight, not allowing the light housing to spontaneously emerge or deviate from the user-selected tilt angle. Well, on the back of the housing there is a u-shaped recess of appropriate dimensions that when folded the support do not protrude beyond the dimensions of a candy bar.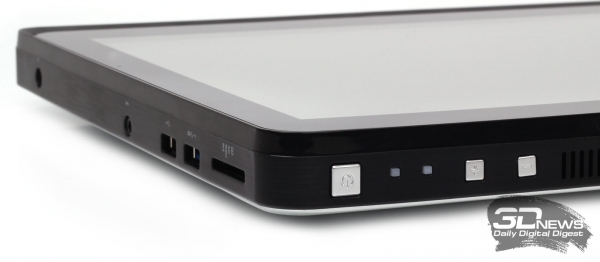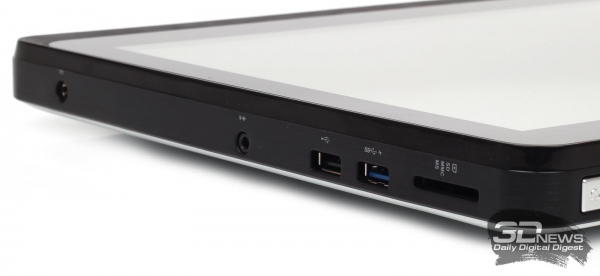 The power button located in the upper right corner of the case near the volume buttons built-in speakers and a pair of performance indicators. On the adjacent side face has a connector for a power adapter, a 3.5 mm audio Jack, card reader for flash cards and two USB ports, one of which has the specification 3.0.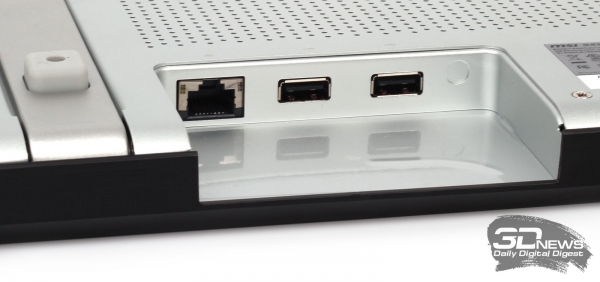 Two more USB 2.0 ports and a network port RJ-45 located on the rear panel in a small recess. They are arranged in such a way that suitable to the monoblock cables stretched down, so it can be convenient to connect the keyboard, mouse and of course the network cable.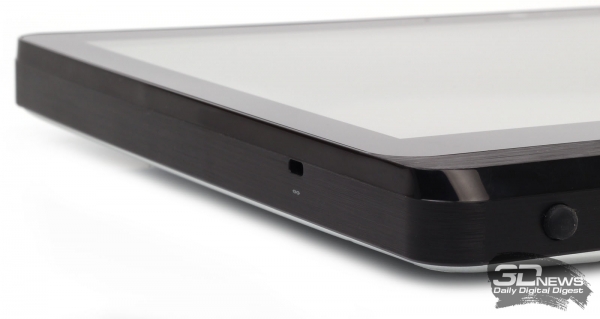 Have MSI AP16 Flex and socket for attaching a security lock such as the Kensington — it is located on the left side panel. In conclusion, the appearance, the versatile MSI AP16 Flex, you can add that candy bar looks not so catchy, like many others, but the ergonomics deserve the highest rating. The convenience of the location of ports and interfaces will not cause a doubt even from the most demanding user, and the flexibility for installation.
Source: 3dnews.ru