Another brick in the wall: a review of the tablet Lenovo IdeaTab S2110a
Lenovo has introduced a new ten-inch tablet with IPS-matrix, a Qualcomm S4 and a full set of communications, including built-in 3G modem. Moreover, the gadget can be connected to a special docking keyboard, getting an analogue of the netbook. If the new dramatically different from similar devices of other manufacturers? While most manufacturers have rushed to conquer Windows 8 and introduce her to all what is possible, gadgets, Lenovo has opted to upgrade the range of blanchetown good old
Android. No, he's not that old — unfortunately, not Jelly Bean, but Ice Cream Sandwitch obsolete can not be considered. At IFA 2012 Chinese giant has introduced three new tablet PCs: seven-inch, nine inch and ten-inch flagship, which will be discussed further.
Equipment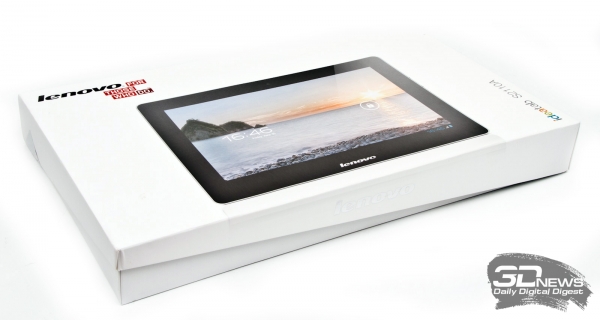 The product comes in a thin and compact white box of sturdy cardboard. Its front side depicts the front of the device, logo and slogan to Lenovo; on the back — only stickers with technical information. All decorated modestly, without any frills.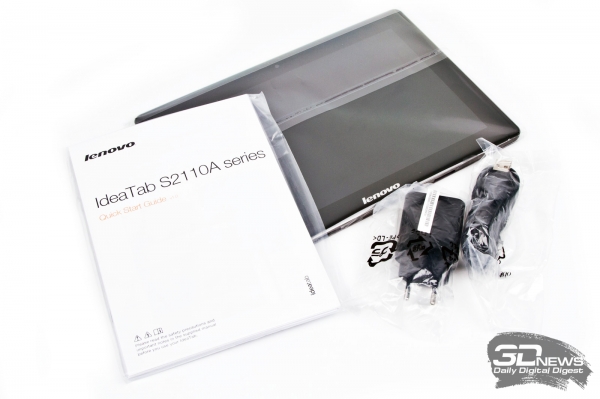 Standard set of the device is also not rich:
Documentation in Russian and warranty card;
Charger adapter connector for USB interface;
wire USB ↔ microUSB.
In the kit there are no nice things like a case, headphones or a cloth to wipe the screen. Even a simple protective film on the screen so it does not become damaged during transport and that no.
Appearance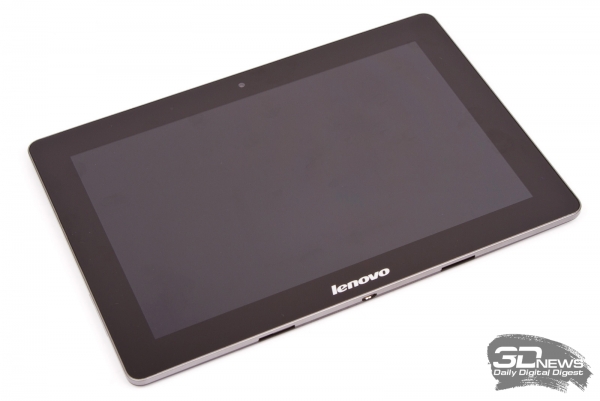 Externally, the novelty differs little from its ten colleagues. The front panel of the device covered by the monolithic glass, which protects the screen from scratches. Around the screen is standard size black frame. The top panel is placed peephole front 1,3-MP web-camera, below — the Lenovo logo.

MicroUSB interface, which is used as a connector to connect to the charger, are brought to the lower side of the gadget. Here are two fasteners for connecting the device to an optional dock keyboard.


"Rocker" volume control is placed on the right side of the device. Moreover, it is located so that in the process of using the tablet landscape orientation click on it accidentally is almost impossible. On the left side of the gadget to detect standard 3.5 mm audiojack, video output microHDMI and a slot for SIM-cards, hiding behind a thin rubber cover. On the lateral sides of the device are seen as small stereo speakers. Around the perimeter put the silver edging — this solution last time, is quite common in devices of medium and high price segments.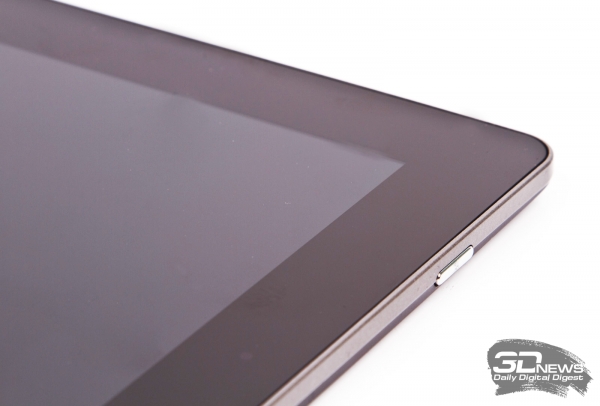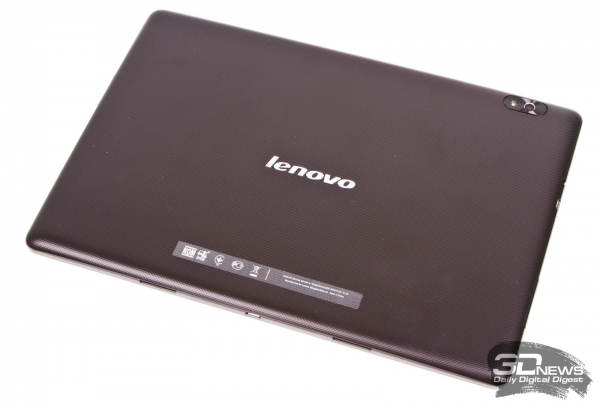 The rear panel of the device in relief: it would appear as if miniature diamonds. Due to this textural trim the gadget tries to jump out from the hands and generally causes a pleasant tactile sensation. In the upper right part of the panel is megapixel camera, and next to it flash. In the center of the embedded logo of the manufacturer, and below is pasted the sticker with the certification marks of the gadget.
Housing is made of sufficient strength that the device was not scratched or at least not as quickly scratched, plastic. Claims to the appearance we have. The device looks solid and attractive. In this assembled gadget is unreliable: even with a small external pressure, it noticeably sags, tingling, and on the screen appear the characteristic marks. Contact with the device need special care.
The technical characteristics declared by the manufacturer
Features Lenovo IdeaTab S2110a

Screen
TFT IPS, 10,1″, WXGA (1280×800), capacitive
Processor
Qualcomm Snapdragon msm8260 processor 2×1,5 GHz
RAM
1 GB RAM (LP DDR2)
Internal memory
16 / 32 / 64 GB
Wireless networks
Wi-Fi 802.11 b/g/n
GPS
AGPS
Bluetooth 3.0
2G GSM
3G
HSDPA
Sensors
Accelerometer, gyroscope, ambient light sensor, digital compass
Camera
Primary: 5 MP, flash, autofocus (1080p video recording)
Front: 1.3 MP, fixed focus (1080p video recording)
Connectors
1 x microHDMI
1 x microUSB
1 x SIM
1 x 3.5 mm combo audio Jack
Battery
Dvoryashina Li-polymer battery (9-10 hours of web surfing with Wi-Fi connection)
Additionally
Stereo speakers with SRS TruMedia function
The possibility of connecting a docking keyboard with extra battery
Operating system
Android 4.0.3 Ice Cream Sandwitch
Official manufacturer's guarantee
12 months
Dimensions
259,8x178x8,69 mm
Weight
580 g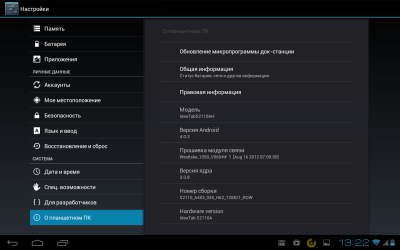 Screen
The novelty from Lenovo has a 10.1-inch display with a good but not top performance. The screen resolution is 1280×800 pixels (pixel density, respectively, 149,5 per inch). Frankly, WXGA is enough to almost completely hide the grain when working with the device at a distance bent at the elbow in. But its definitely not enough fans to measure numbers "and who has more?". Due to the quite high-quality IPS-matrix screen has excellent viewing angles as close to 180°. Touch display is capacitive, it quickly and accurately responds to touch. The screen supports up to ten simultaneous touches, and effortlessly copes with multi-touch gestures.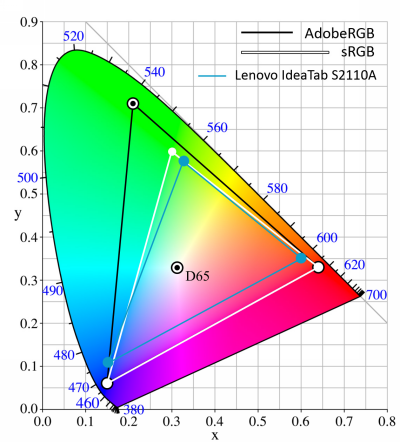 Screen Lenovo IdeaTab S2110a has an excellent stock of brightness. In manual operation the maximum value of the backlight of the white field was 425 CD/m2, minimum of 9.5 CD/m2. Variation is great, such boundaries will allow you to comfortably use the device in bright external light (here I have to thank the anti-reflective substrate), and in total darkness. You would think that bright lights negatively affect the saturation of black color. However, the result is close to a standard — 0,66 CD/m2, black is more like black. Average screen contrast is 675:1 — not bad for a portable device, but the standard for IPS. Color gamut of the screen is noticeable sRGB — 71,4%, but when working with the gadget does not create the impression that his display is not enough juiciness. Movies, photos — on the device's screen it looks pretty decent: naturally and without color distortion.
Performance
To assess the computational and graphical power of the innovations we use a set of synthetic and gaming benchmarks, presented in Google Play. Competitors to Lenovo tablet got not weak:
Samsung Galaxy Note 10.1 tablet with a similar screen, but somewhat more powerful hardware (four cores versus two, two gigabytes of RAM versus one).
Asus Eee Pad Transformer Prime — the gadget has the same screen running on Tegra 3.
| Discipline | Lenovo IdeaTab S2110a | Samsung Galaxy Note 10.1 GT-N8000 | ASUS Eee Pad Transformer Prime ("Productive") |
| --- | --- | --- | --- |
| Quadrant scores | 4870 | 5434 | 4357 |
| AnTuTu Benchmark, scores | 6952 | 12398 | – |
| Linpack Single Thread Mflops | 103,498 | 57,068 | 47,865 |
| Linpack Single / Multi Thread Mflops | 192,982 | 174,359 | 88,562 |
| Nenamark 2, fps | 58.9 per | 58.9 per | 50,8 |
| Basemark ES 2.0 Taiji, FPS | 29,83 | 36,21 | – |
| BrowserMark, Stock, points | 133414 | 156208 | 120165 |
| BrowserMark, Chrome, scores | 139126 | 158518 | 132037 |
| | |
| --- | --- |
| | |
| | |
Lenovo IdeaTab S2110a showed very good results in computational tests. In Quadrant new 4870 scored points, ahead of the Transformer Prime in performance mode. The results shown in the AnTuTu Benchmark, we got a little upset: almost seven thousand parrots is certainly good, but we expected that assessment if you do not step over the "top ten", then at least closer to it. Probably, the developers need to optimize the test. Demonstrated results can be considered a guarantee that the device will not be working everyday (email, surfing the web, etc.) and multimedia tasks.
| | |
| --- | --- |
| | |
| | |
Graphics tests the device is also dealt very well. In particular, in the simple task Nenamark 2 scored tablet of 58.9 FPS, thereby equaling the Samsung Galaxy Note 10.1. Unfortunately, a more sophisticated test, Basemark ES 2.0, was given IdeaTab S2110a is not easy, but the results are still good — almost 30 FPS. Little and the picture would start to twitch, and thirty frames per second is enough for a comfortable game. The results indicate that the gadget will be able to smoothly play most 3D games.
Link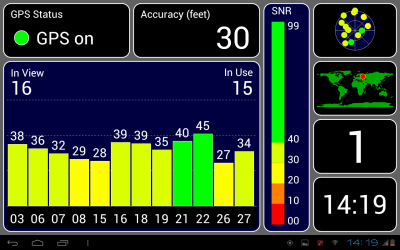 This section we are forced to leave almost empty. The fact that we simply have nothing to write in it, but to recognize the fact that the device with communication all very good. Built-in 3G modem provides a reliable connection with the network loses it rarely and only in places where it will make most other gadgets. Data transmission speed depends on network coverage and an average of 5-7 Mbps. Wi-Fi Module, of course, provides faster connection speed is 20-25 Mbit/s. With navigation is not a problem. The tablet is less than half a minute found 16 satellites and used 15 of them.
The battery life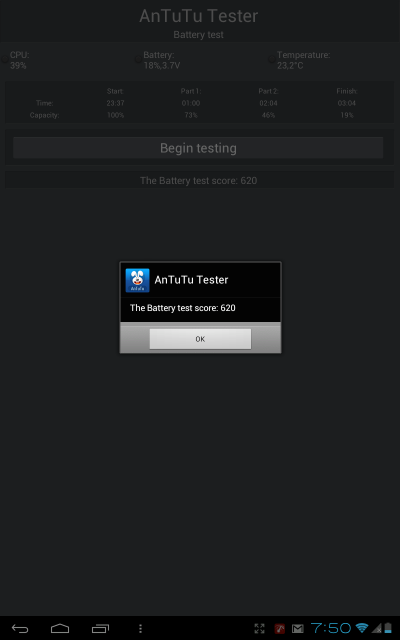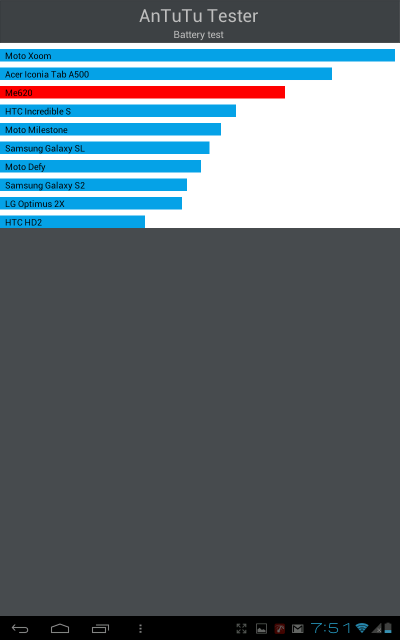 New works from dvoryanchikova lithium-polymer battery. The manufacturer claims that the battery lasts for 9-10 hours of continuous active work. In reality, after about three hours of continuous play at maximum brightness with an active Wi-Fi connection the device has discharged to 10%. Movie to watch longer — just under four hours. In other words, two average film enough, and if we decrease the backlight level, maybe all three. With average brightness and active Wi-Fi connection we were able to surf the web for more than eight hours a decent figure. In the profile test AnTuTu the device did not record, but very decent 620 points. Do not forget that to the IdeaTab S2110a, you can connect the docking keyboard and prolong his life for a few hours. In our laboratory Doc did not come, so the exact numbers can not name.
Camera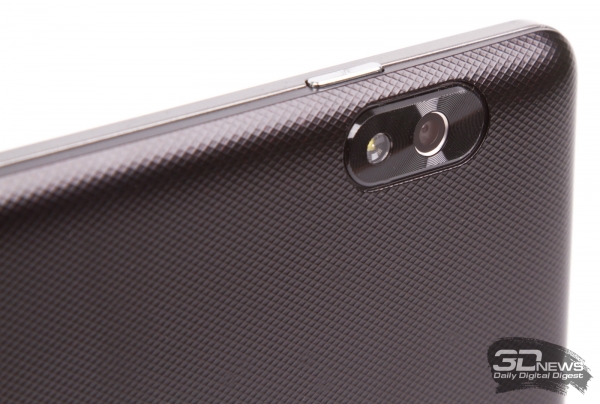 Camera Lenovo in his flagship at the time the article was tablet, IdeaTab S2110a was very wise. As we know, taking pictures or worse, to shoot video using a tablet PC uncomfortable, and doing this unit. On the one hand, to deprive the flagship of rear camera it would be wrong to get potential users to overpay for unnecessary 8 or 12 megapixels too bad. So engineers were limited to the matrix of five megapixels. Interface the camera has a standard for the Android operating system.
With enough light frames get detailed, sharp and natural, well-balanced color reproduction. Well, by tablet standards. Not to mention the interesting effect of distortion (distortion) of the corners, similar to what wide angle lenses from SLR cameras.
Still here and shooting mode panoramas. As usual, they are neatly glued, without noticeable seams, that's just their resolution turns less than that of conventional photos.
The front camera of the novelty standard 1.3 MP. In good ambient light it makes it comfortable to communicate with someone or to create pictures of themselves/loved, but if it's dark, the picture is immediately covered with noise. As usual.
The tablet is able to shoot high-definition video Full HD 1080p, with rear camera and front. It is saved in the 3GPP format. Min recorded with the rear camera video (Full HD) requires about 150 MB of disk space. If the place you need to save (recall, the connector for the stick of the gadget is not), you can reduce the resolution to HD Ready 720p or standard 480p.
Work with the device: the operating system
New running the operating system Android 4.0.3, to which programmers Lenovo had a hand. Standard desktop, to be honest, not much different from the standard "vetroenergo". The difference lies in the unusual use of widgets, folders allows to sort programs in appropriate categories. In addition, pre-installed Wallpaper brand of the manufacturer, a few less interesting widgets and effects to scroll through desktops, stylized rotation of the cube.
| | |
| --- | --- |
| | |
| | |
In addition to the visual changes in the sheath, a manufacturer of advanced "sewed" into the operating system a solid selection of very useful applications. It includes the following apps: AccuWeather (weather forecast), Amazon Kindle (e-books), Docs To Go (office files), "ES Explorer" (file Manager), Evernote (an advanced Notepad), GameTanium (games store), GO Keyboard (alternative keyboard), Games SE (a set of five card games), News Republic (news of the world), Norton Security (demo version of famous antivirus), ooVoo (video chat), Papaya Free (games with elements of social networking), Shazam ("guessing" plays a song), SugarSync (backup and further storage in the cloud), SRS TruMedia (filters for audio), Vendetta Online (demo version online game) and Zinio (kiosk containing more than 4,000 magazines from many countries). The collection is really versatile and useful. Each user will find in it something useful to him.
That's just a regular video for some reason not able to digest many video formats, so it is time to replace some MX Player or something. It is also worth noting that, in 2D applications, the tablet is more or less cold, but in demanding 3D games run really hot.
Conclusion
In the final paragraph of the accepted answer to the main question of the test: "do we really need to take?" In the case of the Lenovo IdeaTab S2110a answer it is not so easy. On the one hand, the tablet has a number of advantages:
powerful hardware;
bright IPS-screen with natural colors;
large capacity battery;
excellent selection of built-in applications;
the ability to connect to the dock-keyboard.
On the other — the problem is that all this can and competitors, for example, the same ASUS Eee Pad Transformer or Samsung Galaxy Tab 2 10.1″. And no revolution or at least small, but interesting features the device can not offer — not in terms of power nor in design. And it's weird, because in the portfolio of Lenovo's lack of interesting and unusual gadgets (we are talking about laptops). If you remember that the device is not the most durable design, are starting more and more to look at competitors. However, other serious disadvantages IdeaTab S2110a no. The approximate price for the version with 3G and 16 GB built-in memory (without dock of course) is 17 to 22 thousand rubles — exactly as the above-mentioned analogues, and even a little more. It turns out that Lenovo has been good for the average ten-inch Android tablet with 3G and GPS without any frills, but with a reasonable price.
Source: 3dnews.ru