Overview of MSI GT73VR 7RE Titan SLI gaming laptop, which could
We have become accustomed to the fact that mobile NVIDIA graphics, starting with decisions on the architecture of Pascal, practical is in no way inferior counterparts, which are used in desktop computers. Only here for desktop in the sale is the GeForce GTX 1080 Ti is one of the first graphics cards that can truly be recommended to all those who want to comfortably play modern games in Ultra HD at a maximum or high graphics quality settings. Among the mobile solutions the most productive to
date version of the GeForce GTX 1080, but one such accelerator would be insufficient to "feats" in 4K resolution. Therefore, MSI engineers provided the model GT73VR 7RE Titan SLI notebook with two video cards GeForce GTX 1070 that with a proper optimization technology SLI should outperform a single GeForce GTX 1080 Ti. Therefore, this laptop is well suited for modern games in 4K resolution. In fact, to test this theory I took this model to the test, although GT73VR 7RE Titan SLI stands out from other laptops not only potential built-in NVIDIA graphics solutions.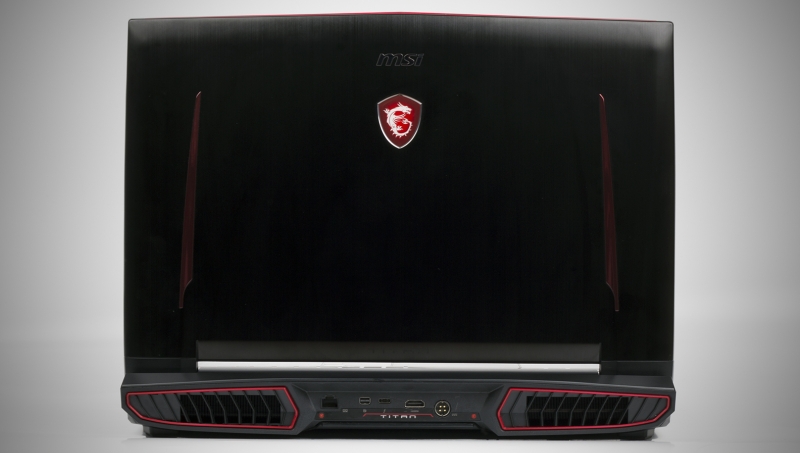 Specifications, equipment and
Modifications GT73VR 7RE MSI Titan SLI a few, but all are used by the Central processor Core i7-7820HK and a pair of mobile GPU GP104. But then the gamer has a choice. First, there is a version with a FHD-screen — including with a refresh rate of 120 Hz. Secondly, modification GT73VR 7RE MSI Titan SLI are equipped with different amount of RAM. Third, the notebook can be installed hard drives of different type and volume.
MSI Titan SLI GT73VR 7RE
Display
A 17.3″, 1920 × 1080, IPS
A 17.3″, 1920 × 1080, TN+Film (120 Hz)
17,3″, 3840 × 2160, IPS
The CPU
Intel Core i7-7820HK, 4/8 cores/threads, 2,9 (3,9) GHz, 45 W
Video card
2 × NVIDIA GeForce GTX 1070 (2048 CUDA cores, 8 GB GDDR5)
RAM
Up to 64 GB, DDR4-2400, 2 channel, 4 slots
Drives
HDD: 1 TB 7200 rpm, SATA 6 GB/s
SSD: 1 x M. 2 mode SATA 6 GB/s or 2 × M. 2 to PCI Express x4 mode 3.0 (SATA 6 Gbit/s)
Optical drive
No
The wireless communication module
Killer Wireless-AC 1535, IEEE 802.11 b/g/n/ac, 2.4 GHz and 5GHz, up to 867 Mbps Bluetooth 4.1
Interfaces
5 × USB 3.0 Type-A, 1 × Thunderbolt 3.0 (compatible with USB 3.1 Gen 2 Type-C and DisplayPort), 4 × 3.5 mm mini Jack acoustics/MIC/line-out/line-in Jack, 1 × HDMI, 1 × Mini DisplayPort 1 × RJ-45, 1 × card reader SD/SDHC/SDXC
Built-in battery
75 W⋅h
External power supply
2 × 230W (19.5 V, 16.9 And A)
Dimensions
428 × 287 × 49 mm
The weight of the laptop
4,14 kg
Operating system
Windows 10 x64 Home Windows 10 x64 Pro
Guarantee
2 years
Price in Russia, by data "Yandex.Market"
250 000 RUB. for the tested model
Price in USA according amazon.com
$3 600 for the tested model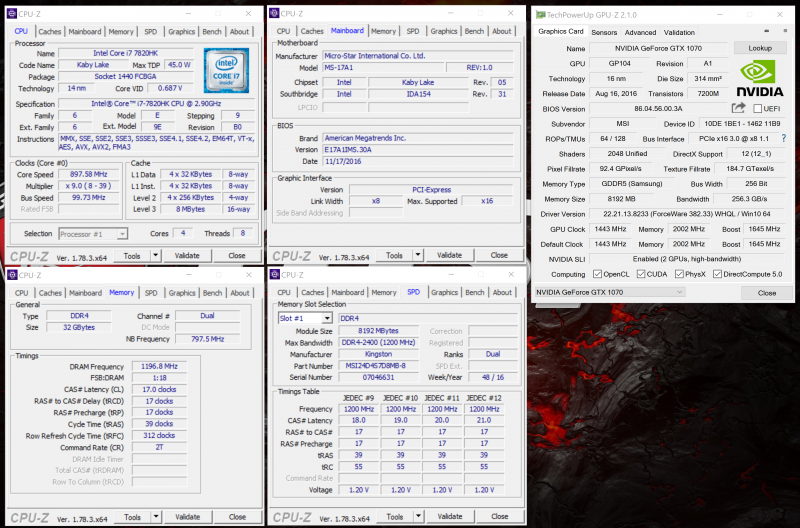 The model that was in a test lab 3DNews with 32 GB of RAM DDR4-2400T. The storage system includes a hard disk drive HGST HTS721010A9E630 capacity of 1 TB (the buffer size — 32 MB) and two SSD Samsung SM961 (MZVPW256HEGL) 256 GB, United in RAID0.
For a wired network in my laptop meets the Gigabit controller the Killer E2500, and wireless connection — Killer Wireless-AC 1535. The Wi-Fi module supports the standards IEEE 802.11 b/g/n/ac with 2.4 GHz and 5 GHz and a maximum bandwidth of up to 867 Mbps and Bluetooth 4.1.
Finally, in the test sample using high-quality IPS-matrix, supports a resolution of 4K. Additionally GT73VR 7RE MSI Titan SLI supports NVIDIA G-SYNC, which a special module built into the device, sinhroniziruete the frequency of laptop screen with frame rendering on the GPU, eliminating tearing without harm to performance and response time.
In the end, MSI GT73VR 7RE Titan SLI with this equipment can be purchased in Moscow approximately for 250 000 rubles.

With the laptop comes with two external power supply 230 watts each — these adapters will weight backpack 2.2 kg., an Impressive number! However, during testing the MSI GT73VR 7RE Titan SLI I had several times to take him home, and it's one and a half hour "journey" using the underground and ground public transport, nothing to worry about during this time with me did not happen, is not dead. In addition, these laptops are designed rather as a replacement for a stationary PC with the possibility of infrequent moving the device from point A to point B.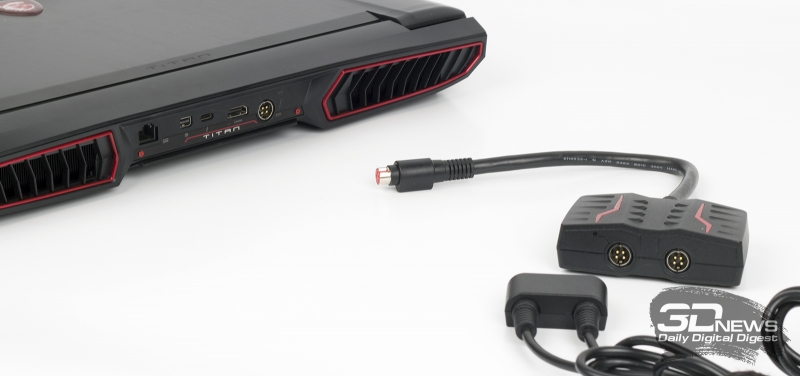 Connect the power supply to the laptop with a special adapter which is also included.
According to information on MSI official website, GT73VR 7RE Titan SLI can be supplied with preinstalled Windows 10 and Windows 10 Home. The test sample uses the "home" version of Microsoft operating system. On a laptop already pre-installed several proprietary applications MSI:
Dragon Center allows you to monitor the status of the main components of the system to adjust the backlight, and to select the operating mode of the laptop and the speed of the cooling fans.
SteelSeries Engine 3 controls the keyboard settings, creates additional shortcuts and adjust the backlight.
Audio speed and performance, changes the settings of the sound system and microphones.
TrueColor allows you to select one of six preset presets image.
And together with MSI GT73VR 7RE Titan SLI is a subscription service Streaming Software with which you can stream and record gameplay. Read more about all these tools, you can read here.
MSI GT73VR 7RE Titan SLI: Software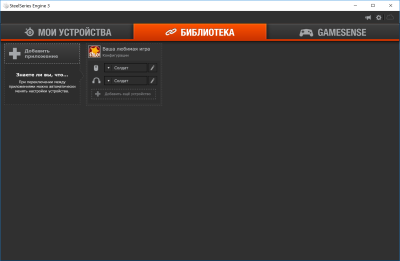 msi_3.png
See all images (14)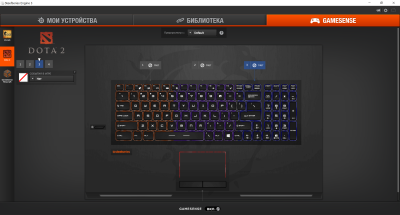 msi_4.png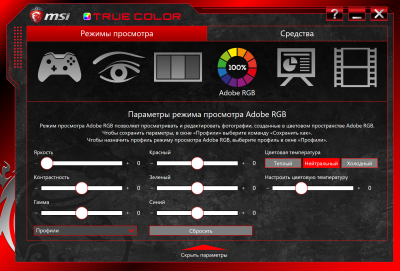 msi_5.png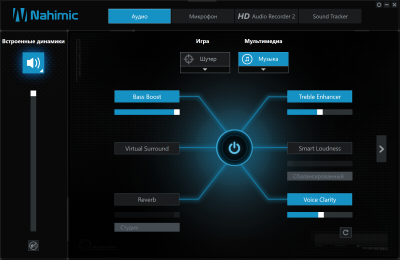 msi_6.png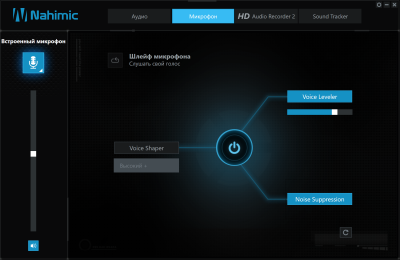 msi_7.png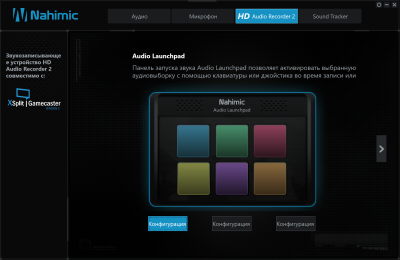 msi_8.png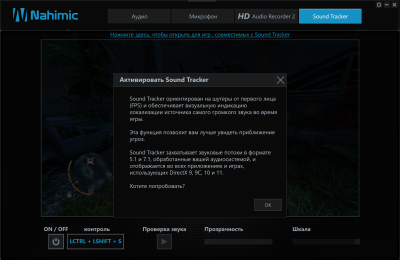 msi_9.png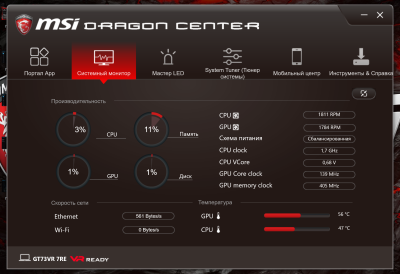 msi_10.png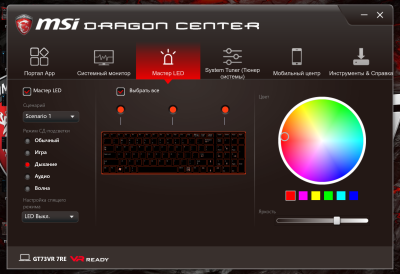 msi_11.png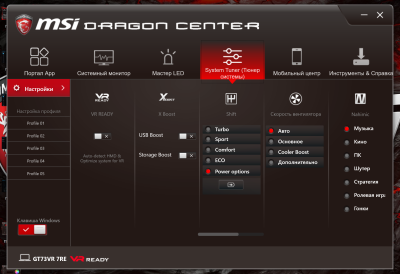 msi_12.png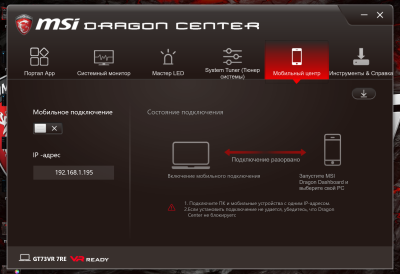 msi_13.png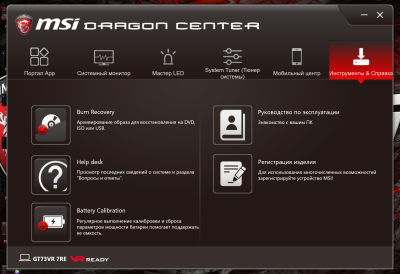 msi_14.png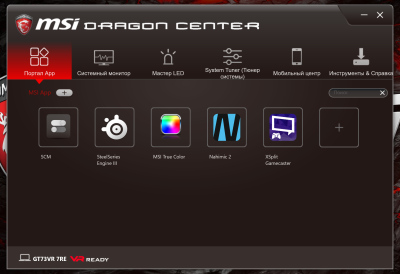 msi_1.png

msi_2.png
See all
image (14)
Appearance and input device
Have MSI GT73VR 7RE Titan SLI is quite recognizable design. The top notebook cover is made of brushed aluminum and feature a decorative red stripes and logo, which is illuminated during operation of the laptop.
The most important is the build quality of the device, and the MSI Titan SLI GT73VR 7RE impossible to find fault. Made of aluminum including the area around the keyboard. The rest of the case is made of durable frosted plastic. The hinges are tight, and therefore the upper cover with the screen clearly positioned in different positions and does not rattle during the game and during typing. The maximum opening angle is approximately 120 degrees.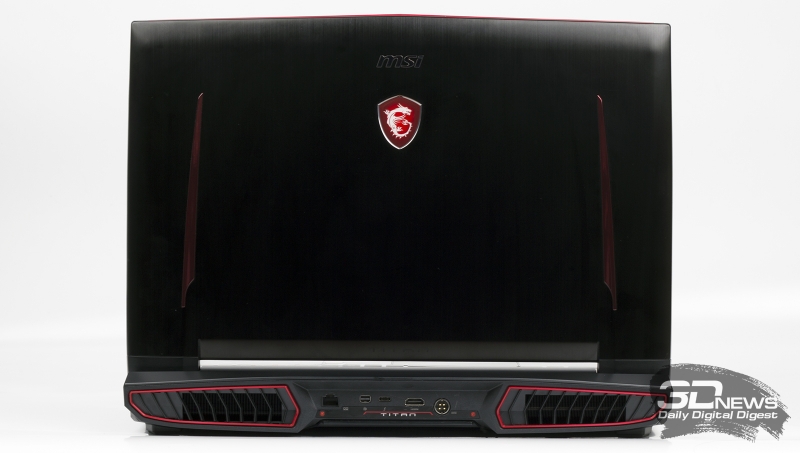 Thickness MSI GT73VR 7RE Titan SLI in a closed state is 49 mm. the Laptop is rather big, but it is strange to expect otherwise from the model with the 17.3-inch screen and dual GeForce GTX 1070 on the Board.
The bottom of the laptop is equipped with two large bars, in which the air "sneaks" to the fans of the cooling system. On the table GT73VR 7RE MSI Titan SLI stands firmly due to the four rubber legs.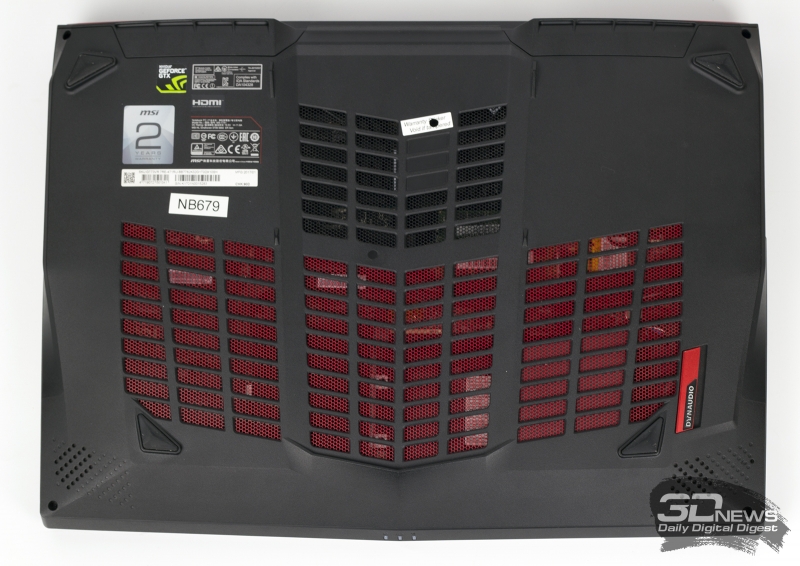 From the bottom, closer to the front, removed the holes for the speakers and subwoofer.


On the front panel MSI GT73VR 7RE Titan no SLI connectors are not provided. In this part of the laptop is located only indicators of activity of the device. But behind, in addition to the connector for the power supply, there are Ethernet port, Mini DisplayPort, Thunderbolt 3.0 (compatible to USB 3.1 Gen 2 Type-C and DisplayPort) and HDMI 2.0. It turns out that the laptop can connect to three external monitors.


In the left pane, soldered three connectors USB 3.0 A-type and four 3.5-mm "mini-Jack". On the right side are located two USB 3.0 Type-A slot for memory cards format SD and a slot for the Kensington lock.
As for ergonomics, the interface in the MSI Titan SLI GT73VR 7RE divorced logically and successfully. See, this laptop most of the time will stand in one place. Therefore, these ports RJ-45, mini DisplayPort and HDMI, is easier to use when they are withdrawn to rear — connect to be rare, but in this location they are less of a hindrance.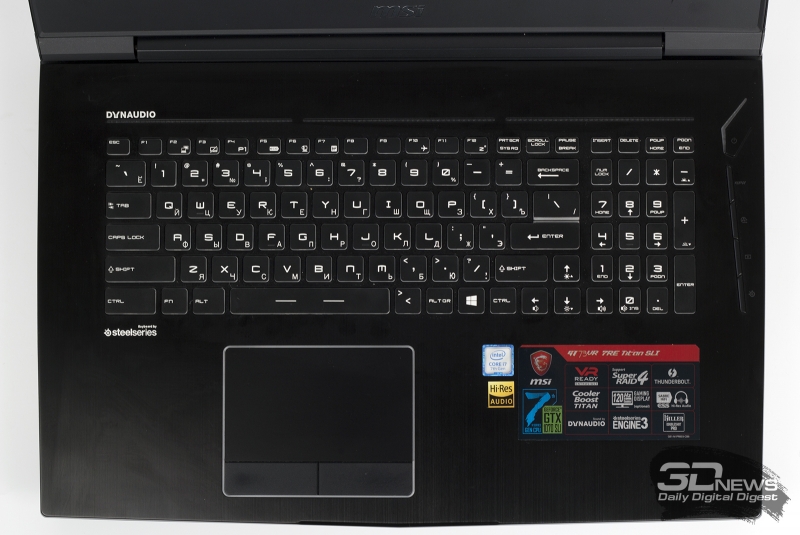 For a long time in gaming laptops used keyboard, developed in conjunction with SteelSeries. No exception and model GT73VR 7RE Titan SLI. The island-style keyboard buttons standard size 15 × 15 mm with a stroke of 1.9 m. the Press felt clearly enough backlash and false positives I noticed. In short, to play with this keyboard very comfortable.
Traditionally for MSI laptops Windows button located on the right — and this is the only thing that took a while to get used to when meeting with MSI GT73VR 7RE Titan SLI, although the logic of such action is traced: in shooters, when a frequently used block WASD and left Ctrl, it is likely to accidentally press the Windows button during gameplay. However, for those who want to use a more familiar option, provided the corresponding setting in the BIOS. Shift and Enter are what and should be in a gaming laptop: large and comfortable. Control buttons that may be activated in combination with the Fn-modifier placed around the row F1-F12, and also on "arrow" and a digital block.
Keyboard MSI GT73VR 7RE Titan SLI has three degrees of brightness of the backlight. With the help of software you can choose the color and type of illumination for the four zones. Three areas are directly on the keyboard, and the fourth is the touchpad (by the way, this HID company Synaptics). The size of the touch area is large enough — 109 × 65 mm, there is support for multitouch technology. The touchpad buttons are pressed very tightly, so not everyone will like.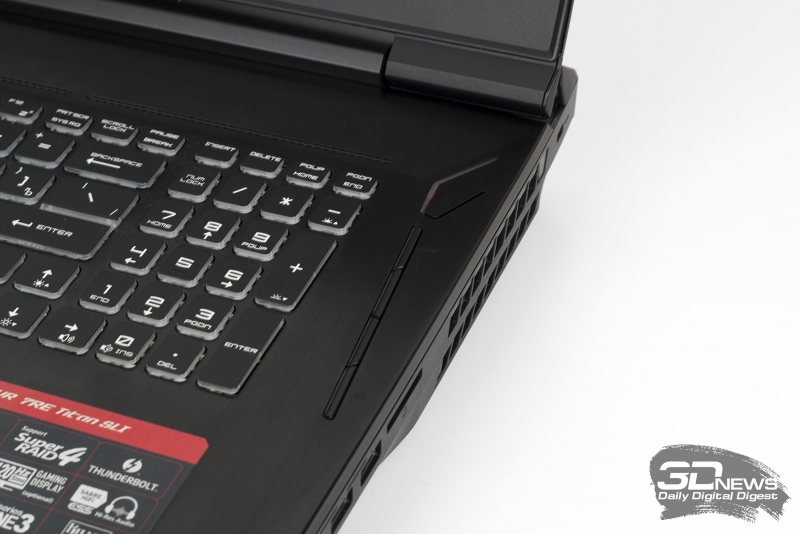 On the right side of the laptop located five more keys, which activate the following functions:
Switching on and off of the device.
The transition from discrete graphics to integrated in the processor GPU.
The activation of the maximum frequency of rotation of cooling fans.
Run the program Xsplit Gamecaster.
Loading saved profiles SteelSeries Engine 3 for the keyboard and touchpad.
In GT73VR 7RE MSI Titan SLI use a web camera with Full HD resolution and a frequency of 30 Hz. The quality of the image will describe it as above average is "webcam" gives a fairly clear picture, although indoors with artificial lighting, the video is still a bit "noisy". But to use the laptop to stream with the standard camera it is possible.
The internal structure and capabilities upgrade
Access to components MSI GT73VR 7RE Titan SLI is very simple — Unscrew the five screws and then remove the plastic bottom completely.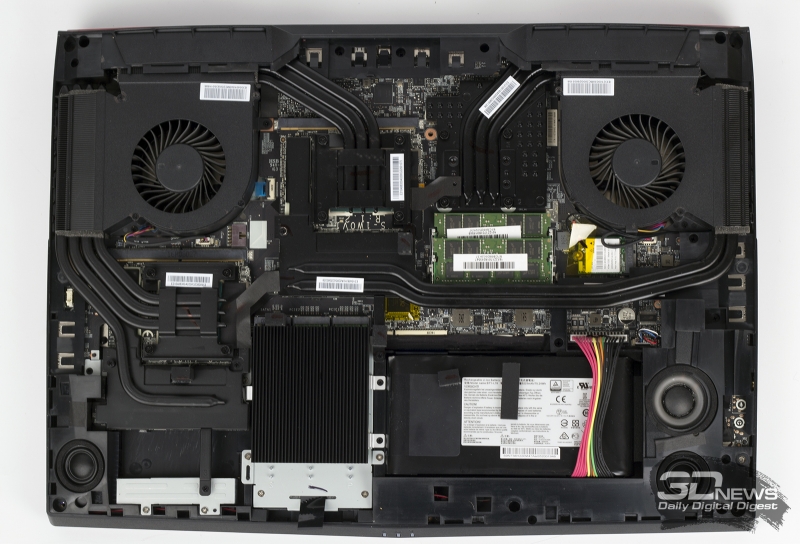 The GeForce GTX 1070 made in the form of a removable plat form factor MXM. The cooling system is rather a bizarre shape. So, the CPU is cooled with a triple teplotami, radiator and fan located at the right side of the hull. These same elements are two long heat pipes that cool the power Converter of one of the graphics cards. Radiator and fan located in the left part of the body, cool graphic chips. Note that passive cooling is provided for M. 2 drives, and MSI GT73VR 7RE Titan SLI is the first gaming notebook, the creators of which are seriously treat this issue and not limited to a conventional pad.
| | | |
| --- | --- | --- |
| |   | |
In principle, upgrade MSI GT73VR 7RE Titan SLI there is no point for a very long time. 32GB RAM will last a long time — today and 16 GB memory is enough in all modern games. The system uses four modules Kingston MSI24D4S7D8MB-8, which operate on the effective frequency of 2400 MHz with delays 17-17-17-39. We can get only two of the four connectors SO-DIMM slots, the remaining slots with RAM soldered on the reverse side of the PCB.
Of the three ports M. 2 (key "M" Socket 3) involved only one — this connector works in mode SATA 6 GB/s. In other ports have two NVMe drive, Samsung SM961 a total volume of 512 GB. SSDS combined into a RAID array with striping. Under them is the only seat for 2.5 inch SATA drive support installation of devices with thickness up to 9.5 mm., In the model of MSI laptop it has a hard disk HGST HTS721010A9E630.
Source: 3dnews.ru