MWC 2018: first look at the smartphone Blade ZTE V9
ZTE Blade is a family of low-cost smartphones, which in theory should compete with Honor mid-level, senior Redmi and other fighters of the front "for those who are willing to spend on the phone not more than 20 thousand rubles." Blade V9, presented today in Barcelona is a kind of intermediate flagship of ZTE.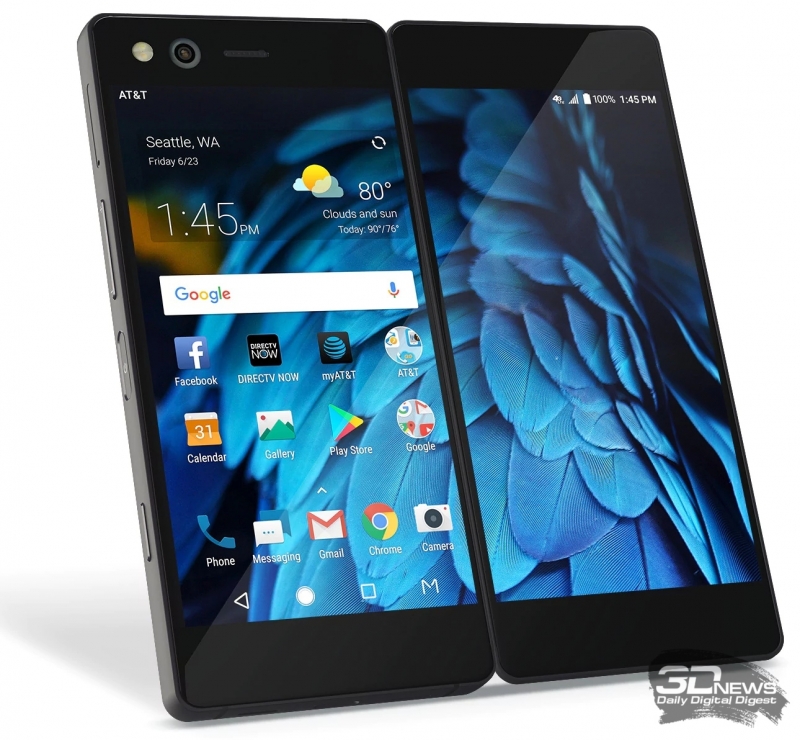 However, as much as anything to convince themselves and others that the new Blade is an important model in the line-ZTE, a very interesting (about this – below),
which for the Chinese is more important to this segment, and not an expensive flagship, where a ball is ruled by Samsung and Apple. But MWC is still in addition industrial event of the big show, which is very important to assert yourself. And Axon is a dual-screen M would fit into this concept. And the trailer for it was already possible to let the Blade V9. But the priorities are that way. Axon M is no longer news, the smartphone is advertised by big banners on the main streets of Barcelona. And the main novelty and the hero of publications with MWC became Blade V9.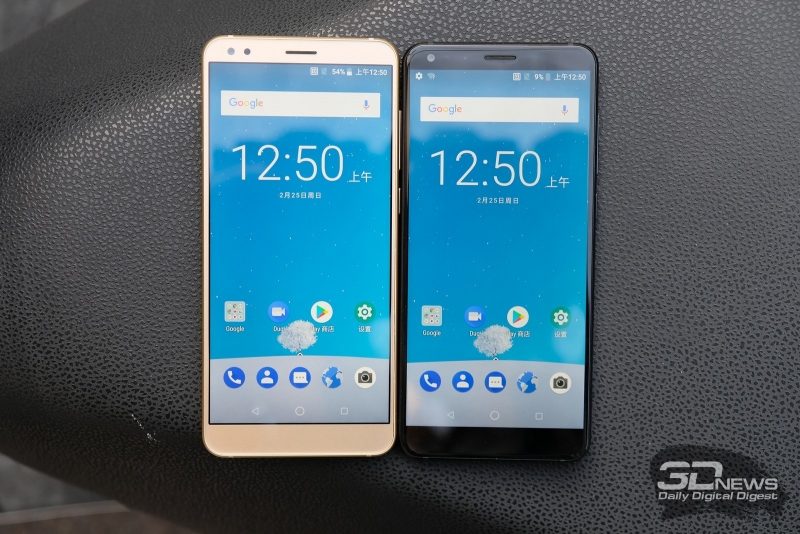 | | | |
| --- | --- | --- |
| | V9 ZTE Blade | ZTE Blade V8 |
| Processor | Qualcomm Snapdragon 450: eight cores (8 × 1.8 GHz) ARM Cortex-A53, GPU Adreno 506 | Qualcomm Snapdragon 435: eight cores (4 × 1.4 GHz + 4 × 1.1 GHz) ARM Cortex-A53, GPU Adreno 505 |
| Display | 5.7 inch, IPS, 2160 × 1080 pixels | 5.2 inches, IPS, 1920 × 1080 pixels |
| RAM | 3/4 GB | 3 GB |
| Flash memory | 32/64 GB + microSD slot | 32 GB + slot for microSD |
| SIM card | Two nano-SIM, the second slot is connected with the connector for memory card | Two nano-SIM, the second slot is connected with the connector for memory card |
| Wireless modules | Wi-Fi (802.11 b/g/n), Bluetooth 4.2, NFC | Wi-Fi (802.11 b/g/n), Bluetooth 4.1 |
| LTE | LTE Cat.6 (up to 300Mbps) | LTE Cat.4 (150 Mbps) |
| Camera | Dual, 16 MP + 5 MP camera, ƒ /1.8 is phase detection autofocus | Dual 13 MP + 2 MP, ƒ /2.2,and |
| Front camera | 13 megapixel, fixed focus, no flash | 13 megapixel, fixed focus, flash |
| The fingerprint scanner | there | there |
| Connectors | 3.5 mm audio Jack, microUSB (USB 2.0) | 3.5 mm audio Jack, microUSB (USB 2.0) |
| Battery | 12,16 W·h (3200 mAh, 3.8 V) | 10,37 W·h (2730 mAh, 3.8 V) |
| Dimensions | 151,4 × 70,6 × 7.6 mm | 148,4 × 71,5 × 7.7 mm |
| Operating system | Android 8.0 Oreo, own shell MiFavor UI | Android 7.0 Nougat, own shell MiFavor UI |
Last year we reviewed the predecessor of today's new products – the ZTE Blade V8. This smartphone showed quite a nice combination of performance with price and sported very unusual feature – the ability to shoot in 3D. In 2017, I remind you. It is logical that such a feature has not caused special enthusiasm neither among the journalists nor the audience – and the sales Blade V8 was probably not because of, but in spite of his positioning.
ZTE Blade V9 similar in their characteristics, but devoid of 3D-flair. He also has two rear cameras, one of which is 16 megapixel and the other only 5, but they are working together exclusively to create a more correct blur of the background. ZTE also says about some special abilities Blade V9 when shooting in the dark, but I don't think it affects the second camera – rather, here it is in a very high primary aperture – ƒ/1,8. For a relatively budget device very nicely. However, opportunities to check in reality is shooting a new "Blade" in the dark, I didn't – talk about this with detailed testing of a smartphone.
Front camera – 13 megapixels, no autofocus and, this time, without a flash. In Blade V8 as I recall, it was.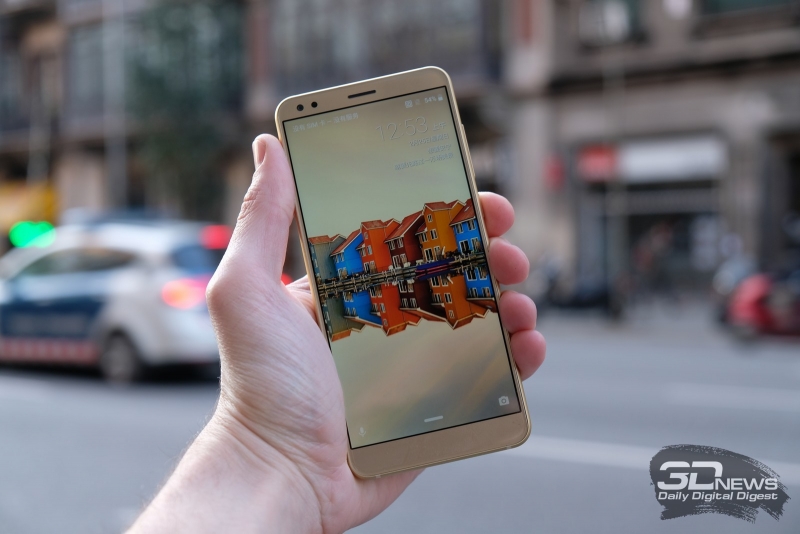 The smartphone is equipped with 5.7-inch LCD screen format 18:9 – other now, almost did not make. It's hard to believe the first smartphone with a similar display was shown by LG only a year ago, at the last MWC. The resolution IPS-matrix is 2160 × 1080 pixels. This is enough to problems with pixelation did not have any. The picture is smooth, viewing angles are available.
Blade V9 works on the basis of the fresh, but not the most productive platform Qualcomm Snapdragon 450. It consists of eight cores Arm Cortex-A53 processor up to 1.8 GHz and graphics Adreno 506. It's made for 14-nm process is the first budget system-on-chip with a similar subtlety of execution. Blade V9 – DIN of the first smart phones with it on Board. Besides him, now on the market already have Redmi 5 and VIVO V7+. We do not (yet) tested, so to say about the performance is nothing. Judging by first impressions, new ZTE should be very fast to fulfill all the basic applications and provide quick work on the Internet (LTE-a modem supports a maximum data transfer rate up to 300 Mbit/s there to help) and stumble only on the most resource-intensive games. Well shooting 4K video impossible – only Full HD.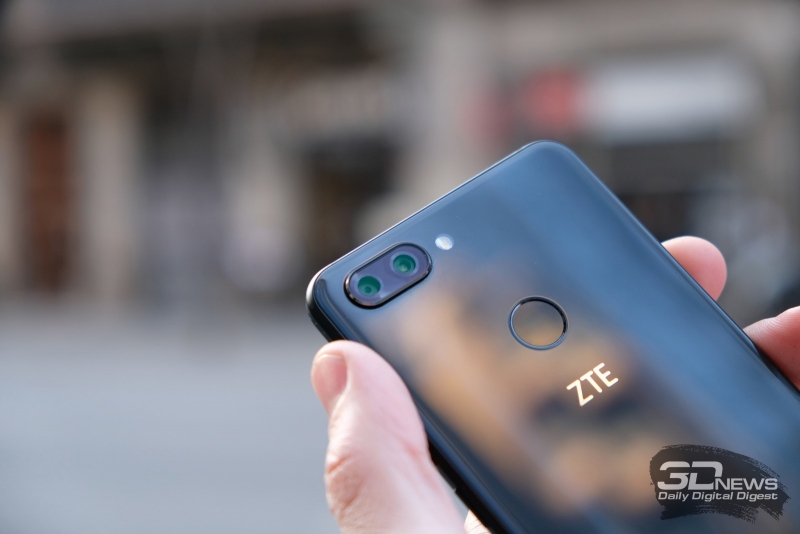 There will be two versions of the smartphone, which differ in amount of RAM and non-volatile memory: 3 + 32, or 4 GB + 64 GB. The memory can be expanded through memory cards microSDmaksimalnym volume of 256 GB; to do this, however, you will need to cut one of the SIM card slot hybrid.
The case is not dust – and waterproof – these things remain the privilege of the flagships or specialized devices. But mini Jack Blade V9 has an analog audio Jack is located on the top side of the case. On the bottom we see the microUSB – today it already looks anachronistic: unbalanced connector, the lack of quick charging. But the cables are still cheaper, and find them still easier.
Looks ZTE Blade V9 good – tempered glass front and back (why the smartphone is beginning to resemble the 8 Honor/Honor 9), the minimum frame around the display, the fingerprint scanner on the back of the case. The dimensions of the gadget: 151,4 × 70,6 × 7,6 mm. It is not larger than the Blade V8, width and thickness, despite the fact that the screen has grown half an inch already – well, I mentioned earlier about the inevitability of the format 18:9; this example shows that it provides benefits. With the scanner of fingerprints, by the way, runs and face recognition system, where in 2018 without it.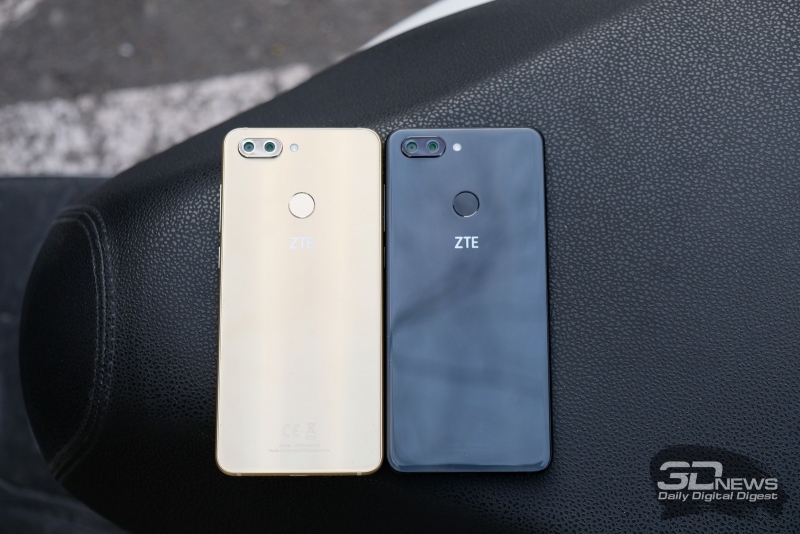 Blade V9 will be available in three colors: black and gold (as in these photos), as well as blue. Cost smartphone is not higher than 20 thousand rubles for the older version, but the exact price is not yet formulated. The gadget will appear on sale in Russia this spring, it ZTE is making a big bet.
Also appears younger model V9 ZTE Blade Vita with Snapdragon 435, the 5.45-inch display (the same format 18:9), less memory and a simplified set of cameras – like a Blade V8. It will cost, naturally, is even less: 179-199 euros.
And here is two screen ZTE Axon M in Russia, on the contrary, appear unlikely – the manufacturer believes this model is too unusual for our very pragmatic market.
Source: 3dnews.ru