A quick test of the tablet Supra M847G: among strangers
After the release of iPad mini in the camp of Android devices have a separate subclass of tablets made in the form factor of the mini. These gadgets have often been in our lab: it is worth remembering though, 3Q Surf MT7801C, iconBIT nettab SKAT RX and Explay sQuad 7.82 3G. This popularity is not surprising: adding to successful in all aspects of the case iPad mini operating system Google easy to get a cheap, but balanced and interesting gadget. That Supra is a Japanese company tried to make a Remix of the already rather worn-out song.
Specifications
Supra M847G
Display
7.85 inch, 1024×768, 163 ppi, IPS
Touch screen
Capacitive (5 points) does not respond to touch with gloves
Air gap
There
Oleophobic coating
No
Polarizing filter
No
Processor
MediaTek MT8389:
four cores ARM Cortex-A7 (ARMv7), 1.2 GHz
Process technology 28 nm
Graphics controller
Imagination Technologies PowerVR SGX544
RAM
1 GB DDR3L
Flash memory
16 GB (about 12 GB) + MicroSD
Connectors
1 x micro-USB 2.0
1 x mini-HDMI 1.3
1 x headset Jack 3.5 mm
1 x MicroSD
1 x SIM
Cellular
Built-in 2G/3G modem,
One full-sized SIM card
Wi-Fi
802.11 b/g/n
Bluetooth
4.0
NFC
No
Infrared
No
Navigation
GPS, A-GPS
FM radio
There
Sensors
Accelerometer
The main camera
5 MP (2560h1920), with autofocus, no flash
Front camera
1.3 MP (1280×960), without autofocus
Food
Non-removable battery
Capacity of 14.8 WH (4000 mAh, 3.7 V)
Size
200×135 mm
Case thickness 9 mm
Weight
315 g
Operating system
Google Android 4.2.2 (Jelly Bean)
The recommended price
7 990 rubles
Design
The most savvy readers have already guessed that Supra M847G looks like the iPad mini. And it's, perhaps, is that when you create a "mini" Apple is very accurately hit the target with his form. Theoretically, the smaller manufacturers might try to make their tablets a little less like "IPads", but this would change the proportions, and what makes sense to do this if you are unlikely to get easier?
As is customary in the world of Android tablets, the front panel of the device has no physical keys. So give "Supra" for "mini" will not work — lack of Home button will not notice except the man had slept through the last three years. But in the top of the panel, under the lens a 1.2-Megapixel web camera, there is a slot of speaker — atypical elements, even for the peers.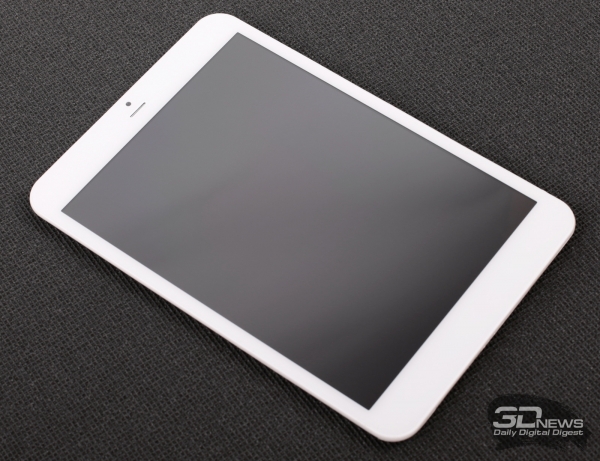 A device with a similar screen size depending on user and situation, it is convenient to keep both in vertical and in horizontal orientation. Therefore, the manufacturer has to consider the ergonomics thus, in order to use the gadget conveniently in both positions. And engineers the Supra did it. If you hold the device vertically and all connectors (micro USB, mini HDMI and a 3.5 mm audiojack) will be on the top. Here is the power key and volume buttons moved to the right side.
The body tablet of metal. The back panel is a matte, rough — it fits in the hand and doesn't try to slip out of them. The bulk of the "back" of the gadget is fixed. But closer to the top there is a plastic panel that hides the connectors for memory cards and SIM cards — by the way, full size.
The gadget weighs a bit — 315 grams. Hands do not get tired even from long communication with the tablet on weight. The thickness average is about nine millimeters. Due to the fillets on the rear of the Supra looks slimmer than it really is. In General, to the Assembly, appearance and ergonomics we have no complaints.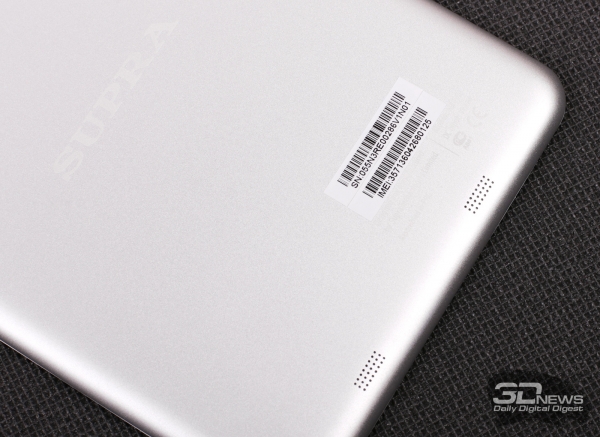 Source: 3dnews.ru